Chama (New Mexico)
Chama
is a small town in
north central
New Mexico
, located in a mountain valley near the
Colorado
border. The town is noted for its mountain scenery, outdoor recreation, and for being the terminus of a scenic narrow-gauge railroad.
Get in
Driving is the primary way to access Chama, and given the town's remoteness, it can be a very long drive. The nearest major airport is in
Albuquerque
, about a three hour drive south.
Santa Fe
is closer (a two hour drive) but has very limited commercial air service. Amtrak's Los Angeles-Chicago Southwest Chief route stops in Albuquerque and the town of Lamy, about 15 miles south of Santa Fe on US Highway 285, with a shuttle that transports passengers between Lamy and Santa Fe.
Chama is located along US Hwy 64 and US Hwy 84, which overlap through the town proper. US 64 continues east over mountainous terrain to
Taos
(about an hour and a half's drive) and west into
Northwest New Mexico
. US 84 heads south to
Española
and Santa Fe, and north into
Southwestern Colorado
to
Pagosa Springs
(an hour's drive). No matter which direction you come from, it's a beautiful drive. US 84 from the south is generally open year-round; approaching from
Colorado
can be problematic in the winter, although it's open more often than not. Limited commuter bus service to Española (with connections to Santa Fe and Taos) is offered by the regional
NCRTD
service.
Get around
If you've gotten there, you've gotten around; Chama is a small town in which all of the in-town points of interest are within walking distance of each other and the in-town lodging. For reaching the recreational sites near Cumbres Pass, a vehicle with 4-wheel drive and snow tires is desirable during the winter, although the road is plowed frequently. There is a 2500' elevation gain between town and pass that may challenge some automobiles.

See
Cumbres and Toltec Scenic Railroad

phone: +1 575 756-2151

address: in the center of town on Hwy 17

One of the main attractions of the town. The narrow-gauge railroad runs into the high country near Cumbres Pass, through scenic Toltec Gorge, and on to its opposite terminus at tiny Antonito, Colorado. Tour options range from half-way trips to and from a station near the Gorge (delicious, all-you-can-eat lunch is provided) to round trips to Antonito, with return on either rail or bus. Reservations are recommended, as the train fills up during summer weekends. If you're interested in the narrow-gauge train but unable to ride it, the train station has a small set of displays.
Do
There is plenty of outdoor recreation available in the area year-round, including a couple of trail riding stables, fishing, game hunting and fishing, hiking and just overall sight-seeing. Rio Chama and Rio Brazos offer challenging white-water for rafters and kayakers. Snowmobiling, xc-skiing and snowshoeing are popular in the winter.
Cumbres PassBecomes a wonderland for Nordic skiers, snowshoers, and snowmobilers during the winter, owing to the high snowfall that this part of the Colorado Plateau usually receives. Snowpack is variable year to year, but is usually satisfactory from December through February.

During the spring/summer/fall there are numerous hiking trails throughout the area. Check out the Sargent Wildlife Area at the north end of Pine Ave., two streets west of Chama's main street which is Terrace Ave. The main trail ends in Chromo, Colorado.

Chama Chili Ski ClassicHeld over Martin Luther King, Jr. weekend each year.

Chama Days weekend is traditionally the most popular weekend in town. Held on the first weekend in August, Chama Days consists of a weekend of nightlife (several dances a night), sports (2 day rodeo, basketball tournament, softball tournament), and family events (carnival, kids games and pet parade).

El Vado Lake and Heron LakeBoth southwest of town, are scenic reservoirs with opportunities for camping, hiking, fishing, and some boating.
Buy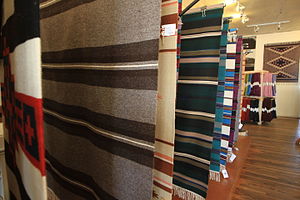 Several souvenir shops are located near the railroad station. There are several shops across from the train station that offer high end and low end articles for sale, original oil paintings with a western theme, eclectic stained glass and southwest jewelry.
phone: +1 575 588-7231

address: 91 Main Street, in the town of Los Ojos

Award winning, hand-made wool products for sale, all made from locally-produced wool from local sheep herders. Tours of the factory where they spin the wool are also available.
Eat
High Country Saloon and Restaurant

phone: +1 575 756-2384

This is the place to be with excellent food in a casual environment. There are other numerous places to eat in town with good food and all within a short distance of each other.
Drink
Sleep
Lodging
There are a number of motels and lodges along the southern approaches to town. Most cater primarily to hunters and fishermen.
phone: +1 575 756-2264

address: 2625 S Highway 84/64

Spruce Lodge

phone: +1 575 756-2593

address: 2643 S Highway 64/84

Little Creel Lodge and RV Park

phone: +1 575 756-2382

address: 2631 S Highway 64/84

phone: +1 575 756-2156

address: 2362 Highway 17

phone: +1 575 588-7261

phone: +1 575 756-2138

address: 2595 US Highway 84/64
Camping
Several of the lodges have associated RV parks, and there are other developed campgrounds in the area, including lakeside camping at El Vado and Heron.
Backcountry
The trails around Chama are a haven for the outdoor enthusiast. Many day hikes are accessible at Seargent's Wildlife Park and at the El Vado and Heron Lakes area. The Chama Trail extends between the two lakes for 6-miles. There are unlimited miles of trail for overnight packing trips in the mountains north of Chama, toward Colorado. The historic Continental Divide Trail is undergoing improvements and is open to packers.
Serious adventure in winter camping is available near Cumbres Pass, in the form of a small network of
yurts
, cabins that can be reached on Nordic (cross-country) skis or snowshoes. The
Southwest Nordic Center
, based in
Taos
, maintains the yurts and the reservations for using them; PO Box 3212, Taos NM 87571,
+1 575
758-4761. Most of the yurts are 2 to 3 miles (on skis) from the parking lots along the road over the pass; intermediate-level Nordic technique is a good idea for the ski in. Another yurt, the Spruce Hole Yurt, is also available for rental. It is maintained by a local Chama outfit called
Cumbres Nordic Adventures
.
Go next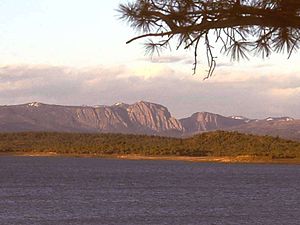 El Chorro Falls, south of Chama, is one of the world's highest waterfalls (ranked around 170th on the list), when it's active. However, it's not active very often, or for very long it's produced by spring runoff over the towering Brazos Cliffs, lasts only a few weeks in the spring, and is usually completely gone by June. If you happen to be in the area in April or May, try driving south from Chama on US 64 toward the village of Tierra Amarilla, then east toward the cliffs, and see if you can glimpse it in the distance (no road approaches the falls).
The Brazos Cliffs themselves are spectacularly scenic and beckon the rock climber, but unfortunately, they're 100% on private property and access is severely restricted. There are some hunting lodges at the base of the cliffs, notably Brazos Lodge and Corkin's Lodge, that include many outdoor recreational opportunities among their (generally pricey) amenities and give good views of the scenery (including El Chorro when it's running); in general, however, they forbid or strongly discourage climbing on the cliffs.