Chandigarh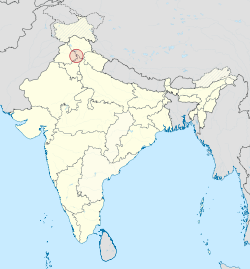 Chandigarh
is
India
's first planned city, quite distinct from the rest of the country and considerably better organized. It is the capital of both
Haryana
and
Punjab
, but the city itself is not part of either state, being a union territory, i.e. administered directly by the central government.
Understand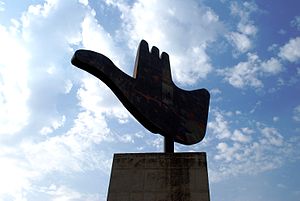 The most striking thing about the city is the expanse of resplendent blue sky with the mountains in the backdrop. When you approach the city, you see the jagged skyline of the Shivalik Hills looming large over the city and the faint image of an old temple dedicated to Goddess Chandi (15 km from Chandigarh) from which the city got its name.
Chandigarh may appear oddly familiar to Western visitors and idiosyncratic to the rest of India. Because of this, Chandigarh is a good place to visit if you need a break from the chaos of the rest of India. Chandigarh is also a very secure city. With the lowest crime rates in the country you can feel safe at any hour. Enjoy the planned city, with tree lined roads, large beautiful roundabouts, several gardens and on top - a great set of people.
Chandigarh and
Mysore
are considered the cleanest two cities of India.
History
When India was partitioned, Punjab was split into two, with the western half going to Pakistan.
Lahore
, the historical capital of Punjab was also ceded to Pakistan, and Chandigarh was conceived of as a symbol of India's freedom, and a new beginning for Punjab.
The government of the state decided to build the new city at the foot of the Shivalik hills. Architects Albert Mayer and Mathew Novicki drew the initial plans in New York. When the latter died in an air crash in 1950, the work was entrusted to the French architect Edouard 'Le Corbusier' Jeanneret who created Chandigarh as a city of "Sun, Space and Verdure", to fulfil the basic functions of working, living, and care of body and spirit. Today, the city is home to more than 900,000 people living in harmonious conditions that are considered to be the best in the country.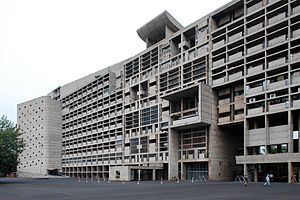 One can see architectural genius in the neat geometrical design of residential quarters, reinforced concrete structures and self-contained area layouts. Chandigarh is divided into 47 self-contained sectors. Each sector of the city is designed with its own shops, academic, and health care buildings, and places of worship, open spaces, greenery and residential areas. Chandigarh is one of the best planned cities of India. Roads are pretty wide and spacious. It hasn't grown in a haphazard way as some other Indian cities have.
The city is divided into four major work areas. In the north, the capital complex, consisting of the Secretariat, Legislative Assembly and High Court, with the hills as a background dominating the city. Sector 17, which is the city and district centre, houses the administrative and state government offices, as well as shopping malls, banks and other offices. The west contains the university, and institutions of engineering, architecture, Asian studies and medicine. The east zone is the industrial area of the city.
In 1966,
Hindi
-speaking areas of Punjab were split from the
Punjabi
speaking areas of the state to form a new state of
Haryana
. Chandigarh continued to be the capital of both states. This was supposed to be a temporary measure. The plan was that in 1986, the city would pass to Punjab. But this has been indefinitely delayed because Haryana insists on getting some territory in return, and the two states have not been able to agree on the area that should go to it.
Climate
Chandigarh has a humid subtropical climate (Cwa) with extremely hot summers and warm to mild winters. The rainy season is in the middle of the year, although the rest of the months are not completely dry.
Get in
By plane
Air India
,
GoAir
and
MDLR Airlines
fly to the city.
GoAir offers direct flights from
Mumbai
and
Delhi
. Tickets cost around ₹3,000 (from Delhi, including taxes) for most of the airlines. AirAsia has recently started a direct flight from
Bangalore
.
Chandigarh International Airport
(
IXC
) is an attractive and pleasant airport about 8 km (5 mi) from the city centre.

By train

There is a frequent service to and from New Delhi. Trains connecting New Delhi include Kalka (Chandigarh) Shatabdi Express (twice daily) and the economical Chandigarh Jan Shatabdi Express (Una (H.P) to Delhi). Shatabdi Express is quite popular and it is better to have an advanced reservation at least 2–3 days prior to the journey.
Popular long-distance trains include the following:

Paschim Express (daily) to Mumbai
Kalka Mail (daily) to Howrah
Dehradun-Chandigarh Madras Express (Monday) to Chennai
Kerala Sampark Kranti (Wednesday) to Kochuveli ( Kerala)
Chandigarh Lucknow Express (daily) to Lucknow.
Chandigarh-Jaipur Garib Rath to Jaipur.

(ਚੰਡੀਗੜ ਰੇਲਵੇ ਸਟੇਸ਼ਨ) is the main station and is located 8 km east of the city centre. It is however well connected with local buses as well as numerous taxis and rickshaws.

By car
Chandigarh has an equally good connectivity via road. It is a 4-5 hour drive from Delhi, the road comprising mainly of NH 1 is quite good. Chandigarh serves as a gateway to the state of Himachal Pradesh.
Important Distances :

New Delhi - 260 km (160 mi)
Shimla - 110 km (68 mi)
Manali- 320 km (200 mi)
Dehradun - 175 km (110 mi)
Amritsar - 250 km (155 mi)

There are many car rental companies available in Chandigarh like Gagan Taxi Service, Mehra Tour & Travels, Guru Taxi Service Chandigarh, SuperCabz RS Taxi Service Chandigarh, t2z taxi service in chandigarh, Mega Cabs Service in Chandigarh etc. If you are traveling from Delhi, you can book a cab from a number of travel agencies present in various nooks and corners of the city or you can book a cab just a call away. Traveling by smaller vehicles like Indica is the most common mode of cab transfers on this route. The highway is pretty scenic.
While it is good to take the cabs for travel on this route in summers, it should be avoided in winters due to heavy fog. Dec -Feb are winter months in India. Chandigarh, being situated in laps of mountains, faces heavy fog at night and in the early morning. At such times, the visibility on roads can be less than six feet.

By bus
Chandigarh is served by two bus terminals.
The

phone: +91 172 2624413

address: in Sector 43

provides connectivity to all major destinations in the neighbouring states Himachal Pradesh, Punjab, Haryana, Uttaranchal, Jammu, and Delhi (limited).
The Inter State Bus Terminus in Sector 17 offers connectivity to all major towns of Haryana (except those on Himachal Route like Kalka) and Delhi.
Delhi is extensively connected with a bus service every 15 min offered by Chandigarh Transport Undertaking, Haryana Roadways, Punjab Roadways and Himachal Roadways. Volvo A/C buses are also run on the Chandigarh-Delhi section and offer connection to the Airport and towns like Gurgaon. The fares of Volvo buses are usually comparable with the Shatabdi Express. The timetable for Chandigarh Volvo Buses can be found here.
Chandigarh Transport Undertaking offers a comprehensive connectivity between the two bus terminals with air-conditioned and normal buses plying throughout the day between the terminals.

Get around
By bus
The Chandigarh Transport Undertaking (CTU) provides a local bus service in Chandigarh and the satellite towns of
Panchkula
and
Mohali
. There are two local bus terminals at Sector 17 and at Sector 43. The bus service is frequent and efficient and runs from 6AM-10PM. It is very economical with a single point to point fare of ₹10 regardless of the distance. The map of Chandigarh showing all the bus routes is printed on the back of each ticket. In the New Grid Transport System, 45 routes are being plied in Chandigarh. The travel is generally hassle-free, though there might be a rush on some particular routes during morning and evening peak hours.
Recently, mini air-conditioned buses have been deployed on some vital routes (connecting locations such as PGI, ISBT -17,43, Railway Station, IT park and others). The fare for these is ₹10/ for a single trip.
The buses with corresponding routes can be found
here
.
The Chandigarh tourism also runs a special
Hop On Hop off
double-decker bus which takes you around for a tour of all the main spots in the city including Sukna Lake, Punjab University, and the Secretariat. Having bought one ticket, a person can board or disembark as many times in a day as he wishes. This provides flexibility to see the places of interest and spend as much time as he wishes at a particular spot of choice. It starts its journey from Hotel Shivalikview in Sector 17 near the Bus Terminal.
Fare:
Point to Point ₹10/
One Trip ₹25/
Half a Day ₹50/
Full Day ₹75/
For booking, contact
Citco Tours & Travel Wing
, ISBT, Sector 17, Tel : 5055462, 2703839.
By taxi
At city beautiful there are various taxi service provider available for in city and outstation travel. Some most used options are:
UberBook taxi's through mobile app's for city and outstation travel.

phone: +91 9779390039

City & Outstation car rental services available through website & mobile app. Mostly used for outstation One-Way, Round-Trip and tour packages.

Ola CabsCabs Available through website and mobile app for local and outstation.
UT administration has started a fully air conditioned cab service. The cabs are available at the door step on call. The cabs are stationed at important places including Railway Station and Airport. The cabs are fully air-conditioned and extremely comfortable. They serve Chandigarh and thesatellite towns of
Panchkula
and
Mohali
. All the taxis are brand new, air conditioned/air heated and driven by the uniformed drivers. Taxis are also have a complaint book and any passenger can lodge a complaint with State Transport Authority if services provided to him are not found up to the mark. The cabs are continuously monitored through GPS technology whereby their locations are monitored by their respective control rooms.
There are no charges for first KM except for the meter down charges.
Rate
₹15/- for the first kilometer and ₹15/- for the subsequent kilometers.
Many new cab services like OlaCabs have also begun there operation in Chandigarh and satellite towns of
Panchkula
and
Mohali
. Uber is also available on most of the routes of the tricity.
By auto rickshaw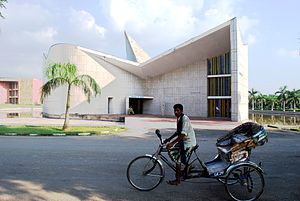 Chandigarh is the first city in the country to have Radio Auto service on the lines of successful working of the Radio Taxi service. The pink autos charge ₹10/- for the first kilometre and ₹8/- for subsequent km. The service named as "tuk-tuk" is available round the clock. Available on call at (0172) 4242424.
On the whole, auto-rickshaws are quite popular in the city and are easily available at bus terminals, railway stations, and auto stands in the commercial market of every sector. It is very unlikely that they would operate with a meter so negotiate the price before engaging one.
By cycle rickshaw
Cycle rickshaws are three-wheeled pedal powered rickshaws with seats in the back to seat passengers and a driver in the front. They are good for short distances, or places which are too far to walk but too short for taking a bus/taxi/auto rickshaw. Cycle rickshaws are now less prominent in the city but you can find one with a bit of luck. You should negotiate the price before boarding one of these. Ask the locals to help if you doubt the charges demanded.
See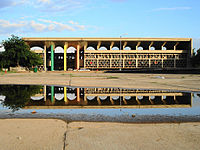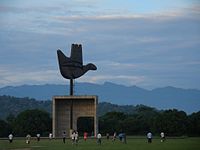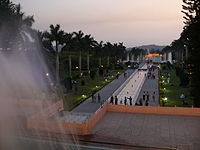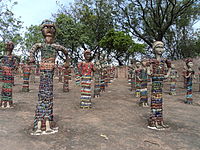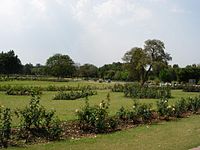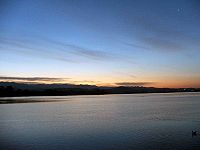 The Capitol Complex

address: Sector 1

Most of the capitol complex is fenced off due to tight security, the open hand is accessible and from there you can see the main buildings, albeit from a distance. If you want a closer look at the Capitol, you need permission from the Tourist Bureau, in the 'Deluxe Administration building' in Sector 9, or (which is much more convenient) to the new tourist office just nearby the high court. Please note the capitol and bureau are only open on M-F. The tourist bureau is not well signed, you'll need to ask. It's in the single story building out the back. Bring your passport and prepare for the beginning of the most amazing experience in Indian bureaucracy. The tourist bureau gives you three letters giving you permission to visit the three main buildings of the Capitol complex, The Secretariat, the High Court and the Assembly, but it may take hours for you to obtain the letters. It is one of 17 worldwide works by the architect Le Corbusier to be inscribed on the UNESCO World Heritage List.

Chandigarh Museum

address: Sector 10

This provides an interesting aspect on how Chandigarh was founded. It begins with the principles on which Chandigarh was built, selection of the Architects, the design for the people etc. The correspondence between the Punjabi officials overseeing the construction of the city, and the Federal Government in Delhi is fascinating, and well worth taking a few minutes to read. Close by is the Government Museum and Art Gallery as well as the Museum of Science and Natural History Museum..

Elante MallElante Mall at Chandigarh is among the largest malls in North India, covering 20 acres. It is a mixed use development project which includes entertainment, hotels and business. Elante Mall has a retail space of over 1 million square feet. across "ground level and three upper levels". In the retail area, Elante Mall hosts various national and some huge internal brands like Heckett London,Apple ( eStore..Powered by Beyond Computers), Marks & Spencer, Brook Brothers, Rolex, Harley Davidson, Promod etc. Elante boasts of a great food court, a wonderful courtyard full of cafes, sports bars and has various clothing brands. In the entertainment section Elante Mall has PVR cinemas for entertaining large crowds.

The High CourtThe letter is fine for looking around the High Court; just show it to security at the entrance, around the back, but if you want to take photos you need to surrender your camera, and head in to fill out some more forms in the protocol office, and then take the forms back to security to get your camera back. It's worth it as the building is amazing, and extremely photogenic. You can't take any photos indoors.

The Japanese GardenThe Japanese Garden is a park located in Sector 31 in union territory of Chandigarh. Built in 2014 in 13 acres of Land, by Indian Government, it was inaugurated by Shivraj Patil on 7th November 2014. It consists of water bodies, pagoda towers, water falls and golden bamboos. This is first ever garden in Chandigarh with Japanese touch and costs around ₹6 crore.

The Legislative AssemblyThis is the Assembly for both Punjab and Haryana. It's easy to run out of time, so make sure you have a whole clear weekday to appreciate all the capitol buildings.

Museum and Art GalleryThe museum and the combined art gallery is an interesting place to go to. Artefacts range form Harappa period relics to paintings and coins from different areas and time periods. The Art Gallery has good collections of ancient and modern Indian art. Fossils of the local dinosaurs found in the region are on show in the adjacent natural history museum. The buildings that the Museums and Art Gallery are housed in are attractive.

Pinjore GardensAlso called Yadavindra Gardens, these are 20 km (12 mi) from Chandigarh and 15 km (9 mi) from Panchkula, on the Chandigarh-Shimla road. Taxis and buses ply regularly between Pinjore and Chandigarh. Pinjore lies on the foothills of the lower Shivalik ranges. The fascinating gardens in the Mughal style are one of the most popular picnic spots in the region. A mini zoo, plant nursery, Japanese garden, historic palaces and picnic lawns await visitors.

Rock Garden of ChandigarhOne day 36 years ago, Nek Chand, a humble transport official, began to clear a little patch of jungle to make himself a small garden area. He set stones around the little clearing and before long had sculpted a few figures recycled from materials he found at hand. Gradually Nek Chand's creation developed and grew; before long it covered several acres and comprised hundreds of sculptures set in a series of interlinking courtyards. After his normal working day Chand worked at night, in total secrecy for fear of being discovered. When they did discover the garden, local government officials were thrown into turmoil. The creation was completely illegal - a development in a forbidden area. However, rather than demolishing the garden, they decided to give Nek Chand a salary so that he could concentrate full-time on his work, plus a workforce of fifty labourers. The park is open daily from April to September between 9AM-1PM and 3 to 7PM Between October and March, it is open from 9AM-1PM and 2 to 6PM

Rose Garden

address: Sector 16

The city houses the largest rose garden in Asia. It also hosts an annual rose festival which is quite popular among the local population.

The SecretariatYou have to jump through some hoops to visit the Secretariat. First you need to find 'Reception', which is just a small building out the back, and show them your letter to get a visitor permit, then you need to see Security, who will let you in, then you need to see the main security officer inside, who will send you up to the Registrar, who will then send you back to the main security office. Thankfully you are escorted through most of this confusing, overly complex procedure, usually by a junior soldier with large machine gun. The whole process takes about 30 min to an hour. Once it's all clear you can go up to the roof, check out the geranium gardens and take in an expansive view of all of Chandigarh. Then they'll let you have a look out the front, which is more interesting.

Sukhna LakeSukhna Lake is an artificial reservoir. A popular place to hang out, one can expect to find residents of the city jogging or strolling along the banks. There is a walking path, a cafeteria, shops and a mini-amusement park and paddleboats. Shikaras are also available. The Sukhna Lake was created in 1958 by damming the Sukhna Choe, a seasonal stream that flows down from the Shivaliks. Storks and cranes make migratory stops at the lake. The lake, incidentally, has Asia's longest water channel for rowing and yachting. Visiting Sukhna Lake in the evening or early morning is a particularly pleasant experience.
Do
Motorbike expeditions. Many bikers clubs organise motorbiking and adventure activities.
Visit Kalagram on the Manimajra-Chandigarh road. It has an exhibition of various handicrafts and decorations from various parts of the country. It also houses the innovative and famous "Condom Bar", whose theme is centred on condoms.
Movies
The city has several single screen cinemas which are now in a dilapidated condition due to the arrival of many high quality multi-screen cinemas but you can still catch a movie at any one of the halls. It is
recommended
to go to a multi-screen cinema complex where the cinematic experience can be easily compared to any movie hall in the world.
The city has more than a dozen malls with 4 or 5 screen multiplexes. Some of these are Fun Republic (Fun Cinemas) in Manimajra, DLF DT Cinema in IT Park, Green House Entertainment (Big Cinemas) and Centra Mall (PVR Cinema) in Phase 1, Industrial Area. Big Cinemas at Downtown Mall, Zirakpur on Chandigarh-Punjab border and Fame Cinemas at Shalimar Mega mall are new upcoming entertainment malls also easily accessible in the city. Many others malls and multiplexes are coming up in Chandigarh and around soon. The latest entrants are Elante mall and VR Punjab.
Theatre
The city has a rich theatre culture with regular performances by societies and groups from all over India. Tagore Theatre in Sector 18 plays host to most of the performances. One can view these street plays in PLAZA CARNIVAL situated in sector 17 Main Market, which can be viewed by everyone.
Amusement and water parks
FunCity -20 km (12 mi) from Chandigarh on the Panchkula - Barwalla Nadha Sahib Gurudwara Highway near Ramgarh .
Thunderzone - A 30 min drive from Chandigarh, located in Landran, Mohali.
Buy
Chandigarh, with the highest income per capita in India, is home to some of India's biggest brands. Hotspots for higher-end shopping include markets in Sector 17, Sector 22, Sector 35, and Manimajra. However, shopping is typically more expensive in Chandigarh than it is in other cities, including big cities such as Delhi.
There are plenty of Shopping Avenues in Chandigarh. Chandigarh is home to all leading brands and retail store chains.
Sector 17 is a fully commercial sector that houses all the major brands and shops that cater to wide array of taste and pocket.
Other popular shopping places are Elante Mall, Sector 22, Sector 35, and Manimajra.
If you want to bargain hard for usual stuff, try the Azad Hind Market in Sector 22 but note that it is closed on Monday.
You can buy souvenirs in the form of coffee mugs, shirts, etc. at Sukhna Lake.

Eat
You can relish all type of cuisines from local Punjabi flavors to continental food. Now there are many food delivering apps and websites like ZOMATO, UBER EATS, SWIGGY, etc .which deliver delicacies from the city's restaurants to your doorstep.
Budget
Many Western fast food chains have registered their presence in Chandigarh.
Indian Coffee House

address: Sector.17

Tandoori express

phone: +91 172 400 5382

address: Booth No. 5, Sector 8 B

Don't miss this roadside outlet in sector 8. Providing specialised delicacies like kakoris and galoutis from Lucknow, amritsari fish and special waraqi wraps.

phone: +917696120940

address: Sector 46

Online tiffin and food delivery service in Chandigarh for boys, girls, PG, office employees, corporate's supplies, home functions, social get-together etc. at very reasonable price. Open 7 days with breakfast, lunch and dinner food service. Make enquiries through call, sms, whatsapp, email, for more details visit website.
Mid-range
Amrtisari Kulche : The only authentic Kulchas you can find in Chandigarh. Located at Bhainsa Tibba, near Mansa Devi Mandir.
Backpackers - Sector 9

phone: +91 965 491 6060

address: Sector 26

buffet grill barbeque restaurant near you. Exciting Offers on lunch dinner with our trademark.

Chawla Chicken

phone: +91 172 507 6421

address: SCO 2458 B, Sector 22C

There is a whole Chain of Chawla's, the better ones being in Sector 8 and Sector 22.
5-AAB Superb Punjabi dhaba serving unlimited thalis. Sector 22-B, shop 1085, just down from bus station, beside Hotel Piccadilly.

phone: +91 172 272 3000

address: SCO 196-197, Sector 17-C

Very popular salad bar. Other locations Sector 35, Mohali, Panchkula.
Hotel Sheronz and The Cellar 35, S.C.O. 429-430, Sector 35-C

Nando's

address: Elante Mall bbmb Industrial Area Phase 1,

Afro-Portuguese chain restaurant serving flame-grilled chicken in spicy chilli sauce.

phone: +91 172 506 2251

address: S.C.O. No. 441-442, Sector-35-C

Also in Sector 9.

Oven Fresh

address: Sector 26

Also in Sector 35
Pizza Hut - Sector 26, Sector 35

Sagar Rathna

phone: +91 172 503 0200

address: Shopping Plaza, 17D, Sector 17

South Indian vegetarian chain.

Tehal Singh Chicken

phone: +91 98037 37555

address: 22B Himalaya Marg, Sector 22,

One of the best places to try the famous butter chicken of Punjab.
Apart from these, a variety of restaurants can be found in the Sector 35 market, ranging from traditional Indian sweet shops (Gopal's) to burger joints like McDonald's to formal dine-in joints.
Splurge
Black Lotus at the Taj Chandigarh, for exceptional Chinese fare, cooked by a Beijing-imported chef.

Café 17

phone: +91 172 6613000

address: Hotel Taj Chandigarh, Sector 17-A

A very convenient (as well as very expensive) place to eat, chiefly on account of the fact that it is open round the clock. Multi-cuisine offerings such as "Fijian Mango and Walnut Salad" (₹500), "Naples Grilled Panini" (₹650), salmon pasta (₹600), "Barbados Prawns" (₹1,050). Frequent misspellings of the names of Italian dishes, unpardonable at these prices (e.g. "Penne Pomodoro Bassilico" for "penne al pomodoro e basilico", etc.). "Spaghetti con Fungi ", apart from the misspelling, is translated in the menu as "Black fungus in pesto cream sauce", which may put some off (unnecessarily). The buffet breakfasts (7AM~10:30AM; ₹675), lunches (12:30PM~3PM; ₹1,100), and dinners (7:30PM~11:30PM; ₹1,300~₹1,400) here are mostly geared towards the Indian palate and best avoided (the atmosphere, somewhat sterile in the best of times, also changes for the worse during these communal feeding periods). The WiFi comes at a premium here (₹140 for 30 minutes).
Hometel Hotel at Industrial Area Phase 1 is part of Sarovar Chain of Hotels.
Hotel Mountview and Shivalikview also offer specialised dining rooms and bars.
Nando's Chicken at Sector 35 is a recent addition.

Orchid Lounge

address: Sector 34B

for excellent Thai cuisine.
Drink
Coffee shops
Barista, Cafe Coffee Day and Costa coffee (
Panchkula
, Sec 35) are popular Indian chains of coffee shops that can be found in Chandigarh at various places.
For a true Indian Coffee experience go to Indian Coffee house in Sector 17.
Bars and pubs
Chandigarh is often accused of a dull nightlife for its status as a metro. Still, one can enjoy good drink at various pubs/bars with combined restaurants at Sector 35, Sector 26, and Sector 17. The bars remain open till 12 or 1 in the night.
'Condom Bar', a unique bar themed upon the condom, is operated by CITCO at Kalagram, Chandigarh-Manimajra road.
Crystal bar and loungeto experience trendy nightlife in Chandigarh
Sleep
Budget
Lodgings in central Chandigarh are notoriously overpriced, and the expense is generally not matched by quality improvements. Don't be surprised to be asked over ₹1000/night for a dingy room without windows in sector 22.
There is a number of budget housing options (of price and quality comparable to typical Indian cities) located in the large market area of sector 45. The area itself is considerably more "Indian" than the central districts, with its narrow winding streets and a strong community feel. As of February 2013, you should aim at ₹500/night in this area, after some haggling, and there are many hotels to choose from.
Hotel Chandigarh, Sector 22

phone: +91 9216073888

address: Sector 35-B

Hotel ParkView

phone: +91 98156 37599

address: Sector 24

run by the CITCO

address: Sector 22-B

address: Industrial area-1

Yatri Nivas run by the CITCO

YMCA

phone: +91 172 274 5644

address: Sector 11

phone: +91 172 667 3333

address: Plot No. 15, Industrial Area Phase I

The hotel offers 102 smart rooms, a multi-cuisine coffee shop called the Clever Fox Café, a Cyber Kiosk, a modern conference room, and a well equipped fitness centre.
Mid-range
Splurge
phone: +91 172 6613000

address: Block No. 9, Sector 17-A

Still reasonably new, it is one of the best and easily one of the most expensive places to stay in Chandigarh, part of the Taj Hotels Resorts and Palaces group with properties in India and abroad (including Zambia, Maldives, and South Africa). Expansive lobby decorated with impressive original sculptural works contrasts starkly with the grubbiness of the neighbourhood outside (but this gives the place its raison d'être). Rooftop swimming pool and all the other usual five-star amenities. Good security; exclusive shopping arcade. Expect to pay for every breath of air you take.

phone: +91 172 440 1234

address: 178 Industrial and Business Park, Phase I

Mount View

phone: +91 172 467 1111

address: Sector 10A

run by CITCO.

Regenta Central Ashok Chandigarh

phone: +91 172 645 0000

address: on NH 21, Near Chandigarh Airport
Connect
The STD code for Chandigarh is 0172. When calling from overseas, dial +91 172 XXXXXXX. The same STD code is shared by
Panchkula
and
Mohali
. If you have a non-working phone number with only 6 digits, try adding a "2" in front of it.
Chandigarh has one of the highest cellular densities in India. The city is served by all major cellular operators : Airtel, Vodafone, Reliance, BSNL, Tata Indicom, Docomo, Virgin, Spice, and Connect. The cellular connection provided covers the cellular network of state of Punjab and city limits of
Panchkula
district in Haryana.
If you do not have an Indian phone number, it is strongly recommended that you get a pre-paid calling card if you plan on using your phone frequently. Because of new government regulations, you need a photocopy of your passport (visa and the ID pages), a colour photo, and proof of local address (in Chandigarh) when buying a pre-paid card. Pre-paid cards are sold in a few of the shops that sell mobile equipment.
Due to the dramatic drop in the cost of cellular devices and SIM cards, the PCOs are rare and you will have to try hard to find one.
Internet is cheaply and easily accessible via various cyber cafes operating in every corner of the city with rates ranging from ₹15-₹30 per hour.
Major Cyber Outlets:
Reliance Web World: Operates through various centres in Sector 9, Sector 35, Sector 46, etc.
Sify Centres: Spread throughout the city.
Stay safe
Chandigarh is a safe city. With the lowest crime rates in the country, you can feel safe at any hour. Police assistance can be found at the nearest police station or at the patrolling booths in every sector.
You can call following numbers for respective help : 100 (Police), 101 (Fire), 102 (Ambulance), 1073 (Traffic Police Helpline). If you are calling from a mobile phone, just add the STD code such as 0172 in front of the emergency numbers. This is true in any other Indian city.

Cope
Balance
India is often said to assault the senses, and can be overwhelming to travelers. Chandigarh may appear oddly familiar to Western visitors and idiosyncratic to the rest of India. Because of this, Chandigarh is a good place to visit if you need a break from the constant flow of India.
Hospitals
List of major hospitals and health care centres:
Apollo Hospitals Enterprise Ltd., Sector 34-A.
General Hospital Sector 16, Chandigarh
Government Medical College Hospital, Sector 32, Chandigarh
Mukat Hospital, Sector 34.
The Postgraduate Institute of Medical Education & Research (commonly referred to by the locals as "P.G.I."), Sector 12. By all accounts the best multidisciplinary hospital complex in town (under the management of the central government of India, and conceived as the premier referral centre for all the northern states of India). While it is not always good by Western standards, it has no rival this side of New Delhi.
Pharmacies
Pharmacies are a dime a dozen and you should not have any problem locating one, though Sector 16-C is considered the "pharmacy district" and offers a variety of shops to find your medication. You do not need any prescription for Modern Medicine
Over the Counter
drugs and ayurvedic medicine (proprietary and traditional), which are available for most common ailments like fever, headache, travellers' ailments, general infection, etc., but you will need prescription for other medicines, which are categorized as
Schedule H
drugs.
You can locate 24-hour pharmacies at PGI and G.M.C.H., Sector 32.
General amenities
General amenities for daily living like grocery shopping, laundry etc. can be availed all in one place in every sector's market complex. Each sector is self-sufficient in that regard and serves almost all the needs of its residents.
Traffic rules
There is a strict enforcement of traffic rules in Chandigarh. Wearing helmets (for male riders ISI Marked), and using seat belts are compulsory. Violators pay heavy penalties. No exceptions to these rules are made to cars from outside the state.
Press
The city has an expansive presence of leading national dailies which roll out their City-based editions. Among these are The Times of India, Hindustan Times, The Tribune, The Indian Express, Amar Ujala (Hindi), and Dainik Bhaskar (Hindi). The Tribune, one of the oldest print newspapers in circulation, has its headquarters in Chandigarh and is popular throughout the region.
Go next
Nearby
Panchkula is 8 km away and contains the beautiful Cactus Gardens, the largest succulent gardens in Asia.
Farther afield
Set aside some time to visit the nearby hill stations of Kasauli, Solan or Shimla.
Amritsar, the city with the holiest Sikh temple is 238 km away and also offers a glimpse into the Indian struggle for Independence.
Delhi is 250 km by road and has excellent connectivity through the NH-1 Highway.
Dharamsala, home of the Dalai Lama and the highest cricket ground in the world takes another overnight journey to reach.
Other Himachal hill stations such as Kullu and Manali, are worth visiting as well. A trip by road to Kullu takes about 12 h by bus or 6–7 hours by taxi.
Kasauli, only 90 min drive from Chandigarh is a hill station not very far from the city. If one is lucky, in clear weather it offers a staggering view of Chandigarh from the Himalayan Foothills. Note that foreign visitors will need to present a valid passport to gain entrance since Kasauli is an Army cantonment.
Morni Hills: The town of Morni lies at a height of around 1100m (3500 feet) in the Shivalik hills. Just 45 km from Chandigarh, the town is a popular day trip & weekend destination. There are 3 routes from Chandigarh to Morni. The shortest and most popular turne off from the Shimla highway just past the toll barrier at Chandimandir.
One can visit Pinjore Gardens that are within a range of 15–20 km (9-12 mi) from Chandigarh on the way to Shimla.
Prakriti Farms An organic farm located 45 km from Chandigarh, surrounded by the lower Shivaliks & forestland on all sides. Accommodation is provided (only on weekends) in a mud & thatch cottage, swiss tents & safari tents, starting at ₹2,000 for 2 people. Traditional Punjabi food is freshly prepared from organically grown farm vegetables, with sarson ka saag & makki ki roti, and Indian-styled scrambled eggs being the farm specialties. Residents of Rail Majra, a nearby Rajput village, are employed by the farm. The village has a group of Punjabi Sufi music performers who often perform at the farm. Bonfires are lit under the stars on winter nights. Advanced bookings are required and can be done at +91 8527 141 626 or shivya@indiauntravelled.com.
Shimla, just 110 km (70 mi) from Chandigarh by road is called the 'Queen of Hills' and is the erstwhile summer capital of the British Raj.
Tikkar Taal - The Tikkar lakes are at a distance of around 7 km from Morni town. A popular destination, they are also home to the region's first adventure park. The park, which lies on the bank of the smaller of the 2 Tikkar lakes, was set up by Haryana Tourism in 2004, with the intention of promoting adventure tourism in the lower Himalayan region. At present it offers a range of activities from low ropes, commando nets, Burma bridge, rappelling & rock-climbing. It also has a tree house, fountains and a cafeteria.