Chiang Mai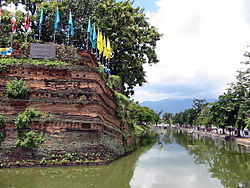 Chiang Mai
(เชียงใหม่) is the hub of
northern Thailand
. With a population of over 170,000 in the city proper (and more than one million in the metropolitan area), it is Thailand's fourth-largest city. On a plain at an elevation of 316 m, surrounded by mountains and lush countryside, it is much greener and quieter than the capital and has a cosmopolitan air and a significant expatriate population, all factors which have led many from Bangkok to settle permanently in this "rose of the north".
Understand
Founded in 1296 CE, Chiang Mai is a culturally and historically interesting city, at one time the capital of the ancient Lanna kingdom. In the rolling foothills of the Himalayas 700 km north of Bangkok, until the 1920s it could only be reached by an arduous river journey or an elephant trek. This isolation helped preserve Chiang Mai's distinctive charm, which remains intact.
Chiang Mai's historical centre is the
walled city
("city" is
chiang
in the northern Thai dialect while
mai
is "new", hence
Chiang Mai
translates as "new city"). Sections of the wall dating to their restoration a few decades ago remain at the gates and corners, but of the rest only the moat remains.
Inside Chiang Mai's remaining city walls are more than 30 temples dating back to the founding of the principality, in a combination of Burmese, Sri Lankan, and Lanna Thai styles, decorated with beautiful wood carvings, Naga staircases, leonine and angelic guardians, gilded umbrellas and pagodas laced with gold filigree. The most famous is Wat Phrathat Doi Suthep, which overlooks the city from a mountainside 13 km away.
Modern-day Chiang Mai has expanded in all directions, but particularly to the east to the banks of the
Ping River
(
Mae Nam Ping
), where Changklan Rd, the famous
Night Bazaar
, and the bulk of Chiang Mai's hotels and guest houses are located.
Loi Kroh Rd
(ถนนลอยเคราะห์) is the centre of the city's (tourist) night life.
Locals say you've not experienced Chiang Mai until you've seen the view from Doi Suthep, eaten a bowl of kao soi and purchased an umbrella from Bo Sang. Of course this is touristic blather, but kao soi, Bo Sang umbrellas and Doi Suthep are important cultural icons for the locals.
Orientation
Chiang Mai's most salient physical feature is the moat and the remains of the wall surrounding the old city. About 6.5 km in circumference, it is the reference point for navigating around the city.
The east and west halves of the old city each have their own character. The east side has the highest concentration of guesthouses, restaurants, motorbike rental shops, travel agencies, and other tourist-oriented services. In particular, the northeast corner is a warren of guesthouses, restaurants, massage parlours, and other businesses catering to visitors. The western half is more Thai, with a school for the blind, a coffin shop, the Chiang Mai branch of Thailand's National Library and five or six mostly table-top barbecue restaurants (หมูกระทะ mǔu grà~​tá) almost always packed with Thai customers.
Clockwise from 12 o'clock (north), the main features of the moat and its environs areː
Chang Phuak GateBuilt by King Mangrai c.1296. Formerly known as Hua Wiang ("head of the city") Gate as it was considered the most important. King Saen Muang Ma (1365-1401) built an albino elephant (cháang-pʉ̀ʉak ช้างเผือก) monument outside the gate during his reign. The name of the gate then changed gradually to reflect its presence. Traditionally, kings-to-be entered the city through this gate on the way to their coronations. Taking the road north from here takes one to the intra-provincial bus station, also named Chang Phuak, then onward to Mae Rim, Pai, Chiang Rai and the Lao border.

Si Phum CornerTaking the left turn at this point takes one to the superhighway. Straight on leads to a bridge over the Ping River and beyond it, the rail and bus stations. Turning right (south) parallels the eastern boundary of the moat.

Tha Phae GateBuilt c.1296 as Chiang Ruak Gate after a nearby village. "Tha Phae" means "raft landing". There used to be an outer Tha Phae on the river and this gate, the inner Tha Phae. When the raft landing was supplanted by a bridge, this became the Tha Phae Gate. Rebuilt 1985-1986. The vicinity is by far the area most useful to visitors as it contains the greatest number of tourist services. The Night Bazaar lies due east, about a 15-min walk. There always seems be something going on in the plaza adjacent to the gate. Every Sunday a Walking Street Market originates here.

Katam CornerA "katam" was a "fishtrap". Water flowing into the city from the Hua Lin corner (NW) of the city collected near this corner in a large pond full of fish. The corner took on the name of the tool used to catch the fish. Turning left here leads to the River Ping.

Chiang Mai GateBuilt c.1296 at the founding of the city by King Mangrai. Traditionally the start of the road south to Lamphun. Reconstructed c.1800. Rebuilt 1966-1969. Nearby is the Chiang Mai (fresh) Market, selling foodstuffs. Adjacent are many food stalls, which are popular throughout the day and evening. Across the street to the south is a Walking Street Market every Saturday.

Saen Pung GateFirst mentioned in historical records about 1545. Traditionally used to transport the dead out of the city to crematoria outside the city proper.

Ku Huang CornerRefers to a stupa "kuu" containing the ashes of a person named "Huang". Rebuilt c. 1800. Turning left here leads to the Airport Plaza Shopping Centre and the airport.

Suan Dok GateOn the sign, misspelled in English as "saun dok". Little in the vicinity of interest to visitors.

Hua Lin Corner"Hua" means "head" and "lin" meant "aqueduct". At this corner the small brook, Hûuai Kaeo, was lifted over the city's rampart to provide fresh water to the settlement. Turning left here leads to the Nimmanhaemin District, Chiang Mai University, and onward to Doi Suthep.
Climate
Chiang Mai's northern location and moderate elevation results in the city having a more temperate climate than that of the south.
As in the rest of Thailand there are three distinct seasons:
A cool season from Nov-Feb.
A hot season from Mar-Jun.
A wet season from Jul-Oct.
Get in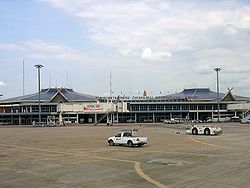 By plane
Chiang Mai International AirportHandles both domestic and regional international flights.
The route from Bangkok is one of the busiest in the country (Thai Airways flies daily almost every hour, with additional flights in the peak tourist season). Other airlines operating direct services to Chiang Mai include:
Domestic
International
The airport is 3 km southwest of the city centre, 10–15 minutes away by car. Legal airport taxis charge a flat 150 baht for up to 5 passengers anywhere in the city. Uber charges the same flat fare if going from/to the airport. If you take a metered taxi, the fee will start from 40 baht plus a 50 baht service fee from the Meter Taxi counter. The taxis operate from the exit at the north end of the terminal, after baggage claim and/or customs, walk into the reception hall and turn left. The airport has a shuttle minibus service available, offering drop-off to any hotel in the city for a flat fee of 40 baht (July 2015) - perfect if you're arriving alone and don't mind waiting 10-15 minutes for a few fellow passengers. The minibus counter is at the southern end of the terminal, near the International arrivals. Alternatively, take Bus 4 to the city centre for 15 baht, or charter a tuk-tuk or songthaew for 50-60 baht per person (if alone, negotiate with a songthaew driver who already has a few passengers). Most hotels and some upmarket guest houses offer cheap or free pick-up/drop-off services.
There are numerous ATMs and exchange offices of several banks in the main airport hall, which is very long and combines both international and domestic arrival and check-in booths on one floor - but you'll need to take an elevator to the second floor once you've checked in, and that's where you won't find neither exchanges nor ATMs. The exchange rate, while not terrible, may be not as good as you can find in town.
By bus
Bus stations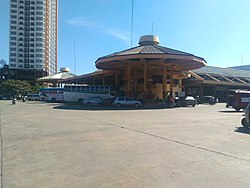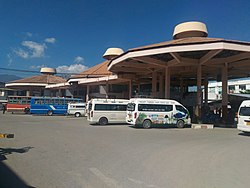 Chiang Mai has two official bus stations, consisting of four bus terminals:
Arcade Bus Station (Terminals 2 and 3 plus the Nakhonchai Air Terminal)

phone: +66 53-242664

Buses from destinations outside Chiang Mai Province use this station. It has two official terminals, separated by a tuk-tuk stand and a road and tank trap-like obstacles. The private bus company Nakhonchai Air has a separate terminal behind Terminal 2.
The Arcade Bus "Station" is a mess, with no obvious order to the layout. There are ticket offices in both terminals. Further complicating the confusion, behind Terminal 2, Nakhonchai Air has a separate terminal. If you walk from the front to the rear of the Terminal 2 building, you will see a big "Nakhonchai Air" sign. Keep walking, and cross the parking lot to the rear, you will come upon it. The terminal is normally hidden from view by out-of-service buses.
Terminal 2 has a tourist police office, ATMs, food vendors, and many ticket sellers, including the booking office for BKS government buses. Buses depart from here for Bangkok, Phitsanulok, Udon. There seems to be no logic as to what buses go to which destination from which terminal and there is a good deal of overlap.
Terminal 3 is the larger and newer of the two. It has an air-conditioned waiting room with Internet cafe upstairs, small food vendors, ATMs, the booking window for Green Bus (Window 20), and numerous other ticket sellers. Buses for Bangkok, Phitsanulok, Ubon, Korat, Nan, Hua Hin, Luang Prabang, Mae Sot depart from here.
Chang Phuak Bus Station (Terminal 1)

phone: +66 53-211586

This station handles buses within Chiang Mai Province including Mae Rim, Chiang Dao, Fang, Tha Ton, Phrao, Hot, Chom Thong, Doi Tao, and Samoeng.
In effect, there is a fifth bus terminal if you count songthaews as buses. From the
Warorot Market
, songthaews depart for a variety of locations within a radius of about 50 km, such as Samoeng. The colour of the songthaew indicates its general route or usage. Most common are red songthaews (hence the alternative name of
rot daeng
, or "red car", which roam the main streets in the city. Warorot Market (west bank of the Ping River) is the most common terminus for songthaews that travel along fixed routes. From Warorot Market, white songthaews travel to the eastern suburban town of San Kampaeng, yellow songthaews travel to Mae Rim and Samoeng in the north, blue songthaews travel to Sarapee and Lamphun in the south, and green songthaews travel to Mae Jo to the northeast. The songthaews line up along the road that is parallel the Ping River, between it and the market. Destinations are posted on round, yellow signs but are only in Thai.
From Bangkok
A variety of daily buses leave frequently from
Bangkok's Northern Bus Terminal (Mo Chit)
, offering varying choices of price, comfort and speed.
Rattling government buses make frequent stops at every minor township. The journey takes around 12 hr and costs 200 baht. Staff at Mo Chit station and elsewhere in Bangkok may deny these buses exist, or claim the price is the same as the 1st class busses.
Non-stop 24/32-seaters and 1st class buses such as Nakhonchai Air provide larger seats and snacks; making the long trip more comfortable. They manage the trip in around 9 hours and it costs around 488-550 baht. Be cautious about the so-called "VIP" buses touted on Khao San Rd. They may be cheaper, but you may end up crammed into a 2nd class bus or worse.
At Arcade Bus Station, where you'll arrive there is a public mini bus that runs from Arcadia bus station to the center of town (old town), it leaves from the road between the two arcadia terminal buildings and costs 15 baht. This will likely work out cheaper for tourists than the red songhaews and is less hassle; however staff staff will only direct you to the songthaews.
There are also songthaews that wait nearer Terminal 3, adjacent to the road that bisects the two terminals. Look for local people getting into them, and ask the driver if he goes to your destination (if the songthaew is empty, don't forget to confirm the price). A shared trip to Tha Phae Gate (south edge of the old town) should cost 20 baht each, though you may have to wait for a driver who agrees. Virtually all songthaews will pass Warorot Market (city centre, just after crossing the river), from where it's just 1 km walk to Tha Phae Gate, or numerous (see "Get around" section) songthaews to other areas.
Drivers will approach you once you've arrived and will ask as much as 100-200 baht to the city centre/Tha Phae Gate, showing you a bogus price list with "fixed" prices. Bargain: it's just 5–6 km, so the fair price for tuk-tuk there is 50-60 baht, and is not more than 100-120 baht even to the opposite side of the city. It may be difficult to bargain with these drivers, however. A good idea is to ignore them from the start, walk out to the nearby street, and catch a passing tuk-tuk/songthaew there. If your luggage is light, you can walk to the centre, but it's quite a long (1 hour or more) walk, as the Arcade bus station is located in the city's northeast outskirts. Nowadays, you can also use Uber app for a cheap yet comfortable ride - a trip to the old city area will likely cost 45-70 baht, but be sure to pinpoint your location really well, so the driver could find you, as the bus station area is quite large.
From Hua Hin
Buses depart the Hua Hin BKS Station at 08:00, 17:00, and 18:00 for Chiang Mai, 12.5 hr, 851 baht (Oct 2013).
From Pattaya
Buses depart the Nakhonchai Air Terminal in Pattaya (Sukhumvit Rd, ~60 baht motorbike taxi fare from Beach Rd) for Chiang Mai several times during the day. Last bus about 21:00. Fare is 785 baht (Nov 2013). Travel time is about 11 hr, with no stops longer than 5 min. Buses to Pattaya from Chiang Mai leave the Nakhonchai Air Terminal at Arcade Station daily on roughly the same schedule.
From Phuket
There is one daily direct
Green Bus service
from Chiang Mai's Arcade Terminal 3 to Phuket Terminal 2 and back. Cost is 1,646 baht (Dec 2017), tickets can be purchased online on their website. This trip is a killer: close to 24 hours on the bus! Although the bus is a state-of-the-art Sunlong vehicle and the seats are great (VIP24 bus: three business class-like seats in a row, with a video entertainment system - the movies are mostly in Thai however, with some limited English selection), this is simply too long time to be on a bus. If flying is not an option, definitely it's better to break your trip into two parts by stopping for at least one night in
Bangkok
(going from/to Chiang Mai by sleeper train preferably) or another city roughly in the middle, like
Hua Hin
.
From Udon Thani
From Udon to Chiang Mai: Phetprasert Bus Company has three buses a day depart from in front of the Central Festival Shopping Mall. Depart Udon/arrive Chiang Mai times are: 17:45-05:25; 18:45-06:25; and 20:45-06:40. Fare is about 636 baht (Apr 2015). Buy your ticket at the Phetprasert ticket counter in the downtown bus station, a 5 min walk from Central Festival. There is an inconvenient out-of-town bus terminal that may have more buses to Chiang Mai.
From Chiang Mai to Udon: Phetprasert Buses leave Chiang Mai/arrive Udon at: 14:30-02:15; 17:30-05:15; and 19:30-05:30. Buses arrive at the Central Festival Shopping Mall, a convenient location 5 minutes from the downtown bus station. Fare is about 636 baht (Apr 2015). Buy your ticket at the Phetprasert ticket counter in Arcade Terminal 2. Buses depart from Arcade Terminal 3.
By train
Services from
Bangkok
leave on a
regular daily schedule
and take 12–15 hours to reach Chiang Mai. If you go by night train (recommended), try to choose one which arrives late to get an opportunity to see the landscapes. They are impressive, with bridges and forests and villages and fields.
Daytime services
leave at 08:30, and 14:30 with second-class (281 baht) and third-class (121 baht) carriages. The seats in each class differ in softness and width, and can become uncomfortable after 10+ hours.
Overnight sleepers
provide comfortable bunks with clean sheets and pillows in first- and second-class. First-class beds (~1,400 baht) are in private two-bed compartments. In second-class (~900 baht), the carriages are open but each bunk has a curtain for privacy. First-class is always air-con, second class is sometimes air-con. There are usually four trains per day with sleeper accommodation, though only two of these will have first-class compartments. Station staff will be able to help you.
Carriages are kept clean; the toilet and floors are regularly mopped during the journey. Vendors make regular rounds selling snacks, drinks, and lacklustre meals. Vendors will try to inflate the prices for tourists so be prepared to get ripped off, haggle, hop off quickly at stations to make a purchase (or order through the window), or bring your own.
In second-class, the bunks are folded away leaving pairs of facing seats. At some point in the evening, or on request, they are flipped down into bunks and made up into beds. In first-class, the bottom bunk is used as a bench seat before having a futon mattress deployed onto it in the evening.
If you're not in the mood for bed when your carriage mates are bedding down, you can head off to the dining car, which provides fairly good food and drink at not too great a premium. Later in the night, the dining car can be converted into a disco, complete with loud music and flashing lights.
Tickets
can be bought up to 60 days in advance at any station in Thailand. Booking in advance is advised, especially for the popular 2nd-class overnight sleepers. Larger stations accept payment with Visa and MasterCard. This is fairly safe, as SRT is a state-owned company. If you are not yet in Thailand, the
e-ticketing SRT
website will let you buy and print an e-ticket. Some find it tricky to register. You have to avoid any special characters while filling the registration form. You must book at least three days in advance, and you can only purchase 1st and 2nd class air-con sleeper tickets which are 150-200 baht more expensive than fan-only car tickets. The price on-line is the same as at the ticket office. Various travel agencies, some available to contact from outside Thailand, can also procure tickets for delivery or pick up, with fees typically starting at 100 baht.
SRT charges 90 baht to transport a bicycle between
Bangkok
and Chiang Mai.
Chiang Mai train station
Many songthaews and tuk-tuks await each train's arrival. If you want to walk, exit the station, cross the open square in front and turn left on the first major road you come to (Charoen Muang Rd); this road goes directly to city centre.
Get around
By bus
Chiang Mai finally has a limited bus service, not without the opposition of the songhthaew (see below) and tuk tuk drivers. The buses are air-conditioned and follow one of a few routes; see
CM Transit
application for real time tracking, or this guide, to plan your trip. There are just a few routes so far, but they quite fit the average traveler's needs, including from/to the airport. The ticket is 20 baht, pay in cash to the driver or else Rabbit card from Bangkok is also accepted. For those wishing to travel really hard, there's a Tourist card - 180 baht per day or 400 baht per 3 days unlimited trips.
By songthaew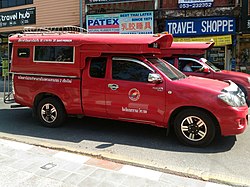 The traditional way of getting around the city is by
songthaew
(สองแถว) which serve as buses and taxis. These covered pick-up trucks have two long bench seats in the back (
songthaew
means "two rows" in Thai), the seats are shared by multiple passengers and the songthaews stop en route to pick up other passengers who are going the same way.
The colour of the songthaew indicates its general route or usage. Most common by far are
red
songthaews (called rot
daeng
,
red
truck), which don't follow a specific route and roam the main streets around markets, temples, or the bus/train stations. These are the most convenient to take if you are going somewhere specific. Prices are fixed to 30 baht inside the city walls but the price must be negotiated outside the city walls, but expect to pay upwards of 40 baht outside. During peak season these prices can increase to 40 baht within the city walls and up to 200 baht outside - again, that's how much the tourist would pay. Because of the city's somewhat irrational road design, especially inside the old walls, the driver may be forced to take a circuitous route to get to a nearby destination, but it will make no difference to the fare.
Since mid 2017 the songtaews show "30 BAHT/PERSON" in a text above the windows of the car. However this is not a translation of the entire Thai text.
It turns out to be the maximum
, when reading the entire line. A second line, that is below the windows, gives the area for this tariffs:
within the 2nd ringroad.
Keep this in mind when you have to negotiate.
Fixed route songthaews
congregate around Warorot Market. From Warorot Market,
white
songthaews travel to the eastern suburban city of Sankampaeng,
yellow
songthaews travel to Mae Rim and beyond in the north,
blue
songthaews travel to Sarapee and Lamphun in the south, and
green
songthaews travel to Mae Jo in the north-east. Fare is dependent on distance: a yellow songthaew to Samoeng (~50 km) is 60 baht.
From the Chiang Mai Gate Market (south edge of moat), songthaews also travel to Hang Dong (20 baht) and San Patong, southwest of Chiang Mai.
To catch a songthaew
approach a waiting driver or flag one down on the street, state your destination and if the driver is going that direction he will nod in agreement and give you a price. Negotiate a lower fare if you wish. The price agreed to should be
per person
. It's a good idea to confirm this with the driver before you leave. On reaching your destination, ring the buzzer on the roof to tell the driver to stop. The driver will pull over, wait for you to get out and pay.
Songthaews not orbiting on a fixed-route can be hired outright, just as if they were a meter-taxi. Negotiate a price before departure.
By tuk-tuk or samlor
Tuk-tuks
are a quick, though noisy way to get around. Fares used to be like 40 baht and up for a short hop, 50-100 baht for longer distances, and maybe 150 baht all across the city just several years ago. Nowadays, good luck if you can bargain for anything less than 100 baht even for a few kilometers, as they would rather wait for another clueless tourist more likely. Many expatriates and long-term tourists tend to ignore tuk-tuks completely unless absolutely necessary, and use alternate modes of transportation like a motorbike or Grab ride-hailing app. Even Thai people are complaining about tuk-tuks asking them more than double than they used to pay several years ago. Tuk-tuks at the bus/train station will ask even more like 200 baht if not more, and may refuse to bargain - just walk away to the nearest road and stop a songthaew (note that some of them will also quote a "taxi" price when they see a foreigner) there, or, better, install a Grab app and go by an air-conditioned car for a fraction of the tuk-tuk price. A good rule of thumb is that unfair drivers will seek you out, but you have seek out the drivers who will give you a fair price.
A few
samlors
(three-wheeled bicycles) still cruise the streets and will happily take you to a temple for the same price as a tuk-tuk, though at a considerably quieter and slower pace.
By taxi
Chiang Mai has metered taxis, although not as many as tuk-tuks and songthaews. The "flag fall" is 50 baht for the first 2 km. Then 10 baht per kilometre after that. Journeys longer than 12 km can be negotiated. This fare structure applies to all metered taxis in Chiang Mai Province.
You cannot generally hail taxis in the street. To
book a taxi
, call +66 53-279291, state your destination and the call centre will give you a quote. Or contact individual drivers via the mobile phone numbers displayed on their vehicles.
Uber ride-hailing app service in Thailand was taken over by their rival Grab in April 2018, so until any competitor emerges, Grab is the only option in the city for that service, with somewhat higher fares. Anyway, it's mostly (except the periods of exceptionally high demand like during Songkran, New Year, etc.) cheaper than a tuk-tuk even after haggling, and you can ride without having to pay any cash in the comfort of a private car. For the airport rides they charge a significant premium (such as 180 baht compared to 70 baht to the nearby Central Airport Plaza), but most rides within the city (including the train and bus stations) will cost much less, like 60-80 baht for a few kilometers.
You can also call a regular metered taxi using the Grab app (look for a GrabTaxi service), which will give you a fare estimate to compare with their main GrabCar service (where you will pay exactly what you see on the screen). At the end of a GrabTaxi trip, you'll pay what the meter shows plus a booking fee (30 baht), either in cash or debited from your credit card by the Grab service.
By motorbike or motorcycle
A motorbike is a convenient and cheap way to get around the city or reach the outlying sights. There is an abundance of near indistinguishable rental companies in the city, though most guesthouses can arrange rentals as well. 100 cc and 125 cc machines with automatic transmissions capable of carrying two people are the easiest to jump on and ride away if you don't have driving experience. A scooter or moped, such as the Honda Click, is the most convenient as it can carry bags on the floorboard and smaller items underneath the seat. Off-road bikes and larger street bikes are also an option. An international driver's licence is legally required, but the rental shops don't ask to see it, not even your national driver's permit.
Motorbikes/scooters typically cost 150 baht/day for a 100 cc and 150+ baht/day for a Honda Click 125. You get the required helmet(s) and an anti-theft chain (not for scooters). Larger machines cost 700 baht/day for a V-twin or larger sport-bike. Expect discounts when renting for a week, month or longer.
Renting will require a deposit, and while many companies ask for a passport, you should under no circumstances leave your passport with anyone as collateral. However, most shops will accept a photocopy with a cash deposit of around 3,000-5,000 baht. While the petrol/gas tank may be full on pickup, it is not uncommon for shops to deliver a bike with just enough fuel to go make it to a service station. They may siphon the remainder off when you return it so the next person is forced to do the same. In any case, return the bike with as much or more fuel than received to avoid any penalties. Also check the mechanical condition of the bike offered. Focus especially on the brakes: the degree of "pull" needed for the brake levers and the travel required by the foot brake. Check that turn indicators and headlights work properly, and that the tyres are reasonably OK. Make photos of the bike as documentation of pre-existing damages.
Some rental agreements claim to insure you, but generally only cover the bike for theft or damage. Don't expect much compensation in the event of an accident. And irrespective of who is at fault, assume that you will be the one blamed.
Chiang Mai traffic police are fond of setting up checkpoints to stop motorcyclists. These invariably happen during business hours, Monday-Friday. If you or your passenger are without a helmet, you will be stopped. If you do have a helmet, you may be stopped anyway, to check your licence and registration. If you are fined, this is a smooth process which typically takes less than 5 minutes: e.g., if you present a foreign driver's license, you fined only 500 baht. You can pay on the spot and continue driving afterwards. If you are stopped again, showing the receipt may exempt you from being fined again.
The regular checkpoints change from time to time. The second half of 2019 they are:
Checkpoint Arak Rd.

Checkpoint Kotchasarn Rd.

Checkpoint Huay Kaew Rd.Usually direction Doi Suthep, but sometimes both directions.
By bicycle
Traffic inside the old city walls is subdued enough to make biking a safe and quick way to get around. Bike rentals are plentiful; rental costs 30-250 baht/day depending on the bike quality.
By electric kick scooter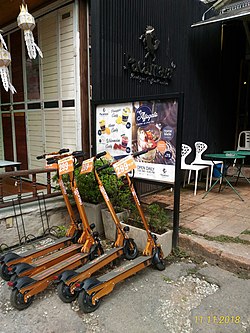 Since november 2018 a new type of local transport became available: the electric kick scooter. You need an app on your smart phone to use them.
By car
Car hire services are available at the airport and throughout the city. Cars typically offered include the Toyota Vios, Altis, and Yaris, and the Honda City and Jazz. Typical rates for newer models are 1,200-2,000 baht per day. Expect a slight discount when renting weekly. Utility pickups such as the Ford Ranger are available for about 1,400 baht per day. Many places offer minivans such as 10-seat Toyota Commuters with a driver from about 2,000 baht per day plus fuel. Older Suzuki Caribbean 4WDs are a cheaper option at around 600-800 baht per day, but they are relatively difficult to drive and less mechanically reliable than a standard passenger car.
All the multi-national rental companies are present in Chiang Mai. Two local car rental companies:
phone: +66 85-7144045

address: 18/2 Santitham Rd, Chang Phuak

phone: +66 53-904188

address: 60 Airport Rd. 1st Floor Domestic Arrival Hall (Exit 1)
Hiring a car or minivan with driver
is a great option for travelling to places outside the city, and the price is often similar to hiring a car and driving yourself. You'll also be able to relax and enjoy the scenery in air-conditioned comfort. The cost for a private car with driver is generally from 1,500 baht per day plus fuel depending on the type of vehicle and where you are going. The driver will typically pick you up with a full tank of fuel and you pay at the end. Large Toyota Hi-Ace, Nissan Urvan and newer Toyota Commuter minivans go for around 2,000 baht per day plus fuel. Most hotels and some guesthouses can arrange it for you, in addition to vehicle rental outlets, and the many travel agencies in the city.
On foot
The old city moat is only about 1.6 km on a side, and as such is easy to walk around. The airport is also quite close to the old part of the city, about 2.5 km, so if you have the energy and an hour to spare, you can even walk to and from the airport. This is not necessarily a pleasant experience as the sidewalks are uneven (or non-existent) and Chiang Mai gets hot during the day, especially during the hot season, and rainy during the rainy season. The cost of a taxi or songthaew from the moat area to the airport is around 150 baht.
See
Gardens and nature
Chiang Mai Foreign Cemetery

address: Chiang Mai-Lamphun Rd

A place of history and remembrance.

phone: +66 53-893111

address: 100 Huay Kaew Rd

Extremely popular with Thai tourists, and so expect long queues. A large park with over 400 species of animals. While better than some zoos, the animals are nevertheless kept in small enclosures. Operates a dual pricing system wherein non-Thais are charged approximately double the price of Thai nationals. Additional charges also apply for both the panda exhibition and the aquarium. Many of the animals can be fed for a charge of 10 or 20 baht. The park is pretty large and expect plenty of hills if you want to walk the complete route. It's possible to drive through with your car, but not very practical if you want to see the animals up close. If you have a rental scooter or bike, definitely bring it though. The car park facilities are best described as chaotic.
Mae Sa Waterfall

phone: +66 53-210244

Set in the Doi Suthep-Pui National Park on the Samoeng Loop. The path winds up for almost 2 km to the 8 tiers of cascades. There are many secluded areas off the trail for picnics. Crowded on weekends and holidays.

Phu Ping Palace

address: Suthep

This royal winter palace has lavishly landscaped gardens and is open to the public. Dress code strictly applied: dress modestly or pay 15 baht for fisherman's pants to cover your lack of it. This includes ANY leg above the ankle for either gender). The palace itself (built in 1961) is not particularly exciting, but the extensive gardens are picturesque with some amazing plant life, including carefully tended tropical flowers, centuries-old trees and giant bamboo. A sign at the bottom of the hill near the zoo indicates when it's closed. It is close to Wat Prathat Doi Suthep, so travel directions are similar.

phone: +66 53-841234

address: 100 Moo 9, Mae Ram

Thailand's oldest and foremost botanical garden. Dedicated to the conservation of Thai flora, it holds collections of, and carries out research on rare and endangered species. Lovely gardens in a mountain foothills setting. Run by the Botanical Garden Association of Thailand.

Nature Trail to Doi Pui peakA loop trail (2.4 km) leads from the Doi Pui Campsite to Doi Pui peak (uphill!) and back. From the peak you can continue to a View Point (680 m). The whole trail is in the forest and you're above 1500 m, so it's much cooler than in the city during the hot season. Bring insect repellent. To get there, rent a motorbike (or find a songthaew that takes you there) and drive all the way to Phu Ping Palace, continue on the main road, turn right after about 1 km (turning left will bring you to a mountain village) and continue on a narrow windy road for almost 4 km until you reach the Pui Campsite. Alternatively, walk all the way from Phu Ping Palace, there's not much traffic. A sign marks the start of the trail.
Museums
Chiang Mai City Arts & Cultural Centre

phone: +66 53-217793

This modern multimedia history and cultural education centre has guides dressed in elegant traditional Thai clothing who will usher you into an air-conditioned room to watch an English-subtitled orientation video about Chiang Mai and the north. Next, you will be pointed to a series of rooms documenting the region's history and culture in chronological order from the pre-Muang period (7,000-12,000 years ago) to the early river civilizations, to the early kings through the wars with the Burmese and the last dynasty, to the city today and its plans for the future. Other rooms are devoted to Buddhism and other regional beliefs, agricultural history, hill tribe peoples and other regional cultures, and a run-down of the royal dynasties. The exhibits consist of a smart visual mix of video, scale models, enlarged photos, wall murals and text in Thai and English.

phone: +66 53-221308

address: on the superhighway

The history of Chiang Mai.

Chiang Mai Numismatic Museum

phone: +66 53-224237

address: 52 Ratchadamnoen Rd

Chiang Mai University Art Museum

phone: +66 53-944833

address: corner Suthep and Nimmanhaemin Rd

There are exhibitions by undergraduates from the Fine Arts Department at Chiang Mai University. These change often and the work on display is of high quality. Each month there is usually at least one art exhibition featuring the works of artists from Southeast Asia. The museum also hosts musical concerts, often free, in the adjoining theatre.

Museum of World Insects and Natural Wonders

phone: +66 53-211891

address: Soi 13, Nimmanhaemin Rd

One of Asia's most unusual museums housing butterflies, beetles, etc. Also has a large selection of minerals. Some explanations in English, some in Thai.

Postal Museum

address: Mae Ping Post Office

The Highland People Discovery MuseumThe museum is located on a little peninsula in a big pond. There is also an open air part to the museum at 300 m from the main building, where you find houses in the styles of the tribes.
Temples
Inside the old city walls
Wat Chedi Luang

address: Prapokklao Rd

Almost in the centre of Chiang Mai are the remains of a massive chedi that toppled in the great earthquake of 1545. The temple was originally constructed in 1401 on the orders of King Saeng Muang Ma. In 1454, reigning King Tilo-Garaj enlarged the chedi (pronounced jedee) to a height of 86 m. After the earthquake, the chedi lay in ruins until 1991-92, when it was reconstructed at a cost of several million baht. A magnificent testament to Lanna (northern Thai) architecture and art, restored sections hint at its former glory. Wat Chedi Luang is also home to the "Pillar of the City", a totem used in ancient Thai fertility rites.

Wat Chiang Man

address: Ratchaphakhinai Rd

The oldest temple in the city. Presumed to date from the year Chiang Mai was founded (1296), it is famed for two Buddha statues, which are about 1,800 and 1,000 years old, respectively. King Mengrai allegedly lived here while the city of Chiang Mai was being constructed. Enshrined in Wat Chiang Man is a tiny crystal Buddha called Pra Seh-Taang Kamaneeee, which is thought to have the power to bring rain. Another image, called Phra Sila Khoa, reflects the fine workmanship of Indian craftsmen from thousands of years ago.

Wat Phra Chao Mengrai

phone: +66 53-278788

address: Ratchamanka Soi 6, Phra Sing

An atmospheric temple with two wihan buildings, off the beaten track, quiet and gently crumbling. One of the wihan buildings houses an important Buddha image: Phra Buddha Rupa Phra Chao Mengrai.

Wat Phra SinghProbably Chiang Mai's best-known temple, housing the Phra Singh image, completed between 1385 and 1400. Of most historical interest is the Wihan Lai Kham in the back, featuring Lanna-style temple murals and intricate gold patterns on red lacquer behind the altar. The large chedi was built in 1345 by King Pha Yu to house the remains of his father King Kam Fu. A typical scripture repository is located at this temple as well. These repositories were designed to keep and protect the delicate sa or mulberry paper sheets used by monks and scribes to keep records and write down folklore. The high stucco-covered stone base of the repository protected the delicate scriptures from rain, floods, and pests. The walls of the chapel are covered with murals illustrating Lanna customs, dress and scenes from daily life. The lovely Lai Kam chapel houses the revered Phra Singh Buddha image. Sadly, the head was stolen in 1922, and a reproduction is now seen. Your admission ticket is in a leaflet form containing useful information and map of Wat Phra Singh complex. The temple is most attractive during Songkran, the Thai New Year, in mid-April.
Outside the old city walls
Wat Chet YotThe history and unusual architecture scattered under the yawning canopy of ancient trees is an pleasant antidote to the flash and bustle encountered at popular temples. Established in 1455 to host the eighth World Buddhist Council, many features of the grounds imitate significant places of the Buddha's enlightenment. Originally called Botharam Maha Vihata in honour of the venerated Bodhi tree, it came to be known as Wat Jet Yod by locals, after the seven spires (Jet Yod) protruding from the roof of the Vihara. The square-sided design of the Virhra is a replica of Mahabodhi temple in Bodh Gaya, India, though the translation has distorted proportions somewhat. Remnants of the graceful stucco relief murals that adorned the walls depict angels with a distinctly Indian flavour. The grounds also hold some more recently built, but abandoned looking, eroded chedis and buckling bases of vanished halls, overshadowed by a fully intact, though more diminutive, replica of Chedi Luang that was built around 1487 to house the ashes of King Tilokarat.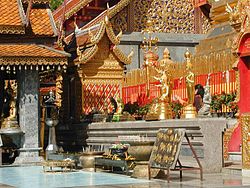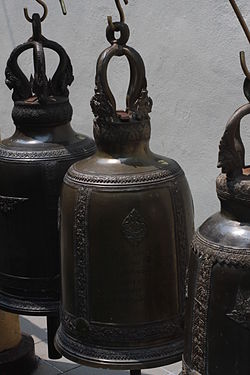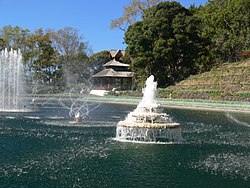 Wat Phrathat Doi SuthepThe quintessential image of Chiang Mai with its large gilded chedi, visible from the city on a clear day. Built in 1383 during the Lanna Thai period, legend has it that the temples site was selected by an elephant sent to roam the mountain side, where upon reaching a suitable spot, it trumpeted, circled three times, knelt down and promptly died, which was interpreted as a sign indicating an auspicious site. The temple offers grand views over the city, but no reward is without effort as you must accent the 200-plus steep steps of the Naga-lined stairs. The climb may be a strain in the high altitude's thin air for the less fit, so you may opt to take the cable car for 20 baht. For the Visaka Bucha holiday around May each year, it is traditional for people to walk from the zoo to the temple and vast numbers make the pilgrimage to the top, which takes around 4–5 hours.
In the vicinity there are several other attractions you may want to consider visiting. The Bhubing Royal Palace Gardens are 4 km further along the road from Wat Phrathat Doi Suthep, with a reasonably easy walk along the meter-wide road shoulder. Or you can get a shared songthaew from Wat Phrathat Doi Suthep for 30 baht, but you may have to wait until it fills up. Further along the road is a hill tribe village, and although tourist-oriented, is really worth the trip. There are many shops for local handicrafts, etc. These are the people from the far north of the country, many originally from Myanmar. There are two areas in the village that require entrance fee: 10 baht to enter a flower garden (where women can take pictures using traditional clothes) and a hill tribe opium museum (the museum is in a very poor condition); and 10 baht to enter the hill tribe waterfall (man-made).

Getting there is a source of much consternation to many travelers. Clearly marked songthaews leave from Pratu Chang Phuak, next to the 7-Eleven. Prices are listed as 60 baht up and 60 baht down. The drivers wait until they have sufficient (Minimum of 10) passengers before they depart, potentially making for a lengthy wait. The driver may offer to leave without the minimum number of people if the current passengers are willing to pay a bit extra. Most guidebooks advise taking a songthaew from Mani Nopharat Rd, resulting in the drivers milking the tourist cash-cow and raising their price from a reasonable 60 baht to a ludicrous 500 baht.
Another option is to take a songthaew from your hotel to the northern gate of Chiang Mai University for 20 baht (if you are close to the city walls), where there will be several songthaews waiting on Huai Kaew Rd to get a full load of passengers for a trip up the mountain. They seem to congregate around the Chiang Mai Zoo, so if you just say "zoo" to the driver he will know what you're talking about. Prices range from 40 baht for a one-way trip to Wat Prathat to 180 baht for a full round-trip tour, including the temple, Bhubing Palace Gardens, and the hill tribe village, with an hour at each location, but you may have to wait until there are sufficient people who want the same tour or be prepared to pay more. You can also get between many of these by buying point-to-point tickets at the time you want them, or walking some segment. Any songthaew up the mountain road may be a trial for those prone to motion-sickness, so take appropriate precautions. Also, there may be several little annoying additional costs foreigners. To enter the Doi Suthep is free for Thais, and 30 baht for foreigners. Tour operators will ask 700 baht for a tour.
The journey from the city can be made by motorcycle or a bicycle (with appropriate gearing). The final 12 km from the zoo onwards is entirely uphill and will take 60-90 minutes if bicycling.
Wat Suan DokA large open-sided hall with a jumble of roughly hewn Buddhas with a huge dazzlingly whitewashed chedi behind.
Wat Ton KwenVery nice temple with unusual architectural elements. Road 1269 is also part of the Samoeng Loop route.
phone: +66 53-277248 (call only from 08:30-16:00)

address: Off Suthep Rd

The name means "tunnel temple". An ancient temple in the forest just outside Chiang Mai. King Mengrai built this temple for a highly respected forest monk who liked to wander in the countryside, hence the isolated location where the monk could stay quietly and meditate. It is unusual in that it has tunnel-like chambers in the ground, some of the walls of which still have the original paintings of birds and animals visible. The large stupa is magnificent, and there is an eerie statue of a fasting, emaciated Buddha next to it. You can also take a break by the ponds, where you can feed the fish and turtles. Has a meditation centre open to foreigners. Some monks and the abbot speak a little English.
Wiang Kum Kam

address: Chiang Mai-Lamphun Rd, Saraphi district

This ancient city was built in the 13th century CE by King Meng Rai to be the first capital city of Lanna. But it flooded every year so he decided to move his capital to Nopburi-Srinakornping Chiang Mai. Wiang Kum Kam was flooded and did not show up again because of the path of Ping River changed. In 1984, one of the temples was found by the Department of Fine Arts, and exploration of the other temples began. Tour around Wiang Kum Kam with a guide are available from tourist agencies for 300 baht. You can get there by carriage for 200 baht, or rent a bicycle to ride along the road and follow the signs. Notice that entering the area via the Chiang Mai-Lamphun Rd is very nice because of the very tall trees that line this road.
Do
Cinema
Festivals & exhibitions
Bo Sang Umbrella & Sankampang Handicrafts FestivalTakes place around the third weekend of Jan at Ban Bo Sang, Sankampang. The festival is in the form of a "street fair" in which the central road of the village is used, with shops on both sides. Shops are decorated in Lanna-style, most with the well-known umbrellas, as well as with traditional lanterns. In addition there are contests, exhibitions, cultural performances, local entertainment, and assorted shows day and night. There is a grand procession decorated with umbrellas and local products, a variety of handicrafts for sale, northern-style khantoke meals and the Miss Bo Sang pageant.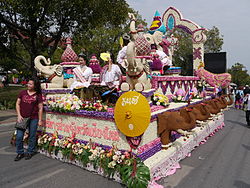 Chiang Mai Flower FestivalStaged every year during the first weekend in February. The city is awash with vibrant colours ranging from the electric orange and lilac colours of the bougainvillea to the velvety blossoms of petunias in all shades of pink, white, and purple. The strident red of the poinsettias, bought by many at Christmas and New Year, is echoed by beds of scarlet salvias. Homes and shop owners alike line the city streets with colourful flower boxes. The sheer profusion of colour that the flower festival and carnival brings to Chiang Mai aptly gives the city its name "Rose of the North". On all three days of the festival, prize blooms are on display at Nong Buak Had Park near the city centre. Many types of flower, miniature trees and orchida are put on display for the judges to choose the best of the species. Landscape specialists put on an elaborate display, which includes patios and waterfalls with exotic decorative plants and flowers. The best part of the flower festival is on Saturday. The parade lines up from the train station to Nawarat Bridge so the police close most of Charoen Muang Rd around 08:00. The VIP viewing stand is right next to the bridge in front of the Chiang Mai Governor's home. The parade route goes up Tha Phae Rd to the gate and turns left and follows the moat to Nong Buak Had Park. The parade moves at a slow pace and stops several times so there is plenty of time to take pictures of the colourful floats, pretty girls and hill tribe people in native costume. The paraders hand out roses to spectators lining the road. When the parade finishes everyone heads to Nong Buak Had where all the floats, award-winning flower growers and landscape projects are all on display. There are plenty of food stalls in the park, and in the late afternoon the Miss Chiang Mai Flower Festival starts. The party goes well into the evening until the new Flower Festival Queen has been chosen. This is a great time to visit Chiang Mai, as the air is cool and the evenings fresh and clear. If you want to see the festival make sure you book your hotels and flights well in advance.

Inthakin or Tham Boon Khan DokCity Pillar Festival in Chiang Mai. This is a six-day festival where the city pillar spirits are propitiated to ensure the continuity of the city. Occurs in May or Jun as part of the Northern Thailand lunar calendar. Very large event focused around Wat Chedi Luang.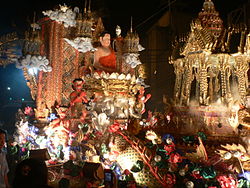 Loi Krathong and Yi Peng FestivalsIf you like candles placed in colourful paper lanterns, fireworks, beautiful girls in traditional dress, parade floats, lots of food and parties. Don't miss the Loi Krathong festival, which in Chiang Mai lasts for 3 full days, the last night being that of the 12th full moon of the year (which is usually in Nov). In the small town of Mae Jo, north of Chiang Mai, they start the festival on Saturday night by simultaneously launching thousands upon thousands of hot air balloons called khom loi. Loi Krathong coincides with the northern Thai (Lanna) festival known as "Yi Peng" (ยี่เป็ง). Due to a difference between the old Lanna calendar and the Thai calendar, Yi Peng is held on a full moon of the 2nd month of the Lanna calendar ("Yi" meaning "2nd" and "Peng" meaning "month" in the Lanna language). A multitude of Lanna-style sky lanterns (khom loi (โคมลอย), literally: "floating lanterns") are launched into the air where they drift with the winds. The festival is meant as a time for "tam-bun" (ทำบุญ), to make merit. People decorate their houses, gardens, and temples with khom fai (โคมไฟ): intricately shaped paper lanterns which take on different forms. Khom thue (โคมถือ) are lanterns which are carried around hanging from a stick, khom khwaen (โคมแขวน) are the hanging lanterns, and khom pariwat (โคมปริวรรต) which are placed at temples and which revolve due to the heat of the candle inside. Chiang Mai has the most elaborate Yi Peng celebrations, where both Loi Krathong and Yi Peng are celebrated at the same time resulting in lights floating on the waters, lights hanging from trees/buildings or standing on walls, and lights floating by in the sky.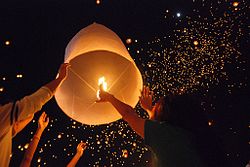 Mae Jo Lantern ReleaseA huge lantern release (It is often referred to as the 10,000 lantern release, but there are not as many as that) happens near Mae Jo University on the Saturday before Loi Krathong, in 2013: 16 Nov. The DMC Buddhist Sect puts this on and though it is billed as "for local people" this event has no connection with Chiang Mai or Lanna events, and is not promoted by local government officials nor included in their program. The lantern release takes place at the end of a ceremony that begins at 18:30, with the release at 20:00. The event is free of charge, but respectful attire is required and alcohol is forbidden. A tourist-targeted event (which costs about 3,000 baht) occurs in the same location on the following weekend.

Prinses Dara Rasmi rememberance dayPrinses Dara Rasmi was a consort of king Chulalongkorn (Rama V) and a member of the original royal family of Chiang Mai. 9 December 1933 she died. Now there is a yearly event around her villa. The event has a fair and perfomances of traditional dances.

Songkran FestivalThe Thai Water Festival is celebrated as the Thai new year from 13-15 Apr (though it may begin a day or two early). The most obvious sign that you're in the middle of the festival is when you get soaked by someone pouring a bucket of water over you, or squirting you with a water gun. This tradition evolved from people tossing water that had been poured over holy statues, since this water was expected to be good luck. Now, it takes the form of a free-for-all water fight, and you will undoubtedly be drenched. It's also a way of staying cool during the very hot and humid month of April. Put your mobile phone in a plastic bag.
Hiking and other activities
While it is probably possible to do alone, there are several companies along the main road who organize 2-3 day long hiking trips. The prices are mostly similar (except when you book at the hotel of course), just stroll along the main square road. Multiple offices often share bookings with the same companies and thus the program is usually similar too - but different packages exist, depending on price and duration. The program consists of something like minivan pick-up and drop-off, light hiking with a guide, sleeping-over in a hill village, visiting some hill tribe and elephant zoo, rafting. Some basic food should be included too (ask to be sure), and it should be possible to leave the bags at the "booking office".
Massage
phone: +66 82-0303029

address: 186/3 Loi Kroh Rd

A small and very cosy massage shop close to the Iron Bridge. Clean, friendly and professional, Fah Lanna gets consistently high ratings in customer reviews. First, customers get a gentle foot-bath with scrub and comfortable clothes to change into and after the massage they are offered ginger tea and a cold towel. The decor and the background music are beautiful and add to the experience. After collecting 10 stamps (1 stamp per 1-hour treatment) they give a free massage. Massages are excellent, the prices seem to have increased due to its success.

phone: +66 89-8275563

address: 1 Moon Muang Rd, Soi 1

A small, charming studio in a typical wooden Thai house located inside the moat. The staff are trained in Thai massage therapy. Also offers individual daily or weekly courses in traditional Thai massage, Thai yoga massage, Tok Sen massage and Thai oil massage. Seminars are run by Ms Mesa, a certified and experienced masseuse.

phone: +66-52-003-268

address: Chang Moi Road Soi 2

Kiyora is a provider of Thai-Lanna massage modalities incorporated with Western massage techniques. Price of a massage includes transport service within the city.

Le'Lux MassageExcellent staff and ambience. Services include Thai massage (150 baht/hr), oil massage (200 baht/hr), scrubs, manicure (150 baht), pedicure (150 baht). Tea and water are included.

Let's RelaxDoes professional massage in a very clean surroundings complete with air-con, the sound of running water and gentle scents. A 45-minute foot reflexology session costs 350 baht, nearly twice the price of the competition, but is worth every satang after a long trek.

Nantana MassageVery knowledgeable and friendly staff. Air-con. Oil, foot and neck/shoulder massage available.

Sun Massage

address: Loi Kroh Rd, opposite 7-11

Very clean and pleasant modern decor. The masseuses are very friendly, and provide decent, skilled massages. There is a table in front of the shop where the masseuses often hang out when idle.

Thai Massage Conservation Club

phone: +66 53-904452, +66 89-7552155

address: 99 Ratchamanka Rd

Massage is performed by blind masseurs, who speak (some) English. They offer traditional Thai as well as oil massage.

Viang Ping Massage and Spa

phone: +66 53-874071

address: 2/4 Tha Phae Rd, Soi 2

Very clean and well-run business, professionally run by Fern, manager-proprietor. All massages based on the Lanna, northern Thai-style, using pressure points and energy lines. Homemade coconut oil and natural facial, body scrub, and wrap products. Fern also teaches massage and spa services to individuals or occasionally to small groups. Loyalty cards for regular customers, free massage after 10 visits. Thai and oil massage courses, also spa courses.

Wat Sam PaoJust inside the south gate to the compound on your left.

phone: +66 851062895

address: Ratchamanaka road Soi 4

Blue Garden offers Chi Nei Tsang treatments and training and advanced Thai Yoga Massage treatments and training. Like dynamic Thai Massage, advanced stretching and neck therapy
Motorcycling
Motorcycle touring is a great way to explore northern Thailand. One good day trip out of Chiang Mai is up and over Doi Suthep, which will take you up to Wat Phrathat Doi Suthep, and beyond the mountain to the reservoir. A perennial favourite among bicyclists and motorcyclists is the Samoeng Loop, a 100 km circuit into the mountains and back to Chiang Mai.
Motor-scooter touring as far as Mae Hong Son and suitable for the less experienced motorcyclist.
Muay Thai (boxing)
After football, Thai boxing is the national sport of Thailand. It can be seen in three different "stadia", in reality more like boxing rings in warehouses.
Kalare Boxing StadiumReal muay Thai fights (almost) every Monday and Friday at 20:30 with 10 bouts ranging from young novices to local champions to locals v. foreigners. Spoiler alert: The locals usually win. The smallest of the three stadia it is nearly open-air, but with a new tent covering and good lighting. This is much more authentic than the frenzied beer bar atmosphere of the other two locations.

Loi Kroh Boxing StadiumFights are usually held 3-4 nights per week. Look for flyers posted up all over the old city. They usually have about 8 fights and feature Thai fighters as well as a few matches with foreign fighters. This is not the best location to see muay Thai with a family, as it is surrounded by girlie bars and during a break between the fights a group of ladyboys sometimes will dance and occasionally strip. After about 23:00 the complex is opened up for free, letting all the vendors (flower sellers and others) in. If you are on a tight budget you may be able to see a few of the remaining fights for free this way.

Tha Phae Boxing StadiumIt hosts around 8 fights per show, including a few matches with foreign fighters. This is the largest of the three stadiums and has food as well as beverages served. Gambling is prominently featured.
Rafting
Raft trips down the Mae Tang River are offered by several companies and can often be combined with elephant riding or mountain biking. During the dry season (Jan-Feb) water levels are relatively low with only grade 2-3 rapids, but during the rainy season (Jun-Oct) higher water levels make for a more exciting grade 4-5 trip.
phone: +66 8 9000 7728

address: 21/22 Moo 2 Soi 2 Thorakamanakom, Chang Puak, Muang Chiang Mai

Created by a group of adventurers that includes two-time world champion kayaker Eric Southwic, they offer world class rafting and kayaking tours, ATV, SuP and trekking. Pick-ups daily from Chiang Mai.

Peak Adventure Tour

phone: +66 53-800567

address: 302/4 Chiang Mai-Lamphun Rd

Offers 10 km rafting trips that can be combined with elephant riding or ATV driving.
River cruise
phone: +66 53-274822

address: 133 Charoen Pratet Rd

Two-hour cruise with a refreshment stop at a Thai farmer's house. Hotel pick-up. Be aware that the Mae Ping is a grotty, slow-flowing stream the colour of greenish khaki with nondescript banks.
Sports
AerobicsAerobics sessions are held in the car park of Tesco Lotus on the superhighway every weekday from 17:30. The sessions are very popular and tourists or visitors to Chiang Mai are welcomed. Regular water aerobics classes, incorporating Tai Chi and yoga exercises, are held at the Centre of the Universe Swimming Pool.

CricketNorthern Thailand may seem an odd place to find an international cricket tournament. Every year since 1988 more than 200 cricketers from around the world gather at Chiang Mai for the tournament. The week-long tournament for amateur players, with a sprinkling of test stars, it is held at the historic Chiang Mai Gymkhana Club, generally at the start of April.

phone: +66 53-297700

address: 816 Moo 1, Rim Thai, Mae Rim

Kiwi-run business, totally buttoned-down and professional. Bungy jumping; off-road buggies; dirt bikes; paintball; indoor drift carts; Xorb ball; sports bar and restaurant. Transport available from Chiang Mai at 09:30, 13:00, 15:00.

Football (soccer)Go watch the local football team, Chiang Mai FC, play at 700 Year Stadium. Fixtures and info in English or visit the Red Lion English Pub in the Night Bazaar two hours before the game to get a free ride (nearly always available).

GolfingChiang Mai is one of the great golfing destinations in Thailand. The beautiful mountain backdrop, the unrivaled services and affordable green fees made golfing here quite an impressive experience. There is The Annual Chiang Mai Golf Festival during May to June, when almost every golf courses offer very cheap green fees.

Mountain BikingJust west of Chiang Mai lies the beautiful Doi Suthep National Park, its summit at 1,650 m, 1,300 m above the valley floor. Chiang Mai Mountain Biking runs daily downhill trips and nature cross country rides.

Rock ClimbingApproximately 55 km east of Chiang Mai is Crazy Horse Buttress, a 60 m, orange- and black-streaked monolith jutting out of the green Mae On Valley. Crazy Horse boasts more than 130 bolted routes between (French system) grades 5 and 8a, which makes it an ideal destination for beginners and experienced climbers alike. Spend several days exploring every part of the crag, or just spend a day or an afternoon above ground as a break from exploring the magnificent caves of the region. Climbing guides and information are available from Chiang Mai Rock Climbing Adventures.

TennisThere are many places to play tennis in Chiang Mai: Gymkhana Club (Chiang Mai-Lamphun Rd); Chiang Mai Land Village (Chiang Mai Land Rd); Imperial Chiang Mai Resort & Sports Club (284 Moo 3, Don Kaew, Mae Rim); Lanna Sports Club (Chotana Rd); Palm Springs (120 Moo 5, Mahidol Rd); and Chiang Mai Sports Complex (700 Year Stadium, Irrigation Canal Rd, Rte 121 to Mae Rim), which has 12 courts. All courts are bookable in advance and at most flood lighting makes it possible to play in the evening when it is cooler. There is an additional charge to cover the cost of electricity.

YogaThe diversity of yoga studios in Chiang Mai rounds out the image of Chiang Mai as a centre for massage training, healing, and spas.

address: 1 Samlan Road

Offers guided kayaking tours in the surrounding area for both beginners and experienced.
Swim
Chiang Mai swimming pools open to the public vary in quality, cleanliness, and accessibility. On balance, those pools which are operated to internationally recognised standards of water quality are those which are privately owned by foreign investors.
Centre of the Universe Swimming Pool and ResortOpen to tourists and other visitors. There are 3 swimming pools and decks. A detailed map and directions in Thai and English can be printed from their website. The pool is sanitised using salt water.

Chiang Mai Land Swimming PoolOpen to the public. It has a pool deck and also has a restaurant and pool-side service. The pool is sanitised using chlorine.

Hotel PoolsSome up-market hotels such as The Orchid on Huay Kaew Rd allow non-guests to use their pools for a fee. Travelling time from the city centre is around 10 min. These are sanitised using chlorine.

The Lake at Huay Tung TaoA reservoir in surrounding woodlands.

Seven Hundred Year StadiumA huge sports complex built for the SE Asia Games, held in Chiang Mai in the early 1990s, and now a public sports and recreation centre. The pool is sanitised using chlorine. Membership is required but it's open to anyone. It costs 300 baht/year and you have to provide two passport-size pictures. Single entry is 30 baht after that.

Waterfalls and Natural PoolsThe pools at the bottom of the waterfalls are not really big enough for swimming, but are a great place to cool off at the height of summer. During the dry season some of the waterfalls dry up. Head for the high ground and you will still find pools full of fresh water. There are usually quite a few students hanging out there from the nearby university, who will happily practice their English conversational skills with you.
Tattoo
phone: +66 97 098 4517

address: 77/3 Samlaan Rd, Mueang, Chiang Mai 50200

Panumart Tattoo offers bamboo tattoos, traditional Thai sak yant tattoos, ands a range of modern tattoo styles. Tattoo artists are of high quality. Western-hygienic standards are practiced. English is spoken by managers and artists.
Theatre
Miracle Cabaret Chiang Mai
The Playhouse ComplexStart your evening with a unique dining experience in Kinnaree Park. Set in an eco-friendly environment, surrounded by mountains and waterfalls offering a real Lanna experience with traditional dance and a delicious northern Thai buffet before entering the theatre adjacent to the restaurant. The 350-seat capacity theatre hosts two shows per day at 20:00 and 22:00. Presenting Sequins & Dance, a fun and happy performance of wholesome entertainment that's full of sparkle, movement, and emotion. Performed by 30 Thai performers, it is exciting. Family, individual or group bookings welcome.
Wildlife
About elephant camps
Numerous reports have been released on the ethics of using elephants for entertainment, citing the dangers and hidden abuse behind the industry, and the use of
phajaan
on baby elephants. According to a
National Geographic
report, this technique involves isolating the baby from her mother and: "n addition to beatings, handlers use sleep-deprivation, hunger, and thirst to 'break' the elephants' spirit and make them submissive to their owners.... Elephants are typically covered in bloody wounds and rope burns when released from the crush after three to six days." Elephant riding has long-term negative physical effects as well, as elephants' bodies are designed to carry weight on their strong legs, not their comparatively weak backs. If you care about these issues, research the parks thoroughly to decide where you want your tourist money to go.
Learn
Buddhism
phone: +66 53-826869, +66 53-826180

address: Ban Luang, Chom Tong

The home temple of the meditation master, Achan Tong. Offers residential courses in Vipassana meditation.

Wat Phrathat Doi SuthepThe International Buddhist Centre offers short and long residential courses in Vipassana meditation in English. A brand new centre, including accommodation and a vitara (chanting hall), is now open.

phone: +66 53-278620,

address: Suthep Rd

Facilities for retreats and meditation instruction. Ten-day minimum stay required for introduction to Vipassana meditation techniques. English-speaking monks are available to assist foreigners. For non-native English speakers, long-term students from your home country may be available to offer translation services.

Wat Suan Dok

phone: +66 53-278967

address: Suthep Rd

Has a meet-and-greet for tourists and monks, every M W F afternoon between 17:00 and 19:00. Offers a 24-hr introductory meditation retreat on Tuesdays.

phone: +66 53-277248

address: Suthep Rd

Offers meditation courses and dharma instruction in English by Phra Charles every Sunday at 15:00. Please call only from 08:30-16:00.
Health and Alternative Healing
phone: +66 856211374

address: 26 Bumrungburi Road Soi 1

Offering a combination of alternative healing courses in the Asian Healing Arts with a down to earth approach. Courses in Reiki, Qigong & Tai Chi and Yoga for short or long term travelers.
Hypnotherapy
phone: +66 91-0674352

Personal therapy using hypnosis. Hypnotherapy sessions by appointment with Nick, a member of the British Society of Clinical Hypnosis.

Releasing HypnosisProvides individual healing sessions using a combined releasing hypnosis approach.
Permaculture
phone: +66 81-885-4427

address: Mae Rim, Chiang Mai

Permaculture farm offering farmstays, meals, "farmshops" (farm workshops), and event hosting.

The Panya ProjectPermaculture and natural building workshops, courses, and volunteering.
Reiki
phone: +66 91-0674352

Usui Reiki workshops and treatments. Small intimate groups with an 8th-generation Reiki master/teacher.
Shamanism
phone: +66 53-894708

Provides spiritual consultations, shamanistic initiation workshops and meditation retreats in English and Russian. An initial one-on-one consultation is held before attending events.
Tai Chi and Qi Gong
Green Dragon Tai Chi Center and Personal Training

phone: +66 85-6245776

address: 459/4 Nong Hoi

Offers customized weekend courses for health and relaxation, especially for beginners, in Tai Chi, Qi Gong, the 18 Movements, the 8 brocates/Shaolin style, 24 Yang Form, 108 Yang Form old frame, Inner Qi Gong after grandmaster Zhi-Chang-Li and standing meditation after Grand Master Frankie Dow (Chan Kwaan Chung).
Thai boxing (Muay Thai)
phone: +66 86-0911536

address: 114/3 Moo.1, Phadeed (ป่าแดด) Rd

A gym for muay Thai and mixed martial arts. Train with top trainers and Thailand champion, Hong Thong Lek.
Thai cooking
phone: +66 53-249326, +66 81-9936564

address: 9/1 Nongprateep Rd

On 1.6 acres of the tranquil, landscaped grounds of a private house. The kitchen's unique design draws from professional experience and is purpose-built and surrounded by herb and spice gardens. Offers Course A and Course B. Each is 3 days in length, 08:30-15:00. Free transport to/from hotel.

phone: +66 53-357339, +66 16-714120

address: 11 Ratchadamnoen Rd, Soi 5

Courses include a cookbook and market tour. Day or evening classes.

Chiang Mai Thai Cookery School

phone: +66 53-206388

address: 1-3 Moon Muang Rd

Offers 1-2-3-4-5-day courses.

phone: +66 53-219056

Choose any dish from more than 50 dishes on their menu. 6 dishes per day for morning class and 4 dishes for evening class. The cooking class runs every day.

Gap's School Of Thai Culinary Art

phone: +66 53-270143

address: 3 Ratchadamnoen Rd, Soi 4

High standards, well organised, your own stove, 1 teacher per 5 students.

phone: +66 53-121656

address: 48 Chaiyapoom Rd

Traditional Thai cooking instruction. Vegetarian-friendly. Restaurant and booking office located near Tha Phae Gate.

phone: +66 53-800724

A family-run home cooking class, taught by the owner. Vegetarians and people with any kind of food restrictions welcome. Courses includes a market tour and a recipe book is provided for later use.

phone: +66 53-329091

Friendly and knowledgeable staff provide a course on local and traditional recipes. The course includes a market tour and provides you with the recipes for the dishes that you create.

Smart Cook Thai Cookery School

phone: +66 53-418309

address: 21 Moon Muang Rd, Soi 5

Market tour, cook book. Accommodates vegetarian cooking. Small classes and fun staff.

Sompet Cookery School

phone: +66 53-214897

address: 56 Patan Rd,

Learn to cook traditional Thai food at a riverside home. Daily courses, morning and afternoon. A recipe book with colour photographs provided for each dish, suggesting many ways to prepare and serve Thai food.

Thai Cottage Cookery School

phone: +66 53-326608

address: 25/2 Ratchadamnoen Rd, Soi 1

Participants learn 5 dishes in a full day, including making curry paste from scratch, 800 baht. 3-course half-day courses are available, 600 baht. Market tour and cook book included. Modifications for vegetarians are easily made. Tu and Kat are excellent teachers and a lot of fun.
Thai language
Thai massage
Buy
Chiang Mai is a great place to shop. Sprawling markets during the day and night carry items from cheap trinkets to skilfully made local crafts.
Books
address: 2/8 Chang Moi Kao Rd

Large collection of used books. Fiction and non-fiction.

DK Book Centre

phone: +66 53-208995

address: 79/1 Kotchasan Rd

Not the best selection of Western language titles, but particularly strong in educational books and learning resources of every description.

phone: +66 91-745-6971

address: 2/6 Chang Moi Kao Rd

Three locations. Large collection of used books. On-line ordering.

The Lost Book Shop

address: Sridonchai Rd

Essentially two shops: a magazine shop open from 08:00-20:00 and the main, large book/stationery shop open from 10:00-19:00. Good selection of Western language titles, and wide variety of Thai titles, as well as office supplies. Pleasant ambience.
Clothing
phone: +66 53-280960, +66 87-0344067

address: 162/5 Prapokklao Rd, Prasingh

Unique styles from simple to extravagant. English-speaking owners & staff. Jewellery is handmade by the artist owners. Great quality T-shirt collection.

phone: +66 81-4720607

address: Nimmanhaemin Rd, Soi 5

Handmade leather shoes and accessories. The owners speak English and all shoes are made locally.
Groceries
phone: +66 53-246333-4

address: 129 Chiang Mai-Lamphun Rd

If you want Western foodstuffs like good bread, pickles, charcuterie, etc., pickings are slim in the vicinity of the Old City. 9 locations in the Chiang Mai area, map on the website. It's comparatively expensive, but they're one of the few supermarkets that sell western groceries.

phone: +66 53 224953

address: 21 Huay Kaew Rd

At the lowest level of the Kad Suan Kaew Shopping Centre. Good selection of Western foods, including good bread, cheese, wine and beer. There are five Tops locations in the Chiang Mai area.

Kasem Store

phone: +66 53 234 986

address: 19 Ratchawong Road, Muang, Chiang Mai

A small store a few doors up from Chang Moi Road, situated near but not in Warowot market ( to the east of the walled city and just before the Ping River). Has those difficult to get items such as real powdered milk, black loose leafed tea, assorted good cereals, assorted pastries, etc. Has a good assortment of foreign goods including vegetarian and vegan food. Good English spoken.
Housewares and workshops
Along Rte 1006 (Charoen Muang Rd) just past the superhighway (Rte 11) are various factories offering factory tours. Silverware, silk, furniture and brass items generally priced with the cashed-up tourist in mind, but the tours might be worth a look to see how things are made. They are generally open during typical daytime hours.
phone: +66 53-272063

address: 79/2 Arak Rd, Samlan 6

Celadon green-glazed ceramics. Sift through their pile of rejects in the covered area to the right of store and find something interesting for 20 baht.
Malls
phone: +66 53 998999

address: 99/3 Moo 4, Tambon Fah Ham

Measuring 250,000 m², with 250 shops, it rivals the Central Plaza Chiang Mai in size. Central Festival opened in late 2013 and includes an ice rink, IMAX and 4DX cinemas, dozens of restaurants and shops on five floors. A food court on the fifth floor as well as at the ground floor level (with better prices). All banks and mobile phone companies are represented.

Central Plaza Chiang Mai Airport

phone: +66 53-999199

address: 2 Mahidol Rd, Haiya,

On five floors, with a food court, banks/ATMs, and multi-screen cinema. It also has a Cultural Centre attached selling many crafts, a large food market, and an extensive selection of Thai ready-to-eat stalls in the basement.

phone: +66 53-224444

address: 21 Huay Kaew Rd

Great location, just off the moat's NW corner. Decent shops, very good Tops Supermarket, restaurants and banks/ATMs.

MAYA Lifestyle Shopping Center

phone: +66 52 081555

address: 55 Moo 5, Huay Kaew Rd. Chang Phuak

The Rimping Supermarket on the lowest floor is open from 06:00-24:00. The cinemas on the top floor are open late. Restaurants and bars on the open roof afford good views of Chiang Mai.

phone: +66 52 080 900

address: 1 Nimman Haemin Rd

A shopping centre in pseudo-Italian style. Many smaller shops at the ground floor, a kind of department store on the second floor. Warning: People who cannot walk very well should not use the escalator to the second floor. Once you are up, it is not possible to go back with the downwards escalator, but you need to go through the entire department store, a 250 meter walk passing 10 short flights of stairs. There is no warning sign for this when you approach the escalator!

phone: +66 53 142761

address: 192-193 Tasala

Spacious, two floor, sprawling mall opened in 2013. The immigration office is also located here.
Markets
Anusarn MarketDuring the day time the Anusarn Market area is devoid of any vendor stalls. All the permanent shops, bars, and eateries around the inside walls of the market area are open for business. Every afternoon the Anusarn Market vendors move in, erect their large tent type stalls and open. Good shopping, good restaurants, and in a back corner there is a ladyboy cabaret that puts on a one-hour show at 21:30 at a reasonable price.

Chiang Mai Gate MarketA major shopping venue for fruit, vegetables, meat, and fish for locals. Between the ring roads and in the vicinity are numerous food stalls.

Kalare MarketA large covered arcade full of shops with an open food court and entertainment area. The food court operates on a coupon system: you buy coupons from the cashiers, then redeem them at the many small adjacent food stalls. Cheap dining. The market has bars, many shops, massage shops.

Malin Plaza Night Market

phone: +66 53-892111

If the Night Bazaar is the place tourists go at night, Malin Plaza is where young Thais go. It's proximity to มช ("maw chaw", the local nickname for CMU) means that in the evening this place is crawling with teens and twenty-somethings. Clothing is young, trendy and cheap. Cheap restaurants abound, including a number of all-you-can-eat table-top barbecues, usually priced about 175 baht per person.

Night BazaarA huge indoor/outdoor commercial maelstrom centred on the Night Bazaar Building on the west side of Changklan Rd. The Night Bazaar can be considered an entire region of the city as it incorporates the Anusarn and Kalare Markets as well, with the borders being ambiguous (and unimportant). It can take a concerted effort to find something different among the near identical stalls selling tourist-oriented sunglasses, T-shirts, textiles, watches, luggage, caps, and anything else small enough to sell from a market stall. You rarely see Thai people shopping here. On the east side of the street you will find the Anusarn and Kalare Markets with wider offerings.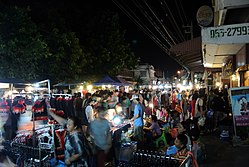 Sompet MarketJust south of the moat's northeast corner. Mostly a fruit and veg market for locals, but close at hand to the many guesthouses in the area so a good place for visitors to stock up on grub. Lots of prepared meat and meals as well.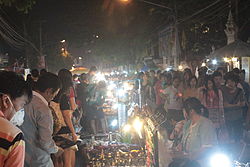 Tha Phae Walking Street

address: Ratchadamnoen Rd

This market is enormous and takes up several blocks on either side of Ratchadamnoen including from Ratchawithi to Ratchamanka on Prapoklao (from the 3 Kings Monument to past Wat Chedi Luang). The street is blocked off to traffic for local craft vendors to layout their handmade wares. There are food vendors strewn throughout. It starts at 16:00, but not everyone is set up until around 18:00. Runs late, but most vendors start to pack up around 22:00 or so.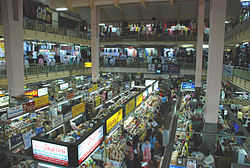 Warorot Market

address: Tha Phae Rd and Chang Moi Rd

This sprawling indoor/outdoor market is where the locals shop and is worth a visit to look over the plethora of fabrics, spices, tea, and dried fruit piled up along the aisles. Across the road is a flower and fruit market and an out-of-this-world fireworks stand. At night the street is packed with snack stalls.

Wualai Walking Street

address: Wualai Rd

In the old silver-working district, it's a smaller version of the Sunday market with many of the same vendors.
Motorbike rental
Lanna Rentals Co Ltd

phone: +66 884 327496

address: 3/1 Loi Kroh Rd, Soi 1

Tam, a lovely Thai lady, and Tony, her British partner, run a motorbike rental service combined with a coffee shop, bar, and restaurant. He's a bike expert. She's expert in people, creating great food and a convivial ambience. Excellent coffee, food, and bikes. Weekly and monthly rentals available.
Eat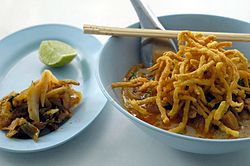 Chiang Mai's restaurants offer a wide range of food, second only to Bangkok. Naturally it's a good place to sample northern Thai food: in particular, hunt down some
khao soi
, yellow wheat noodles in curry broth, traditionally served with chicken (
kai
) or beef (
nuea
), but available some places as vegetarian or with seafood. Another local specialty is
hang ley
, Lanna-style pork curry. For those tired of eating rice or noodles there's also a wide range of excellent international food restaurants, from cheap hamburger stands to elaborate Italian restaurants.
When you come to Chiang Mai you should try a
khantoke
dinner and show. Although these are just for tourists it is still a nice way to spend an evening. The first khantoke dinner was held in 1953 by Professor Kraisi Nimanhemin who wanted to host a special event for 2 friends leaving Chiang Mai. Two more such dinners were held, both in 1953, thus "khantoke" dinners are not "historic", but rather a relatively recent invention. Khantoke literally means
small bowl, low table
(khan = small bowl. tok = low table) There are also many garden restaurants where you can enjoy an excellent Thai meal in a beautiful setting.
The range and value of Western food in Chiang Mai is unsurpassed in Northern Thailand and there is a full range of restaurants from Australian/British/Irish, through French and German to Italian, Spanish, American and Mexican. Considering how remote Chiang Mai is from the major centres of population in Asia, there are a remarkable number of Western restaurants.
Thai
Khao Soi Siri Chai

address: Inthawarorot Rd

A street-side restaurant dedicated to the Northern Thai signature dish khao soi and Hainan Chicken Rice. It is not easily missed as a huge sign is placed outside. It is a local favourite, and has also been discovered by foreign visitors. 40 baht.
Markets & roadside stalls
Anusarn Market

address: Changklan Rd

A busy outdoor night market with lots of little Thai, Indian and Western restaurants and food vendors. Great atmosphere.

Kalare Food Centre

address: Changklan Rd

Has a large open-air food court, featuring free Thai classical dance performances nightly. All food is paid for with pre-purchased coupons.

Suthep Road Moveable FeastDozens of food carts set up every evening around from around 17:00 until about 22:00, with a huge variety of very inexpensive food, and tables set up along the pavement.
Budget
Funkydog Cafe

address: Moon Muang Rd, Soi 6

Local handmade coffee from a local hill tribe. Fantastic Thai family cooking. All fresh and made by hand, great atmosphere and music, low-cost food. Genuine owner who will keep you informed of all the natural products you should eat. The yellow curry is recommended.

Guaytiaw Reua Koliang

address: Moon Muang Rd

Serves authentic kuaytiow reua (literally "boat noodles", rice noodles in dark broth with beef). It's good stuff.

Kanjana Restaurant

address: Ratchadamnoen Rd Soi 5

Delicious food at really low prices. Friendly staff.

Lucky Pub and Restaurant

phone: +66 86-99227115

Lucky Pub is on the ground floor. The restaurant is above and to the rear. The bar opens and 16:00 and closes at 02:00. The restaurant opens at 18:00 and closes at 08:00 the next morning. This is its appeal. When everything else is closed at 03:00 and you're hungry, this is one of the only places to go. Thai food only. Free Wi-Fi in the bar.

Muan Baan

address: Moon Muang, Soi 7

A variety of Thai meals, for breakfast and lunch. The food is excellent and the owners and staff are very pleasant and helpful.

Ratana's Kitchen

address: Tha Phae Rd

Popular for its wide range of Thai dishes and a huge vegetarian selection. Smoking (inside, air-conditioned) and non-smoking areas. Visa and MasterCard accepted.

Re-Feel Café

address: 48/4-5 Rachawithi Rd

Great Thai food, good atmosphere, friendly staff and free billiards.

Sailomjoy Restaurant

address: 7 Rachadamnoen Rd

Delicious food (Thai, Western and vegetarian), friendly service and simple and relaxed atmosphere.
Mid-range
Ghekko Garden Bar and Restaurant

address: Sridonchai Rd

Highlights are lemon grass beef, sun-dried beef and chili crab. See the bar blackboard for daily specials.

Hong Tauw Inn

address: Nimmanhaemin Road

Thai food. Inside you might think you are in a clock museum. The front part of the restaurant has a high ceiling with fans, giving it a colonial atmosphere.

Huen Muan Jai

phone: +66 53-404998

address: Ratchaphruek Rd

Wooden Lanna-style buildings in a very nice garden. They have Northern Thai-style food only.

Huen Phen

address: 112 Ratchamanka Rd

Specialises in Northern Thai food, and is popular with both Thais and foreigners. Lunch in the air-conditioned hall is decent enough, but dinner in the profusely decorated old house in the back is little short of magical. Best of all is the price: a bowl of khanom jiin naam ngiaw (Shan-style pork rib noodles), a plate of som tum (green papaya salad) and some sticky rice will cost less than 100 baht. Portions are small however. This place is featured in Chinese guidebooks, thus in high-season it will be thronged with Chinese making it difficult to get seated without a lengthy wait.

phone: +66 53-273008

Terrific restaurant on a prominent corner of the Anusarn Market. It is very popular with Chinese visitors who are quick to spot a good deal. There are some excellent vegetarian choices. Great staff, huge menu.

Sila AatFresh seafood and a wide selection of Thai and northern/Lanna specialties. Operated by two sisters.
Splurge
Galae Garden Restaurant

phone: +66 53-278655

Thai food and grilled specialties, some of them regional, in a delightful outdoor setting.

phone: +66 53-304121

address: 139 Moo 4, Nong Pakrung

Traditional northern Thai cuisine. To get a good seat reservations are recommended.

Old Chiang Mai Cultural Centre

phone: +66 53-275097

address: 185/3 Wualai Rd

The first commercial khantoke dinner in Chiang Mai more than 30 years ago. They have the best northern Thai food of any of the khantoke establishments. However the seating, show and music are not as good as others.
Western
Budget
phone: +66 53 418 409

address: 7/2 Ratchawichi Road

Authentic New York-style pizza. Slices or whole pies available. Made with fresh ingredients included imported Italian tomatoes. Available toppings: garlic, onion, pineapple, peppers, mozzarella, ricotta, olives, meatballs, bacon, sausage, hamburger, ham, pepperoni, chicken, mushrooms. Calzone also available. Drinks: beer, water and soft drinks. Free Wi-Fi. 2 slices plus a drink for 139 baht.

Tiny House Homemade Fried Chicken

phone: +65-87-912-7575

address: Sridonchai Rd

A small and new western-style food stand selling Southern-US style fried chicken and chicken burgers. Tasty and cheap.
Mid-range
address: 20/2 Huay Kaew Rd

Choose any of the ingredients on their list and they'll make a sandwich for you how you like it. They also serve breakfasts and have bagels.

phone: +66 83-6377621

address: 133/134 Ratchapakanai Rd

Some say the baguettes are better than in France, which is nonsense, but they may well be the best in Thailand. Very well-run establishment, with outstanding food, great staff and ambience. Owners, Mark and Sa.

Cafe de Siam

phone: +66 53-207258

It's hard to find an early-morning breakfast in Chiang Mai due to the number of tourists on hotel package deals, but this place does. Free Wi-Fi. Three coin-operated Internet computers, 10 baht for 15 minutes.

Chiangmai Saloon

phone: +66 81-9302212

address: 30 Ratchawithi Rd

American-style burger and steakhouse. Friendly staff, nice atmosphere, music videos and sports on three 3-m screens, pool tables and free Internet, free popcorn and peanuts, over 50 kinds of margaritas, Chang beer on tap. Is open everyday from breakfast until late.

phone: +66 85 3477554 or +66 53 279230

address: 38 Moon Muang Soi 2

Possibly the best value in Chiang Mai. Wonderful ambiance, with indoor or outdoor seating. Great food, cocktails and desserts at more than reasonable prices. Cooking classes offered on-site. Also has a 3-bedroom, 2-bath house for rent at 3,000 baht per day.

Duke's Steak House & Pizzeria

phone: +66 53-818603

address: Chiang Mai Pavilion, 1st and 2nd Floor, Changklan Rd

Excellent American-style dishes and desserts: ribs, burgers, pizza, cheesecake, etc. Full bar with local and imported beers and wines. Great family atmosphere, children's menu, no loud music or entertainment, just good food. Eat in, take away & call for delivery. The flagship restaurant is at 49/4-5 Chiang Mai-Lamphun Rd, south of the Nawarat Bridge, 50 m N of TAT. A third is in the Promenada Shopping Centre.

phone: +66 89-7585604

address: 162/2 Phrapoklao Rd

Authentic French restaurant in the centre of the old city. Large selection of imported meats and wines at affordable prices. Romantic open-air seating area with upstairs art gallery.

Mong Pearl Cafe

address: Huay Kaew Rd

A favourite with Westerners because of the great service, good English, nice aesthetics and delicious food and drinks.

phone: +66 085 709 6851

address: 80 Loi Kroh Rd.

Sports Bar with a full food menu, breakfast (including hash browns), burgers, Buffalo wings, nachos, panini, salads, sandwiches, Thai food, and cheesesteaks. All the major sports are shown here, including UFC, Premier League, NFL, Superbowl, NBA, Formula 1 (F1), AFL (Aussie Rules), NRL, and Rugby. Free pool table, along with free Wifi.

phone: +66 960909769

address: 139 Moo 1 Superhighway Chiangmai-Lampang Rd.

A modern European restaurant with our roots & inspiration from Scandinavia all cooked from a Swedish chef & owner. Then menu has many steaks, BBQ ribs, Pizza, and Nordic Food. The quality of the food is outstanding without the price tag to go with it. Very reasonably priced.

O'Malley's Irish Pub

phone: +66 53-271921

address: 149-14/15 Changklan Rd

Delicious cocktails and excellent Western and Thai food. Has inside (air conditioned) and outside (smoking) seating. The interior closely resembles an authentic pub. This place does all the small things well: Tabasco, Lea & Perrins on the tables, soap and towels in the toilets, spotlessly clean. Not cheap, but the food is superb and the portions generous. Free Wi-Fi.

phone: +66 94 626 8311

address: 19/3 Ratchamanka Road Soi 2, Phra Sing, Mueang Chiang Mai District, Chang Wat Chiang Mai 50200

Western breakfasts, local coffee. Bacon and eggs, but also several vegetarian, vegan and gluten-free options. They also have a branche in Nimmanhaemin Road Soi 5.

Peppermint Cafe

phone: +66 53-279735

address: Rachadamnoen Rd, Soi 5

Spotlessly clean and excellent Western/Thai food at great prices. Terrific pizza at 69 baht a huge slice. Friendly, accommodating staff. Free Wi-Fi.

phone: +66 86-1117766

address: 26/5-6 Huay Keaw Rd

Serves great Mediterranean-style food. Greece, Turkey, Italy are all represented. Tapas, budget pork and chicken steaks.

phone: +66 53 818847

address: 123 Loi Kroh Rd

Draught Guinness and Heineken, imported Blackthorn Cider and Fuller's London Pride, and Belgian and German beers. Pub favourites including bangers 'n mash, fish 'n chips, steak & kidney pie as well as steaks, pasta and Thai food. Live sports on a HD big screen including Premier League Football, Aussie Rules, Rugby and Formula 1.

phone: +66 53-894455

address: Nimmanhaemin Rd Soi 13

Order by completing a form which is then handed to the staff. Fast and efficient, and the food is very good. Second location on 5F of Central Festival Mall. Third location on Chaiyapoom Rd, just E of the moat.
Splurge
phone: +66 53-306254

address: 60 Keaw Nawarat Rd, Soi 1

Open for lunch and dinner with a range of traditional Italian soup, pasta, antipasti, meat and vegetarian dishes. Homemade ice cream, 35 baht per serving.

phone: +66 53-419011

address: 199 Moon Muang Rd

Old 1930s colonial style house in the city centre. Western and Thai food, Pacific Rim and fusion. Free Wi-Fi. Shop with unusual houseware items on the premises.

Piccola Roma Palace Italian Restaurant

phone: +66 53-820297-8

address: 144 Charoen Prathet Rd

Open lunch & dinner amid beautiful surroundings. Serving residents for over 15 years. Menu and recipes on website. Reservations recommended. Call for free transportation.
Burmese
The Swan

phone: +66 81-0992777

address: 48 Chaiyapoom Rd

Free Wi-Fi. Smoking and non-smoking areas. Charming restaurant with a tiny front but a cavernous interior. Good food at good prices. Those unfamiliar with Burmese food are in for a treat.
Japanese
Fuji

address: Central Airport Plaza

While perhaps not a special restaurant in that it is not unique to Chiang Mai (it's actually a large chain), for those seeking reasonably-priced Japanese food, Fuji is a must. Expect to pay 120 baht and up for each dish (for instance, a single sushi roll), however there are several spectacular set meals that offer superb value, e.g., the Fuji Sashimi Set which can easily fill up a sushi lover for 190 baht.

Gigantea

phone: +66 53-233464

address: 300 Chang Moi Rd

Owned and managed by a cute Japanese-Thai husband and wife team, this restaurant is known as the best Japanese restaurant among Japanese residents in Chiang Mai. Although the menu is limited, ingredients are always fresh, cooking and presentation are excellent. Lunch is best value, with set meals around 140-200 baht.

Kanson Sushi Bar

address: Kotchasan Rd, Soi 1

A little hidden in a side street, but visible from the main road near Tha Phae Gate. Delicious and very good value (250 baht will fill you).
Korean
Gogi Jib Stone Grill Barbecue

phone: +66 84-4541943

address: 29/3 Kotchasarn Rd

Modern and friendly Korean barbecue spot offering high quality beef and pork as well as other Korean traditional dishes. Great artwork on the colourful walls and groovy tunes floating over the conversations. The staff are very attentive and the owners can give a quick Korean lesson.
Vegetarian
It can be hard to find strictly vegetarian food in Chiang Mai, as fish and oyster sauce are used frequently, and the local Buddhist monks themselves often eat fish. Thus, asking for your dish to be prepared "like the monks", which works in other places, does not get the same results in Chiang Mai. There are a few completely vegetarian options.
Anchan

phone: +66 83-5811689

address: Nimmanhaemin Rd, Soi Hillside 3

Excellent vegetarian food, perhaps the best in Chiang Mai.

Blue Diamond

address: Moon Muang Rd, Soi 9

Thai and Western, huge selection of items for breakfast, lunch and dinner. Great salads, fruits, fruit juices, noodle dishes, bakery, good breads.

Gulf Restaurant

address: Anusarn Market

Lebanese owner/chef caters to middle eastern food lovers. Large portions of delicious tabbouleh, tahini salads and humus alongside fresh falafel and flat bread. Shisha/nargila/water pipes are available as well as mint tea.

ImmAim/Pun Pun

address: Santhitam Rd

A mix of Thai and other styles, run by laconic locals linked to a local farm. The falafel is lovely, but different, and the salsa it comes with is delicious. Pasta can be quite sweet, and the biscuits are good.

Ming Kwan Vegetarian Buffet

address: Ratchadamnoen Rd

A different range of Thai vegan dishes from the norm. A focus on faux-meats, the veggie sausage is great, and the faux-fish in curry sauce is good. Of course, bamboo shoot stir fry, noodle soups, etc., means there's lots to try. They cook during the day, so other dishes often appear from the kitchen.

No Name Buddhist Buffet

address: Phrapokkloa Rd

Delicious vegan buffet at low prices. There are a few great dishes: the tofu, mushroom, and lemon grass wrapped in banana leaves is addictive; the het-hom (shitake) and other protein/gluten goodies are lovely; the steaming noodle soup is a great addition to a meal if you've arrived late and want to warm up the buffet dishes. The earlier the better as when dishes run out, they aren't remade. Also, you can buy some vegan supplies.

Pun Pun Vegetarian Restaurant

phone: +66 86-101850

address: Wat Suan Dok Temple, Suthep Rd

Thai vegetarian with organic ingredients from local farmers and many vegan-friendly options. Run by a local self-reliance and seed-saving centre outside the city.

phone: +66 53-208803

Thai vegetarian with vegan options. Owned by a friendly English expat, this restaurant offers curries and noodle dishes in a comfortable and clean setting, with both indoor and garden seating.

phone: +66 52 001-447

address: 44/6 Loi Kroh Rd

A 100% vegan restaurant in the old city of Chiang Mai. It has a wide variety of meals: the usual Thai dishes in vegan, such as khao soi, tom yam, tom kha and pad see ew, but also breakfast meals, sandwiches and even vegan hot dogs and burgers.
Vietnamese
phone: +66 53-266111

address: 49/9 Lamphun Rd

Handsome 2-storey restaurant with air-con upstairs. Serves what amounts to Vietnamese tapas: spring rolls, salted pork ribs, nem; all with lots of leafy greens. Serve beer, but the fresh fruit juices are better. Do very little to cater to visitors as most everything is in Thai including signs and menus. At the entry have a shop that offers many of their products packaged for take-away. The website lists their catering offerings.
Drink
Chiang Mai's nightlife is the most happening in the north, although still a far cry from Bangkok's hot spots. The busiest night life zones are near
Tha Phae Gate
,
Loi Kroh Rd
and along
Charoen Rat Rd
on the east bank of the Ping River.
Bars and pubs
Bars close at midnight in Chiang Mai. The police are strict about this.
Many, but by no means all, of Chiang Mai's tourist-oriented bars and pubs are located along
Loi Kroh Rd
(ถนนลอยเคระห์), outside the southeast quadrant of the old city. In addition to the street bars, the
Chiang Mai Entertainment Complex (CMEC)
(the CMEC sign is not prominent. Much more so is a lighted sign in front,
Loikroh Boxing Stadium
) can be found at the Night Bazaar-end of Loi Kroh. Here you will find around 30 bars ranging from sports bars that feature big screens to watch sports and play pool, to Pattaya-style girlie "beer bars", to even bars staffed exclusively by kathoeys (ladyboys). The complex also features a muay Thai boxing ring that has exhibition bouts for free or a voluntary donation, and on some nights (varies) real competitive boxing that requires an entrance fee unless your bar has provided you with complimentary viewing. And for extra fun, the occasional Westerner climbs into the ring, usually with hilarious results.
Also take a stroll along
Moon Muang Road
and its side Sois 1 and 2. Here you can find small expat hangouts and sports bars. Most have pool tables and hostesses, along with music videos or various TV sport programmes. Be aware that despite their charm and friendliness, the pressure to purchase lady drinks can result in a very surprising tab at the end of the night.
Loi Kroh Rd (Night Bazaar area)
Ben Cocktail Bar

phone: +66 89-9502762

address: 71/1-2 Loi Kroh Rd

A tiny, hole-in-the-wall (~15 seat) cocktail bar that just may serve the best cocktails in Chiang Mai. Certainly the best price/performance. Run by Ben, an irrepressible, animal-loving, lovely female and her partner, Keng. She is especially proud of her mojitos, but all the 270 cocktails on offer are delicious. The conversation is good too as she speaks excellent English. Free Wi-Fi. Great place to people watch.

address: 46,48 Charoenprathet Rd

On the 21st floor of the hotel, this is as high as you can go in Chiang Mai to have a drink. Good views all round. Serves full range of cocktails, also Thai and Western food. Take the lift to the 20th floor, then hike up a not-very-inviting staircase to the open rooftop. It can't compare with the fabulous rooftop bars of Bangkok, but it's the best Chiang Mai has to offer.

Chiang Mai Cabaret ShowA nightly revue, dancing to Western tunes by ladyboys in lavish costumes. The one hour show is tame and family-friendly, with children frequently in the audience. Lots of dancing to ABBA tunes and extravagant costumes, with no nudity. The show's length is perfect and the price is surprising affordable. Good fun. Happy Hour precedes the show, 19:30-20:30, and also follows the show.

Dragonfly Bar

address: 8/1 Loi Kroh Rd

One of the smaller bars at the top of Loi Kroh but also one of the most cosy. What really make this place stand out is the friendly staff and that this bar has two floors so you can get away from the bustle of street level and enjoy the relaxed atmosphere from the balcony.

Number 1 Bistro/Cafe

phone: +66 810342417

address: 2 Loi Kroh, Soi 1

Great expat bar. Free Wi-Fi with electrical outlets spaced at one metre intervals under the bar. They specialise in Belgian beer as well as having eight draught beers on tap, including domestic and Guinness. Excellent kitchen serving Thai and farang food, although the latter can be pricy: pad Thai is 80 baht, while the cheeseburger is expensive at 250 baht (July 2015). Number 1 is a refuge in Chiang Mai's red light district as it has no bar girls hassling you for a drink. And it's one of the few places on Loi Kroh where you can comfortably take a date. Two excellent pool tables, 20 baht per game (July 2015).
Nimmanhaemin Rd
Northwest of the city centre, the area around Nimmanhaemin Rd is a popular hangout for younger Thais, perhaps due to its proximity to Chiang Mai University ("maw chaw"). The pubs tend to straddle a fine line between bar, restaurant and nightclub, and feature loud music interspersed with live bands fronted by musicians who are most likely hitting the books in the daytime. Tourists looking for something racier are better off staying in the east side of the city. Little English is spoken in this part of the city. Little doesn't mean none, however, and the staff of many bars, being students, still can understand what do you want, or even sometimes can speak English reasonably well.
Mo'C Mo'L

address: Huay Kaew Rd

Pub and restaurant near Chiang Mai University, there are many zones in the restaurant: coffee shop, dining outdoors near the small pond, dining indoors with live music.

phone: +66 53-211550

address: 189 Huay Kaew Rd

Long-established English-style pub, has had a makeover and extended the bar and the restaurant, but kept its charm. Great selection of food and drinks, including roast dinners on Sundays. Has an outside area where you can sit and enjoy the tranquillity of a tropical garden, and has bungalows for those wishing to linger longer.

Warm Up BarThis chain bar/restaurant/club has several venues in Thailand. The venue in Chiang Mai is a lot less touristy and the dance hall packed to the brim with Thai students.
Inside the moat
Café Souvannaphoum

phone: +66 53-903781

address: 20/1 Ratchamanka Rd

A decent wine bar with comfortable seating and relaxing music, a great escape from the busy street scene.

Half Moon Pub

phone: +66 85-3205023

address: Soi 2 Moon Muang

Sports bar with many regulars and tourists. Darts and pool area, big TV, really nice international cuisine, especially the burgers, but also good Thai and Indian dishes. Excellent (can be loud) music, friendly atmosphere and beautiful women.

The Writers Club

phone: +66 53-814187, +66 53-814187

address: 141/3 Ratchadamnoen Rd

An old fashioned bar and restaurant purportedly for SE Asia's community of authors, journalists and screenwriters, though everyone's welcome. A good, informal source of information about SE Asia. This is where the some of those writing guidebooks gather.

address: 40/12 Ratchawithi Rd

Very large indoor/outdoor bar and club with a dance floor, live music or DJ, including lots of outdoor seating and multiple bars. If you're looking to party with foreigners in Chiang Mai, this is the place to be. Closes exactly at midnight except on special occasions, such as New Year or Songkran.
Coffee
address: 9/1 Mata Apartment, Hussadhisewee Rd, Soi 3

Cool Muang

phone: +66 8 9756 4321

address: Moon Muang Road 81

Using 100% Thai Arabica coffee beans.

La Fattoria

address: 175/1 Ratchadamnoen Rd

At this location they roast the coffee for their outlets.

address: Thongkaw Rd

J. Ju Coffee

address: 52 Ratchamanka Rd

Run by "Oil", this little place has excellent espresso-based drinks, free Wi-Fi, or ten minutes on the computer with your coffee. Very modern design; seating in the front is open-air while the back is air conditioned. Oil herself speaks excellent English and is happy to give you the low-down.

Pacamara

address: Ratchadamnoen Rd

phone: +66 8 7727 2980, +66 52 089 569

address: 133/5 Ratchapakinai Rd

address: 15/3 Nimmanhaemin Rd

A trendy art cafe featuring an award-winning barista (world champion latte art 2017), choices of single-origin beans and a varied drink menu. Very friendly atmosphere at much higher standard than is normally seen in Thailand.

Sky Café

phone: +66 86 587 4575

Nice situation on a busy road with across that road a pond where often horses are bathed around 11:00. Espresso is brewed very well, using good coffee beans.

Starbucks
phone: +66 80 561 4519

address: 6/1 Kotchasarn Lane 1 alley

Cute, gemütlich little place run by Sunisa (Thai) and her Chilean/Canadian partner. Good people with good coffee and other drinks. One of CM's lowest-priced Western breakfasts: two eggs, ham, sausage, toast, fruit on the side for 149 baht. Eggs Benedict and omelettes on the menu as well, up to 200 baht.

address: Ratchadamnoen Rd

Looks much like a Starbucks. Nice mugs if you drink it there. Several other locations in and around Chiang Mai. Inside is well air-conditioned, outside is under a canopy (they mist water in the heat of the afternoon). The staff pride themselves on their decorative drinks (look for the panda-topped latte). Internet available for small fee.
Gay bars
Since 2015 Chareon Prathet Soi 6 at Chiang Mai Night Bazaar has become home to many gay bars and is now known locally as gay soi 6.
Jacky Bar

Orion Bar

Pandee Bar

Ram barDaily shows.

Secrets Bar
In the Santitham area, NW from the Old Town:
Black door

address: Morakot Rd

Neighborhood pub, mixed straight and gay, with international and local visitors.

ZESTpetitThe latest (March 2019) addition to the gay scene.
Live music
The area along the east bank of the Mae Ping River on Charoen Rat Rd is famous for jazz, rock, pop, Thai, and country and Western live music, along with restaurants serving Thai, Western and Chinese food. Coming from the centre of the city, just walk from the Night Bazaar across the Nawarat Bridge, from where all the restaurants can be seen along the river on the left.
Most bands in Chiang Mai play for about an hour, and then move on to do the same at another restaurant or pub, so don't be surprised to see the same band if you move venues.
Boy Blues BarThe owner, "Boy", plays great blues guitar and is a nephew of Chiang Mai legend "Took", of the now defunct Brasserie. Monday night is jamming night and some great visiting musicians have made this often memorable. Bangkok blues legend, Chai (of Chai's Blues Bar fame), often joins in. Well worth a visit.

The Bridge Bar

phone: +66 81-5950678

address: Nimmanhaemin Rd, Soi 11

Live music every night, except Monday: Brit pop, rock, Thai. Mostly Thais go to this bar but you will as well see some expats, ages: 22-32. Service is excellent and if you happen to go there by yourself, for sure someone will come up to talk to you. The menu includes delicious cocktails: "Mango Kiss", "Velvet"! Cheap beer & Sangsom (Thai rum) as well as snacks. The outside sitting area is perfect if you want to talk.

phone: +66 53-241886

address: 13 Charoen Rat Rd

Thai and Western varieties of rock, jazz, pop and country music in the evening. Their extensive menu offers more than 150 Thai, Chinese, and Western dishes, including curries, noodles, rice and pizza. Full-service bar serving wine, beer and spirits. If you want to get in, get there early and there's a queue every night.

The North Gate Jazz CollectiveNightly jazz performances starting around 21:30 with different performers and occasional guests from the audience. Mixed bag in terms of quality: sometimes great, sometimes mediocre. Serves a variety of drinks not normally found in Chiang Mai, notably red and white wine, mojitos and other mixed drinks. The staff are quick and efficient, and the prices are reasonable.

phone: +66 53-243239

address: 9-11 Charoen Rat Rd

The live music starts around 19:00 with dinner music from the Eagles, Beatles or soft jazz. Starting at 21:00, the music changes to more rock and pop. The restaurant gets very crowded, so arrive early to get a table. The Riverside also offers a nightly dinner cruise departing at 20:00 for 110 baht/person extra.

Tha Chang Jazz Club

phone: +66 53-248601

address: 25 Charoen Rat Rd

Live jazz on Saturdays.
Nightclubs
DiscoveryA small club with live band, DJ, and huge screens showing music videos. Good for drinking nights and letting loose. Bring ID/passport as they can be strict about entry, especially on weekends.

Hot ShotsA Thai place with live music most nights, reasonable drink prices and no cover charge for foreigners or locals.

Spicy

phone: +66 53-234869

address: 82 Chaiyaphum Rd

A hectic after-hours place with good drinks, dancing and lots of girls looking to party. Be forewarned, many are bar girls (the place doesn't get rocking until they get off at 02:00) so do not be surprised if they ask for money to go home with you.
Sleep
Accommodation in Chiang Mai is generally cheap, even by Thai standards. All types of lodging are available from inexpensive guest-houses with little or no service to the typical high rise hotels and elaborate garden resorts. The latest boom is Thai-style boutique resorts located near the old city centre - several have been built since mid-2005, and offer excellent service in quiet garden settings; most are fairly small with as few as 8 rooms and a pool, and are decorated with Thai crafts and antiques.
Evenings in Chiang Mai are cooler than Bangkok and the south during the dry season, so air conditioning may be less of a priority.
Some of the cheapest accommodation may refuse guests who are not also booking a trekking package. If so, please remove them from Wikivoyage.
Budget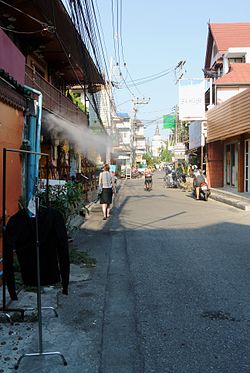 address: Nimmanhaemin Rd Soi 1

This establishment triples as a hostel and a local drinking spot. It's run by a Thai-American man and a Chinese man. Free coffee at any time of the day or night. Complimentary use of the washing machine and kitchen. Nineteen rooms that can house 38. Two showers and three toilets are located on each of the five floors. Rooms contain two pod-style bunkbeds.
7 Century Guest House

phone: +66 53-287541 and +66 81-4388175

address: 270 Ratchaphakhinai Rd

Guest house that is a bit worn. 2 single (150 baht), 4 double (180-220 baht) and 1 triple rooms (250 baht). Singles can be a bit mouldy due to poor drainage and ventilation. Good hot shower (private for single rooms, shared for double and triple). Terrace. Free Wi-Fi. If they have a laptop free you can borrow it to take to your room. Fan in rooms. Kitchen free to use. Soft beds. Service also available in German. Help with booking trips, treks, motorbikes and other things. Friendly staff.
Baan Na Na

phone: +66 53 274 267

address: 11/2 Rachapakeenai Rd

Small and simple guest house attached to the back of a pleasant but moderately priced cafe and restaurant. Friendly staff, shared basic Western bathrooms with warm shower, shared with cafe so can get heavy use at peak times. Good Wi-Fi in rooms. Fan dorm 100 baht, air-con dorm 150 baht, double fan room 200 baht, double air-con room 350 baht.
B.R. Hotel

phone: +66 53-220061

address: Morakot Rd

Simple, but cosy Thai hotel. Fan rooms are often sold out, however 299 baht for an air-con room with TV and small balcony is an excellent value during hot or wet season. No Wi-Fi (but Truemove 850 MHz 3G works perfectly). While the hotel is not far from the centre, the closest place where you can catch a public songthaew (near Kad Suan Kaew Mall) is almost 1 km away, so the place is better suited for those who rent a motorbike. Free parking. On the nearby intersection with Hasadhisawee Rd, there are numerous and cheap food stalls in the evening. Hotel staff generally do not speak English. If no vacancy, there's Inthanon Hotel next on the same road, priced ~50 baht more.
phone: +66 53-449708

address: 10 Kotchasarn Rd, Soi 5

Thai modern-style guest house with terrace, comfortable rooms with double windows overlook a mountain panorama.
phone: +66 83 0723121 (mobile)

address: 31/5 soi sriwichai

A great chill-out art hostel, a place to meet new friends other travelers and local Thais. Lots of little dogs and chickens. Wifi. 2 private rooms, 3 mixed dorms. 100 baht for dorms, 400 baht for privates.
FWD House Hostel

phone: +66 82-6233349

address: 78 Ratchamanka Rd

A 10-minute walk to the temples and Loi Kroh Rd, and a minute walk to the Sunday night market. Owner and staff are welcoming, friendly, can cater to your personal needs, and also make you feel at home.
phone: +66 87-1821611

address: 24/1 Moon Muang Rd (Giant 1); 4 Rachamanka Rd (Giant 2)

Two guest houses. Cheap basic rooms, hot showers, free Wi-Fi, free shared computer, free bicycles, free water, reggae bar attached (Freedom Bar 16:00-24:00). Can book everything here and sightsee by bicycle. Kitchen with cooking lessons available and massage school 200 m away. Watch out for the 300 baht room "switch" after they pick you up in the airport. They will give you this price in front of the guesthouse.
phone: +66 53-278367

address: 18 Samlan Rd

Guesthouse with a roof-top garden, Internet café and large screen TV in the lobby. Beautifully decorated and designed with elegant wood floors throughout the building. Choice of fan and air-con rooms with shared or private bathrooms.
phone: +66 53-242450

address: 365 Charoen Rat Rd

Family-style guesthouse, fan or air-con rooms, and with a tropical garden on the banks of the Mae Ping River.
Hug Hostel

phone: +66 53 417 222

address: 115/3 Sri Poom Rd, Tambon Si Phum

Opened in 2014, the hostel is clean.
phone: +66 53-274355

address: 7/1 Prapokklao Rd, Soi 5

Popular guesthouse in a quiet part of the old city near Tha Phae Gate. This guesthouse is notorious for filling quickly, quite often by 09:00, as it is listed in some guide books. The lounge area is often full of travellers. Food and drinks are served. The in-house travel agency make different types of bookings for you. Free Wi-Fi, but it doesn't always work.
Linda Guesthouse

phone: +66 53-246915

address: 456/67 Soi Banditpatana

East of Tha Phae Gate, easily accessible on songthaew routes. Very clean rooms. The guest house also offers many trekking tours. The staff speak German, English and Thai. Family-like atmosphere. Cheap and very good food around the clock, freshly made.
A Little Bird Guesthouse

phone: +66 53-289577

address: 17 Soi 1 Ratvithi Rd

Cheap basic dorms with hot shower and free Wi-Fi. An easy place to meet people in a good location.
Mint House

phone: +66 86-2531743

address: 80-82 Prapokklao (Soi 5). Near Chiang Mai Gate.

Really friendly and helpful staff. Centrally located, clean and good prices for dorms and rooms. Rooms have dedicated bathrooms that, strangely, are not en suite, but all across the hallway. Keep an eye out for room rates changing after you've already checked-in (e.g., +100 baht). Don't be a wimp when this happens.
phone: +66 53-266139

A small cosy family-run guest house.
Ping River Inn

phone: +66 81-9935187

A basic but clean inn along the Ping River near Nakorn Ping Bridge and the yellow songthaew route. Hot showers, two bottles of free drinking water, towels, roof access, cable, and free Wi-Fi. If the foot bridge over the river ever gets fixed, the Ping River Inn will be within five minutes walking distance of Warorot Market.
phone: +66 87-0481787

address: 357, Moon Muang Rd

De facto motorcyclist headquarters in Chiang Mai. Clean and comfortable. Full restaurant and bar. Five rooms and frequently fully booked. Free Wi-Fi. Secure parking for motorcycles. English owner is helpful and free with information. Sells good maps of north Thailand.
Spicy House

phone: +66 84-6134776 (Mim)

address: 42/1 Ratchamanka Rd.

Perhaps the friendliest little guest house in Chiang Mai. Beloved by backpackers for its low cost and friendly atmosphere. Mim, the owner, gives a free meal for guests every night. She is also an expert chef, and Spicy House sometimes acts as a cooking school. It is in the centre of the Chiang Mai action, but down a quiet soi where you can withdraw from it when needed.
Tha Phae Inn

phone: +66 53-234640

address: 164-166 Tha Phae Rd

Family-run guesthouse. Friendly. Excellent value/location combination. Basic double rooms with baths, hot water & small TV. Free Wi-Fi. Common area with tables so you can bring food and eat. Refreshments for sale on-premises. Basic double air-con room with en suite shower was 350 baht as of Nov 2013 (no fridge, old furniture, but generally clean).
phone: +66 53-221819

address: 11 Mengrairasmi Sermsuk Rd

88 rooms and dormitory. Restaurant, swimming pool, coffee shop, massage.
Mid-range
phone: +66 53-226700

address: 39 Soi 1, Ratchadamnoen Rd

Dead central, and probably the cleanest hotel in Chiang Mai. Extremely friendly staff (only a few of whom speak English). Security entrance. A short walk to the Tha Phae Gate in the old city (nice central location). Monthly rentals are available at 7,500 baht with a 5,000 baht deposit (on top of the 7,500 baht, there are additional charges: electricity is 7 baht per kilowatt, 600 baht for unlimited Internet, 200 baht for cable TV, and 200 baht for water). Location is great. Just around the corner is a great little cafe called "Angel's" which serves a mix of Thai food and really great Western breakfasts. The location of the hotel is also a short walk to several excellent restaurants and cafes such as the UN Irish Pub, New Delhi Indian Restaurant, and Loco Elvis Tex-Mex.

phone: +66 53-270711

address: 154 Ratchamanka Rd

A mid-sized hotel with a small fitness centre and pool.

phone: +66 81-4730746 or +66 53-327808

With only 3 detached Thai-style bungalows in a private garden, this has to be the smallest boutique hotel with the biggest swimming pool in Chiang Mai. Very friendly and helpful staff. Each room has air-con, TV, Wi-Fi, fridge, tea and coffee making facilities and access to 3 swimming pools.

Chiang Mai Apartments

phone: +66 53-225140

address: 9/2 Moon Muang Rd, Soi 7

Very central, clean and bright rooms. Excellent quality. Free Wi-Fi in room.

phone: +66 53-212618

address: 87 Sripoom Rd, Sripoom

Small boutique guesthouse with patio and garden. Free bicycle use for guests. English, French, and Spanish speaking staff. Each room has air-con and fan, cable TV, free Wi-Fi, safe.

phone: +66 53-814723

address: 114/3-4 Ratchamanka Rd

Friendly boutique guesthouse, beautifully furnished, spacious, spotlessly clean, air conditioned, en suite twin or double rooms. Breakfast included.

phone: +66 53-271725 or +66 53-206438

address: 111/4-5 Kotchasarn Rd

A large northern Thai-style guesthouse with hotel-like facilities and services. All 110 air-conditioned rooms en suite with hot shower are decorated with traditional wooden floors and bamboo walls, equipped with minibar, cable & satellite TV, and free Wi-Fi.

phone: +66 53-855033

address: 87/45 Moo 7, Samakon, Faham

Beautifully decorated guest house on the northern outskirts of the city that was built from scratch by a Belgian couple. Offers comfortable and spacious rooms with air conditioning, a pool, and a nice dining area for meals. One can find plenty of places nearby to eat and drink as residents in the village setup tables outside of their homes and operate small-time restaurants and bars. Provides a good mix of comfortable lodging with hosts that fluently speak several languages. Also pet-friendly. Free shuttle service from Chiang Mai.

Nice Mum Lodge

phone: +66 83-2044111

address: Loi Kroh Rd, Soi 2

Oddly named, but a superior accommodation. Close to shops, bars, restaurants, the Night Bazaar. Spotlessly clean, if somewhat austere. Run by the affable Mr Pong, who speaks good English. Great plumbing, showers, large flat screen TVs with Western programmes, fridge. Secure, covered parking for those turning up with expensive rides. Highly recommended. Free, excellent free Wi-Fi.

phone: +66 53 252 222

address: Assadatorn Rd, Northeast

Good rooms, air-con, hot water, bar fridge and TV. Huge and a bit old building, but OK if you're not looking for luxury. At times (especially during the low season) may be available for 500-600 baht on various hotel booking websites - that's a steal!

phone: +66 53-211982

address: Huay Kaew Rd, Soi 10

Spacious and clean. Standard, deluxe and superior rooms available for daily/weekly/monthly rates. Internet (Wi-Fi/LAN), air-con, hot showers. New building, modern rooms. In the trendy Nimmanhaemin district across from shopping mall and 5-10 minute walking distance to night life, cafes, restaurants.

Siri Guesthouse

phone: +66 53-326550

address: 31/3 Moon Mueang, Soi 5

A family-run guest house on a popular, but quiet lane. Fan and air-con rooms, all with bathrooms and hot water. Free Wi-Fi.

phone: +66 53-2975487

address: 26/1 moonmuang soi7

Nicely decorated loft/industrial design guesthouse. Double and twin rooms. All rooms with air conditioning, mini-fridge, 32 inch led TV, private bath room with rain shower, free wiffi and free breakfast included in price.

phone: +66 53-800567-8

address: 3/5 Suriyawong Rd, Soi 1

A wooden house which is simply decorated to create a peaceful atmosphere. The rooms are beautifully decorated.

Sri-Pat Guesthouse

phone: +66 53-218716

address: 16 Moon Muang Rd, Soi 7

Nice guest house with air conditioning, TV, private shower, fridge and a little balcony. Try getting a room on the street side, since the other side has a water pump working during the night which can be annoying in some rooms.

phone: +66 53-411202

address: Rat U-thit Soi 2, Wat Ket

Renovated (as of 2015) wooden northern Thai-style guesthouse. It touts its "extremely friendly and helpful" staff, which it says speak English and French provide great tourist information.

phone: +66 53-418994

address: 27/3 -4 Moonmuang Road, Soi 9

The Britannia offers fan rooms for 650 baht, and air-conditioned rooms for 800+ baht. Some of the air-conditioned rooms have a balcony. Rooms offer a tv with some international channels, hot showers, insect-proof windows and Wi-Fi in rooms. Some rooms also have a coffee and tea maker and a safe. If you arrive after 18:00, send the owners an email at least one day before arriving.

Viangbua Mansion

phone: +66 53-411202

address: 3/1 Viangbua Rd

Deluxe serviced-apartments for daily rental. Offer a wide range of services and some degree of security. In a somewhat remote NW area of the city.
Splurge
phone: +66 53 253 333

address: 123-123/1 Charoen Prathet Road,Changklan, Muang

Located along the banks of Mae Ping River, 52 rooms and 32 suites with private balconies. Has a fitness center and guests can attend cooking classes.
phone: +66 53-16164016

address: 150 Charoen Rat Rd
phone: +66 53-240020

address: 290-292 Charoen Muang Rd
phone: +66 53-888888

address: 51/4 Chiang Mai-Sankampaeng Rd, Moo 1

In the traditional Lanna-style, this 24 hectare (60 acre) resort includes a spa, cooking classes, children's club, and fitness centre. The resort caused some local controversy when it built a reproduction temple based on one of Thailand's most holy sites on its grounds.
phone: +66 53-905000

address: 132 Loi Kroh Rd

Excellent luxury hotel with cheap(er) Internet rates. Popular with tour groups and conventions. Probably a little cheaper than similar hotels as it's near the beer bar district, but the area is quite safe and the hotel is high quality. For those not staying at the hotel, for 300 baht per day, you can use the excellent gym on the fourth floor (includes a gender-segregated Jacuzzi, steam room, and sauna, as well as a large L-shaped swimming pool that looks out on the city centre). Free Wi-Fi and maintains a quiet "computer corner" with about 10 computers for guest use. A word of warning for those who care: if all guest rooms are similar to Room 1433, guestroom toilets have no bum guns, just toilet paper. A show-stopper for some!
phone: +66 53-253199

address: 199/42 Changklan Rd

Luxury hotel in traditional Lanna-style with 375 rooms and suites, a convention centre, sauna rooms, outdoor swimming pool, business centre and massage parlour. Good breakfast and friendly staff.
phone: +66 53-868891-3

address: 200 Moo 7 Chiang Mai-Doi Saket Rd

The hotel is connected to the Tweechol Botanical Garden, a private garden of 50 hectares. The garden has many animal shaped shrubs. Former US president Jimmy Carter stayed here when in Thailand for the Jimmy & Rosalynn Carter Work Project.
phone: +66 91 859 8225

address: 204 Ratchapakhinai Rd

Boutique hotel with great location, onsite restaurant, outdoor pool, massage.
Ping Nakara Boutique Hotel & Spa

phone: +66 53-252999

address: 135/9, Charoen Prathet Rd

Nicely designed with hand-carved fretwork.

RatiLanna Riverside Spa Resort

phone: +66 53-999333

address: 33 Changklan Rd

A luxury boutique resort on the bank of the Mae Ping River and the centre of Chiang Mai. Only minutes away from Chiang Mai Airport and the Night Bazaar.
phone: +66 53-903999

address: 51/2 Arrak Rd

Luxury hotel in traditional Lanna-style, 36 rooms, outdoor swimming pool, tropical garden, fitness club, and spa, restaurant (Thai & Western cuisine) and very friendly staff.
Stay safe
Emergency contacts
Fire: 053-241777
Police - emergencies: 191
Rescue Team: 053-218888
Tourist police: 1155, 053-278559
Crime
Chiang Mai, like most of Thailand, is quite safe, even at night. The dark streets can look forbidding but crime is rare and visitors shouldn't worry unduly. As always, travellers should take extra care in all poorly lit or more remote areas. Don't carry valuables in a bag after dark as the most common tourist related crime here is bag-snatching by youths on motorbikes. Mind your bag especially if you are walking on a dark street at night.
The safest approach is to act like your Thai hosts and wear reasonable clothing (shoulders and chest covered) medium-length skirts, long shorts or long pants, speak in a moderate tone of voice, and avoid flashing money or jewellery. Not only will respectable Thais appreciate your behaviour, you are much less likely to become a target of any criminal activity.
Scams
Some
scams
from
Bangkok
have started to rear their ugly heads in Chiang Mai. Two in particular are worth watching out for: the
gem scam
, where you are talked into buying near-worthless gems at far above their real value; and the
tuk-tuk scam
, where a smooth-talking tuk tuk driver tells you that the attraction you want to see is closed, and instead offers you a sightseeing tour for 20 baht (or some similarly unrealistic amount) - needless to say, the tour will either consist of nothing but overpriced gift shops, or will smoothly segue into the gem scam. See the "Stay Safe" section of the
Bangkok
article for more details.
Smoke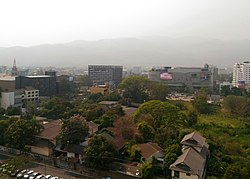 Chiang Mai's smoke levels can be discomforting, and sometimes dangerous, during burning season which starts around Makha Bucha Day (end-Feb to early Mar) and lasts about a month. Although there is a ban on burning, the whole of northern Thailand often falls under a thick haze during this period, with tens of thousands treated for smoke inhalation. Rice farmers burning off fields are commonly blamed for the smoke, but according to the Department of Air Quality there is an extensive range of burning activities during this season. In addition to slash and burn farmers clearing fields, a smaller proportion of farmers may burn land in order to clear forests and expand fields, to flush out game, or to trigger the growth of specific mushroom varieties. As a result, there are typically dozens of deaths, and for example in 2007 58 people died of smoke-related heart attacks. You are well advised to avoid Chiang Mai during this period. If you intend to visit at this time, you are advised to check on smoke levels in advance. Thousands of residents, both foreign and Thai, leave Chiang Mai at this time to escape the smoke. The government is apparently uninterested in fixing the problem: in 2015 they blamed it on outdoor cooking. The present solution is to spray the streets with water to "moisten the air". There is no political will to tackle the burning of rice fields and forests, which is the cause of the smoke. On 10 March 2015, dangerous PM10 particles measured over 255 mcg per cubic metre of air in Chiang Mai, well above the unsafe level of 120 mcg (this is the Thai government standard which is more than twice the maximum level set by the World Health Organization at 50 mcg). Neighbouring areas can be as bad or worse, Chiang Rai for example, was at 306 mcgs, so moving on to a neighbouring province will generally not help: the pall of smoke stretches from northern Laos, across Thailand to eastern Burma.
Here
you can find the actual situation.
Water
Tap water should be regarded as non-potable. Liquids from sealed bottles nearly always are, and should be used wherever possible. Nearly all restaurants use ice that is made by professional ice-making companies and is generally safe. There are street side water vending machines (1 baht per litre) throughout the city. Using one saves money and a lot of plastic refuse.
Connect
Express shipping
DHL

phone: +66 53-326553

address: Log 2-6, 1st floor, Montri Hotel, Ratchadamnoen Rd

World-wide express shipping. Packaging services.
Internet
The government of Thailand censors Internet access. 2010 estimates place the number of blocked websites at 110,000 and growing. Roughly 77% are blocked for reasons of lèse majesté, content (content that defames, insults, threatens, or is unflattering to the king, including national security and some political issues), 22% for pornography, which is illegal in Thailand. Some web pages from BBC One, BBC Two, CNN, Yahoo News, the
Post-Intelligencer
newspaper (Seattle, USA),
The Age
newspaper (Melbourne, Australia) dealing with Thai political content are blocked. The
Daily Mail
(UK) is blocked entirely.
Many guesthouses, hotels, cafes, bars, restaurants, and even swimming pools, offer Wi-Fi connections. These are usually free or available for a small charge. If you are travelling with your laptop you should be able to connect to the Internet within a 500 m radius of your Chiang Mai city-based accommodation at little or no cost.
In November 2012, the Ministry of Information announced the launch of 3,000 free Wi-Fi hotspots in Chiang Mai. The scheme, called
ICT Free Wi-Fi for the Public by AIS
, offers a download speed of 10 Mbit/s for up to five hours a month. Hotspots can be found near schools, shopping centres, hospitals and government offices. Those interested must sign up for the free service at
ICT Free Wi-Fi
, after which you will receive a user ID and password.
Internet cafes can be found everywhere within the city. Prices vary from 10 baht/hour (in "gaming" places filled with local children) to 60 baht/half-hour (2 baht/minute) and more. Most places charge per 15 or 30 minute block, others by the minute. The cheapest and most comfortable places with fast connections, webcam, microphone, and Skype, are along Huay Kaew Road near the main entrance to Chiang Mai University, where the cost is 10-20 baht.
Buddy Internet

phone: +66 53-404550

address: 12 Huay Kaew Rd
As elsewhere in Thailand, GPRS/EDGE is a cheap and convenient option to access Internet if you have a laptop and local SIM card. TrueMove 850 MHz 3G covers most parts of the city. For more details, refer to the
Thailand
article.
Telephone
Directory inquiry service: 183/1133
International and domestic operator-assisted service: 100
Overseas dial-out code: 001
AT&T International operator for collect calls: 001 999 11111
Mobile phones in Thailand have 10 digits, including the leading zero. Land-line telephones have 11 digits, including the leading zero.
Airport 24-hr Post Office

phone: +66 53-277382

address: 60 Moo 3, Airport Rd

Changklan Post Office

phone: +66 53-273657

address: 186-186/1 Changklan Rd

Chang Phuak Post Office

phone: +66 53-222483

address: 195/8-9 Chang Phuak Rd

Mae Ping Post Office

phone: +66 53-252036-7

address: 24 Praisanee Rd

Main Post Office

phone: +66 53-241 070, +66 53-245376

address: Charoen Muang Rd

Phra Sing Post Office

Talat Kam Tieng Post OfficeThis is the post office where you ship/receive bulky objects like bicycles and motorbikes.

Tha Phae Post OfficeThis little PO is the most convenient one for most visitors due to its hours and central location. The offer packaging services, faxing, international telephoning, sell postcards, stamps, etc.
Cope
Consulates
Australia

phone: +66 53-219726 or +66 53-400232

address: 165 Sirimungklajarn

Bangladesh

phone: +66 53-212373-4

address: 95 Huay Kaew Rd

phone: +66 53-850147 or +66 53-242292

address: 151 Super Highway

phone: +66 53-276125, +66 53-272197, +66 53-200424

address: 111 Changlo Rd, Haiya District

Finland

phone: +66 53-234777

address: 104-112 Tha Phae Rd

France

phone: +66 53-281466

address: 138 Charoen Prathet Rd

Germany

phone: +66 53-838735

address: 199/163 Moo 3, Baan Nai Fun2, Kan Klong Chonpretan Rd

India

phone: +66 53-243066

address: 33/1, Thung Hotel Rd

People on a tourist visa in Thailand can apparently not apply for an Indian visa here—they have to acquire an e-visa.

phone: +66 53-212925

address: 19/1 Soi 9 Sirimangkalajarn, 50200

MyanmarThe office issues visas from 09:00-12:00, you are required to bring a passport, two standard colour passport photographs, a photocopy of the photo page of your passport, and providing the usual details. Pickup for same-day visa at 15:30. The costs for cheapest tourist visa are 1,600 baht.

South Africa

phone: +66 53-270070-6

address: 2F, Chiang Inn Hotel (Hotel closed permanently), 100 Changklan Rd

South Korea

phone: +66 53-223120 ext 204

address: V Group Bldg, 3rd Fl, 50 Huay Kaew Rd

Sweden

phone: +66 99-3787773

address: 186/48 Green Valley, Moo 5, Mae Sa, Mae Rim

phone: +66 53-252629

address: 387 Witchayanon Rd

Alternative website.
Dental
phone: +66 53-288199

address: Changklan Rd

Sparkling clean dental facilities with modern equipment and great hours. Patronised by many expats.

phone: +66 53-894568-69

address: 45 Soi 11 Nimmanhemin Rd

Modern, state-of-the-art dental clinic. Many of the practitioners there, about 15 total, have studied abroad. Most, if not all, speak excellent English, as does the staff.

Mukmai Dental Clinic

phone: +66 53-416328

address: 11/3-4 Jaban Rd

Dr Suttipong is a terrific dentist, almost painless treatment. Friendly and accommodating staff and English spoken. Reasonable rates and convenient location.
Laundry
There are laundromats and laundry services, charging around 30 baht per kg, all over the city, but they all wash cold. There is a laundromat that has 3 machines that can do hot washing as well on Chaiyapum Rd (road along the moat from Si Phum corner to Tha Phae Gate) about half way between Sompet market and Tha Phae Gate. Opposite there is a cafe from where you can watch your stuff while having a beer.
Medical
phone: +66 805 362362

address: 155/28 Moo 2, Yu Yen Soi 10, Tambon Changphueak

Thai- and English-speaking healthcare centre/medical clinic providing comprehensive medical services for travelers, such as vaccinations and full health check-ups.

Loi Kroh Clinic

phone: +66 53-271571

address: 62/2 Loi Kroh Rd

Small clinic for the treatment of minor ailments. Experienced, English-speaking doctor. Small pharmacy on the premises. In and out in 15 min, drugs in hand.
Go next
Border crossings
Chiang Khong - Huay Xai, LaosFrom Huay Xai also there are slow (2-day) and fast (6-8 hr) boats ply the Mekong to Luang Prabang. Buses are also available to Luang Prabang and north to Luang Namtha.

Mae Sai - Tachilek, MyanmarBest known for their border markets. A popular place to pop over the border for a few hours before renewing your Thai visa. There are no consular services so you cannot get a new visa here. It is possible to get a 14-day Thai visa on re-entry to Thailand which can come in very handy if you do not have any time left on your current Thai visa. The Myanmar fee for a same day entry permit is USD10 or 500 baht, and so it is better to use US dollars. Many people buy Western alcohol, especially wine, while in Myanmar due to the very large duties imposed in Thailand.