Chicago/Rogers Park
Rogers Park
is the northern border of
Chicago
— the wild-eyed inheritor of uninhibited lakefront, swamps become beaches, and the beauty of Chicago bricks. There may be no better place to experience the casual riches the city has to offer, with several miles of parks and beaches, and quiet blocks of breathtaking apartments and homes.
This article also includes
Edgewater
, the more reasonable counterbalance to its neighbor (fewer calamities, and a few terrific bars), and
West Ridge
, home to several ethnic communities, including nearly a mile of great Indian restaurants and stores.
Understand
When Philip Rogers arrived in Chicago for the first time in 1834, he immediately began making plans to leave. There was mud everywhere, the narrow streets were choked and chaotic, and the winters were brutal. But he was stuck in Chicago because the waterways back to New York were frozen, so Rogers had to wait out the winter; by the spring, he had a line on a pretty good team of oxen, so he headed as far north as he could, past the limits of the city and its fringe settlements, out to wild swampland where Indian villages were still resident — and there began
Rogers Park
.
The nature of Rogers Park is calamity amid beauty and the equality of impulse toward each. In this way, many of the neighborhood's key events can be understood: the secession of the
West Ridge
area (sometimes called West Rogers Park) over whether to incorporate as a village (which they did anyway); the 1894 "Home-Made Transfer War," in which Rogers Park residents stuck it to railroad tycoon Charles Yerkes by refusing to pay extra to ride the northern extension of his streetcar line, and tried to pass off the transfers they'd made at home on the conductors; and the "Cabbage Head War" of 1896, in which a Rogers Park politician gave unsophisticated West Ridge farmers an unflattering nickname, and they proved him wrong by putting cabbages on poles and marching on his house.
With regular floods from the wild and swampy beaches to the east, annexation to Chicago and its sewage services proved a strong temptation. As the city surged north, a building boom followed, and Rogers Park was blessed with a gorgeous stock of residential and commercial buildings; West Ridge wound up with long blocks of lovely, modest Prairie-style bungalows. Only one famous name is still in the area (Frank Lloyd Wright's
Emil Bach House
), but the routine beauty of the architecture in Rogers Park and West Ridge is still incredible.
The diversity, too, is unrivaled in a notoriously segregated city. Rogers Park has always been the most beautiful place in Chicago where basically anyone could afford to live — silent Irish generations still fighting the Cabbage Head War in their sleep, and immigrants newly arrived from
Serbia
, from
Jamaica
, from the
Sudan
. For a visitor, special mention has to go to the Indian community on
Devon Avenue
. Between roughly 2200 W and 2700 W Devon, among thriving import stores that specialize in saris, spices, and the latest Bollywood dreams, there are a number of amazing Indian and Pakistani restaurants that will almost certainly spoil you for the stuff back home (assuming "back home" is anywhere but the
Indian subcontinent
). The only day
not
to go is Tuesday, when many businesses and restaurants are closed.
Edgewater
, on the other hand, is remarkably laid-back. It was originally demarcated as part of the
Uptown
community area, but when that area went into economic decline, Edgewater residents swiftly seceded and established their own neighborhood. Today, it segues neatly into Andersonville to the south, with a few gay cultural institutions and several nice restaurants, coffee shops and bars.
Get in
By train
The CTA
Red Line
runs from the
Loop
to Edgewater (Bryn Mawr, Thorndale, Granville) and Rogers Park (Loyola, Morse, Jarvis), eventually terminating at Howard Street on the border of
Evanston
. (There is a major bus terminal adjacent to the Howard station - see below). Travelers with disabilities should plan to disembark at Howard, Loyola or Granville and use a bus to cover any remaining distance to their destinations. The Red Line runs 24/7.
During weekday rush periods, the CTA
Purple Line
runs from
Evanston
to Howard, continuing non-stop southward to the Belmont station in
Lakeview
and then onto the
Loop
. In non-rush-hour periods, the train runs from Evanston and terminates at Howard. The Purple Line opens at about 5AM (6:30AM Sundays) and closes at about 1AM (2AM Fridays and Saturdays).
The CTA
Yellow Line
travels between
Skokie
and Howard. The Yellow Line opens at about 5AM (6:30AM weekends) and closes at about 11PM.
The
Metra
Union Pacific North Line
stops in Rogers Park (at 1800 W Lunt Ave) before moving on to Evanston. Not every train serves that station, though, so check signs or schedules before boarding.
By bus
11 Lincoln/Sedgwick travels Lincoln Avenue and then cuts over to Kedzie through West Ridge, passing by the Lincoln Village shopping mall ending at Howard/McCormick near the Skokie North Shore Sculpture Park.
22 Clark runs all night along on Clark Street through Rogers Park and Edgewater, and on to Andersonville, Lakeview, and the rest of the North Side.
36 Broadway runs through Edgewater and on to Uptown, connecting with the Red Line at Granville.
49B North Western starts at the Western Brown Line station in Lincoln Square and passes by the Indian restaurants on Devon ending at the Howard Street, the city limits.
84 Peterson runs between the CTA Red Line at Bryn Mawr and the northwest side at Central/Caldwell primarily along Peterson Avenue.
92 Foster connects with the Red Line at Berwyn and is the best way to reach Andersonville from the train. It runs along Foster Avenue, the border between Edgewater and Uptown. It also ends up west at the Jefferson Park Blue Line station.
93 California/Dodge runs between the northern end of the CTA Brown Line at Kimball in Albany Park and the Davis Purple Line Station in downtown Evanston primarily along California Avenue.
96 Lunt runs between the Morse CTA Station and Devon/Kedzie makes stops at the Rogers Park Metra and the Lincolnwood Town Center.
97 Skokie runs from the Howard CTA Station through south Evanston & Skokie, connecting with the CTA Yellow Line and ending at the Old Orchard Shopping Center.
147 Outer Drive Express runs express on Lake Shore Drive to and from the Magnificent Mile, becoming all-stops for Edgewater and Rogers Park.
151 Sheridan is a local route from downtown, running all-stops down Sheridan Road. It's an all-night route.
155 Devon connects with both the Morse and Loyola Red Line stations, and travels through the length of the Indian neighborhood on Devon.
A few Pace suburban routes depart from the Howard Street bus terminal.
215 Crawford-Howard runs west down Howard Street, ending up at the Old Orchard shopping complex in Skokie.
290 Touhy travels through the Orthodox Jewish community in West Ridge, crossing into the suburbs and later back to the Far Northwest Side.
By car
The best way to reach Edgewater and Rogers Park by car is the fabled
Lake Shore Drive
, which ends at Sheridan and Hollywood in Edgewater. The
Edens Expressway
has exits at Peterson and Touhy just west of the two neighborhoods.
The intersection of Sheridan and Devon can be confusing if you're trying to follow directions. Coming from Rogers Park, although it looks as though Sheridan continues south past Devon, that's where it becomes Broadway; Sheridan actually veers left at that point and then right along the lake. From the other direction, this is the eastern border of Devon Avenue, even though it looks like it continues further east — that's where the Sheridan name has taken over.
Parking is generally no problem in Edgewater and West Ridge, but Rogers Park is never easy. Watch for permit-only streets near Loyola University, and check street signs on Sheridan before parking overnight there. They're usually full, but there are meter parking lots near the beach at the end of Touhy and between Lunt & Greenleaf, and on the western side of the L tracks on Glenwood.
See
The Ghost Pilot of Rogers Park
Calvary Catholic Cemetery, across Sheridan Avenue from Juneway Terrace Beach at the border between Chicago and
Evanston
, has a few notable names buried within, including White Sox owner Charles Comiskey (inexplicably interred on the Cubs' side of town) and "Hinky Dink" Kenna, a legendarily corrupt alderman from the former vice district who left $33,000 in his will for a mausoleum and received an $85 tombstone from his heirs instead. But one of the best-known stories about Calvary comes from someone who
isn't
buried there. Legend has it that "Charlie," an Air Force pilot doing training exercises over Lake Michigan during World War II, crashed and drowned. According to one version of the story, Charlie wanted badly to get back to his plane, and would pace around near the cemetery gates, until one night a forgetful keeper left them open — and Charlie was never seen again. According to another, Charlie wants back in: his ghost "is still seen today" getting out of the lake sopping wet, covered in seaweed, and crossing Sheridan to get some rest in Calvary.
The
Glenwood Avenue Arts District
is a nice idea that someone had at some point, and it's still optimistically advertised by banners up and down the street (between Pratt and Touhy), but there isn't much going on. Most of the storefronts are vacant (or appear to be). Occasional group shows are held at the
Greenleaf Art Center
(1836 W Greenleaf).
For a better check on the artistic pulse of Rogers Park, check out the block-long concrete bench between Pratt Beach and Loyola Beach (facing the lake and the jogging trail), which is divided up into short segments and re-painted every year by members of the community and a few local businesses, musing on the neighborhood, the city, outer space, and whatever else is on their minds — a good mix of the memorable and the inexplicable.
Do
Loyola University Chicago
has its flagship campus here, with 15,000 students. In 1991, it absorbed Mundelein College, a pioneering women's school. Loyola University athletics haven't been up to much since the 1963 NCAA basketball championship, but Rogers Park would still go nuts at the first signs of life from the
Ramblers
— Loyola basketball tickets ($5-10) are a cheap way to catch some local flavor and have fun. More recently, the Loyola men's volleyball team has become a major national power, winning the 2014 NCAA title.
This area isn't well-known for theater, but it should be — there are some exceptional companies here. The
Heartland Cafe
(see
Eat
) is event-happy, and there are a few great music venues to check out (see
Drink
).
phone: +1-773-761-4477

address: 6912 N Glenwood Ave

Performs original work and adaptations of adult ("A Room With A View") and children's ("The Stinky Cheese Man") literature; their motto is "big stories, up close."

phone: +1-773-338-2177

address: 6157 N Clark St

Iconoclasts by default, the resident company at the Raven has the courage to tackle classic American plays without putting a post-modern spin on the material or thrusting technology into the staging. It's kooky, but it works. Non-resident companies also find room to debut new works on the well-designed stage here.

phone: +1-773-973-2150

address: 1439 W Jarvis Ave

They're new in the neighborhood, but the Side Project is quickly becoming one of Chicago's best storefront theaters. Shows include world premiere dramas and well-chosen revivals of overlooked plays, with committed actors and innovative staging that has the audience in the midst of the action.
Beaches
As with the rest of Chicago, the official swim season runs from Memorial Day to Labor Day, 9AM-9:30PM daily. However, the parks along the lakefront are open year-round (6AM-11PM daily), and fill up with picnics at the first sign of spring. And the piers on Pratt Beach are favorites with people taking the "polar plunge" on New Year's.
Edgewater
phone: +1-312-747-0832

address: 5800 N Lake Shore Dr

Although the beach earned its original name (Hollywood Beach) from being at the end of Hollywood Avenue, the Lake Shore Drive high-rises in the background give this nice, long beach a slightly Miami look. It's extremely popular with Chicago's gay and lesbian community, and also with Edgewater families. There are paths for rollerblading or running near the beach. Note the huge pink Edgewater Beach Apartments building amid the skyline — they were originally part of a larger (pink) hotel, built in 1927.
Rogers Park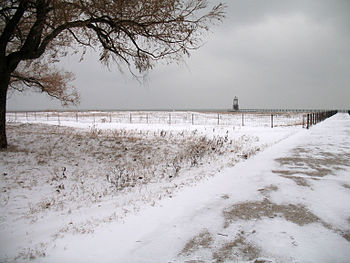 Rogers Park is lined with pure lakefront glory. From Loyola all the way north, nearly every block east of Sheridan ends in a public beach and park. Some are little more than a building's length wide, and others run much longer. During the summer, these are
very
popular with locals, but they're also a great place for a walk during the fall and even the winter, when most turn into moonscapes.
From south to north:
Hartigan Park & Beach

address: 1031 W Albion St

Close to the university and the student housing. There's some picnic space here and a big, new playground with jungle gyms and slides. It's connected by a strip of sand to North Shore Beach to the north.

Pratt Beach

address: 1050 W Pratt Blvd

Aside from the tennis courts and the jogging paths, there are lots of interesting features to be found here: weeping trees left from this area's original incarnation as a swamp, a giant concrete sculpture for climbing, tennis courts, random public art installations, and best of all, the long pier leading out to an old lighthouse. Pratt Beach includes North Shore Beach and Columbia Beach to the south, and it segues into Loyola Park & Beach to the north with the long art wall, making them the longest public beach in Chicago.

Loyola Park & Beach

address: 1230 W Greenleaf Ave

Wide open spaces are here: room for soccer, basketball courts, and a public field for baseball (along with one non-public field). The Heartland Cafe operates a concession stand during the summer, and there are a few small piers. It ends in the Leone Park & Beach to the north, a training beach for Chicago lifeguards.

Jarvis and Fargo Beaches

address: 1208 W Jarvis

Less crowded than their neighboring beaches. Jarvis Beach is more popular with younger swimmers as they are under the watchful gaze of the Chicago Junior Life Guard program. It also offers some open space to toss a Frisbee or people-watch. Fargo Beach is a real gem with its community garden of native beach grasses, decorating the sea retaining wall that separates the beach from the property to the west. Don't miss the wonderful plantings in the "tree box" at the end of Fargo Ave. The local take ownership for this beach and it shows. Be careful; many a local "outdoorsman" has been known to illegally launch a kayak from this public beach, and the dogs off leashes can get a bit "hairy" at times. Sherwin Beach, connected to the south of Jarvis Beach, is a small sand spit that offers a chance to sneer at the adjacent private beach.

Howard Beach

address: 7519 N Eastlake Terrace

There's a pretty good playground here, and a modestly-sized beach.

Rogers Beach

address: 7705 N Eastlake Terrace

The perfect size for a beach, with tennis courts and a cliff for contemplative strolls, picnic space and a modest strip of sand for swimmers.

Juneway Terrace Beach

address: 7800 N Eastlake Terrace

This is it: you've reached the end of Chicago, and it's a nice one, with lots of green space and a fun jump down to the sand. Daredevils can swim for freedom to Evanston.
Events & festivals
phone: +1-773-262-3790

address: 6900 N Glenwood Ave

Annual festival in August to celebrate the neighborhood and throw some light on the Glenwood Avenue art galleries, food & drink, performances, and events for kids.
Buy
Outside of Devon Avenue and a couple of cowboy fashion shops on Clark, there are only a few notable places to shop in this part of the city.
phone: +1-773-769-5311

address: 5311 N Clark St
Devon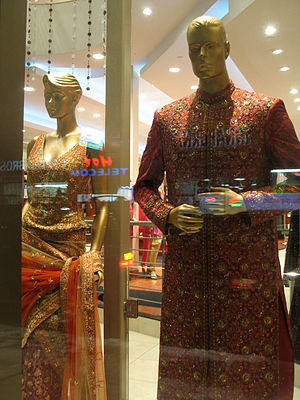 Saris, jewelry, suitcases, phone cards, spices, Bollywood movies, and more saris — Devon Avenue is a great place to shop. Bargaining is generally welcome, so don't be shy to make a counter-offer.
phone: +1-773-274-2665

address: 2751 W Devon Ave

An impressive collection of books on Islam and Muslim culture, with plenty of dual-language books and toys for teaching children Arabic. There are some nice gifts, too. If they don't have what you're looking for, try the smaller Islamic Books and Things at 2601 W Devon.

address: 2600 W Devon Ave

There are at least three stores by this name on Devon, so check the address. If you're at this one, you'll find a glorious clutter of Indian gifts — if these are cheap tourist statuettes, for example, they certainly don't look like it.

phone: +1-773-465-5755

address: 2652 W Devon Ave

Regal

phone: +1-773-973-1368

address: 2616 W Devon Ave

There is the requisite selection of beautiful saris, but fans of pastel men's dress shirts will fall silent with awe at the treasures to be found here.

phone: +1-773-338-3636

address: 2605 W Devon Ave

This is the height of retail elegance on Devon — the two sparkling floors of Sahil wouldn't look out of place on the Magnificent Mile. They have dazzling Indian fashion and everyday wear for men, women, and children, and accessories to match. If you don't mind spending freely, you'll leave with some amazing outfits.

phone: +1-773-338-0177

address: 2553 W Devon Ave

There are nice saris for women and juniors at this long-standing boutique, but the craft-minded will delight in the reams of colorful fabric sold here, suitable for making saris, men's suits, and home decorations. Al-Raheem at 2655 W Devon also sells reams of fabric.
Eat
Budget
Annapurna

phone: +1-773-764-1858

address: 2608 W Devon Ave

Devon Avenue can boggle the mind of the weary vegetarian not accustomed to having this many choices. Annapurna is a hole in the wall and the menu is geared toward Hindi speakers, but this is a good place to try something new — or just ask for samosas and chaat, and you shall receive.

phone: +1-773-764-6322

address: 2812 W Devon Ave

If you haven't had Georgian food, your culinary life has yet to begin. Drop everything you are doing and head straight to this bakery to try khachapuri, a mouth wateringly-flaky cheese-filled pastry. Try some Borjomi sparkling spring water too. The bakery's hours seem subject to managerial whim (and the Georgians are whimsical folks), so it's wise to call ahead before visiting. Georgian is the only language spoken, so practice saying Hah-chah-poo-ree and Bohr-joh-mee.

phone: +1-773-973-0570

address: 7367 N Clark St

One of Chicago's best sandwich and soup deals. Wide variety of fresh made toasted subs and soups — including their famous chili. Every person entering is immediately offered a taste sampling of any of the day's soups.

Caribbean American Baking Company

phone: +1-773-761-0700

address: 1547 W Howard St

Take-out only, but Howard Beach is right down the block — sun, surf, Jamaican bread and Jerk chicken patties are what the north pole of Chicago is all about. (Vegetable patties are available, too.)

phone: +1-773-262-6603

address: 2233 W Howard St

If the stomach that sits within you is no shrinking flower, the fried walleye, fried shrimp, and hush puppies at this renowned fish shack will do very well by you.

phone: +1-773-761-5300

address: 2032 W Devon Ave

The name, meaning "protector of the poor", is a reference to the Sufi saint Moinuddin Chishti, who was best known for feeding the hungry. This isn't the gourmet Devon experience, but how's this sound: naan or chapatis, chicken biryani, and a mango lassi to drink for less than $5. Interested? Come and carry-out, or try the family room.

Noon Hour Grill

phone: +1-773-338-9494

address: 6930 N Glenwood Ave

It doesn't look like much from the outside, but where else are you going to have to choose between a hearty diner breakfast (bacon, sausage, eggs), Korean home cooking (bi bim bop, Yook Gue Jung soup), or the point at which they meet (Korean spaghetti, bulgogi and kimchee omelettes)? Potential patrons should be aware the restaurant has been accused of refusing to serve lesbians and gay men.

phone: +1-773-743-0207

address: 2734 W Peterson Ave

Hot dogs and Polish sausages are a powerful, ancient tradition in West Ridge, and while there are still plenty of fast food shacks in the area, Wolfy's is the last of the old-school, pilgrimage-worthy hot dog proprietors. For a bit of hot dog history, sneak a peek at the hot dog sculptures behind the now-closed U Lucky Dawg (formerly Fluky's) a short distance east at 6821 N Western.
Mid-range
Devon
Most restaurants on Devon specialize in cuisine from specific regions of India, which can vary quite a bit. Southern Indian cooking will be less familiar to most, but it's also remarkably friendly to vegetarians.
phone: +1-773-274-5800

address: 2508 W Devon Ave

The first thing you notice is the pink handkerchiefs, floating over the tables like butterflies. Arya Bhavan has a small but lovely dining room, serving mostly northern Indian food (and a weekend buffet) for vegans. As a bonus, it's open most major holidays.

Khan BBQ

phone: +1-773-338-2800

address: 2401 W Devon Ave

If you've had it with vegetarians, this is where to get some meat on your plate. Khan BBQ serves the best kabobs on the street, charcoal-fired and caramelized, and they're busy from open to close.

phone: +1-773-338-8160

address: 2548 W Devon Ave

Purely vegetarian Southern Indian cooking, with a spacious dining room. If you've never tried dosai, which is somewhere between a burrito, a crepe, and a horn-of-plenty, they have several cheap, filling varieties here.

phone: +1-773-743-6200

address: 2502½ W Devon Ave

This Pakistani restaurant is one of the busiest on Devon, filled with local families. They do wonders with chicken, especially the monumental chicken charga, in which an entire bird is deep-fried and marinated with secret spices.

phone: +1-773-338-2143

address: 2536 W Devon Ave

Possibly the fanciest restaurant on Devon, with a space-age ceiling and decor that calls to mind an expensive hotel lobby. Tandoori dishes are the specialty, and there's a lunch buffet seven days a week.

phone: +1-773-338-2152

address: 2543 W Devon Ave

This is one of the most popular restaurants with visitors on Devon, offering a Southern Indian-style vegetarian menu that packs its fair share of spice.

phone: +1-773-262-5280

address: 2629 W Devon Ave

The aqua walls and cafe-like atmosphere make Uru-Swati a relaxing place to stay, and their vegetarian menu covers a lot of range — you can pair standbys like naan with new finds from northern and southern India.

phone: +1-773-743-4100

address: 2518 W Devon Ave

Locals seek out the Viceroy for its mighty chicken, lunch buffet ($8-9), and long wine list. The menu is primarily northern Indian. This is a great place to go with a big party.
Others
Splurge
phone: +1-773-381-4540

address: 6545 N Clark St

Given the nature of Peruvian cuisine, this one is probably best enjoyed by seafood lovers. Live Peruvian music on the weekends. Reservations recommended, although not necessary if you're willing to wait. (That'll give you a chance to hit the liquor store down the block, as Taste of Peru is BYOB.)
Drink
Coffee shops
There's a few exceptional independent coffee shops with great character (and coffee) in the area.
Bars
Rogers Park and Edgewater have several quality dives where a good time is the one and only priority — save your fashion for another part of the city. Howard Street was a jazz hotspot several decades ago, and while there are no clubs there now, several places near Morse Avenue are picking up steam as live music venues.
If you're hungry, heading down Broadway to raise a glass over a burger at
Moody's Pub
(see
above
) is always a sound idea.
Bruno & Tim's Lounge

phone: +1-773-764-7900

address: 6562 N Sheridan Rd

Bruno & Tim's is a classic Rogers Park bar, offering booze, television, and long hours for its regulars. Whatever the time of day, it's always late Saturday night inside Bruno & Tim's. There's a fairly big liquor store in the other half of the storefront.

phone: +1-773-743-5737

address: 2251 W Devon Ave

In operation for more than 40 years, Cary's Lounge stakes a claim to the coveted title of best dive bar in Chicago. It's also a haven for serious pool players. There are bands on Fridays, DJs on Saturdays, and a good jukebox for the rest.

The Oasis Tavern

phone: +1-773-973-7788

address: 6809 N Sheridan Rd

Local dive with late hours. Just a block in from the lake on the busy intersection of Sheridan and Pratt. The Oasis has two rooms, darts (metal ones!), free pretzel rods, specials with time limits, and a menacing late night bouncer. With many an over-served customer, mayhem is known to ensue.

Poitin Stil

phone: +1-773-338-3285

address: 1502 W Jarvis Ave

Irish or not, you'll feel like you're knocking 'em back in Galway at this Irish pub. The name (pronounced "poo-chine still") is Gaelic for moonshine. Though there's no kitchen, a free buffet is brought in to help guests cheer on the Bears on Sundays. Billiard table, good jukebox, karaoke, and trivia some nights. Occasionally live music. Great bar staff.

Red Line Tap

phone: +1-773-274-5463

address: 7006 N Glenwood Ave

A solid place for a beer, not far from the lake. Food is available from the Heartland Cafe next door.

The Sovereign

phone: +1-773-764-8900

address: 6202 N Broadway St

Friendly, comfortable place where the jukebox is just the right volume. For cheap beer and generous mixed drinks, this a great neighborhood bet.

phone: +1-773-465-9801

address: 1401 W Devon Ave

Great food, much of which is grown on the certified organic rooftop farm (near solar panels that heat the water). Though it's best for breakfast, there's a good bar and occasional live music.

phone: +1-872-208-7916

address: 1508 W Jarvis Ave

As much a restaurant as it is a bar, R is well-known for its burgers, pizzas, and weekend brunches. Frequently hosts live music and/or community-centered events such as fundraisers for local nonprofits.
Sleep
Budget
Lincoln Inn

phone: +1-773-784-1118

address: 5952 N Lincoln Ave

This cousin of the Sin Strip motels is missing the over-the-top neon, but it's in a sedate location within a close walk of the Indian community on Devon Avenue and a shopping center.
Mid-range
The notorious motels of Lincoln Avenue have been listed in
Lincoln Square
, although some are located close to West Ridge.
phone: +1-773-271-9181

address: 5990 N Ridge Ave

Want to impress a local? Generations of north-siders have driven past the Heart O' Chicago's famous sign without seeing what's inside — 45 basic motel rooms, as it turns out. Continental breakfast and wireless internet are included. You'll probably want a car if you're staying here, though.

phone: +1-773-944-5555

address: 5863 N Glenwood Ave

Bed & breakfast for GLBT travelers in a century-old Victorian home, not far from Hollywood Beach.

phone: +1-773-973-7440

address: 7300 N Sheridan Rd

Right down the street from the beach. Amenities include parking and internet. Bit sketchy outside at night, though.
Connect
Chamber of Commerce
Rogers Park Chamber of Commerce

phone: +1-773-850-0049

address: 7231 N Sheridan Rd

Tourism and relocation services, Free guide of Rogers Park businesses and organizations, Free monthly networking events, Community resources.
Libraries
Edgewater Library

phone: +1-312-744-0718

address: 1210 W Elmdale Ave

Free public internet access at a classic 1970s branch, just off Broadway. Closed for renovation.

Northtown Library

phone: +1-312-744-2292

address: 6435 N California Ave

Free public internet access, near the culinary glories of Devon Avenue.

phone: +1-312-744-0156

address: 6907 N Clark St

Free public internet access, a few blocks west of the CTA station (or east of the Metra station).
Internet cafes
phone: +1-773-761-3555

address: 7301 N Sheridan Rd

Conveniently located internet cafe, just a block from the beach.
Stay safe
Edgewater and West Ridge are low crime areas, but Rogers Park has some rough spots at night. Chicagoans tend to overstate the crime rate there, largely because it's surrounded by neighborhoods where crime is comparatively unknown. By overall city standards, it's not particularly dangerous, but don't carry anything irreplaceable on your person (or in your car) if you plan to go roaming after dark. (That said, trouble by day is virtually non-existent.) Campus police patrol the area near Loyola University around the clock, but some visitors may feel uncomfortable walking alone on Morse, Jarvis, Glenwood, Howard, and the side streets late at night. There are police cameras on the streetlights at Morse and Howard, so wave and say 'hello'.
Wandering the beaches and parks is fine after dark, but don't go swimming after hours, particularly at the smaller beachescertain property owners thrive on calling the cops on late swimmers. Climbing the breakwater rocks between beaches can be a lot of fun, but it is not allowed by the Chicago Park District lifeguards.

Go next