Chikmagalur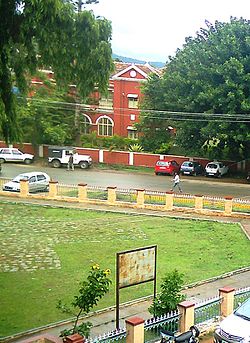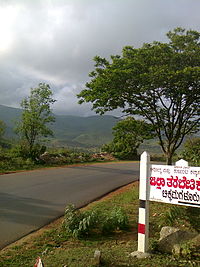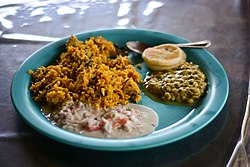 Chikmagalur
(
Kannada
: ಚಿಕ್ಕಮಗಳೂರು) is a city in
Karnataka
, known for its coffee plantations and Bababudan Giri ranges.
Understand
Chikmagalur city (Chikkamagaluru district) is at the foot of highest mountain range in Karnataka. The life-supporting rivers of Karnataka and other states - Tunga, Bhadra, Hemavati, Vedavati, Yagachi originate in the Western Ghat hills of the district.
The district is a great attraction to all kinds of people - trekkers, pilgrims, travellers and tourists. This area is famous for the coffee estates in the vicinity and also known as the Coffee Belt of the South.

Get in
By plane
Mangalore
airport (
IXE
), 170km Bangalore airport (BLR), 250km.

By train
Passenger trains are available from Shimoga and Kadur at a distance of 40km.
Arrivals and Departures from Chikkamagaluru Railway Station
Train Number 56271: Shivamogga-Chikkamagaluru Passenger-Departs Shivamogga at 18:15 and arrives Chikkamagaluru at 21:30
Train Number 56272: Chikkamagaluru-Shivamogga Passenger-Departs Chikkamagaluru at 06:30 and arrives Shivamogga at 09:30
Train Number 56277: Chikkamagaluru-Yeshvantpur Jn Fast Passenger-Departs Chikkamagaluru at 07:30 and arrives Yeshvantpur Jn at 14:15
Train Number 56278: Yeshvantpur Jn-Chikkamagaluru Fast Passenger-Departs Yeshvantpur Jn at 15:15 and arrives Chikkamagaluru at 22:20
By bus
Chikmagalur is located on the Highway from Hassan towards Shringeri and has regular Luxury as well as ordinary buses from Bangalore. Regular ordinary buses connect Chikmagalur to Mysore, Hassan with a single services to Calicut. Buses from interior Karnataka towards Mangalore too pass via Chikmagalur and hence, ordinary buses connect Chikmaglur regularly to Dharmastala, Mangalore, Shimoga, Davangere and Sringeri.

By car
You can drive to Chikmagalur comfortably by road from Hassan km, which is again 185 km from Bangalore.

By taxi/car rental

You can hire a taxi or rent a car from Bangalore to visit Chikmagalur. Out station car rental companies charge for a minimum of 250 km/day @ a fare/km rate + driver charges (BA/TA: Boarding Allowance Travel Allowance). The fares depend upon the type of car you are looking for. It is advisable to rent cars from reliable and established car rental operators.

Get around
By autorickshaw
Drivers don't go by meters. They fix a charge for the place you want to go; bargaining is up to you. The more your attire and luggage announce that you are a tourist the greater the chance of drivers ripping you off.
By taxi
Tourist Cabs are the best choice in case you want to tour the city all day or visit nearby places like
Kemmannagundi
. Costs are about ₹10 per kilometer
See
Temples
Amrutapura Temple

address: Amrutapura

This temple is located the village of Amrutapura 67 km north of Chikmagalur.

Balehonnur

Veera Narayana Temple

address: Belavadi

The village Belavadi is home to this well known temple. It is located approximately 30 km from Chikmagature

Shree Kshetra Horanadu Annapooraneshwari TempleAbout 80 km from chikmaglur; Famous for the Annapooraneshwari Temple, or the Goddess of Food. Hence, Lunch and Dinner is a must have here, as it is considered a direct Prasadam by the Goddess. Located on bhadra River
The Roads wind around the ghats. Self driving not recommended, unless one is very familiar negotiating the ghat terrains regularly.
Taxies available as a package connecting Sringeri and horanadu and returning back to Chikmaglur on same day , at pre-fixed prices

Kalasa Shiva TempleLocated 5 km from Horanadu. Temple dedicated to Lord Shiva a.k.a Lord Vishwanatha. Believed to be the Kashi of the South, owing to the presence of Annapooraneshwari Temple at 5 km distance, similar to Kashi Kshetra. Main attraction is the idols of a Male & Female Elephant pulling the trunk of the tree, the process of devouring a demon

Sringeri Sharadha Peetham100 km from Chikmaglur, is the Sharada peetham of Sringeri, established by Shri Adi Shankarar. It is said, that while Adi shankarar searched for a place for establishing a Devi Peetham, he reached the banks of Tunga River. It was raining heavily. At that moment, he noticed that a Frog was into labour, unable to move in the rain. A cobra, at this point, spread its hood and protected the frog from the rain . Adi shankarar concluded , that no other place could be better for establishing the Peetham and immediately chose it
sharada Devi, incarnation of Adi Parasakthi , in knowledge form, is the main deity. There is also an old Hoysala type Temple on the banks of Tunga River housing 3 other Sannidhis. The Ashrama of the Head, is on the other bank of the river, and a bridge connects across. The Ashrama has a very peaceful atmosphere
Hill Stations
B.B.HillsMinibus starts from the Private busstand everyday by 12.30 pm. Once you reach B.B.Hills, you have just one hour to explore the hills because the same bus returns by 5 p.m. There is only one tea shop at B.B.Hills, so you have to beg for a plate of hot porottas. But you can skip the eating as the scenes are terrific.

Devi Rammana Betta

Giridarshini

address: Mangalore Road

KaimaraThe road from Kaimara to Kemmannagundi is heavenly.

KemmanagundiRose garden also.

Mullayangirihighest point in South Karnataka- accessible only through private vehicles. Road leads almost to 80% of the peak and balance to be climed by a fleet of stairs. Self driving not recommended, owing to steep assent and blind curves enroute

RathnagiriGood view of the city
Other Attractions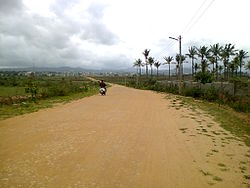 Agumbe

Cafe Coffee Day Headquarters

Coffee Museum

Hebbe Falls

address: Near Kemmanagundi

Hirekolale Pond

Malayamarutha
Do
Camping
Fishing
Kayaking
Trekking

Chikmagalur WalkTurn right from the chekpost bus stop on Kadur road. Walk past summit school upto Aldur village. Proceed to Railway station area. Visit the Brahmakumaris ashram on the way. Very scenic surroundings.
Buy
ATMs
Available in plenty.

Money Exchange

Do it before you arrive at Chikmagalur.

Eat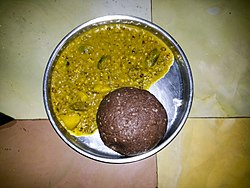 Budget
Food Palace

address: R.G Rd

Fairly medium sized fast-food joint, ideal for breakfast as well. Very clean hotel.

Hotel Kamat

address: Indira Gandhi Rd

Maharaja Restaurant

address: IG Rd

You will get very good non-veg food at very reasonable price. The service is very nice.

Malnad Paradise

address: Indira Gandhi Rd

Mayura Vegetarian

address: Near Head Post Office

for Masala Dosai, a fermented crepe made from rice batter, black lentils, potato and onions. ₹35

Raj Mahal Hotel

address: Indira Gandhi Rd

phone: +91 98 45231359

address: K.M Rd

Burger shop with an unique flavour of herbs on it.

Hotel Soundarya
Mid-range
address: - Kadabagere, Sangameshwar Pet Post

Hotel Soundarya Residency and Hotel Soundarya Deluxe

address: Indira Gandhi Rd

Town Canteen

address: Ratnagiri Rd

Do not miss the Masala Dosa. One of the famous joints for them, they may beat even Vidyarthi Bhavan of Bangalore. Avoid extra butter.
Splurge
Sleep
Budget
Hotel Empire

address: Off Indira Gandhi Rd

Opened around Oct 2010, small but good rooms, clean bathrooms but questionable service.

Hotel Soundarya Residency

address: Indira Gandhi Rd

Some rooms have A/C.

Raj Mahal Hotel

address: Indira Gandhi Road
Mid-range
phone: +91-974-229-6065

address: 5 Kerekal Estate, Sunkasale Post, Mudigere (T), Aramane Thalagur

Tucked in a remote corner of Chikmagalur district.

phone: +91 9241 222 504

address: Mekanagadde, Mudigere

Scenic homestay within the Western Ghats of Chikmagalur. Serves authentic food.
Splurge
Connect

Post offices are available in Basavanahalli, Vijayapura, MG Rd and the General Post Office (GPO), at the end of MG Rd. BSNL mobile services are available at most places of this region.

Go next