Chikmagalur (district)
Chikmagalur
is a district in the
Cauvery Basin
region of
Karnataka
State, near
Tamil Nadu
.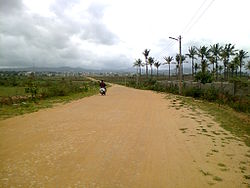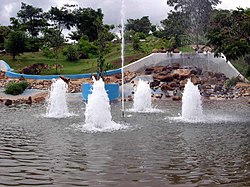 Cities
Other destinations
— a small village


— a hill station


—


— located in the middle of the Kodays coffee estate

Talk
The
Kannada
language is spoken in this district.
Get in
Reachable by Road/Train from Bangalore. Bus journey takes 5.5 hrs either via Kadur(NH206) or Hassan(NH48). Train journey takes almost 3 to 3.5 hrs (till Kadur/Birur). As of 2006, there is no direct connectivity by train (Rail line between Kadur and Chikkamagaluru is under construction). One need to alight at Kadur/Birur and take bus to Chikmagalur for (40KM) 45 minutes.
By bus
Buses are available from Mysore,
Mangalore
and Bangalore.
By train
Passenger trains are available from Shimoga and Kadur at a distance of 40km.
Arrivals and Departures from Chikkamagaluru Railway Station
Train Number 56271: Shivamogga-Chikkamagaluru Passenger-Departs Shivamogga at 18:15 and arrives Chikkamagaluru at 21:30
Train Number 56272: Chikkamagaluru-Shivamogga Passenger-Departs Chikkamagaluru at 06:30 and arrives Shivamogga at 09:30
Train Number 56277: Chikkamagaluru-Yeshvantpur Jn Fast Passenger-Departs Chikkamagaluru at 07:30 and arrives Yeshvantpur Jn at 14:15
Train Number 56278: Yeshvantpur Jn-Chikkamagaluru Fast Passenger-Departs Yeshvantpur Jn at 15:15 and arrives Chikkamagaluru at 22:20
See
Do
Drink
Filter Coffee made from locally grown Coffee beans.

Sleep
There are plenty of homestays and resorts in this district at various places.

Stay safe
Many places in Western ghat region gets flooded during rains. Fill the fuel tank of your automobile before going to remote villages as chances of getting fuel are very less. Wild animals like Elephant, Tiger and Gaur are present in this district and sometimes can be seen on roads. Drive carefully as many roads are narrow and curvy.

Go next