Christchurch
Christchurch
(
Māori
:
Ōtautahi
) is the largest city in the
South Island
of
New Zealand
, and the third most-populous urban area in the country. As well as having the most attractions of any place in the South Island, it's the major international entry point for visiting the rest of the island. It is on the east coast of the South Island, and is the centre of the
Canterbury
region.
Christchurch is rebuilding after an earthquake in February 2011 that severely damaged it. The city is back in business and open to visitors – you will just encounter construction sites, roadworks and vacant land as you travel around.
Understand
Christchurch has a rich English heritage. This especially shows in the older buildings, especially in the cultural precinct along Worcester Boulevard (which is open from the Avon River towards the west), where most heritage buildings remain. The Avon River flows through the central city and disrupts the regular rectangular layout of the city streets.
Christchurch is known as the Garden City, a well-deserved name. Looking from a few floors up, one is struck by the number of trees that grow like a forest throughout the suburbs.
History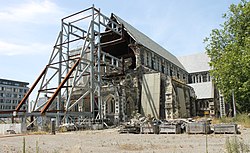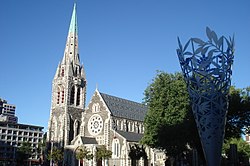 The Canterbury Association was established in London in 1848, with the intent of settling English emigrants in what was to become Christchurch and the Canterbury region. The city's name was chosen on 27 March 1848, named after the Christ Church college at the University of Oxford. The first settlers arrived in the future Christchurch in December 1850. Christchurch was declared a city in 1856, New Zealand's first. Construction began on the landmark ChristChurch Cathedral in 1864; the cathedral was completed and consecrated in 1881.
At 04:35 on Saturday, 4 September 2010, the city and region was hit by a magnitude 7.1 earthquake, located 10 km deep and 40 km west of the city centre. Parts of the city were damaged, but there were no fatalities. However, 5½ months later, at 12:51 on Tuesday, 22 February 2011, a magnitude 6.3 aftershock struck 10 km south of the city centre at 5 km deep. Already damaged buildings collapsed, killing 185 people, 115 of which resulted from the six-storey Canterbury Television building collapsing and catching fire. Many other central city buildings, old and new, were damaged beyond repair and were subsequently demolished. The landmark ChristChurch Cathedral lost its spire tower and most of its western facade. Liquefaction severely affected the eastern suburbs, resulting in 10,000 homes having to be abandoned due to land damage (the "residential red zone"). Some residents moved out of the city after the quake – many moved out to the Waimakariri and Selwyn Districts north and south of the city respectively, and some moved to other areas in Canterbury and further afield.
A very hip scene has developed in some of the suburbs close to the centre, and many 'gapfiller' projects (as part of the earthquake recovery) are stunning. In 2013, Lonely Planet declared post-earthquake Christchurch as one of the top 10 travel destinations in the world.
In March 2019, a white nationalist carried out consecutive terrorist attacks on two mosques in the city, killing 51 people in the deadliest mass shooting in modern New Zealand history. The suspect was arrested and is expected to go to trial in June 2020. The attacks resulted in a significant tightening of gun laws in New Zealand.
phone: +64 3 379-9629
address: 28 Worcester Boulevard
Free booking service for accommodation, activities and transport.
Climate
Like the rest of New Zealand, Christchurch has a temperate climate with four distinct seasons, mild to warm summers, cool winters, and rainfall evenly distributed throughout the year. The city is the driest of New Zealand's major cities with only 630 mm of rain per year, half of what Auckland and Wellington receive. This is due to the city being in the lee of the Southern Alps, which blocks the moist westerly winds off the Tasman Sea and causes the moisture to fall back as rain on the
West Coast
. The Southern Alps also causes a hot and strong foehn wind, locally known as the "Nor'wester", to blow across Christchurch and the Canterbury plains. The Nor'wester is most pronounced in summer and can cause temperatures in Christchurch to soar over . Christchurch occasionally receives snow during winter; on average one significant snowfall occurs in the city every 1 to 3 years.
Get in
By plane



There are two regular public bus services from the airport to the city centre. The number 29 bus travels via Fendalton, while the Purple Line bus travels via the University of Canterbury and Riccarton. The 30-min trip costs $8.50 (or $2.55 with a Metrocard) and between the two routes buses operate every 15-30 minutes during the day, 7 days a week. The fare can be reduced to $4 by catching the bus a seven-minute walk from the airport at the stop on Memorial Ave in front of the Sudima Hotel sign. A

door-to-door shuttle service

to all parts of Christchurch is available; the price to the city centre is $24 for the first person and $5 for each additional person travelling to the same destination. Taxi stands (about $45-65 to the city centre) and rental car parks are close to the terminal building.




If you have a few hours to spare and no heavy luggage, you can walk to the airport. There is a footpath alongside Fendalton Road/Memorial Avenue all the way to the airport and the 8 km walk through residential neighbourhoods is quite pleasant.




By car

Christchurch lies at the intersection of State Highways 1 and 73. State Highways 1, 74 and 76 form a ring road through the outer suburbs of the city.
From the Upper South Island, follow State Highway 1 southbound through Waipara, Amberley, Woodend and Kaiapoi to approach Christchurch from the north.
From the West Coast, follow State Highway 73 over Arthur's Pass and via Darfield and West Melton to approach Christchurch from the west. Alternatively, you can follow State Highway 7 over the Lewis Pass, meeting State Highway 1 at Waipara and approaching Christchurch from the north.
From the Lower South Island, follow State Highway 1 northbound through Ashburton and Rolleston to approach Christchurch from the south-west.
Typical distances and non-stop travel times to Christchurch are:

Picton – 340 km, 6hr (via Kaikoura); 480 km, 7hr (via Lewis Pass)
Blenheim – 310 km, 5hr 30min (via Kaikoura); 450 km, 6hr 30 min (via Lewis Pass)
Nelson – 420 km, 6hr (via Lewis Pass)
Greymouth – 240 km, 3hr 15min
Timaru – 170 km, 2hr 15min
Dunedin – 360 km, 4hr 30 min
Queenstown – 480 km, 6hr
Invercargill – 570 km, 7hr




By bus

National operators InterCity and Newmans Coach Lines provide multiple daily connections to destinations throughout the South Island. There are daily bus services to and from Picton to the north, Dunedin, Queenstown and Mt Cook to the south, and the West Coast (Greymouth, Hokitika). The bus stop is outside the Bus Interchange on Lichfield Street, and there is an Intercity office inside the Interchange. Newmans Coach Lines buses (to Tekapo/Queenstown) depart from outside Canterbury Museum in Rolleston Ave, nearest the Worcester Boulevard intersection.
Smaller shuttle operators also operate from Christchurch:


By train




The

TranzAlpine

can take you coast-to-coast between Christchurch and Greymouth, a town on the West Coast. This scenic train journey can be done as a day trip. The train departs from Christchurch daily at 08:15, arriving at Greymouth at 12:45, then leaves Greymouth at 13:45, getting back to Christchurch at 18:05. During the trip you'll see the fields of the Canterbury Plains, followed by spectacular gorges and river valleys of the Waimakariri River. The train then climbs into the Southern Alps before descending through lush beech rain forest to Greymouth.




The

Coastal Pacific

runs between Picton and Christchurch. At Picton the Coastal Pacific connects with the Cook Strait ferries from Wellington in the North Island. The train departs Christchurch at 07:00 and arrives in Picton at 13:15, connecting with the 14:00 ferry to Wellington. The 09:00 ferry from Wellington connects with the train departing Picton at 14:15 and arriving in Christchurch at 20:30. Canterbury Shuttles pick-ups for the Coastal Pacific are 06:00-06:30.



Get around
Christchurch is mostly flat with a grid-pattern layout, so navigation by road is generally simple. The central city is contained by the "four avenues" – Bealey Ave in the north, Fitzgerald Ave in the east, Deans Ave in the west, and Moorhouse Ave in the south. Watch out for one-way streets and bus-and-taxi-only intersections in the central city.
By bike
Many people get around on bicycles, and special-purpose bicycle lanes have been added to many streets to help promote cycling.
By car
Parking in the city uses a pay and display system and costs $2.60/hour. You can pay with coins, credit card (Visa, MasterCard or AmEx) or with a mobile phone text message (the latter two attract a 50c surcharge) then display the ticket with the expiry time visible on the kerbside dash. Rental cars are available. Most depots are on the airport side of town, with just a few near the CBD.
By tram
The city has a small tram loop, best regarded as an attraction rather than a transport system due to its small size of coverage, high price ($25 day pass for adults, free for children) and limited hours.
By bus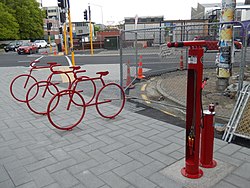 The city bus service is called Metro. Buses interconnect through the on Lichfield St, just east of Colombo St. A standard cash bus fare within the city is $4 or $2.55 with a Metrocard. The Metrocard costs $10 and needs to be topped up with a minimum of $10, its purchase will then cost you $20. By using the card you will travel for free the same day after paying two trips. Services cover the whole city and areas of interest for a visitor that lie outside the central city, such as Sumner and New Brighton beaches, Lyttelton, and the Gondola.
The core bus network has four cross-city routes and a circular route through the inner suburbs. Buses on these routes run every 15 minutes during the day, seven days a week. The four cross-city routes converge at the Bus Interchange.
Blue Line (B) - runs north-south between Belfast and Princess Margaret Hospital (PMH). Every other service continues north of Belfast to Kaiapoi and Rangiora, and every other service continues south of PMH to Cashmere. Connects with Orbiter at Northlands (north) and PMH (south).
Purple Line (P) - runs northwest-southeast between the Airport or Sheffield Crescent (alternating services) and Sumner. Connects with Orbiter at University of Canterbury and Westfield Riccarton.
Yellow Line (Y) - runs west-east between Hornby and New Brighton. Every other service continues west of Hornby to Rolleston. Connects with the Orbiter at Westfield Riccarton (west) and Eastgate Mall (east).
Orange Line (O) - runs south-west-northeast between Halswell and Queenspark. Connects with Orbiter at The Palms Mall.
The Orbiter (Or, green) - runs a circular route through the inner suburbs, starting and ending at Eastgate.
In some areas buses may be infrequent, particularly at the weekend, when there may only be one or two buses per hour.
phone: +64 3 366 8855

address: Bus Interchange, cnr Lichfield St and Colombo St
By scooter
Lime electric scooters can be hired by the minute using a phone app. They do not come with safety equipment such as helmets. Pedestrians may need to watch out for inexperienced riders.
See
phone: +64 3 343 9542

address: 45 Harvard Ave, Wigram

Opened in 1987 before the closure of the Christchurch RNZAF base, this museum has full-size replicas of fighting planes and dramatizes the history of New Zealand's Air Force from World War I to Vietnam and beyond.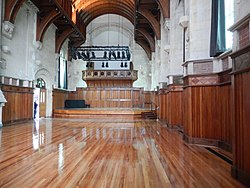 address: Worcester Blvd, Central City

Gothic Revival stonework of former University campus. This area was damaged during the 22 Feb 2011 earthquake. While reconstruction work is taking place some of these buildings are closed to the general public. However, the beauty and historical significance of these building can still be appreciated by viewing them from surrounding streets such as Worcester Blvd and Hereford St, and the excellent Canterbury Cheesemongers still operates from a modern building within its precincts. As of December 2018, the I-Site, a commercial gallery and the Great Hall (and the courtyard outside) are open. Rutherford's Den ($20 admission), an exhibition on physics, is open.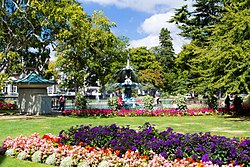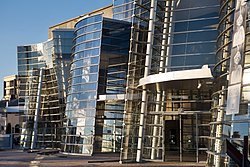 phone: +64 3 941-7300

address: Worcester Blvd and Montreal St

Spectacular $47-million facility opened in 2003, the largest in the South Island, with over 5000 items and visiting exhibitions. The gallery reopened in Dec 2015, after 5 years of being a Civil Defence Centre and then repairs. You can store your suitcase at the reception, so it is a nice place to go in the morning if you are leaving in the afternoon.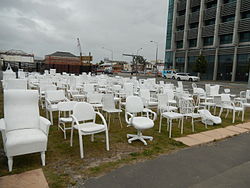 Earthquake tourism. Tours of affected sites are available. Visitors can also make their own way to sites of particular significance such as:
Canterbury Earthquake National MemorialDedicated to those who died or were injured in the 22 February 2011 earthquake. It is beside the Avon River, immediately downstream from Montreal St and upstream from Rhododendron Island in the Avon.

185 Empty Chairs

address: Madras/Cashel Sts

An art work that is a memorial to the 185 people who died in the 22 February 2011 earthquake. The chairs are on the site of the demolished St Paul's Church, across the road from the site of the most casualties, the Canterbury Television building, where 115 people died. There are actually 186 chairs, the extra one being for people who died in Christchurch on the day, but were not directly killed by the quake.

Site of Canterbury Television buildingThe site of the CTV building, where 115 people died was planted as a memorial garden in 2018.

Cathedral of the Blessed Sacrament

address: South Barbadoes St

The Roman Catholic cathedral, which partly collapsed in the quake. It may eventually be partially rebuilt. View it from the outside.

ChristChurch Cathedral

address: Cathedral Square, Central City

The Gothic revival cathedral was consecrated in 1881 as the seat of the Christchurch Anglican diocese. Damaged in the 2011 Christchurch earthquakes, the cathedral sat largely untouched for years due to debate over what should be done with it. Removal of rubble commenced in late 2018 and rebuilding work is expected to take 10 years.

address: 299 Durham St North

Coordinated by Canterbury Museum, it has exhibits about earthquakes in Christchurch, particularly the quakes of 2010–11.
phone: +64 3 384 1970

address: Ferrymead Park Dr

A recreated Edwardian township and museum with horse and carriage (daily), tram (weekends and school/public holidays) and train (first and third Sunday) rides. Not all attractions run at all times, due to the voluntary nature of the historical societies managing the park. Special events are often held and the park has been used to film the TV One reality show Colonial House. Admission price is based on whether trams/trains are operating or not, and include unlimited rides if available.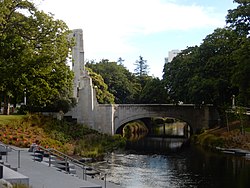 International Antarctic Centre

phone: +64 3 357-0519

address: 38 Orchard Rd, Christchurch Airport

A world-class Antarctic experience with simulated polar weather, Hagglund All-Terrain Vehicle ride, penguins, extensive exhibits about Antarctic science missions, café and gift shop.

phone: +64 3 359-7109

address: McLeans Island Rd

New Zealand's largest wildlife sanctuary and conservation project featuring endangered animals from around the world. The park's design minimises fences and cages in favour of natural boundaries and habitats. Lion Encounter (limited 20 tickets per day, participants must be above 1.4 metres in height).

Riccarton BushThe last remaining forest remnant on the Canterbury plains is in Christchurch city. If your time is limited in NZ, this is a great way to experience an example of the country's native forests. The circular track passes under tall kahikatea trees, and there is a diversity of small trees, shrubs, climbers and ferns. Christchurch's oldest house, Dean's Cottage (built 1843), is adjacent. Five minutes drive from central city and easily accessible by bus.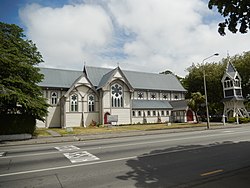 St Michael and All Angels Church

address: 86-90 Oxford Terrace

This wooden Anglican church dating from 1872 suffered only minor quake damage (it was closed for three months). It has an unusual separate bell tower.

phone: +64 3 359 6226

address: 60 Hussey Rd

A smaller park than Orana, with a focus on New Zealand species including kiwi in a natural environment. The site also houses Ko Tāne replica Maori village which offers cultural performances and hangi dinners.

phone: +64 3 342-7914

address: Main West Rd

Mostly interesting for its collection of over 150 classic and vintage vehicles.
Do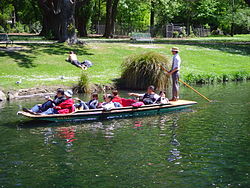 Festivals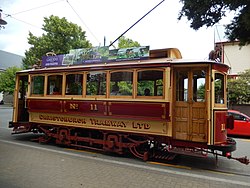 Christchurch has the busiest program of annual festivals of any New Zealand city.
SummertimesRuns from December through to late February and includes a number of major free events in Hagley Park, which attract audiences of up to 100,000. It consists of music, arts, culture and sporting events.

The World Buskers FestivalRuns for two weeks in January and usually features about 30 comedy, street, and circus acts from around the globe.

KidsfestDuring the midwinter school holiday. Programme is announced in early June.

Christchurch Arts FestivalThe largest arts festival in the South Island, it takes place every second year around Aug-Sep. Next held 26 Jul – 4 Aug 2019.

Carnival WeekCentred on a number of events taking place in November - Guy Fawkes' night (a major public firework display at New Brighton Pier), the two New Zealand Cup (trotting and galloping) horse racing meetings, and the Canterbury Agricultural and Pastoral show, which is the largest in the country.

Carols by CandlelightA long-standing tradition on Christmas Eve.
Buy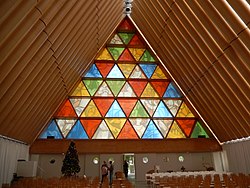 The famous
Container Mall
, a temporary replacement for the earthquake-damaged City Mall, closed in Jan 2018.
address: 100 Oxford Terrace

Indoor market with fresh produce and food stalls - full of artwork, local products and seating areas

phone: +64 3 379 7400

address: cnr Colombo and Cashel Sts

This major upmarket department store has been through its fair share of disasters – as well as the earthquakes of the 2010s, in 1947 the store was gutted by the deadliest fire in New Zealand history, with 41 deaths.

address: 16 Kahu Rd, Riccarton

Meet the growers, farmers, brewers and other artisan producers. A lively affair in the grounds of Riccarton House.

New Regent StreetA beautiful street of terraced Spanish Mission-style speciality shops that opened in 1932 and have reopened since the quake. The tram runs along the street.

Suburban malls include:
phone: +64 3 352-6535

address: 55 Main North Rd, Papanui

135 stores over 42,000 m 2 , including Countdown, Farmers, Hoyts cinemas, Pak'nSave and The Warehouse.

phone: +64 3 385-3067

address: cnr Marshland & New Brighton Rds, Shirley

110 stores over 34,000 m 2 , including Countdown, Farmers, Kmart and Reading Cinemas.

phone: +64 3 983-4500

address: 129 Riccarton Rd, Riccarton

The South Island's oldest (1965) and largest (55,000 m 2 ) mall. 200 stores, including Briscoes, Farmers, Hoyts cinemas, Kmart and Pak'nSave.
Riccarton Rotary Market

address: Riccarton Racecourse, 146 Racecourse Rd, Sockburn

Selling all sorts of things from plants, fruit and vegetables to kiwi souvenirs and cheap Asian wares. Has performances, bouncy castles and food.
Eat
Self-prepared
Fruit and vegetable shops offer locally grown high quality fresh produce for prices often much cheaper than supermarkets.
;Supermarkets
;Other
Budget
Fish'n'chips
is the cheapest meal out.
The
Asian
district is mainly in the Riccarton/Upper Riccarton area. Church Corner is often considered the unofficial 'Chinatown'. It has Chinese supermarkets, all kinds of Asian restaurants and more. There are many Korean restaurants there, and in the shopping precinct near Westfield Riccarton. KOSCO, a Korean supermarket, has several branches in Christchurch, including one in Riccarton.
Mid-range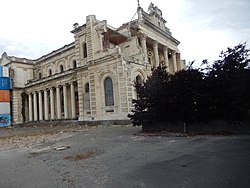 Splurge
Drink
Sleep
Following the earthquakes, some major hotels were demolished. This reduction in supply and the increased demand due to construction work means that accommodation in Christchurch is a little more expensive than other cities in New Zealand.
Backpackers are safe, clean, cheap and cheerful. The cheapest option is a share/dorm room usually costing around $30 per night. Most offer single rooms, twin and double rooms and shared rooms. The standard of backpackers is very good in New Zealand.
Motels are a notch up. Low end around $79 per night. There are also many good quality B&Bs in Christchurch and surrounding district.
Budget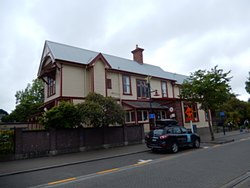 Mid-range
Apartments
For travellers who want to stay a month or longer, there are a number of furnished flats for rent advertised in the papers. A local company called
Urban Rooms
has furnished rentals specifically for travellers, ranging from rooms in a shared house to self-contained flats with garages.
Splurge
Stay safe
Christchurch has a problem with smog during the winter, but only at night. Although conditions have improved over the years due to the intervention of the city council, take care venturing out on calm frosty evenings if you have a breathing-related medical condition.
While violent crime is relatively rare, some people do have a tendency towards aggression when drunk, as in most cities. Linwood is one of the lower socio-economic area of Christchurch, and is rougher than some other neighborhoods, but is still considered safe. As in any city, take care late at night, especially on Friday and Saturdays, as levels of intoxication can lead to unwanted attention or unprovoked violence. Avoid dark alleyways and confrontations and, if in doubt, make haste to a populated area and call the police (dial 111).
Aftershocks from the 2010-11 earthquakes have long since subsided. There is still a risk of another major earthquake rocking Christchurch, but the chances are comparable to any other New Zealand city.
Christchurch Central Police Station

phone: +64 3 363-7400

address: 68 St Asaph St

phone: +64 3 365 7777

address: 401 Madras St

Urgent accident and medical centre, with on-site facilities for fractures.
Cope
Consulates
Austria

phone: +64 21 440 164 (Mobile)

address: 19 Joyce Crescent, Ilam

Honorary Consulate-General - the embassy is in Canberra, Australia. Can issue emergency travel documents. This consulate deals with Tasman, West Coast, Canterbury, Otago, Southland, Stewart Island and the Chathams and there are other honorary consuls in Auckland and Wellington.

phone: +64 3 343-0587

address: 50-58 Parkhouse Rd, Sockburn

Mr Kypros Kotzikas, Honorary Consul.
Go next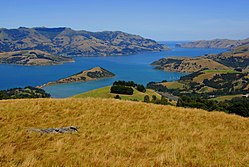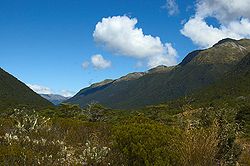 As a major gateway to the South Island, Christchurch is often the starting or finishing point for touring the rest of the island.
Greater Christchurch
The
Greater Christchurch
area covers the
Banks Peninsula
southeast of Christchurch and the lowland areas of the Waimakariri and Selywn district, approximately in a 50 km radius of central Christchurch.
Lyttelton, the port town just over the Port Hills from the city, is accessible by car/bus through the tunnel, or by the scenic Port Hills route via the seaside suburb of Sumner. (The road from Sumner over Evans Pass to Lyttelton is closed because of earthquake damage; the epicenter of the 2011 earthquake was close to the surface here.) Although only 15 km (9 mi) from the central city, Lyttelton feels like another world entirely, with its cafes, bars, shops and locals, its ever-busy port, its stunning hilly backdrop and beautiful harbour. But because of the 2011 earthquake damage, Lyttelton is no longer the port of call for cruise ships visiting Christchurch; it has been shifted to Akaroa.
Banks Peninsula is on the edge of the city, and offers a quieter beauty than the Alps, but quite lovely. At its southern end of the peninsula is Akaroa – beautiful, quaint and packed with good eateries. Try out the "Swim with the Dolphins in the sea" trip.
Further afield