Cluj-Napoca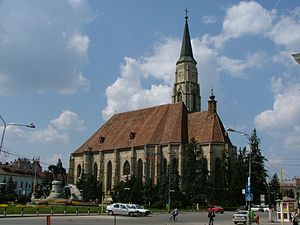 Cluj-Napoca
(Romanian),
Kolozsvár
(Hungarian) or
Klausenburg
(German) is the capital of Cluj county and the unofficial capital of the historical region of
Transylvania
. The city, with about 320,000 people (2016), is very pleasant, and it is a great experience for those who want to see urban Transylvanian life at its best. Along with fine dining, excellent cultural activities, a wonderful historical legacy and a great atmosphere, the city will not disappoint those who add it to their travel itinerary. What's more is the fact that Cluj (as it's called for short) is so easy to access and get around.
Understand
In Cluj-Napoca, the biggest ethnic group are Romanians. However, this was not a case as many different groups inhabited the city throughout the history. The first trace of life was neolithic settlements which were dating back thousands of years. Later the settlement was conquered and inhabited by Romans. The archaeological reminder of Roman Napoca can be seen in Unirii Square in the city centre. Saxons were next to occupy the city: they built the wall around the city which still stands. The city carries German name of Klausenburg. In the 19th century, ethnic Hungarians were the majority of the population and remained so until 1955. They call the city Kolozsvár. The construction of non-Catholic religious buildings in the city centre was forbidden for a while, yet eventually, Romanians were allowed to build Orthodox churches. During communist times, the remaining minorities migrated for a higher standard of living, for example, Jewish people migrated to Israel and ethnic Saxons migrated to Germany.
Cluj-Napoca has reminders of its past all around the city. You might wonder why Cluj-Napoca architecture is similar to that of in Germany. This happened during Austro-Hungarian period when local architects been educated in Vienna and returned back with similarish ideas. Moreover, communist buildings could be found just outside city centre.
Many people still refer to Cluj-Napoca to its previous name, Cluj, because the ending "Napoca" was added in 1974 by the Communist Party.
Cluj-Napoca has emerged as a tech hub being informally named as a silicon valley of Romania. Technology related events organised all around the city includes conferences attracting speakers from all around the world. Technology companies mainly offering out-sourcing services yet startups exist too. This continues to increase prices in the city which is high compared to other cities in Romania but still much cheaper than in Western Europe.

Talk
The official language is
Romanian
, a Romance language. Most educated people born after about 1970 will speak reasonably good English and will likely be proficient in one or more second Romance languages; most educated people born before about 1970 will speak reasonably good French and
Italian
.
Hungarian
is a common language, spoken by the relatively large Hungarian minority. The Roma people (Gypsies) speak their native Romany, as well as Romanian. Beyond that, as in any major city, there will be a smattering of other languages.
Get in
Getting to Cluj-Napoca is easy due to its position and its status as a major
Transylvanian
city.
By train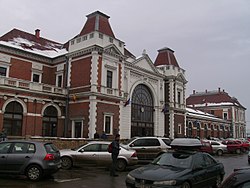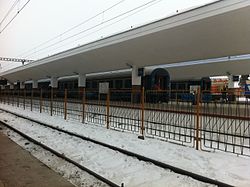 . The main train station serving Cluj-Napoca. There are a couple of others which are of no interest to the traveler.
As with many other Transylvanian cities, the train is the easiest way to reach Cluj because it is an important Romanian railway hub. There are 4 trains daily to
Bucharest
and 4 trains daily to
Budapest
(via
Oradea
). There are train connections to most Romanian or
Transylvania
cities, including fast InterCity connections to Oradea,
Arad
,
Timisoara
,
Brasov
,
Sighisoara
,
Ploiesti
and Bucharest.
On a few routes like Cluj-Napoca - Oradea or Cluj-Napoca - Târgu Mures, you can find private companies like
Transferoviar grup
, which offer cheaper tickets.
Important to know, that in Romania there are three kind of trains.
Regio - This is the slowest but cheapest way to go somewhere. The Regio trains stop at every station.
InterRegio - The InterRegio trains are much faster than the Regio. Because they are very comfortable many international trains are InterRegio. The ticket is more expensive than the Regio ticket but affordable.
InterCity - The fastest and the most comfortable way to travel but the ticket is very expensive.
By plane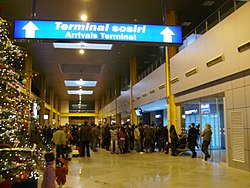 Cluj Avram Iancu International AirportHas flights from Bucharest, Timișoara, Iași, Charleroi, Billund, Vienna, Basel, Geneva, Dubai, Beauvais, Berlin, Dortmund, Cologne, Memmingen, Munich, Nuremberg, Dublin, Tel Aviv, Bari, Malaga, Bergamo, Bologna, Roma, Treviso, Doncaster, Liverpool, Luton, Eindhoven, Maastricht, Warszawa, Alicante, Barcelona, Madrid, Palma de Mallorca, Valencia, Zaragoza, Malmö and Istanbul provided by Blue Air, TAROM, LOT Polish Airlines, ASL Airlines Switzerland, Turkish Airlines, Atlasglobal, Lufthansa, Vueling and Wizzair.
Another alternative is to fly to
Budapest
Ferihegy Airport and then shuttle to Cluj-Napoca. The shuttle takes 6-8 hours to make the trip. Many companies travel this route. You can find shuttles from early morning till late night. Reservations have to be made in advance, make sure you leave at least two hours between your flight arrival and the departure of the shuttle, to account for any flight delays. Prices are around 60 to 80 lei.
Car rental by Avis, Budget, Europcar and several local providers is available.
City transfer
The Airport of Cluj-Napoca has transport connections to downtown Cluj-Napoca. To get there, travelers can choose between car rentals, taxi, limo service and public transport (bus line 5 and 8 running from 05:30 till 00:00, 2.5 lei for one travel). For the public bus, you need to exit the airport, turn right at the main street and walk to the next bus stop. There is a ticket machine. One way to the city center costs 2.5 lei (Oct 2019). Remember to stamp your ticket on board. You are not allowed to buy tickets from the driver.
Also, WizzAir company offers a shuttle bus to the center for a fixed price of 15 lei.
By car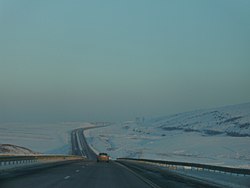 Cluj-Napoca has good road connections. European road E60 links it to
Bucharest
and
Brasov
to the south,
Oradea
and
Budapest
to the west, through Bors customs. E81 leads to Zalau and
Satu Mare
to the north, Brasov and Bucharest to the south. E58 links Cluj-Napoca to Dej, Bistrita,
Baia Mare
and Vatra Dornei.
By bus
Cluj-Napoca can be reached by bus from
Bucharest
, major cities in Romania, most cities in
Transylvania
, and a number of major cities in Europe.
OrangeWays
has modern buses that circulate between
Budapest
and Cluj-Napoca. You can catch a bus to Cluj-Napoca from the Nepliget bus station in Budapest.
On demand bus to Cluj-Napoca from Budapest by
Eurobusways
Get around
By public transport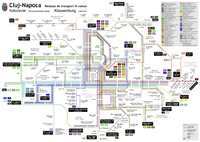 Public transport in the city is possible by means of 25 bus lines, 7 trolleybus lines, and 3 tram lines, all operated by the
RATUC company
(
Regia Autonomă de Transport Urban de Călători
). For most lines servicing the city center you won't need to wait more than 15 minutes. The tariff is 4 lei for two trips. Tickets can be bought for cash only at special booths at most stops, identifiable by the RATUC logo and possibly the text "Bilete si Abonamente" (meaning "short and long-term tickets"). Be careful to correctly punch an unused half of your ticket once in the vehicle, ticket control is relatively common and the fines are sizable.
Transport in the Cluj-Napoca metropolitan area is covered by many private bus companies, one of the most important is
FANY
which provides numerous daily connections to neighboring towns and villages.
By taxi
Taxis are relatively more expensive than in other parts of Romania, but still cheap, and very convenient. The tariff is around 2.25 lei per kilometer, and the same is applied as start fee. All the respectable companies charge the same price. Typically you won't pay more than 13 lei for a travel between the city center and some point in the suburbs. Payment is always done in cash, and paying by credit card is not possible. It is customary, though not mandatory, that the sum is rounded up to 0.5 lei multiples (e.g., if the meter shows 3.2 lei you will probably be expected to pay 3.5 lei, leaving the extra 0.3 lei as a tip). If you do not have exact change, the driver might keep this tip himself when paying back the change. If he tries to keep too much (like rounding from 3.5 to 5 lei, for example), do ask for the change.
Taxi cabs come in all shapes and colors, they are identified by the company logo on the sign on top of the car, which will also be placed somewhere on the car body. Taxis cluster around important locations in the city, and clusters are usually no more than 1 km apart. Take care to always use respectable companies, such as Atlas, Diesel Rapid, Diesel Taxi, Pritax, Nova, Terra & Fan, Pro Rapid. There might be underground, "shark" drivers as they are called, which try to exploit unknowledgeable strangers by overcharging. You should avoid them as they charge at least several times the normal fee. They mostly hang around the train station and the airport. Shark drivers might sometimes "helpfully" offer a ride themselves; you won't see a usual driver do that. Usually shark drivers' cars are marked TAXI and nothing else. Search for name of company on the door of car! Respectable firms typically have several cars parked at each station; that's an easy way to identify them. Also, the price per kilometer is sometimes displayed on the cab door. It should be no more than 2.25 lei. Avoid the Activ Taxi cars.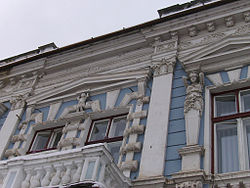 Cabs can also be phoned in. You typically need to give a name, and wait for the number of the car to be relayed to you. Cars will arrive after a period on the order of minutes.
It may happen that you will be driven around on a longer route if you don't know the city. This may happen even with respectable firms. You can't do much to help that, unless you are able to read a map very well, especially if you're easy to spot as a foreigner. The best thing to do is to appear confident, jump in the car and state your destination unhesitantly as if you knew exactly where it was.
Some of the taxi companies in Cluj-Napoca:
Nova Taxi - (0264) 949, +40-745 151000
Diesel Rapid - (0264) 946
Atlas Taxi - (0264) 969
Diesel Taxi - (0264) 953, +40-744 646663, +40-745 381532, +40-722 859093
Pritax - (0264) 942, +40-744 159720, +40-788 550000
Pro Rapid - (0264) 948
Terra Fan - (0264) 944
Clima&Confort Taxi - (0264) 943, +40-742 012280, +40-723 012280, +40-768 347379, +40-264 422224, +40-364 310673
By car
Cars can be rented from the numerous operators throughout the city. Many small tourism agencies also act as intermediaries for renting cars, and you might be able to get better rates there. You can find such agencies scattered throughout the city centre.
See
The area around the Union Square is a must see for the visitor, with the Teleki and Banffy Palaces (the latter now housing the National Art Museum), the Franciscan Monastery, the first Unitarian Church in the world, the Piarist Church, the Mirror Street (Iuliu Maniu Street - a unique architectural accomplishment dating back to the late 1800s) and Matthias Corvinus' place of birth, a 15th-century hotel now home to the Visual Arts Academy. Smaller streets around the Square can take you into splendid inner courts, old houses and isolated Churches.
Squares and streets
Union SquareWhere you can find St. Michael's Church, the National Art Museum, the Statue of Matthias Corvinus and the roman ruins.

The Museum SquareA 2-minute walk from the Union Square, is home to the Franciscan Monastery (a combination of Baroque and Gothic architecture dating back to the 14th century), the Transylvanian History Museum and the old Obelisk of the city, offered to the city as acknowledgement of its statute by the Austrian Emperor Franz Ferdinand in the 19th century. You can have a nice coffee right by the Obelisk, as during daytime the surrounding bars and cafes have outdoor seating.

Eroilor AvenueIs linking the two main squares - Union Square and Avram Iancu Square.

Iuliu Maniu Street
Churches
St. Michael's ChurchThis Gothic architecture piece is one of the most valuable in Transylvania. Its murals date from the 15th century, and the 50 m neogothic tower was built in 1860. The church is closed for renovation starting from 2018 that will take about 3 years.

The Reformed ChurchBuilt between 1486-1516, it is a very important piece of gothic architecture.

The Franciscan ChurchBuilt between 1260 and 1290.

Calvaria ChurchA small Benedictine abbey surrounded by defensive walls, Calvaria Church was built starting in the 9th-10th centuries.

Bob ChurchIt is the first Greek-Catholic church that was built in the city of Cluj, while it was part of the Austrian Empire.

Piarist ChurchCompleted in 1724, it was the province's first baroque church.

Cock ChurchDesigned by the famous architect Kós Károly.
Museums
address: Union Square nr. 30

National Museum of Transylvanian History

address: Str. Constantin Daicoviciu nr. 2

Emil Isac Memorial House, Emil Isac nr. 23

Ethnographic Museum of Transylvania

address: Memorandumului nr. 21

Pharmaceutical MuseumHighlights of the museum include Mummy powder used as an expensive cure for all diseases, also the elixir of Love, dentifrice powders and medieval laboratory although little evidence exists that the room was used as a laboratory. A free audio guide is available through the mobile application "izi.Travel".

address: Clinicilor nr. 5-7

Zoo museum. Variety of conservated reptiles and fishes includes horror-movie-like exhibition items like Amazon jungle snakes, ray, scorpions and lizards. Also stuffed wild mammals, crocodiles and turtles. The museum is found on university campus building on the ground floor on your left. If doors are closed, try knocking. The same building incorporates another live reptile exhibition downstairs. To visit it, take spiral stairs down from the lobby. Depending on the exhibition receptionist you might or might not pay a fee of 6 lei.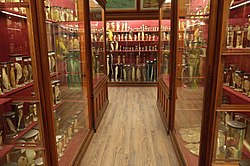 Galleries
Fabrica de PensuleOld paintbrush factory. Now the building is filled with art galleries and artists' studios.

Galeria Arte

address: Str. Vasile Alecsandri nr. 1

address: Str Târnavelor nr. 4

In the basement of what is probably the ugliest church in Cluj (it was built in 1984, during the very strict communist regime, so the church had to look like a communist apartment building), Galeria Horeb opened in 2009. It has around two exhibitions per year.
Parks
The Central ParkA welcome break from the rush of the city. The middle of the park hosts a small lake and the Chios Casino, from the terrace of which you can rent rowboats and hydrobicycles to circle the small island in the centre of the lake.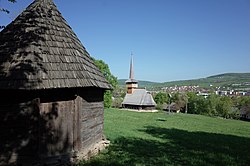 "Romulus Vuia" Ethnographic Park

address: Tăietura Turcului

Displays village buildings in Transylvania region in 18 and 19 centuries in a 16-ha area park next to the city centre. Most are farmyards displaying a variety of used tools too. Highlights include high stretched cupolas churches with religions drawings within. Most buildings are closed but stalking through the windows are ok. Please allow one and a half hour for a visit.

The Fortress HillThe Transylvania Hotel (also known to the locals as Belvedere) was built on top of the hill, and besides the great view offers a good restaurant as well. The hill can be climbed by stairs from the centre of the city. On the way you will also find a large iron cross monument. A walkway circles the crown of the hill just below the hotel, offering a nice view to the city. The fortress is a citadel-shaped earthen wall and an empty moat around the hotel area.
address: Strada Republicii 42

​​14 hectares, landscaped with varied configurations, suitable for growing and growing plants on different continents. There are about 10,000 specific categories grouped for better management in several sectors: ornamental, phytogeographical, systematic, economic, the greenhouse complex and the visually impaired sector. The Botanical Museum has about 7,000 exhibits, grouped in collections of scientific or economic importance, and phylogenetically in the evolutionary order from the plants with Simple organization (algae, moss, lichens, mushrooms), to complex ones (gimnosperme and angiosperms).

Central Cemetery
Notable buildings
The Tailors' BastionIt is very well preserved, alongside with the corresponding section of the medieval wall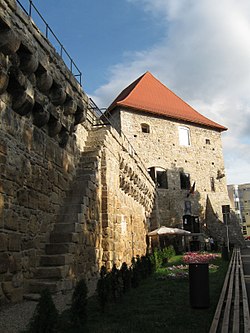 Matthias Corvinus House

Palace of Justice, Calea Dorobantilor nr. 2

address: Str. Mihail Kogălniceanu nr. 1B

Old CasinoLocated in the Central Park, built at the end of the 19th century, restored in 2012.

The City Hall

The Hintz HouseWas the first pharmacy in Cluj. It houses the Pharmaceutical museum.

Bánffy PalaceBuilt between 1774 and 1775, it houses the National Art Museum

Cetățuia FortressUsed to hold a stronghold, as its name implies. People were also jailed there. Not much of the old fortress remains, but the Fortress Hill is worth climbing, for the view.
Statues
Statue of Matthias CorvinusThe statue is always climbed by tourists, although officially this practise is not allowed.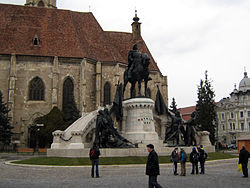 Around Cluj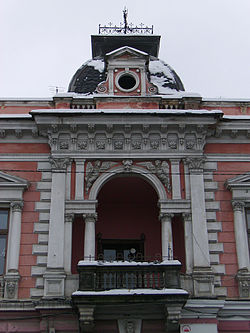 Someșu Rece fortress
Cuzdrioara fortress
Bologa fortress
Gherla fortress
Liteni fortress
Gilău castle
Bocskai castle in Aghireșu
Banffy castles in Bonțida, Răscruci and Borșa
Beldi castle in Geaca
Haller castle in Coplean
Kemeny Banffy castle in Luncani
Kornis castle in Mănăstirea
Teleki fortress in Luna de jos
Beliș agrotouristic village with the Fântânele lake
Do
Lucian Blaga National Theatre

Romanian National OperaHoused in the same building as the National Theatre

address: Emil Isac nr. 26-28

Hungarian OperaHoused in the same building as the Hungarian State Theater

PUCK Puppet Theatre

Tranzit HouseAn old synagogue converted into an arts center.

phone: +40 747197501

address: Str. Petofi Sandor nr. 4
Buy
OserFlea market held every Saturday from morning 'till noon.
Books
Anticariat Academic

Anticariat Röser

address: Strada Matei Corvin nr. 3
Shopping malls
You can also visit Sora Shopping Center, Central and Galeriile Ferdinand (very expensive). At a lower budget you can find lots of cool clothes in Piata Marasti (shopping center).
Eat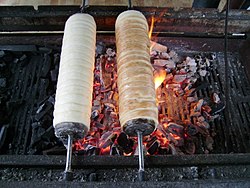 Cluj dining is some of the best in Romania. Ranging from traditional Romanian, Hungarian and Transylvanian (a combination of the previous two) to Italian (very good Italian food), Chinese, Japanese, Mexican, Middle Eastern, American and International Cuisine, the city can offer great dining for all tastes. Fancy restaurants are available as well as local fast food shops and a few international chains (McDonald's, Pizza Hut).
Budget
address: Clinicilor st. 9A

Pizza & pasta, sports bar. Near University campus and downtown, with biggest summer garden in Cluj-Napoca (more than 400 seats). Pizza delivery also available: 0040-264-590823, 0040-745-983100. Big groups reservations.

AgapeCafeteria-style restaurant with good Hungarian and Romanian food.

Elite PizzaThe oldest pizza place in town. Pizza delivery also available: 0040-264-597.

VărzărieOne of the few restaurants that Cluj had during the communist times. Today the food is pretty much unchanged and the place still maintains a bit of the old atmosphere. They serve simple and cheap Romanian food. Varză à la Cluj is a must try local specialty.
Mid-range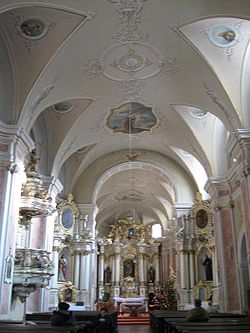 AromaInternational cuisine with a great view

Beijing, Str. A. Iancu nr. 12-14. Chinese eatery.

Bistro Viena

Bolero - International.

Bricks

Camino

Casa Ardelenească, Bd. 21 Decembrie 1989 no. 5 (in the Sora Shopping Center). Traditional Romanian menu, popular with the locals, and decorated with local art.

Casa VikingilorInternational cuisine with huge portions.

Chicago's - American fare.
Ciuleandra, inside the Best Western Topaz Hotel. Specializing in Romanian/Transylvanian food.

Club Italia

Don Mario - Mediterranean cuisine
Fahid - Middle-eastern cuisine.

Fair Play

address: Piața 14 Iulie

Well known for serving excellent tripe soup.
Hao Yi - Chinese.

Kaja Tanya

Klausen BurgerA restaurant & brewery with a view.

La PiazzettaA bit kitschy decor, but good pizza.

Livada

Maestro - International.

Maimuța PlângătoareTraditional Romanian and Hungarian.

Marco Polo, in the City Plaza Hotel. Japanese food.

phone: +40 264 591212

Str. Victor Babeş nr. 39. International.

Mint Bistro

phone: +40 264 596969

Str. Memorandumului nr. 6. Romanian, Pizza Restaurant.

PanoramicInternational cuisine on the Cetatuia with a great view from above downtown.

Pizza Y - International.
Red House - Transylvanian/Hungarian.

RoataRomanian food. A place to try typical Romanian dishes. Menus have described a history of main dishes within few paragraphs and pictures. The restaurant might (or might not) serve homemade spirit on the house as a starter.

Samsara FoodhouseVegetarian, vegan, and raw vegan restaurant with a nice atmosphere.

phone: +40 264 442027, +40 264 431444, +40 727-833 453

address: Calea Turzii nr. 42

Located near a residential neighborhood a few kilometers from the city center, Shanghai has one of the most varied selections of Chinese dishes.

TokyoJapanese.

Twelve

address: str. Constanța 12

Vila Tușa
Splurge
Baracca

phone: +40 732 155177

address: Str. Napoca nr. 8A

Very good Mediterranean food with French cuisine influence, great atmosphere. This restaurant changes its menu every 6 months, in collaboration with a chef from France.

El Toro SteakhouseArgentinian steakhouse

Fragment

Matei Corvin Intim

phone: +40 264 597497

Str. Matei Corvin nr. 3. International cuisine. This restaurant frequently receives national and international celebrities.

Topaz

phone: +40 264 414066

Str. Septimiu Albini no. 10 (inside the Best Western Topaz). Refined menu of international selections in an elegant atmosphere.

ViaLocated in a wonderfully restored old house.

Zama

address: Strada Napica, nr. 16

Modern restaurant serving traditional Transylvanian cuisine.
Drink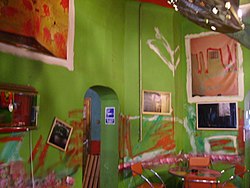 Cluj has a vibrant night life, guaranteed by the over 60,000 university students living here. There are bars, cafés, clubs for all preferences and budgets.
BulgakovThey have nice Hungarian food.

Casa TIFF

Coffee O'Clock

Corvinus - Str. Memorandumului - A pub popular with the Hungarian community.

phone: +40 264 598441

address: Piața Unirii no. 17

One of the oldest and most expensive clubs in Cluj-Napoca. Cosmopolitan events on three floors with some of the most popular groups in Romania.

Euphoria Biergarten

Flowers Tea House

address: Str. Emil Isac nr. 11

Flying Circus ClubMostly rock music. Every night they are open they broadcast a movie around 20:00. Entrance is free including popcorn.

InsomniaBohemian and ever-changing decor and nice personnel. Also serve light meals.

phone: +40 736365807

address: 19, Piata Unirii

Bar and club. Open every day until very late. Special discounts: From 21:00-22:30 unlimited beer for 7 lei (8 lei on Friday and Saturday). Sometimes free shots for students.

phone: +40 722 365342

Piaţa Păcii nr. 1-3. Nice decor and good DJs.

Koffer Books & Coffee

The Jack PubThe smallest pub from the town.

L'Atelier

address: Str. Memorandumului, 1st floor

Also known colloquially as the cardboard place. A relaxed café-bar with furniture made from cardboard and scrap materials. Music ranges from jazz to alternative rock.

La GazetteA place to meet students and to get to know new music, especially electronica.

phone: +40 756 393785

address: Str. Virgil Fulicea nr. 13

A popular place in a medieval house, in the historical center, close to Matei Corvin House. They have a very good coffee and tea specialties, and the famous, personal, recipe of the 'Molotov Cocktail'. Bohemian and challenging decoration.

Mozart Cafe

Old School

Oscar - A good after-hours haunt.

Qui One Quint tea room

address: Str. Cișmigiu nr. 1

Well hidden tea house, decorated with vintage furniture.
Stone, Str. Gheorghe Fulicea nr. 17, +40 264 408167.

Papillon

Samsara Chill-Out & Tea HouseSamsara is a place to relax. They serve different kinds of tea and wine in a relaxing atmosphere. There are 3 rooms with different styles. The place is very busy in the evening, so make a reservation or come early.

Sisters Cafe

The Shelter

phone: +40 749902484

address: Strada Clemenceau Nr. 2

Bar in Soviet style. Has a nice cocktail menu.

address: str. Georges Clemenceau 7

It's a place where you can meet with friends or relax and read dark literature or international magazines. Enjoy varieties of coffee and tea specialties, soft drinks, beer, wine, spirits; Romania's largest variety of absinthe; nonalcoholic, alcoholic and absinthe-cocktails as well as season-specials like iced coffee and fresh ice tea in summer or spiced wine and spiced coffee in winter. Dimly-lit atmosphere; listening to dark music (mainly Gothic, Darkwave, EBM, Industrial, Horrorpunk, Gothabilly, Medieval).

Yolka

Zorki Photo Cafe

address: Str. Ion Rațiu nr. 10

Cafe-bar with jazz & alternative rock music. Regular photo exhibitions. Sometimes small, acoustic concerts.
Zorki Off the Record is located in the basement under Zorki. Where concerts sometimes happen. You can grab a beer or a glass of wine.
Sleep
The last three years have seen a boom in the Cluj lodging scene. There are lodging options for all budgets, including a 5-star hotel. Other than that, you can find something that suits your needs.
Budget
phone: +40 264 438593 or +40 741 369403

address: Str. Meteor nr. 71B

,
Do - Re - Mi, only between July and August, Str. Braşov nr. 2-4, +40 264 186616.

phone: +40 264 594675

address: Str. Moldovei, nr. 17

Meteor, Eroilor nr. 29, +40 264 591060. In the commercial center of Cluj, close to important economic and administrative sites.

phone: +40 726 147593

address: Str. Partizanilor nr. 33

Non-stop B&B accommodation.
PAX, Station Square nr. 1-3, +40 264 432927.

phone: +40 264 450452

phone: +40 758350037

address: Piata 14 Iulie, nr 25

Opened at the end of 2014. The hostel is a cozy place and includes a nice garden.
Sport, George Cosbuc nr. 15, +40 268 593921.

phone: +40 264 443266

address: Str Iuliu Maniu 26

A comfortable hostel in the city center with a friendly knowledgeable staff. Large social areas including a lounge, a game room, a guest kitchen and an outdoor terrace.
Vlădeasa, Regele Ferdinand nr. 20, +40 264 594429.
Mid-range
Belvedere (ex. Transilvania), Călăraşilor nr. 1-3, +40 264 432071. Facilities include a pool, gym, conference rooms. Nice view, on top of Fortress hill close to the city center.

phone: +40 264 414021

address: Septimiu Albini nr. 10

Quiet area close to the city center. Besides its own restaurant, also contains the Ciuleandra Romanian-food restaurant.

phone: +40 264 354939

address: Ion Ghica nr. 2

phone: +40 264 597898

address: Sextil Puşcariu nr. 10

Olimp, Observatorului 82-86, +40 264 595900. Facilities include WiFi, conference room.

phone: +40 755 084342

address: Calea Baciului nr. 28D

Accommodation in hotel management at apartments.

phone: +40 731 996746

address: str. Caisului nr. 22

A place furnished in oriental style, inspired by a trip to Morocco, approx. €35 for a double room, Wifi included
Victoria, 21 Decembrie 1989 nr. 54-56, +40 264 591441.

Villa-Hotel Escala

phone: +40 264 444002

address: 33 Crisan Street

Facilities include GYM and pool.
Splurge
phone: +40 264 406523

address: Iuliu Maniu nr. 6

Set in the city center a few minutes walk from the statue of Matthias Corvinus.
Casa Albă, Emil Racoviţă nr. 22, +40 264 432277.

phone: +40 264 450101

address: Sindicatelor nr. 9-11

Near the Municipal Park in the historic city of town.
Deja Vu, Ion Ghica nr. 2, +40 264 354939.

phone: +40 264 540000

address: Observatorului, nr. 129

phone: +40 264 414076

address: Septimiu Albini nr. 12

Situated in the center of the city, the Onix has 3- and 4-star rooms and suites, all of which have a jacuzzi, PCs with Internet access, air-con, cable television, minibar, and telephone.

phone: +40 264 403136

address: Constantin Brâncuşi nr. 148-152

phone: +40 264 307200

address: Donath nr. 100

phone: +40 264 438028

address: Cometei nr. 20A

phone: +40 264 480325

address: Fagetului nr. 31A

phone: +40 264 501820

address: Str. Avram Iancu nr. 442-446, Floreşti

The first design hotel in Cluj.
Stay safe

Cluj-Napoca is in general a safe city. Even after dark, it is safe to walk through the city center and some of the other neighbourhoods. To be on the safe side, unless you know exactly where you're going and how to get there, suburbs should be avoided at night, especially the neighbourhoods of Manastur, Marasti, and Iris, and the train and inter-city bus station areas.
You should, as always, take care of your belongings and pockets. If your wallet is stolen or lost, it is likely that it will resurface after a while, but without the money and credit cards (so be sure to call your credit card company and lock the credit card as soon as you notice it's missing).

Emergency numbers

As throughout the rest of the European Union, the police, ambulance, and fire department are reachable at the number 112.

Go next
Brașov. There is only a daily bus to Brasov early in the morning 06:30 that leaves from Autogare North (at the other side of the bridge next to the train station). Another option is to get a minibus (at 11:30, 14:45 first one) from same Autogare to Târgu-Mureș (20 lei) and take another minibus there to Brașov (at 14:20 and 16:20).
Turda. City 40 minutes away in a bus famous for its world class mine and a gorge nearby