Copenhagen Airport
Copenhagen Airport
(
CPH
), also known as Kastrup, is the busiest airport of the Nordic countries. It is on the island of Amager. Beside Copenhagen, the airport also serves Malmö, Sweden, which is linked via the Øresund Bridge.
Copenhagen is the main airport for the densely-populated Øresund region, the main air transportation hub for Scandinavia, the main hub for the joint Danish-Swedish-Norwegian carrier SAS Group, and one of Europe's major hubs. There are many intercontinental connections to Copenhagen, and a dense network of short-haul connections from Copenhagen to destinations throughout all of Europe, especially the Nordic countries.
Compared to other major European hub airports, like Charles de Gaulle or Heathrow, CPH has a similar number of connections, but is much smaller in both actual size and passenger volumes, and can provide a calmer, more pleasant experience. Its location in the south of Scandinavia makes reaching most European destinations reasonable, and flying to destinations in the Baltic region and in Eastern Europe generally only takes half the time as from major hub airports in Western Europe.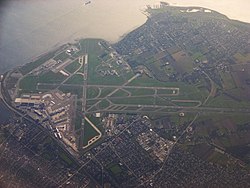 Understand
Copenhagen Airport is a compact airport with two terminals for check-in, but with a common post-security departure and transfer area, thus making transfers very smooth. The airport handles in excess of 25 million passengers a year, which puts it in the same league as
Zurich
and
Vienna
. It has also consistently topped the charts for Nordic airports, serving as a European and intercontinental hub for all of them due to its location.
The airport opened in 1925 and became the hub of SAS upon that airline's establishment in 1946. It has been growing ever since: Terminal 2 opened in 1960, and Terminal 3 opened in 1998. After the opening of the Øresund Bridge to Malmö, the airport has also been the primary airport for
southern Sweden
.
Flights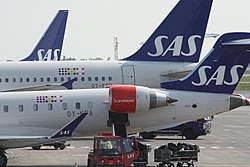 Intercontinental connections
Copenhagen's international connections are mainly provided by two competing Scandinavian carriers, which have long-haul bases at the airport:
SAS is a member of Star Alliance, meaning that many of their flights are code-shared or can be interlined with local Star Alliance partners. Therefore, you can take advantage of a one-ticket flight to, from, or via Copenhagen even if your origin or destination is not directly served by SAS. Norwegian is not a member of any alliance, but they offer connecting flights from Copenhagen to their European destinations on one ticket with an intercontinental flight.
Other airlines offering intercontinental connections to Copenhagen are SAS's Star Alliance partners
Singapore Airlines
(to
Singapore
),
Air Canada
(to
Toronto
) and
Thai Airways
(to Bangkok Suvarnabhumi and
Phuket
), as well as competing SkyTeam carrier
Delta
with a seasonal connection to JFK and
Pakistan International Airlines
to
Islamabad
and
Lahore
.
Apart from that,
Emirates
and
Qatar Airways
fly between Copenhagen and their hubs in the Persian Gulf region, where you can take advantage of their dense network of connections to Asia, Africa and Australia.
Copenhagen Airport is also the only airport with year-round, direct, regularly scheduled passenger service to
Greenland
, operated by
Air Greenland
.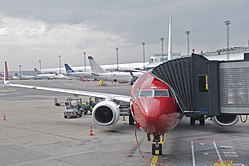 Connections within Europe and the Mediterranean
Both SAS and Norwegian offer a dense network of connections between Copenhagen and other Scandinavian destinations. In particular, they both offer frequent flights between the triangle of capitals — Copenhagen,
Oslo
and
Stockholm
— with an approximately hourly frequency, and very competitive pricing.
Apart from that, both carriers have extensive networks within Europe and the Mediterranean (including North Africa and the Middle East). SAS flies to most European capitals, and has a particularly dense network of connections across the Baltic Sea, to
Finland
,
Estonia
,
Latvia
and
Lithuania
, as well as to
Poland
, where it serves the majority of even small airports. There is also a fairly good network of connections to the
United Kingdom
and, perhaps surprisingly, to
Italy
, where even smaller airports like
Bologna
are served.
Outside Scandinavia, Norwegian has bases at
London Gatwick
and across Spain, meaning frequent service between Copenhagen and those destinations. They also serve a number of other European cities from Copenhagen, and in the summer they fly to most of the popular tourist destinations around the Mediterranean.
Almost all major European carriers have a connection to Copenhagen from their main hubs. As Denmark holds sizable immigrant communities from various European countries, even smaller carriers have frequent connections to the likes of
Sarajevo
or
Belgrade
. Copenhagen Airport has been seeing increased traffic from low-fare carriers since the launch of the dedicated
CPH Go
section of the airport (with common check-in and security with other airlines, but separate gates and waiting area). Airlines using
CPH Go
include
EasyJet
,
Ryanair
,
Transavia
, and
WizzAir
, although the latter only for selected destinations, with the majority of its flights to the Øresund area landing at
Malmö Sturup Airport
instead.
Check-in and security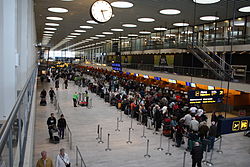 For check-in
, Copenhagen Airport has two terminals:
Terminal 3
Domestic and international scheduled departures from
Star Alliance
member airlines, Air Baltic, Air Serbia, Alsie Express, Danish Air Transport, Icelandair and Widerøe. This is the terminal you enter when arriving from the airport's train and metro stations, and where you enter from the luggage claim area.
Terminal 2
All domestic and international scheduled flights not handled by Terminal 3, including
SkyTeam
and
oneworld
airlines, Norwegian Air Shuttle and check-in facilities for low-fare airlines departing from CPH Go, as well as check-in for charter flights. From the metro and railway stations, go to your right when in Terminal 2.
The airport's only security facility on the first floor serves both terminals. In 2013, Copenhagen Airport was awarded World's Best Airport Security Processing by Skytrax.
Gates and transfer
After passing security or arriving for a connecting flight, you will find yourself in one large departure area, with access for all gates. The gates can be separated in the following sections, sorted from west to east:
- The "Domestic Yard", previously used for small flights for domestic departures. The gates are used for international destinations inside the Schengen area.
- Used for domestic departures and international destinations inside the Schengen area.
- Used for domestic departures and international destinations inside the Schengen area.
- Used for domestic departures and international destinations inside the Schengen area.
- Bus-boarding gates used for domestic departures and international destinations inside the Schengen area. You must go down the escalator to ground level for those gates and cannot go up to shopping and service facilities once you do so.
- Used for international destinations outside the Schengen area.
- Used for domestic departures and international destinations inside the Schengen area.
- Bus-boarding gates used for international destinations outside the Schengen area.
- Used for low-cost departures for international destinations outside the Schengen area.
- Used for low-cost departures for international destinations inside the Schengen area.
No gate is more than 33 minutes' walk from any other.
Arrivals
All arrivals exit to Terminal 3, right onto the escalators, elevators and stairs leading to the train and metro stations. You can find ticket booths and machines for both there as well. Taxis will be on your right once you pass the check-in booths.
Ground transportation
By car
Copenhagen Airport is adjacent to the Øresund Motorway (route E20), which connects Copenhagen with Malmö via the tolled
Øresund Bridge
. The price for crossing in a car is €52 (€47 if purchased online, Nov 2018). The rest of Sweden is accessible by motorway via Malmö. Most parts of Denmark are also connected to the motorway network.
Parking capacity at Copenhagen Airport was greatly expanded in 2015. There are several lots: those near the terminals are very expensive, while the further-flung ones are cheaper (but have free shuttle bus service to the terminals).
By train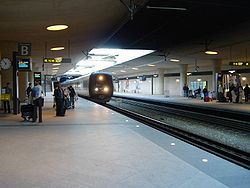 The railway station, (sometimes called
CPH Airport Station
and wrongly
Kastrup Station
), is in Terminal 3. The station has frequent connections to Copenhagen and Malmö, InterCity trains for the rest of Denmark, and a few daily SJ 2000 express trains for Stockholm. The frequent Øresund trains between Copenhagen and Malmö continue in Denmark to
Elsinore
and in Sweden to a number of destinations in
Scania
and other parts of
Götaland
. The travel time to Copenhagen Central Station is 12 minutes, and 20 minutes to Malmö Central Station.
By metro
In Terminal 3 you'll find the terminus of Line M2 of the . Service is very frequent and runs to Vanløse via the central Copenhagen interchange station
(Nørreport Station)
. The travel time to Nørreport Station is 15 minutes. For prices, see
Copenhagen#Get around
.
By bus
The bus terminal is outside of Terminal 2. The airport is only served by a few local buses (lines 5A, 35 and 36), which are charged in the same way as the metro and local trains. The airport also has coach connections to
Aarhus
(operated by
Abildskou
), Malmö (
Gråhundbus
), Oslo and
Gothenburg
(
Nettbuss
) and
Uppsala
and Stockholm (
Swebus
).
By taxi
Taxis wait outside Terminal 3. A ride to central Copenhagen costs around DKK 300.
Get around
A free airport bus connects the terminals and the parking areas every 15 minutes (at night every 20 minutes). It takes half an hour to walk from the gates furthest from each other. Also, no gate is more than a 20-minute walk away from security.

Wait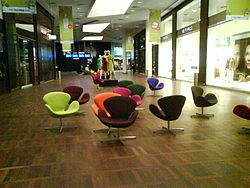 When waiting for your flight to depart, there are quite a few shops and restaurants to keep you entertained. There are also six
lounges
at the airport, moreover the Hilton opposite the road offers conference facilities.
Airside
Aspire LoungeDrinks, snacks, Scandinavian newspapers, free Wi-Fi.

Aviator LoungeDrinks, snacks, free Wi-Fi. More like a cafe.

SAS LoungeFor SAS frequent flyers. Fast Internet, salad bar, office spaces.

SAS Gold LoungeFor SAS Gold members, otherwise the same as the SAS Lounge.
Landside
Eat
From a DKK 50 Danish hotdog and a beer to fine dining, at Copenhagen Airport there is something for everyone's taste.
Budget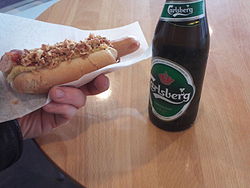 Burger King

CiaoA healthy self-service fast food place.

FoodmarketServes pre-made sandwiches, wraps and salads.

Grab and FlySandwiches and salads to go. They also have delicious and relatively inexpensive hot dogs.

McDonald's

7-ElevenConvenience store.

Steff's PlaceA traditional Danish pølsevogn (hot dog stand).

YamYam ToGoRice and noodle stand.
Mid-range
Horizon All Day RestaurantA buffet restaurant with Danish and international dishes.

KøbenhavnClassic Danish dishes with a modern twist.

Le Sommelier Bar & BistroServes French-inspired light dishes.

MASHA modern American steakhouse.

O'LearysAn American style sports bar, serving burgers, ribs etc.

PregoItalian food — pizza and pasta.
Splurge
Caviar House & Prunier Seafood BarCaviar, smoked salmon and seafood.

Hamlet Nordic Dining"New Nordic" á la carte cuisine.
Drink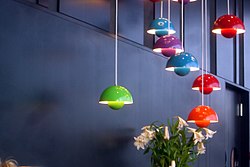 Axis Bar & LoungeA casual bar at the adjacent Hilton Hotel.

The BarThe name says it all.

BryggerenA classic tavern with foosball, music on the stereo, and a row of TVs for sports fans.

Carlsberg BarYou're in Denmark, so why not? Catch the big game on the TV while you're at it.
Coffeeshops, etc.
Baresso CoffeeA coffee house.

Caffé RitazzaA coffee house.

Joe & The JuiceA juice bar, also serving sandwiches and coffee.

KaffekværnenMore coffee.

LagkagehusetA high-quality bakery.

SegafredoCoffee to go.

Starbucks
Buy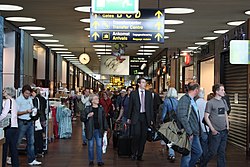 The shopping selection is excellent and rivalled by few other airports in the world. Copenhagen Airport has a large number of shops in the international departure area, including fashion, living, electronics, toy, and souvenir stores.
The middle section of the terminal (between the B and C gate areas) are dedicated to
high-end fashion and accessories
, among others you will find Gucci, Burberry and BOSS stores there. Other types of stores — many of which have two outlets, one east and one west of this section — include
FineFood
(domestic and international delicacies from fine cheese to
foie gras
and craft beer),
WHSmith
(books),
Scandinavian Souvenirs
(self-explanatory), and last but not least the five
Heinemann Tax Free
stores.
This is Denmark, after all, so you can also find a special LEGO store here, near the A gate. If you're interested in fine Danish porcelain, there's a
Royal Copenhagen Store
opposite the B gate area.
Connect
The whole airport has free Wi-Fi coverage. You need your email address and country of origin to log in. In addition, lounges have their own Wi-Fi networks.

Cope
The airport has a post-security silent lounge/prayer room, located on the right side near the entrance of the B gate area.
For those with mobility challenges, terminal staff offer excellent wheel-chair and power cart services on request. While best to call in-advance (see
here
) for a "reservation", you can ask for pick-up at any information booth, even at a "call point" within feet of the Metro and train stations.
Sleep
There is exactly one hotel at the airport. For a larger choice, consult the
Amager
article. Also, central Copenhagen itself is just 12 minutes away by local train.
Hilton Copenhagen Airport Hotel

phone: +45 32 501 501

address: Ellehammersvej 20, 2770 Kastrup

Landside, right outside the terminal complex with a walkway connecting to the terminal.
Nearby
Copenhagen — capital and largest city of Denmark, with lots of things to see and do.
Dragør — This cute village can be reached by bus 35 in 15 minutes, and is good place to go for a drink or meal if you don't have quite enough time to take in all that Copenhagen has to offer.