Cornwall

Cornwall
(Cornish:
Kernow
) is a duchy in the south west of the United Kingdom and includes the
Isles of Scilly
, it is the mystical home of the legendary King Arthur. Lying westwards beyond the River Tamar border with its neighbour
Devon
, Cornwall is one of the more isolated and distinctive parts of the
United Kingdom
but is also one of the most popular with travellers and holidaymakers. Its relatively warm climate, long coastline, amazing scenery, and diverse
Celtic
heritage (combined with tales of smuggling and pirates!) go only part of the way to explaining its appeal.
Cornwall is increasingly becoming a popular destination for those interested in cultural tourism, due to its long association with visual and written arts and its wealth of archaeology. Its mining heritage has been recognised by the
United Nations (UNESCO)
. Over thirty percent of the county is designated as an
Area of Outstanding Natural Beauty (AONB)
giving it national status and protection. Cornwall has always been fiercely proud of its Celtic heritage, and for many residents their Cornish identity supersedes their Englishness or Britishness.
Cities, towns and villages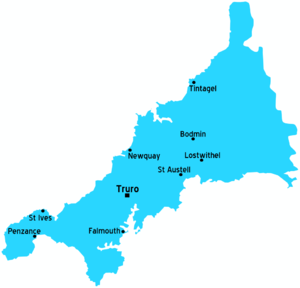 City
Truro (Cornish: Truru) – Cornwall's main administrative centre, county town and only city.
Towns
(Cornish: Bosvena)
Bude (Cornish: Porthbud)
(Cornish: Aberfala or Peny-cwm-cuic)
Fowey (Cornish: Fowydh)
(Cornish: Heyl)
Helston (Cornish: Hellys)
(Cornish: Lannstevan)
Looe (Cornish: Logh)
(Cornish: Lostwydhyel)
Marazion (Cornish: Marhasyow) – Home of St Michael's Mount
(Cornish: Lulyn)
Newquay (Cornish: Tewynblustri) – surf capital of the UK
(Cornish: Lannwedhenek)
Penzance (Cornish: Pennsans) – pirate central, Penzance is a town long-associated with the arts
Redruth (Cornish: Resrudh) – world capital of tin mining
(Cornish: Essa)
St Austell (Cornish: S. Austel) – largest town in the county and home to the Eden Project, the world's largest greenhouse
(Cornish: S. Colom Veur)
St Ives (Cornish: Porth Ia) – home to a branch of the Tate Gallery
(Cornish: Lannust)
Wadebridge (Cornish: Ponswad)
Villages
(Cornish: Kastel Boterel) – scenic fishing village with the Museum of Witchcraft and Magic
Cawsand (Cornish: Porthbugh)
(Cornish: Porth Meur) – seaside town used as filming location for the TV show Poldark
Mousehole (Cornish: Porthenys)
(Cornish: Lannvorek) – picturesque hillside fishing village
Par (Cornish: An Porth)
(Cornish: Penn Din or Boskaswal Wartha)
Polperro (Cornish: Porthpyra)
(Cornish: Porthysek) – seaside village, often used as a filming location
Rock (Cornish: Pennmeyn)
(Cornish: Pluwveryan)
St Levan (Cornish: Selevan)
(Cornish: Tre war Venydh) – legendary birthplace of King Arthur and seat of the Kings of Cornwall
Other destinations
(Cornish: Penn an Wlas or Pedn an Wlas) – Most westerly point in England, beyond lies the Atlantic Ocean.
Lizard (Cornish: An Lysardh) – Most southerly point in Britain.
Madron and Sancreed (Cornish: Eglosmadern and Eglossankres) – parish area
(Cornish: Goon Brenn)
Cape Cornwall (Cornish: Kilgoodh Ust)
(Cornish: Dowr Mahonyer)
Understand

Cornwall is a duchy. Prince Charles is the current Duke of Cornwall, and his wife Camilla is the Duchess. The modern English name of the duchy is thought come from its old Celtic name,
Kernou
, meaning "the Horn", referring to its shape. The Celtic name was latinised to
Cornovia
or
Cornubia
. When the Saxons gave the name of
Wealas
(foreigners) to the Britons, they singled out those who lived in Kernou or Cornubia by the name of Cornu-wealas; their country was thus called
Cornuwall
or Cornwall. Cornwall is called
Kernow
in Cornish, a Celtic language related to Welsh and Breton. Many street signs are both in Cornish and English.
Opinion polls place Cornish identity amongst young people at around 40% regarding themselves as Cornish rather than English, with calls for a Cornish assembly or government by some nationalists. Some might take offence to being called English, so avoid using the term, considering using "British" instead.
A common term for tourists is
emmet
, a Cornish dialect word meaning "ant". The correct Cornish word for ant is actually
murrian
. Be aware of locals recommending "Porthemmet Beach" - it simply means 'tourist beach', and it doesn't exist. Signposts, guides and directions to Porthemmet Beach will direct you out of the county into Devon.
The Cornish have many significant saints. The pre-eminent patron saint is Saint Piran, whose flag, black with a white cross, is widely regarded as the national emblem of Cornwall and can be seen all across the duchy. It is flown from private homes and Government and public buildings. Saint Piran's Day is widely celebrated on March 5 in Cornwall and amongst the Cornish diaspora around the globe.
Cornwall was a contributor to the industrial revolution, being famous particularly for its copper and tin-mining. The Cornish are extremely proud of their history and heritage, which pre-date the arrival of the Romans or Anglo-Saxons in Britain, and many Cornish people are loyal to their duchy. You may even see some Cornish people wearing kilts and playing Cornish pipes at cultural and other gatherings. Do not confuse the kilts with Scottish kilts. Cornwall is recognised as a separate nation by many international organisations, including the EU. One such popular organisation is
Gorsedh Kernow
, aimed at promoting Cornish culture and festivals such as the Gorsedd.
Cornwall has a small but developing lesbian and gay community. Flamboyancy in men may rise some eyebrows (or frowns) but for the most part is accepted. There is an annual Pride event in Truro.
Cornwall is home to
Poldark
, a series of historical novels by Winston Graham. Two TV adaptations of
Poldark
have been filmed in Cornwall, along with
Treasure Island
and other classics.
Get in
By train
Regular trains run on the main line from
London
Paddington (12 daily to
Plymouth
, 3 hours, 8 daily all the way through Cornwall to
Penzance
, 5 hours)
Bristol
,
Birmingham
etc. to
Plymouth
,
Truro
and
Penzance
. There are also a few branch lines, the most useful linking
St Ives
to the main line at
St Erth
, from
Truro
to
Falmouth
via Perranwell and Penryn, and from
Newquay
to
Par
. There is also an overnight sleeper train which runs Sun-Fri nights to/from London Paddington and Penzance.
Train from London take about 3 hr 20 min to Plymouth, and 5 hr 30 min to Penzance.
By car
Cornwall can be accessed by road via the A30 which starts at the end of the M5 at
Exeter
and runs all the way through the heart of Devon and Cornwall down to Land's End. Cornwall can also be accessed from the A38, crossing the River Tamar at
Plymouth
via the Tamar Bridge. From London it's a 5-6 hour drive. On Saturdays in July & August and Easter bank holiday weekend roads can be busy, although the A30 is now (bar one final section at Temple is in progress) fully dualled and grade-separated between Exeter and Carland Cross (near
Truro
).
By plane
Cornwall Airport
(
NQY
) in Newquay is the main airport for the county and has the following services:

Air Southwest - Bristol, Cork, Dublin, Glasgow-International, Grenoble (winter only), Leeds/Bradford, London-Gatwick, London-City, Manchester, Newcastle
Flybe - Belfast-City, Birmingham, Edinburgh, Isle of Man (seasonal)
Isles of Scilly Skybus - St. Mary's (Isles of Scilly), Cardiff, St. Brieuc
Lufthansa - Düsseldorf (weekly, summer only)
Ryanair - London-Stansted, Alicante, Girona

There is also (LEQ) near Penzance, which operates a helipad in addition to plane flights.

By coach

Cornwall is served well by National Express coach services from London Victoria coach station (9 hours, 3 daily) and other parts of the UK (Edinburgh - Glasgow - Penzance, 18 hours, 1 daily).
Megabus runs a daily service (8 hours) from London Victoria through to Falmouth for £12 (Sept 2017). The coaches are relatively comfortable, but expect them to be pretty much full.

Get around
Several bus companies operate in Cornwall however there are two main networks.
Go Cornwall Bus which covers North East Cornwall and connects to Plymouth (in Devon). Pay by cash or contactless visa/mastercard, mobile app tickets are available.
First Devon and Cornwall which covers western and central Cornwall and Truro. Pay by cash only, mobile app tickets are available.
Tickets are not compatible and the networks generally don't link up well, if travelling by bus, try to rely only on a single provider. Buses are only permitted to stop at designated stops (for insurance and safety reasons), and won't generally wait for you if you are late.
CrossCountry Trains
and
Great Western Railway
operate regular train services between the main centres of population, the latter company also serving a number of outlying towns via branch lines. For train times and fares visit
National Rail Enquiries
.
Talk
Everybody in Cornwall speaks English, while a small minority also speak Cornish. An equal or greater minority also speak a variety of European languages, notably Polish.
The English dialect of Cornwall is distinctive, and is thought to have been influenced by Cornish in its phonology and intonation.
Cornish is a language belonging to the Brythonic branch of the Celtic languages, and closely related to Breton and Welsh. It was traditionally the dominant language of Cornwall, though the number of speakers had diminished by the 17th century. Cornish now has government funding and the number of fluent speakers is increasing, being possibly now over a thousand. Some young people have grown up bilingual in Cornish and English. Bilingual road signs are now more common, and there are full-time language staff at Cornwall Council.
Why not try a few words out while you are there? You might get lucky and get a response in Cornish too.
; Hello! (literally good day) : Dydh da! (didh dah)
; Good morning! : Myttin da! (MIT-in dah)
; Good afternoon! : Gorthuger da! (gor-THEW-uhr dah)
; Good evening! : Nos da! (nos dah)
; Good bye! : Duw genes! (dyoo GEH-nehs) if addressing one person
; Good bye! : Duw genowgh! (dyoo GUH-noh-gh) to more than one person
; See you! : Dha weles! (dha WEH-lehs)

See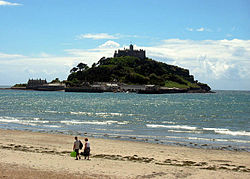 Cornwall boasts many attractions for the traveller, many lying outside of cities and towns amidst the Cornish landscape:
Within the 208sq kilometres of the Bodmin Moor, is King Arthur's Hall, a megalithic monument and Brown Willy, the highest point in Cornwall at 417 m (1,368 ft). Dozmary Pool is a small beautiful lake, linked with the Arthurian legend. There is also a reputed Beast of the Moor, a large wild-cat that haunts and stalks at night, but is similar in fantasy to the Loch Ness Monster, in that no one can prove it exists, though sightings, theories and track-marks abound.
The Eden Project, near St Austell, a fabulous collection of flora from all over the planet housed in two 'space age' transparent domes.
The Lost Gardens of Heligan - near Mevagissey, of stunning landscaped scenery with a huge complex of walled flower and vegetable gardens
Tintagel Castle legendary birthplace of the famous King Arthur and seat of the kings of Cornwall. Earl Richard of Cornwall and King of the Romans built the present medieval castle at the site. Ongoing excavations are revealing a Cornish royal seat of the period 400 to 700 AD.
Minack Theatre an outdoor theatre built, by hand, into the side of cliff over looking the ocean; between the villages of Porthcurno and St Levan, the theatre includes a museum and offers tours when there are no performances
The Tate St Ives, one of the four Tate galleries in the UK - Modern Art
The National Maritime Museum Falmouth. Home of the National Maritime Museum's small boat collection and other exhibits.
Penlee House, Penzance - Home of the famous Newlyn School of Art
Pencarrow House and Gardens A large house near Wadebridge built in 1760 with extensive gardens.
Prideaux Place, A large house near Padstow.
Camel Creek Adventure Park, Tredinnick, Wadebridge - Great family days out at Cornwall's top theme park.
Helford River - an idyllic river estuary between Falmouth and Penzance. An ideal stop over for yachts heading for the Isles of Scilly, or further afield, with a selection of excellent pubs and other attractions. There is also a passenger ferry crossing the river as part of the coastal path around Cornwall linking Helford Passage (a popular holiday destination for families) on the north coast to Helford Village on the south. Helford River Boats runs the ferry and a range of small hire boats with which you can explore the river in your own time. Also on the river are the Gweek Seal Sanctuary, Porth Navas Oyster Farm and Trebah Gardens.
National Trust properties
St Michael's Mount, Marazion, Near Penzance
Cotehele - St Dominick, near Saltash, a mediaeval house with Tudor additions
Godrevy - Gwithian, near Hayle, A stunning mix of long sandy beaches, high cliffs, and smugglers coves.
Lanhydrock near Bodmin
Trerice - Kestle Mill, near Newquay
East Pool Mine, Pool near Redruth
Levant Mine and Beam Engine Pendeen
Tintagel Old Post Office
Hawker's Hut, the smallest National Trust property in the country in Morwenstow north of Bude
The Hurlers (Cornish: Hr Carwynnen) are a group of three stone circles in Cornwall, similar but smaller to Stonehenge. The site is half-a-mile (0.8 km) west of the village of Minions on the eastern flank of Bodmin Moor, and approximately four miles (6 km) north of Liskeard. Each stellar alignment was given with tabulated declinations at a date in the range of 2100 to 1500 BC!
National Trust gardens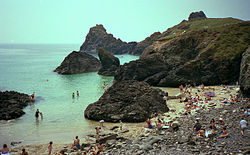 Do
Eat
Cornwall has become famous for its Michelin-starred seafood restaurants, with Jamie Oliver and Rick Stein opening swanky restaurants in the county/country. Cornwall may have the most distinct and finest cuisine of all Britain, and a number of regional specialities, such as:
Savoury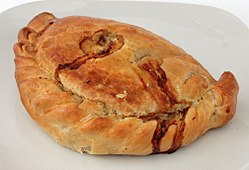 Cornish PastyA semi-circular pocket of soft or flakey pastry, usually filled with meat, turnip, onion and potatoes with a crimped crust to hold whilst munching.

Gevrik cheeseA soft, full-fat goat's milk cheese. It's name means Little Goat in Cornish.

Hog's puddingA spicy thick white sausage which is sliced then grilled or fried.

SeafoodCornwall has a long tradition of seafood specialties including crowled pilchards, salmon cake and fish cream stew.

Squab pieA mutton pie with a shortcrust pastry lid. It should be made with at least one layer of onions, followed by alternating layers of sliced apples and mutton chops.

Star Gazey pieA mixed fish, potato and egg dish with fish heads 'escaping'. The pie is cooked as part of traditional celebrations for Tom Bawcock's Eve, but is not generally eaten at any other time.

Yarg cheeseA semi-hard cow's milk cheese made in Cornwall. It is covered around the outside with nettles.

Vegetarian foodEasy to find in Cornwall - even in tiny towns with just one pub there is frequently a meatless option.
Sweet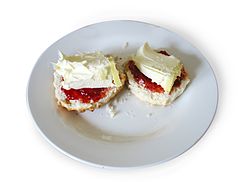 Cornish Cream TeaPlain scones with clotted cream and jam or treacle washed down by a pot of tea, traditional in Cornwall to put the jam on first then the clotted cream, unlike Devon who put cream first then jam.

Cornish Ice CreamDistinctly yellowish in colour, and rich in flavour, on account of high buttermilk content. Kelly's in particular is a popular brand of Cornish ice-cream, that often uses Cornish words in their marketing.

Cornish Clotted CreamClotted cream is a very thick cream that is required to make cream tea scones. Rodda's of Redruth are Cornwall's largest producer.

Cornish fudgeLocally produced fudge.

Cornish rock candyLocally produced rock candy.

Cornish GilliflowerA unique cultivar of apple, that was found in a cottage garden in Truro in early 19th century.

Cornish fairings biscuitsTraditional ginger biscuits made with cinnamon and other spices.

Figgy 'obbinType of raisin cake.

Heavy CakeLardy cake made with fruit.

Saffron CakeFruit loaf flavoured with saffron, saffron being historically popular in Cornwall.
Drink
Cornwall has three main breweries which are available to drink in most pubs in Cornwall:
St Austell BreweryBased in St Austell. They have a museum and shop, for details

Swanky beer, Australian-Cornish bottle-conditioned beer which has been reintroduced from South Australia's Copper Triangle (which has one of the largest Cornish communities abroad) back to the homeland. Cider is also popular in the region.
Cornwall is also well known for its production of mead wine (Honey Wine).
Because of its climate Cornwall also has a number of vineyards, and produces decent wine not to be sniffed at.
Festivals
These festivals tend to not be public holidays and not all are celebrated fully across the Duchy.
AberFest - is a Celtic cultural festival celebrating "All things" Cornish and Breton that takes place biennially (every two years) in Cornwall at Easter. The AberFest Festival alternates with the Breizh – Kernow Festival that is held in Brandivy and Bignan (in Breizh/Bretagne – France) on the alternate years.
Allantide - (Cornish: Kalan Gwav or Nos Kalan Gwav) is a Cornish festival that was traditionally celebrated on 31 October elsewhere known as Hallowe'en. Since 2009 many of the Allantide traditions are celebrated in Penzance as part of the town's Apple Day celebrations in late October. Bobbing for apples is traditional, and candy Gilliflower apples have become a recent addition for the kids.
Chewidden Thursday - a festival celebrated by the tin miners of West Cornwall on the last clear Thursday before (i.e. at least one week before) Christmas.
Furry Dance - also known as Flora Day, takes place in Helston, Cornwall in early May, and is one of the oldest British customs still practised today. The dance is very well attended every year and people travel from all over the world to see it. The local school children take part in the 10am dance and the Midday Dance is with the ladies in long dresses and the gentlemen in suits and top hats.
Golowan - (sometimes also Goluan or Gol-Jowan) is the Cornish language word for the Midsummer celebrations, widespread prior to the late 19th century and most popular in the Penwith area and in particular Penzance and Newlyn. The celebrations are conducted from the 23rd of June (St John's Eve) to the 28th of June (St Peter's Eve) each year, St Peter's Eve being the more popular in Cornish fishing communities. The celebrations are centred around the lighting of bonfires and fireworks and the performance of associated rituals. They have seen a resurgence with the neo-Pagan movement. Some towns have a street-parade during this period.
Guldize - ancient harvest festival in Autumn, which involved the "crying of the neck" ritual of chanting in the corn field. A revived Guldize celebration has been held in Penzance, and since 2010 in several other locations across Cornwall.
Montol Festival - is an annual heritage, arts and community festival in Penzance, Cornwall held between the 16th and 22nd of December each year
Mummer's Day - "Darkie Day" as it is sometimes known, is an ancient Cornish midwinter celebration that occurs every year on Boxing Day and New Year's Day in Padstow. Now considered somewhat "un-PC" as people will paint themselves black.
Nickanan Night - traditionally held on the Monday before Lent. Sometimes called roguery night in West Cornwall, this event is an excuse for local youths to undertake acts of minor vandalism and play practical jokes on neighbours and family. The name Nickanan may come from the practice of knocking on doors and running away, known as 'Nick Nack' in some parts of the English -speaking world. The eating of pea soup and salt bacon is also associated with this date.
Noze looan - is a style of Cornish-Celtic dance, and associated music and events similar to the Breton Fest, Noz. Noze Looan is late Cornish for "happy night"
'Obby 'Oss - held annually on May Day (1 May), mainly in Padstow, with large marching bands and traditional music. Attracts large crowds, so show up early.
Royal Cornwall Show, is an agricultural show organised by the Royal Cornwall Agricultural Association, which takes place at the beginning of June each year, at Wadebridge in North Cornwall. The show lasts for three days and attracts approximately 120,000 visitors annually, making it one of Cornwall's major tourist attractions.
Picrous Day - celebrated by the tin miners of Cornwall on the 2nd Thursday before Christmas. Luxulyan hosts a particular big party.
Shrove Tuesday Hurling - "Cornish hurling" or "silverball" (Cornish: Hyrlîan) is a medieval game once common throughout Cornwall but now only played in St Columb (Major) and St Ives. The St Columb's game takes place first on Pancake Day (moves around in February) and then again on the Saturday eleven days later. The game involves two teams of several hundred people (the 'townsmen' and the 'countrymen') who endeavour to carry a silver ball made of apple wood to goals set roughly two miles (3 km) apart, making the parish the largest pitch for a ball game anywhere in the world. The annual St. Ives hurling match happens on Feast Monday each February (the feast is on the Sunday nearest to February 3). Hurling also survives as a traditional part of Beating the bounds at Bodmin, played on the Moor every 5 years. The next one is in 2015.
St Piran's Day - (Cornish: Gool Peran) is the national day of Cornwall, held on 5 March every year. There is large parties widespread across the whole of Cornwall, with people dressing in the black, white and silver national colours. St. Piran's flag represents the Duchy and is the patron saint of tinminers, the largest historic industry of the county.
Tom Bawcock's Eve - 23rd December, stargazey pies are traditionally consumed on this day. In mythology, pies were seen bizarrarely as the reason the devil stayed out of Cornwall.
Sleep
Cornwall has a large range of tourist accommodation, ranging from 5 star luxury hotels to B&Bs, guest houses and hostels. There is also a large number of serviced holiday cottages that can be rented from anything from a long weekend to upwards of a month.
There are Tourist Information Centres (TICs) in most major towns. Theses are normally run by the local council and can check latest availability on the day to save having to phone round a number of B&Bs and guest houses. They are unbiased and won't express an opinion on accommodations, more than giving its tourist board rating and facilities.

Stay safe

Visitors to Cornwall should at all times be aware of the unpredictable and dangerous nature of some of the tides and currents around the Cornish coast and seek advice from local lifeguards before swimming or surfing. There is a small chance of getting great white or tiger sharks off the south coast, but don't let this worry you as they are very very rarely seen, and there have been no known attacks.
Be very alert when driving at night as some roads, especially the A39 in North Cornwall, contain sudden hairpin bends that are deceptively sharp and are not illuminated by street lighting. There is also a risk of running over nocturnal wildlife. Use your headlights' full beam where possible and err on the side of caution.
Newquay in the summer attracts tens of thousands of tourists, and with that inevitably comes increased crime during the months of June, July and August. Assaults and muggings are particularly common, usually at night and often down on some of Newquay's many beaches.
Crime rates are mostly low in Cornwall, but there are some impoverished areas of some towns where crime is more common. Occasionally, outsiders can attract attention in local pubs, but this is no worse than in other areas of the country.