Cornwall (Ontario)
Cornwall
is a city of about 48,000 people (2018) on the St. Lawrence River in
Eastern Ontario
.
Understand
Cornwall is on the St. Lawrence Seaway, opposite
Massena
and Rooseveltown, New York. The 1958 seaway eliminated rapids upstream at Long Sault, opening a path for large ocean-going vessels from the
Great Lakes
at the expense of inundating and destroying several small villages (such as Aultsville and Moulinette). Some historic buildings which were displaced from the Lost Villages are now at
Morrisburg
(Upper Canada Village) or Long Sault (Ault Park); islands along what is now the Long Sault Parkway were once part of the Canadian mainland.
Long Sault
and Ingleside are planned communities to house displaced villagers.
Cornwall-Massena is the home of a large hydroelectric
generating station
(with visitor's centre) and large ships may be viewed transiting the Seaway locks. Much of the city's industrial base is now gone, as is the pollution associated with Cornwall-Massena in the 1970s.
Get in
By car
Cornwall is on Highway 401 (exit 789), about one hour west of
Montreal
and two hours east of
Kingston
. As Ontario's easternmost city, Cornwall appears as a control city on highway signage for over a 160 km (100 miles) from Kingston (exit 611) eastward.
From
Montréal
, Autoroute 20 west becomes Ontario 401.
From
Ottawa
-
Hull
, take the
Trans-Canada Highway
417 to Casselman, then turn south on Ontario 138.
By train
VIA Rail
serves Cornwall from Montreal and Toronto. The railway station is located at 1650 Station Rd.
By bus
Megabus
(
Coach Canada
) serves Cornwall from Montreal and Toronto.
By plane
The closest major airport is
Montréal
-Trudeau
YUL
, from which direct onward connections are available by rail from the Dorval commuter train station. Ottawa also has a major airport, but Ottawa-Cartier (YOW) is no closer than Montréal and lacks Dorval's relatively easy air-to-rail connection.
There is a tiny airport in Massena with a few federally-subsidised US flights daily to Albany.

By seaway
Cruising on small craft is an option on the St. Lawrence Seaway, but there is a minimum length at the locks (about 20 ft, which excludes some small boats which can be carried by auto trailers) and the huge "Seaway Max" ships are given priority - one of these leviathans fills an entire Seaway lock with only inches to spare.
As the Seaway is fresh water and the Cornwall-Massena border is 45°N (halfway to the North Pole), shipping through the locks is inherently seasonal, typically ending in December and re-opening near the end of March.

phone: +1 613-534-2113

address: Hwy 2, Long Sault

Marina and boat launch, restaurant and patio with seafood, Montréal smoked meat.
By horse
phone: +1 613-534-5643

address: 16061 County Rd 36, Long Sault

Horse riding lessons ($25-40), boarding, horses for sale.
Get around
phone: +1 613-930-2636

address: 863 Second Street West

Local city bus on a half-dozen routes.

Choice Taxi

phone: +1 613-938-8899

Tip Top/Veterans Taxi

phone: +1 613-932-2727, +1 613-932-7311
See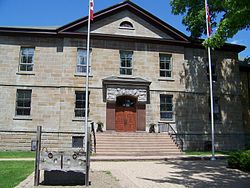 Do
Buy
Cornwall Square

address: 1 Water Street East

Downtown shopping complex near Lamoureux Park waterfront.

address: in front of Long Sault Plaza

Local produce in season.
Eat
Eight Zero Zero

phone: +1 613-936-0322

address: 800 Cumberland St.

Steakhouse, fish, pasta, cocktail bar, fine dining.

Harv's Diner

phone: +1 613-938-8250

address: 619 Pitt St

phone: +1 613-932-9991

address: 35 Marlborough St. N

Fast food, hot dogs, burgers.

phone: +1 613-933-3344

address: 1613 Pitt St.

phone: +1 613-938-8844

address: 158 Pitt St

European restaurant, café and pub.

phone: +1 613-933-9112

address: 155 Pitt St

Bistro, commonly-owned with Table 21 steak house and oyster bar
Drink
Ontario's drinking age, at 19, is high by Montréal standards (Québec is 18) but almost looks reasonable next to Massena (USA is 21).
Bill's Sports Bar and Deli

phone: +1 613-938-0182

address: 441 13th St W

Glengarrian Pub and Restaurant

phone: +1 613-933-6426

address: 841 Sydney St

Lola's Pub and Grub

phone: +1 613-936-9898

address: 616 Pitt St.
Sleep
Hotels
Motels
Bed and breakfast
Camping
Connect
Open Wi-Fi is also available at ONroute (401 westbound rest stop at the provincial border) and McDonald's (hamburger stand with two Cornwall locations).
Nearby
Dunvegan
Martintown
St. Andrews
Williamstown
Go next
Morrisburg is home to Upper Canada Village, a pioneer village living museum which preserves various historic buildings displaced by Seaway flooding in the 1950s, and a park commemorating the Battle of Cryslers Farm in the War of 1812.