County Clare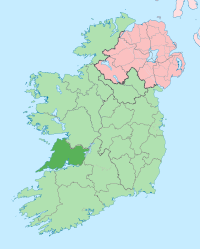 County Clare
(
Irish
:
Contae an Chláir
) is in the
Shannon Region
of
Ireland
.
Towns
(Inis, "island") – the county town, and the largest in County Clare
(Inis Díomáin)
(Cill Chaoi, "Church of Chaoineadh Ita – lamentation for Ita")
(Cill Dalua, "Lua's church") – located on the Shannon River
(Cill Rois, "Church of the Woods")
(An Leacht, "The Memorial cairn of O'Connor") – a seaside resort
(Lios Ceannúir, "ringfort of Ceannúr")
(Lios Dúin Bhearna, "fort of the gapped keep") – renowned for its spa waters
(Sráid na Cathrach, "street of the stone ringfort") – a coastal town, famous for its summer school of Irish traditional music
(Cora Chaitlín, "Caitlín's weir")
(Cuinche, "five ways")
(Sionainn)
Other destinations
– restored castle of the Earl of Thomond
– is a special landscape of frequently bare limestone pavement (Karst) which is of great interest to botanists, cavers and anyone who appreciates the unusual. This area overlooks the Atlantic Ocean and Galway Bay a few charming villages and the highest sheer cliffs in Ireland (Cliffs of Moher).
– a beautiful little village on the coast. Dolphin-watching from the pier
(Aillte an Mhothair, "Cliffs of the Ruin") – are one of Ireland's most popular tourist haunts, offering spectacular views of the Atlantic.
– the place if you are looking for information on your Clare ancestors as it is home to Clare Heritage and Genealogical Research Centre
– a small village, famous for its Irish music tradition and the atmosphere in its pubs
– located on the cliff edge at the tip of Loop Head peninsula. A puffin colony live on a sea stack just off-shore
The River Shannon, Ireland's longest river, opens out into the Atlantic between County Clare and County Limerick.
Scattery Island
in mid-Shannon has a lighthouse, tower and ruined monastery.
Boat trips
run from Kilrush.
– Querrin Shore
– beautiful beach, named for the Spanish sailors who were washed ashore after the wrecking of the Spanish Armada.
Understand

Clare people are very friendly and welcoming to visitors. The county is quite commercialized with regard to tourists and there are numerous activities within its borders to cater for all tastes. A visitor could easily spend two weeks in the county without feeling that they have run out of things to do or see. Because Shannon Airport, the second airport of Ireland and the first stopover for transatlantic flights, is situated in the county, Clare gets many tourists and sometimes this means places can be crowded.
Shannon airport is also used as a stopover for US troops going to and coming from tour of duties in Iraq. It has been subject to some anti-war protests in recent times, with crowds gathering at strategic points around the airport.

Talk

English is the first language of Clare people, although it can be quite difficult to understand the "brogue" at times.

Get in
By plane
Shannon Airport
(
SNN
), is in Shannon, County Clare and is one of the three primary international airports that serve Ireland along with Dublin Airport (DUB) and Cork Airport (ORK). The airport is ideally located in County Clare and easily accessible from both Limerick City and Ennis. In 2017, Shannon Airport handled around 1.7 million passengers. Shannon Airport handles a lot of air traffic between Ireland and the United States and has US border preclearance.
The largest operator in Shannon Airport is Ryanair which flies to 12 destinations around Europe, followed by Aer Lingus. Charter flights to popular tourist destinations from Shannon Airport operate throughout the year.

By bus
Bus Eireann operates a comprehensive network of bus service to and from destinations in County Clare. Independent operators, like Lyons Travel, also offer direct routes to and from County Clare for the major towns and cities nationwide.

By rail
The western rail corridor is now open, so rail services have been restored between Clare and Galway. A new rail link between Ennis and Limerick is now up and running.

By boat
There is a ferry service from Tarbert, County Kerry to Killimer every half hour. This cuts out the need to travel through Limerick City to get into Clare, if you are coming from the south of Ireland.

Get around
Towns in the county are served by irregular bus services, so the best way to see the scenery and tour is by car.

Car rental
The main location for car rentals in County Clare is Shannon Airport.

See
Do
Bunratty Castle and Knappogue Castle both host medieval banquets twice nightly in the summer.

Willie Clancy Summer SchoolThe Willie Clancy Summer School takes place on the first weekend in July every year in Miltown Malbay. Students of all ages and nationalities gather to learn traditional Irish music from noted musicians during the day and the town's pubs host their efforts at nighttime. Concerts are also held throughout the week of activities.

Visit the

Doolin Ferry CompanySpend the day on the Aran Islands or sea the Cliffs of Moher by boat or with O'Brien Line Ferries .

Take the

Cliffs of Moher cruiseto view the Cliffs from sea level. Cliffs and Aran Cruises also runs a passenger ferry service to the Aran Islands.

Language Travel IrelandLearn English on a farm in Co. Clare in the West of Ireland. Experience life on a farm, get involved in the farm activities, enjoy the home cooking, fresh air and beautiful countryside of County Clare. Learn English in Ireland by living in on a real Irish farm.

Dolphinwatch CarraigaholtGo dolphin watching from Carraigaholt pier and see the mouth of the Shannon Estuary

Mid Clare WayLeave your car and attempt some of the Mid Clare Way. This marked long distance walking route makes a circuit of the region surrounding the county town of Ennis. It is 139 km in length but broken up into manageable segments.
Eat

Locally produced products are easy to find in the local supermarkets. Sausages, breads (particularly soda), jams and many other local delights are readily available, with the local traders willing to help you find what you want.

Drink
Clare has more than its fair share of unique and distinctive pubs that cater to all tastes; traditional and modern. Famous for traditional Irish music, drinking stout or Irish whiskey to the strains of reels and jigs is a regular experience.
Gus O'Connor's Pub and McGann's Pub, both in Doolin, are especially famous for their Irish music.
Biddy Early's BreweryLocated in Inagh village, should be visited to taste locally brewed stout ("Black Biddy") and lager ("Blond Biddy").
Go next