County Kilkenny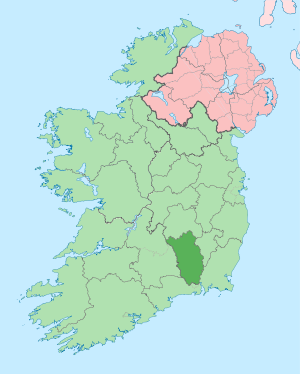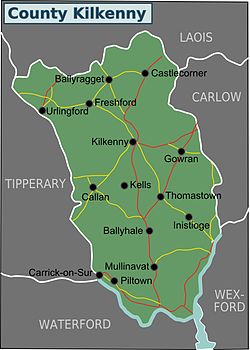 County Kilkenny
(
Irish
:
Contae Chill Chainnigh
) is in
Southeast Ireland
, in the province of
Leinster
. It is a land-locked county, surrounded by the counties of
Carlow
,
Laois
,
Wexford
,
Waterford
and
Tipperary
. It has a population of 95,000.
Cities
Cities
(Cill Chainnigh, "church of Cainnech") – the county's capital city has an attractive "Medieval Mile" of historic buildings between Kilkenny Castle and St Canice's Cathedral & Round Tower
Towns
- small town really off the tourist trail. It has a nice square and a fine Roman Catholic church just behind the square.
- check out The Moat, a great example of a Motte-and-bailey, and visit the childhood home of Edmund Rice, the founder of the Irish Christian Brothers.
- The main town in north Kilkenny. Coal was mined here for over 300 years. Visit Castlecomer Discover Park and Footprints in Coal Experience to learn more.
- A beautiful town near Waterford City, made famous by the song "The Rose of Mooncoin".
- On the river Nore, this town is famous for Jerpoint Abbey, Kilfane Glen gardens, and Mount Juliet Golf Course.
Villages
- Home of Duiske Abbey, Graiguenamanagh is a popular place for walking and hillclimbing. The town itself is very pretty.
- a beautiful little village on the river Nore. It was the setting for the film "Circle of Friends". It has a lovely square. It also has an impressive multi span stone bridge. Just above the village, are Woodstock Gardens, which are being restored to period 1840 - 1890.
- the only place in Ireland to see battle in the Wars of the Roses. A pretty village famous for its "Tower" also known as Sham Castle.
Understand
Tourist Information
Kilkenny Tourist Office is located on Rose Inn St, in Kilkenny City. It has lots of information about the city and county.

Climate

Kilkenny is in the centre of The Sunny South East. It has the most extreme climate in Ireland mainly because it is not affected by the sea, but don't get too worried. The highest recorded temperature ever was 33.3°C. There is on average, 4 days of snow a year.

Get in
By train
All the stations in County Kilkenny are on the Dublin–Waterford line, which serves
Dublin
,
Athy
,
Carlow
,
Bagenalstown
,
Kilkenny
.
Thomastown
and
Waterford
. There are 6 trains a day in each direction.
The railway stations in or near County Kilkenny are:
Kilkenny Railway Station

phone: +353 56 772-2024

phone: +353 56 772-4218

address: Station Road, Thomastown

Waterford Railway Station

phone: +353 51 873401

Muine Bheag Train StationThis station is not in County Kilkenny, but just over the border, 4km away, in County Carlow.
Tickets and timetable information can be got at the stations, online or by phone (01 7034070 between 09.00-17.00 Monday-Friday).
Get around
See
Jenkinstown ParkThe forested park is a nice place for a walk or a picnic. There are deer and some rare trees. During April the forest is carpeted by bluebells. It was once part of the Bryan-Bellew Estate, of which castle ruins and walls can still be seen. Thomas Moore wrote The Last Rose of Summer while staying at Jenkinstown House.
Heritage Ireland Sites
There are four Heritage Ireland Sites in County Kilkenny. These sites are maintained by the Office of Public Works (OPW) and the Department of the Environment, Heritage and Local Government. A heritage card, which is valid for a year costs: adult €21, senior citizen €16, student €8, family €55.
Jerpoint Abbey

Built in the 12th Century. It is Ireland's finest Cistercian monastic ruin with a magnificently sculptured cloister arcade.

Kilkenny Castle

This stunning Norman Castle, which is the dominant feature in the city, is its principal attraction. Its huge forested gardens are beautiful to walk during the day.

phone: +353 56 776-7726

address: Dunmore

The show cave is incredibly well developed and a wonder to walk around.

St. Mary's Church

phone: +353 56 772-6894

address: Gowran

A 13th century church.
Do
Brandon Hill, Graiguenamanagh. The highest mountain in County Kilkenny is an easy climb of 515m (1,6790ft). At the top there great views of the surrounding counties. There is a cairn, an old cross and a plaque pointing out the features in the surrounding landscape.

Walk the South Leinster WayThis is a walk that covers 102km(64miles) from Kildavin, Co Carlow to Carrick-on-Suir, Co Tipperary. It passes through medieval towns and ancient sites, river valleys, forests and by the slopes of Mount Leinster.
Golf is very popular in Kilkenny.
phone: +353 56 772-5136

address: Geraldine, Callan

An 18-hole course established in 1929.

Castlecomer Golf Club

phone: +353 56 444-1139

address: Dromgoole, Castlecomer

phone: +353 56 776-5400

address: Glendine

A members owned 18-hole golf course. Can rent clubs.

Mount Juliet Golf CourseThis golf course was designed by Jack Nicklaus and is one of the top golf courses in the country. It often holds international golf tournments.

phone: +353 56 776-8122

address: Kiltorcan, Ballyhale
Drink

Kilkenny is famous for two beers - the Kilkenny beer and the Smithwicks ale, famous the world over as the distinct taste. Why not try them on your visit to the County?

Cope
Newspapers
Kilkenny PeopleThis is the largest selling newspaper in the South East. Covers Kilkenny city and county, with news, sports, property and entertainment listings. James Joyce referred to this paper in Ulysses.
Radio
Kilkenny is served by one local radio station, which also serves Carlow.
KCLR 96FM
has news on the hour.
Go next
The Rock of Cashel in Tipperary was the seat of the Kings of Munster for hundreds of years. There are runes of a Cathedral and a round tower on the rock.
If the weather is nice, have a day at the beach at Dunmore East, Tramore or Courtown