County Sligo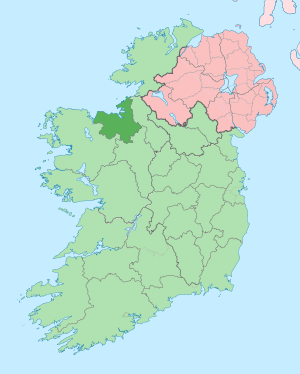 County Sligo
is in
Northwest Ireland and Lakelands
. Sligo is often overlooked but most visitors can understand the slogan 'Sligo is surprising'. It is a small county but densely packed with scenery and cultural interest.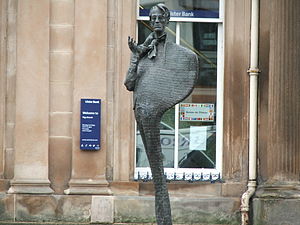 Regions
Yeats Country This area vaguely describes the land within about 10 miles of Sligo town which features in Yeats' poetry.
South Sligo. The larger, more remote and less scenic (in comparison) part of the country, which has a reputation for tradtional music.
Understand
Much of the landscape of Sligo features in the poetry of W.B.Yeats (The Stolen Child, The Fiddler of Dooney) and the poet is buried, as he wished in Drumcliffe, north of Sligo town. There is an annual Yeats Summer School which attracts writers and students from all over the world, but many other visitors enjoy the insights the poet has given into the landscape.
For lovers of traditional music, the more remote southern part of the county has given rise to a strong fiddle tradition, while in recent years the bands, Dervish and Westlife, from Sligo town, have become internationally famous.
Spike Milligan's father was from Sligo.
History
County Sligo is named after the main town in the county,
Sligo
, which in turn gets its name from the Irish (Gaelic)
Sligeach
, which means
Shelly River
or
Shelly Place
.
Sligo in Irish mythology
(For more information on
Irish mythology
,
see
Irish Mythology page on Wikipedia
)
According to the ancient mythology of the Ulster cycle, the cairn on top of Knocknarea Mountain is said to be the final resting place of Queen Maeve (or Medb in Irish), ancient queen of Connacht.
Ben Bulben is said to be the final resting place of Diarmuid and Gráinne, the eloping lovers from the Fenian cycle of Irish mythology. Gráinne, daughter of the High King, Cormac MacAirt, was to be married to Fionn MacCumhail (Finn McCool), but she eloped with a warrior of Fionn's, called Diarmuid. Eventually, they made peace with Fionn, and settled in Keshcorran, County Sligo (near Ballymote), where they have five children. In spite of a prediction that he will be killed by a boar, Diarmuid joins a boar hunt organised by Fionn. Indeed, the creature wounds him mortally as he deals it a fatal blow. Fionn has the power to heal his dying comrade by letting him drink water from his hands, but he lets the water slip through his fingers twice. Finally Fionn's grandson Oscar threatens him with violence if he does not help Diarmuid, but when he returns from the well on the third attempt it is too late. Diarmuid has died.
Get in
By plane
There is a small airport at
Strandhill
(7 km west of Sligo town), with direct daily flights to and from Dublin and Manchester and an international airport,
Ireland West Airport Knock
(55 km south of Sligo town) between
Charlestown
and
Knock
, just over the county border in
Mayo
.
By train
There is a railway from Sligo to Dublin (135 miles) which takes a little over three hours and usually has a shop or snack trolley on board. It costs between €25.50 and €36 for an adult single or return ticket.
There are eight trains running each way daily, from Dublin Connolly Station to Sligo Station at 07:05, 09:05, 11:05, 13:05, 15:05, 16:00, 17:05 and 19:05.
By car
135 miles to Dublin on the N4 road and also to Belfast (take the M1, then the A4, which becomes the N16 when you cross the border into the Republic of Ireland). 90 miles to Galway on the N17 road.
By bus
From Galway, Limerick, Derry, Donegal, Dublin.
Get around
Sligo town is small enough to walk from one end to the other in an hour. Garys Cycles down by the river's edge rents bicycles. There are buses which run from the main bus station to Strandhill and Rosses point (small nearby coastal towns) regularly, as well as a city service around the town.

See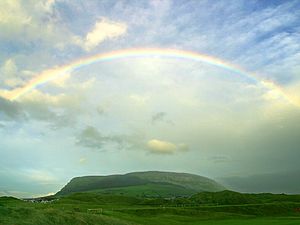 Knocknarea mountain is 6 km west of Sligo on the Cuil Irra peninsula. It is just over 300m and can be climbed in 20 to 40 minutes. The summit offers a magnificent panorama of the indented coast and holds a massive cairn, which is reputed to be the grave of the ancient Celtic warrior Queen Maedbh (pronounced May-v). the cairn is estimated to weigh 40,000 tons; it has never been excavated. Climbers are now requested NOT to climb on the cairn or to use the stones from the cairn due to much damage in recent years.
An old local tradition has it that a climber should bring a stone from the bottom of the mountain and place it on the cairn on the top. Failure to do so, according to the legend, will result in your dreams being haunted by the Queen Maeve herself!
Between Sligo town and Knocknarea is the megalithic cemetery of Carrowmore. This is a significant ancient site one of the four great passage tomb complexes of Ireland.
Heapstown Stone Cairn (Near Highwood, turn right at Castlebaldwin coming from Dublin on the N4) is a 7 m tall megalithic mound set in a farmyard close to Lough Arrow. Also in this area are the Moytirra mounuments, including The Labby Rock. A historical trail links these sites. As you travel from Heapstown towards Killadoon Cross Roads, look north east and you can see on the hillside the Gyreum which is a venue and accommodation place influnced by megalithic architecture and the halls of Gaelic Chieftain's.
The Carrowkeel Passage Tomb Cemetery is another collection of ancient graves, less conveniently placed, on the slopes of Bricklieve mountain 20 miles south of Sligo.
Ben Bulben mountain is a prominent table mountain that dominates the landcape to the North. It is about 5 miles from Sligo town.

Coney IslandSaid to have given its name to its better known namesake in New York City. In Irish it translates as Oilean na gCoiníní (Island of the Rabbits, Coinín means rabbit). If you're feeling adventurous, and the tide is out, you can drive across the strand to the island. Do check with locals regarding tide times, as almost every year tourists (and locals) get stuck in the sand.
Do
In August you might like to join in the annual Warrior's Run, in Strandhill. It starts from the seashore, up Knocknarea and back.
It should be possible to take a boat trip on Lough Gill. There is a passenger craft which will take you to Parkes Castle, near
Dromahair
,
County Leitrim
, or you could hire a boat and make your way where you will.
Strandhill
is a noted surfing beach.
Be warned, however, that there are treacherous currents here, and swimming is prohibited
.
Eat
When visiting Sligo, there is one mandatory stop in terms of food: Strandhill. In this small surfing village in the west of Ireland, you can find a few of the most awesome places to
eat
.
Sleep
There are many B&Bs throughout the county, plenty of main stream hotels, a fair few hostels. By far the strangest and most eclectic place to stay in Sligo, in the North West, perhaps in the whole of Ireland is the Gyreum Ecolodge. This is a 100 foot wide hilltop ringfort aligned to 3 solar events, with views over 5 counties and Lough Arrow. It is 3 miles east of Castlebaldwin. Individual hostellers can stay in it hostel style or doubles too and also caters for large groups.