Cuxhaven
Cuxhaven
is a seaside resort city in
Lower Saxony
(
Niedersachsen
),
Germany
situated on the mouth of the river Elbe on the North Sea coast.
Understand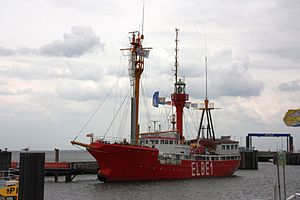 Until 1937, Cuxhaven was part of
Hamburg
; in a reorganization two towns near Hamburg that were part of
Prussia
were given to Hamburg in exchange for Cuxhaven. With 55,000 citizens, Cuxhaven isn't a very large city, although it still can boast roughly 3 million booked nights a year, making it one of the largest seaside resorts in Germany.
Tourism is one of the traditional industries in Cuxhaven. The other two are fishing and shipping. The city is trying to expand the harbour and has invested a lot of money in the modernization and expansion of the port facility. Still, the economic situation isn't too good and tourism remains the major industry of the city. Many people have left Cuxhaven in recent decades, and many of those who remain are retired, contributing to the quiet small-town ambiance.
Cuxhaven was not always so quiet, though: About 500 rockets were launched near Cuxhaven between 1945 and 1964. The best known rocket launches which took place in the area of Cuxhaven were three launches of V2 rockets in Operation Backfire, in order to demonstrate Allied forces the technology of the "wonder weapon" V2 in October 1945. That said, the only remnant of this history of rocketry at Cuxhaven is a trough near the road from Arensch to Sahlenburg.
Get in
Most people come to Cuxhaven either via train or car. Some ferry services exist, but they are negligible, overall.
By car
Cuxhaven can be reached comfortably by motorway A27 from
Bremen
in about 1 hour (100 km). From
Hamburg
major road B73 (not Autobahn/motorway) takes you to Cuxhaven in about two hours. The B73 is known for motorists with bad driving style and deadly accidents; some extra caution should be employed.
By train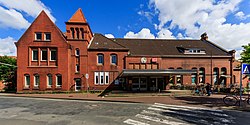 A real alternative to the car, especially when arriving from
Hamburg
, is a train drive to Cuxhaven. It will take roughly the same time (around 1 hr 45 minutes), but it's more relaxing than using a car. However, the German rail company tends to be more expensive if you travel with several people unless you catch a special deal.
Traveling with
weekend special
(
Schönes Wochenende Ticket
) or Länder Ticket (
Niedersachsen-Ticket
) starts at €23/person and the rate gets more favorable when you travel in a group or as a family with children.
When arriving from
Bremen
, changing the trains in
Bremerhaven
is unavoidable.
Hauptbahnhof CuxhavenCuxhaven's railway station is right in the center of the city. The bus terminal is in front, and taxis can easily be hired as well. On foot, it should take you about five minutes to get to the Nordersteinstraße shopping area.
By plane
The nearest bigger airports are in
Hamburg
and
Bremen
.
By boat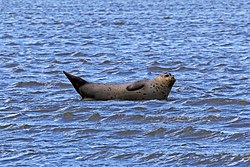 The ferry line from Harwich, England, has been discontinued. It is however possible to transport vehicles to and from Cuxhaven. For further information call Cuxport GmbH, Tel.: +49 4721 748-0.
A ferry Cuxhaven - Brunsbüttel: The ferry operates several times a day (in about 2 hour intervals) with two modern ships with two car decks, "Grete" und "Anne-Marie". One Elbe river crossing with Elb-Link takes 90 minutes and costs 5 EUR/person (25 EUR/car). There is a cafeteria and a bar on board.
Helgoline: A catamaran (HSC Halunder Jet) route from Hamburg via Wedel and Cuxhaven to the island Heligoland. It is possible to take also individual legs of the route. Transport of bicycles is not possible to the island, where cycling is not allowed.
Get around
There are limited choices when it comes to moving around Cuxhaven. You can walk, bring your own car, hire a taxi, or use one of the bus lines.
By bus
Information on local buses can be obtained from
VNN
- Verkehrsgemeinschaft Nordost-Niedersachsen
See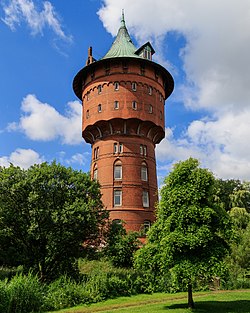 Alte Liebeis a former quai turned viewing platform at the entrance to the Cuxhaven harbour. Good view of passing ships. Loudspeakers announce their names and origin.

Schloß RitzebüttelSmall castle-like building near the Nordersteinstraße shopping area.

Harbor

Kugelbakemarks the geographic point where the Elbe river ends. Originally intended as a navigation aid, it is one of the more notable constructions in the region. It was incorporated in the Cuxhaven coat of arms when the city was incorporated and remains one of its primary landmarks.

Water Tower

Semaphorthe Sempahor is a construction from the year 1884 that is used to communicate wind strength and direction to passing ships. It is still set every day.

Wrackmuseum

phone: +49 4721 23341

address: Dorfstraße 80, Stickenbüt

Only museum in Europe that has ship wrecks as its topic.

Elbe 1A retired lighthouse-ship.

Relics of the launch pad of operation Backfire, the last launch of V2-rockets in Germany in form of a trough near the way from Arensch to Sahleburg and some shelter remnants.

Aeronauticum: maritime aircraft museum

phone: +49 4741 18190

address: Peter-Strasser-Platz 3, Nordholz

The museum is located near the Nordholz Naval Airbase. It comprises of indoor and outdoor expositions and has a large collection of aircraft that has been used by the German Navy. The museum with its Cafe and a nice playground can easily be reached from motorway A27 between Cuxhaven and Bremerhaven and is well worth a visit for travelers with technical interests, as well as families with children. The webpage is in German only.
Do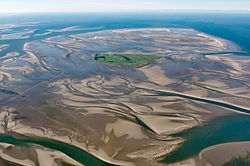 Wadden Sea is the area of the sea where the water recedes during low tide. It's one of the main reasons why people visit Cuxhaven. You can take walks, look at crabs, build castles from the sand and the mud, and so on. Be warned that the rising water can be tricky! See the "stay safe" section.
Take horse carriage to Neuwerk
BEWARE! As a non-resident you have to pay "Kurtaxe" (touristic fee) for entering the beach. If you have already been charged for "Kurtaxe" in your accommodation just show your receipt. If you like pay-free beaches you have to travel a few miles to the north and try the coastline of Schleswig-Holstein.
Buy
The Nordersteinstraße is the primary shopping area of Cuxhaven. It is geared towards the general population and not really too touristy. Prices are rather normal as a result; the downside is that you cannot expect a store to accept credit cards. "EC" bank cards are usually accepted, however.

Eat
Cuxhaven is a traditional fishing town, so do not leave out some fresh fish or crabs while you are there.
Zum Park

phone: +49 4721 64461

address: Südersteinstraße 76

Restaurant, Offers various international dishes. Excellent service, very reasonable prices, pleasant place. Highly recommended.

Fischereihafen Restaurant & Fischereihafen Lloyd´s

phone: +49 4721 399084

address: Neufelder Str. 11
Sleep
Budget
Mid-range
Splurge
address: Prinzessinnentrift 12-14
Stay safe
When enjoying a walk in the Wadden Sea in front of the coast, you must take some simple precautions as the rising waters can be dangerous. If you are far from the beach and the tide surprises you, your life will be in danger.
Always remain within sight of the land, and do not walk out too far. Take care of fog and mist. Enter the area only after high and prior to low tide, and return shortly after low tide, i.e. as soon as the water starts to return and the high tide sets in. Keep a watch with accurate time, and memorize the times of low and high tide. The water does not rise in all places at the same speed. Some areas are lower, and Priele (creek-like arms or canals of water) can well flood very early, cutting you off from land.
You should ask for advice and rules on-location; there are several lifeguard stations and most tourist information places will be able to provide you with basic information as well. Ask for a tidal calendar (German: Tidenkalender).

Go next
Continuing your vacation with a maritime theme, a day trip to Bremerhaven to take a look at the Schiffahrtsmuseum (Museum of sea travel) maybe be worth your time.
For a few days in a quite different environment, take a ferry to Helgoland