Czech Republic
The
Czech Republic
(
Czech
:
Česká republika
), or
Czechia
(
Česko
) is a landlocked country in
Central Europe
. It is not a large country but has a rich and eventful history. Czechs, Germans, Slovaks, Italian stonemasons and stucco workers, French tradesmen and deserters from Napoleon's army have lived and worked here, all influencing one another. For centuries they jointly cultivated their land, creating works that grace this small country with hundreds of ancient castles, monasteries and stately mansions, and entire towns that give the impression of being comprehensive artefacts. The Czech Republic contains a vast number of architectural treasures and has beautiful forests and mountains to match.
Regions
The Czech Republic has 14 political regions which can be grouped in eight regions:
Cities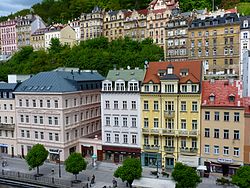 These are just nine of the most interesting cities selected to represent the variety of Czech urban areas. For other exciting destinations, see the individual regions.
(Praha) — the capital and largest city of the Czech Republic with a large and beautiful historic centre
— the largest city in Moravia and its former capital, it offers several excellent museums, annual Moto GP Grand Prix, annual international fireworks festival Ignis Brunensis, a large historical centre, the second-largest ossuary in Europe (after the Catacombs of Paris), one of the biggest exhibition centres in the Europe, the oldest theatre building in Central Europe, and many other things.
– attractive large city in South Bohemia
— beautiful old town in South Bohemia with the country's second biggest chateau
(Carlsbad) — historic (and biggest Czech) spa resort, especially popular with German and Russian tourist groups
— historical town with famous Saint Barbara cathedral, old silver mines and the Chapel of All Saints, which is decorated with thousands of human bones
(Holomóc or Olomóc) — riverside university town with a thousand-year history and the second-largest historical centre in the Czech Republic
— a vibrant local subculture and long history of coal mining and heavy industry
(Plzeň) — home of the original Pilsner Urquell beer, and the largest city in West Bohemia
Other destinations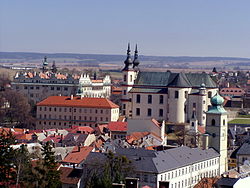 (Český ráj) – A region of towering rock formations and isolated castles located north-east of Prague. The gateway city of Jičín is an interesting destination in its own right, but Turnov is closer to most of the castles and rock formations. The twin towers of the ruined castle Trosky are a symbol of the area and can be climbed for the views
– and the holy cave monastery: Hiking trip to the famous castle and an off-the-beaten-track monastery
(Giant Mountains) – The highest mountains in the Czech Republic along the Polish border. Most popular Czech skiing resorts are here, such as Špindlerův Mlýn, however considered overpriced by locals.
– A beautiful small town in East Bohemia. The renaissance main square and chateau are among the Czech Republic's prettiest and the town has been home to many important and influential artists, including composer Bedřich Smetana, sculptor Olbram Zoubek and painter Josef Váchal. There are two international opera festivals at the chateau each year.
– A spa town in Western Bohemia.
– Some of the best vineyards in the Czech Republic and totally off the well-beaten tourist path
– Cross country skiing resort. The race of Tour de Ski takes place here.
– A red-brick baroque fortress 70 km north of Prague beside the Ohře river. It was used during World War II as a Jewish ghetto and concentration camp.
– The Rotunda of the Virgin Mary and St Catherine with the oldest frescoes in the Czech Republic.
Understand
History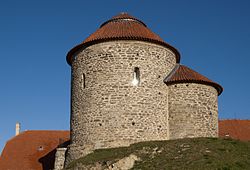 The Czech region was inhabited by Celtic tribes
Boii
for the first four centuries of the first millennium. The Celts gave way to post-Roman Germanic tribes. Later, Slavs arrived and, in the 9th century they founded the Great Moravian Empire, stretching from Germany to the Ukraine. After the fall of Great Moravia the Bohemian Duchy (later Kingdom) was formed, creating a territorial unit almost identical to the modern Czech Republic. The rise of the Habsburgs led to the Czech lands becoming a part of the
Austrian Empire, and later Austria-Hungary
, and a massive influx of German immigrants.
After the
First World War
, the closely related Czechs and Slovaks of the former Austro-Hungarian Empire formed the new nation of Czechoslovakia. During the interwar years, the new country's leaders were frequently preoccupied with meeting the demands of other ethnic minorities within the republic, most notably the Sudeten Germans and the Hungarians. A poor relationship with the German minority (20% of the overall population) was a particular problem that was capitalized on by Adolf Hitler and used as "rationale" for the dismemberment of the nation before the outbreak of
World War II
. The country was annexed and brutally occupied by Germany during the war.
After World War II, Czechoslovakia expelled most of its Germans by force and many of the ethnic Hungarians after the Potsdam Conference. However, the nation was very blessed in the fact that it emerged from the war more or less physically intact as it avoided the fate of the massive air bombardments and invasions that levelled most of the historic neighbouring cities in Germany, Austria, Poland and Belarus. The country fell within the Soviet sphere of influence and remained so by force of arms until 1989 (see
Cold War Europe
).
In 1968, an invasion by Warsaw Pact troops ended the efforts of the country's leaders to liberalize Communist party rule and create "socialism with a human face". Anti-Soviet demonstrations the following year ushered in a period of harsh repression and conservatism within the party ranks called "normalisation". In November 1989, the communist government was deposed in a peaceful
Velvet Revolution
.
On 1 January 1993, the country underwent a "velvet divorce" into its two national components, the Czech Republic and
Slovakia
. A member of NATO since 1999 and the EU since 2004, the Czech Republic has moved toward integration in world markets, a development that poses both opportunities and risks, however unemployment and population decline are rampant in the Czech countryside due to better job opportunities in the large cities like Prague.
The Czech flag is the same one that was used by Czechoslovakia. It was readopted in 1993.
Habits and customs
Easter (Velikonoce): On Easter Monday it is customary for guys to (slightly) spank girls and women with a wicker stick with colourful ribbons at the end (pomlázka), in the hope that the girls and women will in turn give them coloured eggs, candy or drinks. Obvious tourists are often (but not always) exempt.
Witch Burning (Pálení čarodějnic) or Night of Witches (Čarodějnice): On the last April evening, bonfires are lit around the country. "Witch" figurines, as a symbol of evil, are made and burned in the fire. This is the reinterpretation of the old pagan festival (Beltane) influenced by Christian inquisition. Because probably most Czechs would prefer the witches over the inquisitors, in many fires no witches are burnt, and the feast is celebrated in a more original pagan way - witches are those who should celebrate the night, not be burnt. It doesn't stop jokes like "Honey, hide or you will be burnt tonight!"
Last Ringing (Poslední zvonění) is a traditional celebration of the end of the last year at a high school. It is celebrated usually in late April or early May, a week or more before the final exams (maturita in Czech) take place (the time may be different in different schools). Students get a free day and usually do silly things in silly costumes. They go to the streets and collect money from people passing by, sometimes threatening them with water, writing on their faces with a lipstick or spraying them with perfume. The collected money is used at a party after the exams, or maturita ball.
Feast of St. Mikuláš (St. Nicolaus, Santa Claus), Dec. 5: On this day, St. Mikuláš roams about with his consorts, an angel and a devil. He gives small presents and candy to children to reward them for their good behaviour throughout the year, while the devil chastises children for their wrongdoings over the course of the year and gives them potatoes, coal (or sometimes spankings) as a punishment. Old Town Square in Prague is a great place to watch the festivities.
Christmas (Vánoce): Czechs begin celebrating this holiday on Christmas Eve and continue to celebrate until the 26th (the Feast of Stephen). Presents are placed under a Christmas tree (by Ježíšek (The Baby Jesus) as little children believe) and taken after dinner on Christmas Eve. Potato salad and carp is a traditional Christmas meal, and for this reason one can see live carp being sold out of huge tanks throughout the streets of Czech cities and towns just before Christmas.
Historic regions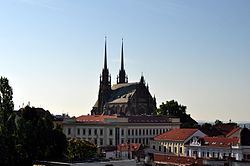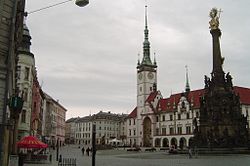 The Czech lands (Česko in Czech) consist of three historical lands: Bohemia (Čechy), Moravia (Morava) and Czech Silesia (Slezsko).
Bohemia
Although the modern adjective
bohemian
refers to Bohemia, that usage was based on a broad stereotype and also a poor grasp of geography, so don't expect the Bohemians you meet to be nomadic or anti-conventional artistic/literary
bohemians
, or to see anything out of Puccini's "La Bohème". And no, "Bohemian Rhapsody" (its lyrics sprinkled with Italian and Arabic) is not a local anthem!
So the word Bohemia/Bohemian came from the name of the Celtic tribe Boii. The term
Bohemian
had ended up meaning more or less
Czech
by the end of the 19th century with the awakening of Slavic nationalism. However, it was also used to refer to any inhabitant of Bohemia, including the vast number of Germans that used to inhabit the region until the closing months of World War II.
Moravia and Czech Silesia
Moravia and Bohemia (the other half of the Czech Republic) were among the first regions of continental Europe to undergo an industrial revolution; however Moravia did not experience the mass urbanisation of Bohemia. This region is, therefore, still home to gorgeous vineyards, orchards, fields full of "organic" produce, and filled with scenic mountain vistas and cute little villages. Even the regional capital, Brno, is renowned for its small town charm. There is an extremely extensive rail system, and the region contains historic factories such as Zbrojovka
Brno
(weapons) and the Baťa factory in
Zlín
(shoes).
The dialects of Czech spoken in Moravia are slightly different from those spoken in Bohemia, particularly in Prague. Moravians pride themselves on their dialect and learning a few stereotypical regionalisms may go down well (or terribly, depending on just what it is you think you're saying and what you end up saying).
The region's strategic location at the Moravian Gate (a pass through the imposing mountain ranges of Central Europe) has led to a confluence of a great amount of history.
Get in
Visa requirements
Maximum length of stay on a visa exemption
* As a Schengen signatory state,
in general
, non-EU/EFTA citizens who qualify for a visa exemption can only stay for a maximum of 90 days in a 180-day period in the Schengen zone (including the Czech Republic)
as a whole
.
However, for non-EU/EFTA citizens whose home country/territory had an existing bilateral visa exemption agreement with the Czech Republic before it fully implemented the Schengen acquis, the maximum length of stay on a visa exemption as stipulated in the bilateral agreement continues to apply, rather than the Schengen regulations. In effect, this means that for these non-EU/EFTA citizens, they can spend up to 90 days in the Czech Republic visa-free and are not limited by the Schengen limit of 90 days in a 180-day period.
Non-EU/EFTA citizens whose home country/territory had an existing bilateral visa exemption agreement with the Czech Republic before joining the EU are: Andorra, Argentina, Brazil, Brunei, Costa Rica, Chile, Croatia, El Salvador, Guatemala, Honduras, Hong Kong SAR, Israel, Japan, Macao SAR, Malaysia, Mexico, Monaco, New Zealand, Nicaragua, Panama, San Marino, Serbia, Singapore, South Korea, Uruguay, the Vatican and Venezuela - but not Australia, Canada or the United States.
More information about these bilateral visa exemption agreements is available at this webpage of the Ministry of the Interior of the Czech Republic (under the 'Conditions for a short-term stay' section) as well as this article. This document also provides a comprehensive list of visa waiver agreements with the Czech Republic (some countries have unilateral, rather than bilateral visa agreements).
The
Travel document requirements
For EU, EEA and Swiss nationals, passports and national identity cards only need to be valid for the period of their stay in the Czech Republic.
For all other nationals, passports/travel documents must be valid for a period of
at least 90 days
beyond the expected length of stay in the Czech Republic/Schengen Area.
Foreign nationals whose stay in the Czech Republic will exceed 30 days are required to register within 30 days on their arrival in the Czech Republic with the Alien and Border Police. In case you stay in a hotel or similar institution, the provider of the accommodation should arrange this registration for you.
Children inscribed in their parents´ passports are allowed to travel with their parents up to the age of 15. Once the child has reached the age of 15, a separate passport is necessary.
Visit
this webpage of the Ministry of Foreign Affairs of the Czech Republic
for more information on what constitutes a valid and acceptable travel document for the purpose of entering the Czech Republic.
By plane
(
PRG
) – about 10 km west of the centre of Prague, (Praha in Czech), is a hub of Czech national carrier – Czech Airlines (ČSA), a SkyTeam member.
Other international airports are in (with flights to London, Moscow, Rome, Bergamo, Eindhoven and Prague), (flights to Vienna and Prague), , (flights to Moscow and non-public (near Uherské Hradiště).
There are several low-cost airlines going to/from Prague (e.g. EasyJet from Lyon). Ryanair flies to Brno from London and Bergamo. Other nearby airports are Nuremberg (200 km) and Munich (320 km) in Germany, Vienna having a bus shuttle to Brno city (260 km to Prague, 110 km to Brno) in Austria, Wroclaw (200 km) in Poland (might be a good idea if you want to go to the Giant Mountains) and Bratislava (280 km to Prague, only 120 km to Brno) in Slovakia.

Airport transfers
In order to transfer from Ruzyně Airport to the centre of Prague and beyond, you can take:
PragueTransfer Minibus service. Prices range from for a party of 4, to for a party of 49.
Airport Express Czech railways public bus service. 50 Kč per ticket. This bus stops at terminals 1 and 2. It connects to Metro line A ("Dejvická station") and to Prague Main Train Station in 35 minutes.
Public bus lines Tickets can be purchased at the arrivals halls of terminals 1 and 2, or from ticket machines placed at bus stops for 32 Kč. Tickets can also be purchased directly from the driver for 40 Kč. None of these services are direct to Prague centre but will take you to the nearest Metro station, where you can continue to the city centre. The ticket is valid for 90 minutes in all buses, trams and Metro and needs to be stamped after entering the bus. Routes servicing the airport are:
119 Terminates in at the "Nádraží Veleslavín" Metro Station. Transfer to Metro line A for city.
100 Terminates in western Prague ("Zličín" Metro station) in 18 minutes. Transfer to Metro line B for city.
510 A night service every 30 minutes. Goes to the south of the city, but passes near the centre ("Jiráskovo náměstí" or "I.P. Pavlova" stops) which takes 42 minutes.
Taxi Airport authorised service. Rates are 28 Kč per kilometre plus 40 Kč per journey.
By bus
International bus service runs from many cities in Europe with direct connections from Germany, Poland, Netherlands, Slovakia, Switzerland, Austria, etc. Good service is offered by Eurolines and RegioJet. Cheap tickets from Poland are offered by FlixBus. Almost all new long distance bus operators in Germany and Deutsche Bahn offer buses from various points in Germany or Austria to Prague for an overview of rates see this German website. As the market is very new and still very volatile companies might cease operations or newly emerge on short notice.

By train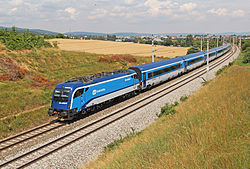 International train service runs from most points in Europe with direct connections from Slovakia, Poland, Germany, Netherlands, Switzerland, Austria, Hungary, Serbia, Belarus and Russia; in summer also from Romania, Bulgaria and Montenegro.

From Germany

EC trains operate every two hours from Berlin or Hamburg via Dresden and Bad Schandau in Saxon Switzerland to Prague and Brno. Direct overnight sleeper car serves Cologne Frankfurt, Karlsruhe, Copenhagen and Basel. Cheap tickets to Prague (and sometimes to Brno) are available at the website of German railways, if bought in advance. The price begin at for seat and for couchette.
German Railways operate express non-stop buses connecting Nuremberg, Munich and Mannheim with Prague, fully integrated to German railway tariff. If you have an InterRail or Eurail pass, consider that these buses require compulsory reservation.
There are four daily trains from Munich to Prague, but they are slower than the abovementioned bus, because of slow and curvy (although picturesque) railway at southwestern Czech border. The cheapest way is a
Bayern Ticket ( for one person, for group up to 5 people) to the Czech border combined with Czech domestic ticket (see #Cheap ticket combinations).
If you cross the border in a local train (not EC or EN), consider taking advantage of the Bayern-Böhmen-Ticket or the Sachsen-Böhmen-Ticket. In the vicinity of the Czech-German-Polish three country border, you may profit from the unified fare of the transport system ZVON

From Poland
There is one direct EC train from Warsaw to Prague and Ostrava and direct sleeper cars from Warsaw and Kraków. The ticket for the daytime train costs , if bought at least three days in advance. For night trains, there is no such cheap offer, but you can use a tricky combination, see #Cheap ticket combinations.
Apart from the long-distance trains there are very few local trains. For long-distance travel a semi-fast train from Wroclaw to Pardubice can be useful.
In local trains (not IC or EC), it is possible to buy a special cross-border ticket (Polish: bilet przechodowy) which is valid between the Czech and Polish (or vice versa) border stations and costs only 15 Kč or PLN2. You can buy it from the conductor on the train (or completely ignore it if the conductor does not emerge before you reach the other border station, which happens) and combine it with domestic tickets of the two countries. In the vicinity of the Czech-German-Polish three country border, you may profit from the unified fare of the ZVON transport system.

From Slovakia

As parts of former Czechoslovakia, the trains between Czechia and Slovakia are frequent. EC trains go every two hours from Bratislava to Prague and Brno, and from Žilina to Prague and Ostrava. There is one daily train from Banská Bystrica, Zvolen and Košice to Prague and Ostrava. All these cities have also a direct overnight sleeper car connection to Prague.
Regular one-way ticket to Prague costs from Bratislava and from Košice. There is a return discount of (roughly) 30% called CityStar. Slovak railways also offer discounted online SparNight tickets in advance - e.g. the day train from Bratislava to Praha costs and night train including couchette reservation from Košice to Prague .

From Austria

Railjet trains from Graz and Vienna to Prague and Brno operate every two hours. From Linz to Prague there are two directs connections and two more connections with change in České Budějovice.
Cheap tickets to Prague, Brno and Ostrava are available at Austrian Railways website, if bought at least 3 days in advance. The price begins at for Vienna-Brno, for Vienna-Prague and Linz-Prague.
If you cross the border in a local train (not IC, EC), you can take advantage of discounted return ticket EURegio.

Cheap ticket combinations
Full-price international tickets are quite expensive so, if no commercial discount fits your needs, you can combine domestic tickets to save money:
Buy a German/Austrian/Slovak/Polish domestic ticket to the Czech border and then ask the Czech conductor for a Czech domestic ticket starting at the border point (the surcharge for buying the ticket in the train is 40 Kč). Remember there is a significant group discount starting from 2 passengers. According to the Czech Railways website, conductors on international trains should accept payments in euros .
On weekends, instead of the standard Czech domestic ticket, you can also buy online a network ticket called SONE+ for 600 Kč (valid up to 2 adults and 3 children for one weekend day). You have to print this ticket online or present it on the screen of your notebook.
The border point names are:
from Berlin: Schöna Gr.
from Vienna: Břeclav Gr.
from Linz: Summerau Gr.
from Bratislava: Kúty Gr.
from Munich: Furth im Wald Gr.
from Nuremberg: Cheb Gr.
from Warsaw and Kraków: Bohumín Gr. (direct daytime trains between Prague and Warsaw) or Zebrzydowice Gr. (others)
from Wrocław: Lichkov Gr.
The Gr. means a border point to distinguish them from stations with the same name.

By bike
The Elbe Radweg crosses the German-Czech border.

Get around
Find your connections on one of following websites:
Both sites cover all Czech trains, buses and city transport and many train and bus lines abroad.
By plane
There is a domestic flight from
Prague
to
Ostrava
, operated by
CSA Czech Airlines
twice daily, but this is usually expensive and used mainly to connect with other flights to/from Prague.
By bus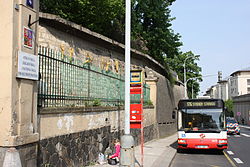 A cheap and excellent means of travelling between
Prague
and other major cities are the buses from Regiojet. These buses are usually a bit faster and cost less than the Czech trains (not considering discounts). On some routes (e.g. Prague to Brno) this is marginal, but on others such as Prague to Karlovy Vary or Liberec, there is no direct train connection so the buses are by far the best option. Usually, you do not have to book a seat but if you travel on Fridays or during holidays from or to Prague, it is recommended. You can reserve seats online at the Regiojet
website
. Apart from this operator there are many other bus companies that link Prague and other cities and towns, even remote villages, regularly. Most buses leave Prague from the central bus station at Florenc, but other major bus stations can be found at Na Knížecí (metro station Anděl), Černý Most, Zličín and Roztyly, all of which are located next to metro stations.
Local bus travel between small towns and surrounding villages is usually operated by companies named
ČSAD (district name)
, a remnant of the nationwide state-run company
Československá Autobusová Doprava
from communist times. On local buses you simply tell the driver where you're going and pay him a fare as you get on.
By car
Czech drivers may seem aggressive sometimes, especially in Prague, but it is far from the "madness" found in some southern European countries.
The Czech Republic is a
zero tolerance
country for alcohol. It's illegal to drive a motor vehicle under the influence of any amount of alcohol, and violations are heavily punished.
In order to drive on the well-kept motorways, however, you need to purchase a toll sticker unless you're riding a motorcycle. These stickers
cost 310 Kč
in 2018 for ten days (for vehicles lighter than 3.5 tonnes), but can be purchased for longer periods of time (1 month for 440 Kč or 1,500 Kč for a year). If you don't display a toll sticker on your car when you drive on the motorways, the fines can be very steep (5,000 Kč minimum).
Make certain that you purchase the correct toll sticker: there are those for vehicles under 3.5 tonnes in weight and those for vehicles between 3.5 and 12 tonnes. Vehicles larger than 12 tonnes in weight must use an on-board unit ("premid" unit) to pay tolls based on distance.
The condition of many roads is continually improving, but to be economical and fast, drive on the motorways as much as possible, although if you want to get to remote parts of the country you will not avoid side-roads that may be a little bumpy sometimes. Even after reconstruction, second-class roads in the countryside are ofter quite narrow, without dividing line in the middle.
Speed limits in the Czech Republic are usually 130 km/h on motorways, 90 km/h off the motorways, and 50 km/h in towns. Petrol is cheaper than the rest of Europe (33 Kč, Sep 2018), but it is expensive compared to the United States, as it is heavily taxed. If driving for a longer distance, it is economical to shop around for petrol - the price range between petrol stations is extremely wide. Petrol can cost 40 Kč in branded highway petrol station and 31 Kč in small town. Sometimes you can save 200 Kč on full tank just by going off the highway to tank. Petrol stations
ONO
usually have the best prices of petrol. There are usually three or more kinds of car fuel labeled by different colours - black is diesel, green is gasoline, with latter being usually sold in different kind - 95, better 98 and sometimes 92 (do not use 92).
Traffic fines can usually be paid on the spot, but always demand a receipt.
The use of either daytime running lights (dlr) or dipped headlights is mandatory even during daytime all year. Failure to have your lights on while driving may result in a police fine.
Compulsory equipment includes
First-aid kit
set of replacement bulbs
set of replacement fuses
warning triangle (not required for motorcycles)
reflective jacket
By train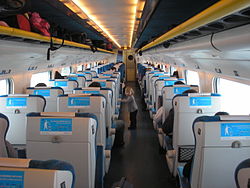 Trains in Czech Republic are operated mostly by state-owned company
České Dráhy
(Czech Railways). RegioJet (a subsidiary of Student Agency) and LeoExpress operate modernised trains between Prague and Ostrava.
The trains go to the most remote locations of the Czech Republic and unlike buses, they usually operate regularly during off-peak hours and during weekends. However, outside the modernised main corridors, the standard of travelling is often the same as it was in the 1970s, and therefore it is quite time-consuming to get to the provincial towns or villages, the trains tending to meander around the countryside.
Train categories
Osobní vlak (Os) - regional local train, stops everywhere.
Spěšný vlak (Sp) - regional fast train, skips villages.
Rychlík (R) - long-distance interregional express train, stops in bigger towns and cities only.
Rychlík vyšší kvality (Rx) - higher quality long-distance interregional express train, stops in bigger towns and cities only.
Express (Ex) - higher quality long-distance interregional express train, stops in major cities only.
EuroCity (EC) - highest quality international long-distance express train, stops in biggest cities only.
InterCity (IC) - highest quality national long-distance express train, stops in biggest cities only.
RailJet (rj) - highest quality international long-distance express train, stops in biggest cities only.
SuperCity (SC) - highest quality national long-distance express train, stops in biggest cities only.
EuroNight (EN) - highest quality international overnight long-distance express train, stops in biggest cities only.
Train tickets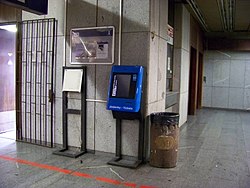 Tickets should be bought online in advance - for Czech Railways, which run on all national and international long-distance routes as well as on the vast majority (99%) of local railways, or (Czech only) and for the privately held companies, operating trains only on the Prague-Ostrava long-distance route. In each case, there are many advantages compared to buying at the ticket office: tickets are cheaper when bought in advance and the system automatically recommends the cheapest variant (sparing you the trouble of going through the, often Byzantine, tariffs). Visiting the ticket office is only necessary when paying with cash or when needing some special kinds of fares (for example, sleeping car reservations) unavailable online. Ticket purchased online don't have to be printed: It's usually enough to show the pdf file to the conductor on a laptop or tablet screen. The main disadvantage when buying tickets on-line is the need to supply the traveller's name and the number of a government-issued photo ID, such as a driver's license or a passport. You can usually cancel the online ticket for a small fee up to 15 minutes before departure.
The normal train ticket price on the ČD trains, always available even immediately prior to the departure, can be discouraging (roughly 1.40 Kč per km), but Czech Railways (ČD) offer plenty of discounts. Return tickets give you a 5% discount, and a group of travellers (even two travellers are considered as a "group") is treated roughly as "first person pays full price, others pay half price". Therefore, ask for "skupinová sleva" (group discount) and/or "zpáteční sleva" (return discount).
Regular travellers can use a
ČD loyalty card
, called
In-karta IN25
, for 150 Kč (3 months), 550 Kč (1 year) or 990 Kč (3 years). It offers a 25% discount for normal and return train tickets and 5–25% for the online tickets. Its price will pay for itself quickly. You have to fill in an application form at the ticket counter and provide a photograph. You will get a temporary paper card immediately and start using the discount. After three weeks you will get a plastic chip card.
The complete list of discounts can be found at the
ČD website
.
On the route between
Prague
and
Ostrava
, you can choose between three competing rail carriers: the national Czech Railways (operating both standard "Ex" and premium "SC" trains) and privately held
IC RegioJet
and
LeoExpress (LE)
trains. Considering price, LE, Ex and IC trains are equivalent (about 295 Kč), while the SC trains cost usually about 100 Kč more. Speed-wise, SC is the fastest, followed closely by LE, while IC and Ex lag behind. The on-board service is better on the LE and IC trains.
Travel tips
If you travel in a group on weekends, you can buy a
Group weekend ticket
for unlimited travelling on Saturday or Sunday. It is valid for group up to 2 adults and 3 children. The pass is valid in all trains including IC and EC, but in SC you need to buy a seat reservation for additional 200 Kč (or less, for less-frequented times). The whole-network variant costs 600 Kč and regional variant costs 200 to 275 Kč. Buying online and printing the ticket yourself gives you a small discount of 3% and you'll avoid the queue at the station.
Although many train stations were repaired and modernized, the rest is still like a trip back in time to the communist era. Try to avoid them in the late night hours. Trains are generally safe (there are regular police guards assigned for fast trains) and very popular mean of transport and they are widely used both by students and commuters. Therefore, especially the principal rail axis Praha-Pardubice-Olomouc-Ostrava is crowded during peak times (Friday and Sunday afternoon) and seat reservation is recommended.
Prague has a pretty good network of local trains connecting it with suburbs and surrounding cities called
Esko
(S-Bahn). The Prague public transport tickets (e.g. 32 Kč for 90 minutes) are valid on these trains (
Os
and
Sp
category) for travel within the area of Prague.
If you want to visit the dining car in the Czech Railways (České dráhy) train (the blue one), try to do so while the train is inside of the Czech Republic. While the train is in the Czech Republic, you can get some good and tasty meals (even traditional ones like "Svíčková") for around 150 Kč. If you order while the train is outside of the Czech Republic/Slovakia/Hungary, you will be charged almost double the price. This is not scam, it is official policy of the company.
Taking bikes or pets on the train
The basic ticket for bike costs 25 Kč for one train or 50 Kč for whole day. You load and unload your bike by yourself. Long-distance trains (with suitcase symbol in timetable) have a luggage wagon, where the train staff will care of your bike, but the ticket costs 30 Kč for one train or 60 Kč for a whole day. Some trains (with squared bike or suitcase symbol in timetable) require compulsory reservation for bikes for 15 Kč at counter or 100 Kč from train staff.
Smaller pets in cages or bags may travel for free. Bigger dogs must have a muzzle and must be on a leash and you have to pay a fee.
By bicycle
The Czech Republic is an excellent place for cycling. There are lots of pleasant country lanes, cycling marked paths and picturesque villages along these paths (always with a pub), it's easy to find the way, and the trains have bicycle racks in the baggage section for when you get tired. Try cycling in South
Moravia
region (close to Austrian borders) where you can find dozens of well-marked paths that will lead you through beautiful countryside full of vineyards, vine cellars and colourful villages.
Also border mountains (Krkonoše, Šumava, Jeseníky, etc.) are more and more popular among mountain-bikers. There are usually no fences along the trails but always keep to the roads or marked cycling paths here as these mountains are National Parks/Reserves and you can be fined if you cycle "off the beaten track".
Mapy.cz is a good source for cycling information - switch the map (via
Změnit mapu
-
Turistická
) to see cycling routes in violet color.
We Bike Prague
offers different options of guided and self-guided bike in the Czech Republic.
On foot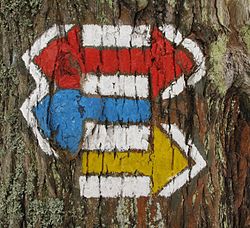 In addition to walking in the cities, there are a great number of hiking paths and scenery-rich trails going through the Czech Republic's forests and natural areas, and the
Czech Tourist Club
(Klub českých turistů) has mapped and marked these trails so that walkers can easily locate and navigate thousands of kilometres of scenic paths, in fact it is probably the best maintained system of marking in Europe. You can buy maps of their paths on their website , or in the Czech Republic in most bookstores, tobacco shops or museums (green maps, marked with the organization's symbol and the words EDICE TURISTICKÝCH MAP KČT 1:50000 at the top). These maps are based on military maps and very accurate. It's also possible to go by train to a small village at the edge of a forest and find the on-site map of the surrounding area, and four possible paths will be visible, marked in red, yellow, green, and blue nice tourist maps . Nearby such a map will be a set of directing signs, usually posted to a tree, pointing the direction on any of the coloured paths. The path's colour will be marked on trees throughout the path: three short horizontal bars, the outer two white and the innermost the colour of the path you're on. This symbol at times will appear as an arrow, indicating a turn. Bus and train stops will also be indicated on signs. You can also register to become a member of the Czech Tourist Club, where you can camp for 30–50 Kč a night in cottages around the Czech Republic.
By thumb
Hitchhiking is very common and some drivers stop even on places where they shouldn't.
Take care to use very a clear gesture with the thumb pointing upwards. A gesture looking like you are pointing to the ground may be mistaken for prostitution solicitation.
As a word of advice, if you are hitch-hiking through the Czech Republic from the south to the German town of Dresden,
never
go to or past Prague unless you are in a ride going all the way to Dresden. Prague itself has no major and continuous beltway, so residents of the area must maneuver a ring of major and local roads to get around the city from south to north. Therefore, the great majority of traffic you will encounter is going into the city. Past Prague, the major highway turns into a two-lane mountain road through local villages, in which again, the
great
majority of traffic is local and international travelers are hesitant to stop.
Try a letter-sized (A4) piece of paper with the destination written on it so it is clearly visible where you would like to go. See some other
Tips for hitchhiking
.
By thumb with pet
It is possible to hitch-hike with smaller dog, although "waiting time" will be longer. Expect another dog in the car.
Talk
The main language spoken is, not surprisingly,
Czech
. The
Slovak
language can often be heard, as there is a sizable Slovak minority and both languages are mutually intelligible up to a certain point. Czech people are very proud of their language, and thus, even in Prague you will not find many signs written in English (outside of the main tourist areas). Many older people, especially outside the large cities, are also unable to converse in English, so it's good to learn some Czech or Slovak before your arrival. However, most young people speak at least some English.
Most Czechs speak a second and often a third language. English is the most widely known, with German the most widely spoken second language among older people.
Russian
was compulsory in all schools during the communist era so most people born before c. 1975 speak at least some Russian (and often pretty well). However the connection with the communist era and the Soviet-led invasion in 1968 has given this language some negative connotations. Other languages, like French or Spanish, are also taught in some schools.
The Czech and Slovak languages are very difficult for English-speakers to grasp, especially if you're not really familiar with the other Slavic languages, including Russian. However, if you can learn the alphabet (and the corresponding letters with accents), then pronunciation is easy as it is always the same - Czechs and Slovaks pronounce every letter of a word, with the stress falling on the first syllable. The combination of consonants in some words may seem mind-bogglingly hard, but it is worth the effort!
The Czech language has many local dialects, especially in Moravia. Some dialects are so different that they can sometimes be misunderstood even by a native Czech speaker from a different region. However all Czech people understand the standard Czech (as spoken in TV, written in newspapers and taught in schools) and should be able to speak it (but some are too proud to stop using their local dialect). Some of them are even unable to speak standard Czech but write it correctly.
The vocabularies of Czech and Slovak are similar, with occasional words not understood. The younger generation born after the dissolution of Czechoslovakia is growing apart in the two separate countries, and they have problems understanding one another.
Buy
Money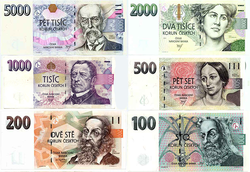 The currency of the Czech republic is the
koruna
(crown), plural
koruny
or
korun
, denoted by the symbol "
Kč
" (ISO code:
CZK
). The ISO code is often used internationally and locally, but the local symbol is
Kč
(for
Koruna česká
). However, you will more often see amounts just chalked up like "37,-" without "Kč" added at all.
One koruna is made up of 100
haléř (haléřů)
, but coins have only been issued in whole koruna values since October 2008.
Coins are issued in 1 Kč, 2 Kč, 5 Kč (all stainless steel), 10 Kč (copper-coloured), 20 Kč (brass-coluored) and 50 Kč (copper-coloured ring, brass-coloured centre) denominations. Notes are issued in 100 Kč (aqua), 200 Kč (orange), 500 Kč (red), 1,000 Kč (purple), 2,000 Kč (olive green) and 5,000 Kč (green-purple). See some banknote samples . 20 Kč and 50 Kč banknotes, haléř coins, and older-style 1,000 Kč and 5,000 Kč banknotes from 1993 are
no longer
legal tender.
Some major stores (mainly bigger chains) will accept euros, and it's also fairly common for accommodation providers to quote the price in euros. At shopping areas along the Austrian border and petrol stations in the whole country change is given in euros, but supermarkets and similar stores in downtown Prague (and probably other cities) return only Kč, even though they accept euros.
Currency exchange
Never
exchange money on the street. Also, if you're in Prague, don't exchange it in the tourist-oriented exchange offices. The "real" exchange rate you should be looking for can be found
here
. There is no "black market" with better rates, but there is a good chance you'll end up with a roll of worthless paper. Be very careful when you are exchanging money at a small exchange kiosk. They try to use tricks in order to give you a bad exchange rate. Ask for the total amount you will get and recompute it by yourself. Do not trust "0% commission" in big letter signs (often there is an "only when selling CZK" amendment in small letters, and buying koruny still includes a commission). On this website you can get good overview of reliable exchange places and rates.
Generally, exchange offices at airports, rail stations and main tourist streets do not offer a good rate. Local people exchange money in exchange offices in less frequented areas, such as around the "Politických vězňů", "Opletalova" or "Kaprova" streets. In some cases, one can get a better rate by using ATMs instead of changing cash. In a pinch, you can also try a bank such as Česká spořitelna - there will be a small commission but the rates are much better than those in the "tourist trap" exchange offices.
Major stores throughout the country accept Visa and EC/MC, as do all the tourist stores in Prague.
Tipping
Although it is customary to tip in the Czech Republic, it has very little to do with the size of the bill, and more to do with a sign of appreciation. It is common to round up the bill by a few crowns to make it even. Away from places regularly visited by foreigners, leaving a "tip" on a table after a meal at a restaurant is not the usual practice; locals may even object to it.
Tipping in tourist restaurants is a standard 10%, and is not normally added to the bill. Don't be confused by the percentage figures listed at the bottom of the bill - by Czech law, a receipt must show the VAT paid (21% in most cases) - the VAT is already included in the final amount, and you should add 10% to this. It is normal practice to give the waiter the tip
before
you leave the table. Tipping is
not
obligatory - if you weren't satisfied with services offered, don't bother tipping.
See
UNESCO sites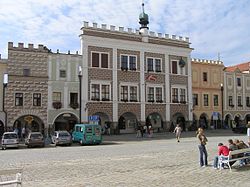 Castles and chateaux
There is more than 2000 of castles, castle ruins and chateaux in the Czech Republic. Wherever you are in the Czech Republic, there will be some castle or chateaux nearby.
Castles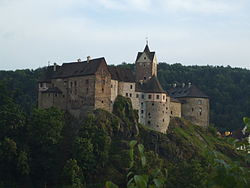 Iconic landmarks of Czech landscape are castles. Often situated on top of the hill, from most of the castles is beautiful view to countryside. Some of those castles are just ruins, but some castles are well-preserved with old interiors, furniture etc. Most picturesque and interesting are for example:
Loket
Castle,
Karlštejn
Castle,
Kost
Castle,
Rabí
Castle ruin,
Český Šternberk
Castle,
Bezděz
Castle,
Křivoklát
Castle,
Bouzov
Castle and
Pernštejn
Castle
Chateaux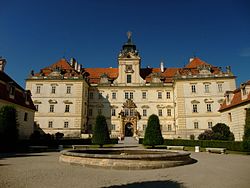 Renaissance, baroque or neo-classical, possibly every Czech town has its own chateau. For example:
Konopiště
Chateau,
Valtice
Chateau,
Lednice
Chateau,
Hluboká nad Vltavou
Chateau,
Kuks
Chateau,
Mikulov
Chateau,
Vranov nad Dyjí
Chateau,
Jaroměřice nad Rokytnou
Chateau,
Červená Lhota
Chateau,
Děčín
Chateau and
Orlík
Chateau.
Churches
The Czech Republic is a land of many great cathedrals. Perhaps the most important one is the Gothic
St. Vitus Cathedral
at the
Prague
Castle. It has a great importance for the Czech nation as a coronation place of Bohemian kings and also the place of their last rest. It contains treasury for the most precious relics of the kingdom and remains of patron saint Wenceslaus.
Another Gothic jewel is the monumental
St. Barbara's Church
of
Kutná Hora
, a part of
UNESCO
cultural heritage. St. Barbara is a patron of miners, which is particularly appropriate in
Kutná Hora
, which gained its wealth and fame in the Middle Ages due to rich silver mines.
Among other highlights are
St. Bartholomew's Cathedral
in
Pilsen
,
Cathedral of the Holy Spirit
in
Hradec Králové
,
Saint Wenceslas Cathedral
in
Olomouc
and
Cathedral of St. Peter and St. Paul
in
Brno
.
Monasteries
Kladruby Monastery
Brevnov Monastery
Plasy Monastery - cistercian
Vyssi Brod Monastery
Pilgrim places
Svata Hora u Pribrami
Hostyn
National Parks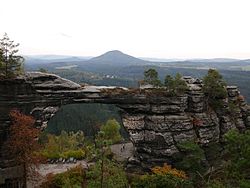 Protected Landscape Areas
Beautiful landscape areas include
Bohemian Paradise
,
České Středohoří
,
Křivoklátsko
,
Třeboňsko
,
Beskydy Mountains
,
Jeseníky Mountains
.
Others
The Macocha Caves, north of Brno, are definitely worth a visit. You can take a guided tour into the caves, which will take you through a myriad of winding tunnels, with close up views of stalactites and stalagmites. The tour ends with a boat ride on an underground river.
The Battle of Austerlitz - Slavkovské bojiště is one of the most important events in the history of Europe in the 19th century.
Technical museum in Brno (nice and modern)
Lakes under Palava (mountains). This lakes are actually river dams but good for sailing and fishing (you must have fishing license) it's full of big fishes.
Mikulčice archaeological site, site of the former capital of the Great Moravian Empire (c. 900 AD).
Do
Hiking
Czech Republic has an excellent and sophisticated system of trail blazing, marked trails are about everywhere. Choose an area, buy a hiking map for the area (best brand is "Klub českých turistů", 1:50000 military based maps covering the whole country, available in most large bookstores) and go.
Marked trails can also be seen on
Seznam online maps
- tourist paths are marked green, red, blue or yellow.
Swimming
Many places in the Czech Republic are great for swimming, and there are many designated public swimming areas (called koupaliště). A list of places suitable for swimming is available here: . However, in hot weather, the quality of the water in some places can fall below EU standard regulations.
Nudism/naturism
Although the Czech Republic is a land-locked country, it does have a lot of nudist/naturist beaches near lakes. A full list is available here: . Full nudity on other beaches is legal, but rare, and usually only happens in non-crowded places.
Eat
In a vast majority of better restaurants located in major cities you can pay by credit card (EC/MC, VISA), but don't be surprised if a few will not accept them. Make sure to check the door for respective card logos when entering the restaurant or ask the waiter before ordering. Czechs sometimes use special meal tickets (
stravenky
) to pay in some restaurants - these are tax-preferred and subsidised by employers. You won't get these tickets unless you get a job in the Czech Republic, just don't be surprised when you see them.
Traditional local food
Traditional Czech food is hearty and suitable after a hard day in the fields. It is heavy and quite fatty, and is excellent in the winter. In the recent time there was a tendency towards more light food with more vegetables, now the traditional heavy and fatty Czech food is usually not eaten everyday and some people avoid it entirely. However nothing goes as well with the excellent Czech beer as some of the best examples of the traditional Czech cuisine, like pork, duck, or goose with knedlíky (dumplings) and sauerkraut.
A traditional main meal of a day (usually lunch) consists of two or three dishes. The first dish is hot soup (polévka). The second dish is the most important part, very often based on some meat and side-dish (both served on the same plate). The third, optional part is either something sweet (and coffee) or small vegetable salad or something similar.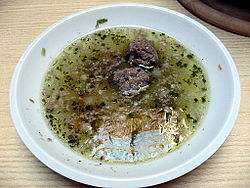 Czech cuisine knows many different kinds of
soup (polévka)
. The most common are
bramboračka
- potato soup (sometimes with forest mushrooms),
hovězí vývar
- clear beef soup (sometimes
s játrovými knedlíčky
- with liver dumplings),
gulášovka
- thick goulash soup,
zelňačka
- thick and sour cabbage soup,
česnečka
(strong garlic soup, very healthy and tasty, but do not eat this before kissing),
kulajda
- thick soup with forest mushrooms and milk,
hrášková polévka
from young green peas,
čočková polévka
from lentils,
fazolačka
from beans,
rajská polévka
- tomato soup, and many others. A special case not to everyone's tastes is
dršťková polévka
(tripe soup).
Rybí polévka
- thick fish soup made from carps (including its head, some innards, roe and sperm) is the traditional soup of the Christmas Dinner.
Some soups are eaten with bread, sometimes small croutons are put inside the soup just before eating. Soup can be also eaten as the only dish, especially for a smaller dinner.
The second dish (main course, hlavní jídlo) of a meal is (in the traditional cuisine) often the famous heavy and fatty part, very often based on
pork
, but also
beef
,
chicken
,
duck
, or other meat. Important part of most main courses is side-dish (the whole dish including the side-dish is served on one plate) - usually cooked or baked potatoes, fries, rice, pasta or the most typical side-dish of the Czech cuisine -
knedlíky
.
Knedlíky (usually translated as
dumplings
) come in many different kinds. Most kinds are used as side-dish, however some kinds with filling are used as dish by itself. The most common type, always used as side-dish, are
houskové knedlíky
(
bread dumplings
). These are cooked in a shape of a cylinder, which is then cut into round slices about 8 cm in diameter remotely resembling white bread. Houskové knedlíky are served with Czech classics such as
guláš
, similar to Hungarian goulash but with a thinner sauce and less spicy;
Svíčková na smetaně
, beef sirloin with a creamy root vegetable (carrot, celeriac, parsnip) sauce, served with a tablespoon of cranberry sauce, a slice of orange and whipped cream;
Vepřová pečeně se zelím a knedlíkem locally named as Vepřo-knedlo-zelo
, the combination of roast pork, knedlíky and sauerkraut. The latter combines very well with the world-famous Czech beer, the major brands being Pilsner Urquell, Gambrinus, Budvar, Staropramen, Velkopopovický Kozel and Krušovice. If you are lucky enough to enter a pub serving Svijany, you should definitely order it, as it is believed to be one of the most delicious brands worldwide.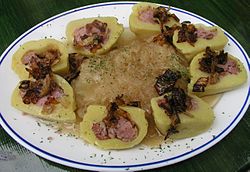 Another common kind is
bramborové knedlíky
(
potato dumplings
), the slices are smaller, more yellow in color, and are also always served as a side-dish. A typical combination is roasted meet (pork or lamb for example) with spinach and bramborové knedlíky or duck with sauerkraut and bramborové knedlíky (or combination of bramborové and houskové knedlíky). Less common are
chlupaté knedlíky
(
hairy dumplings
, but there are no hairs, don't panic), which are not sliced but cooked in shape of balls. They are also usually served with roasted meat and either sauerkraut or spinach.
Other Czech dishes include
pečená kachna
, roast duck again served with bread or potato dumplings, and red and white sauerkraut;
moravský vrabec
, known as 'Moravian Sparrow', but which is in fact pork cooked in garlic and onions;
smažený kapr
, fried carp breaded and served with a very rich potato salad and eaten on Christmas Eve;
pečené vepřové koleno
, roast pork knee, served with mustard and fresh horseradish;
bramborák
, garlicky potato pancakes;
smažený sýr
, breaded deep-fried edam (the most popular
cheese
in the Czech Republic) served with boiled potatoes or french fries and tartar sauce;
párek v rohlíku
, long, thin hot dogs with crusty rolls and mustard or ketchup. If you must, you can always get
hranolky
- french fries. And of course, the ubiquitous
zelí
(raw cabbage), which is served with absolutely everything. Game is also very good, and includes dishes such as
kančí
, wild boar,
bažant
, pheasant and
jelení
or
daňčí
, both types of venison. These are almost always served either with dumplings and red and white cabbage, or as guláš.
Don't expect a wide selection of
zelenina
, vegetables, unless in the countryside - peppers, tomatoes and cabbage are the most commonly-seen side dishes, often served as a small garnish.
Visitors may be surprised when they find "American potatoes" on the menu. These are actually potato wedges, usually spiced.
Meals you usually don't get in restaurants
Generally, probably the best place to really try the Czech cuisine is to be invited for such a meal to somebody's home. However, it is not so easy, because people today tend to prepare simpler and more international foods. Traditional Czech cuisine is often reserved to Sundays or some holidays or prepared by old grandma when her children visit her. This is not a rule, but it is a common situation. In common restaurants, even the better ones, the traditional Czech food usually does not match what the old granny serves. This does not mean that the food is bad or not tasty, but it is missing something that the home preparation can provide. In luxurious restaurants specialized in Czech cuisine, the food can be excellent, but the luxurious style and creative improvements by the chef often do not match the style of the old granny. Again, this is not a hard rule. Sometimes you can compliment the food in a restaurant "as if my grandma prepared it."
There are some dishes that are usually not served in any restaurants or pubs, are usually made at home and are worth trying if you have the opportunity.
Brambory na loupačku
("potatoes to be peeled") is a cheap and simple meal usually made in the countryside. Whole unpeeled potatoes are cooked in a big pot and put in the pot itself or a bowl on the table. You just take a hot potato from the pot, peel it yourself, put some salt, butter, and/or curd (tvaroh) on it and eat it. Drink it down with lot of cold milk. For such a simply meal it can be incredibly tasty, especially when eaten in the countryside after a day spent outside and chatting over it.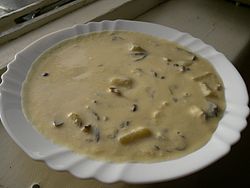 Picking mushrooms in forests is a very popular activity in the Czech Republic. Probably not surprisingly, collected mushrooms are eaten then. In restaurants, usually only cultivated mushrooms are used. If forest mushrooms are served in a restaurant, then usually only as a minor addition to a meal. Homemade mushroom meals are a completely different story. A classic example is
Smaženice
(the name is based on the verb 'smažit' - to fry), also known as míchanice (to mix) - forest mushrooms, the more kinds the better, are sliced to small pieces, mixed and stewed (with some fat, onion, and caraway). Later, eggs are added to the mixture. Smaženice is served with bread.
Smažené bedly
are whole caps of parasol mushrooms coated in breadcrumbs and fried.
Černý kuba
(literally
black jimmy
) is a traditional Christmas fasting meal made from dried mushrooms and peeled barley.
Houbová omáčka
(mushroom sauce), served with meat and bread dumplings is also popular. Fresh or dried mushrooms make also a nice addition to
bramboračka s houbami
(potato soup with mushrooms).
Kulajda
is a soup from mushrooms and cream. Soups and sauces are the most likely forest mushroom meals to find in a restaurant, because they contain relatively small amount of mushrooms.
If you want to pick mushrooms by yourself, be careful. There are hundreds of species, some of them very tasty, some merely edible, but some poisonous or even deadly. There is also a species used as a hallucinogenic drug. A tasty and edible species may look very similar to a deadly species. If you do not know mushrooms very well, you should be accompanied by an experienced mushroom-picker.
Beer snacks
Also try traditional beer snacks, often the only food served in some pubs (hospoda, pivnice), and designed to be washed down by a good beer:
Utopenec - (means 'drowned man' in Czech) a pickled sausage with onion, garlic and other vegetables and spices.
Zavináč - (rollmop) a slice of pickled fish, most often herring or mackerel, rolled-up and filled with various pickled vegetables (sauerkraut, onion, sometimes carrot or pepper).
Tlačenka s cibulí - (brawn with onion) a slice of haggis-like meat pudding, sprinkled with vinegar and garnished with fresh onion slices. Beware, can be rather acidic due to vinegar.
Nakládaný Hermelín - pickled Brie-like cheese, often marinated with garlic and chilli.
Pivní sýr - beer cheese - a soft cheese, with a strong, Cheddar-like flavour. You should add a splash of beer to the cheese, and then mash it all together, and serve it on traditional Czech bread - Šumava (the name of a region in South Bohemia) is the most common bread, a very tasty dense loaf made from rye and carroway seeds.
Tvarůžky or Syrečky - traditional cheese with a very strong aroma, and very much an acquired taste. Often served deep-fried, but can be eaten alone, just with some chopped onion, mustard and bread. Sometimes also marinated in beer ('syrečky v pivu'). This cheese naturally contains almost no fat (less than 1%).
Romadur - traditional cheese with strong aroma. Aroma is similar to Tvarůžky, but Romadur is different type of cheese.
Matesy s cibulí - (soused herring) cold fish served with onions.
If you want a warm, bigger, and more complicated meal which goes excellently with beer, get some of the typical Czech meals based on fatty meat (pork, duck, or goose) with sauerkraut and knedlíky (dumplings). Another excellent option is a whole pork knee with horseradish and bread (
ovarové koleno s křenem
).
Sweets
Czechs like sweets but consumer patterns are different compared to France, USA or the UK. As everywhere some traditional treats have become a mass-market production for tourists, others are pretty difficult to find.
On the street
Lázeňské oplatky - spa wafers from Mariánské Lázně and Karlovy Vary (major spa towns in Western Bohemia, better known by their German names of Marienbad and Karlsbad) are meant to be eaten while "taking the waters" at a spa, but they're good on their own, too. Other major spas are Karlova Studánka (favourite destination of Václav Havel - former Czechoslovakian president), Františkovy Lázně, Jánské Lázně, Karviná, Teplice and Luhačovice. You will find them most easily not only in spa resorts but also in Prague. Have them either out of the box on your own or heated and iced with sugar, cinnamon, etc..
Trdlo or trdelník - is available in dedicated sell-points in the streets of Prague. It is a mediaeval style sweet roll made from eggs and flour.
In restaurants
Jablkový závin or štrůdl, apple strudel, often served warm with whipped cream.
Medovník - a newcomer having quickly spread in most restaurants. A brown high cake made of gingerbread, honey and walnuts.
Ovocné knedlíky - fruit stuffed dumplings served either as main course or a filling dessert. The smaller ones ('tvarohové') come with plum, apple or apricot filling, the bigger ones ('kynuté') come with strawberries, blueberries, povidla (plum jam) or toher fruits. Knedlíky are served with melted butter, iced with tvaroh (curd cheese) and sugar, and topped with whipped cream.
Palačinka - not much in common with French crepes, these pancakes are usually thicker and served with a wide choice of fillings including chocolate, ice-cream, fruit and whipped cream.
Cukrárna
Also try the wide variety of rich cream cakes usually found in a
Kavárna
(a cafe), or a
Cukrárna
(a shop which sells all things sweet together with ice cream and drinks, found throughout the Czech Republic and often the only place open in small towns and villages on Sundays). Czech cakes are similar to their Viennese cousins due to the shared history of both countries under the Austro-Hungarian empire. Also sample
Vídeňská káva
(Viennese coffee), coffee served with a mountain of whipped cream.
Rakvička (literally a little coffin) is a light crispy biscuit with cream,
Větrník is a round French éclair style cream cake,
Punčák is a rum soaked yellow/pink biscuit sugar-glazed cake,
Laskonka is a coconut and cream based sandwich cake, and many more!
Home made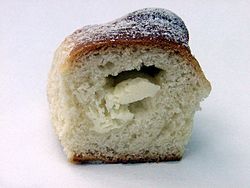 Bábovka - a traditional cake, similar to marble cake, fairly dry, and usually served dusted with icing sugar.
Buchty - (singular Buchta)traditional buns filled with tvaroh (curd cheese), mák (poppy seeds), or povidla (plum jam)
Koláče - (singular Koláč) rather popular flat tarts topped with various sweet fillings like tvaroh, povidla, mák, fruit jams, chopped apples and nuts. Their size ranges from bite-sized ('svatební koláčky') to pizza-sized, which often contain several fillings combined into an elaborate pattern ('Chodský koláč' or 'frgál').
Vegetarian food
Finding a vegetarian meal in the Czech Republic is not as difficult now as it once was. In tourist areas at least, such as Prague and the Bohemian Paradise, most restaurant menus contain a vegetarian meals category (
bezmasá jídla
or
vegetariánská jídla
) with 2-3 options. People may have their own interpretation of 'vegetarian' though, and it is not uncommon to find dishes such as "broccoli bacon" or prawns listed under "vegetarian meals".
In traditional restaurants the choice in vegetarian food is usually limited to fried cheese, dumplings (knedlíky), omelette, potatoes (cooked, baked, fried or as 'potato pancakes') and sometimes a Greek salad or cooked vegetables. Vegetables practically always have to be ordered separately, even if they appear to be part of the dish: e.g. the vegetables listed in a menu option called "potato pancakes with vegetables" are most likely a garniture consisting of a few leaves of lettuce and a slice of tomato.
Bigger towns have foreign cuisine restaurants, mostly Italian and Chinese, which can serve you meat-free dishes such as vegetarian pasta.
Drink
The Czech Republic is the country where modern beer (
pivo
in Czech) was invented (in
Plzeň
). Czechs are the heaviest beer drinkers in the world, drinking about 160 litres of it per capita per year. Going to a cosy Czech pub for dinner and a few beers is a must!
The best-known export brands are
Pilsner Urquell
(Plzeňský Prazdroj),
Budweiser Budvar
(Budějovický Budvar) and
Staropramen
(freely translatable as "Oldspring"). Other major brands which are popular domestically include
Gambrinus
,
Kozel
,
Bernard
(a small traditional brewery, with very high quality beer),
Radegast
, and
Starobrno
(made in
Brno
, the capital of
Moravia
). Other fantastic beers worth tasting are
Svijany
and
Dobřanská Hvězda
. Although many Czechs tend to be very selective about beer brands, tourists usually don't find a significant difference. And remember, real Czech beer is only served on tap – bottled beer is a completely different experience. High-quality beer can almost certainly be found in a
hospoda
or
hostinec
, very basic pubs which serve only beer and light snacks. Take a seat and order your drinks when the waiter comes to you - going to the bar to order your drinks is a British custom! But beware, the handling of the beer is even more important than its brand. A bad bartender can completely ruin even excellent beer. Best bet is to ask local beer connoiseurs about a good pub or just join them.
Beers are sometimes listed by their original sugar content, which is measured in degrees Plato (P/°). The difference is generally apparent in the final alcohol content. Normal beer is about 10° (such as Gambrinus and Staropramen, which results in 4% ABV), lager 12° (such as Pilsner Urquell, which results in about 4.75% ABV). The latter is stronger and more expensive, so you should specify which one you want when you order.
Czech lager is nothing like the fizzy lagers found in many other countries. Instead, it has a very strong, hoppy, almost bitter flavour, and goes very well with heavy dishes like duck or pork and dumplings or strong
cheese
. It always has a thick head on the top when it is served, but do not be afraid to drink "through" it, it is fun and it slowly disappears anyway, nevertheless do not drink the beer too slowly as the fresh cold taste (especially in hot summers) quickly fades – the "true" Czech connoisseurs do not even finish this "tepid goat," as they call it.
The right beer bought in shops is only in half-litre brown glass bottles with sheet-crown cap. Experienced earthy beer drinkers drink it directly from the bottle. Some breweries distribute also big (two-litre or 1.5 litre) plastic bottles but they are considered a bit barbarian and degraded by Czechs, and the better breweries ridicule such form. Also sheet-can beer is perceived as an alien.
Wine
Wine (
víno
in Czech) is another popular drink, particularly wine from Moravia in the south-eastern part of the country where the climate is more suited to vineyards. White wines tend to be the best as the growing conditions are more favourable for them. For white wines, try
Veltlínské zelené
(Green Veltliner),
Muškát moravský
(Moravian Muscatel),
Ryzlink rýnský
(Rhine Riesling) or
Tramín
(Traminer), or red wines such as
Frankovka
(Blaufrankisch),
Modrý Portugal
(Blue Portugal, named after the grape, not the country), or
Svatovavřinecké
(Saint Lawrence). Also try ice wine (
ledové víno
) made when the grapes are harvested after they have frozen on the vines, or straw wine (
slámové víno
) made by leaving the grapes to ripen on straw) – these wines are more expensive and are similar to dessert wines.
Bohemia Sekt
is also popular with Czechs, and is an inexpensive sweet, fizzy wine, similar to Lambrusco, and drunk at celebrations. The best places for wine are either a wine bar (
vinárna
), or a wine shop (
vinotéka
) which sometimes has a small bar area too.
Spirits
For spirits, try
Becherovka
(herb liqueur, similar to Jägermeister, tastes of a mixtures of cloves and cinnamon, and drunk as a digestive),
slivovice
(plum brandy, very popular as a pick-me-up),
hruškovice
(pear brandy, less fiery than Slivovice), and so on. Spirits are made out of almost every kind of fruit (Plums, Peaches, Cherries, Sloes, etc.). Czech unique
tuzemský rum
(made from sugar beet, not from sugar cane as the Cuban rum, sold under brands like
Tuzemák
to conform with EU market rules). Be careful as all are about 40% alcohol.
Non-alcoholic
Generally, fruit sparkling waters (as well as coke waters) are named
limonáda
in Bohemia or
sodovka
in Moravia. Draught "limonades" of various types used to be a very cheap and available beverage in common pubs in rural and hiking areas. Now, more expensive "Cola-Fanta-Sprite" choice or draught or bottle Kofola are available usually.
Kofola
, a coke-like drink is also very popular, and some Czechs say it is the best thing the communists gave them.
Mineral waters are popular, but tend to have a strong mineral taste. Try
Mattoni
, or
Magnesia
, both of which taste like normal water and still claim to be good for your health. If you want bubbles, ask for
perlivá
. If you want it non-carbonated, ask for
neperlivá
. Sometimes you can see
jemně perlivá
– it is "lightly bubbled" water. Many restaurants don't make any difference between "sparkling water" and "sparkling mineral water". Sparkling water (without flavour) is traditionally named
sodovka
(
sodová voda
, soda water) in Bohemia and
sifon
in Moravia.
Usually, also some fruit juices are on offer.
Restaurants and most of pubs offer also
tea
and
coffee
. The basic form of coffee is
turecká káva
(Turkish coffee) with grounds, but it is offered also drip coffee or instant coffee or milky coffee, especially with whipping cream (vídeňská káva, Viennese coffee). Broader assortment is offered in cafes (
kavárna
) or tea rooms (
čajovna
). Cofes are visited especially by seniors, ladies or intellectuals, tea rooms have east-oriented atmosphere and are very popular among non-alcoholic young people in last decades.
At many train and subway stations and other places, cold and hot non-alcoholic beverages are available in 24/7 vending machines.
Others
Restaurants and pubs do not offer water for free. Not surprisingly, as beer is the national drink, it is usually the cheapest drink you can buy, with prices ranging from 15–60 Kč () per half litre, depending on the attractiveness of the pub to tourists. Drinks are brought to your table, and often each drink is marked on a small slip of paper which is kept on the table in front of you, so you can keep count of what you have had. When you are ready to leave, ask the waiter for the bill – he or she will calculate the bill according to the number of marks on the paper. It is common to share tables in busy pubs and Czech people will ask
Je tu volno?
(Is this seat free?), before they sit down.
Try also
svařák
, hot mulled wine served in all pubs, and outdoors at Christmas markets,
grog
, hot rum and water served with a slice of lemon - add sugar to taste, and
medovina
, mead, again usually served hot, and particularly good for warming up at a cold winter market. Finally, if you are heading into Moravia, try
burčák
, a speciality found only around the end of the summer, or early autumn. It is extremely young wine, usually white, and is the cloudy, still fermenting stage in wine production when the wine is very sweet, and very smooth to drink. It continues to ferment in the stomach, so the alcohol content at the time of drinking it is unknown, but it is usually high, creeps up on you, and it is very moreish. Czechs say that it should only be drunk fresh from the vineyard, and many small private wine makers are passionate about it, waiting up into the night for the moment when the wine reaches the
"burčák"
stage. You can see it at wine festivals around the country, and sometimes in markets or wine bars too.
Work
Citizens of the EU can work in the Czech Republic without a work permit (your employer should register you at a Labor Office at the beginning of your work stay); otherwise, you'll need a work visa.
Prague is probably the best place to foreigners to look for a job because there are many multinational and English speaking companies. It is also easy to get a job teaching English because of a high demand. Unemployment rate is the lowest in EU, so it might be more difficult to find a long-term accommodation rather than a job in Prague.
The most popular websites to search for a job are Jobs.cz and Prace.cz . These websites are free to use.
There are many flexible office solutions that enable you to rent office space for a short term across the country. See for example
Regus
. There are also a few coworking spaces in large cities. See the list of coworking spaces at
Navolnenoze.cz
.
Stay safe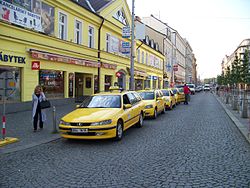 Taxi drivers: warning - negotiate the price before you use taxi or use a reputable company (e.g. Liftago, Uber). Prague taxi drivers are known for taking you the longest possible way to earn more money. Prague City Council has introduced new regulations which will see all legitimate taxis painted yellow. Public transportation is also very cheap, fast and reliable. In Prague, the metro runs up to midnight, and night trams run throughout the night, all of them converging at a central tram stop, Lazarská.
Pickpockets: Watch your pockets, especially if there is a crowd (sights, subway, trams, in particular numbers 9, 10 and 22) Watch out for large groups of people jostling you. Beware of a particular pickpocket gangs operating in Prague: they are mainly male, although sometimes there are women too; all are extremely overweight and rely on their sheer size and number to disorientate tourists. They tend to operate on the 9, 10 and 22 trams, as well as the central metro stations, usually just as people are getting on and off, or on the escalators. Don't pull out your tickets unless you are specifically asked to do so. And keep your wallet and money securely locked and separate from each other at all time. Don't challenge them as they can become aggressive, but keep your eyes open. Prosecutions for pickpocketing are rare as legally the police have to catch the pickpocket in the middle of a crime.
Prostitution: Prostitution is not illegal in the Czech Republic. However, officially prostitution does not exist as a legal business. Prostitutes do not pay taxes and prostitution is not regulated by the state. The health risk may be very high, especially in cheap brothels or on the street. There also have been cases of prostitutes offering a drink with sleeping pills to their customers and stealing everything from them. Pay attention to the age of the prostitute, paying a person under 18 years for sex is a criminal offense (otherwise the age of consent is 15).
Marijuana: Marijuana is basically illegal in the Czech Republic, but it is quite popular especially among young people. In case the police catch you smoking or possessing marijuana, you want to be very polite with them. The reason is that by the current law, possessing only a "larger than small" amount of marijuana is a criminal offence. A "larger than small" amount of marijuana is defined as more than 15 g.
Some areas inhabited prevalently by poor, homeless and disadvantaged sections of the society are deemed unsafe. In such places, there is somewhat increased danger of pockets, robbery or even rape. Whole quarters are affected in some cities of North Bohemia (Most, Litvínov, Ústí nad Labem) or in Ostrava.
Other than that, the Czech Republic is a very safe country.
Stay healthy
Grocery stores do not sell
over-the-counter drugs
, such as aspirin. You will need to go to a pharmacy (
lékárna
), which is usually open M-F 08:00-19:00. There are 24-hour pharmacies in the bigger cities, and you should find an address for the closest one to you listed in the window of the nearest pharmacy to you. If you are in Prague, the most central 24-hour one is in Prague 2 - on the corner of Belgická and Rumunská streets - they dispense both prescription and non-prescription drugs from a small window on Rumunská out of hours - ring the bell if there is no-one there.
Tap water
is safe to drink. It's especially good in Prague although in small towns, the amount of chlorine added can be quite strong. Of course, mineral water from
Karlovy Vary
tastes great!
A reputable hospital in Prague is
Nemocnice na Homolce
, Address: Roentgenova 37/2, Prague 5 (tel 257 272 350). There is a foreigners' clinic (Cizinecké oddělení) there with English-speaking receptionists who can make appointments for you. Most doctors speak some English, and the level of care is of a very high standard.
Central Europe and parts of the Czech Republic have
ticks
(
Ixodes ricinus
) which can carry Encephalitis or Lyme Borreliosis. Ticks hide in grass and bushes, so try to stay on trails and inspect exposed areas of skin after a hike. Vaccination against Encephalitis is available and recommended. If you want to bushwhack, make sure you have the vaccination and wear long trousers. A good insect repellent (which contains DEET), might be helpful, too.
Ticks like to cling to any soft, warm, well-perfused areas of your body (undersides of knees and elbows, skin around ankles, groins, neck area, behind your ears, etc.) and if not removed, they'll suck your blood until they grow about 1 cm big. Never try to scratch a tick off or pull it out, because damaging it can cause you a serious infection. The sooner the tick is removed, the smaller the chance of infection. Either ask a physician to remove a tick for you, or try to remove it by yourself: lubricate your finger with any greasy lotion and gently wag a tick from side to side until it wobbles free. Then flush it down the drain - never crush or burn it to avoid infection. Watch the affected spot: if you see a growing red spot developing there any time during next several months, immediately visit your physician and tell him that - you might have contracted Borreliosis. It is dangerous, but it can be easily treated with antibiotics during early stage. The American vaccination against Borreliosis most probably won't work against European strains (
B. afzelii
and
B. garini
). Ticks are sometimes present even in city parks, including Prague.
Respect

The Czech Republic, along with its neighbours Slovakia, Austria, Poland and Hungary, is part of Central Europe. Often in Western Europe and North America it is incorrectly referred to as an "Eastern European" country, and most Czechs are very sensitive about this- many will even pre-empt the ignorance of some foreigners by asking "What part of Europe would you say the Czech Republic is in?" Get on their good side by answering "Central Europe", not Eastern!
Czechs don't appreciate when foreigners incorrectly assume that their country was part of the Soviet Union or the Russian Empire – both definitely false – although it was part of the Soviet Bloc and, until 1918, an Austro-Hungarian territory. Commenting about how "everything is quite cheap here" comes across as condescending about the country's economic status.
The Czechoslovakian communist regime following the Second World War is still a sensitive issue for many and that it is easy to upset people in discussions on the subject.
Performing a Nazi salute is a criminal offence.
Czechs are one of the most atheist people in the world. This is true especially in large Bohemian cities. Don't assume that anyone you do not know believes in God or has a passion for Christianity. Respect that and your religion will also be respected.
Always say hello (Dobrý den) and goodbye (Na shledanou) when you enter and leave a small shop, as it is polite.
While dining at a restaurant with a host's family it is customary for them to pick up the bill, the opposite of most Western standards. Don't assume they will - but also don't be surprised if they do.
When entering a Czech household, always remove your shoes. Czechs usually wear slippers or sandals when inside a house and never their outdoor shoes. Depending on how traditional the host family are, they may insist you change immediately into house shoes as a hygiene precaution, though this is rare. At the very least they will offer you some to keep your feet warm.
Mentioning Czech towns and places with their former German names, when asking for directions (e.g. referring to Budweis instead of České Budějovice) may cause confusion and may be regarded as offensive and disrespectful towards the Czech people.

Moravia

The vast majority of Moravians will take no offence to being called Czechs, and consider themselves to be both. If you are attempting to speak Czech, beware of the complexities and slight differences between the terms Čechy (Bohemia) and Česko (Czech Republic). Much like a Welshman or Scotsman wouldn't take too kindly to his country being called England, or a Frisian might raise an eyebrow over his country being called Holland, using the term Čechy (Bohemia) to refer to the entire Czech Republic may not be appreciated by a Moravian. However, since there are no mainstream separatist movements in Moravia, and there is definitely no ethnic conflict, it is infinitely more likely you'll be showered with kisses and plied with alcohol for simply making an attempt to speak Czech.

Connect

There are three main mobile phone operators using the GSM standard, their coverage is very good (except in some remote, mostly uninhabited areas). If you find using roaming with your own operator too expensive or you want to have a Czech phone number, you can buy an anonymous prepaid card from any of the three main operators. However, the pricing schemes are usually quite complicated and some investigation may be necessary to find the ideal solution (even with the prepaid cards, operators offer various schemes including various additional 'packages'). GPRS and EDGE is widely supported, 3G networks support is in its beginnings (O2, Vodafone and T-mobile, mostly in Prague). The fourth operator (U:fon) uses some custom standards and you have to buy special hardware from them.
There are still some telephone boxes available, but they are gradually vanishing since the advent of mobile phones. Some still accept coins, but most of them require a special prepaid telephone card.
You can call emergency numbers from any phone for free (even without a card). The universal emergency number 112 is functional and you can use it, however you will only reach a telephone operator who will need to contact the real emergency service for you. To save precious time, it is best to directly call the service you need: 150 for firefighters, 155 for medical emergency, and 158 for state police.
Wifi is available in many restaurants and most cafés, especially in larger cities. In particular, all branches of Starbucks, KFC, Gloria Jeans Coffee and Costa Coffee offer free access. You may need to ask a waiter for the passphrase. There are also some hotspots available on the streets and some city quarters (for example in Prague) offer free wifi coverage for everyone. However such coverage is usually very slow and unreliable and you may need to create an account (using a web browser and the page it is automatically redirected to) to be able to use it. In most larger cities, there are also several internet cafés available.