Dahuk
Dahuk
(also spelled
Duhok
or
Dohuk
; Kurdish: دهۆک‎, Dihok; Syriac: ܢܘܗܕܪܐ‎ Nūhadrā; Arabic: دهوك‎ Dahūk) is the capital of Duhok Governorate in
Iraqi Kurdistan
, it is a Kurdish city with a population of approximately 250,000 inhabitants, consisting mostly of Kurds and Assyrians. The city is encircled by mountains along the Tigris river.
Districts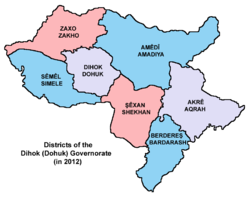 Dohuk Governorate is divided into seven districts, four of which are officially part of
Kurdistan Region
, while three others are under
de facto
control of the Kurdistan Regional Government:
Get in
By bus
Coming from
Zakho
near the Turkish border, buses and taxis run regularly and cost no more than 10 US dollars. Remember that soldiers are stationed every few km on most roads and every village, town and city has checkpoints going in and out. As a foreigner, you almost certainly will be questioned, but given the trouble in the rest of Iraq, this is a routine yet very necessary precaution.
By plane
You need to do this by Going to
Erbil
or
Sulaymaniyah
Airport and from there by Bus or Taxe to Duhok.
Get around
Taxis within Dohuk should cost around 3,000 Dinar. Public transportation can be found on and off the main street at the bus station and nearby taxi stands. Buses stop in front of hotel "Baghdad".
==See==
Duhok offers a few touristic things to do, but those things are better than you will experience anywhere else. For starters, Dream City is the most popular amusement part among Duhok's natives. And a trip to mazi mall, a ginormous supermarket feels like a field trip of itself.Another admirable thing is the waterfalls, as well as the Duhok Bazaar.There is an ancient mosque in the center of bazaar and a folklore museum, located near hotel Bircin.Spectacular waterfalls and ruins of a Zoroastian temple are located north of the town (c. 20 minutes walk).
The city has made some major changes and is more tourist friendly than a lot of big-shot places elsewhere.
Dream City

phone: +964750 787 4777

address: Zakho Way, Duhok 42001, Iraq

Not quite the dream you imagined, but between Dream City and the park near Dohuk Dam we have the reason this is similar to Vank. This is a theme park full of rides and a few food outlets. It's basically a fun fair and this type of thing is becoming cool in Iraq these days

Dohuk Valley and Dam

address: North of Dohuk

This might just be your highlight from Dohuk. Walk out of town and you will see a massive dam which has been built against completely immaculate and scenic countryside. The walk takes you up a hill past a proud Kurdistan flag and then there it is – the Dohuk Dam.

Dohuk WaterfallsFirst of all – these waterfalls are FAKE. They are not natural at all. Sometimes they are turned off!! However this doesn't stop the locals going and enjoying them and you'll want to get your photo taken anyway as you walk past.

Dohuk BazaarIt seems that, in every city or town of any decent size in Iran, Iraq and Turkey, there's a bazaar. Dohuk's is colourful and has all the usual stuff – fruit and veg stalls, drinks, clothes, nik baks, electronics etc

Dohuk Art GalleryThis place has a load of Kurdish Art, said to be unique and interesting.

Church of St. Ith LlahaThere are Christians and Armenians in this region too so the Church of St. Ith Llaha is worth checking out.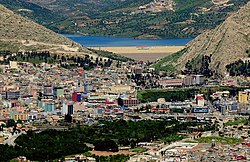 Eat
Wooden House - on KRO road past Mazi Plus Mall, wooden house is a fancier restaurant with excellent mezze dishes, as well as an assortment of grilled meats and some western dishes.
In the central market area there are several good restaurants for traditional Iraqi food including kebab and paja. Khan Kebab and Al Andalus restaurant are next door to each other in the central area between the market and Khani Hotel. Paja is a stew of sheep parts (intestines, offal, cheek meat) served over bread.
Sadeer Restaurant - apparently popular among local population (c. 6,000 dinars for a dinner).
Duhok Paradise - located near the waterfalls, packed with tourists coming from Baghdad or Basra (c. 12,000 dinars for a dinner)
Drink
Many stores sell fruit juice in plastic bags. The grape and pomegranate flavours tend tp be the best since they are made from real fruit. These bags are meant to be taken home. Each bag is 1000 IQD.
Water (pronounced "My" or "Af" in Kurdish) can be found in sealed bottles for about 250 IQD at most restaurants, cafes, and convenience stores. It is not recommended that you drink the tap water.
There are several Christian clubs that serve food and beer. They are located around town, and usually have plastic tables set outside on a grass lawn. Some examples include Doctor's Club, Artist's Club, Assyrian Club.
You can get the best kinds of beers and spirits from around the world. Vodka,Scotch Whisky, and beer are the most common alcohols sold and drank. They are clearly displayed within stores that sell them. Alcohol is typically imported from Greece, Turkey, and Jordan
There are also several liquor shops in the center of town up the hill from the old market past Newroz Hotel on the right side.
Doctors Bar

address: Ashty Road

Very nice bar, with good food and a garden in the summer. It is officially the social club of the medical university, hence the name. Beers are cold and cheap.

Elpida

phone: +964 750 828 6884

address: Masiki Du

Coffee shop. Cozy, quality Western-style cafe with proper espresso machines and the best cheesecake you can find in Duhok. One of the few places in town to enjoy coffee and conversation without inhaling cigarette/shisha fumes. No outside food or drink.
Sleep
Many hotels located on the two main streets that run through Dahuk. Prices vary from 24,000 Dinar up to 72,000 Dinar for a triple room. The lack of tourism means that prices are negotiable.
Hotel Bircinlocated in the city center, clean and modern.

Hotel Jotyar

phone: +964 750 406 1005

Good hotel, room rate includes a buffet breakfast.

Hotel Rixos

phone: +964 62 710 0200

South of town, part of a large Turkish chain.
Stay safe
Following the conflicts in Iraq, Dohuk is one of the places that has remained relatively safe for foreign visitors. Dohuk is only a short drive from
Mosul
and
Kirkuk
which are certainly not safe for visitors and heading in those directions should be avoided. As a foreigner, you can walk the streets safely. Although some may stare, their stares are those of confusion as Iraq is the last place most tourists go and as the Kurdish north was isolated for so long, there never was any history of tourism.
Westerners can walk and talk freely although it is possible the police or military may question you and ask for identification. Unlike other countries, this isn't a scam and they don't want money. Given the violence in the rest of the country, all non-Kurds are distrusted and checked. Don't take it personally. The stares are from the past, people of Dahuk are well used to foreigners so don't worry about it; in fact there are some westerners who live there like retired Americans or those who work for government. If you are male you will almost certainly be asked if you are a member of the Coalition forces.
Go next
Regular taxis go when full to
Erbil
which is around 3 hours and cost 50 USD for a taxi with 4 people.