Dandeli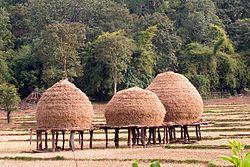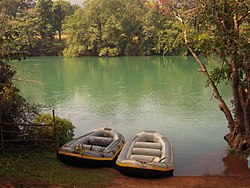 Dandeli
is a small town in the western ghats of North-West
Karnataka
,
India
. Dandeli is known as a Wildlife sanctuary and is proud of being one of the tiger projects. People have also moved from across India to work in the industries in Dandeli. Dandeli is also known for its adventure activities on the River Kali. Located close to the Supa Dam on Kali, Dandeli offers options for white water rafting and canoeing. The rapids are class 3 and there is one recirculating rapid in the circuit.
Get in
By Air
The nearest airport is in
Hubli
, which is 80 km from Dandeli.
By train
The nearest railway stations to Dandeli are Londa, Alnavar, Dharwar and Hubli. Dandeli is 78 km from Hubli , 32 km from Alnavar , 56Km from
Dharwad
and 38Km from Londa junction.
From Bangalore, one could take the train to Alnavar or Londa and then take bus to Dandeli.
From Hyderabad, one can take a train to Londa and take a taxi or bus to Dandeli.
From Goa , one can alight at Londa junction. Buses are available from Ramnagar bus stand which is 5Km from Londa railway station.
By Road
Dandeli is well connected by bus services of NWKRTC and KSRTC from Bengaluru, Hubbali, Dharwad, Belagavi ( Belgaum ),
Mangaluru,
Udupi
and Goa. KSRTC runs a Rajahamsa Executive bus service (Non A/C, Push back seats, Air suspension) from Dandeli to Bangalore. The bus departs from Dandeli at 1730. It takes around 12 hours to reach Bangalore.
See
Kavala Caves:
Ancient Kavala caves are a perfect destination for tourists to visit while their trip to Dandeli. This place is located around at a distance of 25 km from the Dandeli. Tourists will have to trek some thousands steps through a dense forest to reach Kavala caves. These caves are revered as the abode of Lord Shiva-the Hindu god of Destruction.
Kulgi Nature Camp:
Kulgi Nature Camp is located at a distance of around 14 km from the Dandeli National Park. This camp has small museum, nature interpretation centre. It is located on the Ambika Nagar- Yellapur Road. Main highlight of this museum is the stuffed remained of 13-ft king cobra which was caught few years back in this area. Reservations at the Kulgi nature camp involve phoning the Forest Conservator's office at 08284 - 231585, preparing a demand draft (DD) and sending the original DD by courier service to the Conservator's office, in advance of your actual stay. A photocopy needs to be sent to the camp itself. No other form of payment is accepted. Meals are charged separately, with not much variety to speak of. Hot water is only available for 2 hours in the morning. The only available guide-free trail is a "Birder's trail", a 2 km long loop in the forest interiors. Overall, don't expect much from a stay at Kulgi unless all you want to do is sleep and walk in the surrounding forest.
Anshi National Park
or Kali Tiger Reserve ( KTR ) : Dandeli is one of the gate way to Kali Tiger Reserve.
Do
Dandeli Wild Life Sanctuary and Anshi National Park is dominated by river Kali, be it from its banks or from atop a mountain. The activities at this national park includes: Coracle Rides (in water, would be able to spot crocodiles, hornbills and other birds), Rock Climbing (small), Mountain Biking, Rafting/Kayaking/Canoeing, Camping, Jeep Safari ride, Trekking in the forest, bird watching. Other nearby places to visit includes: Kavala Caves, Syntheri Rocks, Sykes point, Siroli peak.
Dandeli Wildlife sanctuary is very calm and peaceful. This sanctuary is the largest wildlife sanctuary in
Karnataka
district. This sanctuary nestles some very rare birds and animals. This sanctuary has unspoilt and not much explored hidden treasure of wildlife, which can surely leave any nature lover speechless.
Rafting:
Dandeli is located to near to Kali River, which is a great location for the rafting. There is a route of around 9-14 km for rafting. This rafting route is of class III and continues for around 2 to 3 hours, it make also go more than that.
Eat
Kachori and Samosa are very famous in Dandeli.

Drink
Garcinia indica or kokum sherbet.
Masala Soda - famous in this entire region.
Sleep
There are KTDC (Karnataka Tourism Development Corporation) guest houses available which provide packages to the tourists which include accommodation, food, safari, coracle ride and rafting. These guest houses are well maintained and good food is available.
The State Lodge

The Kali Adventure Camp (Jungle Lodges & Resorts)

address: Raichur

phone: +91 73386 60808

address: Kogilban
Go next