Daugavpils
Daugavpils
is the second largest city in
Latvia
, after
Riga
.
Understand
It is a delightfully charming, spacious, green city. Despite its quaint atmosphere and low prices, the city offers modern conveniences and services. An ice-hall, bowling center and modern hotels have been built and diverse entertainment options have appeared throughout the city.
The city was first mentioned in 1275, when the Order of Life built a castle, the Dünaburg, on the Daugava River. The present location of the city originated in the 16th century 20 km away from the original settlement, which was destroyed. In 1582, Dünaburg received the city rights. Latgale belonged to the Polish-Lithuanian empire back then.
During the Polish-Russian War (1654-1667), the city fell under Russian rule, and was renamed Borisoglebsk (Борисоглебск) (1656-1667). After the end of Russian rule, it came under Polish rule again. In 1772, Latgale joined the tsarist Russia in the aftermaths of the Polish divisions. In 1811, Dünaburg was strengthened with a fortress. Together with the rest of Latgale, the city was under the Polotsk Government, which was reassigned in 1802 to the Vitebsk Government. In 1893, Dünaburg was renamed Dvinsk.
The city was at the front in both world wars, and suffered serious damage then. In December 1919, Polish and Latvian troops defeated the Red Army, which made an important step towards the Latvian independence, which came in 1920. The city was called Daugavpils and belonged to Latvia since then.
With the Molotov-Ribbentrop Pact in 1939 between Germany and the Soviet Union, the independent Latvia fell under the influence of the Soviet Union. In June 1940, the Red Army entered Latvia, and in August 1940 it became part of the Soviet Union. In 1941, the city was re-taken by German troops. Since 1945, when the town belonged to the Latvian Socialist Soviet republic, Daugavpils underwent a large-scale industrialization and became a garrison city.
Daugavpils Tourist Information Center

phone: +371 65422818

address: 22a Rīgas St
Get in
1188.lv
provides up-to-date bus and train schedules, route planner and prices.
By bus
Buses from Riga to Daugavpils leave every two hours. The web page of
Rīgas Starptautiskā autoosta
(Riga Bus Station) has up to date schedules and fares.
By train
Latvijas dzelzceļš
(Latvian Train Service) runs the train services in Latvia.
Riga
-Daugavpils trains operate four times a day; Riga-
Gomel
, and
Russia
trains also operate. Daugavpils is also accessible by train going from
Vilnius
to
Saint Petersburg
.
By car
The drive from
Riga
takes 3-3½ hours. The European highway E262 from
Kaunas
,
Lithuania
that crosses Daugavpils and goes to
Russia
.
By plane
AirBaltic, the flag carrier airline for Latvia, offers a free coach from between
Riga Airport
and Daugavpils to its passengers. The bus AirBaltic bus line to Daugavpils is
BT001
(there are other buses going in totally different directions, like
Tartu
in
Estonia
) and takes 3 hours 25 minutes between the airport and Daugavpils, stopping in
Jekabpils
on the way. The buses run at nighttime after/before all the flights - the bus from the airport to Daugavpils departs at 23:30 and arrives at 02:55, while the return journey to the airport begins at 03:45 in Daugavpils with arrival at the airport at 07:10.
Daugavpils Lidosta
(Daugavpils Airport) (+371) 65475306. The former Soviet air base in
Lociki
(12 km northeast of Daugavpils) has been renovated, but as of 2017 there are no flights.
Get around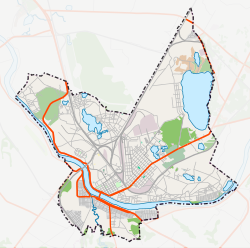 By bus
SIA Daugavpils autobusu parks (DAP)

phone: +371 65429245

address: Kārklu iela 24

You can go to any part of the city by bus. Tickets are about €0.50.

Bus Station Daugavpils

phone: +371 65422507, +371 65429866, +371 65423000

address: Viestura iela 10
By tram
Daugavpils has three tram routes operating within the city. Tickets are about €0.50.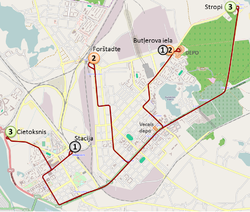 phone: +371 65433632, +371 65434614, +371 65446705

address: 18.novembra ielā 183
By taxi
SIA "HOF" (Daugavpils Taxi) 65422222, available 24 hours a day.
Taxi stops
Rīgas iela 9 (hypermaket 'Rimi')
Aveņu iela 33 (supermarket 'Mego')
intersection of Piekrasties iela and Raipoles iela (supermarket 'Maxima X')
intersection of Jatnieku iela and Mendeļejeva iela
near hotel 'Latgola'
Fares (can change without notice):
Day tariff: €0.57/km
Night tariff: €0.79/km
See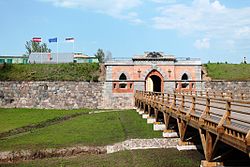 address: Daugavas iela 38

The unique Daugavpils fortress is the biggest in Europe. It has withstood many many wars and remains virtually unchanged since its construction in the 19th century. More information: https://www.atlasobscura.com/places/daugavpils-fortress

19th-century architecture

Historical centreThe historical centre of the city consists of 80 cultural-historical objects presents itself a specific monument of urban construction. One may be amazed by variety of architecture styles of the buildings, the red clay bricked façades of peculiar form recognized as Latgale baroque.

JaunbūveThe church ensemble Jaunbūve, the Church Hill included churches of four confessions, contributes a lot to very special panorama of the city of Daugavpils.

Sport complexDaugavpils may also be proud of its sport complex. Ice Hall and the open-air swimming pool, one of the biggest open-air swimming pools in the Baltic countries, are the real pride of the city.

"Ebreji Daugavpilī un Latgalē" muzejs un ekspozīcija

phone: +371 29548760

address: Cietokšņa iela 38

Latgales ZoodārzaSmall indoor aquarium.
Daugavpils is more endowed with water space than other cities of Latvia. There are 15 lakes, 8 rivers and numerous brooks its territory. In spite of this the climate is the most continental of the country. Forests and parks make up the green area with a square of approximately 10 400 ha.
phone: +371 65471321, +371 29468988

address: 1 Skolas iela, Naujene

The museum focuses on nature, history and ethnography of the Daugavpils district.
Landmarks
With good reason the
fortress
, which was built as a fortification for the western border of the Russian Empire, can be considered the symbol of Daugavpils. The Classicism-style fortress was consecrated by Russia's tsar in 1833. In later years the tsarist, Latvian and Soviet Armies were stationed there. The fortress is now under the supervision of the local municipality and Real Estates Agency as a cultural and historical monument.
The
Daugava protecting dam
, which stretches 6 km along the river and at its highest points reaches 9 m, is another singular landmark. It was built in 1841, and is still protecting the city from flood waters. On accordance with the town-building plan, confirmed by the tsar in 1826.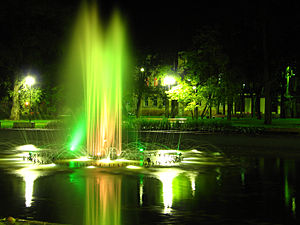 Daugavpils center
and its street network took shape in the early 19th century. The features of the styles peculiar to this historical period have been preserved in Riga street, the main street of the city center. A characteristic feature of buildings is Classicism-style red brick houses with ornamentation of various styles. The house at 8 Riga street, which now houses the
Daugavpils Local Arts and History Museum
, has preserved its original architecture almost unaltered. The house was built in the second half of the 19th century. Its decoration of colorful glazed files is completely original. All entrances to the house have small glass-covered open-work metal roofs. More than a hundred years ago a 3-ha park was laid out in the center of the city. The park is now called
Dubrovin's Park
as it was created with great assistance and support of Pavel Dubrovin, the first head of the city. It has been a rest place popular with the townspeople for years. Between Riga and Saules streets there is
Vienības nams (Unity House)
, designed in plain architectonic forms: prisms and cubes. The many halls and rooms of this building house a theater, the city central library, several shops and cafes. All the principal cultural activities of the city take place here. In the early 1980s Riga street, in which several buildings of historical and architectural value are situated, was one of the first cities in Latvia which was made pedestrians-only.
Monuments and memorial places
The most significant events in Daugavpils history are immortalized in various monuments and memorial places. The soldiers killed in World War I are buried in
Old Believers, Orthodox and Lutheran cemeteries
. The Latvian army soldiers, killed in fights for freedom, are buried in the Lutheran cemetery. Their graves there as well as the Polish army soldier' graves in Satiksmes iela testify to the events relating to history of the independent Latvian state. A 13-m-tall reinforced concrete cross has been erected in Satiksmes iela to commemorate the events. A memorial stone to the citizens of Daugavpils, deported to Siberia in 1941 and 1945, is erected in Pumpura Park. The burial places of the Soviet and German soldiers in Dubrovin's park, in the Garrison cemetery, in the Griva, Communal and Orthodox cemeteries as well as the graves of the victims of fascism in the Mežciems cemetery are memorial places to those who were killed in World War II.
Do
StropiThe northeast part of the city, Stropi, is a popular recreational area located near the Big Stropu Lake (Lielais Stropu ezers).

The Daugavpils Musical and Drama Theater

phone: +371 65426000

address: Rīgas iela 22a

Located in the Unity House (1937) in the city center.

phone: +371 65438807

address: Jelgavas iela 54

Daugavpils has a race track 'Daugavpils Spidveja centr'. So go check out some races.

phone: +371 65407191

address: Stacijas iela 45a

Want to go skating? Daugavpils has an amazing ice hall.

address: Cietokšņa street 60

Bowling alley, billiard tables and air hockey.

SaunasVisit a lot of traditional saunas.

City center

address: Viestura iela 8

But if you want to go bowling or shoot some pool.
You can also walk on the Daugavpils main street Rigas iela. It is amazing. Finally just take a walk around the city and you will see
lots
of amazing and beautiful things.
Buy
All around the city you can find many large and small supermarkets, shopping centers, or just stores.

Daugavpils Tirgus

phone: +371 65428252

address: Cietokšņa 60
Eat
Restorāns "Gubernators"

phone: +371 65422455

address: Lāčplēša ielā 10

Bistro "Vita"

phone: +371 65427706

address: Rīgas ielā 22a

Restorāns "Rotko panorama bārs"

phone: +371 65404911

address: Ģimnāzijas ielā 46

Bārs "Loby"

phone: +371 65404912

address: Ģimnāzijas 46

Bārs-bistro "Vēsma"

phone: +371 65444350

address: Rīgas ielā 49

Bistro "Grill Niko"

phone: +371 65424887

address: Viestura 25 – 1a

Kafejnīca "Arabika"

phone: +371 65402600

address: Viestura ielā 8

Kafejnīca "Dr. Pinta"

phone: +371 29480208

address: Ģimnāzijas ielā 16

Kafejnīca "Pasaules brīnumi"

phone: +371 65920000

address: Vienības ielā 17

Kafejnīca "Pīlādzis"

phone: +371 65420944

address: Saules ielā 12

Kafejnīca "Mego"

phone: +371 65421733

address: Viestura 60

Restorāns "Afrodīte"

phone: +371 29289065

address: S. Mihoelsa 52

Restorāns "Klasiko"

phone: +371 65404910

address: Ģimnāzijas ielā 46

Kafejnīca "Lidadis"

phone: +371 65476660

address: Rīgas ielā 14

Restorāns " Taller"

phone: +371 65424983

address: Viestura ielā 59
Drink
Gubernators (see #Eat section) – Has a great selection of beers from Latvia and the Czech Republic on tap.
Sleep
Budget
phone: +371 25912250

address: Nometņu iela 25A

Not perfectly rated, but the best budget option.

Hotel "Rebir"

phone: +371 65421857, +371 20372009

address: Vienības iela 19

phone: +371 65453010, +371 22332243

address: Dobeles iela 39

phone: +371 65404900

address: Gimnazijas iela 46

A three-star hotel.

phone: +371 65426565, +371 65420003

address: Krāslavas iela 58

Hotel "Flora D"

phone: +371 29544613, +371 29421497

address: Krimuldas iela 45, Stropi
Mid-range and splurge
phone: +371 65434317

address: Varšavas iela 17
Connect

Wi-Fi Internet is available almost in all cafes, hotels and restaurants in the centre of the city.
For example in Park Hotel Latgola, City Centre, Vesma cafe and many others.
Also there are computers with the free Internet available in the halls of Ice Hall and Hospital.
There are some internet cafes near the old university building on Saules street.

Go next