David Thompson Country
David Thompson Country
is a network of wilderness parks in the
Alberta Rockies
region on the eastern slopes and foothills of the
Canadian Rockies
. This is a large region but its eastern boundary is about hour and a half drive west of
Red Deer
, along the David Thompson Highway (Highway 11).
Towns & villages
− small hamlet and former coal mining town
− small settlement west of Nordegg
Understand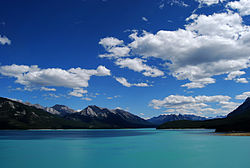 David Thompson County is a name used in reference to a recreation area and series of parks located west of
Rocky Mountain House
along the the David Thompson Highway (Highway 11). The area is less developed than areas further south such as Kananaskis County. The hamlet of Nordegg serves as the dividing line between the Rocky Mountains to the west and and the Rocky Mountain foothills to the east.
The area derives its name from David Thompson, a British-Canadian fur trader, surveyor, and cartographer who mapped of North America. Thompson used Rocky Mountain House, a fur trading post, as a launching point to find passage to the Pacific Ocean, and traveled west through the area to the headwaters of the Columbia River.
Get in
From the east, drive west from Red Deer, midway between Calgary and Edmonton, along Highway 11. One can also approach from the west via the
Icefields Parkway
(Highway 93) from Banff National Park; however, a parks pass is required to travel Highway 93 as well as the small portion of Highway 11 within the park.
Get around
The Forestry Trunk Road (Highway 734) is a gravel road that runs north-south from Nordegg and provides additional access to the area.

See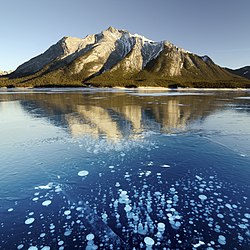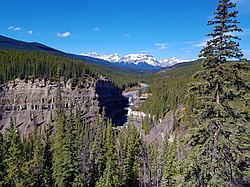 Abraham LakeAn artificial lake along the North Saskatchewan River and Alberta's largest reservoir. The lake has the blue color of other glacial lakes in the Rocky Mountains. During the winter, trapped methane from decaying plants on the lake bed causes frozen bubbles to form under the ice on the lake's surface. This phenomenon creates bubbles that become trapped within the ice, in suspended animation, just below the surface as the lake begins to freeze.

Brazeau Collieries Historic Mine Site

address: 4002 Stuart Street, Nordegg

The Brazeau Collieries Historic Mine Site is a Provincial and National Historic Resource; guided tours of this industrial coal mine site during the summer months. Tours are two-hour-long guided walks. Journey through a 1950s coal briquette plant or tour the auxiliary buildings to discover how this remote facility operated and go into a mine entrance. Tours of the Brazeau Collieries Historic Mine Site start at the Nordegg Heritage Centre.

Crescent FallsA series of two waterfalls located on the Bighorn River. Camping and hiking available.

Ram Falls

phone: +1 403-845-8349

Camping and hiking available. There is no drinking water or firewood available on site, so please plan ahead and bring your own before you visit. Cellphone reception is also very limited in Ram Falls Provincial Park, so it is best to print a map instead of relying on GPS.
Do
Kootenay Plains Ecological ReserveThe Kootenay Plains were visited by David Thompson in the early 1800's. The area has long been important to Aboriginal people; several sundance lodges are located on the plains. The reserve protects an area that is significant for historical, native and environmental reasons while the nearby Kootenay Plains Provincial Recreation Area provides a basecamp from where to explore it. Activities include birding and backcountry hiking, including a 5-km trail from the day use parking area to Siffleur Falls. Public access in the reserve is restricted to foot only and overnight camping and open fires are prohibited in Ecological Reserves.

HikingDavid Thompson Country offers numerous hiking opportunities for both day and overnight excursions.

Horseback riding
phone: +1 403-721-7433

address: Cline River

Family run outfit with a 50 year history of guiding unique Wilderness Horseback Vacations into some of the most untouched and spectacular wilderness of the Canadian Rockies. McKenzie's offers a variety of hourly trail rides in scenic locations, a genuine Cowboy BBQ, as well as host a variety of special events.

phone: +1 403-844-0408

Offers day rides, back-country and base camp cabin rentals, camping available.
Eat
The
David Thompson Resort
has a restaurant, but otherwise, either eat a meal
Rocky Mountain House
or bring your own food beforehand.
Miners' Cafe

phone: +1 403-721-2277

address: 3 Stuart St, Nordegg

Famous for its pies, also serves soup and sandwiches. Closed Wednesdays.
Sleep
Lodging
Camping
David Thompson Highway
Kootenay Plains Provincial Recreational AreaThe Kootenay Plains are significant for local Aboriginals because of the grave sites located on the plains. The nearby ecological reserve protects the area's unique grassland vegetation.

Saunders Provincial Recreation AreaThis recreation area (accessible by road and water) provides access to the North Saskatchewan River for canoes, kayaks, rafts and river boats. The trip to Rocky Mountain House takes approximately 8 hours by canoe.

Thompson Creek Provincial Recreation AreaOn the banks of the North Saskatchewan River in the heart of the Rocky Mountains. There are over 50 well-treed sites, suitable for RVs and tents. A trail leads to scenic views of the river valley.
Forestry Trunk Road
Stay safe
David Thompson Country is quite isolated, so cell coverage can be spotty, especially the further west one travels and the further one ventures from Highway 11. Most campgrounds have a manual water pump, but it is recommended to bring your own drinking water. The Forestry Trunk Road is a gravel road with no cell coverage, so heed the signs and be aware that it is an active logging and oil exploration road. The nearest hospital, as well as other amenities, are located in Rocky Mountain House.

Go next
Continue west to
Banff National Park
and the
Icefields Parkway
.