Denver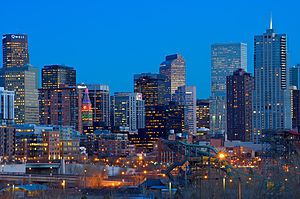 Denver
is the capital and largest city of
Colorado
,
USA
. Known as "The Mile-High City", Denver sits at an altitude of 5,280 feet (1,600 m) above sea level and lies where the Great Plains give way to the Rocky Mountains. Denver is a large city and one of the fastest growing in the United States.
Understand
Denver is a bustling city of more than 650,000 people supporting a fast-growing metropolitan area of nearly 3 million people. The city embraces its cowboy and mining past but also looks toward the future with a vibrant arts and performing arts scene, dozens of great outdoor festivals, and distinct neighborhoods each offering a unique experience. You'll find everything a cosmopolitan city has to offer including a spectacular view of and easy access to the beautiful Rocky Mountains, which are only 12 miles (19 km) west of town.
Denver does have its growing pains. Urban sprawl is becoming a problem, with the metropolitan area sometimes growing faster than the infrastructure can really handle, especially with public transportation. Denver is generally a driving city, and some problems with pollution and traffic are a part of everyday life. Large mass transportation and freeway expansion projects have been completed, including the popular light rail system. By American standards, Denver is betting big on public transportation.

Climate

Denver residents enjoy a mild climate and the third most sunshine of any US state, with four pronounced seasons.
Heavy snowfalls can occur between October and March, often alternating with days of high temperatures and sunshine. About once a year, a snowfall of over a few feet occurs. Winter is also when the Denver area gets pounded by a phenomenon known as the "Chinook". That's when air flows over the mountains to the west and sinks on the leeward (eastern) slopes of the foothills and warms up. This raises air temperatures dramatically, which can last for several days. If you're planning to visit Denver during the winter, be prepared with full winter gear just in case, but also pack a light sweater and T-shirt; the weather is usually very sunny and mild.
Spring in Denver is pleasant, though generally rather brief. Trees begin budding by late March and are in full leaf by mid April to mid May. March, on average, is Denver's snowiest month.
By June, Denver enters its summer season. Temperatures typically rise in earnest at this time, with most heat waves beginning in mid-June and continuing through July, usually Denver's hottest month with temperatures in the high 80s to mid-90s (°F). By late July, the southwest monsoon kicks in. In August, short spells of thunderstorms occur about three to four days per week. By late August, temperatures begin to drop with a noticeable difference between day time and night time temperatures. As the days get shorter through September and October, daytime temperatures drop to the high 50s to mid-60s. Slather on that sunscreen all summer long; the rays are strong and the air is dry, with temperatures often reaching the upper 90s in July and August.
Autumn is a peaceful time to visit, with mild temperatures, little severe weather and lots of that famous clear blue sky. You'll get to see the trees display their fall colors, which usually peak around mid-September in the mountains and October in the city. October usually brings the first snowfall of the season to Denver, although it's very light. By November, it's clear that winter is on its way, with plenty of clouds, some snow and much cooler temperatures.

Get in
By plane
Denver International AirportCommonly referred to as DIA, the airport is about 18 miles (29 km) northeast of Downtown Denver and is one of the busiest airports in the nation, due to it being a hub for Frontier Airlines, United Airlines, and Southwest Airlines, and is a popular destination with other major domestic carriers. Many connecting flights are made in DIA, and this airport is more pleasant than most to kill time, with plenty of public art displays, battery charging stations, and free Wi-Fi, as well as a decent selection of restaurants for an airport. Detailed information on the airport can be found on its page.
The airport is set amidst rolling plains with the towering Rocky Mountains and Denver to the west, somewhat far from any conceivable local destination. RTD, the regional public transit service, offers a train line and airport shuttles that can take you from DIA to the city and destinations in the region. The
A Line
offers a direct rail connection to Union Station in Downtown Denver, with service every 15 minutes during peak times and every 30 minutes during off-peak; trains run from approximately 4:00am to 1:30am. For places not easily reached by the rail system,
SkyRide
offers three bus routes from the airport to locations throughout the metro area, including Boulder and many "Park and Ride" lots. Purchase tickets at the airport transit center, which is outside the airport baggage claim; the fare is $10.50 for a "Regional/Airport Day Pass" that covers trips to downtown Denver as well as unlimited trips on the RTD system for the remainder of the day. Buy passes with cash or credit card at fare machines in the transit center.
Private pilots mostly fly into:
Centennial Airport

Rocky Mountain Metropolitan Airport
On warm days, the density altitude may make takeoffs difficult; Centennial and Rocky Mountain Airports thus have relatively long runways, to accommodate volumes of private jet traffic. Flight visibility in the Denver area is often in excess of 100 miles; weather fronts tend to travel quickly N-S along the Front Range. For small planes, any direction but west is a good choice.
By car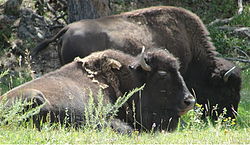 I-25 (north and south), I-70 (east and west), and I-76 (northeast) are the major interstates leading in and out of the city. I-225 and I-270 cross the Denver area.
U.S. Highway 40 connects Denver to Salt Lake City to the west.
Interstate 70 connects Denver to Summit County, the location of many major ski areas, to the west.
Interstate 25 connects Denver to Colorado Springs in the south and Cheyenne, Wyoming in the north.
U.S. Highway 36 connects to the northwestern suburbs and on to Boulder.
C-470 Connects to the southern end of E-470 (also accessible from I-25) leading to the south, southwest, and western suburbs.
Toll Roads There are a couple of major toll roads in the Denver area, and they can help you avoid some serious rush hour traffic on I-70 and I-25.
E-470 connects the airport to the southeast, east, northeast and northwest suburbs, C-470 at its southern terminus, and the Northwest Parkway at its northern terminus, leading to Boulder. E-470 is a "cashless" toll road - there are no longer any toll plazas and no way to pay tolls except via an in-car device or a billing service. If renting a car, check to see if the rental car agency provides for proper billing; otherwise, you may be subject to billed tolls and hefty service charges. Tolls are $2–4 and without an in-car device, service charges can run to $25 or more.
Northwest Parkway connects to the north end of E-470 leading to north, northeast and northwest suburbs, and Boulder. Also accessible from I-25. Tolls are up to $3 each, and booths accept only cash. There's no attendant between 10PM and 6AM, so pay attention to the signs; though some booths still accept exact change, others require you to pay online or by mail.
By train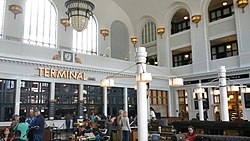 Denver is served by
Amtrak
via its daily
California Zephyr
service between
Chicago
and
Emeryville
, in the
San Francisco Bay Area
. Eastbound departures are around 7PM while westbound trains leave at 8AM. However, as this is one of the longest train routes in the world, delays are quite frequent. Trains call at the restored
address: 1701 Wynkoop St (where 17th and Wynkoop streets meet)
The renovation has restored Union Station to its former glory, and it now boasts an on-premise hotel, several restaurants and bars as well as plenty of seating for the tired traveller. Denver Union Station is often cited as the "poster boy" for the revival of train stations, train travel in general and the adjacent neighborhoods that can be observed in several North American and European cities. Union Station is also known for its iconic "travel by train" sign first put there in the 1950s when arrivals at Stapleton Airport started to outstrip traffic at Union Station. In addition to Amtrak trains,
RTD
commuter and light rail services also call at Union Station, providing easy access to many places in the Denver area if you arrive by train.
By bus
The central bus station is at on 1055 19th St, just a few blocks away from Coors Field and other central attractions. Serviced by Burlington Trailways, Greyhound, Express Arrow and Bustang; the station also has storage lockers that can be rented hourly. Some of the same bus companies make an additional stop at the Union Station (Amtrak), Denver Tech Center (DTC) and/or other places. Skyride now operates the 'A' Line train from the downtown Union Station to the airport. The hispanic bus companies from El Paso maintain their own separate bus stations nearby the Denver Bus Center. Passengers transfer buses in El Paso to continue to/from Mexico. Expect the bus stations to be crowded and dirty:
Get around
Numbered avenues run east-west in the north half of the metro area, including suburbs. Ellsworth Avenue is the "equatorial" street. Numbered streets increase as you travel north and are generally called avenues. Avenues south of Ellsworth are named.
Named streets run north-south. Broadway is the "meridian" street. Ordered alphabetically going up as you travel east or west away from the city center, though not alphabetical closer to the city center. Addresses on named streets correspond to intersecting numbered streets, so "1701 Broadway" is at 17th and Broadway. North-south streets are generally called streets, not avenues.
Downtown streets: The diagonal layout of the downtown area can be tricky, especially for first-time visitors. North of Colfax and west of Broadway, the streets are canted 45 degrees from all other streets in the city. The transition between the two systems is confusing even for locals. Southeast-northwest streets are numbered, while southwest-northeast streets are named. As this was the original grid system of Denver, some vestiges of it exist outside of downtown, creating diagonal cuts in certain parts of the city. Some of those streets include Park Avenue, Speer Boulevard and Morrison Road.
By car
Renting
If you plan to go outside of downtown and the surrounding neighborhoods car rentals are the most convenient form of transportation. Local companies tend to offer better prices, but national chains might be more convenient as far as return policies and hours.
Rental companies include most major car rental chains.
Parking
Meters are free on Sunday and run until 10PM on weekdays. After 10PM at many of the meters where it used to be free, it now is $1.00 per hour from 10PM until 8AM at the smart meters. The meters say "overnight parking allowed" but you are still required to pay during this time, or you will get a $25 parking ticket. In the downtown area near Coors Field, the Pepsi Center, and LoDo, there is pretty much no free parking on weekdays. In some areas a few blocks from the city center there are a few non-metered spots within reasonable walking distance of downtown. However, just because you don't see a meter doesn't mean that parking is free. Denver is increasingly using European-style meters, where you purchase a paper ticket from a machine somewhere on the block and place it on your dashboard. Also, many neighborhoods around downtown allow only permitted residents to park, so be sure to check the signs first. Some streets have alternate side parking restrictions for cleaning/clearing the streets. Check signs carefully.
The city government has been cracking down on parking violations, so if you park at a meter with a flashing red light and don't pay, even for a few minutes,
expect to get a ticket
. Meter violations will cost you $25 ($50 if you don't pay up within two weeks). All the meters in the downtown area are equipped with credit card readers that accept Visa and MasterCard. $1 will get you around an hour, depending on the location of the meter.
Areas outside of the downtown core (20th St, Speer, Wynkoop St, Colfax and Broadway) usually have meters that end at 6PM and are free on weekends, so parking is much easier during those times. The area just northwest of downtown, across the train tracks from Union Station, has free 2-hour parking spots (on Wewatta Street just before the Park Avenue bridge).
Union Station
The area around Union Station is frequently inundated with pedestrians, particularly between Chestnut Place and Wewatta Street, and especially when trains have just arrived and passengers have just disembarked. During daylight hours, there is rarely a break in the action, and that
especially
goes for days when Rockies home games or other downtown events are taking place. Near Union Station
pedestrians have the right of way
over vehicles, and drivers will most likely get stuck waiting at crosswalks, sometimes for a long while. For the safety of the pedestrians, and the sanity of the motorist, it is best to
avoid driving near Union Station
unless absolutely necessary.
By public transit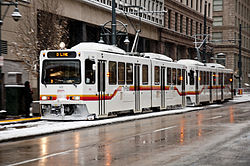 The
RTD (Regional Transportation District)
is the region's primary public transit provider, operating buses and light rail throughout the Denver area.
Denver has a fairly extensive and rapidly growing
light rail
system that can efficiently get you from Downtown to many of the city's suburbs. There are eight rail lines that branch out of Downtown along six corridors: the A line east to Denver International Airport, the B line north to
Westminster
, the C/D lines south to
Englewood
and
Littleton
, the E/F/H lines southeast along I-25, the G line northwest to Arvada and Wheat Ridge, and the W line west to
Lakewood
and the Denver Federal Center. A ninth line, the R line, travels along I-225 on the east side of Denver, connecting the E/F/H lines with the A line via
Aurora
. In Downtown, all rail lines either terminate at Union Station or travel through central Downtown via the Convention Center. Rail tickets must be purchased (cash or credit card) from vending machines at the stations before boarding the trains and cost between $3.00 and $5.25 for a three-hour pass, depending on how far you travel, with service to the airport costing $10.50. Regional day passes also cost $10.50 (and include travel to or from the airport) and include bus fare.
The backbone of Denver's transportation system is the buses. RTD buses are $3.00 (cash only; exact change required, with discounts available for youth and senior citizens) for a one-way local trip, and with payment you receive a transfer that's valid for three hours from when you board the bus. Day passes are also available and include light rail, for $10.50. There is also a free shuttle, the
MallRide
, which runs along the 16th Street pedestrian mall through Downtown and is a handy way of traveling between Downtown attractions. More information about RTD can be found at the Union Station and Civic Center bus stations at either end of 16th Street in Downtown, or on the RTD website. Local routes crisscross the city, supplemented by 'Limited' buses that stop less frequently on major arteries like Colfax and Colorado Boulevard; these buses are denoted by an 'L' after the route number, and cost the same as a Local route.
RTD also operates limited intercity coach service, mostly to the north suburbs and the more distant communities of
Longmont
and
Boulder
. These services are denoted by letters and tend to leave from Union Station or Civic Center Station at either end of the 16th Street Mall. The
Flatiron Flyer
offers a fast bus service along express highway lanes between Union Station in Denver and downtown Boulder, with fares ranging from $3.00 to $5.25 depending on distance travelled. If you're in Colorado to ski or board on a budget, Eldora Mountain Resort in
Nederland
can be reached via the
Ski-N-Ride service
(NB bus) from downtown Boulder, seasonally from mid-November to mid-April; fares are $5.25 one-way or covered by a $10.50 daypass. RTD also operates
SkyRide
service to the airport; see the "By plane" section above for further details.
By bike
Denver has a large network of bike trails leading all over the city. The city has a fiercely loyal cycling culture, and it's reflected in the abundance of bike lanes and trails in and around downtown. Main trails run along both Cherry Creek and the Platte, and bike lanes run down many downtown streets. The lanes are sometimes dedicated and sometimes run with traffic, and are marked by a stencil of a bike in the street. The city's designated routes are signed, and you can pick up a bike map at the info centers downtown and at many bike shops.
Denver was one of the first US cities with a modern
bike share program
; you can purchase a membership online or at any of the 81 stations throughout the city, choose a bike, and start exploring. After the purchase of a membership rides of less than 30 minutes incur no additional fee, while there is a small fee for longer rides.
Don't be afraid to assert yourself in traffic when there is no bike lane - the drivers are, while impatient sometimes, for the most part respectful. Bikes are treated legally like traffic in Denver, and (while admittedly rare), you can get tickets for running red lights and stop signs. Bikes are also expected to ride as far to the right as practicable, unless you're riding in a group of 3 or more - in which case you are considered (and can behave like) a car. Neat, huh?
Bikes are required to have front lights at night, and a good lock is recommended in areas around downtown. Bike theft happens frequently.
See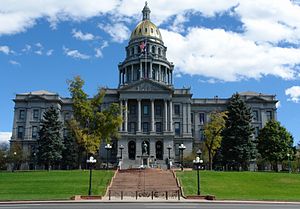 Denver is a vibrant city with plenty of attractions for visitors, plus a diverse collection of neighborhoods that can be attractions in themselves. Many of Denver's older areas are the perfect density for exploration; you'll find an interesting mix of apartments and homes with flowery front gardens, wide flagstone sidewalks, bright green lawns and big, shady trees. Capitol Hill, Highlands, Baker, Berkeley, Uptown, Sloan's Lake, Cheesman, Washington, City and Congress Parks are just some of the neighborhoods bustling with people and places to see.
Denver has many beautiful parks that are full of colorful gardens, meandering paths, crystal clear lakes, abundant wildlife and recreation opportunities. The city has a rich pioneer history, and there are plenty of museums where you can learn all about it. It's also a very environmentally conscious city, with one of the nation's first municipal "Green Fleets", public transit vehicles using hybrid and alternative fuel and a city tree-planting initiative. Hop on a green bus, grab a bike or just walk around to discover Denver.
Museums and architecture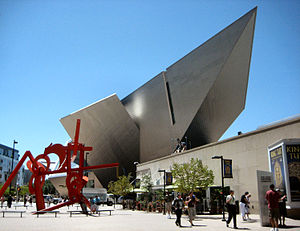 phone: +1 720-865-5000

address: 100 W 14th Ave Pkwy

A huge museum with art from all over the world. You'll want to give yourself several hours to properly explore the place.

phone: +1 303-892-1436

address: 1326 Tremont Pl

Historical and interactive exhibits, activities and special events celebrating Denver's firefighters.

phone: +1 303-405-4761

address: 320 W Colfax Ave

Thanks to this place, more U.S. money is made in Denver than anywhere else in the world. Fish a coin out of your pocket and look for the "D" on the face side (usually in the bottom right quadrant). That means the money was minted in Denver. Tour times vary by day. Each day, ticket are available starting at 7AM until they run out.

Denver Museum of Miniatures, Dolls and Toys

phone: +1 303-322-1053

address: 1880 Gaylord St

Houses, trains, planes, circuses and more. Everything's tiny except the giant teddy bears!

Denver Museum of Nature & Science

phone: +1 303-322-7009

address: 2001 Colorado Blvd

Exhibitions, planetarium and IMAX.

phone: +1 303-297-1113

address: 4303 Brighton Blvd

phone: +1 303-447-8679

address: 1200 Broadway

The center has many displays and exhibits focusing on historical sites throughout Colorado (prairie settlement, mine, Native American life, etc.) Great for families with kids and even adults; only takes 1-1½ hours to take in.

phone: +1 303-832-4092

address: 1340 Pennsylvania St

This restored Victorian was once home to labor reformist, actress and Titanic survivor Margaret Brown. It now showcases that era of Colorado history through exhibits and special events.

The Money Museum

phone: +1 303-572-2300

address: 1020 16th St

Self-guided tour. Small room with a few displays, including $30 million in cash!

phone: +1 303-571-4401

address: 861 Santa Fe Dr

Denver is home to a large and growing Latino population, and this museum focuses on their art and heritage.

Museum of Contemporary Art Denver

phone: +1 303-298-7554

address: 1485 Delgany St

Housed in an ultra-modern building downtown, this innovative museum seeks to engage the community with workshops, films, lectures, and a relaxing, open environment. Visit the rooftop deck for 360-degree views of Denver, grab a quick bite in the cafe, and check out the functional public performance space called The Lane.

phone: +1 303-974-5835

address: 1940 Blake St

A family-run museum that contains one of the best private baseball collections in the country, this museum holds a stunning collection of artifacts from ballparks all over the country, including signs, bricks, and seats from the classic ballparks of old, as well as a section of Fenway Park's "Green Monster".

phone: +1 303-832-8576

address: 1201 Bannock St

Fine and Decorative art museum featuring over 30,000 works by more than 1,500 artists and designers. Building was moved in Nov 2016. The grand opening at the new Bannock St location was held March 10,2018.
Parks and gardens
City ParkEnjoy the Denver sunshine at this 330-acre urban park east of downtown. Two lakes, numerous fields, playgrounds, and a golf course, as well as the Denver Zoo and the Museum of Nature and Science are all within its expansive bounds.
phone: +1 303-376-4800

address: 2300 Steele St

Denver zoo's pride is Bear Mountain, created using casts of actual Colorado rock outcroppings to simulate the bears' natural habitat. For a different way to watch the wildlife, hop on the Pioneer Train, the first train in a U.S. zoo to be powered by natural gas. Other exhibits include an indoor rainforest and the 7-acre Primate Panorama.
phone: +1 720-865-3500

address: 1005 York St

Come for the array of flowers and plants from around the world, stay for the peace and quiet (and the free WiFi), then check out the bonus attractions. Above the gardens' bistro, you'll find Denver's first public green roof, a living example of the benefits of green design. Space and science buffs won't want to miss the OmniGlobe exhibit, a spherical simulation of the Earth from space.
address: S Downing St and E Louisiana Ave

Beautiful and lush Denver park, with lakes, flower gardens, a recreation center, soccer fields and tennis courts. Over 160 acres of natural beauty, surrounded by turn-of-the-19th-century homes. A favorite jogging, volleyball, and drinking destination. This was formerly the favorite hang out of young residents during the summer months but regulations requiring permits for many common activities have reduced park usage and transferred it to City Park.
Cheesman Park

address: 12th Ave at High St

The Acropolis-inspired pavilion has a commanding view of the Denver skyline.
Confluence Park

address: 15th Street at the Platte River

Named for the confluence of Cherry Creek and the South Platte River, Confluence Park is a summertime spot for many of Denver's residents. Cool off in the river, or bring a kayak or inner tube for the purpose built rapids near the REI store. The park is also accessible via the Cherry Creek or Platte bike trails.
Denver Animal Shelter dog sculpture

address: 1241 W. Bayaud Ave.

A 20-foot-high sculpture of a dog, made out of metal dog tags.
Do
Late spring and early autumn are excellent seasons to do things outdoors in Denver. Besides the city's various lush green parks, there are plenty of outdoor festivals, sports, and gondola rides. (Yes, gondola rides.) In winter, the snow-peaked mountains in the distance and the crisp air on your cheeks make it the perfect time to tour Denver's famous breweries or check out the downtown arts scene.
The Southwest Rink at Skyline Park

phone: +1 303-825-6787

address: 511 16th St

Skating rink in downtown Denver open from late November to mid February.

phone: +1 720-443 0287

address: 5405 W 56th Ave, Unit D

Play archery dodgeball with bows and foam-tipped arrows at this indoor arena.
Amusement parks
In addition to the two listed below, the Denver area is also home to
Water World
, a huge water park in
Thornton
.
Elitch GardensA huge amusement park with rides and family entertainment.

phone: +1 303-477-1621

address: 4601 Sheridan Blvd

A throwback from Denver's past, Lakeside is an amusement park like they used to make; without all the corporate branding and commercialism. While it may have a somewhat seedy exterior, Lakeside is still a staple of local kids' upbringings, and remains a fixture of Denver culture as well as a much cheaper alternative to Elitch Gardens. Coaster buffs will squeal with glee over the Cyclone, the park's original 1940 Edward Vettel-designed wood coaster.
Comedy
phone: +1 303-758-4722

address: 1527 Champa St

Nope, no cows on stage. Just exciting and surprising improv comedy shows five nights a week. All ages.

phone: +1 303-595-3637

address: 1226 15th St

Laugh it up with local comedians and big name acts. 21 and up.

phone: +1 303-297-2111

address: 1634 18th St

At Denver's original improv comedy venue, no two shows are ever the same. Great for group events and appropriate for all ages.
Festivals & events
January National Western Stock Show & Rodeo, Martin Luther King Parade, Indian Market, Mile High Snowfest
February Colorado Garden and Home Show, Denver Restaurant Week, Buffalo Bill's Birthday Party
March St. Patrick's Day Parade, Denver March Powwow, Starz Global Lens Film Festival
April Doors Open Denver, Colorado Rockies Home Opener, KBCO Kinetics
May Cinco de Mayo, Tesoro Indian Market and Powwow, Downtown Denver Festival of the Arts, Denver Day of Rock, Colorado Colfax Marathon also includes Denver's Navy Week.
June Colorado Renaissance Festival, Cherry Blossom Festival, Comcast La Piazza dell'Arte, Do At The Zoo, PrideFest, The People's Fair, Highland Street Fair
July Cherry Creek Arts Festival, The INTERNATIONAL at Castle Pines, Colorado Irish Festival, Dragon Boat Festival, Evergreen Jazz Festival, Global Dance Festival
September A Taste of Colorado, Great American Beer Festival, Brew At The Zoo, Annual Oktoberfest, Festival Italiano, Denver Beer Fest
October Fright Fest, Denver Mariachi Festival, Denver Marathon
November Denver Arts Week, Starz International Film Festival, Denver International Wine Festival, Downtown Denver, Grand Illumination
December Mile High Holidays, Blossoms of Light, Zoo Lights, 9News Parade of Lights, New Year's Eve Downtown Fireworks
Performing arts
Major performing arts performances are held at the
Denver Performing Arts Complex
at N Speer Blvd and Arapahoe St in downtown Denver, including:
Besides this complex, you can find smaller venues, restaurants, and cafes for a unique and exciting experience.
phone: +1 303-294-9281

address: 2199 California St

Highly recommended. This popular restaurant/cafe/event center is a must for any lovers of poetry, theater, or counterculture. Live music almost every night, salsa classes, and more. Particularly recommended Sundays nights, when it hosts Denver's best poetry slam. Often, you might run into well-known names like Andrea Gibson. Check out their schedule for more information.
Live music
There are a bunch of places in town where you can catch a concert, but the most interesting and unique venue in the larger Denver area is almost inarguably the Red Rocks Amphitheater in
Morrison
, a huge outdoor space surrounded by rock formations that make for not only a stunningly beautiful setting but also naturally perfect acoustics.
phone: +1 303-322-2308

address: 3317 E Colfax Ave

A beautiful old World War I-era silent movie palace on Colfax Avenue, now repurposed as a music hall where concerts in a variety of genres (primarily rock, but also blues, country, bluegrass and the like) are presented in an intimate setting.

Fillmore Auditorium

address: 1510 Clarkson St

Capitol Hill is where you'll find arguably the epicenter of Denver's live music scene. This cavernous and newly-renovated space is famous for its dual Minors with Adults Liquor License, so if you're underage, you're not necessarily segregated into crappy seats.

address: 7 S Broadway

A small, scruffy bar with character to the hilt, hi-dive is mostly a place to go if you want to check out Denver's local music scene. But it's also made a name for itself as a place rising stars play just before they make it big, so come out to a show here and maybe you can say you "saw them when..."

phone: +1 303-291-1007

address: 2721 Larimer St

You can't miss this hipster-friendly club and concert hall in RiNo, with huge, brightly painted Op Art murals covering the whole front of the building. Catch mostly local rock, country, and electronica acts, with a few national touring artists to mix things up, in an ambience that's a lot cleaner and less skeevy than some of the dives around town.

phone: +1 303-322-2308

address: 2022 E. Colfax Ave

Famous, or should we say infamous, dive bar in Colfax that's been a gathering place for Denver-area punk, hardcore, and thrash fans since the 80s. The drinks are cheap, the lights are dim, and the ambience is grungy - and that's meant in a good way.

address: 935 E Colfax Ave

Like the smaller Bluebird, the Ogden Theatre is another old silent movie house and vaudeville hall that's been repurposed as a music venue. Whatever your favorite genre - rock, hip-hop, R&B, electronica, country - you can probably find a show you like at this affable midsize venue.

phone: +1 303-455-2124

address: 4335 W 44th Ave

Yet another movie palace turned music venue, the Oriental is the Berkeley neighborhood's destination of choice for everyone from rock and rollers to stand-up comedy fans to arthouse cinephiles.
Sports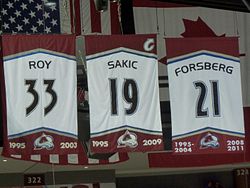 Denver is the only city in the Rocky Mountains with teams in all of North America's "big four" pro sports leagues.
Denver is represented in many smaller leagues too. Of special note among these niche sports is rugby union, which has an outsize following around here: not one but two of America's leagues field teams in the Mile High City.
phone: +1 303-727-3500

address: Dick's Sporting Goods Park, 6000 Victory Way, Commerce City

A charter member of Major League Soccer, the Colorado Rapids are a consistent draw despite generally middling success on the field. The biggest games of the season see the Rapids face off against their hated rivals, Real Salt Lake.

phone: +1 303-405-1100

address: Pepsi Center, 1000 Chopper Circle

They may have only won one Champions' Cup, in 2006, but the Mammoth are a perennial force to be reckoned with in the National Lacrosse League. They play at the Pepsi Center, and tickets are easy to come by (and a relative steal, starting at $10 for single seats).

phone: +1 303-639-4604

address: Infinity Park, 4599 E. Tennessee Ave., Glendale

Rugby union club whose top side competes in Major League Rugby, the USA's latest attempt at a professional league in the sport. The organization also fields women's, developmental men's, and youth teams, some of which play as the Glendale Merlins. Also of note: In 2018, Infinity Park became home to the USA Women's Sevens, a tournament in the World Rugby Women's Sevens Series for national teams in rugby sevens, a variant of union with 7 players per side instead of 15, with halves of 7 minutes instead of 40.

address: Dick's Sporting Goods Park, 6000 Victory Way, Commerce City

The lower-profile but more successful of Denver's two rugby union teams, competing in the U.S. Rugby Super League since 1967 with three championships to their name.
In the realm of college sports, the main draw in Denver is...
phone: +1 303-871-2336

address: Ritchie Center, 2240 E. Buchtel Blvd

The University of Denver (DU), which plays NCAA Division I sports, mostly in The Summit League. With no football program, the highest-profile sports are men's basketball, men's ice hockey (in which it is a traditional powerhouse, playing in the National Collegiate Hockey Conference), and men's lacrosse (an emerging national power in the Big East Conference).
There are also many frisbee golf (frolf) courses that bring hours of entertainment for free, as well as numerous golf courses.
Brewery tours
Among the most popular tours in Denver are those of the many local breweries. Note that the most famous brewery in the area, the
Coors Brewery
, is located in
Golden
, about 15 miles west in the foothills of the Rocky Mountains.
phone: +1 303-296-9460

address: 2201 Arapahoe St

This celebrated local microbrewery is helping make Denver an international destination for beer-lovers. Learn firsthand how they do it. Tours happen Monday-Saturday.

phone: +1 303-578-9548

address: Denver Downtown

Guided walking tour in downtown Denver's historic LODO (lower downtown) area. The tour includes a brewery tour, beer samplings at several microbreweries, everything you want to know about beer, and local Denver history.
Buy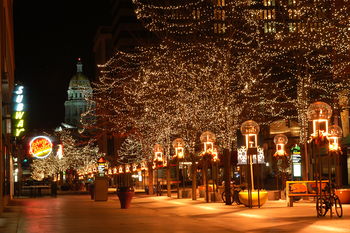 Districts
There are a number of shopping areas in Denver.
The 16th Street Mall runs the near entire length of 16th St in downtown Denver. It is home to a number of chain stores, as well as novelty shops. It is dominated by the , an "urban mall," on the southeast end of the street.
The Cherry Creek Shopping District sits southeast of downtown Denver, and hosts some of the most expensive stores in the metropolitan area. The Cherry Creek Shopping Mall is the epicenter of this district.
(Lower Downtown) is immediately west of the Financial District of Denver and is connected directly to Larimer Square. Like Larimer, it is home to rich old architecture (as well as a few modern pieces). It is anchored by the Tattered Cover (see below) and hosts a ton of shops, mostly in fashion, furniture, and big chains like OfficeMax.
offers some of the best shopping districts in the city and was one of the first urban shopping concepts, dating back to the 1960s. The area is full of all kinds of stuff from clothing to furniture. Check out the district's rich history, as well. The main part is along Larimer Street between 14th and 16th Streets.
Colfax Avenue and Capitol Hill offer some of the most eclectic retailers including Capitol Hill Books
Specific retailers
phone: +1 303-322-7727

The area's largest and best-known bookstore, selling new and used books. The bookstore hosts author readings and other educational programs at their two downtown locations.
The Tattered Cover, Colfax Avenue

phone: +1 303-322-7727

address: 2526 E Colfax Ave

The Tattered Cover, Lodo

phone: +1 303-436-1070

address: 1628 16th St
phone: +1 303-321-4304

address: 230 Fillmore St

Magical toy and costume shop.
Eat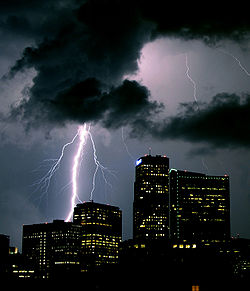 Mexican food
is abundant and satisfying and takes a local Denver flavor. Green chili is the order of the day: a brown, chunky and spicy sauce made from pork and Pueblo or Hatch green chilies that works well on everything from chorizo and eggs to tamales. Denver is also known for "western" food using ingredients such as angus beef, buffalo, rattlesnake, cutthroat trout and Rocky Mountain oysters. The city also embraces its cultural diversity with a wide range of ethnic restaurants. Southeast Asian restaurants are especially abundant with a multitude of Thai and Vietnamese restaurants in every style and price range. Like other large cities, Denver has most types of cuisine, and several restaurants have been noted in top food publications. Smoking inside bars and restaurants is prohibited statewide; however, some places with outdoor patios still allow smoking there.
The restaurant section of the weekly independent newspaper
Westword
(available for free every Thursday at newsstands and locations across the city) is a good place to find the food you are interested in for your price-range and location. Below is a sampling of some consistently good choices.
Budget
Bennie Blanco's

phone: +1 303-831-1346

address: 616 E 13th Ave

Bennie Blanco's is a classic hole-in-the-wall pizza joint, and in this case the phrase is literal. There's no seating, but big, New York-style slices fresh from the oven can be had for as little as $2.50 a slice.

phone: +1 303-778-0147

address: 457 S Broadway

A noisy bar featuring southwest/Tex-Mex in Denver with most items under $10. There is patio seating and two separate dining rooms that are a bit quieter than the main bar. Consistently rated a "Best of" in various local polls.

Breakfast King

phone: +1 303-733-0795

address: 300 W Mississippi

The Breakfast King is a late night staple of Denver, and one of the best greasy spoons. Open 24 hours and it's also walking distance from the Broadway light rail station.

phone: +1 303-322-7666

address: 2641 E 2nd Ave

Once featured on the Travel Channel's Man vs. Food, the Cherry Cricket is known for having a massive variety of toppings to put on your burger, including such oddities as melted peanut butter, fried eggs, and cream cheese.

Denver Diner

phone: +1 303-825-5443

address: 740 W Colfax Ave

In an otherwise deserted stretch of an otherwise hoppin' Colfax, this is pretty much everything you would want of an iconic urban diner—the sort that achieved just the right balance of neon, grime, tattoos, and cheap greasy food, with an ample dose of authenticity. And crucially, it is open around the clock to feed the morning downtown crowd and the late night intoxicated revelers

phone: +1 303-623-2169

address: 1530 16th St #101

A local favorite hangout with great, cheap burritos. Its patio is located directly on the 16th St Mall, making it a great place to people watch.

phone: +1 303-777-8828

address: 1890 E Evans Ave

Open until 3AM, and within walking distance of the University of Denver, this small but excellent Middle Eastern restaurant offers great no-frills food in a laid-back and hip atmosphere.

Far East Center

address: Federal Blvd

Several southeast Asian restaurants located in this area offer a wide variety of pho, noodle houses, upscale Vietnamese, dim sum and other Asian cuisines. Pho 95, Pho Duy, Super Star Asian and Saigon Bowl are a few of the places to try in this diverse and delicious culinary corridor.

phone: +1 303-534-2255

address: 820 15th St

Leela's is a combination bar/coffeehouse/cafe which is a favorite among the college crowd. There's good Italian coffee, great music (live on some nights), and great panini sandwiches. Leela's is open 24 hours as well, and free wireless internet is available, so you can be productive (or not) while waiting for your friends to arrive.

phone: +1 303-321-3139

address: 1962 E Colfax Ave

This combination Greek restaurant and short-order diner is open 24 hours a day and has a great Greek salad and French toast. It's a favorite of local celebrities as well.

phone: +1 303-534-1927

address: 1500 Curtis St

Just a block off the 16th Street Mall and across the street from the Denver Center of Performing Arts Complex, this family-owned restaurant has been feeding Denver and its visitors since 1927. Featured on Diners, Drive-ins & Dives for their Famous Kickin' Pork Green Chili, it's not a spot to be missed.

phone: +1 303-623-3926

address: 714 Santa Fe Dr

This small Mexican lunch-counter offers many delicious food choices for the adventurous palate.

phone: +1 303-455-4389

address: 2616 W 32nd Ave

This neighborhood favorite has the most amazing tacos and green chili.

phone: +1 303-623-3523

address: 1626 Market St

Two-Fisted Mario's has excellent East-coast style pizza on the cheap ($2 a slice, and it's a big slice), and is open until 3AM, so you can grab a pie after drinking microbrews into the wee hours of the morning.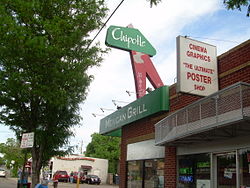 Mid-range
phone: +1 720-283-3294

address: 1886 S Broadway

Café, dessert restaurant and bakery. Sit-down area with LavAzza coffee, fruit smoothies, pastries, Inca Kola, tarts, cookies, cupcakes, ice cream.

phone: +1 303-861-4710

address: 494 E 19th Ave

Dessert is the main course at d Bar, especially with celebrity chef Keegan Gerhard making the delectable desserts. The menu does includes savory items as well as Allegro Coffee to go with your sweets.

phone: +1 303-922-2822

address: 2825 W Alameda Ave

Empress has long been the queen of dim-sum and affordable yet flavorful seafood selections from all over Asia.

phone: +1 303-698-2800

address: 431 S Broadway

The Imperial is Denver's premier Chinese restaurant and has been since the 1990s.

Jack n Grill

phone: +1 303-964-9544

address: 2524 Federal Blvd

Excellent New Mexico-style food with heaping portions usually soaked in your choice of a green or red chili or for the indecisive, both.

phone: +1 303-936-4954

address: 630 S Federal Blvd

Denver is home to a sizable Southeast Asian population that shows off its unique culinary talents at this great Vietnamese community institution.

phone: +1 303-595-0418

address: 650 Sherman St

The restaurant for Denver's power brokers and proletarians with its simple yet elegant American menu and casual yet sophisticated decor.

phone: +1 303-297-0700

address: 2262 Larimer St

Inventive, trendy (and really good) breakfast is the show-stopper at the east edge of LoDo, and you can expect the place to get extremely crowded on weekends. The thick, rich hot chocolate is definitely worth ordering.

address: 1317 14th Street

Excellent food with great cocktail and a solid beer selection.
Splurge
Drink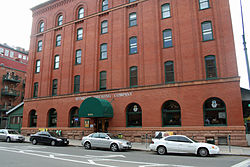 Colorado produces more beer by volume than any other state and Denver ranks first for US cities. In fact, Colorado Governor (and former Denver mayor) John Hickenlooper was a microbrewer before running for office. Notable breweries in Denver and environs include:
The effects of alcohol are magnified at higher elevations, so people may find themselves inebriated more quickly and with greater effect than they would at lower altitudes. Moderation is probably a good idea until you understand your body's reaction to alcohol and can acclimatize to its effects at higher elevations.
That said, the following are some of the best bar-hopping locales in the city:
Bars in Lower Downtown (LoDo)
LoDo
is the name Colorado locals have given the Lower Downtown district of Denver. It's a great place for meals, entertainment, and nightlife, where restored Victorian buildings now house more than 90 sports bars, brew pubs, jazz clubs, and restaurants.
Bars in Capitol Hill
Capitol Hill
is the neighborhood directly east and south of the Colorado State Capitol on Colfax Avenue and Grant Street. It has long been a place for young people, sub-cultures and the gay and lesbian community. It rivals LoDo as the place to party, no matter what your scene is.
Bars on Colfax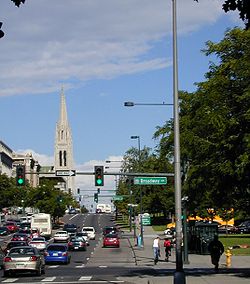 Colfax Avenue
, described by Playboy Magazine as the "longest, wickedest, street in America," stretches 26 miles through Denver and its suburbs. Colfax has long had a "gritty" reputation for being home to prostitution and drug peddlers. However, through much urban development work, Colfax has shed its past and emerged hipper, cleaner and more popular than ever. The many bars, restaurants and nightspots along the street give it a 24/7 ambience.
phone: +1 303-839-1394

address: 1201 E Colfax Ave # 100

The Snug (to the locals) is the best place in Denver to down a pint of Guinness with your mates. Excellent fish and chips will fill you up (if the Guinness doesn't first).

phone: +1 303-322-5219

address: 3230 E Colfax Ave

Mezcal is a hip Mexican-themed bar/restaurant serving excellent and cheap Mexican food along with its plentiful selection of great drinks, particularly tequilas.

phone: +1 303-832-5288

address: 741 E Colfax Ave

One of the four Don Quixote-themed bars in Denver, Sancho's is the best place in Denver to relive your old days with its Grateful Dead come alive decor and live rock and roll every Monday.

Squire Lounge

phone: +1 303-333-9106

address: 1800 E Colfax Ave

This is a serious dive bar, complete with nasty bathrooms, unkempt floors, characters, a couple pool tables, and a jukebox. And cheap late night drinks accompanied by some seriously plastered clientèle. Clearly not for everyone, but it has its place. If you are up for a real wild ride, order The Beaver, a huge pitcher of impromptu God-only-knows-what, usually less than $10.

Streets of London Pub

phone: +1 303-861-9103

address: 1501 E Colfax Ave

The closest thing to England you can get without a 10 hour flight, Streets of London has an abundant selection of ales, draughts and other favorites.
Bars elsewhere in Denver
phone: +1 303-366-0114

address: 7577 East Academy Blvd

In the Lowry neighborhood, this beer garden is in between two of the old airplane hangars that made up Lowry Air Force Base. The Garden offers a thoughtful draft and bottled beer selection with a focus on Colorado and handcrafted brews. The Lowry Beer Garden also serves up your favorite casual fare with locally-made gourmet brats & sausages, freshly-baked pretzels, house-ground burgers, hand-cut fries and chef-created salads.
Coffee
phone: +1 303-744-3323

address: 630 E 6th Ave, 80203

Also location at 1300 Pennsylvania St (NE corner 13th Ave and Penn). Fresh roasted coffee roasted in the store, excellent barristas and a nice patio, no wi-fi so the number of student "campers" is a minimum, a great place for people looking for a great cup of coffee.

address: 3213 E Colfax

A few blocks south of City Park. Wifi-friendly coffeeshop with great local coffee offerings, as well as a small selection of beer, wine, and cocktails. Offers delicious home-baked pastries and quiches, with gluten-free and vegan options.

The Market

address: Larimer Square

The place for coffee shop people watching in Denver. Outstanding pastries, hot from the oven every day at 6:30AM. Also a great full service deli. Wifi/Laptop friendly.

address: 2019 E 17th Ave

Quintessential coffeehouse ambience. House made pastries. Lovely neighborhood block with a nice collection of restaurants.

FluidModern. Gourmets: order an artisan coffee made with the Clover machine. Light pre-packaged eats available. Wifi/Laptop friendly.

Daz BogFormerly Diedrich's. Lovely tree lined street. Nice selection of pastries and light bites. Wifi/laptop friendly. Multiple locations around the city.

Common Grounds DowntownAn old mainstay in Denver. Between Union Station and Market Street RTD station. Wifi/laptop friendly.

Metropolis11th and Cherokee and 17th and Champa. Modern. Wifi/Laptop friendly.

phone: +1 303-777-1031

address: 1476 S Pearl St

Large wifi-friendly coffeeshop with a warm, open feel. Popular among students studying during the day, louder and livelier at night.

address: 228 S Broadway

Great laid-back atmosphere, vintage couches in back, tables in front, booths in the middle. Serves locally-roasted coffee, pastries and teas. Good study spot, or just to meet with friends. Wifi-equipped.

address: 955 Lincoln St

#G. Upscale atmosphere with friendly staff and reasonable prices. Serving locally-roasted coffee, teas, sandwiches and pastries. Good spot for studying, business meetings, or just to meet with friends. Wifi-equipped, and there's a loft upstairs.
Nightclubs
Denver is the heart of Colorado's nightlife. For a city its size, Denver does not disappoint.
Sleep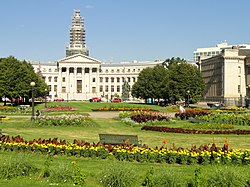 Budget
phone: +1 303-894-0529

address: 1112 N. Broadway

phone: +1 303-433-6677

address: 2601 Zuni St

phone: +1 303-954-0962

address: 1217 20th St

Upscale hostel that opened in July 2015 in a historic building in downtown Denver that occupies top 2 floors of the building and a restaurant and bar on the ground floor of the historic building. The 2 story hostel has 67 dorm beds and 2 private rooms available with free continental breakfast, free wi-fi, guest lounge, bar and kitchen.
Mid-range
Splurge
Stay safe
Denver is quite safe for a city its size. Use common sense when traveling, particularly in downtown and some of the other inner-city neighborhoods. Denver does have a visible population of people experiencing homelessness, but the city has strict laws about accosting for money. In general, panhandlers don't harm anyone. Downtown has a fairly active 24/7 population, especially in LoDo, so it's generally safe.
Still, it may be a good idea not to travel alone at night in some of the neighborhoods surrounding downtown. Although the inner-city neighborhoods are not as bad as those in some other cities, they have higher rates of crime than the rest of the city. The rest of Denver is safe, though.
Emergencies
Like the rest of the United States, the emergency number in Denver is 911. This will connect you to the local emergency services (police, medical, and fire). If you need to report a crime to the police, such as a burglary (not in progress), minor assault (no injuries and not in progress), car theft, etc. Dial +1 720 913-2000 and request for police assistance.
The Denver Police is the main police force for the Denver Metro area. Most police officers are polite and trustworthy individuals, so if you need assistance, approaching a police officer is a good idea.
Altitude sickness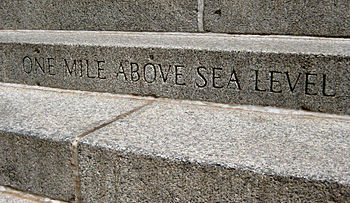 Altitude sickness
or
Acute Mountain Sickness
is an ailment that potentially anyone can have when they visit areas with higher altitudes than they are used to, due to decreases in barometric pressure (though not oxygen content). Denver is called the Mile High City for a reason—at an altitude of a mile above sea level, one can start to experience some of the effects of altitude sickness, though this condition generally becomes more pronounced at elevations around 8000 ft (2500 m) and above. Some normal changes may occur when people travel to higher altitudes that are not altitude sickness. These include the following:
Hyperventilation (breathing faster and/or deeper than normal)
Shortness of breath after exertion
Changes in nightly breathing
Awaking at night
Increased urination
The above are generally nothing to worry about, though problems with breathing may be helped by a drug called acetazolamide. If you think you may have problems, get advice from your doctor before traveling to Denver.
Some people get Acute Mountain Sickness (AMS), which can be serious, at the higher elevations you will experience if you are touring through the Rocky Mountains. A diagnosis of AMS is usually given if a person has a headache accompanied by one of more of the following symptoms:
Loss of appetite, vomiting and/or nausea
Fatigue or weakness
Dizziness or light-headedness
Insomnia, difficulty sleeping
Some people liken AMS to a bad hangover or worse. It occurs because your brain tissue swells at higher elevations than it is used to. If you are feeling unwell at high altitudes, assume that you are suffering from AMS unless there is another logical explanation that would be accompanied by other symptoms (food poisoning or a viral infection).
To avoid AMS, try to get to a lower elevation until your symptoms subside, drink lots of fluid to avoid dehydration, and avoid traveling at high rates of ascent. If the symptoms continue or worsen,
travel to a lower altitude.
AMS can turn into
High Altitude Cerebral Edema (HACE),
a potentially fatal condition where the brain swells so much that it ceases to function properly. Symptoms of HACE include confusion, inability to think clearly, lethargy, ataxia (walking staggerdly, as if one was drunk), and changes in behavior. The person may not recognize having HACE, but if you any of you experiences any of these symptoms (especially ataxia),
immediately make sure the person is taken to lower elevations for medical treatment.
Another very serious condition, called
High Altitude Pulmonary Edema (HAPE)
causes fluid in the lungs. If someone suffers chest tightness, congestion, gurgling breaths, blue or gray fingers or lips, cough producing frothy or pink liquid, and difficulty breathing even at rest,
they should be taken to a lower elevation and receive medical treatment immediately.
Although not particularly common, keep in mind that these illnesses are possible and that anyone is susceptible to them, even if you have traveled to high elevations before.
Another medical concern at higher elevations, particularly those in Colorado and Denver, is sunburn and skin cancer. The higher elevation means that there is less atmosphere protecting the skin from harmful solar radiation. This is especially true in Colorado, with both dry air that saps the skin of protective moisture and with the beautifully sunny days we have in the state.
Colorado actually has the highest rate of skin cancer in the country, so it is always a good idea to wear a lot of high SPF sun-screen, hats, long sleeve shirts and pants. Don't think that you are protected from the sun in the winter either. The sun's rays can actually be reflected by the snow on the ground, still causing skin damage, so when in Colorado, do as the locals do, and
wear sunscreen
on any exposed skin surface at any time of the year.
Connect
Wireless internet
Consulates
phone: +1 303-321-2234

address: 8480 E Orchard Rd Ste 1100, Greenwood Village

phone: +1 303-626-0640

address: 1625 Broadway Ste 2600

phone: +1 303-980-9100

address: 5353 W Dartmouth Ave Ste 508

Italy

phone: +1 303-224-9927

phone: +1 303-331-1110, +1 303-331-1112

address: 48 Steele St

phone: +1 303-534-1151

address: 1225 17th St Ste 3000

phone: +1 720 460-9226

phone: +1 303-830-1970

address: 1700 Lincoln Street

phone: +1 303-355-8555

address: 6795 E Tennessee Ave #550, Denver, CO 80224

phone: +1 303-892-0118
*
Go next
Mountains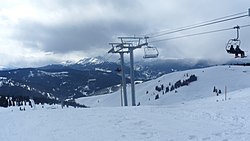 For skiers and snowboarders, winter is the best time to visit Denver. Hordes of people fly into Denver International Airport each season on their way up to the ski capitals of Summit and Eagle counties, including Vail, Beaver Creek, Copper Mountain, Keystone, Loveland Basin, Arapahoe Basin, and Breckenridge, Winter Park; a little further away are Steamboat, and Aspen. You can find information on resort shuttles at the desks in DIA's main terminal.
There are many ski resorts about 1½–2 hours west of Denver along I-70, but weekend traffic to them can be very slow, especially in inclement weather. Steer clear of the crowds by skiing during the week or planning your trip outside the busy season (Thanksgiving to New Year's). There are also plenty of mountain trails for snowshoers and cross-country skiers, which are generally free. You can also take the RTD Ski-n-Ride service from Boulder to Eldora Ski Resort west of Boulder, which is the only resort with scheduled bus service. Winter Park (Colorado) receives train service with the Winter Park Express operated by Amtrak. Departures are once every Saturday and Sunday from January to March at 7AM with the return trip departing Winter Park at 4:30PM.
Travelers in Colorado often use Denver as a home base for forays into the neighboring mountains, to places like Rocky Mountain National Park.
More Colorado destinations
Red Rocks Amphitheatre. In Morrison, Colorado on the western edge of Denver, this is a gorgeous outdoor concert venue set in a red sandstone paradise. There's a great view of Denver below. From Igor Stravinsky's North American debut of his 'Rite of Spring' at the park's opening in the 1940s to the Jethro Tull, Grateful Dead and Phish riots of the 1970s, '80s and '90s, Red Rocks' history is quirky and storied. It was also a stop on The Beatles famous British Invasion tour of America. But if you pay and visit Red Rocks only during a concert, you're seriously cheating yourself. Check out the Rock and Roll Museum at the top of Red Rocks, eat in the restaurant, hike the red sandstone and scrub oak trails for their scenic beauty and wildlife. It is illegal, however, to climb on the rocks themselves. If you can't bear to leave after the show, book a room or stay in a campground next to the amphitheater.
Boulder is a laid-back university town about 25 minutes northwest of Denver. Snow-capped mountains can be seen for miles from the town.
Winery tours - Visit a Front Range or mountain winery, or the vineyards in Colorado's Wine Country. Various Wine Trails have been organized by the Colorado Wine Industry Development Board, a promotional entity funded by the state. The Wine Trails can be driven or biked.
Colorado Springs and Pueblo are about a 90-minute drive south on I-25.
The rest of the Denver area has a lot of sights, like Elitch Gardens.
Neighboring states and beyond