Deo
Deo
, also called Dev City, is a city in the state of
Bihar
. It is the site of the Sun Temple.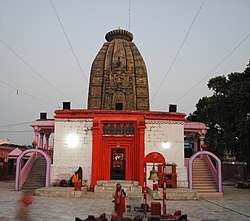 Understand
Deo has always been famous for its temple complex that houses the famous
Deo Sun Temple
. There are also temples or monasteries from many nations with a Hindu or Buddhist tradition such as
Nepal
,
Tibet
and
Japan
.
Get in
By plane
The nearest airport is at
Gaya
- Druk Air flies from
Bangkok
once a week. Thai Airways flies to Gaya daily. Air India flies from several destinations including
Kolkata
and
Delhi
.
Alternatively, you may take a flight to the
Patna
Airport away and take a train or a taxi to Bodh Gaya as Patna has multiple daily direct flights to Delhi, Kolkata and Mumbai.
By car
The road is very good so the journey can be quite fast. It takes roughly 3 hours to 3.5 hours from Patna to arrive. The best way is to avoid the Dev Market, as the roads are very narrow.
By train
The nearest railway station is Anugraha Narayan Road Railway Station, away. From there, you can take a bus or a three-wheel taxi (rickshaw). Rickshaw prices vary, but the going rate was ₹30 for a shared ride or ₹200 for an entire rickshaw no matter what time of the day in April 2015. There is rarely a shortage of rickshaws.
The train from Patna costs ₹30 for the passenger train and ₹60 for an express non-reserved seat. The fastest express trains in the early morning take about two-and-a-half hours and the slow passenger train takes about four hours, which is still comparable to buses. Trains leave every one to two hours.
The best train travel from Calcutta is about 8 hours; from Delhi, about 15 hours (2nd class air con costs ₹161 - book upstairs at Anugraha Narayan Road railway station station then pay downstairs at window 29).
The road from Patna is in good condition: the train & road is also recommended.
By bus
Bihar State Tourist Development Corporation

phone: +91 612 225411

runs seasonal deluxe bus services to and from Patna, gaya & Aurangabad District.
Get around
By car
By far the most convenient way to get around Deo are the auto-rickshaws, cycle-rickshaws, and tourist taxis. As always, make sure to bargain and agree on a price before setting out on the trip. The costs are usually quite low; a few rupees will likely get you most places in the city.

On foot
Deo is very walkable. Most of the major destinations are within (about a half-hour walk) from the Deo Sun Temple. There are lots of pilgrims visiting for much of the year, so the streets will be crowded. Avoid walking in the streets alone at night.

See
Deo Sun TempleDeo Sun Temple is high. Built during the 8th century. There is a huge pond surrounding it. During Chhath festival, it is just not possible to reach to the temple on any vehicle but on foot. Those interested in Nagar style of building construction can go and see this temple. Good place to visit.

address: Deo Town

Deo Fort one of the architectural structure in deo, bihar. old king fort in deo aurangabad bihar.
Go next