Dhaka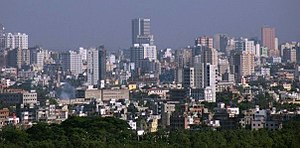 Dhaka
(formerly
Dacca
in English) is the capital and largest city of
Bangladesh
. It is the largest city by population in the historical region of
Bengal
and a major city in
South Asia
. Dhaka emerged as a cosmopolitan city during the
Mughal Empire
. It is a hub for trade and culture, with a long history as a Bengali capital. It has been called the
City of Mosques
and the
Venice of the East
, due to its Islamic architecture and a riverfront facing the Buriganga (Old Ganges). It is also known as the
Rickshaw Capital of the World
, as there are over 500,000 cycle rickshaws running on its roads. Although it is described as a concrete jungle, Dhaka has venerable green spaces, including many gardens and parks. Today, Dhaka is South Asia's second most populous capital after
Delhi
and an important financial center alongside
Mumbai
and
Karachi
.
Districts
Understand
Modern Dhaka is a thriving, colourful and congested metropolis. Being one of the most densely populated places on the planet, Dhaka can be one of the most frenetic cities in the world. Its streets and rivers are filled with colourful chaos. The city plays host to the highest number of rickshaws in the world. Dhaka is also the center of Bangladesh's textile industry, the country's principal foreign exchange earner. Experiencing the city for the first time may seem overwhelming.
Geography
Dhaka in the Bengal Delta
Dhaka is located in the most dynamic hydrological system in the world, where mighty rivers churn the landscape during annual monsoon rains and floods, producing one of the most fertile regions in the world and an amazing chemistry of land and water.
Dhaka covers 360 km² (140 sq mi) in the lower reaches of the Ganges delta. It is bounded by the Rivers Buriganga, Dhaleshwari and Turag; and their numerous tributaries and river channels. The land is close to sea level. Dhaka is vulnerable to flash floods during the monsoon.
Etyomology
The literal meaning of the name Dhaka is "concealed". The enigmatic name might have originated from
dhak
trees found in the area; or from the 12th-century Hindu Dhakeshwari Temple.
History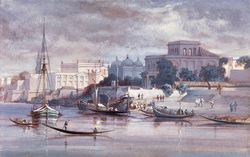 The earliest settlements in the region date back 2,500 years. Dhaka was the capital of Bengal during the Mughal Empire in the 17th century. As the seat of administration and commerce in the Bengal Delta, the wealthiest and most fertile region in the Empire, it became one of the largest and most prosperous cities in Asia. Proclaimed as the provincial capital in 1608, Mughal Dhaka had a population of one million people, with well-laid out gardens, monuments, tombs, forts, mosques, temples, churches and caravansaries and churches. The city was home to Armenian, Persian, Greek, Arab, Portuguese, French, Dutch and English merchants. Its riverbanks were once dotted with numerous stately mansions and the city was described as the
Venice of the East
. The Dhaka District was famous worldwide for its fine cotton muslin fabrics. The British East India Company took control of the city in 1793.
In British Bengal, Dhaka and its sister city
Calcutta
played a tale of two cities in the region, greatly affecting the course of events in the British Raj. The short-lived Partition of Bengal in 1905 established Dhaka as the capital of Eastern Bengal and Assam and incubated the broader Indian independence movement. The All India Muslim Educational Conference in Dhaka in 1906 established the All India Muslim League. The University of Dacca gained a reputation as the
Oxford of the East
in its early years. Dhaka became the capital of East Pakistan after the Partition of British India in 1947. Increasing political and cultural friction with West Pakistan gave rise to the secular Bengali nationalist movement in the 1950s. The Bangladesh Liberation War in 1971 established Dhaka as the new national capital.
Since independence, the city has greatly expanded with the inauguration of Louis Kahn's capital complex in Sher-e-Bangla Nagar, the rise of posh modern neighborhoods in North Dhaka and densely populated satellite towns. It was the birthplace of the South Asian Association for Regional Cooperation in 1985. The growth of the Bangladeshi economy has brought greater trade and foreign investment. Dhaka continues to face many challenges. The gap between rich and poor is widening. A thirty minute rickshaw ride can take you from the impossibly crowded shantytowns near Old Dhaka to the glitzy upper class neighborhoods of Gulshan and Banani, where a meal costs more than what most people earn in a day.
Climate
The
weather
is subtropical - hot and very humid during the summer monsoon season (April–September) and drier and cooler in the winter (October–March). Visitors from colder countries might want to visit in the winter when temperatures are around 20°C and humidity is low (around 60-70%). Most rainfall occurs between May and October. Increasing air and water pollution emanating from traffic congestion and industrial waste are serious problems affecting the city. Dense fog is usually seen between November and January, and can disrupt flights and ferry transport.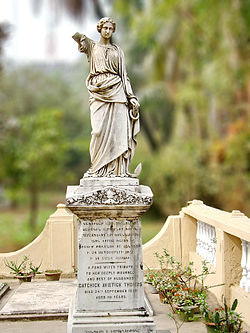 Literature
The following is a selection of prominent works set in the city:
Tahmima Anam's award winning novel A Golden Age is set in Dhaka during the 1971 Liberation War, depicting the tumultuous era through the eyes of one family.
Dilruba Ahmed's Dhaka Dust won the 2010 Bakeless Prize for Poetry. Ranging from Europe and America to the streets of the Bangladeshi capital, her sharp-edged poems mix the voices of global citizenry with Dhaka's city dwellers.
K. Anis Ahmed's Goodnight, Mr. Kissinger traces the modern history of Dhaka from its status as a provincial capital in 1970 to today's densely populated megacity.
Bengali author Akhtaruzzaman Elias's The Soldier in the Attic details the journey of a man during the turbulent period prior to Bangladeshi independence. The novel also contains what is arguably the most authentic description of life in Old Dhaka.
Translated works of poet laureate Shamsur Rahman.
Amitava Ghosh's The Shadow Lines includes a vivid description of Dhaka in the early 1960s, set against the backdrop of Hindu-Muslim riots in 1963-64.
Shazia Omar's Like A Diamond in the Sky chronicles drug abuse among Dhaka's youth and an environment abandoned by a corrupt self-seeking government.
Get in
By plane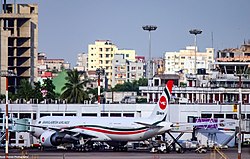 Hazrat Shahjalal International Airportis the primary airport serving Dhaka. It has regular international flights from London, Istanbul, Dubai, Singapore, Hong Kong, Colombo, Kuala Lumpur, Bangkok, Karachi, Mumbai, New Delhi, Kolkata, Yangon and Kathmandu. There are also flights to Paro in Bhutan, Male in the Maldives and Kunming in the Yunnan province of China. The airport has significant traffic with the Middle East, including Muscat, Jeddah, Doha, Bahrain and Kuwait. The national airline Biman operates flights to 21 cities in Europe and Asia; while private Bangladeshi carriers operate regional flights within South and Southeast Asia. Hazrat Shahjalal is a relatively modern and efficient airport. However, immigration can take notoriously long during peak hours. If you are transferring from the international to domestic terminal, beware of airport officials at the scanning station (before the domestic terminal) who will tell you that the domestic terminal is closed, make you sit down, and then try to extort bribes from you. If that happens, get up, and quickly walk out of the doors and turn right towards the domestic terminal. Once inside, he may follow you, but loudly tell him to leave you alone. He will back down and go back to his station. Domestic flights link five cities within the country.
By train
Dhaka is the hub of
Bangladeshi Railways
, almost all major cities have at least 2-3 daily direct services, including trains from
Chittagong
and
Sylhet
. Both day- and overnight trains are available. The only international connection is with
Kolkata
,
India
, from where the
Maitree Express
departs early morning, three times a week.
Bangladeshi Railways does have an
e-ticket service
, but it only works with domestic credit cards and phone numbers. Best bet for a tourist is to make reservations at the station or a travel agency. Trains are popular so book in advance.



By bus

Buses are a popular mode of cross country transport in Bangladesh. Luxury AC buses fare daily between Dhaka and other Bangladeshi cities, including Chittagong, Khulna, Bogra, Jessore, Rajshahi, Cox's Bazar and Sylhet, as well the Indian cities of Kolkata and Agartala. Tickets cost Tk 800-1200. Ticket counters are located across the city, particularly in the Panthapath and Arambagh areas. Non-AC buses travel to every major town in the country. There are several terminals located across Dhaka serving a different region of Bangladesh. Sayedabad serves buses traveling between Dhaka and the eastern divisions of Sylhet and Chittagong. Gabtali is for buses traveling between Dhaka and the western divisions of Rajshahi, Rangpur and Khulna. Mohakhali serves buses traveling around Dhaka Division, including the districts of Mymensingh and Tangail.


By car

Dhaka is the focal point of the national highway system in Bangladesh. The nearest international borders to the city are the Akhaura/Agartala Border Crossing with Northeast India and Haridaspur/Benapole with the Indian state of West Bengal. Cars can be used to travel from the Indian border; but the border with Myanmar remains closed.


By boat

Most ferries arrive and leave from the port of Sadarghat. This area and its surrounding streets are unbelievably crowded, so allow plenty of time and keep an eye on your valuables. If arriving at the port, fight your way to the left on the frontage road and then make your first right; this turns into Nawabpur Road and leads north to the hotels. Even if you aren't staying in this area, it's easier to walk several hundred metres north to catch an onward rickshaw or taxi; the ones near the port are at a constant standstill.
Modern river transport to various large river ports in Bangladesh such as Chandpur, Barisal and Khulna leave several times a day from Dhaka's Sadarghat river terminal. Modern fast catamaran transport is available to these destinations which may demand premium fares. These fast catamarans reach Barisal within 6 hours from Dhaka Sadarghat terminal (morning departures are usually at 8 AM). Normal fare is Tk 700 and Business Class fare is Tk 1000 as of mid-2018. One can purchase tickets online, most hotel concierges can help with tickets. The Green Line bus operator folks also have the fast Catamaran service - please see their contact information above in the bus section.
A few colonial-era rocket steamers depart from Dhaka to Barisal, Hularhat, Morrelganj and Khulna several times per week, leaving Sadarghat at 18:00. As of December 2018, there is only one steamer per week going the whole way to Khulna (takes 26–30 hours), but most of the other days you can get at least to Hularhat, and then use a local transport to Khulna (2 hours). Tickets should be booked with the BIWTA office. The old BIWTA office in Motijheel is believed closed (May 2019) - the new office is located near Ramna Park at 21 Kazi Nazrul Islam Avenue (recorded in maps.me as 'new BIWTA/BIWTC office'). If a rocket steamer does not depart on your chosen day, the staff will offer another BIWTC boat, including the MV Bangali which offers a similar level of comfort including food and water available on board and fans in the rooms for a similar price. The MV Bangali departs from Lalkuthi Ghat (not Badamtoli Ghat as some will tell you).
If you're planning to cross rivers while heading to southern Bangladesh by car from Dhaka, head to the ferry ports in Mawa and Aricha on the Padma River.

Get around
Given the plethora of all forms of transport, if you're having trouble getting a decent fare with a driver walk a few metres to the next one. Not all are out to gouge you, so better to find the honest ones and give them your business. Occasionally a driver will demand more money on arrival; the best way to deal with this is to hand over the agreed or metered fare and walk away. Make certain from the start that the driver knows where you're headed (unless you can direct him yourself) - they often have limited local knowledge, but will always say that they know where somewhere is, and take you 'round the whole city searching whilst the meter ticks. Make sure that you take a card with your hotel or hostel written on it so that you can actually get home. Having a card for the hotel with the actual address makes this a whole lot easier.
The trains in Bangladesh only operate between major regional cities. There is no suburban or metro rail system in Dhaka, although the first line of a metro system is planned to open in 2019. Due to the lack of proper public transit, Dhaka suffers from choking traffic. Often, some areas of the city can become deadlocked for a number of hours.
By rickshaw
Cycle-rickshaws or simply,
rickshaws
, are the most popular form of transport, and good for short distances, mainly on side streets. They make up the bulk of the city's horrendous traffic, and charge around Tk 15 per kilometre. Negotiating a fare beforehand is essential as a foreigner. Rickshaws in wealthy areas such as Banani and Gulshan often must pay local mafia men for the privilege of servicing the high-price areas. This can sometimes mean drivers are apprehensive to take passengers to these areas. Additionally, foreigners should also be warned that rickshaws will sometimes begin the ride with a pitch to sell drugs or prostitutes. This is very rare. One or two simple, but firm, declines will generally solve the situation. If you're a woman, it's particularly inadvisable to ride around alone in rickshaws after dark; you're a slow-moving target asking for trouble from thugs and muggers. Take a yellow taxi instead.
By car
Driving a car in the capital can be a nerve-wracking experience. Officially, cars drive on the left, although the reality can be different. Locals will often zoom down the wrong side of the road in an attempt to overcome the traffic. Traffic police monitor most intersections in the city, in an attempt to keep the traffic flowing. Many intersections have been upgraded with traffic signals, but these are often ignored by both drivers and traffic police, who will direct cars as they see fit.
There are some options for car rental, with
Europcar
being the notable Western brand name. The government's
Virtual Bangladesh
website has more options. Many companies may also offer the option to rent-a-driver for a number of days; it is common for most middle to upper-class locals to have their own drivers.
By auto-rickshaw
Auto-rickshaws, locally known as 'CNGs' (named after compressed natural gas, their fuel source) are also abundant and have meters, which drivers can sometimes be persuaded to use. They're the cheapest way to cover longer distances; an 8 km ride from Old Dhaka to Gulshan should cost Tk 150-200. The meters start at Tk 13.50, but you'll likely have to negotiate a fare instead. The city does become very congested at times, so allow plenty of time for getting around.
By taxi
Taxis ply the roads, some yellow and some black, all with meters. Black taxis start the meter at Tk 15 while yellow taxis have slightly higher standards in terms of comfort, and start at Tk 20. Black taxis are typically in notoriously poor condition and lack air conditioning. Yellow taxis are required to have air conditioning; the fleet consists mostly of Toyota Corollas, with some Mitsubishis and Hondas. The yellow taxis are also considered far safer, in comparison to black taxis and auto-rickshaws.
By bus
Buses run routes on the main roads, but are horribly crowded and noisy, signed only in Bengali and aren't likely to be of much use to travellers. The buses are also frequently involved in collisions. Save yourself a headache and take a rickshaw, or for long distances, a comfortable, air-conditioned bus or train.
By bicycle
Many locals of lower-classes often use bicycles as a primary form of transport. They can be useful in their ability to squeeze through tight situations, where traffic may prevent a large vehicle from moving. Some newer roads in the capital have dual bike/rickshaw lanes. Although, there is little opportunity to buy or rent a bike, plus the roads and traffic are in such bad condition that the chance of an accident is high.
By foot
Sometimes, walking may actually be the fastest way to get from point A to B. Always ensure you walk on the footpath, or if one isn't available, as far to the side of the road as possible. The road is a dangerous place in Dhaka, and many pedestrians are often injured by passive drivers. Those who are squeamish to pollution or have asthma may need to wear a mask; the air pollution from passing trucks and buses, combined with the searing heat and humidity can be overwhelming at times.
See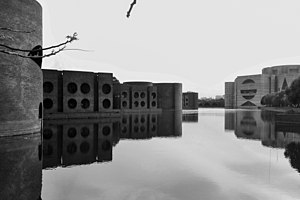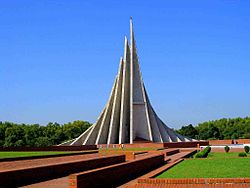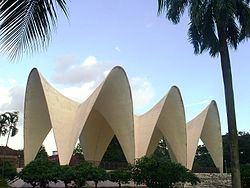 National Capital Complex The parliament district, home to the National Parliament House and the official residence of the Prime Minister. It is one of the largest legislative complexes in the world and has a huge area with gardens and lakes. The complex is one of the celebrated works of the American architect Louis I Kahn, who combined regional modernism with the ancient architectural heritage and riverine geography of Bangladesh. The Parliament is open for visiting foreign tourists from Sunday to Thursday between 9 am and 5 pm. Visitors must carry a copy of their passport and visa and submit a fee of Tk 600 to the Parliament reception in the main building.

phone: +880 2 9559091

address: 5 Segun Bagicha

A leading private museum which documents the liberation struggle of Bangladesh from Pakistan in 1971, including the 1971 Bangladesh Genocide and the political and armed resistance movement of the Bangladeshi people
Bangladesh National Museum Home to a good collection ancient art from the Hindu-Buddhist period of pre-Islamic Bengal.
Lalbagh Fort A 17th century unfinished Mughal fort in Old Dhaka, with a museum, pavilion, mosque and the tomb of Pari Bibi.
Ahsan Manzil Palace The former official residence of the Dhaka Nawab Family and site of many important political and social events during the British Raj, including the first All India Muslim League conference and many balls hosted in honor of the Viceroy of India.
Dhaka University Area The historic university campus was an epicenter of Bangladesh's struggle for self-determination. The University of Dhaka was established by the British government in 1921 and was once called the Oxford of the East. It has several notable colonial buildings, including the Curzon Hall, named after Lord Curzon, the Viceroy of India (1899-1905). The Hall is a masterpiece of European-Mughal architecture that evolved after the first Partition of Bengal in 1905. The Burdwan House is home to the Bangla Academy. The campus also hosts the Central Shaheed Minar, the national monument dedicated to the Bengali Language Movement; as well as the tomb of the National Poet Kazi Nazrul Islam.
Suhrawardy Udyan A major historic park in Ramna which hosts several sites; including the Shahbaz Khan Mosque, built by a rich merchant in 1679; the tombs of the three Prime Ministers of Bengal- A. K. Fazlul Huq, H. S. Suhrawardy and Sir Khawaja Nazimuddin; and the Independence Memorial, where the Surrender of Pakistan took place on 16 December 1971 to Bangladesh-India Allied Forces, marking the end of the Bangladesh Liberation War.
Bangabandhu Memorial Museum The residence of Bangladesh's founding father Sheikh Mujibur Rahman (popularly known as Bangabandhu or Friend of Bengal), who was assassinated in this house along with most of his family on 15 August 1975. Now a museum, Mujib's house showcases the life of Bangladesh's first president.
National Martyrs Memorial The national war memorial is located on the outskirts of Dhaka in Savar. It is a modernist monument with gardens and lakes where the national flower water lily often blooms. The memorial grounds offer a peaceful getaway from frenetic chaos of Dhaka.
Armenian Church of Holy Resurrection Located in the former Armenian quarter of Dhaka, the Armenian Church was built in 1781. The church compound is heritage of Dhaka's once cosmopolitan merchant class. It has a cemetery with European sculptures and art.
Dhakeswari National Temple A 12th-century Hindu temple dedicated to the Goddess Shiva. Located in Old Dhaka and is the seat of Bangladesh's Hindu priesthood.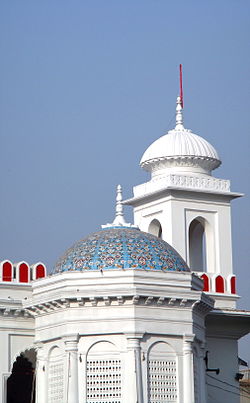 Hussaini Dalan Built in 1642, the Husaini Dalan is the seat of the Imam of Dhaka's Shia community
Bara and Choto Katras The Katras were the caravansaries of the city under Mughal rule. The most prominent were the palatial Bara Katra (Great Caravansary) and the smaller Choto Katra (Young Caravansary). Built in 1643 and 1663 respectively, they hosted merchants and travelers for centuries. Today, only a small portion of the original structures remain standing and are large dilapidated.
Khan Mohammad Mridha Mosque A well-preserved historic mosque on Lalbagh Road. It lies on a raised platform with a stairway on the east, an arched gateway and a central doorway. Persian inscriptions on its arch and Mihrab speak of its construction in 1705.
Star Mosque An ornate early 19th-century mosque in the Armenian quarter decorated with blue star-motifs.
Binat Bibi Mosque is the oldest surviving mosque in Dhaka, dating back to the Sultanate of Bengal. It was built in 1454 by Bakht Binat in the reign of Sultan Nasiruddin Mahmud Shah. It is beside the Hayat Bepari Bridge in the Narinda area.
Kartalab Khan Mosque Situated in the Begum Bazar area of Old Dhaka. It was built by Murshid Quli Khan, the last Mughal governor and first Nawab of Bengal.
Chowkbazaar Imperial Mosque One of the largest mosques in Old Dhaka. It was built by the Mughal goveror Shaista Khan in 1676.
Gurdwara Nanak Shahi Built in 1830, it is the largest Sikh temple in Bangladesh and commemorates the visit of Guru Nanak, the founder of Sikhism, to Bengal in the 14th century.
Dhammarajika Buddhist Monastery Located on Atish Dipankar Road in Badda, it is Dhaka's largest Buddhist monastery.
Ramna Park or Ramna Green One of the largest parks in Dhaka, seen as the city's equivalent to Kolkata's Maidan and New York City's Central Park. This huge sprawling area was the site of Mughal gardens and tombs before becoming a public park and race course during British rule. The wider Ramna area also includes the Supreme Court of Bangladesh and the Dhaka Club.
Baldha Garden Established in 1909 by a Hindu zamindar, the Baldha Garden in Wari, Old Dhaka has a collection of 672 species of plants and is one of the oldest botanical gardens in the country.
Hatirjheel A regional modernist transport system in central Dhaka with numerous bridges, flyovers and viaducts over a huge natural lake.
Dhaka Zoo The city's zoo has several Bengal tigers. Closed Sunday.
Dhaka Planetarium A state of the art planetarium named after Sheikh Mujibur Rahman is near the Parliament in Dhaka/Central.
Do
Visit the following famous places in Dhaka, see the 'Buildings' see above.
Amusement parks
There are a number of amusement parks in and around Dhaka City.
Shahbag Shishu Park
Shyamoli Shishu Mela
Fantasy Kingdom
Nandan Park
Buy
If you go shopping ready to bargain then there are certainly bargains to be had among the bazars and markets of Dhaka. To get a feel for what things should cost in the local markets check prices in the western-style fixed price shops and then deduct 10%. If you prefer hassle free shopping then head to Bashundhara City, or Jamuna Future Park, two huge shopping centres, with more modern shops and other amenities you would expect to find in a mall.
Garment seconds

address: Banga Bazar and Pallwell Market

Many items only have minor defects, but do not meet export requirements.

AarongA well known chain with several outlets around Dhaka and one in London. It is owned by BRAC (the largest Development Organisation in the world) and sells handicrafts and clothing at moderately high prices.
Eat
Dhaka has an enormous variety of food catering to all budgets. Old Dhaka is overflowing with cheap Bangladeshi food where a meal can cost from Tk 50. In the upscale areas such as Gulshan and Banani there are Chinese, Indian, Thai, Vietnamese, Greek and Mexican restaurants, and franchises such as Pizza Hut and KFC - all at prices that the majority can't afford. Reservations are usually not required in most restaurants. A lot of the Buffet-style restaurants in this area have Tk 250-400, fixed price menu.
Local sweets (misti/mishti) like
rasogollah
and
golap jam/pantuya/ledikeni
are excellent, these are bite-sized soft milk curd balls dipped (drenched) in syrup, and come in white and red varieties. Shops throughout the town (and especially near Gulshan) sell imported condiments from Dubai, Europe, Malaysia and the USA at a premium. Imported chocolate is especially expensive - and usually not in the best condition as it gets melted and re-solidified daily in the tropical heat. Fresh is better.
Be careful when buying food from street vendors as health and hygiene standards are not always top notch. Unlike Bangkok—street food in Dhaka is only for locals. Foreigners should stick to larger, organized (and unfortunately a little expensive) food outlets. In organized food outlets or in street stalls stick with more popular outlets where there are people inside or in line as that can indicate quality as the locals (and some travelers) and most likely to be clean and good eating. An empty restaurant or a lone food cart (with no customers) should be avoided as it's empty for a reason.
Traditional food
Dhakaiya Biryani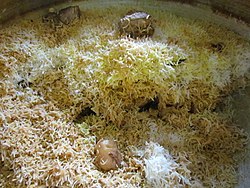 Traditional Dhakaiya spicy dish available in every corner of old Dhaka. Some famous biryani restaurants in old town are: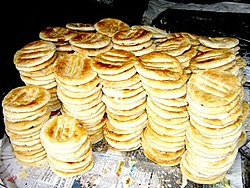 phone: +880 1884887208

Nanna Biryani

phone: 0
Bakorkhani
Bakorkhani or Bakharkhani is a traditional bakery item available in every corner of old town.
Drink
There is a party network between the different expat clubs (Dutch Club, Canadian Club, Nordic Club, International Club, American Club, etc.) and some Bangladeshi clubs (Heritage, Privilege, etc.) These clubs usually require membership to enter, or befriend a member and have them sign you in. From there, you can purchase a book of tickets or a cash card and then use it to order your drinks.
Although alcohol is most easily available at the international clubs and top hotels, there are quite a few local places to find a drink for the enterprising traveller. Local bars are to be found in most neighbourhoods but can be difficult to locate due to lack of advertising. Popular brands of beer (Heineken, Carlsberg, Tuborg, Foster's etc.) and major types of spirits are available at these places, and at much lower prices than at hotel bars.
You can try:
La Diplomat at Road 20, House number 7, near Gulshan 1. Don't expect to be rubbing shoulders with any French ambassadors, however.
The Dip, like most other Bengali bars, is a smoke-filled darkened room where many of its patrons would rather not be recognized too easily. Definitely an experience, nonetheless. Beers cost upwards of Tk 150 and "tots," which are single ounce servings of gin, vodka or whisky, are available from Tk 70 (local brands) to Tk 200. Female patrons may feel slightly uncomfortable.
There is a duty paid shop in Mohakhali (the name of the company is H. Kabir & Co., Ltd.) which is only permitted to sell alcohol to passport-bearing foreigners or their drivers who bring their passports in when they purchase. The address is 12 Abbas Garden, New Airport Road, phone +88 2 988 1936-9. Their opening hours are Su-Th 09:30-16:30. To get there you need to go towards the flyover as if you were going to Banani, but instead of going on to the flyover, you take the second left after it begins. You will see a small sign labelled "Abbas Garden." Turn left and tell your transport to wait while you purchase.
phone: +880 1741055597

address: Kha-47-1 Pragati Sarani, Shahzadpur, North Badda

Definitely the best coffee in Dhaka. With foreign ownership, an onsite roasting machine and big huge sacks of coffee in the back, this is definitely the place to get your caffeine fix. Prices reasonable. No meals yet, just muffins and brownies.
Sleep
There are a huge variety of options for accommodation in the city, varying from unkempt dormitory beds for only a few US dollars, to huge multinational hotels that have penthouses for thousands of US dollars per night. As of July 2016 there are 70 hotels in Dacca.

Stay safe
If you happen to arrive at the Hazrat Shahjalal International Airport at night, it is best to remain there until morning. While the chances of anything bad happening upon exit are somewhat low, incidents such as
kidnappings by taxi drivers
are known to have happened to tourists who have tried to leave the airport in the small hours of the morning.
Otherwise Dhaka isn't terribly unsafe, but as in any huge city you should keep aware of your surroundings and try not to walk around at night. People are friendly and ready to help. The chance of fraud is low.
If you must be out after this time please do your best to leave your valuables at your friends' places or hotel and you can pick them up in the morning. The simplest way to reduce your potential loss is to not leave with valuables in the first place if you anticipate the need to travel after 23:00. The safest mode for travel for a tourist is to hire a yellow cab. These can be rented for a trip as well as by the day. Be sure to write down the licence plate number.
The greatest danger probably comes from speeding buses and rickshaws - keep well alert when walking along main roads.
Being the capital, it's the area most affected during
hartals
(strikes), and you should do your best to keep a low profile during times of political unrest. Avoid
any
sort of large gatherings, even positive ones, as there's a good chance you'll become the center of attention and you probably don't want that from a group of raucous chanters.
Stay healthy
Pollution, like most other cities in the subcontinent, is high. It's not uncommon to see people with face masks on. At the very least, you should carry a handkerchief with you to cover your mouth and nose during rickshaw rides or particularly humid days.

Connect

Internet is now widely available in all over Dhaka at Internet cafes hidden in the various shopping complexes - ask around. Tk 20-30 per hour.
CoFi 11 Cafe in Gulshan offers free high speed internet service & Real Bean Coffee to its customers, Call 01713364499 for directions.
Another one new restaurant in Mohakhali, opposite the East West University, named Newsroom Cafe - provides free Wi-Fi and Internet kiosks for their customers. Free Wi-Fi is also available in Kozmo Lounge situated in Dhanmondi.

Cope
FM radio stations
Radio Foorti - 88.0 MHz
Radio Amar - 88.4 MHz
ABC Radio (Dhaka) - 89.2 MHz
Radio Today - 89.6 MHz
Bangladesh Betar (relays BBC World Service) - 100.0 MHz
Newspapers
There are five local newspapers in English:
Embassies & consulates
phone: +880 2 881 3105

address: 184 Gulshan Ave, Gulshan-2

phone: +880 2 883 2266

address: Road 142, Symphony Tower, Gulshan 1

phone: +880 2 988 7091

address: House # 16A, Road # 48 Gulshan-2

phone: +880 2 882 48 62

address: Plot 2 $ 4, Rd 3, Block-1, Baridara

phone: +880 2 882 2499, +880 2 882 1799

address: Road 51, House 1, Gulshan 2

France

phone: +880 2 881 38 11

Greece

phone: +880 2 955 7220

address: Reliance Insurance Ltd, 11th Floor, 8 Rajuk Avenue

phone: +880 2 988 93 39,+880 2 9888789-91 (Dhaka)

address: Plot No. 1-3, Park Road, Baridhara, Dhaka 1212

Italy

phone: +880 2 882 2781

Japan

phone: +880 2 881 00 87

Germany

phone: +880 2 885 35 21-24

Republic of Korea

phone: +880 2 881 20 88-90

Malaysia

phone: +880 2 8827759

phone: +880 2 8822715-18

Russia

phone: +880 2 882 81 42

Saudi Arabia

phone: +880 2 882 91 24-33

phone: +880 2 984 21 98, +880 2 984 35 36

address: House No: 7 Road No:2 Baridhara - Dhaka-1212

phone: +880 2 882 2705

address: United Nations Rd, Baridhara

phone: +880 2 885-5500

address: Diplomatic Enclave, Madani Ave, Baridhara

phone: +880 2 55 66 8500

address: Bay's Edgewater, 6th Floor, Plot No. 12, North Avenue, Gulshan 2, Dhaka-1212
Go next
The Ashulia Lake - North of Dhaka
Bogra - 220 km away from Dhaka, the capital of ancient Bangla
Comilla - World War Cemetery, Kotbari Baddha Bihar, BIRD, Salban Bihar
Cox's Bazar - World's longest sea beach.
Gopalgonj - birthplace of the father of the nation Bangabandhu Sheikh Mujibur Rahman
Rejendrapur National Park — 40 km north of Dhaka, vast (1,600 acres/640 ha) national recreational forest with much wildlife
Sundarbans, Satkhira, 350 km from Dhaka.
Sonargaon If you feel the need to escape and take a break from the chaos of Dhaka, Songargon, about 29 km. from Dhaka offers you the chance to do just that. The town has a few worthwhile sights that are separated from one another and whilst going from sight to sight, you have the opportunity experience rural life and take in the less chaotic surroundings.
Hajiganj is another place of historical interest, situated about 10 km from Mograpara bus stand. However, the above mentioned places usually take up most of the day and it is best to return to Dhaka before evening. Sonargaon and Hajiganj may be combined into a single day if one sets off very early from Dhaka.