Dhaka/Old Dhaka
Old Dhaka
is a district of
Dhaka
, the capital of
Bangladesh
. Old Dhaka is located on the banks of Buriganga River.
Get in
Old Dhaka has little of public transport infrastructure so cycle rickshaw is your best option. Buses are used by locals but signage is rare and utterly confusing for a tourist. The Sadarghat river terminal, on Buri Ganga River, in the southern-western part of the district a major harbour for river transport and can be a useful way of reaching Dhaka from other cities.

Get around

Rickshaws and taxis are the main mode for getting around the rather chaotic streets of Old Dhaka. Distances are fairly short but the striking heat can make walking quite a challenge.

See
Religious sites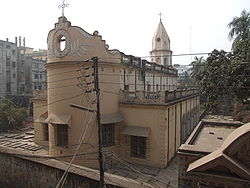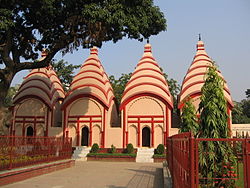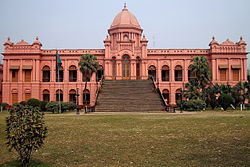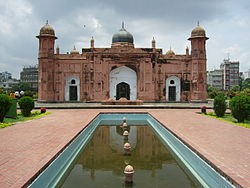 Armenian Church of the Holy Resurrection

phone: +880 2 731 6953

address: Armanitola Rd, Old Dhaka

A small, cosy church built in 1781 by Armenian missionaries. Mass is conducted only a few times throughout the year, usually during Christmas and Good Friday. Tours are informal, and could be organised by the caretaker 'Mr Martin'.

Chawk Mosque

address: Chowk Bazaar, Old Dhaka

A mosque in Old Dhaka that dates from the 17th century, most likely built by the Mughals.

Sitara Mosque

address: Armanitola Rd, Old Dhaka

Built in the early 18th century, it has since been redecorated with hundreds of tiles with star patterns. Tourists are welcome to visit outside of prayer times.

Dhakeshwari Temple

address: Dhakeswari Rd, Dhaka

National Temple of Bangladesh, built in the 12th century.

Hussaini Dalan MosqueBuilt during the 17th century by the Mughals as a house for the imam, a religious leader. It's architecture possesses a mix of both Mughal and British influences.

phone: +880 2 9553703

address: 27 R K Mission Road, Gopibag, Dhaka

A Hindu temple and complex that was first founded in 1916. The architecture is Indian-influenced.
Buildings
phone: +880 2 7391122

address: Ahsanullah Road, Dhaka

A British Raj-era building that served as a residence for the Nawab of Dhaka. It lies on the banks of the Buriganga River, and is famous for its pink stonework. There are 31 rooms within, and the huge dome on top can be seen from miles around. It has recently been renovated into a museum with various displays concerning its history, with a beautiful garden accompanying the building.

Lalbagh Fort

address: Lalbagh, Old Dhaka

Built in 1678 AD by Prince Mohammad Azam, son of Mughal emperor Aurangazeb. The fort was the scene of many bloody battles, including those during the Mughal era, a revolt against the British during the time of the Raj and protection for the revolutionary forces during the Bangladesh Liberation War. Monuments of the Lalbagh site include the Tomb of Pari Bibi, Lalbagh Mosque, the Audience Hall and the Hammam of Nawab Shaista Khan, which now houses a museum.
Monuments
1857 Memorial

address: Sadarghat

Built to commemorate the martyrs of the first Liberation War (1857-1859) against British rule. It was here that the revolting sepoys and their civil compatriots were publicly hanged. A large park surrounds the memorial, with various other monuments.
Parks
Baldha Garden

address: Wari, Old Dhaka

A unique creation of the late Narendra Narayan Roy, the landlord of Baldha. Established in 1904, the garden with its rich collection of indigenous and exotic plants is one of the most exciting attractions for botanists, naturalists and tourists.
Do
Sadarghat River FrontA huge river port on the banks of the Buriganga River. Catch a ride on a boat here and cruise along the river, soaking in the surrounding chaos and sites.
Eat
Restaurants are crammed throughout the narrow alleys and along the main streets - duck into one of them and you'll likely not be too disappointed. A full meal will usually cost around 70 Taka, although fish costs more.
Bismillah Kabab

address: 104 Kazi Alauddin Rd

Hajjee BeryaniOld Dhaka was famed for its lines of beryani restaurants. Some of the more famous outfits are still going and Hajjee Beryani is one of them. It revels in its eccentric reputation for opening only at certain times and only cooking a certain amount (well below demand).

Hotel Al-Razzaque

phone: +880 2 956 1990

address: 29/1 North South Rd (Nazira Bazaar)

On the ground floor of the hotel is a large and popular restaurant, busy anytime of the day with Bangladeshi families and businessmen. Food is pretty darn good, if unpredictable in its timing. Sometimes you'll have a choice of chicken and mutton curries, fish and vegetables, other times it's chicken biryani or the highway. Fish will double the price of a meal, at least. It's sandwiched between a clean and well-stocked fruit juice bar and a clean and well-stocked sweet shop. Each plate cost 80 Taka.

Hotel Star

address: Thatari Bazaar

Does fantastic Beryani & Goat Leg Roast.

Beauty laccha faluda

address: near shakhari bazar
Sleep
Old Dhaka lacks high-end hotels, those can be found in
Central
and
North Dhaka
.
Budget
Hotel Al-Razzaque

phone: +880 2 956 1990

address: 29/1 North South Rd (Nazira Bazaar)

A moderately priced hotel popular with Bangladeshi men, it's got decent clean rooms with attached bathrooms with squat toilets and a popular restaurant.

Hotel Grameen

phone: +880 2 956 2422

address: 22 Nawabpur Rd

A big hotel on busy Nawabpur Rd, just south of Bangsal Rd.

Hotel Sugandha

phone: +880 2 955 6720

address: 24 Nawabpur Rd

It's cheap and it's what to be expected of a cheap hotel, not very exciting or hygienic.