Dildo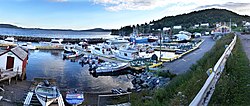 Dildo
is a town of 1,200 people (2011) by Trinity Bay, on the Avalon peninsula in
Newfoundland
in the province of
Newfoundland and Labrador
,
Canada
.
It offers some picturesque scenery. Its
unusual name
has attracted some attention and it is thought that it may derive from a place name in
Spain
or
Portugal
. The people of Dildo are called
Dildoians
.
Understand
The place name "Dildo" is attested in this area since at least 1711, though how this came to be is unknown. The name, then written as "Dildoe", was first applied to Dildo Island, offshore from the present-day town of Dildo. This use was recorded in 1711 and 1775, and the name was thereafter applied to the Dildo Arm of Trinity Bay and other local physical features. Social scientist William Baillie Hamilton notes that Captain James Cook and his assistant Michael Lane, who mapped Newfoundland in the 1760s, often displayed a sense of humour in the place names they chose, and were not above selecting names that might offend over-sensitive readers. Regardless of the origin, the name has brought the town of Dildo a measure of notoriety. In the 20th century there were several campaigns to change the name, though all failed.

History
The Dildo area has a long history, going as far back as 2000 BC when Maritime Archaic aboriginal people resided at Anderson's Cove. By 700 AD, people of the Dorset culture inhabited Dildo Island. In 1613, Henry Crout, whilst sailing up Dildo Arm, came in contact with the Beothuks, who were residing on Dildo Island at this time. He traded with them and left gifts. The town of Dildo was founded in the late 18th century and settled to exploit the abundance of marine resources such as fish (mostly cod), whales and seals.

Get in
Dildo is on Route 80, approximately 15 km from the
Trans-Canada Highway
. From St. John's it is about a 50 minute drive. Take the Trans-Canada Highway (Route 1) as far as Exit #28 where you turn on to Route 80. The town of Dildo is signposted 8 km down Route 80.
Buses connect the town to
St. John's
.
Get around

Where Dildo is a small community the only method of transportation is one you bring yourself! So get out and smell the salt air as you walk along the water front enjoying the beautiful view.

See

Dildo is well known for its own island, Dildo Island. There are adventure tours that run there daily during the summer. The Island boasts a huge archaeological dig, studying both the Beothic Indians and the Dorset Eskimos.

Do
To begin with, giggle at the name. After that, some
whale watching
might be in order.
Historic Dildo Days Celebration

phone: +1 709 582-2988

address: Route 80, Dildo Marina, Dildo

"Heritage Explorer" whale-watching ship, local guide on board; view icebergs, dolphins, nesting bald eagles, seabirds and historic Dildo Island.
==Buy==
Eat
phone: +1 709 582-3776

address: 9 Front Road

Waterfront dining, chicken, seafood, steak.

Fran's Kitchen

phone: +1 709 582-3726

address: Dildo

A good home-cooked meal in a cosy atmosphere.
Drink
Dildo Brewing Company & Museum

address: 1 Front Road, Dildo

A five-barrel capacity microbrewery and tap room (established 2018). Beer made with all natural ingredients (water, malted barley, hops and yeast) with no added preservatives or pasteurization. A museum of the operation is attached.

Blue Whale Lounge

phone: +1 709 582-3123

address: 8 Main St, South Dildo

Where many in the area retire after a long weekend, also home of Mudders takeout.
Sleep
phone: +1 709 582-3170

address: 80 Front Road

The inn's oceanside Verandah Dining Room serves a candlelit four course fixed-price dinner nightly. No pets, no smoking.

George House Heritage Bed and Breakfast

phone: +1 709 582-3170

address: 80 Front Road

Island View Efficiency Cottage

phone: +1 709 582-2230 or +1 709 682-7316

address: Hwy 80, Broad Cove

One three-bedroom cottage and three two-bedroom efficiency units. Satellite TV, stereo, broadband Internet.
Go next