Doboj
Doboj
is a city in
Bosnia and Herzegovina
in the
Republika Srpska
entity. Doboj is at a pivotal point on the rivers Usora, Spreca and Bosna. It is one of those Bosnian towns where you can find Orthodox, Catholic Churches and Mosques close to each other.
Get in Doboj
By plane
The closest airports are at
Tuzla
and
Banja Luka
. If arriving by plane, you can travel via Belgrade (Serbia), Sarajevo (Bosna and Herzegovina) (shorter route), or Zagreb and Dubrovnik (Croatia).
By bus
You can try and find direct bus lines from some of European cities to Doboj, but in that case your journey may be quite long. A bus from
Belgrade
costs about 12 Euros (Oct 2006), Buses also run from
Sarajevo
and other cities.
Bus
Zagreb -Doboj
Departure: 14:00 Arrival: about 18:00
Price (one-way): about 13 Euro.
Bus
Belgrade – Doboj
Departure:07:00 - Arrival: 13:00
Departure:10:00 - Arrival: 16:00
Departure:22:30 - Arrival: 04:30
Bus
Novi Sad – Doboj
Departure:06:00 - Arrival: around 11:00
Departure:07:00 - Arrival: around 12:00
Departure:07:30 - Arrival: around 12:30
By train
Railway options are pretty good as Doboj is railway junction of BiH. From European countries, direct lines from Belgrade, Zagreb, Sarajevo and Nis are bus and railway lines, as follows:
Train
Zagreb – Doboj
Departure: 8:57 Arrival: 14:55
Price (one-way): about 27 Euro.
Train
Belgrade – Doboj
Departure: 15:30 Arrival: 22:30
Price (one-way): about 11 Euro.
Train
Budapest – Doboj
Departure: 17:45 Arrival: 02:27
Price (one-way): about 35 Euro.
Train
Sarajevo – Doboj
Departure: 10:41 Arrival: 13:34
Departure: 20:32 Arrival: 23:25
Price (one-way): about 7 Euro.
For more information – www.zrs-rs.com
By car
Doboj is touristic crossroad of Bosnia and Herzegovina. Magistral road M17.
Welcome
Get around
Getting around Doboj isn't a big problem, since it's a small city. There are local buses that have routes in Doboj and small towns in the municipality. Taxis can be seen around Doboj occasionally.

See
Doboj fortress is now one of the main touristic attractions in Bosnia and Hezegovina. Enhanced by the Bosnian aristocracy Kotromanic (13th century)and the Ottomans when they arrived in Doboj in the 16th century. Much of it is still intact and the view from the fortress's hilltop position is worth the climb.
One of the attractive spots nearby is Mount Ozren, the mountain right next to Doboj.
There are a few 13th century monasteries, St. Nichola's Monastery near Petrovo being the most interesting among them.
Goransko lake-beautiful place 7 km from Doboj with good touristic offer: camping place, swimming, grill places, banches, natural creak, parking, restoran, children playground...
Preslica - part of Ozren mount. Restoran, good natural resources, baches and tables, stage for performances.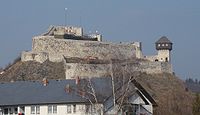 Do
If you are visiting Doboj in summer main attraction is a Festival of Tourism FESTTOUR'(26-28 june). During 3 days Doboj became a carnival city with medieval still and many attractions. This is time for tourists. More details on
The most interesting place in Doboj and famous Bosnian tourist attraction is Doboj Fortress (in picture). There is a rich tourist offer: children playground, coffee shop, concerts, poet nights, knight battle, exhibition, volunteer camps, theatre etc.
Doboj cafes (Orange Bar, Glamour, Havana, La linea...) are really relaxing and are located in the Centre of Doboj. There are good restaurants (Fisherman story, City, Dalmatia...), nightclubs (Moskva, Hole), discotheques (Dzungla), pubs (Irish Pub...), shopping centers (BMD, TROPIC), librarys, the Regional Museum, a theatre.
If you are visiting Doboj in summer main attraction is the new "Džungla bazeni". It known to be one of the best Pools in Bosnia. If you are lucky a famous Serbian, Bosnian or Croatian singer my have a concert at Džungla bazeni. The pool also has a night club which is great for night life in Doboj.
There are also beautiful churches, mosques and synagogues to see in Doboj.
Buy
For some tourists that visit Doboj shopping might not be cheap compared to where they come from.
Currency in Bosnia and Herzegovina is called Konvertibile or Bosnian Mark (KM/BAM). 1 Euro=1.95KM.
Money can be exchanged in exchange offices or banks, or picked up on one of numerous cash mashines placed all over the town. Also all products and services in BiH can be paid in Euros.
To give you an idea about prices of things, here are prices of several products: a bottle of water 1-2 KM, a juice in a coffee shop 1,5-2,5KM, sandwich 1-1,5 KM, coffee (in a coffee shop) 1 KM, phone card for a phone booth (for local and international calls) is between 5 and 10 KM.
Buy souvenirs from Doboj Fortress, bottle of domestic Rakia Medovaca (domestic brandy), bottle of Sljivovica, ...

Eat

Cevapcici- National brand. Pljeskavica, burek, raznjici, pizza, burek, cicvara, proja.

Drink

Rakija Medovacha -domestic honey brandy, Rakija Sljivovica-Domestic brandy and domestic beer.Also you can taste Drenjak juice-domestic product. You can taste it in Coffee shop on Doboj Fortress. www.dobojskatvrdjava.rs.ba

Sleep
Doboj has a few hotels.
Hotel IntegraVidovdanska bb south of the city, +387 53 224 274. For a two bed per night is approx. 85KM.
Go next