Donghae Coast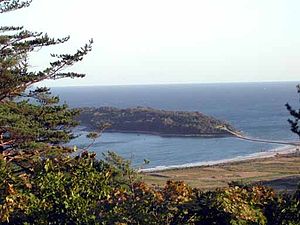 The
Donghae Coast
(
Korean
: 동해 연안) is a region of
North Korea
stretching along the entire east coast of the North Korean part of the peninsula. It encompasses the provinces of
North Hamgyong
,
South Hamgyong
and
Kangwon
as well as the special
Rason
city region.
Cities
- Special Economic Zone slowly opening up North Korea to capitalism
- Port city in the South
Other destinations
(Diamond Mountain) Tourist Region
Hoeryong
Kimchaek
Munchon
Namyang
Sinpo
Tanchon
Understand
Donghae is the Korean name for the "East Sea" (Generally known internationally as the "Sea of Japan"). The coast stretches for about 800 kilometers northwest from the border with
South Korea
to the Russian border at Tumangan/Khasan.
The northern part of the region contains the site of some of North Korea's nuclear tests (near Kimchaek) it should come as no surprise that traveling around here independently, or even just traveling, is not going to be easy.
Rason to north and Wonsan to the south are both possible tour group destinations, as well as the Kŭmgangsan 'diamond mountain' tourist destination.
Get in
There are occasional flights to Wonsan and Chongjin with Air Koryo using a fleet of veteran Soviet era planes. You need to be a high-ranking North Korean official to book a spot on those flights and so you are at the mercy of the whims of your travel agent.
Slightly more possible is catching a train, there is a railway running along the entire coast connecting to the Russian railway at the border town of
Khasan
. From Khasan it's possible to book trips as far as
Rason
through Russian Tour companies, since this is a special economic zone. Through service to
Pyongyang
via the Donghae coast is
not
available to foreigners, although unauthorized journeys have been made before.
See
Chilbosan (Chilbo Mountain)
Kaesim Temple

Taeungchŏn

Kwanŭmchŏn

Simgŏmtang

Ŭmhyanggak

Sansingak

Manseru

Donghae Waterfall