Dovrefjell
Dovrefjell
is a mountain area in Central
Norway
that forms a natural barrier between
East Norway
and
Middle Norway
- "det Nordenfjeldske" (Norway "north of the mountains", i.e. Dovrefjell). It was long believed to be Norway's highest mountains and remains as national symbol of sturdiness and durability. Most of the areas on the either side of road E6/Dovre railway line from Oppdal to Dombås is protected as a national parks.
The area has been heavily trafficked during and probably preceding historical times. Due to often hash weather and road conditions, it has also been a barrier and a risk to the traveler. But nowadays, E6 and the Dovre railway is almost never closed due to extreme weather (less frequent than once a year).
There are marked routes (summer) and (mostly unstaffed) cabins for hikers, but long trips, tough terrain and often hash weather makes this an area for the experienced hiker. But staying in the valleys aound the mountain, there are lot of nice and not-demanding day-trips with beautiful sceneries, an unique plant life, knowledge about local culture and a change to get a glimpse of parts of the animal life: maybe a golden eagle soaring overhead, a muskox (keep your distance!), or if really lucky a reindeer in the distance.
Understand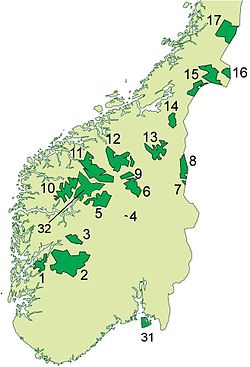 Most of the area has been protected as two national parks combined with numerous protected areas. The national parks are:
Dovrefjell comprises parts of four Norwegian counties;
Oppland
,
Møre og Romsdal
,
Trøndelag
and
Hedmark
.
History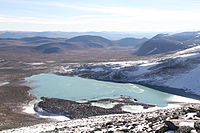 Dovrefjell has a very central role in Norwegian mythology, history and mind. The name on Trøndelag plus Northern Norway - "det Nordenfjeldske" reflects this: There was no need to include the name of the mountain - it was obvius that it was Dovrefjell. When Norway got its constitution in 1814, the "founding fathers" at the Constituent Assembly swore, after having signed the Constitution; "United and true until the mountains of Dovrefjell do crumble." King Harold 1st, who made Norway an unified country, were brought up for several years by the giant (troll) Dovre in Dovrefjell. According to the saga, of course.
In Henrik Ibsen's dramatic poem
Peer Gynt
, the "Mountain King" lives in Dovrefjell. Edvard Grieg composed the orchestral piece
In the Hall of the Mountain King
for Ibsen's drama. This instantly recognizable music is widely used in popular culture from jazz and progrock to classical movies such as Fritz Lang's
M
.
Several mountain inns were established in the Middle Ages to house pilgrims to Trondheim, officials and other travellers. Two of them are still in service – see
Sleep
below. Also
the old pilgrim routes
are still walk-able and made accessible for hikers and pilgrims.
Snøhetta summit in the middle of the area, at 2,286 m (7,500 ft), was long assumed to be Norway's highest mountain – until
Jotunheimen
was surveyed in the 19th century.
Landscape
Flora and fauna
Due to its central placement and relatively mild climate Dovrefjell is considered a botanical hotspot. To get an overview visit the
Alpine botanical garden
at Kongsvoll.
The area around Drivdalen, Snøhetta and Hjerkinn is of particular botanical interest. The three Knutshøene peaks are extremely rich in rare alpine plants, many of which were protected in 1905 and more in 1911. The Drivdalen valley consists of loose slate and limestone, also home to many rare plants.
The Fokstumyrene moorland is first and foremost known for a unique bird life, but here also many different orchids as well. This moorland was well known already in the mid-1800s. The area attracted collectors from all over Europe and in 1917 there were less than 20 nesting bird species left on the marshes. In 1923, Fokstumyrene was fully protected and got even stricter protection in 1969.
Climate
Dovrefjell has a dry, cool, continental climate. Some of the driest places (such as Hjerkinn) in Norway (and all of Europe) are on the plateau. Winters are cold and summers mild.
Get in
The main south-north highway in Norway
E6
and main railway Dovrebanen runs over Dovrefjell from
Dombås
to
Oppdal
. These are largely parallel, although car allows flexibility to stop anywhere. The railway only has a couple of stations between Dombås and Oppdal.h
If you arrive Norway by
plane from abroad
, all trains on Dovrebanen and all long-distance buses on E6 stops at Oslo Airport
Gardermoen
. (Do not go to Torp if going to Dovrefjell, unless you want to stay over night in Oslo.)
Details - see
Get around
.
Fees and permits
For
individual travelers
there are no feeds/permits needed. Just obey the park rules which for the ordinary hiker may be put very simple:
Behave yourself!
See
code of conduct
(Norwegian only at present).
Organized trips
, for instance guided tours, are not allowed without
permission from the Park Authorities
.
Biking
is not allowed outside roads in the national parks, neither are (of course!) use of
motorized vehicles
outside roads -
the latter applies to all of Norway also outside protected areas
.
Get around
E 136 and railway Raumabanen runs along the south-western edge from Dombås to
Åndalsnes
(and
Molde
/
Ålesund
), national highways R70 and R62 from Oppdal via
Sunndalsøra
to Molde along the northwestern edge, R29 from E6 at
Hjerkinn
via
Folldal
to
Alvdal
(R3) along the southeastern edge and R3 from Alvdal via
Tynset
to Ulsberg (E6) along the eastern edge.
By
railway
the following stations on Dovrebanen are good starting points (S to N): Dombås, Hjerkinn, Kongsvoll and Oppdal. At Dombås, the Raumabanen railway branches off to Åndalsnes, with Lesja, Lesjaverk, Bjorli and Åndalsnes as actual starting points. All trains are operated by Norwegian State Railways (NSB) .
By
car or bus
there are about 340 km from Oslo to Dombås along E6 and 80 km further to Oppdal.
From Dombås to Åndalsnes there is about 105 km along E136. From Oppdal one may take R70 westwards to Sunndalsøra (70 km) and further along R62 in direction of Molde. By own car or bike the trip along
Aursjøvegen
from Sunndalsøra to
Eikesdalen
over the mountains (no caravans!) is very impressive, further to
Eresfjorden
and R660 and R64 to Åndalsnes/Molde, or R660 to Eidsvågen (back on R62 between Sunndalsøra and Molde).
The NSB operates the railways. All the roads mentioned above are operated by long-distance buses. Lavprisekspressen operates E6 solely (you must book on Internet on beforehand), Norway Bussekspress operates on all the other roads mentioned avbove. (Exception is R 29, but there is a local bus meeting the trains at Hjerkinn along R29 going to and from Alvdal.)
See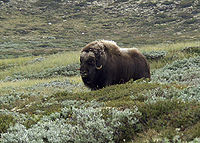 Sleep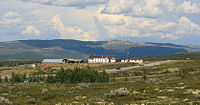 Lodging
address: NO-2661 Hjerkinn

One of the two "Fjellstuer" (Mountain Inns) from medieval times still in service.

Kongsvold fjellstue

address: NO-7340 Oppdal

One of the two "Fjellstuer" (Mountain Inns) from medieval times still in service.
Camping
Backcountry
Stay safe
Muskox can be dangerous, be sure to always keep a distance of at least 200 meters. Unlike other wild animals on mainland Norway the muskox does not flee, but instead forms a defensive positions and will attack when approached.

Go next