Dublin
Dublin
(
Irish
:
Baile Átha Cliath
, "Town of the Hurdled Ford") is the capital city of
Ireland
. Its vibrancy, nightlife and tourist attractions are world renowned and it's the most popular entry point for international visitors to Ireland.
As a city, it is disproportionately large for the size of the country with a population of 1.9 million in the Greater Dublin Region (2011); nearly half of the Republic's population lives in this metropolitan area. The central sights can be navigated by foot, with a few outlying sights, and suburbs sprawling out for miles.
The climate is mild so Dublin is a year-round destination. It's seldom freezing in winter, cool in summer and frequent light showers anytime, see
County Dublin
weather chart.
There is a
Dublin Visitor Centre
northside at opposite the GPO, and another southside at by Trinity College. They're both open daily 08:30-18:00. Several other places call themselves "tourist offices" but are just marketing their own tours.
Understand
History
Founded in 841, Dublin was originally settled by Vikings among a population of Celtic tribes. In the 9th century the Danes captured Dublin and had control until 1171 when they were expelled by King Henry II of England. By the 14th century the king of England controlled Dublin and the surrounding area referred to as "the Pale".
When the English Civil War ended in 1649, Oliver Cromwell took over. Dublin experienced huge growth and development in the 17th century because many Protestant refugees from Europe came to Dublin. By the 17th century Dublin was the second largest city in the British Isles, only behind London, and a period when great Georgian style buildings were constructed that still stand today. Georgian style architecture was popular from 1720 to 1840 during the times when George I, George II, George III, and George IV of England were ruling.
In 1800, the Act of Union between England and Ireland abolished the Irish Parliament. From this point on, the Irish worked to gain their independence from England, which they finally won in 1922. The Easter rising in 1916 and the War of Independence greatly helped Ireland win their freedom.
A failed attempt to take over the several important buildings, among them the General Post Office on O'Connell Street, led to the arrest of hundreds and execution of 15, now considered martyrs for the cause. Many believe that this event helped gain sympathy for the fight for independence from Britain.
Orientation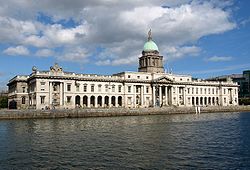 Dublin is divided by the River Liffey. On the north side of the Liffey is O'Connell Street — the main thoroughfare, which is intersected by numerous shopping streets, including Henry Street and Mary Street, the busiest shopping district in the city. On the south side are St. Stephen's Green and Grafton Street, the second busiest and most upmarket shopping area, Trinity College, Christ Church and St. Patrick's Cathedrals, the main branch of the National Museum, and many other attractions.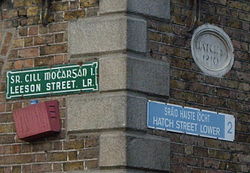 Dublin postal districts range from Dublin 1 to Dublin 24. As a rule, odd numbers are given to areas north of the River Liffey, while even numbers are given to areas south of the river (exceptions are Dublin 8 and 20 which span both sides of Liffey). Usually, the lower the district number, the closer to the city centre.
Although some of Dublin's finest Georgian architecture was demolished in the mid-20th century, a remarkable amount remains. At one point these buildings were considered a reminder of the past British imperialism and many were demolished without regard to their beauty and architectural significance and replaced with modernist or pastiche office blocks, parts of St. Stephen's Green (Dublin 2) being a prime example. Thankfully, attitudes have changed significantly, and Dubliners are now rightly proud of their impressive buildings from all eras.
Get in
By plane
Dublin AirportDublin Airport has an extensive short and medium haul network, and is the base for Aer Lingus, Aer Lingus Regional, and Ryanair. Terminal 2 can accommodate wide-bodied jets and is used by Aer Lingus (& Regional), American Airlines, Delta, Emirates, Norwegian and United. All the others use the older Terminal 1, some 300 m north with a walkway between. Together they offer direct flights to most major cities in UK (serving all London airports, but most frequently Heathrow) and Europe (including Keflavik, Moscow and Istanbul). North America is well-served, with flights to New York, Newark, Boston, Chicago, Orlando, Philadelphia, San Francisco, Seattle and Washington (with pre-clearance of US customs & immigration before flying) and Toronto and Halifax. Middle East flights include Dubai, Doha and Abu Dhabi. Domestic flights are to Kerry and Donegal; there are no flights to Belfast, Shannon or Cork. All the main car hire companies have kiosks in Arrivals - there's much better choice here than in city centre, but book ahead for the best deals. The airport has car parking short-term on-site, long-term off-site, and "meet & greet" services. The currency kiosks are run by ICE with a 10% buy / sell rate, decent value. There's the Radisson Blu and Maldron hotels at the airport and a few more at the M1/M50 junction just south and in Swords to the north.
Between airport and city:
bus and taxi are the options, there's no rail / metro link.
Aircoach (the big blue bus) runs to city centre and several of Dublin's major hotels, which are mostly south-side. Buses run from T1 then T2 every 15 mins, taking 30 mins, fare is €7 single or €12 return. Aircoach also run to other cities, including Cork and Belfast. Taxi drivers routinely try to pick up passengers waiting at the Aircoach stop: they're forbidden to do so, but offer a similar rate and get many takers, so they persist.
AirLink Buses 747 and 757, operated by Dublin Bus, run daily 05:00-00:30 every 10 mins or so daytime. They take 30 mins from T1 via T2 and the tunnel into dockland; then they hit the downtown traffic and make slow progress. The 747 goes via Central Bus Station (Busáras), Connolly Railway Station, Gardiner St, O'Connell St, College Green & Temple Bar, Christ Church Cathedral, High St, Ushers Quay and Heuston Railway Station. The 757 runs further south via Custom House Quay, O'Connell Bridge, Hawkins St & Temple Bar, Westland Row, Merrion Square, St Stephen's Green, Camden and Harcourt St. The fare (cash only) is €7 single, €12 return or free if you buy a Leap Visitor Card in the terminal before boarding.
Local buses are much slower - allow an hour - but cheaper (typically €3.30) and may be more convenient for the suburbs. The two routes are:
- Bus 16 via Drumcondra railway station, O'Connell St, Georges St and out to the southern suburbs of Rathmines and Ballanteer / Kingstown.
- Bus 41 via Drumcondra railway station and O'Connell St, passing near Busáras, to Lower Abbey St. Northbound it runs out to
Swords
.
The stops for the local buses are at Terminal 1 through the car park opposite Arrivals exit and then to the right. Pay with coins only, the ticket machines give change but bus drivers don't. Luggage space is limited on the local buses, and it is not unknown for drivers to turn away travellers with packs that cannot be stored.
A taxi to the city centre should cost around €20-30, so it will match the bus if you are in a group of three or more. Taxis are legally obliged to provide an electronic receipt detailing the fare, distance and other pertinent details. Make sure to ask for a receipt as otherwise they often don't provide one.
Other destinations:
many Bus Eireann routes between Dublin and other Irish cities run via the airport, see individual cities' "Get in". Within County Dublin:
- Bus 101 runs every 20 mins to Balrothery,
Balbriggan
and
Drogheda
. This bus runs from Dublin Talbot St via Drumcondra but is not available for journeys just between city, airport and Swords.
- Bus 102 runs from the airport every 30 mins to
Swords
,
Malahide
, Portmarnock and Sutton near
Howth
.
- Drumcondra (Bus 16 & 41) has trains from Connolly towards Maynooth.
By train
The country's
railways
converge on the city, see
Rail travel in Ireland
.
address: St Johns Rd West, Dublin 8

This serves all directions except the north or the east coast. Direct trains run from Cork (2 hr 30), Galway (2 hr 30), Limerick Colbert (2 hrs 15) and Waterford (2 hr). Other services have a change at Limerick Junction, which is near Tipperary and 30 km from Limerick. From Tralee and Mallow, change at Cork. Heuston has toilets, ATM, small shops, kiosks & cafes, plus supermarkets on the streets nearby. To reach the centre take the tram: if your ticket is made out to Dubin City Centre then the tram fare is already included.

address: Amiens St, Dublin 1

This serves the north plus the east coast. Direct trains run from Sligo (3 hr), Belfast via Drogheda (2 hrs), and Rosslare ferry port via Wexford (3 hr). From Derry change in Belfast, from Donegal the nearest station is Sligo. Connolly is also a hub for suburban and DART trains from all around the city. It has toilets, ATM and small shops, and Madigan's bar / restaurant. The surrounding area is tacky at night.
Allow 45 mins if you need to transfer between Heuston and Connolly.
By bus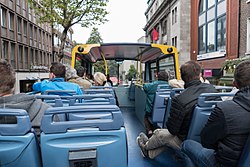 main bus station has
Bus Eireann
services from most towns in Ireland, such as Belfast (2 hr 30), Cork (4 hr), Limerick (3 hr 30), Galway (4 hr) and Donegal (2 hr 30), all running via the airport. Other operators are
Kavanaghs
to Limerick and Waterford, and
Citylink
and
GoBus
to Galway.
Eurolines
Bus 871 runs nightly to Dublin from London Victoria via Luton, Birmingham, Lymm motorway services (with National Express connections from Liverpool, Manchester, Bradford and Leeds) to Holyhead then by ferry to Dublin Port and Busáras. Luggage lockers are in the basement, along with the pay-to-enter public toilets.
Some buses to County Dublin and neighbouring County Meath don't use the station but leave from stops in in the nearby streets. Busáras is just south of Connolly railway station and 300 m east of O'Connell Street.
By boat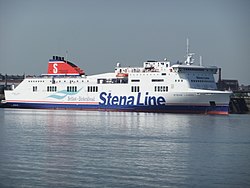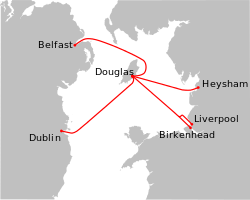 Dublin has ferries from
Holyhead
in
Wales
(Stena or Irish Ferries, 3 hr 30),
Bootle
near
Liverpool
(P&O, 8 hrs) and
Douglas
,
Isle of Man
(Isle of Man Ferries, 3 hr 30). From
Cherbourg
in Normandy and
Pembroke
in Wales they nowadays only sail to
Rosslare
and not to Dublin. All sailings are to 2 km east of the centre; a link bus connects the port to Busáras. The former ferry port of Dún Laoghaire, 7 km south, is no longer used: the new tunnel means that motorists can disembark at Dublin and drive straight onto the motorway without getting snarled in city centre traffic.
Another ferry route is the short crossing from Cairnryan in Scotland to Belfast, then by road or rail to Dublin.
By car
If you're visiting Dublin just for a day trip, don't bring a car into the congested centre, use a Park & Ride. From the south, use either Sandyford Luas stop, just off junction 15 of M50 on Blackthorn Rd, or Bray DART stop on Bray Rd. From the west, use Red Cow Luas stop, off junction 9 of M50. From the north east, use Howth DART station. Tariffs at Park & Ride stations are €2 - €4.
Get around
You can see much of the city on foot.
By tram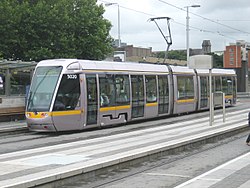 Luas
trams are frequent and reliable, and are handy for getting across the city centre. The Red Line runs west from Connolly railway station and the Point Theatre to Busaras, Abbey Street, Heuston railway station, Red Cow P&R, Tallaght P&R and Saggart. The Green Line runs south from Broombridge to O'Connell St, St Stephen's Green, Balally Stillorgan and Sandyford P&Rs, Leopardstown and Cherrywood to Bride's Glen. The lines cross in the city center, with a short walk between Abbey Street on the Red Line to either O'Connell GPO on the Green Line northbound or Marlborough Street southbound. Buy tickets from the machines on the platforms, they don't need to be validated. A ride within the central zone (which covers Heuston - Connolly) costs €3.20 single and is valid for 90 mins.
By train
The
DART
suburban rail service runs along the coast between Greystones in the south and Howth and Malahide in the north. Tickets can be bought in the stations, from a window or a machine. There are four other suburban rail lines servicing areas around Dublin:
map
. Three of these lines operate from Connolly Station, the other from Heuston Station.
By bus
The state-controlled
Dublin Bus
serves the city and its suburbs, with some 200 routes. Most buses in the city pass through the O'Connell St area (including Mountjoy and Parnell Squares, Eden Quay and Fleet St) and the Trinity College area (including Pearse St, Nassau St, Dame St and College Green). Daytime buses run 05:00-23:30, and at weekends there are 18 Nitelink bus routes running from midnight until 04:00 for a cash fare of €6.60. The Xpresso is an express service for rush-hour commuters. There are 13 Xpresso routes; they make limited stops and charge more than standard buses.
The bus displays its destination on the front;
An Lár
means the city centre. A small screen inside the bus shows the next stop in Irish and English, with an audio announcement in both languages.
Online core route maps
are also available.
There is a Dublin Bus mobile phone app which can give directions only if you know exactly which bus stop you want to go from and to, but it does provide real-time arrival information. Google Maps' Transit function is a good alternative for journey planning, and
hittheroad.ie
has a journey planner that can take you from address to address using Dublin Bus, Luas, and DART trains.
At the stop, there's usually an indicator board showing which buses are arriving when. (The paper timetables don't show the expected arrival time at that stop, they're the departure times from the route terminus, so who knows when.) Real time information on bus arrivals is on the
Dublin Bus website
and as an App.
Signal the bus to stop, else the driver won't know you want to board. If you have a prepaid Leap Card (see below), enter on the right-hand side and tag on with the reader. Otherwise enter on the left-hand side to pay the driver: exact fare and coins only for most routes. (The Airlink 747 / 757 and Dublin Port ferry connection are exceptions.) The cash fare is €2.15 for up to 3 stages (covering most central journeys) and €3 for up to 13 stages.
Leap Card
A
Leap Card
is a rechargeable card for Dublin Buses, Luas trams and DART / Commuter trains within the metropolitan area. Leap cards can be purchased in both terminals of Dublin Airport and at city retail outlets displaying "Leap Card" signs. The card costs €10 and comes with €5 credit and a €5 reserve credit. The card can be topped up at retail outlets, Luas ticket machines, DART / commuter railway ticket machines, or online at the
Leap Card website
. The card should be touched on and off at Luas tram stops and railway turnstiles. On buses, either present the card to the reader on the driver's machine and state your destination so the driver deducts the correct fare, or present it to the reader by the door, which will deduct a flat fare of €2.45; so you never touch off when leaving the bus. There is a daily cap of €7 for travel exclusively on Dublin Bus, including Xpresso services. The daily cap is €10 for use on Dublin Bus, Luas, DART and Commuter Rail, with an extra €1 discount for each subsequent trip within 90 minutes. Leap Card fares are on average 20% cheaper than paying with cash, so you break even on the fifth trip.
A
Leap Visitor Card
for short-stay visitors costs (as at 2019) €10.00 for 24 hours, €19.50 for 72 hours, or €40.00 for 168 hours ie a week, starting from first use. It gives you unlimited travel on the Airlink 747 and 757 airport buses, scheduled Dublin Buses, Luas trams, and DART / Commuter trains within the metropolitan area. It's not valid for the Aircoach or on bus tours, and it doesn't give you admittance to any of the sights. You can buy the card at the airport at the Spar shops in T1 and T2 Arrivals or tourist kiosk in T1, in the city centre at the Dublin Bus office at 59 Upper O'Connell Street, at the Discover Ireland Centre at 14 Upper O'Connell Street, at the Visit Dublin Centre on 25 Suffolk Street, or it can be ordered
online
and posted to you if time allows. The Leap Card reader displays the card's date of expiry after each touch on/off, until the last day when it displays the time of expiry.
By bicycle/motorbike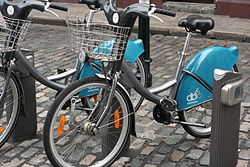 Hiring a bicycle is a handy way to get around if you want to get outside the very centre of the city and are comfortable cycling in traffic. That being said, the city is not very bicycle-friendly, either in terms of quantity & quality of bike paths, pedestrians and drivers honouring the bike paths, road space available where there is no bike path (i.e. numerous narrow roads), or driver attitudes in general.
When cycling in the city centre, be aware that cycle lanes, where they exist, are generally shared with buses, taxis, motorcycles, and parked cars; cyclists should pay particular attention when approaching bus stops where a bus is pulling out. Motorbikes are not allowed to use the cycle lanes, but many still do so. Passing on the left is also allowed only in limited circumstances but is in fact still common. When cycling in Phoenix Park, while there is a dedicated cycle lane on both sides of the main thoroughfare unfortunately pedestrians also use these.
There are bikes to hire in several locations around the city centre with the
Dublinbikes
scheme. A 3-day pass (which is the only pass available to non-residents) costs €5 and gives you access to the bikes. They are free for the first 30min, up to 1h rentals cost €0.50 and up to 2 hours cost €1.50, so it is a good idea to return the bikes frequently. You can purchase the 3-day pass only at stations which accept credit cards, but once purchased you can use it to rent bikes at any station. Your credit card will be preauthorized with a security deposit of €150, which will be charged in case of theft or if the bike was not returned within 24 hours. Among others, there is a Dublinbikes bike hire place located at the entrance to the Phoenix Park, Dublin 8.
By car
Driving in Dublin is not to be recommended for much of the day, particularly in the city centre. Traffic can be heavy and there is an extensive one-way system. Jaywalking is common. There are a large number of bus lanes (buses, taxis and pedal cycles are permitted to use them; others are vigilantly fined). It's usually lawful to drive in bus lanes at the off-peak times displayed on signs. If you must travel into the city by private car, do research on your required route (using GPS or even Google Maps) and seek suitable parking in advance.
It can be difficult to find parking other than in multi-storey car parks. On-street parking for short periods is allowed at parking meters, but beware of over-staying your time or you will be "clamped" by the clamping companies who patrol frequently - clamp release fees vary from €70-150 per 24 hours.
A system of two ring roads around the city has been introduced, with colour coded signs in purple and blue (see the
inner orbital route map
and
outer orbital route map
). The M50 motorway connects to the M1 (to the north of Ireland and Belfast) near Dublin airport and to the M11 (for Wicklow, Wexford and the South) south of the city and to other motorways and national roads along its "C-shaped" route. It has been upgraded so is less congested, and is well signposted.
However, crossing the river using the M50 entails crossing the Westlink bridge. This is a toll bridge with the amount of the toll varying depending on the type of vehicle and how it is paid. The toll
cannot
be paid at booths while crossing the bridge but must be paid by internet or phone (or using electronic passes in the vehicle), or in certain shops. The vehicle passes through the toll gate without being stopped but the registration plate is photographed automatically. The
toll must be paid
by 20:00 the following day.
After this deadline, the longer the toll remains unpaid, the higher the fees involved. For foreign registered vehicles, this presents no problem as the Irish vehicle registration base does not have access to foreign ownership details, but for Irish registered vehicles, including rental cars, any fees due, including penalties for late payment, may well be reclaimed through the rental company and subsequently from the credit card of the person hiring the car. The car hire company may charge a hefty fee as well (Avis, for example, charges €30 per unpaid toll, on top of the original toll and the €3 notice fee).
Outside of the city centre, parking is generally not an issue, and ample free parking can be found outside of the M50 (and in certain areas within the M50 ring road).
By taxi
Taxis were deregulated in 2001 leading to a massive oversupply with Dublin now boasting more taxis than New York. This is bad news for taxi drivers but good news for tourists, as taxis are now extremely easy to come by. They may be ordered by telephone, at ranks, or just on the street. Point-to-point trips in the city centre should cost between €6 and €10: many taxi drivers will also offer a set fare if asked. There is a national standardised rate for all taxis.
See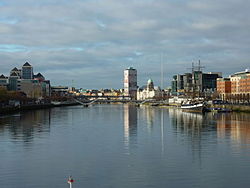 In summer, Dublin's top attractions can sell out. Buy tickets online in advance if you know you want to see something, especially for the Book of Kells where even early arrivals may find all the day's slots are filled.
The
Dublin Pass
gives you free and fast track entry to thirty-some attractions in Dublin. Adult prices are €62 for one day, €83 for two, €102 for three and €128 for five, child prices about half, and days must run consecutively. You may struggle to break even on this deal as only the Hop-on Hop-off bus tour and the Jameson Distillery and Guinness tours charge over €20; most are way cheaper and among their "free entry" attractions are many that don't charge anyhow. The Pass doesn't include the Library & Book of Kells at Trinity College, and it doesn't include any public transport.
North of the river
phone: +353 1 705-7000

address: O'Connell St Lower, Dublin 1

The GPO is the headquarters of the Post Office in Ireland, built in Neo-Classical style 1814-1818. In 1916 it was occupied by Irish rebels led by PH Pearse, who read the Proclamation of the Republic outside the front door of the building. The interior was burnt out by shelling from government forces against the rebels, but the exterior survived. Subsequently the GPO was restored, reopening in 1929, and remains a busy working post office. It formerly hosted An Post Museum: this closed in 2015 but you can view the collection online.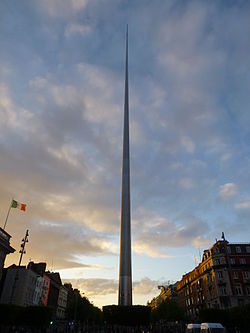 O'Connell Street is the broad thoroughfare running north from the river, and the main district for budget accommodation. It was smashed up in the 1916 uprising and subsequent civil war, but rebuilt; then in the 1970s the developers made one sorry mess of it. Plus their assistants: All along O'Connell Street the pieces flew, up went Nelson, and the pillar too . . . was the ditty commemorating the 1966 IRA bombing of Nelson's Column. Where it stood, next to the GPO, is now the 121 m pin of the Spire of Dublin; close by on North Earl St is the James Joyce Statue. Northbound trams glide up the street: go a block east for the southbound track. The city council are doing their best to further improve the place but it's a work in progress: pleasant enough by day, but tacky by night.

address: 83 Marlborough Place

Dublin's Catholic cathedral, built in 1825. Catholicism was always the majority religion in Ireland, but its practice was forbidden until the 19th C. The official cathedral is Christ Church, so designated by the Pope in 1300, but taken over by the Protestants in the 16th C. When the laws relaxed, St Mary's was built in neo-Classical style as a temporary or "pro"-cathedral, until such time as the Pope decrees otherwise or the Protestants hand back Christ Church; neither event appears imminent.
At its north end at Parnell Square, O'Connell St takes a turn and becomes Frederick St. Here are the Rotunda Hospital, City Art Gallery, Writer's Museum and Garden of Remembrance.

Dublin City Gallery - The Hugh Lane

phone: +353 1 222 5550

address: Charlemont House, Parnell Square North, Dublin 1

This public gallery has permanent and temporary exhibitions of modern and contemporary art. It also houses Francis Bacon's studio which was relocated in 2001 from London.

phone: +353 1 872-2077

address: 18 Parnell Sq, Dublin 1

Located in an 18th-century house, the museum is dedicated to Irish literature and the lives of individual writers such as Shaw, Joyce, Yeats & Pearse.
The Garden of Remembrance across the street from the gallery and museum commemorates those who died in the struggle for Irish independence. Open daily.
The River Liffey is lined by stylish buildings, much scrubbed-up or re-developed in recent years. Just upstream from O'Connell Bridge, the is the one on all the picture postcards and film locations, a 43 m cast-iron arch spanning the river between Liffey St Lower and Wellington Quay. Officially called the "Liffey Bridge" (Droichead na Life), it was built in 1816 to replace the cross-river ferries, with the right to charge a ha'penny toll for the next century. There were turnstiles at both ends, removed in 1919 after the toll ceased. The bridge was extensively repaired in 2001. Please don't clutter it up with "love-locks" - the last big clean-up removed 300 kg of these, and bear in mind that the 2001 repairs were by Harland and Wolff, who built the Titanic.
Downstream from O'Connell Bridge the river broadens into dockland and the open sea, with poignant reminders of the Irish people's relationship with that sea.
on Custom House Quay depicts victims of the Great Famine (an Gorta Mór) of 1845-49, when a million died and another million fled the country. Five gaunt figures totter to the docks with their bundles as if to take ship and leave. Or perhaps they hope for scraps from those ships, which during the famine years were briskly exporting food for profit, plenty to feed everyone yet unaffordable to most.

EPIC The Irish Emigration Museum

phone: +353 1 906 0861

address: CHQ, Custom House Quay

This museum tells the story of Ireland's expansive emigration, and the impact it has had on the world. Features 1500 years of Irish history told through 20 interactive galleries.

Jeanie Johnston Tall Ship Museum

phone: +353 01 473-0111

address: Custom House Quay

The original Jeanie Johnston was a 3-masted barque sailing between County Kerry and North America 1847-1855, taking Irish emigrants west in the Great Famine, and bringing timber back east. No lives were ever lost aboard, even during her final sinking. The present ship is a replica launched in 2000, and berthed here to act as a museum. The ship has previously made cruises and served as a training vessel, but since 2010 she's not been seaworthy, and the repairs appear unaffordable.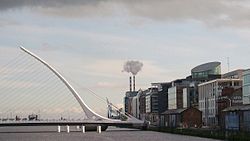 Samuel Beckett BridgeDesigned by Santiago Calatrava, this is a harp-shaped cable-stay road bridge of 120 m. It spans the river between North Wall Quay (in Docklands, north bank) and Sir John Rogerson's Quay (near Grand Canal Square, south bank) and the whole contraption hinges through 90 degrees to let ships pass. Daytime it's busy with traffic and is most scenic when floodlit at night. Calatrava also designed the James Joyce bridge upstream.

phone: +353 1 671-3414, +353 87 245 4282

address: Park Lane, Spencer Dock, Dublin 1

This one of Ireland's most dynamic and exciting galleries. Representing some of the best Irish and international contemporary work on the market. The programme is based on 10-11 solo exhibitions and 1-2 group or thematic exhibitions per year. Green On Red participates annually in international art fairs and the gallery's artists regularly exhibit abroad in private and public venues.
=== South of the river ===
Many of Dublin's top sights are just south of the river, notably Trinity College, the National Museum archaeology collections, the National Gallery, and the elegant town through Merrion Square to St Stephen's Green.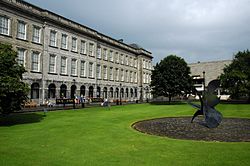 phone: +353 1 896-2320

address: College Green, Dublin 2

Trinity College is the fine Georgian campus of the University of Dublin. It's generally open to stroll around in daylight hours, but it is a working university, and most interiors are off-limits to tourists. You can visit the Chapel near the front (west) gate of the College. But the big attraction (ie mobbed) is the Old Library and Book of Kells. If you've not booked online, then first buy your ticket from the machines under the new (Lecky) library just south - this is for a timed slot, and on holiday weekends may be booked out. You enter an exhibition hall setting the Book in the context of other monastic writings of its period, circa 800 AD. Next, enter the display area: only two pages are displayed at any time, one being richly illustrated with little text (or no text, on the "carpet" pages), and one page being text of the Vulgate Gospels, written in Insular Majuscule Latin. But it's difficult to enjoy, with crowds jostling round the display case. Next, go upstairs into the massive Long Hall of the library, with books and ladders and more books and ladders towering away upwards. Last but not least, exit through the gift shop, which can be entered without a ticket.
Look into the posh Bank of Ireland opposite the College while waiting for your appointment with Kells. Small display of early banknotes and memorabilia.
Temple Bar is the district just west of the College along the riverside. It's wall-to-wall pubs and eating places, the cobbled streets are agreeable but there are no specific sights except Ha'penny Bridge until the Castle area, described in "West city". It's thronged with merry-makers, and by evening the hen parties and lads' outings are steaming, raucous and upchucking.
Irish Whiskey Museum: and not before time. Irish distilleries have for too long pumped out bland commercial fare, though the country has all the ingredients (including the know-how) to produce whiskey of character to rival single-malt Scotch. The museum is next to the Dublin Visitor Centre at the gates of Trinity College. It's open daily Apr-Oct 10:00-18:00, Nov-Mar 10:30-18:00; the bar stays open Friday till 23:00 and Sat & Sun to 22:00. Standard tour (1 hour) costs €20.

Molly Malone statue

address: corner of Suffolk Street & St Andrew's Street

Molly Malone is the subject of a maudlin 19th century music-hall ballad, who pushed her wheelbarrow crying "cockles and mussels alive, alive-oh" before dying of a fever. She's entirely fictional, though Dublin had many such streethawkers, and the lyrics have parallels in earlier folk tunes. The kitsch statue dates to 1988 and was originally on nearby Grafton Street, but moved to its present spot in 2014 to make way for tram tracks. She's often mocked as "The Tart with the Cart" or "The Trollop with the Scallop" and her breasts (above an unhistorical low-cut dress) have been well polished by passing hands. Alas amidst these misogynist tropes & gropes, we forget the sad fate of the cockles and mussels themselves.

phone: +353 1 661-5133

address: Merrion Square West & Clare St, Dublin 2

Impressive national collection of Irish and European Art.

National Museum of Ireland - Archaeology & History

phone: +353 1 677 7444

address: Kildare St, Dublin 2

Excellent display of Ireland's artefacts from prehistory through the Viking era to independence. The standout is the Treasury (eg the 12th C Ardagh Chalice and 9th C Tara Brooch), and the prehistoric jewellery: gold and silver beautifully worked and carved - then chucked into the bog?? And likewise into the bog went bodies, presumably of defeated foes given the violence of their deaths. Normally when a body is buried, the flesh decays and a skeleton persists. But if you throw a body into a peat bog, the acid dissolves the bones while tannin preserves the hide. The person turns into a handbag.

National Museum of Ireland - Natural History

phone: +353 1 677-7444

address: Merrion Square, Dublin 2

The "Dead Zoo" contains a comprehensive zoological collection stored and maintained in a manner unchanged since its establishment in Victorian times.

Merrion SquareThis large stately square is filled with grassy and shady areas and surrounded by Georgian red-brick houses. At the northwest corner is a life-sized statue of the writer and dramatist Oscar (draw breath) . . . Fingal O'Flahertie Wills Wilde (1854-1900), who grew up at No. 1 here. He's depicted sprawled on the embankment, with a lop-sided smirk, as if totally wasted. (As if!) Two short marble columns are covered in his quotable quotes. On the surrounding buildings, plaques commemorate other notable residents, such as the Duke of Wellington. The fine architecture continues south, along Mount Street Upper and Fitzwilliam Street Lower. The neo-classical government buildings on Upper Merrion St can be visited by free guided tour Saturdays hourly 10:30-13:30, pick up tickets in the National Gallery lobby.

address: 29 Fitzwilliam Street Lower

Georgian townhouse museum recreates the lifestyle of a historic middle-class family. It's closed for renovation until 2020.

address: Dublin 2

Pleasant Victorian public park. Note the Fusiliers' Arch, constructed in 1907 to commemorate the Royal Dublin Fusiliers who fell in the Second Boer War (1899-1902).
on Dawson Street is the office of the Lord Mayor of Dublin. You can only get in to see it (eg the plush 1821 Round Room) for special events or on occasional open days.

phone: +353 1 661-1000

address: 15 St Stephen's Green, Dublin 2

Housed in a Georgian townhouse on St. Stephen's Green, this displays the 20th C social, cultural and political history of Dublin city, with many artefacts donated by Dubliners. Visit by guided tour every 30-60 mins.
Iveagh Gardens are a block south of St Stephens Green: a hidden green space, as they're secluded by buildings.
The Grand Canal marks the southern boundary of the inner city; the Royal Canal similarly loops across the northern city. Both were built in the 18th / 19th C to carry passengers and freight between Dublin and the Shannon and Atlantic. The Grand Canal took 47 years to construct: the expense of crossing the Bog of Allen replicated the prehistoric custom of sinking gold into bogs. And indeed Irish waterways go that far back, as the earliest dwellers could barely get about by land. The dockland visitor centre has closed but the Waterways Ireland website gives information eg on walks, navigability and fishing on this and the other canals.
West city
The original Dublin was in this area, at the confluence of the Liffey and the smaller Poddle (now culverted). Their peaty waters formed a dark pool, in Irish
dubh linn.
phone: +353 1 677-7129

address: 2 Palace St, Dublin 2

Former seat of British rule in Ireland. The guided tour (hourly) takes in the medieval basements and Chapel Royal, then you see the State Apartments in your own time. You can skip the tour and just see the apartments for less.

phone: +353 1 407-0750

address: Dublin Castle, Dublin 2

Sir Alfred Chester Beatty (1875-1968) was an American mining magnate who amassed a fabulous collection of early books and manuscripts and oriental art. He moved to London and collaborated generously with the British Museum, but in 1950 there was a falling-out and he moved to Ireland. He established the library to avoid his collection being split up; it's now in the Clock Tower in the Castle gardens.

phone: +353 1 677-8099

address: Christ Church Pl, Dublin 2

Dating back to the 11th century, this is the oldest building in Dublin, though it underwent a massive restoration in the 19th century. The oldest part is the large crypt, where amongst the items on display are a mummified cat and a rat, which got themselves stuck in the church organ in the 19th C.

phone: +353 1 679-4611

address: St. Michael's Hill, Christchurch, Dublin 2

The exhibitions explore life in the Viking settlement and medieval city. Discounted admission to the Christ Church Cathedral available.
St Audoen's Church on Cornmarket near Christ Church is a 19th C neo-classical church built over 12th C remains. It's now the RC Polish Chaplaincy for Ireland.
St Michan's Church on Church St north of Arran Quay was built in 1686 on Viking foundations. It has fine interior woodwork and an organ used by Handel. However the main draw was the mummified remains in the vaults: a 400-year old nun, a crusader, and the ancient Earls of Leitrim. In Feb 2019 these remains were vandalised so the vaults are closed for the forseeable future.

National Museum of Ireland - Decorative Arts & History

phone: +353 1 677-7444

address: Collins Barracks, Benburb St, Dublin 7

The building itself is remarkable, a great Georgian former barracks around a parade square. Displays decorative arts and artefacts over 400 years, from rustic houses through Georgian elegance to "Proclaiming a Republic", the events of Easter 1916 when the interior decor of the Post Office took a turn for the worse.

Irish Museum of Modern Art (IMMA)

phone: +353 1 612-9900

address: Royal Hospital, Military Road, Kilmainham, Dublin 8

Modern & contemporary art, formal gardens & café.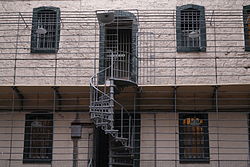 phone: +353 1 453 5984

address: Inchicore Rd, Kilmainham, Dublin 8

This prison was in use 1796-1924; thousands have passed through, including many convicts transported to Australia. It's best known as the place where the rebels from the 1916 Easter Rising were executed. (Several now lie in Arbour Hill Cemetery just north of the Decorative Arts Museum.) Access only by guided tours, every 30 mins, pre-booking essential.
Irish National War Memorial park and gardens are dedicated to the 49,500 Irish soldiers who died in the Great War. They're on the riverside just north of Kilmainham Gaol.

phone: +353 1 474-8900

address: Welington/Zoo Rd, Dublin 8

Located in Phoenix Park and dating to 1830, the Dublin Zoo is the largest in Ireland, and notable for its role in wildlife conservation efforts.

phone: +353 1 677-0095

The largest enclosed urban park in Europe, 2.5 km by 2 km. Includes Dublin Zoo, the residences of the President of Ireland and of the US Ambassador, the Cross commemorating the Pope's visit in 1979, a monument to the 1882 assassinations here, several sports fields, and a herd of fallow deer. Just beyond is Farmleigh mansion. But no phoenix, the name derives from Irish fionn uisce - "clear water".
The President's Residence (Áras an Uachtaráin) can be visited by free guided tour on Saturdays hourly 10:30-15:30. Pick up a ticket from the Phoenix Park visitor centre, no booking.
Grangegorman Military Cemetery is a leafy, reflective space on the northeast flank of Phoenix Park, opposite the fish ponds.
Farmleigh is an Edwardian mansion off White's Road at the west end of Phoenix Park. It's used to accommodate visiting VIPs but at other times can be seen by guided tour, daily 10:00-16:30, adult €8.
South suburbs
Donnybrook and Ballsbridge: take 46a bus to Donnybrook and the 4 or 7 buses to Ballsbridge. Ballsbridge is Dublin's embassy district and is home to some of Ireland's most expensive roads including 'Shrewsbury Road', which is famous for being the 6th most expensive residential thoroughfare in the world and 'Ailesbury Road' which is equally as salubrious and home to a bulk of the capital's embassies including Spain and Poland. Ballsbridge is also home to The Royal Dublin Society (RDS) which promotes and develops agriculture, arts, industry and science in Ireland. It hosts many concerts and also showcases the annual Show Jumping Competition, a major entertainment event. You can approach Ballsbridge via 'Herbert Park', a pleasant public green park and fashionable road, opposite Donnybrook Village and vice-versa.
Ranelagh and Dartry are also worth visiting- Ranelagh is small but affluent, accessible by the Luas Green line and has several critically acclaimed eateries.
Sandymount, a coastal suburb 3 km south-east of the centre, is another quite affluent area with a tiny park and some restaurants. It is the birthplace of W.B. Yeats. The suburb and its strand appear prominently in James Joyce's Ulysses. There is a wonderful walk from Sandymount across the north end of its beach to the South Bull Wall which reaches a finger well out into the Bay.
is now a "city-within-a-city" on Belfield Campus.
Rathfarnham Castle is originally Elizabethan but prettified in the 18th C. Open May-Sept daily, Oct-Apr W-Su.
The Pearse Museum is in St Enda's Park, Rathfarnham, Dublin 16. Patrick Pearse lived here 1910-16.
North suburbs
phone: +353 1 830-1133

address: Finglas Rd, Dublin 11

It's two miles from the city centre. Glasnevin Cemetery runs a series of walking tours. These tours give a valuable insight into the final resting place of the men and women who have helped shape Ireland's past and present. The walking tour last one and a half hours and visits the graves of Daniel O'Connell, Charles Stewart Parnell, Michael Collins, Eamonn De Valera and many other graves of architectural and cultural interest.

phone: +353 1 804-0300

address: Glasnevin, Dublin 9

Extensive gardens favouring alkaline-loving species. The great Palm House (where Wittgenstein often came to warm his lugubrious backside) was rebuilt in 2004, though the original Aquatic, Fern & Cactus houses are still under restoration. A gateway leads into Glasnevin Cemetery adjacent. The gardens also manage the arboretum at Kilmacurragh in County Wicklow.
Drumcondra is a relatively expansive and bustling Victorian suburb, boasting several good parks as well as Griffith Avenue, said to be Europe's longest tree-lined residential avenue. To the east of Drumcondra is Croke Park, the centrepoint of Gaelic sports; the canal-side route to Croke Park should be approached with some caution especially at night. To the west of Drumcondra is Glasnevin which can occupy a visitor nicely with the National Botanic Gardens, Glasnevin Cemetery (containing many historically significant tombs) and good restaurants can be found in the Botanic Gardens and on The Rise, off Griffith Avenue.
Clontarf (accessible by DART/commuter rail) is a great seaside location to spend an afternoon.

Bull Island Nature ReserveA large recreation area. Bull Island has a 5-km (3-mi) beach, Dollymount Strand (Dublin's best beach), and is an important habitat for birds. Also nearby the island is St Anne's Park, a former Guinness family home estate, which has ponds, follies, walks and a world-famous Rose Garden, as well as a coffee shop and artists' studios. The ideal way to visit them is by bicycle. Go via Amien's St, North Strand, Fairview and then follow the coastline. There is an excellent bike path almost all the way. It can also be accessed by walking from Clontarf Road DART station or bus route 130 from the city centre.
Do
Tours
Performing Arts and Concerts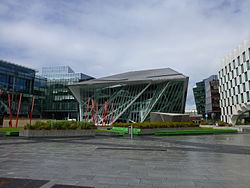 phone: +353 1 677 7999

address: Grand Canal Square

The theatre offers a wide range of shows featuring ballets, musicals, family shows, drama, concerts, comedy and opera. The modern building was designed by Daniel Libeskind and completed in 2010.

International Dublin Gay Theatre FestivalAn annual event held in May, celebrating the contribution of gay people to theatre, past and present. The Festival was founded in 2004 to mark the 150th anniversary of the birth of Oscar Wilde, in his native city. With an emphasis on new or recent International and Irish works with a broadly gay theme or relevance, the Festival has grown to become the largest event of its type in the world.
Sports
Traditional games at Croke Park Stadium

address: Jones Rd, Dublin 3

Catch a hurling or Gaelic football game at this 82,300 capacity, state-of-the-art stadium. These sports are uniquely Irish. Hurling is listed in the Guinness Book of World Records as the fastest field sport, with the ball (called a sliotar) reaching speeds above 130 km/h. Gaelic football can best be described as a combination of soccer and rugby. To keep the sports "pure," it maintains an amateur status, with each parish in Ireland having a team — the inter-county games are generally extremely well-supported, so you may have difficulty getting tickets for the bigger matches. Tours of the GAA museum and the stadium are also available, including a chance to try your hand at the sports themselves. You can also walk across the roof of one of the biggest stadiums in Europe, which provides great views of the city's skyline.

Tallaght Stadium

address: Whitestown Way, Tallaght

Watch a Shamrock Rovers F.C. soccer match during the FAI League of Ireland Football (association football) season from March to November. Home matches take place on Friday nights at 19:45. Tickets cost: €15 (Adult), €7 (U-16′s/OAPs).
Watch rugby union at

RDS Arena

address: Anglesea Rd, Ballsbridge, Dublin 4

This is the home ground of Leinster Rugby, who play in the Pro14 professional European league. They often win it, most recently in 2019. The stadium has a capacity of 18,500 and big games sometimes transfer to the larger Aviva stadium.
on Lansdowne Rd, Dublin 4 is Ireland's national stadium, capacity 51,700. International rugby, soccer and other big events are hosted here. It's a mile or so southeast of the centre, take DART train to Lansdowne Rd or buses towards Sandymount or Ballsbridge.

phone: +353 1 289-0500

address: Leopardstown, Dublin 18

Located in the southern suburb of Leopardstown/Foxrock, there are regular meetings throughout the year. There is a "Pay as you Play" golf course within the racecourse grounds, as well as bars, restaurants and a nightclub (Club 92).
Other
address: 6 Eustace Street, Temple Bar, Dublin 2

Watch independent Irish and international movies.

address: 6 Harcourt St, Dublin 2

An Irish language centre where you can hear Irish being spoken as a first language and also enjoy a beverage with friends.
Buy
Dublin is not cheap for general shopping, although visitors from outside the European Union can obtain a refund of VAT (sales tax: 23%) on many of their purchases. Just look for the refund sign and ask in the shop for details. Keep in mind that most stores will issue VAT refund vouchers only on the same day of purchase. More on VAT refund can be found on Irish
eGovernment website
.
South side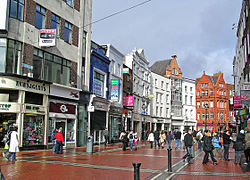 The
south side
of the river (Dublin 2) includes Dublin's most famous shopping street, the pedestrianised
Grafton Street
, which runs between
St. Stephen's Green
and
Trinity College
. It has, along with its surroundings, been classified as an
Architectural Conservation Zone
. This will involve a re-establishment of the area's rich historic charm and urban character. Alongside the historic Trinity College you will find
Nassau Street
where there are many shops selling tourist-related items such as Waterford Crystal, Belleek Pottery, Aran sweaters, and other Irish craft items.
Dawson Street
, parallel to Grafton Street, is home to the official residence of the lord mayor (the
Mansion House
) as well as several upmarket clothes shops, restaurants and well stocked large bookshops.
address: 88-95 Grafton Street, Dublin 2

Dublin's most famous and expensive department store is on Grafton Street along with a wide range of clothing, jewelry, and photography shops, etc.

address: 59 South William Street

One of Dublin's most attractive shopping centres, set in a beautifully restored 18th-century townhouse. Here, you will find clothes, cafes, galleries and Irish designer jewelers. You must check out The Loft Market - it is a haven for Dublin Fashion. There is lots of up and coming young fashion designers and vintage clothing sellers such as, Lisa Shawgi Knitwear and MO MUSE to shop around. Beware the overpriced antique dealers, some of whom will drop a price by 50% after only the merest suggestion that you are willing to haggle (and it still may not be a bargain). For gifts, there is an engraving business based in the centre next to Bonsai Shop.

address: Dublin 2

A covered red-brick shopping arcade. This area is worth a visit for vintage clothing, fabrics, unusual accessories, vinyl and club wear. It also features some small cafes.

address: 56-58 Dawson Street, Dublin 2

Well-stocked large bookshop (now owned by Waterstones).

address: 37/38 Nassau Street, Dublin 2

Sells above-mentioned tourist-related items.

address: 6 Nassau Street

Also sells above-mentioned tourist-related items.

address: Grand Canal Square

A smaller Irish supermarket with three other locations. One of the few places where you can find Guinness Foreign Extra Stout. Also offers beers from other Irish breweries.
The best concentration of shoe shops is found on Grafton Street and the adjoining Wicklow Street.
The
Temple Bar area
offers some alternative to shopping at the larger chain-stores. Small clothing boutiques, including the city centre's only swap shop, are popping up all around the area (Temple Lane, Crow Street and Fownes Street) with an emphasis on vintage and unique original independent designer pieces. If you can't make it to any of the markets at the weekend, the best can be found here during the week.
Be sure to visit Temple Bar's Temple Bar Square and Meetinghouse Square on a Saturday morning or afternoon for the markets (Dublin 2), which sells all types of foods, from traditional fare to delicious baked goods. Both squares are also home to several very good restaurants. Meetinghouse Square, which lies only about 150 ft (50 m) west of Temple Bar Square, sells much finer fare and more exotic foods than Meetinghouse Square.
address: Crow Street, Dublin 2

A unique football supporters shop that stocks clothing from around the world for the fashion conscious football fan.

Cow's Lane Fashion and Design Market

address: Dublin 8

The largest designer market in Dublin, offers handmade one-off original designs. The market is open every Saturday from 10:00-17:30. Found outdoors on Cow's Lane and indoors in the old Dublin's Viking Adventure, this market is not to be missed.
North side
There is also an extensive shopping area on the
north side
of the river, in Dublin 1, centred on
O'Connell Street
and
Henry Street
(Ireland's busiest shopping street). Just off Henry Street is
Moore Street
, which has a fruit, vegetable and fish market. It's worth a stroll if you want to get a slice of life from the less genteel side of Dublin. For a more traditional Dublin shopping experience go to the Liberties area around Thomas street and check out the stalls on Meath street and the
liberty market
(off Meath Street) on Thursdays, Fridays and Saturdays. Also, if you want to find thrifty nicknack shops, then
Talbot Street
is a good start - like any city, if you look hard enough and don't get caught up in the glitz and glam when shopping, there are great bargains to be found.
Further afield
For those for whom it just would not be a holiday without hanging out at the mall, there are various shopping centres located around Dublin.
address: Dublin 15

address: Dublin 22

address: Dublin 24

address: Dublin 14

The largest shopping centre in Europe with 4 floors and a range of impressive shops such as Marks and Spencer, House of Fraser, Harvey Nichols and more

address: Sandyford Road, Dublin 16

An upmarket British department store chain housing some of the world's most exclusive designer names in fashion, accessories, beauty and food and is located in Dundrum Town Centre, in the Pembroke district.
There is fairly extensive duty-free shopping at Dublin Airport, at prices sometimes cheaper than the rest of the city.
Eat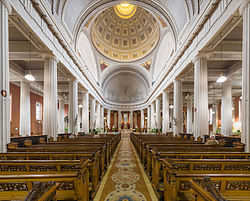 Dublin has a wide range of good quality restaurants, most of which are seen as overpriced by European standards. Main course prices range from around €10 at the lower end up to around €40 at the higher end. Wine in restaurants is generally marked up from its already expensive retail price by a factor of at least two and three times retail price would not be uncommon.
There are many excellent value
Indian
restaurants around the South William Street area, parallel to Grafton Street. These often have reasonable priced lunch and 'early bird' deals, offering three course meals for around €10. Quality is high but not on a par with UK.
A similar multi-cultural hotspot is Parnell Street in Dublin 1 (O'Connell Street-Gardiner Street), which has a dense concentration of
Chinese
and
Asian
restaurants extensively frequented by the ex-pat communities.
In Dublin, there has been a rise in Mexican, Indian and ergonomically-designed eateries as restaurants, to reflect the hipster demographic. Many of the Indian and Mexican restaurants are small businesses.
Budget
Mid-range
Splurge
Drink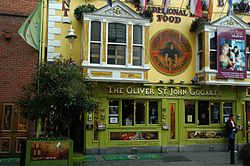 No visit to Dublin would be complete without a visit to one (or ten) of its many pubs (last count says there are over 600 pubs).
Drinking is relatively expensive: a pint of stout costs around €4.50 and up, while lager costs around €4.90 and up. However, the government gave a tax break to microbrewed beer in the December 2004 budget, this had a slight effect on prices in brewpubs. There are pubs in Dublin offering cheaper drinks, if you are willing to go off the beaten trail or ask other patrons for suggestions. Beer tends to be more expensive around the Temple Bar area, due to the increased tourist flow, and will be cheaper in more traditional styled pubs.
Pubs serve drinks until 23:30 with some drinking-up time allowed. Many bars have late licenses allowing them to serve up to 02:30, although this usually means a cover charge or price increases after 23:30.
Smoking has been illegal in Irish pubs (as well as all indoor workplaces) since March 2004. This has had the positive side effect of increasing
al fresco
facilities.
The
Temple Bar
that people often speak of is an area that used to be a sand bar, not an actual bar. (Originally, anyway; there is a pub called "The Temple Bar" in Temple Bar.) The Temple Bar district has a mixture of food, drink, shopping and music. It appeals to all ages, but is a hot spot for tourists. The narrow, cobble stoned streets gives it an original feeling within the heart of the city. Its central location also makes it easy to walk to from Dublin's Centre. However, late night revellers tend to make it an unpleasant place to be after dark. It can be taken over by drunken stag and boisterous hen parties, many who travel cheaply from the United Kingdom to avail of Temple Bar's delights.
Traditional Irish Bars
Modern
Micro-breweries and brew-pubs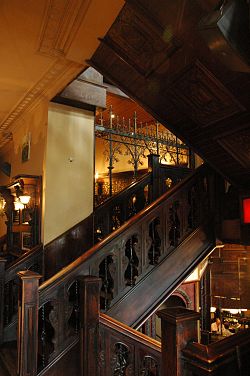 Bars
Clubs
Sleep
Camping
Dublin is not well-served for camping or caravaning. The nearest to the city centre is beyond the M50 to the southwest.
Budget
There are a huge number of youth hostels (mostly around €20 per night in dorm accommodation), bed & breakfasts (around €45 per person), and hotels (€50+ per room). Cheaper accommodation is to be found around Dublin's main bus station, Busaras. South of the river is more expensive.
Mid-range
phone: +353 1 872-8188

address: 52 Middle Abbey St, Dublin 1

Central 3-star, vfm facilities, some noise, and breakfast kinda basic.

phone: +353 1 475-1092

address: 84 Harcourt St, Dublin 2

Good central 3-star, some noise in street-facing rooms. Shower & taps take 5 mins to run hot, keep running & have faith.

phone: +353 1 661 2819

address: 92 Lower Baggot St, Dublin 2

Decent 3-star Georgian townhouse.

phone: +353 1 874-9407

address: 2 Great Denmark St, Dublin 1

Central 2-star, all rooms en-suite, tea/coffee making facilities, free Wi-Fi.

phone: +353 1 873-7700

address: Great Denmark St, Dublin 2

Decent 3 star, but a lot of construction noise in vicinity in early 2019.

phone: +353 1 668 1111

address: Merrion Rd, Ballsbridge, Dublin 4

Splendid 3-star in 19th C school building.

phone: +353 1 614-6500

address: 23-27 Molesworth St, Dublin 2

Georgian three-star hotel, small rooms but friendly staff, good location.

phone: +353 1 874-6949

address: Great Denmark St, Dublin 1

Georgian hotel with 130 bedrooms all ensuite, free Wi-Fi, TV, tea & coffee facilities and hairdryer. Restaurant & bar with live Irish music every weekend.

phone: +353 1 679-4455

address: 46-49 Dame St, Temple Bar, Dublin 2

3 star in busy central location, all rooms en suite. Hotel also has the Trinity Bar and Havanna nightclub.

phone: +353 1 670 9404

address: 16-18 Fishamble St, Temple Bar, Dublin 2

Central 3-star In the west end of Temple Bar.

phone: +353 1 662-5155

address: 41 Upper Fitzwilliam St, Dublin 2

Georgian house with many original features. All room en-suite with free Wi-Fi. Decent 3 star, you're paying 4-star rates for the great location.

phone: +353 1 670-8124

address: 19-20 Fleet St, Temple Bar, Dublin 2

Central 3-star, most rooms comfy, some a bit worn.

phone: +353 1 679 2041

address: 26-27 South Great George's St, Dublin 2

In a 112-year-old Victorian Gothic style building but with generic modern interiors. Some visitors report that reception is next door at Kelly's, it's not clear if this is a permanent arrangement.

Jurys InnMid-range chain with three locations:
Jurys Inn Christchurch, facing Christ Church Cathedral and Temple Bar;
Jurys Inn Custom House Quay, in the International Financial Services Centre near Connolly station just north of Liffey;
Jurys Inn Parnell St, junction with Granby Row.

phone: +353 1 679-4643

address: 47-49 Kildare St, Dublin 2

Simple mid-range hotel in old building on 3 floors with no lift. Blarney Inn pub and Club Nassau are also part of this hotel.

phone: +353 1 871-6800

address: Parnell Square West, Dublin 1

Clean welcoming 3-star hotel, but a lot of construction noise in early 2019. Not to be confused with the Maldron at the airport.

phone: +353 1 668-8866

address: 78 Morehampton Rd, Donnybrook, Dublin 4

3-star with all 22 room en-suite, wi-fi, car parking.

phone: +353 1 475 2715

address: 33 South Richmond St, Dublin 2

2-star, many rooms have views onto the Grand Canal.

phone: +353 1 670 7655

address: 23 - 24 Eustace St, Temple Bar, Dublin 2

2-star right in the centre of Temple Bar.

phone: +353 1 614 2000

address: Herbert Rd, Lansdowne Rd, Dublin 4

A three-star hotel in the Sandymount and Ballsbridge area next to AVIVA Stadium. Nice classic building and good size rooms equipped with large bathrooms makes it good value. The bar is great and there is a nice patio area overlooking the hotel's garden. Free Wi-Fi, conference facilities, and the staff are friendly and approachable.

phone: +353 1 200 1800

address: Stillorgan Rd, Dublin 18

A four-star, AA-accredited hotel with spa, restaurant, bar, free wifi throughout the hotel, and free car park.

address: 6-8 Wellington Quay

Owned by Bono and The Edge from Irish band U2, buzzing happening sort of place . . . code for, you may get a lot of noise from Temple Bar, and "cool" means the showers are a tad lukeish. Overall it's a good central 4-star for 5-star prices: you're paying for the rock associations.

phone: +353 1 668 5380

address: 23 Waterloo Rd, Ballsbridge, Dublin 4

3-star in quiet area. All 20 guest rooms are en-suite and free car parking is available.

phone: +353 1 642 9100

address: Nangor Road Park D12 F2V4

Premier Suites Dublin Sandyford

phone: +353 1 292 0200

address: The Forum, Ballymoss Road Sandyford Industrial Estate
Splurge
Airport
Dublin Airport is north of the city near the town of
Swords
. Hotels listed here are so close to the airport that you'd travel that way to reach them, even if you weren't flying (eg many inter-city buses run via the airport). Those closer to Swords town centre are listed on that page along with other amenities: they're much cheaper than their airport or city centre equivalents.
Stay safe
Dublin is generally a very safe city during the day by American and European standards but can be an intimidating place on weekend nights. As in most other large cities, a few crimes against the person, such as muggings, unprovoked attacks, and robberies, have been known to occur in Dublin. Treat Dublin as you would other Western cities, and be sensible: never walk in poorly-lit areas at night, especially alone. As Dublin centre is relatively compact, be aware that walking a few blocks can take you into some bad areas. Areas where crimes against foreigners have occurred include Rialto and western parts of the North Circular Road. Be especially vigilant or preferably avoid walking around the city centre altogether after bar closing times on weekends (02:30 - 03:00) when very drunk people looking to take advantage of other drunk people roam the streets and when violent behaviour and crime are most likely to occur. Most homicides in the city are gang related.
Never be afraid to approach Gardaí (police officers) to ask for help or directions – it is their job to help. If you do get into trouble somehow and fear for your safety (which is very rare) and cannot find a Garda officer, head to the nearest establishment such as a bar or shop where you will be safe. Call the emergency services on "999" or 112, free from any phone, and ask for the relevant service. If you have no phone, ask anyone working in a shop or bar to call the police for you, and the employee will gladly assist. Also, most doormen and bouncers in pubs will gladly call the police for you if you explain your situation.
Area information
Avoid the Boardwalk and Lower Abbey Street as a large number of drug addicts hang around these areas due to nearby drug rehabilitation centres.
The area around Temple Bar is both an attraction for tourists and for pickpockets. Be aware of your surroundings.
Most suburbs on all sides of the city are very safe, but there are a few rough areas, mostly on the Northern and Western peripheries of the city, which are seldom visited by tourists but might warrant some caution. Nonetheless, those interested in urban regeneration may find a visit to Ballymun (home to Ireland's most well known tower-blocks as well as Swedish furniture superstore IKEA) and Tallaght (a historic village that was developed into a 70,000-strong residential suburb) of interest.
People
You will see a wide variety of buskers and street performers, these are normal people just plying their trade; they are usually very helpful for directions and appreciate your donations. (Busking and street performance is an old and vibrant part of Irish culture, and there is nothing unusual or unsavory about a person playing an instrument or performing in a public place even in the small hours of the morning. So approach and appreciate these talented and friendly individuals. Be aware that it is considered rude to photograph a street performer without tipping.)
If people approach you on the street, they could indeed be people just looking for directions, charity workers looking for donations, or people simply looking for a cigarette lighter. Be aware that Dublin people are usually open and unlike big cities like London or New York, talking to complete strangers is a common and regular occurrence.
If someone who appears to be drunk, under the influence of drugs or a habitual drug user, approaches you asking if they can talk to you for a moment, it is wise to keep walking (although expect drunk people to talk to you in a pub as it is common). These people may simply ask you for a cigarette or some money for a bus, but be aware that most Dubliners, even if they have no money, would never ask a stranger for money or cigarettes (although asking for a light for a cigarette is common). There are several scams being used on unaware tourists and locals alike so please be careful and use your judgement. If someone comes to you on the street, touches you, and asks you for something, say "no" or "sorry" and walk away. Again, locals will almost never behave like this so avoid people who do.
Traffic
When driving, leave nothing valuable visible in your car, lock doors while driving through slow traffic in the city. There are plenty of taxis at all hours of the day and night, which are safe and usually friendly.
Dublin has heavy traffic, and even if several of the locals tend to cross the road without having a green man, it is not recommended to follow this example. Hardly any of the cars slow down in front of zebra-crossings in busy and crowded streets.
If you rent a bicycle, ensure you rent full safety wear (helmet and lights) failure to do so can (albeit rarely) result in fines. If possible, travel by foot or public transport is best.
Care should also be used when taking some of the "Nitelink" buses that frequent the city as they, while often safe, have seen their fair share of trouble. Sit downstairs if possible, if only to avoid the more raucous singing, shouting, and post-drinking vomiting.
Taxis are well regulated in Ireland, but many taxi drivers have been known to take longer routes when tourists are being carried, ask for the quickest route. If staying in a hotel or hostel your host may be able to help you acquire a reputable taxi.
Be aware when crossing over roads where pedestrians have an official right of way sign, as these are frequently ignored by Dublin motorists particularly taxis, also beware than unlike a lot of European cities, Dublin cyclists will nonchalantly cycle on footpaths. This often happens even when there is also a cycle lane right beside the path, something that, in turn, is frequently ignored by the Gardai.
Cope
Medical
You should only go to the hospital if you're too ill to go there, so to speak. For immediate treatment of minor ailments try one of the
Walk-in Medical Centres.
The most central are at 16 Dame St (M-F 09:30-18:30, Sa 11:00-17:00, Su 12:00-16:00) and at 71 Middle Abbey St (M-F 10:00-17:00, Sa 10:00-15:00). They're private so an EHIC card won't help. Expect to pay 60 euro for a consultation, plus the cost of any prescription or other treatment.
Embassies
phone: +353 1 269 1546

address: 15 Ailesbury Drive, Ballsbridge, Dublin 4

phone: +353 1 664 5300

address: Level 3 47/49 St Stephen's Green

phone: +353 1 269 4577

address: 93 Ailesbury Road, Dublin 4

phone: +353 1 631 5284

address: 1 Elgin Road, Ballsbridge, Dublin 4

phone: +353 1 234 4000

address: 7-8 Wilton Terrace, Dublin 2

phone: +353 1 667 5094

address: 44 Wellington Road, Ballsbridge, Dublin 4

phone: +353 1 219 6651

address: 118 Merrion Road, Dublin 4

phone: +353 1 475 2999

address: 32B Westland Square, Pearse Street, Dublin 2

phone: +353 1 475 6404

address: 7th Floor, Block E, Iveagh Court, Harcourt Road, Dublin 2

phone: +353 1 478-1344

address: Russell House, Stokes Place St. Stephen's Green, Dublin 2

phone: +353 1 277 5000

address: 66 Fitzwilliam Lane, Dublin 2

phone: +353 1 269 3011

address: 31 Trimleston Avenue, Booterstown, County Dublin

phone: +353 1 676 7254

address: 1 Upper Pembroke Street, Dublin 2

Hungary

phone: +353 1 661 2902

address: 2 Fitzwilliam Place, Dublin 2

phone: +353 1 497 0843, +353 1 4966792, +353 899858536 (for emergencies)

address: 6 Leeson Park, Dublin 6

phone: +353 1 230 9400

address: Carrisbrook House, 122 Pembroke Road, Ballsbridge, Dublin 4

phone: +353 1 660 1744

address: 63-65 Northumberland Road, Dublin 4

phone: +353 1 202 8300

address: 3rd Floor, Nutley Building, Merrion Centre, Nutley Lane, Dublin 4

phone: +353 1 667 3105

address: 19 Raglan Road, Ballsbridge, Dublin 4

phone: +353 1 269 3444

address: 160 Merrion Road, Dublin 4

phone: +353 1 662 1800

address: 34 Molesworth Street, Dublin 2

phone: +353 1 261 3023

address: Ailesbury Villa 1-B, Ailesbury Road, Ballsbridge, Dublin 4

phone: +353 1 283 0855

address: 5 Ailesbury Road, Ballsbridge, Dublin 4

phone: +353 1 669 9100

address: 70 Upper Leeson Street, Dublin 4

phone: +353 1 1492 2048

address: 184-186 Orwell Road, Rathgar, Dublin 14

South Africa

phone: +353 1 661 5590

address: Alexandra House 2nd Floor, Earlsfort Centre, Earlsfort Terrace, Dublin 2

phone: +353 1 660 8800

address: 15 Clyde Road, Ballsbridge, Dublin 4

phone: +353 1 269 1649

address: 17A Merlyn Park, Ballsbridge, Dublin 4

phone: +353 1 218 6382

address: 6Ailesbury Road, Ballsbridge, Dublin 4

phone: +353 1 205 3700

address: 29 Merrion Road, Dublin 4

phone: +353 1 668-8777 (during business hours)

address: 42 Elgin Road, Ballsbridge, Dublin 4
Connect
Internet
address: Central Library, Ilac Centre, Dublin 1

Provides free broadband and wireless access to the Internet in its network of branch libraries.

Moneygram/Kaah Express

address: 2 Hardwicke St, Dublin 1

Cheap internet café offering a reliable internet connection and well-maintained computers.
Go next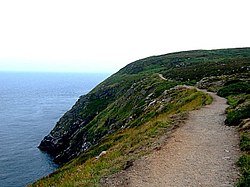 Almost all of Ireland is within 2-3 hours travel from Dublin, and the transport routes converge on the city. Those listed here are all within two hours and could be done as a day-trip.
Dalkey and Killiney — in the south are upmarket neighbourhoods and home to such celebrities as Bono and Enya, among others. A walk up Vico Road to take in the view is a must-do. Killiney Hill is beautiful, offering panoramic views of the surrounding Dublin Mountains. Get here by DART.
Blackrock or Dun Laoghaire — in the south and accessible by bus or DART, are also worth a visit.
Howth — a peninsula (14km/9 mi from the city centre) very nice for a scenic seaside walk - the whole tour takes about 2–3h. There are boat trips to the island of Ireland's Eye, with gannets, puffins, fulmars, cormorants and a ruined Martello Tower.
Malahide and Skerries — are all great seaside locations to spend an afternoon. Malahide has a beautiful Castle (including extra doors for the ghost) in a Park and is a nice little village with harbour, beach, estuary and lots of restaurants. You can also take a 20-30 minute walk along the coast up to Portmarnock beach (a 5 km long beach).
Brú Na Bóinne Archaeological Park — the megalithic tombs of Newgrange, Knowth and Dowth are the most important archaeological sites in Ireland and are listed by UNESCO as a World Heritage site. The site is located 50 km (30 mi) north of Dublin on the banks of the Boyne.
Enniskerry — for the gardens in the Powerscourt Estate and the highest waterfall in Ireland
Glendalough — for the monastic village, round tower and lakes
Port Laoise — has a cobbled main street with independent eateries, Georgian architecture and small pubs
Kilkenny — Ireland's medieval capital, is a bustling heritage city with a thriving arts scene. 1 h 40 min by train from Dublin.
United Kingdom
Crown dependencies