Dubrovnik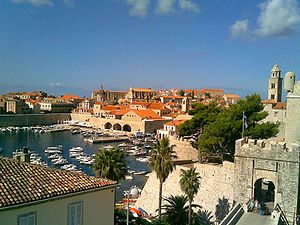 Dubrovnik
is an old city on the Adriatic Sea coast in the extreme south of
Croatia
. It is one of the most prominent tourist resorts of the Mediterranean, a seaport and the centre of the Dubrovnik-Neretva County. Its population is about 43,000 in 2011. Dubrovnik is nicknamed "Pearl of the Adriatic" and is listed as a
UNESCO World Heritage Site
.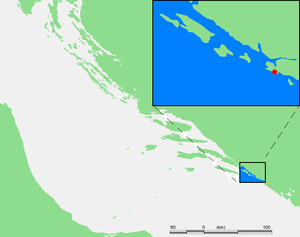 Understand
The city of Dubrovnik (Latin:
Ragusa
) was built on maritime trade. In the Middle Ages it became the only city-state in the Adriatic to rival
Venice
. Supported by its wealth and skilled diplomacy, the city achieved a remarkable level of development during the 15th and 16th centuries. Furthermore, Dubrovnik was one of the centres of the development of the Croatian language and literature, home to many notable poets, playwrights, painters, mathematicians, physicists and other scholars.
Today Dubrovnik is the proudest feather in Croatia's tourist cap, an elite destination, and one of the most beautiful towns in the Mediterranean. Just like many destinations in the Adriatic, it is much more expensive and tourism centered than other places in Croatia. It has managed to survive many centuries, with constant threats to its territory, particularly from the mighty
Ottoman Empire
and Venice. As early as the 19th century, it was discovered by celebrities as a place to be seen. George Bernard Shaw once said that "those who seek paradise on Earth should come to Dubrovnik and find it". Royalty, presidents and diplomats have all favored the city. The late Pope John Paul II was a fan of Dubrovnik and was even made an honorary citizen. Of the 23 top luxury hotels in Croatia in 2010, 13 were in Dubrovnik.
Dubrovnik is steeped in stunning architecture and sculptural detail, and boasts spectacular churches, monasteries, museums, and fountains. A multitude of typical towns and excursions include: the Elaphiti Islands, the attractive town of
Cavtat
, the Konavle valley,
Mljet
Island,
Korčula
Island, Ston and Peljesac Peninsula. The neighbouring towns of
Kotor
and Perast in
Montenegro
or
Mostar
in
Bosnia and Herzegovina
also make for intriguing day trips.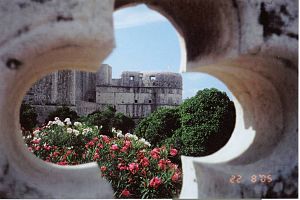 Get in
By plane
Aer Lingus
(
Dublin
-seasonal),
Aeroflot
(
Moscow
- seasonal),
Air Serbia
(
Belgrade
-seasonal),
Austrian Airlines
(
Vienna
),
B&H Airlines
(
Sarajevo
-seasonal),
Bmibaby
(
East Midlands
-seasonal),
British Airways
(
London
-Gatwick-seasonal),
Croatia Airlines
(
Amsterdam
,
Athens
,
Belgrade
-seasonal,
Düsseldorf
,
Frankfurt
,
London
-Gatwick,
Munich
,
Paris
-Charles de Gaulle,
Pula
,
Rome
-Fiumicino,
Split
,
Tel Aviv
,
Vienna
,
Zagreb
,
Zürich
),
DanubeWings
(
Bratislava
),
EasyJet
(
Berlin
-Schönefeld-seasonal,
London Gatwick
-seasonal),
Geneva
-seasonal,
Liverpool
-seasonal,
London Gatwick
-seasonal,
Milan
-Malpensa-seasonal,
Paris
-Orly-seasonal),
Estonian Air
(
Tallinn
),
Finnair
(
Helsinki
),
Flybe
(
Birmingham
-seasonal,
Exeter
-seasonal,
Southampton
-seasonal),
Eurowings
(
Berlin
-Schönefeld,
Cologne
/
Bonn
,
Hamburg
),
Iberia Airlines
(
Madrid
-seasonal),
Iberia operated by Air Nostrum
(Valencia-seasonal),
Israir
(
Tel Aviv
- seasonal),
Jetairfly
(Brussels-seasonal),
Jet2.com
(
Belfast
-seasonal,
Edinburgh
-seasonal,
Leeds
-seasonal,
Manchester
-seasonal),
Lufthansa
(
Munich
),
Luxair
(
Luxembourg
),
Norwegian Air Shuttle
(
Bergen
,
Oslo
-Gardermoen,
Stavanger
,
Stockholm
-Arlanda,
Trondheim
,
Warsaw
),
Tarom
(
Bucharest
- Henri Coanda, seasonal)
Thomson Airways
(
London Gatwick
,
London
-Luton,
Manchester
-seasonal),
Turkish Airlines
(
Istanbul
-seasonal),
Vueling
(
Barcelona
-seasonal),
Wizzair
(
London
-Luton-seasonal)
The exact list of destinations and airlines, especially the low-cost ones, changes each year, but there is always a year-round service to/from
Zagreb
and seasonal scheduled and charter flights to/from many other airports in Europe.
Airport bus transfers
Croatia Airlines operates buses between the airport and the main bus station in Kantafig (45 kn, 45 min), which is 2.5 km northwest of the Old Town. Taxis from the airport to the centre will cost 320 kn. Going to the airport a bus aims to leave the main bus station 2 hr before each international flight, and costs 50 kn one-way and 80 kn return. Departure times are also displayed in the tourist information office at Pile Gate. The bus passes close to the Old Town en route to the airport and you can board this bus at the bus stop on Petra Kresimira 4 just above the Old Town, by the lower cable car station. Make sure you wave furiously otherwise the driver may not stop.
By car
The trip from Split along the coastal road (Jadranska magistrala or D8) is a beautiful scenic journey through small, quaint villages and other tourist destinations. Just know that in the summer months the trip is likely to take several hours longer than anticipated. What looks like a short trip on a map can take 6 hr.
A much faster way of simply getting from Split to Dubrovnik by car is to take the A1 highway to Ploče and then continue via Opuzen and Neum to Dubrovnik.
By bus
The main bus station is in Kantafig, near Port Gruz and the Tudjman bridge, 2.5 km northwest of the Old Town. Local bus 7 operates between this station and Babin kuk, and bus 1 serves Old Town.
Direct buses run to/from
Zagreb
(205-234 kn, 11 hr, 7 daily),
Korčula
(100 kn, 3 hr, 1 daily),
Mostar
(100 kn, 3 hr, 2 daily),
Orebic
(100 kn, 2.5 hr, 1 daily),
Rijeka
(400 kn, 12 hr, 3 daily),
Sarajevo
(160 kn, 5 hr, 1 daily),
Split
(100-150 kn, 4.5 hr, 14 daily),
Zadar
(200 kn, 8 hr, 7 daily). In the high season, there is also a daily bus leaving at 11:00 going to the
Montenegro
cities of
Herceg Novi
,
Bar
,
Kotor
, and
Budva
. And at 15:00 to
Prijedor
and
Banja Luka
(10 hr) in Bosnia. A one-way trip to Budva costs 128 kn or €10. The return tickets are much cheaper and advisable, just look out for the choice of the bus company.
When coming by bus from Split or cities further north, police officers may board the bus and you may be asked for a valid identity document when crossing the
Neum
corridor which belongs to
Bosnia and Herzegovina
. While the bus companies list trip duration of approx. 4 hr, be prepared for a ride of closer to 5.5-6 hr, including Bosnian border checks.
When travelling into Montenegro and the airport sit on the right hand side (not behind driver) for best views, and vice-versa for the return. Travelling to Bosnia, sit on the left hand side (behind the driver) for best views.
A departure listing for the international bus station is available at the
website of the city bus operator
. Further details can be found online
On all intercity buses you pay a separate fee of €2 or 10 kn to the driver for luggage. So keep some change ready.
By boat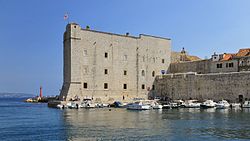 Cruise ships
Many cruise ships come to this port of call, typically docking at the Port of Dubrovnik (Port Gruz) across from the main bus station, 2.5 km northwest of the walled old town. The easiest and cheapest way to get from the main bus station to the Old Town is by using the local buses number 1, 1A and 1B, which circulate almost constantly. Some cruise ships anchor offshore just east of the Old Town and tender the passengers directly into the Old Port. In 2010 over 900,000 cruise ship passengers visited Dubrovnik.
Ferries
Jadrolinija
From Rijeka Ferries run up and down the coast. Calling at Split, Stari Grad, Korčula and Sobra on the way. Journey time is up to 20 hr, so consider getting a cabin. The restaurant serves up some decent food at surprisingly reasonable prices, but the 23% tax is not included on the menu. While the journey is scenic there is nothing in the way of entertainment. Come prepared with a good book or just sit on the deck and watch the Adriatic Sea go by. This is more than enough entertainment for an afternoon.
From Bari in Italy. The dull engine vibration or the swaying of the boat from high winds are likely to keep you awake. Cabins are strongly recommended. Although you can sit comfortably enough inside with the cheaper deck pass, interior temperature is 16⁰C or below and makes for a chilly night even in the height of summer.
Get around
The Old Town can be comparatively difficult to navigate on first appearances, as it really is a warren of little streets. There are however signs at the entrances to many of these streets advertising what businesses, shops, restaurants and accommodation are to be found in that direction.
Some of these signs appear to be either intentionally misleading or woefully out of date. For example, there is no office of any bus company within the Old Town, despite what the signs may say.
The city is completely pedestrianised and easily small enough to get around on foot, some of the streets are a little steep though.
By sea taxi
The sea taxis (like a motorboat) operate from the bay area, and go to the castle, they accommodate about 3-4 people and are a generally good option. Not expensive, but not cheap either. Still, it's a worthwhile choice for families.
By bus
If you are not staying in Old Town, it's relatively simple get there by bus, as just about every one leads to the Old Town. However, it might be advisable to get a timetable just in case. It costs 12 kn for tickets bought at any kiosk, or 15 kn bought on the bus; ticket valid for 1 hr. At selected kiosks (including the international bus station) you can purchase a day pass for 30 kn. This pass is valid for 24 hr of unlimited travel on the city bus network, starting from the first validation. The easiest way to get from the Main Bus Station to the Old Town is by using the (mostly modern and air-con equipped) buses number 1, 1A and 1B, which circulate almost constantly. These buses can be boarded from the bus stop just outside the Main Bus Station. Apart from this, there is another bus service which comes inside the bus station and drops you directly at the Old Town. Schedules are available at the information counter of the Main Bus Station. Buses in Dubrovnik are operated by
Libertas
and a map of the bus network can be found in their
website
.
Car rental
phone: +385 91 739 75 45

address: Svetog Djurdja 6-Pile Gate-Old Town

Airport transfers, car, motorbike and scooter rental.

Kompas Rent a Car

phone: +385 20 436 541

address: Kardinala Stepinca 52

phone: +385 98 1952 114

address: Uz glavicu 7

Cars from €22 per day.
See
Dubrovnik was heavily bombed in late 1991 during the Croatian War of Independence (part of a series of wars in the region). Almost all of the damage has been repaired; however, if you look closely around the old town, mortar damage in the cobblestone streets and bullet marks in the stone houses are visible.
Old Town
Roland's ColumnA slender stone flag staff of the legendary knight. Also known as Orlando's Column. Ever since its foundation in 1950, the Dubrovnik Summer Festival is opened by raising a flag carrying the city's motto Libertus on Orlando's staff.

Bell TowerOn top of the tower are the famous 'Zelenci' (The Green Ones), bronze statues which strike the gigantic bell every hour. They have been replaced with copies and the originals are in the atrium of the Sponza Palace.

Sponza PalaceGothic Renaissance palace, one of the few buildings that has maintained its form from before the catastrophic 1667 earthquake. Hosts historic archives. Memorial room of defenders.

Rector's Palace

phone: +385 20 321 437

address: Pred dvorom 1

The former palace of the Major Council houses a museum dedicated to the city's history.

War Photo Limited

address: Antuninska 6

An exhibition centre of war and conflict photography. Exhibits change during the season. Stunning images by world renowned photo journalists.

Pile Gate

address: at the western end of the Placa Thoroughfare (Stradun)

A convenient starting place for your stroll through the Old Town is the Pile Gate. Before entering the Old Town, Fort Lovrjenac, the first among many sites worth seeing in Dubrovnik, provides a good view of the Old Town and its wall.

Placa StradunThe Stradun (Placa) is the central street of the city of Dubrovnik and is the place where the old city comes to life. During the day, explore the shades of the perpendicular streets and alleys on its sides, and during the night, take walks up and down the Stradun with an ice-cream in hand. The uniform Baroque architecture of the houses in Placa, with shops on the street level and their 'knee-like' entrances, got its present-day form in the restoration of the City taking place after the disastrous earthquake in 1667, when a large number of luxurious Gothic and Renaissance palaces had been destroyed. The architectural design of Placa reveals effective solutions and the business sense of the Dubrovnik Republic in those difficult times. Today, Placa is still the shopping centre and venue of major events.

Big Onofrio's FountainIn the western (Pile) entrance of the old town, The fountain stairs are nowadays a favourite meeting place for local youth and where both the tourists and pigeons take rest and refresh themselves with cool water.

Old PortThe eastern part of the Old Town of Dubrovnik; some cruise ship passengers are tendered to the Old Port.

Fort LovrijenacThe monumental fort rises above 37 m high rock. It changed roles in the course of history. The main purpose of its construction was defence, and the main idea was to protect the freedom of Dubrovnik. Not much remains in the way of historical artefacts but the fort gives spectacular views back upon the walled city.

Aquarium

phone: +385 20 324-714

address: Poljana Paska Miličevića 4

Virtual reality technology guides visitors to Dubrovnik through the history and cultural features of the city and wider Croatia.
City walls
Walk on the walls around the old town, great views. It is highly recommended to visit the walls during the early morning hours or the late afternoon hours during mid-summer months as it can become hot.
Dubrovnik is surrounded by City Walls which are 2 km long and for which it is famous all around the world. Through the history City Walls were protection from the enemy, today Dubrovnik City Walls brings the visitors from the whole world who want to see this city- museum. There are 3 entrances to the City Walls: on Stradun by the Pile gate, by fort Saint John's and at the Custom's House gate.
Within the City Walls you will see Fort Minceta and Fort St. John's on the south-eastern side. Also, within the City Walls are Fort Lawrence at Pile and Fort Revelin at Ploce. The main entrance to the City Walls is by the Inner Pile Gates.
Minceta Fort is one of the most beautiful cultural attractions in Dubrovnik. It is situated on the northwest side of the city inside the City Walls. It was built according to the design of Renaissance builder Juraj Dalmatinac. St. Luke's Tower you can see walking along the landward side of City Walls up to Ploce Gate. St. Luke's Tower has protected the entrance to the Dubrovnik harbour throughout the history of the city.
St John's Fort was constructed in 16th century and it is really worth of visiting- on its ground floor you can visit the Aquarium, and on first and second floor you can visit Maritime Museum. (more about it at the end of the page).
Bokar Fort is situated on the seaward of City Walls. It was designed by Florentine architect Michelozzi in the 15th century.
Hours: 08:00-19:00 summer, 10:00-15:00 winter, daily. Entrance fee to the walls: 150 kn for adults, 50 kn for children and 50 kn for students with a valid student card.
Churches
Franciscan Monastery

phone: +385 20 321 410

address: Placa 2

This beautiful monastery with Baroque Church, houses a Romanesque cloister and the third oldest pharmacy in the world.

Cathedral of the Assumption of the Virgin Mary

phone: +385 20 323 459

address: Kneza Damjana Jude 1

This impressive building is in the Poljana Marin Držić. Supposedly, the original church was built with money donated by Richard the Lionhearted who survived shipwreck on his way home from the Third Crusade. The current Roman Baroque cathedral dates from the 18th century.

Church of Saint BlaiseBaroque Church dedicated to the city's patron saint.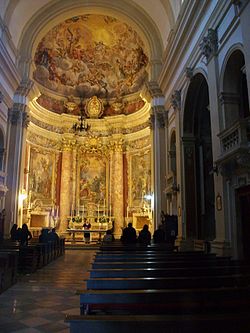 Church of St. Ignatius and the Jesuit CollegeOrnate Jesuit church, approached via a romantic baroque staircase modelled on the Spanish Steps in Rome (1738). Built between 1667 and 1725 by architect Ignazzio Pozzo, and like most Jesuit churches of the period was modelled on the Gesù in Rome, the mother church of the Jesuits.

Dominican MonasteryThis is an exceptionally valuable historic complex, which, besides its religious purpose, also represents the important artistic treasury of ancient Dubrovnik.

Church of St. Sebastian15th-century church built by the Ploče gate since St. Sebastian is the saint protector against plague.

Serbian Orthodox Church and Museum of IconsBuilt from 1865-1877, stands behind impressive wrought iron gates. Houses a number of icons, mainly Byzantine and Cretan. Museum next to church has extensive icon collection.
Museums
Some museums offer a discount ticket if you visit more than one museum. For example its 40 kn for the Rectors Palace, 45 kn for Rectors Palace and Ethnographic museum, and 50 kn for Rectors Palace, Ethnographic museum and Maritime museum. You can use these tickets on multiple days.
phone: +385 20 478 646

address: Bukovčeva 5, Cavtat

Includes works by Vlaho Bukovac (1855-1922), one of the most famous modern Croatian painters. Part of the house is devoted to exhibitions of works by young artists.

Dubrovnik Natural History Museum

phone: +385 20 324 888

address: Androvićeva 1

The collection of 100 year-old taxidermy specimens dates back to 1872 and may not appeal to everyone.

Franciscan Monastery Museum

address: Placa 2

Houses artifacts from one of the world's oldest pharmacies.

Sigurata Convent Museum

phone: +385 20 321 467

address: Od Sigurate 13

Synagogue and Jewish Museum

phone: +385 20 321 028

address: Zudioska 5

This synagogue built by Sephardic Jews is supposed to be the second-oldest still in use synagogue in Europe today. A permanent Jewish community here was founded at the end of the 15th century following the expulsions from Portugal and Spain. The Jewish Ghetto was established in 1546 on Jewish Street in the old town of Dubrovnik. The community flourished and included respected doctors, merchants and state representatives. Jews in Dubrovnik enjoyed relative freedom, but there were some restrictions on their activities at certain points in history. The synagogue is tiny and delightful, with heavy velvet drapes and a richly painted, midnight blue ceiling. The museum contains valuable menorahs and Torah scrolls, alongside information on the history of the Jewish community in Dubrovnik.

Dominican Monastery Museum

phone: +385 20 321 423

address: Sv. Domina 4

Paintings and artifacts from Dubrovnik's past.

The Sponza Palace Museum

The Rector's Palace Museum

phone: +385 20 321 437

address: Pred dvorom 1

Artifacts, paintings and furniture dating from the time of the Dubrovnik Republic.

The Treasury of Cathedral

phone: +385 20 323 459

address: Kneza Damjana Jude 1

The Treasury has 138 reliquaries which are carried around the city during the Feast of St Blaise.

Maritime Museum

phone: +385 20 323 904

address: In St. John Fortress

Considering how vital sailing and shipbuilding were to the growth of the Dubrovnik Republic, this is one of the city's most important museums.

Home of Marin Držić

phone: +385 20 420 490

address: Široka 7

Memorial house of Marin Držić, a famous 16th-century Croatian playwright from Dubrovnik.

The Ethnographic Museum

phone: +385 20 323 013

address: Od Rupa 3

Built in 1590, this is a fascinating building, and the exhibits showcase the economic, cultural and spiritual development of Dubrovnik. The folk costumes and textiles give the best flavour of the region where folk culture is still celebrated.
Beaches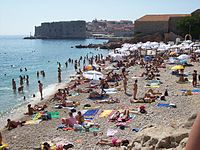 Lapad BeachA car-free, sandy beach area on the Lapad Peninsula, approximately 3.5 km from the old town, where you can relax in the shade of the numerous trees. At the end of a long pedestrianised street full of café bars and restaurants you will see many popular pebble beaches known as Lapad beaches. These beaches are really beautiful and well used. Lapad is definitely one of the most beautiful parts of Dubrovnik and you really must visit it. If you take the headland path to the right hand side of Lapad beach, as you look at the Adriatic, you can walk along a charming little coast path with small concrete 'beaches' and ladders into the sea. These were put in during the Tito era and are ideal for one or two sunbathers. Walking further along is an excellent local fish restaurant - ideal for ending the day. The walk back is not particularly well lit, but perfectly safe.

Banje BeachA well-located pebble beach. There's a concessioned part with an entrance fee, but also a public part which is always livelier and more relaxed. Great way to beat the heat in the middle of the town. Amazing view to city walls, Old Town Dubrovnik and the island of Lokrum. Beach volleyball, mini football or water polo. You can also enjoy lying on deck chair and having a drink.
Other
Stradun. Take a walk and enjoy a drink at a cafe on the main thoroughfare of the old town.
Mount Srđ, For a great view of the town. There is a fortress on top which contains a small museum describing its history. There are several ways up:
Walk up the winding footpath to the fortress and large cross on the hilltop 400 m above Dubrovnik. Walking up from the old town takes about 90 min. The path is quite rocky so use suitable footwear.
Take the new renovated cable car and you will get from Down station to Mountain Srđ in less than 4 min. Round trip ticket 170 kn.
Go by car via Bosanka village. Follow Jadranska cesta (D8) towards Mlini and drive past Dubrovnik. Turn left to Bosanka village and follow the road up the hill. There is also the bus number 17 from Pile to Bosanka. Timetable: http://libertasdubrovnik.com/wp-content/uploads/gradski.pdf
Visit the Fortress Lovrijenac. It was an essential fortification for defense of the city from both ground and sea attacks. In order to prevent mutiny by the commander of the fortress, the walls facing the city are only 60 cm thick compared to those exposed to enemy fire which were 12 m thick. Above the entrance to the fortress is an inscription that says "Non bene pro toto libertas venditur auro" which translates to "Freedom is not sold for all the gold in the world".
Do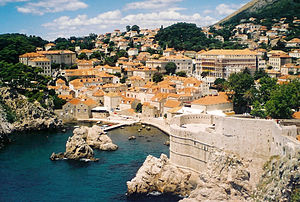 Cliff Jumping @ Cafe BužaSee listing for Cafe Buža in the Drinks section.

phone: +385 20 324 633

address: Frana Supila 8

Old quarantine hospital serves as a cultural centre for concerts, exhibitions, workshops, theater, film, night clubs and literature. The concert hall/bar is a very cozy place with a decent sound system. Gallery Galeriya Tutunplok is open daily 12:00-21:00. Films and theater showings range from 20-40 kn Concerts cost 40-100 kn. A nightclub is open here from 10:00-16:00 and will cost you about 30 kn. Gathers a mostly alternative crowd.

imad hotel

address: Za Karmenom 1

Swim in the Adriatic Sea below the old wall. In the harbour of the old town, go all around (right) along the wall, beyond the aquarium and there is a pier and some rocks where you can cool down on a hot summer day. Avoid stepping on sea urchins, which are commonly found on rocks in the sea water around Dubrovnik, especially if you are wearing no shoes. These are mostly found in clear water and are easy to spot.
Escape Room Dubrovnik Respublica Obscura - Ulica Nikole Tesle 4, - fun indoor thing to do in Dubrovnik. Entertaining, interactive and immersive escape room experience combined with obscure and mysterious moments of Dubrovnik history. 2-5 players have 60 minutes to escape the room and save the Dubrovnik Republic.
Sailing and boat trips
Dubrovnik is an excellent starting point for exploring southern Adriatic coast primarily Elaphite islands, Korčula, Pelješac and Mljet. There are many charter agencies where you can charter a sailing or motor yacht which are based in Dubrovnik. Majority of them operate from ACI marina Dubrovnik (42°40,3' N 18°07,6' E) which is based in Komolac about 2 nautical miles away from the entrance to the port Gruz, and 6 km away from the old town. It is open throughout the whole year.
AYachtCharterDubrovnik.com operates from Komolac and offers a unique selection of yachts and other type of sailboats great for a family vacation.
Dubrovnik is characterized by Mediterranean climate and generally light NW winds, making a yacht charter holiday very popular with couples with younger children and less experienced skippers and crews. A strong north wind known as the Bora is more usual during autumn and winter.
When you charter a yacht through charter agency and arrive to designated marina there are a few things that need to be done. The most important thing is the yacht check-in (usually Saturday around 16:00). Take your time doing yacht check in. Familiarise yourself with the chartered yacht and with the yacht equipment.
The rule of thumb is the more time you take for the yacht check in, the less time you will need for the yacht check out. After that you have to do the shopping for the charter vacation.
Don't neglect the grocery shopping because the sea is unpredictable and you don't want to get stuck on the boat without anything to eat or drink. You can do the shopping in a marina however the prices are usually much higher there, or you can order from yacht provisioning services who usually deliver the products to the marina at no extra fee.
Marina in Dubrovnik, . The only marina in Dubrovnik (formally in Komolac city) designed for sailing yachts and touristic catamarans, which start cruises in Dubrovnik. It is about 5 km from the city centre of Dubrovnik, in Rijeka Dubrovacka.
In Jam Yacht Supply, . Online provisioning catalog where you can order from a large selection of groceries and other products months in advance and everything you order awaits for you in the marina. This is convenient because it takes the load of you and the things you must do when you arrive at the marina for your sailing holiday.
Lokrum, Take a ferry to the Island of Lokrum which houses a monastery, a fort with great views of Dubrovnik, botanical gardens and a naturist beach. Preserved as a nature park this small island is reachable in 10 min in boat-time from the old city port. It offers unparalleled serenity, beauty and peace.
Festivals
Dubrovnik Summer FestivalMusic and theatre festival held since 1949 from 10 July to 25 August. Famous nationwide for its exquisite selection of drama, plays and concert of chamber music with more than 2,000 artists from 30 countries during 47 days of festival. Be sure to book in advance and don't miss a chance to see some of the open-air performances.

Libertas Film FestivalFilm festival held from August 25–30.
Cable car
address: Petra Krešimira 4. bb, 20000 Dubrovnik

The original cable car was bombed during the conflicts and closed in 1991. It reopened to the public for the first time on 10 July 2010. The view of the Old City will rival that found on any postcard. There is a small shop at the top and Restaurant Panorama with new outside terraces, restaurant with best view. Directions to the Cable Car are difficult to find in the Old City.
Buy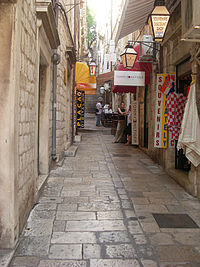 There are many local artisans who specialize in domestic crafts. Popular purchases include: handmade tablecloths, linens and napkins. Many merchants claim that the necktie was invented in Croatia. Another local specialty is little dolls dressed in local garb.
The
Pharmacy
, at the Franciscan Monastery creates hand creams and other toiletries based on ancient recipes. The pharmacy is one of the oldest in this part of Europe. It has been operating from the time of its foundation to the present day.
While wandering around the Old Town, you will come across many shops that sell Croatian goods such as wine and textiles.
If you have transport there is a Lidl (German discount supermarket) 5 km east of the Old Town near the village of Čibača - this is where the locals shop to avoid steep Dubrovnik prices.
phone: +385 98 195 4040

address: Marina Getaldiceva 7

Small gallery with unconventional art and cool jewellery design.

Clara Stones Jewellery Store

phone: +385 20 321706

address: Naljeskoviceva 8

Unique handmade Adriatic coral, pearl and gems jewellery with certificates of authenticity.
You're probably aware of the 2011-2019 TV fantasy series called Game of Thrones Official Merchandising. GOTOM is everywhere in Dubrovnik, and is believed to have added significantly to tourist congestion. Buy or don't buy as you choose, but it's a pity they lit upon an already-busy location. To be fair, GOTOM has boosted other places eg in Northern Ireland, but if there's to be any further episodes, dear producers please go some place like Katowice.
Bicycle parts and service
Somewhat surprisingly, some car parts shops in the Dubrovnik area sell bicycles; they are easy to notice, as new bikes are standing outside in front of the shop. These shops may also carry some bicycle accessories and spare parts, but they don't do any bicycle repair. As of 2014, there was no real (full-time) bicycle shop in town; there was one person (Tonći Kera, see below) who works as a bicycle mechanic in his spare time, in a shed next to his apartment building, while holding a day job elsewhere.
Tonći Kera, meštar za bicikle

phone: +385 20 436-776

address: P. Zoranića 1

This is not a regular bicycle repair shop, however the operator of this local garage offers a service.
Eat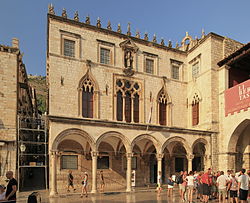 There is a wide range of restaurants in the Old Town, mostly offering a very similar menu of local seafood and some meat dishes. The cuisine may not be very imaginative, but it is usually of good quality and very fresh.
Restaurants can be crudely separated into (slightly) cheaper tourist-trap places, and more expensive but first class gastronomic restaurants. There are a few pizzerias, mostly wood-fired and quite acceptable. The Kraš chocolate sold at stores is delicious. Dubrovnik, more so than the rest of Croatia, is well aware of its status as a tourist hot-spot. Rents for restaurant premises are high and consequently the prices on the menus reflect this.
Note that in the off peak season of November–March nearly all the top-end restaurants close, leaving only a handful of desperate tourist trap enterprises operating and still charging high prices. You can however still eat well and discounts can be negotiated.
Dubrovnik cuisine is characteristically not very spicy and is famous for traditionalism. Many popular meals are characteristic of Dubrovnik such as zelena menestra (it is the name for many sorts of cabbages and other vegetables with meat), the meat dish pašticada and the famous caramel-based dessert dubrovačka rozata.
Since Dubrovnik restaurants are quite popular, many mid-range and high-end establishments provide the option of online reservation. English-language menus are found everywhere.
Budget
Foodstuffs to prepare your own meals can be bought at
Zoro
address: Ulica od Puča 7
.
phone: +385 20 419 736

address: Andrije Hebranga 60

Large portions. Really good pizza with fresh ingredients. Best to have a medium pizza for 1 person or large if you are really hungry - a large can be split in half for not that hungry couples. Only pizza is served before 17:00, for pasta or other dishes you will have to wait until 17:00.

Lokanda Peskarija

phone: +385 20 324 750

address: Na ponti bb

Traditional Dalmatian appetizers and meals, you get your meal in a large black fisherman's style pot.

Mea Culpa

address: Široka Street

One of the best pizzerias on what is becoming a 'pizza street'. Go for pizza or a coffee and brandy and exchange banter with the staff.

phone: +385 92 218 8612

address: Prijeko 30

Dubrovnik's only vegetarian restaurant, with vegan and gluten-free options available upon request.

Pekara Zlatno Zrno patisserie

phone: +385 20 412153

address: Petra Kresimira

Nice patisserie and bakery that stays open late. Expensive, but cheaper than those within the city walls.

Poklisar

phone: +385 20 322176

address: Ribarnica 1

Limited but good menu, including pizza and some very enjoyable live piano music.

phone: +385 91 412-5110

address: Mata Vodopića 3

A very nice pizzeria between Lapad and Babin Kuk with good pizza and very good Mexican food/specialities.

Spaghetteria Toni

phone: +385 20 323-134

address: Nikole Bozidarevica 14

A small Italian-style restaurant in the old town with outdoor seating providing a wide variety of pasta.

Taj MahalOffers a variety of Bosnian and Eastern cuisine such as Cevapcici u lepinji, baklava and tufahi. The wait can be quite long, and vegetarian options are often sold out.

Lady PipiWorth the climb for magnificent views over the old town from the restaurants' terrace and presumably taking it's name from an ancient water feature just outside the restaurant (not for the prudish). Grilled fish with vegetables 110 kn, grilled chicken with fries about 70 kn, salads, etc. Be prepared to wait for a table with a terrace view as is very popular with locals - alternatively arrive before 20:00 to avoid the busiest times. Beware of wasps.
Mid-range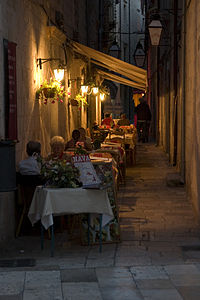 Arka

address: Gundulićeva poljana

Dalmatian cuisine in an excellent location. Has some good vegetarian options. The baked moussaka especially is worth a try.

Domino Steak House

phone: +385 20 323 103

address: Od Domina 6

One of the best for a variety of ways of serving steak. Also serves traditional Dalmatian fare.

phone: +385 20 426 319

address: Brsalje 1

Variety of pizzas, meat and seafood dishes, quality domestic and foreign wines, cocktails, homemade ice cream and desserts.

Konoba Atlantic

phone: +385 20 435 726

address: Kardinala Stepinca 42

Tasty Italian food and inexpensive wine. Try the lobster and prawn ravioli.
phone: +385 99 801 45 66

address: Lucarica 6

Good traditional food served in a small outdoor courtyard.  Really nice restaurant with different types of food.

Proto

address: Široka Ulica

Good seafood.

Gil's Little Bistro

phone: +385 20 321 168

address: Petilovrijenci 4

Friendly place for a mid-town meal.
Splurge
phone: +385 20 44 25 26

address: Brsalje 3

Great views of the sea and Old City. Pay attention to the menu prices which switch from kuna to euro throughout.

phone: +385 20 320-320

address: Marijana Blazica 2

Spacious terrace, just outside the Pile gate. Offers international and Croatian cuisine.
Drink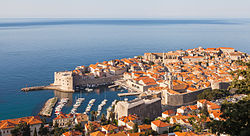 The most popular hard alcohol in Croatia is home made
rakija
. This is a very strong distilled drink made from a variety of fruits. Examples include
šljivovica
, made from plums,
loza
, made from grapes, and
orahovica
, made with walnuts. All are quite strong.
There are many excellent local wines from both the Pelješac Peninsula and Konavle and it is often less expensive than soft drinks like Coca Cola. However, be careful when purchasing wine from unlicensed dealers. Though the price is very attractive with some being as low as 10 kn or €1.5 per litre it can sometimes be of low quality. Croatian beer is also good and popular, though none is made in the Dubrovnik region.
Cafes
There are numerous cafes throughout the Old Town and the entire city with prices varying according to the location (particularly, those located on the Stradun are by far the most expensive but you are paying for the ambiance and people-watching as well). Most cafes serve a wide variety of drinks all day.
Bars
Walk towards the sea from Stradun near the Ploce gate, and you'll hit a tiny square with outdoor seating by 4 or 5 different pubs, with live music playing, and large cocktail pitchers with very low alcohol content.
Cafe Buža

address: Iza Mura

The tables and chairs are set out on the side of the cliff and the beers are served in bottles and plastic cups. You can sunbathe on the rocks or do some cliff-diving but do watch for rocks below. This is lovely in the evening, when the sun is setting and you gaze over at island of Lokrum. Eclectic chilled out music plays unobtrusively in the background. There isn't much in the way of shelter apart from some palm leaves so Buža won't open in bad weather.

CasablancaLook for flashing red and blue lights. This is an interesting, slightly bizarre bar with seating outside on the city stairs, techno music, and may have erotic dancing.

phone: +385 20 321 223

address: Palmoticeva 4a

D'Vino Wine Bar has a selection of over 100 fine domestic and imported wine available by the glass, bottle, and in tasting servings. Largest selection of wines by the glass in Dubrovnik with a very intimate, romantic atmosphere, which is a change of pace from other bars in the city.

phone: +385 91 333 0601

address: Pred Dvorom 4

Chill music fills this lounge bar at night, making it a great place to unwind after a full day of sightseeing.

Troubadour

address: Bunićeva poljana 2

A popular bar/café which comes alive at night with daily live music, usually jazz. Can be very expensive though, so you often see people sitting on nearby steps enjoying the music with drinks bought from the nearby Konzum supermarket.

Beer Factory

address: Ul. Miha Pracata 6

Despite its sterile sounding name, this place has a lovely courtyard out the back. Its real draw however is that it is possibly one of the cheapest places to get a beer in the old town. Some reasonably priced snacks are also available.
Clubs
address: Svetog Dominika 3

Dubrovnik's liveliest night spot, techno and other styles.
phone: +385 20 514 6485

address: Frana Supila 10/B

Beach club, bar and Med-style restaurant by day, at night you can party in the nightclub. Great view, various kinds of music, popular DJs and beautiful atmosphere.

Klub Orlando

phone: +385 20 312 674

address: Branitelja Dubrovnika 41

Dingy club, predominantly metal but seems to cater for anything deemed alternative. Cheap drink prices with occasional international touring acts, definitely in the minority as a tourist here.

address: Frana Supila 8

House and techno music.
Sleep
Private rooms are a good option for those on a budget, starting from around €10 per person for comfort and privacy exceeding those of hostels. The downside is that they may be far from the Old Town, so make sure you check the location. Owners letting out these rooms accost buses at the bus station, so you can ask around and even bargain a little.
Budget
phone: +385 20 435 375

address: Mostarska 2d

Home turned into a backpackers hot spot. Family run with location on Lapad, popular after its beaches and green parks, and a 10-min ride from old town and crowds. No booking fee for booking through their website.
phone: +385 20 423 241

address: Vinka Sagrestana 3

82 beds. The atmosphere leaves something to be desired, but it's usually filled with interesting people up for a chat on the balcony.

Hostel & Rooms Ana

address: Kovacka 4

A great hostel in the heart of the old town. Small and pokey, as all options in the old town are, but this only adds to the atmosphere. Guests gather in the tiny common area each evening with Ana distributing free locally-made grapa to kindle the social atmosphere.
Mid-range
Splurge
Stay safe
Dubrovnik is a very safe city, though the usual precautions should be taken to protect yourself from pick-pocketing.
The streets in the old town can be quite slippery as they've been smoothed down for centuries by people walking over them. At night, avoid the smaller old town streets and stick to the more modern ones with street-lighting (Victorian gaslamps on brackets).
Stay legal
When entering a port, it is international protocol to hoist a flag, meaning "Ready for inspection by Customs".
In Croatia you must always have your headlights on while operating a motor vehicle including all cars, motorbikes and scooters during winter daylight savings time. Headlights are no longer required during the day in the summer months, although many motorists still leave them turned on.
Connect
Internet cafés
In Dubrovnik Internet cafés are plentiful. Rates are generally 25 kn/hr.
phone: +385 20 492 313

address: Obala Stjepana Radica 40

You can book tours, go online, leave your luggage or make international calls.
Cope
phone: +385 1 987

If you are stranded, have car troubles, or need help
ATMs: there are few ATMs outside the Old Town.
Laundry
Most private accommodation do not offer laundry facilities. If you are staying awhile and are looking for somewhere to wash your clothes then you might require a self-service laundry
Sanja & Rosie's Launderette Dubrovnik

phone: +385 99 254 6959

address: Put Od Bosanke 2

Self-service laundromat. Washing and drying machines are available.

phone: +385 98 170 1433

address: Ulica Iza Grada

Self-service laundromat. Washing and drying machines are available.
Go next
Many destinations in Croatia can be accessed from Dubrovnik with popular attractions including Split, the Plitvice Lakes National Park, and the capital, Zagreb, which is approximately a 10-hr drive away (6 hr if you travel outside the tourist season and take the new highway). Check out the timetables at libertas Dubrovnik.
A popular shopping destination for locals, Neum in Herzegovina (Bosnia and Herzegovina) offers many cheap goods for frugal travellers. Buses heading between Split and Dubrovnik will often stop for a short while here to collect various supplies.
Montenegro Daily buses operates from Dubrovnik through to Kotor, Budva or Herceg Novi.
Ston is known for oysters and old salt ponds still in use and the longest stone wall in Europe (5 km long).
Trsteno 15th-century summer residence with renaissance garden.
Mostar in Bosnia is about 3 hr away by bus, and makes for a good two day trip. The city has a much stronger Turkish feel as opposed to Dubrovnik's Italian.
Sarajevo is worth visiting as it is considered by some as one of the most beautiful cities in Europe.
A boat trip to the Elaphiti Islands (Koločep, Šipan, Lopud) is well worth while, with plenty of places to swim, fish or relax.
Međugorje Visit the Shrine of Međugorje for a religious experience.
Mljet island. Green island with national park, lakes and monasteries.
Go on a wine tasting tour to Pelješac peninsula