Dunedin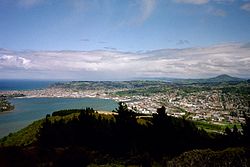 Dunedin
is the seat of the
Otago
region and the second-largest city on the
South Island
of
New Zealand
. The city was originally and predominantly settled by Scots, and its name is an anglicised version of
Dùn Èideann
, the Scottish Gaelic name for Edinburgh.
Understand
Dunedin is a university town, a cultural hub, and a city with a strong historic streak. It is a small city with a compact walkable city centre surrounded by hilly suburbs. It has easy access to beaches, wildlife attractions and areas of native forest.
Known as the
Edinburgh
of the South, it has a proud
Scots
heritage. It has as its heart a statue of the poet Robbie Burns and many of its streets carry the same name as streets in Edinburgh. Due to the gold rush in central Otago, Dunedin was the biggest and most prosperous city in New Zealand from 1865 to 1900, and many of its old buildings and character stem from that period. Because of history and geography, Dunedin is usually considered New Zealand's fourth major centre behind Auckland, Wellington and Christchurch, despite being seventh in the population ranks.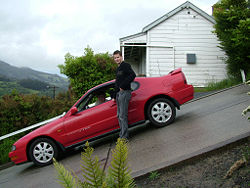 Dunedin sits in a natural harbour, with the centre of the city on a relatively small area of flat land surrounded by suburbs on the steep hillsides. Some of its streets are very steep: Baldwin Street is claimed as being the steepest street in the world (and held the record until 2019), a claim which is celebrated during the annual
chocolate festival
by rolling more than 40,000 Jaffas down it. (Jaffas are small, round sweets consisting of a soft chocolate centre with a hard covering of orange flavoured, red coloured confectionery and made at the local Cadbury factory and also exported to
Australia
).
It does get cold: many of the streets are iced over in winter, and every two or three years the city gets a snowfall.
These days, Dunedin is most well known for its University of Otago, the oldest and one of the best universities in New Zealand, and its 'scarfie' student culture. The university is the South Island's second largest employer and by far the biggest contributor to the Dunedin economy. Dunedin is a university town rather than just a town with a university since the student population of around 27,000 is nearly 23% of the 120,000 residents. A consequence of this is that the city is significantly quieter during the university summer holiday period (approx November to February), and that accommodation may be harder to find or more expensive during orientation week and university graduations, etc.
Dunedinites (the Dunedin people) are generally friendly, and pride themselves on being friendlier than those from the bigger cities of NZ.
Visitor Information
phone: +64 3 474-3300
address: 50 The Octagon
Open 365 days a year, it provides extensive local and national information as well as a booking service for visitors and residents.
Get in
By plane
Dunedin International AirportHas flights from Auckland, Wellington, Christchurch and Brisbane. The terminal has a range of cafes, ATMs, and currency exchange. There is a pub serving some local beers and wines and a tapas style menu. There is more food and shopping before security, and since security checks are brisk at this small airport, you can plan to stay landside until your plane is ready.
Air New Zealand, , flies domestically to/from Auckland, Wellington and Christchurch.
Jetstar flies domestically from Auckland and Wellington.
Virgin Australia offers international flights to/from Brisbane.
Dunedin airport is built on the nearest large piece of flat land. Taxis and shuttle buses operate from just outside the terminal and are usually there when flights arrive. There is no scheduled public transport to the airport. The fare for a shared shuttle is around $25-35 or $60-100 for a taxi to Dunedin. All of the major rental car operators also serve the airport.
By train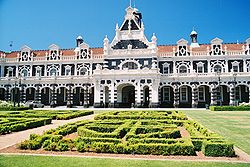 The railway station is close to the centre of town (and is an architectural attraction as well as transport hub). There is no longer a regular long distance passenger train service, but some people arrive in the city by the local scenic trains. These are operated by the
Taieri Gorge Railway
, , which run out as far as
Middlemarch
and
Palmerston
. A connecting bus service to or from Queenstown can be arranged.
By car
State Highway 1 passes through Dunedin. Allow 4.5 hr travel time from Christchurch and 2.5 hr from
Invercargill
. Be sure to get a good detailed map as soon as you can. Most hostels have very detailed maps for the central business district (CBD) with reasonable details for the outlying areas. Dunedin's urban roads can be very confusing with lots of one way streets, circles, and tight and winding hill routes.
By bus
There are several daily services from Christchurch, Invercargill, Wanaka and Queenstown. The major operators are
Intercity
, Atomic Shuttles, Wanaka-Connection and Knightrider. (which offers an evening service from Christchurch to Dunedin). The trip from (or to) Christchurch takes about 6.5 hr. The main is at Ritchies InterCity Travel, 7 Halsey Street, but you can also book to get on or off near the Botanic Gardens or Otago University.
By ship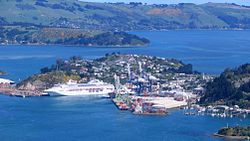 Cruise ships
are an increasingly popular way to visit Dunedin. There are 80-90 visits each October to March shipping season. The Dunedin City Council provides free Wi-Fi at the port and runs a
web page for cruise visitors
. The two major cruise companies Carnival (Holland America, P&O, Princess) and Royal Caribbean both serve Dunedin. Most cruise ships dock at the deep water harbour
Port Chalmers
, 14 km northeast of Dunedin, 20-30 minutes drive from the city centre. You can travel direct by cruise ship shuttle bus for $10 one-way/$15 return. Alternatively, you can board the public Bus 13
Port Chalmers to City
at the Port Chalmers turnaround, five minutes walk from ship side, for $5.20 one-way (free for New Zealand Gold Card holders) and a 20 min ride to the Octagon. You may catch the return Bus 14
City to Port Chalmers
at the
Countdown
stop (opposite
Cadbury World
) on Cumberland near Lower Stuart. Taxis cost about $45 one-way.
Seasoned cruise ship travellers will be aware that
tourism products marketed directly to cruise ship passengers
are often more expensive, so arranging visits to Dunedin attractions and tours independently can save money.
By bike
Dunedin is surrounded by hills, so cycling from other places requires effort. Cyclists are banned from State Highway 1 as it approaches the city from both north and south. There are alternative routes for cyclists.
From the north: turn left at Waitati and take Mt Cargill Rd, or turn left or right at the following intersection and take Donalds Hill Rd/Mt Cargill Rd or Waitati Valley Rd/Leith Valley Rd (this includes crossing the no-bikes highway at the summit)
From the south: Exit State Highway 1 at the Mosgiel interchange and take Quarry, Gordon and Dukes Roads to the aptly-named Three Mile Hill Rd, or turn right and take Quarry, Morris, Main and Main South Roads.
Get around
By foot
The city layout is focused on The Octagon, an eight-sided 'plaza' with a central carriageway. It hosts a few significant buildings, and a couple of bars and cafes, but for all intents and purposes it is a large bus stop and a roundabout.
The main retail area lies further north up George Street toward Dunedin North, and this could arguably be considered the city centre. Here you will find a larger range of shopping, some malls, cafes, etc. To a lesser there is some retail south along Princes Street and east along Lower Stuart Street from the Octagon. At the end of Lower Stuart Street, 400 metres from the Octagon, lies Anzac Square (actually a triangular area of public gardens) and Dunedin Railway Station and Toitū Otago Settlers Museum. Beyond that is an industrial area and the Otago harbour.
The street blocks in Dunedin are quite long, and walking from the Octagon past the university to the Botanic Gardens can take the best part of an hour. Always remember that Dunedin has a flatter area by the water, and then climbs steeply. So, the shorter route may not be the easiest one if you are going over the hills. Check the contours before setting out.
By bus
The
Otago Regional Council's
bus service is affordable: . All buses are wheelchair friendly, about half are newish modern buses and half are cast-off from other cities. The routes are divided among two companies contracted to run services on behalf of the region. Most drivers from any company will tell you where to find the right bus if you ask nicely, or you can call the bus helpline on 0800 474 082 (also free from cell phones), but only during office hours.
The main line service, Normanby-City-St Clair, (GoBus No 9) runs every 15 minutes and is handy to about a dozen of the city's attractions: St Clair beach, the University, Dunedin Botanic Garden and Baldwin St
Most other routes are every 30-40 min.
The Peninsula bus route from the Museum is a good way to see the Peninsula, unless you're terrified by oncoming traffic: in places the full sized buses are wider than the lanes they travel in. The traffic is generally used to this and travels very cautiously.
The Brockville (55) and Halfway Bush (44) bus routes take you to the city's near-alpine outskirts, especially fun when snow has fallen.
Bus services are reduced on Sundays and New Zealand public holidays; on Christmas Day, Good Friday and Easter Sunday there are no services but the local bus museum operates classic vehicles (not wheelchair friendly) on two main routes.
By bicycle
There is a recycling centre down by the north-east end of the docks (in Wickliffe Street) which generally has one or two reasonable-condition bicycles lying about for $10 apiece. Carefully add air (there's a service station due west back over the bridge) and oil and you're set to go. You will also need a skid-lid/stack-hat/helmet, which are generally unavailable second-hand for liability reasons, but can be had new for $20 from the KMart in Meridian, between George Street and Filleul Street. There is another recycling shop called "The Recover Store" at the Dunedin Landfill on Brighton Road, Green Island.
Dunedin's hills are extremely steep but the town centre is reasonably flat. There is an excellent flat ride out along the western shore of the Otago Peninsula to Harington Point, although it's a narrow road shared by lots of tour buses. A cycle track runs along of the industrial eastern shore of the harbour, about half way to Port Chalmers (busy highway the rest of the way).
If you like a bit of a hill-climb, ride out along North Road to the Organ Pipes, a collection of rapidly-cooled volcanic lava formed into vertical columnar basalt. The walk along a bush track up to the Pipes themselves is very scenic and well attended by small, harmless wildlife. The ride up along the ridge of the Peninsula to Lanarch Castle is also good high-energy exercise.
If you like pushing a bike up a hill because it's too steep, dive off North Road onto Norwood Street, or cross to the east side of the Peninsula, or head straight up the hill behind The Octagon past the Beverly-Begg Observatory to suburbs with a view like Roslyn.
See
Free sights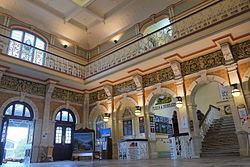 Dunedin Railway StationDescribed as "the outstanding monument of Edwardian architecture in New Zealand", this is the best-known building in Dunedin (apart, perhaps, from Forsyth Barr Stadium). Opened in 1906, it has an atmosphere and character unique to any public building in New Zealand.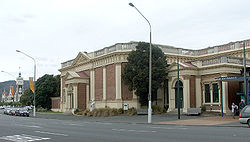 phone: +64 3 477-5052

address: 31 Queens Garden

First opened in 1908, this newly (Jan 2013) refurbished museum housed in the stunning, original Edwardian galleries and Dunedin's former art deco New Zealand Railways Road Services bus station next to the railway station, focuses on the people and history of the region. The museum is a short walk from the Octagon and is between the Chinese Garden and the historic Railway Station, in the cultural heritage precinct. Wi-Fi is free throughout the museum and a free bag and coat check is available in the Josephine Foyer. A cafe is available in the entrance foyer.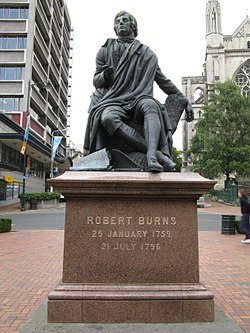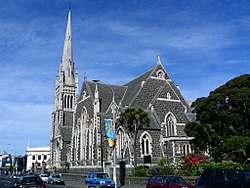 address: George Street

The largest church in Dunedin, used by a Presbyterian congregation. Built of bluestone and Oamaru stone, with a wooden ceiling between 1872-76 to design by Robert Lawson.

St. Joseph's Cathedral

address: 300 Rattray Street

Catholic Cathedral built 1878-86, but the original design was never completed.
Attractions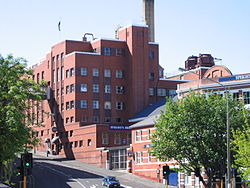 address: 200 Rattray St

Shop hours: M-Th 09:30-19:00, F-Su 09:30-17:00. Tours daily at 10:00, 12:00, 14:00. Closed Christmas Day, Good Friday, Easter Saturday and Sunday, and shortened hours on ANZAC day. Children under 15 require adult supervision. The brewery has been a Dunedin landmark since its founding in 1876. The guided tour takes you through the Speight's brewery, sharing the heritage and culture of beer, from the Babylonians to today. The tour's finale is a 25 minute beer tasting. You must be 18 years or over to join in on the tasting.

address: Moray Place

Nice movie cinema in a converted old theater

phone: +64 3 477-3320

address: 42 Royal Terrace

Olveston homestead provided the Theomin family with the perfect setting to entertain both professional and personal friends. Seven servants were employed to service the 35 rooms of the home and to manicure the acre of beautiful garden. The home is sited in the inner city and is within walking distance from the city centre.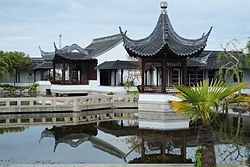 phone: +64 3 474-3594

address: Corner of Rattray and Cumberland Streets, next to the Toitū Otago Settlers Museum

A piece of serenity in the city. The Dunedin Chinese Garden is an example of a late Ming, early Ching Dynasty scholar's garden. The only traditional Chinese garden in the Southern Hemisphere. Try some amazing dumplings and Chinese tea. An opportunity not to be missed!

address: 20 Braemar St.

An old coal gasworks which operated from from 1863 until 1987.
Out of town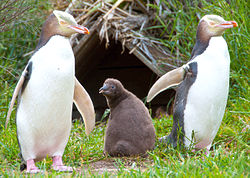 Otago Peninsula - much scenic coastline including rugged points and headlands, wildfowl-laden mud flats and beautiful Allans Beach (plus several smaller beaches) on the south/east coast, and picturesque hamlets on the north/west coast (including a pretty and peaceful cemetery on a little spit of land called Dunoon, many boat-houses and a minuscule beach). Seals, sea-lions and other interesting fauna turn up at all of the southern/eastern beaches. Ask nicely, and the locals may even tell you where the good spots are for gathering shellfish, catching blue cod, and viewing the wildlife without having to pay for the privilege.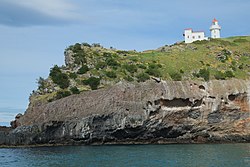 The

Royal Albatross colonyThe only mainland albatross nesting site in the world. It is an hour's drive along the western coast of Otago Peninsula on a road that skirts the water for most of its length without any guardrail. In places, the city buses which frequent the road are wider than the lanes (the local traffic is used to this, and drives very carefully), so if you don't trust your driving reflexes, take a coach instead. Albatrosses may be seen during the summer months, as well as other wildlife at all times of the year. Guided tours of the colony and the old fortifications on and under the headland are conducted daily.
address: End of the peninsula near the Albatross colony

This Armstrong Disappearing Gun was installed in May 1889 and was recommissioned during World War II. It is still in its original gun pit. Coastal fortifications were constructed in New Zealand in two main waves. The first wave occurred around 1885 and was a response to fears of an attack by Russia. The second wave occurred during World War II and was due to fears of invasion by the Japanese. The fortifications were built from British designs adapted to New Zealand conditions.
Larnach CastleAlso on the peninsula, billed as "the only castle" in New Zealand, it's very pretty but technically only a manor house. There is another (ruined, but being restored) building in the same predicament called Cargill's Castle in the southern suburbs of Dunedin. Lanarch Castle has a rich and interesting but rather unhappy history.
Tunnel beachThe story goes that crazy old Cargill had a steep tunnel cut through the stone cliff, so his daughter could go to the beach. Some stories say she later drowned, but it's a lovely beach all the same, and the tunnel is very spooky. You need to walk over farmland to get there, so access is banned during lambing. See the visitor's centre in the Octagon for further information.
The Organ PipesSmall columnar rock formation set in a hillside with splendid views. Pleasant hike up a steep bush track from a car park about out of town along North Road. The track continues up from the Organ Pipes to the peak of Mount Cargill which gives panoramic views across the city, Otago Harbour and Peninsula, and the surrounding countryside.
Otakou MaraeA Maori church and meeting-house, which gave the Otago Peninsula its name. Find it on a side-road near Harington Point, at the outer (north-east) end of the Peninsula.
phone: +64 3 482-1755

address: Blueskin Rd

Home to some of New Zealand's most fascinating and rare wildlife and providing visitors with exceptional experiences while allowing native flora and fauna to live naturally in a safe haven. A 307 ha enclosure inside an 8.7 km pest proof fence, it provides a chance to see Kaka, Tui, Bellbirds, Tuatara, Kiwi and more in a native setting. Offers daily guided tours and night tours twice a week. The visitor centre has free entry, but passengers on identified cruise ship tours are charged $5 for a mandatory tour.
Do
Baldwin StreetLocated in Dunedin's North East Valley suburb. Used to be the world's steepest street according to Guinness World Records, but in 2019 they found a slightly steeper street in Harlech, Wales. Take the ten minute walk to the top or drive up to enjoy the view looking down! There is a drinking fountain at the top. Some people have tried, and a few have succeeded, cycling all the way up Baldwin Street - try it if you're a keen cyclist. That said, you will need to be careful coming back down - chances are the cycle's brakes will do little to slow a descent at such an incline!
Baldwin Street Gutbuster. Take part in a run up and back on the world's steepest street during the city's summer festival.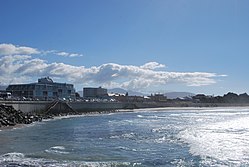 Swim or surf the beachesmuch more fun if you wear a wetsuit to combat the ocean's chill. Saint Clair beach is the most popular, closest to the city and (along with the adjoining St Kilda) is regularly visited by a wide array of wildlife, such as seals, blue penguins and sea lions and the very occasional shark. St Clair beach also features an esplanade with cafes/bars/restaurants, together with a salt water swimming pool at its western end, and a surf school with wetsuit and board rental which operates in the summer. There are also a number of other less populated local beaches a short drive away from the city, including Aramoana, Long Beach, Warrington Beach, Tunnel Beach, Brighton, and Sandfly Bay. St Clair, St Kilda, Warrington and Brighton beaches are patrolled by life guards on summer weekends and daily at the height of summer.

Go to a rugby game. A huge part of Otago culture. From February until August the Highlanders and then the Otago NPC team play games at the roofed Forsyth Barr Stadium. Otherwise there are local club games that you can watch for free at parks around town on Saturday mornings.
Watch a cricket game. Cricket replaces rugby as the national sporting pastime when summer arrives (although the national cricket team, the Black Caps, enjoys considerably less success than the All Blacks). National level cricket games are played at the University Oval throughout the summer, along with the occasional international match, and on a sunny day its a great way to spend your time. Otherwise, as with rugby, local club games can be watched around the town at weekends.

phone: +64 3 477-4449

A sightseeing train trip travelling through spectacular scenery. It departs from the historic Dunedin Railway Station in central Dunedin and ends at the small village of Middlemarch. Departing daily it takes you on a journey through the rugged and spectacular Taieri River Gorge, across wrought iron viaducts and through tunnels carved by hand more than 100 years ago. Take your camera and lots of memory. The same company runs trips on the Christchurch line as far as Palmerston, about 2 hours away. These go about twice a week in the summer.
Tramping. Dunedin has some of the most easily-accessible tracks of any city in NZ. In less than half an hour you can be in pristine bush far from the worries of the world. Ask about Green Hut Track, Carey's Creek, Possum Hut, Rosella Ridge, Yellow Ridge, Rocky Ridge, Rongamai, Honeycomb, Powder Creek, Long Ridge, Swampy Ridge, Leith Saddle, Burns, Rustlers, Nichols Creek, Nichols Falls, to name just some of the fabulous tramping tracks around this city. Ask at the Visitor Centre or get "The Ultimate Tramping Guide for around Dunedin" at DoC ($10) and cut loose.
Moana Pool is a public pool with water slide and spa, and is a 5 minute walk up Stuart Street from the Octagon.
Learn
The
University of Otago
(Māori: 'Te Whare Wānanga o Otāgo') is internationally recognised and New Zealand's oldest university. It had over 21,000 students enrolled during 2011.
The university has New Zealand's highest average research quality and in New Zealand is second only to the University of Auckland in the number of A rated academic researchers it employs. Probably the most internationally famous research to come out of Otago is the Dunedin Multidisciplinary Health and Development Study (or "Dunedin Study" for short), which has followed 1037 people born in Dunedin during 1972-73 since age three and is arguably one of the richest sources of human health and development data in the world.
The
Otago Polytechnic
focuses on skills based, technical education and occupational training, offering a range of New Zealand accredited degrees, diplomas and certificates in many areas of interest
The students in Dunedin are referred to as
scarfies
and are well know throughout New Zealand for their antics. Much of the student accommodation in Dunedin is located in close proximity to the University in old houses known as 'flats'. The majority of the houses in North Dunedin around the university are student flats, creating a student 'ghetto'. Dunedin is known for having a tightly woven active student culture with many well known traditions, ranging from the toga party for first years to the infamous Hyde Street keg race.
Work
The main industry sectors contributing to Dunedin's economy are property services, education, business services, health services and food manufacturing. Communication, Government administration and tourism are all big industries.
Dunedin's main employers (employing more than 2000 people) are the University of Otago and the Otago District Health Board.
Other large employers are the Dunedin City Council and Cadbury Confectionery Ltd.

Buy
Most Dunedin shopping is on George Street north of the Octagon, centred around the Meridian/Golden Centre/Wall Street mall complex. There are also a number of souvenir shops near the octagon.

Eat
For the freshest local organic produce, including fruit, vegetables, eggs, bread, cheese, check out the
Farmer's Market
. Held at the railway station Sa 08:00–12:30, it is a Dunedin institution and one of the best places to try local food. It has delicious delicacies such as crepes (including gluten free), the deservedly famous "bacon buttie" (far corner from the Railway Station, look for the crowd), whitebait fritters, and baking as well as fresh fruit and vegetables. It's rated as one of the best farmers markets in New Zealand.
One Dunedin favourite is the cheese roll - a mixture of grated cheese, onion and soup mix in a toasted rolled slice of bread, a speciality of the southern part of the South Island, available in cafes.
Lower Stuart Street, around the Octagon and the northern part of central George Street (including the side streets) have the majority of Dunedin's restaurants. There are also a few interesting places on Albany Street, which runs across the south of the University of Otago. There is a full range of ethnic cuisine available, Chinese, Japanese, Korean, Italian, Turkish, Malaysian, Thai, Filipino and Indian.
Budget
Fish and chips are the classic cheap eats: the minimum serve of chips usually costs around $1.50 and will fill you up. Best Cafe on Lower Stuart Street is often rated as one of the best in town. Being a student town, you can expect to find some very cheap take-away food near the university campus: you will pay $3.50-4.00 for a teriyaki chicken riceball from many sushi stores, the Flying Squid (Squiddies) on Albany Street sells hearty burgers for $3.50 at lunch time, and you can get a decent sub sandwich from Frankly Sandwiches in the University's 'link' (corner of Albany and Cumberland Street) for around $5.
Hot kumara chips are made from a sweet-potato variant and are typically priced at about double the cost of potato chips.
Cones of ice cream sell for reasonable prices at many places, including little delis and general stores at places like MacAndrew Bay (e.g. $2.50 for a giant ice-cream at the
Rob Roy
on the corner of George and Albany St).
McDonalds
is at 232 George Street, with an internet cafe is attached. A second McDonalds, and a variety of fast food outlets, can be found in North Dunedin near the end of the one-way going north (Great King Street - "Fatty Alley"), and even more fast food places are located on the way to South Dunedin on Anderson's Bay Road.
The Friday bakery in Roslyn village is recommended; it is open only on Friday mornings, and hungry, in-the-know locals tend to clear it out of its stock of delicious baked pastries and meat pies rather quickly.
Best Cafe, Lower Stuart St, is a well known 'old fashioned' fish and chip shop.
Countdown Supermarket, Moray Place (about a 2 min walk from the Octagon) standard supermarket fare, open 24 hours.
Good Oil on George St has premium ALLPRESS espresso coffee, fantastic edibles from the cabinet made fresh daily, and a full à la carte brunch menu available, also on Fridays from 18:00 they host some of Dunedin's top acoustic musical talent with fantastic Central Otago wines and locally brewed ales available.
Modaks, is a popular cafe on the north of central George St.

Pasha Cafe and Bar

phone: +64 3 477 7181

address: 31 St. Andrew St

Offers doner kebabs for $11+. Popular with locals lunch spot 12:00-14:00, prices are higher for dinner.

Rhubarb

phone: +64 3 477-2555

address: 299 Highgate, Roslyn

Licensed cafe and wine shop with a strong focus on homemade quality baking
Satay Noodle House, Hanover St (Opposite the Hannah's Meridian entrance) has good Cambodian and Thai food at cheap prices ~$7.

Savoury Japan

phone: +64 3 479-2079

address: 324 George St

Cheap sushi and Asian dishes.
Mid-range
Jizo

phone: +64 3 479-2692

address: 56 Princes St

Japanese restaurant. If you want to be impressed, then order one of the Katsu dishes. Deluxe Katsu is good as is the Chicken Katsu. Damn good sushi to boot.
Zucchini Bros, 286 Princes St. (+64 3 477-9373). Fantastic pizza & pasta from the Bros. Lovely staff and the menu is tried and true. Get a no.20 pizza, and the Chicken & Mushroom pasta is hard to beat. Serving Emersons and Green Man beer. These guys deliver also.

Etrusco at the Savoy

phone: +64 3 477-3737

address: 8 Moray Pl

- Great Italian meals ranging between $10 - $25. This restaurant has its fair share of long time returning locals and will definitely satisfy your need for a decent meal without having to stroll too far from the centre of town.
Splurge
phone: +64 3 477-4235

address: 2 Birch St

One of the best places for fresh seafood

Bacchus Wine Bar

phone: +64 3 474-0824

Level 1/12 The Octagon, - Great place for food and wine, pre- or after dinner show.

phone: +64 3 477-7704

address: 199 Upper Stuart St

Scottish influenced New Zealand food including a whiskey bar

Number 7 Balmac

phone: +64 3 464-0064

address: 7 Balmacewen Rd

Maori Hill, - Neighbourhood restaurant specialising in Modern NZ Cuisine

Pier 24

phone: +64 3 456-0555

address: 24 Esplanade St

Clair, Dunedin 9012, - This classy, semi-formal, glasshouse like restaurant with waterfront views.
Drink
Dunedin is known for its vibrant nightlife, mainly stemming from its large student population. It is also home to some well known beer breweries, Speights, Emersons and to a lesser extent Green Man. There is also a strong coffee culture with a number of good cafes.
Coffee
Strictly Coffee has been on the Dunedin coffee scene for 15 years and roasts its own coffee locally. One of its 3 cafes is on Bath St (off Lower Stuart).
Modaks on George street is a long serving popular Dunedin cafe.
Nova in the Octagon next to the art gallery has won best cafe in Dunedin for a number of years.
Mazagran Espresso on Moray place also roasts its own coffee and is thought of by many as the best coffee in Dunedin.
The Fix on Frederick Street make quality mochaccinos and are often visited by the doctors, and students in the medical sciences.
Local Beer
Speights was founded in Dunedin in 1876 and is now a national brand associated with Dunedin and the southern region of New Zealand. It is still brewed at the Dunedin location and brewery tours are available. The Speights brewery also makes Speight's Old Dark, and the Speights Craft Range of beer.
Emerson's Brewery Limited is a microbrewery located in Dunedin, New Zealand established in 1993, and has recently shifted into a new and much bigger brewery facility. It has won numerous Australian and New Zealand awards and it is well appreciated by locals. Good places to find it on tap include Albar on Lower Stuart street and Tonic on Princess street, or the Emersons Taproom and Brewery on Anzac Avenue (near the stadium), where you can fill your own riggers if you like (plastic 1.25 L bottles) .
Bars
The majority of the bars are located in and around the Octagon and Lower Stuart Street, with a few popular student bars in North Dunedin. There is a strip of bars along the east side of the Octagon with tables outside, which all fill up when the weather allows. A jug of ale costs about $10.
Albar, beer bar on Lower Stuart street with a great ambiance and selection of craft beers.
Bacchus, nice wine bar and restaurant in the octagon above Macs Brew Bar.
Captain Cook, world famous in New Zealand, the last of the famous student bars of north Dunedin after the closing of Gardies and the Bowler. It was closed for a few years but has now re-opened, looking far more upmarket than it did in its heydays. Gastro pub vibe with dinners, cozy booths and its own beers on tap.
Carousel, upmarket bar upstairs on Lower Stuart St near the Octagon, with a great deck.
Emersons Taproom and Restaurant, brewery bar and restaurant opened in 2016, showcasing the famous beers and the ever changing range of seasonal releases .
Pequeno, hard to find upmarket lounge bar, down the alley next to Del Sol on Moray Place.
Pop, underground cocktail bar in the Octagon next to Macs Brew Bar, often with DJ's.

Robert Burns Pub

address: 374 George Street

Nice pub on George street with live jazz on Thursday nights.
Speights Ale House, restaurant/bar attached to the brewery.
Stuart Street Brew Bar, popular Dunedin representative of a chain of bars on the corner in the Octagon.
Tonic, another craft beer bar on Princes St.
Sleep
Budget
phone: +64 3 473-8860

address: 36 Arden St

B&B, homestay and en suite. 20 min walk to the Octagon. $45-130.

phone: +64 3 477-9985

address: 243 Moray Pl

In the heart of the city, 1 minute from the Octagon.

phone: +64 3 479-2075

address: 296 High St

10 min walk to the Octagon. Beds, not bunks - and no more than 5 people in the largest room!

phone: +64 3 477 4728

address: 74 Elm Row

Limited parking is found on the street.

phone: +64 3 474-1487

address: 277 Rattray St

5 minute walk from the Octagon. Maximum 4 share room, no bunks.

Leviathan Heritage Hotel and Downtown Dunedin Backpackers

phone: +64 3 477 3160

address: 27 Queens Gardens

2 minute walk to the Octagon. Practically next door to a 24x7 Countdown supermarket and the railway station.

address: 28 Manor Pl

Set in 2 colonial homes and surrounded with beautiful gardens there is nowhere more pleasant to stay in Dunedin. 10min walk to the octagon.

phone: +64 3 477-6121

address: Filleul St near The Octagon and Moray St

Small dorms, good clean facilities, good staff, good attitude, right next to the Octagon and two blocks from a 24/7 Countdown supermarket. Built over a pool hall and bar; one minute from most facilities including cinema, library, information centre, banks, food etc. 24/7 swipe-card access.

Geeky Gecko Backpackers

phone: +64 3 477-6027

address: 6 Stafford St

Close to The Octagon and nightlife, free Internet & DVDs, local phone, pickups, on-street parking. Female-only dorm. Renovated historical Dunedin hotel.

address: 597 George Street

Pleasant backpackers near the Botanic Gardens.
Mid-range
phone: +64 3 477 1053

address: 433 High St

Offers en suite and B&B.

Magnolia House Non-Smoking Bed and Breakfast

phone: +64 3 467 5999

address: 18 Grendon, Maori Hill.

Beautiful old Victorian villa set in gardens.

phone: +64 3 477 5360

address: 30 Duke Street, North Dunedin

Offers hotel rooms & suites, all with either a balcony or patio area, free parking. Short walk to the CBD. Restaurant & bar on premises.
Splurge
Serviced Apartments
address: 192 Castle St

LivingSpace provides several options of rooms, starting with a studio for $89. There are also discounts for those staying weekly or monthly. Located a block from New World Market (grocery) and Countdown (grocery), a couple of blocks from Cadbury World, and a 5 minute walk to the restored train station (and home of the very popular Saturday farmer's market.) Some rooms have self-contained kitchens, while others have kitchenettes, but all guests are invited to use the large shared kitchens, TV rooms, theatre, and computer room, located throughout the building.

phone: +64 3 470-1725

address: 333 Cumberland St

Quest Apartments in Dunedin, 40-room serviced apartment complex located in Central Business District and across the road from the famous Cadbury World Tour.
Camping
Leith Valley Holiday Park is within decent walking range of the CBD and close to the Botanical Gardens and the Otago Museum. It has all the normal holiday park facilities including showers, kitchen, internet access, etc. Although it caters mostly to camper vans and motor homes, campers with bikes and tents do stay there.
Stay safe
The city is quite safe, but try to walk in a group on Thursday, Friday and Saturday nights. People can get excessively inebriated and occasionally look to cause trouble. Exercise the same caution and common sense that you would in any other western city. The police station is in Great King Street, next to Countdown, the supermarket.

Connect
Dunedin Public Library has free Internet terminals and Wi-Fi. Free Wi-Fi is also available in the Octagon.
Otherwise, Internet access is available at various cafes for a fee.

Cope
Albany Street Centre, 28 Albany St, +64 3 479-2169. M-Th 09:00-17:00. Professional counselling services.

phone: +64 3 477-1289

address: 2 George St
Consulates
Fiji

phone: +64 3 464-0406

address: 108 Cannington Road, Maori Hill

Mr Richard Hatherly, Honorary Consul.

Finland

phone: +64 3 479-7719

address: c/o University of Otago, Union Court – Rm G22, Union Place

France

phone: +64 3 473-8624

address: 28 Antrim Street, Normanby

Dr Christiane Leurquin, Honorary Consul.

Italy

phone: +64 3 455-8631, +64 3 477-3123 (Additional contact)

address: 230 Forbury Rd, St Clair

Dr Sergio Gian Salis, Honorary Consular Agent.
Laundromats
Go next