Eastern India
The
East
of
India
is a mostly rural region stretching from
Sikkim
in the southern Himalayas to the coast of the Bay of Bengal.
Kolkata
(formerly known as Calcutta) is the largest city in the region, which also features the temple cities of
Puri
of Lord Jagannath fame and
Bhubaneswar
, both in
Odisha
.
States
Bihar
is often considered part of East India because of its geography, but it has been included in the
Plains
to group it with
Uttar Pradesh
and
Madhya Pradesh
, to which it is culturally closer.
Cities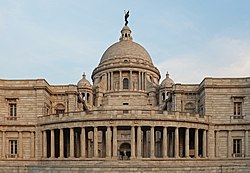 Here are nine of the most notable cities.
— major city and often called Steel City because of its steel plants


— a temple city and capital of Odisha


— "Silver City" and commercial capital of Odisha


— hill station in former British India, famous for its tea


— famous for park and cricket stadium, a industrial city


(Calcutta) — also known as "City of Joy", the capital of West Bengal is one of the most populous cities in the world and the commercial hub of eastern India.

Other destinations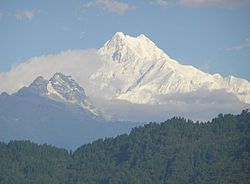 , Jharkhand — similar to Betla National Park, the park has tigers, panthers and spotted deer. There are several towers from which tourists can view the beautiful and scenic surroundings as well as spot wildlife in their natural habitat


, Chhattisgarh — a dense area with several waterfalls and limestone caves. Several species of animals and a wide tribal population are present in this beautiful park. The diversity of landscapes makes ideal habitats for many species. Wildlife includes tigers, langurs, sloth bears, lizards, snakes, peacocks and parrots to name a few.


(Kangchendzonga National Park), Sikkim — there are many glaciers located in the park. Animals such as musk deer and snow leopard make their homes here


, Odisha — a zoo and botanical garden in the capital city (Bhubaneswar). It is home for white tigers and several endangered animals. In addition, one can visit several aquaria, a reptile house and the orchid house


, West Bengal — the largest mangrove forest in the world, where you might even spot a Bengal tiger

Talk
Eastern India includes multiple states, and the locally spoken languages vary from one state to another. However,
Hindi
is used and understood widely, unless one is speaking to someone from a remote Benagli/Odiya/Sikkimese village.
Bengali
is the primary language in West Bengal.
Odia
(Oriya) is spoken in Odisha (Orissa).
Nepali
is the preferred language in Sikkim. People of Gangtok and Darjeeling do understand Bengali and Hindi because these places are tourism destinations. English usage is limited mostly to the urban areas. A dialect of Hindi called Bhojpuri is widely used in Jharkhand.
'Namaste' / 'Namaskar' is the usual way of starting a conversation with someone. 'Bhaiya' / 'Dada' (only in Bengal) is the common way of addressing a man and 'Didi' is used to address a woman. 'Dhanyavad' (meaning 'thank you') is used at the end of any conversation.
Get in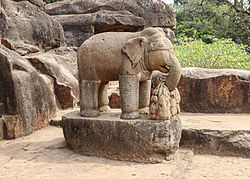 By plane
Kolkata is the main city of the region and one of the 4 metros in India. It has an international airport named Netaji Subhash Chandra Bose Internation Airport (commonly called DumDum Airport). There are airports in Ranchi, Jamshedpur, Siliguri (Bagdogra airport), Cuttack, Bhubaneshwar. Air connectivity is fair in this part of the country.
By train
Howrah and Sealdah are two of the busiest railway stations in the world. Kolkata is very well connected to the rest of the country by the railways. Jamshedpur (also called Tatanagar), Rachi, New Jalpaiguri Junction (Siliguri), Malda, Asansol, Bhubaneshwar, Cuttack, Brahmapur (Berhampur, Ganjam dist.), Jhadsuguda, Sambalpur, etc are some of the most important railway stations of this region. Kolkata is also connected to Dhaka by rail and the train running between the two cities is called Maitree Express.
One might consider travelling by local trains which generally operate from Sealdah and Howrah stations. They serve as a quicker option of reaching suburban areas when compared to buses. However, one might come across huge number of passengers who are not always friendly in these trains. Generally, the trains are crowded while going towards Kolkata from 8am to 11am and from 4pm to 9pm while leaving Kolkata.
One may also use the metro rail services which runs across the city of Kolkata through underground channels. They are quick and cover most of the important areas of the city. They run between Noapara and New Garia Metro Stations. Dum Dum, Central, Esplanade, Kalighat, Tollygunje are other important stations.
By bus
All major cities and towns of Eastern India is well connected by roads and bus services are good. Each state has their own govt. run bus services. Apart from this, their are private operators providing effective bus services all over the region. Esplanade (Dharmatala) is a major bus-terminus in Kolkata. Karunamayee in Salt Lake (Kolkata) is another major bus-depot. Some buses operate from Babughat area in Kolkata as well. Buses travel from Kolkata to various other cities like Bhubaneshwar, Cuttack, Dhanbad, Jamshedpur, Siliguri, etc. Krishnanagar, Durgapur, Asansol, Berhampore (West Bengal), Malda Cooch Behar, Raiganj, Balasore, Ranchi are some of the other notable urban areas connected by buses. Tourism destinations like Gangtok (Sikkim), Darjeeling, Puri, Digha, Bishnupur, Murshidabad, etc are well connected by bus services.
Local trains are a good way to get from one point to another. Although sometimes overcrowded it sure is an experience to see the locals getting around and buy some snacks from the passing sellers.
It is also possible to take a bus to get to other cities.
See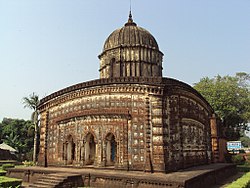 Kolkata has a lot of places to visit, including the Victoria Memorial, Howrah bridge, National Museum, Botanical Gardens, Kalighat temple, Alipore Zoo, Dakshineshwar Temple and Belur Math. Bishnupur which has many terracotta temples. Murshidabad has historical importance. Tarakeshwar is another temple town. Digha is the most popular sea beach in Bengal. Further north, Siliguri, Darjeeling and Sikkim are hilly areas. The Himalayan foothills are a treat to view. Seeing the sunrise from the Tiger Hills and Mt. Kanchanjanga is very beautiful.
Odisha has a rich history and was known as Kalinga in ancient ages. Puri is probably the most important tourist destination in the state. Konark, Bhubaneshwar, Cuttack, Sambalpur, Balasore are also good spots to visit in the state. Chilka Lake and Nandakan Zoo are notable attractions. The various architectural beauty from ancient times can be found in Udaygiri, Dhaulagiri, Khandagiri.
Eat
Kolkata
is famous for its cuisine. The signature food item however would be rosogolla (rasgullah). Sandesh is a close second which is also a sweet. Kolkata is famous for its street food culture and one can find innumerable shops dotting the streets with various food items. Rolls (similar to taco but not exactly so), momos, chowmein, etc are commonly sold items. Bengalis have a liking towards Chinese food but that is not authentic Chinese. They are Indianized version of Chinese foods and surely tasty.
Bengali cuisine typically consists of rice, dal, fish curry, chicken curry, mutton curry, prawns, shukto, dorma, etc.
It is said that a trip to Kolkata remains incomplete if you do not try the Kolkata-style biryani. It is a combination of scented rice with piece(s) of chicken or mutton with potato and sometimes egg.
Mishti doi
(sweetened yogurt) is the favourite dessert in that region. One may also try other sweet items like
pantua
,
chamcham
,
chhanabara
,
chhanaar-jilapi
and
jalebi
.
Fuchka
is another very popular street food which should be tried.
Jhal muri
is spiced puffed rice. Shingara (also called samosa), gutki, dalpuri, kochuri, various kinds of chops are some of the best snacks of the region.
Cuisines of Odisha and Jharkhand are very similar to that of Bengal. However, Odiya cuisine, especially from the sea-side region use salt water fish which is very nicely prepared and a must have. Lithi is one snack which is must if you are in Jharkhand.
Drink
This is a major tea-growing area of very long standing, so take some time out to have tea from a roadside shop, as they very arguably make the best tea in the world.

Stay safe
Verify the hygiene of eateries, as food-borne illness is a major concern in this area.

Go next
It is popular to take a trip to Nepal in order to enjoy the Himalayan mountains. Trains to the border are available from Kolkata.
Bangladesh is also just nearby.