Eastern Ukraine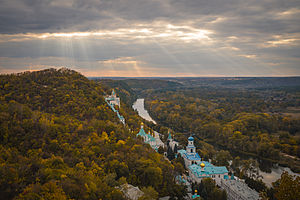 Eastern Ukraine
(
Ukrainian
: Східна Україна) is the industrial coal-mining region of
Ukraine
, home to much of the country's Russian population.
Regions
Dnieper Ukraine (Приднепровье, Наддніпрянщина) — Dnipropetrovsk Oblast, the northern part of Kherson Oblast, and the middle and north part of Zaporizhia Oblast
Donbass region — Donetsk and Luhansk Oblasts
Pryazovia — Zaporizhia Oblast, the southern part of Donetsk Oblast, and the eastern part of Kherson Oblast
Sloboda Ukraine (Слобожанщина,Слобідська Україна ) — Kharkiv Oblast, parts of the Sumy Oblast, Donetsk Oblast, and Luhansk Oblast
Cities
- the center of Dnipropetrovsk region, part of the Dnieper Ukraine area
- primarily known for its plant for the production of sparkling wine bottle classic way - the largest in Eastern Europe. Part of the Donbass area. - The administrative center of Donetsk region. A major cultural center.
- the second most populous city in Ukraine and its first capital. - In Sloboda Ukraine area
- a major industrial center, in Dnieper Ukraine region
- the administrative center of the Luhansk region. Part of the Donbass area
- a major industrial center, climatic and mud resort. Part of the Pryazovia area
- center of Zaporozhye region, part of the Dnieper Ukraine area
Other destinations
* Kamianske - a major industrial center near Dnipro.
* Gulyaypole - the city during the Civil War, the former biggest village in Ukraine (by population) and the capital of Makhno.
* Novomoskovsk
* Nikopol
* Vasilevka
* Tokmak
Donbass region
* Krasnodon - small town, famous for its underground anti-fascist organization "Young Guard".
* Shakhtersk - one of the centers of the coal industry. In the city is one of the deepest mines CIS - "Deep Mine" (1546 m)
* Sloviansk - climatic and mud-treatment resort.
* Soledar - the center of salt production in Eastern Europe and spa resort, using the old salt mines produce
* Sviatohirsk - climatic resort. Religious center: the city is one of three Orthodox laurel Ukraine.
Pryazovia: Azov Sea coastal area
* Berdyansk - climate and mud resort.
* Henichesk - a popular resort.
* Kyrylivka - a small but popular resort village in the Zaporozhye region. Climate, mud and spa resort.
* Melitopol - industrial center and transportation hub.
* Novoazovsk - a small resort town, the border crossing in the Rostov region.
* Primorsk
Sloboda Ukraine
* Ahtyrka
* Bogodukhov
* Izium
* Kupiansk
* Sumy
* Starobil'sk
* Yemyiev
* Vollchansk
See
Dnieper Ukraine
Dneproges in Zaporizhia - the first power station on the Dnieper, the flagship of the electrification plan, the energy base of the Zaporozhye industrial complex, also here find the Khortitsa island
Krivoy Rog Metrotram - underground tram line in Krivoy Rog
The longest promenade in Europe find you in Dnipro
Trinity Cathedral

phone: +380 569 38-00-74

address: Ploschad Pobedy (Sq.Victory,пл. Победы) 1

A unique monument of Ukrainian Baroque, built in 1778 by Yakym Pohrybniak from wood without any nails.

address: Novomoskovsk, Boarding House (Дом-интернат)
Pavlohrad or Pavlograd
Savior Cathedral aka Holy Mandylion cathedral

phone: +380 5632 20-0600

address: Lane Museum (пер. Музейный), 1

St.Archangel Michael church

address: 30 Proletarska st., 29 Vosstannya st.

Built in 1899.

Girls gymnasium

address: Radyanska, 64

Built in the 1880s. Now this is the Palace of Children and Youth.

Assumption of the Virgin Mary church

address: St. Kharkivska, 19

Azur colored facade, - built in 1896.

Monument to Lenin

Walk of Fame former Central Alley

Monument Joseph Kotin

Lieutenant Rzhevsky Monument

address: Str. Zavodskaya (ул. Заводская), 44

Regional Museum

phone: +380 5672 6-0982
Zachariavskaya fortress ruin

address: Kalaitanyvka (rus. Калайтановка, ukr Калайтанівка) village, northeast from Berdyansk

Part of the former Dnieper defense line. 1770-1772.
St.Peter fortress

address: Novopetrivka (Новопетровка)

Remnants of the former Dnieper defense line. 1770.
St.Alexios fortress

address: Bilotserkivka village

Remnants of the former Dnieper defense line. 1770.
phone: +380 6175 7-73-88

address: 12-16 Gagarina st, Vasylivka, Zaporizhia oblast

British house, Coservation tower, 1894, No.2 tower, No.3 tower, ironwrought fence, coach house, mews, chapel, northern gate and guest outbuilding, landpark, all made in the 1890s, in neo-gothic style
In Donbass
phone: +380 627 46-2640

phone: +380 627 42-2595
Alchevsk
Lenin Prospect (проспект Ленина), its architecture is in the style of "Stalin's empire".
At one end of the avenue Lenin, near DC Chemists is a beautiful fountain with lights
Stella (Стелла) fountain at Square honor 20th anniversary of Victory.
St. Nicholas Cathedral (Свято-Николаевский Кафедральный Собор).

St. George's Church

phone: +380 6442 3-41-42

address: St. Popova , 106

The Mother Sophia temple in honor of Faith, Hope & Charity (Храм в честь Веры, Надежды, Любви и матери их Софии).
SU-100, a self-cooled gun (Самоходная артиллерийская установка СУ-100), Square ​​the 30th anniversary of Victory.
Spire, a monument in the form of a bayonet (Монумент в виде штыка - Шпиль), Square 40 anniversary of the Victory ).

Historical museum

phone: +380 442 01 02 22

address: St. Kalinina, 2

A branch of the Regional Museum. A one-room exhibition with an area of 400 m².
Geological and mineralogical museum (Геолого-минералогический музей).
The Smelter Factory Industrial History Museum (Музей истории металлургического завода).
The Coke and Chemical Plant History Museum (Музей истории коксохимического завода).
Museum of History of the University (Музей истории университета).
Krasnodon
Monument "The Oath" (Памятник «Клятва»). Depicts five of the Young, who was awarded the title Hero of the Soviet Union) at a solemn oath at the flag.
Stele "Grieving Mother"(стелла «Скорбящая мать»), with eternal flame. A 2nd WW's Mass grave of the Young.
Pit No. 5 (Шурф №5).- Mine, in which the corpses were dumped the Young.
Stele with a jet (Стелла с реактивным самолётом), at the entrance to the city.

phone: +380 643 56-3156
Makiivka, also spelled Makiyivka
phone: +380 623 26-3382, +380 623 26-2468

Pioneer Palace (Дворец Пионеров)
St. George's Cathedral (Свято-Георгиевский собор)
Northern Park (Парк Северный)
Park of Vasily Dzharty (Парк им. Василия Джарты)
Square of glory (Сквер славы)
SoledarThe name of the town stands for 'gift of salt' both in Russian and Ukrainian. A major tourist attraction: the underground galleries and chambers of salt mines, which are also used extensively for speleo (cave) treatment of asthma and other lung diseases.
phone: +380 627-44-25-73

address: Str. Chkalov (ул. Чкалова), 1a
Sviatogorsk Lavra
Forged Figures Park in Donetsk
Stone Sculpture Park (Museum Polovtsian women) in Lugansk - a collection of stone statues of the 11th-12th centuries. Collected throughout the Luhansk region (about 80 pieces).
Druzhkovskaya petrified trees (Дружковские окаменевшие деревья) near Kramatorsk - geological monument, petrified trees outcrop of the Carboniferous period.
Mining and heaps throughout the region, creating a distinctive industrial landscape
Pryazovia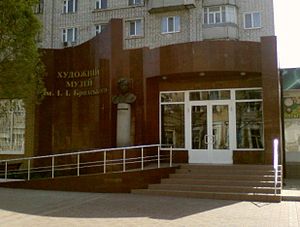 BerdyanskA spa therapy resort place. There are more than 70 health institutions:health centers, children's sports and recreational facilities, recreation centers, which can accommodate at least fifteen thousand people.
phone: +380 615 33-6316

address: Ul. Dyumyna (ул. Дюмина), 15

Tells the history of the city, its residents, especially the life from the foundation to the present.

phone: +380 615 33-6570

address: Ul.Peremohy (пр.Перемоги),14

Exhibits about the nature of the region and its history.

Brodskovo Art Museum

phone: +380 615 34-5158

address: Ul. Marksa

Collection from celebrated Ukrainian artists works, include Aivazovsky, Kuindji & Makovsky

phone: +380 6153 7-0980

address: Ul. Shmidta (ул. Шмидта), 8

In a two-story house in which the family Schmidt lived from 1876 to 1886. And it was the childhood home of the future lieutenant of Peter Schmidt, who was later a Russian revolutionary democrat.

'Feat' museum

phone: +380 615 34-0512

address: Sverdlova (ул. Свердлова), 10

About the occupation & liberation of the city, in World War II.

ZOO

address: Volkov Street

2.5 ha. 60 species of exotic animals. There are aviaries, ponds, alpine garden, recreational facilities and a cafe.

Aqua park "Cape of Good Hope"

address: Makarov, 2-v

Kiev delphinarium

Beaches on Berdyansk SpitThe gem of the city which is a 17-km strip of land, stretching out to sea. There are clean beaches and numerous resorts, discos.

The lighthouse

address: Berdyansk Spit, Makarov, 185

Made in 1838. One of the oldest buildings of the city.
Two amusement parks

Bender and Balaganov Monument

Sanitary technician

Sundial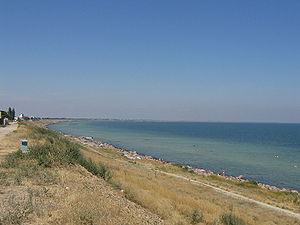 HenicheskA port city along the Sea of Azov.
Church of Nativity

phone: +380 553 42-2192

address: Ul. Petrovsky, 1

Children's Beach

address: Vul. Sverdlova (Свердлова вул.)

About 200 m from the shore the depth "knee", then "by the throat", and another ~60-m fairway starts 10-m deep and large current! The bottom is sticky clay ("Mulyak"), which is curative, but by the middle of the day due to bathing water becomes very muddy.

Adult beachThere are possible as quite strong currents. You must be careful.

Gorky Recreation park- A landscape park, there are about 50 species of trees and about 30 species of shrubs. Attractions: ZOOvernisazh, park history museum, summer stage, dance halls, cafes, wooden sculptures complex "Glade of fairy tales" («Поляна Сказок»)

Alexander Nevsky Cathedral

phone: +380 619 44-0347

address: Ul. Alexander Nevsky, 5

Built in 1884 as the Armenian Gregorian Church. Now Orthodox Church.

address: Ul.Alexander Nevsky, 24

Built in 1892

Holy Trinity church

phone: +380 619 25-4018

address: Lomonosova str., 176

phone: +380 619 42-2456

address: Horkoho str., 53

Roman Catholic Church

phone: +380 619 42-30-93

address: Dzerzhynskoho str., 225

phone: +380 6192 6-1916

address: Vorovskogo (ул. Воровского), 45

Founded in 1995.

phone: +380 619 44-4514

address: Ul. Marksa (ул. К. Маркса), 18

This is in a three-story mansion, in 1913. There is a natural history fund, collection of Scythian gold (in 4th century BC), numismatic & ethnographic collection.

The Stone GraveIt is a relic of sandstone from the Sarmatian epoch of the Tertiary period (late 2nd century BC to late 2nd century AD).
Do
In Donbass
The entire production cycle is carried out at a depth of 72 meters. The total area of ​​the tunnels is 25 hectares. There are three kinds of excursions: visit with four tastings: 3-hour long; with two tasting - 2 hours, visit the one tasting room - 1 hour. Only for persons who older than 18 years. Photo, Video prohibited. For English-speaking groups provide an interpreter. In the galleries are pretty cool, it is desirable to take a sweater.

phone: +380 62 326-4651

E. Zahavi Drama Theatre former Earl's Theatre

phone: +380 5632 64847

address: Pavlohrad, Str. Kharkiv, 65

Gomolshanskye forest

Holy Mountains - National Park

Khomutovskaya steppe ReserveThe famous Scythian women from the movie "Step" Sergei Bondarchuk, and mounds from the Mongol period.

Stone tombs
Pryazovia
Azov-Sivash National Park
Biruchiy island

address: Henichesk area

This area part of the territory of the Azov-Sivash National Natural Park (Азово-Сивашский национальный природный парк). Wildlife: deers, fallow deers, Ussurian raccoon dogs, partridges, pheasants, wild geese and ducks, egrets.
Arabatsky sand spit

address: Henichesk area

A popular and inexpensive resort area in which there are about 100 resorts. Sizes: length 112 km and width from 270 m to 7 km. The northern part of the arrow near Genichesk finishes by narrow straits. The southern part is directly adjacent to the Kerch Peninsula (Crimea). At the southern end, near the village of Solianoie (Соляное) is the Arabatsky fortress remains. It is a good place for hiking, sailing, biking, warm silky sand lonely beaches. Take plenty water and food, there are shops only at the ends of spit!
address: Zaporizhia Oblast