Edinburgh
Edinburgh
(
Gaelic
:
Dùn Èideann
) is the capital of
Scotland
located in the
Central Belt
region of the country. With a population of approximately 450,000 (1 million in the city region), Edinburgh fizzes with a cosmopolitan yet uniquely Scottish atmosphere. Old volcanoes ensure a dramatic natural setting, with the imposing castle atop one. Beneath its guard, the city combines medieval relics, Georgian grandeur and a powerful layer of modern life with contemporary avant-garde. Medieval palaces, Gothic churches and fascinating historical buildings rub shoulders with the best of modern architecture, such as the Houses of Scottish Parliament and the refurbished National Museum of Scotland. Variously dubbed "Auld Reekie" or "Athens of the North", but usually just plain "Emmbruh", it hosts great restaurants, shops, pubs, wild and mild clubs, and an unrivalled programme of city festivals throughout the year. Hogmanay, the Scottish New Year, kicks off the festivities; August sees the Tattoo, the International Festival and the Festival Fringe – the world's largest arts festival.
The
Old and New Towns of Edinburgh
were listed as
World Heritage Sites
by UNESCO in 1995. In 2004, Edinburgh became the first member of the
UNESCO Creative Cities
initiative when it was designated a
City of Literature
.
Districts
Understand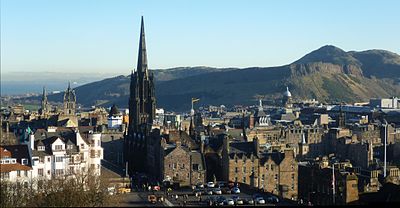 History
This was an exciting place to be 300-350 million years ago, as volcanoes raged and flared across the region. The biggest was what we now call Arthur's Seat, with smaller cones at Castle Rock, Calton Hill, and elsewhere. Then they fizzled out and started to be buried by other rock layers. Much later came the Ice Ages, the last some 20,000 years ago. Vast glaciers from the west scoured away the surface, but where they hit Castle Rock they had to divide and flow around. They left the Rock intact with a scooped-out hollow to its north, west and south, and a tail of stone debris dumped in its lee to the east. This created an obvious defensible spot for early settlement. By the 12th century Edinburgh was the chief city of Scotland; the Old Town grew up with the Castle at its head, the Royal Mile stretching down the debris tail, and Holyrood Palace at its foot.
And up and up it grew: space was limited, so buildings became taller, ten or more storeys high even in medieval times. But no lifts or pumped water of course, and sanitation was taken care of by opening a window, shouting "Gardyloo!" and letting gravity do the rest. Every medieval city stank, but Edinburgh became known as "Auld Reekie" from the distinctive stench of sewage mingled with smoke from coal, mined and burned here from early times.
Edinburgh lost some of its importance after 1707, when Scotland united with England and political power ebbed away to London. But in the mid-18th century it revived, when it broke out of the confines of the Old Town, by creating a graceful New Town to the north. The intervening midden, the "Nor Loch", was drained, bridged, and an earth mound pushed across. There was similar expansion on the south side. Victorian times saw an industrial boom fuelled by the coal deposits nearby to the east, and by shale oil produced to the west. Canals and then railways brought in materials and a labour force.
Glasgow grew bigger, but Edinburgh remained the cultural capital of Scotland, and the Edinburgh International Festival was launched in 1947. A year later the first Military Tattoo was performed at the castle and soon became an official part of the Festival. In 1993, the first Edinburgh Hogmanay Street Party was held as an organised event.
And from 1998 Edinburgh is in a stronger sense a capital city again, as the Scotland Act (and subsequent legislation) established a devolved Scottish Parliament and civil Government. These, based in Edinburgh, are responsible for governing Scotland excluding reserved matters such as defence and foreign affairs which remain with the Westminster Parliament in London. Between 1999 and 2004 the Scottish Parliament Building (designed by Enric Miralles, the Spanish Catalan architect) was constructed. The debate about full independence for Scotland continues.
Orientation
Edinburgh has two principal spines, both running east-west. The spine of the Old Town is the Royal Mile, which starts with the Castle perched atop its volcanic crag, and the Esplanade commanding the best overall view of the city. From here the Royal Mile slopes down east, variously called Lawnmarket, High Street and Canongate, to end at Holyrood Palace. George IV Bridge spans south from Old Town to the University quarter, Meadows and Southside, while the Mound and North Bridge span north to New Town.
The newer spine is Princes Street (one "s", no apostrophe, named for the princely sons of George III). Princes Street Gardens fill the depression between the Street and the Old Town heights, with the railway tracks at their base and the Mound crossing midway. The grid pattern of the New Town starts with Princes Street and stretches north, with George Street and Queen Street its main boulevards. Close to the east end of Princes Street are the main railway station Waverley, and the main bus station St Andrew Square. The street ends in Waterloo Place, historic terminus of the A1 to London, A7 to Carlisle, A8 to Glasgow, and A9 to John O'Groats - no modern motorist should ever heed these directions. The small hill just east of Princes Street with an ersatz Acropolis is Calton Hill, while the looming crags further SE are Arthur's Seat. The Firth of Forth glitters to the north, merging into the open North Sea.
Literary tradition
Edinburgh is noted as a long-lived literary capital of the English-speaking world.
The great Scottish historical novelist Sir Walter Scott was born in the city and has his great monument on Princes Street. Robert Louis Stevenson and Sir Arthur Conan Doyle were also natives of Edinburgh. Edinburgh has also variously been the home and inspiration for such well-known modern writers as Muriel Spark (author of
The Prime of Miss Jean Brodie
), Irvine Welsh (author of the 1993 novel
Trainspotting
, set in the gritty district of Leith), Ian Rankin (a crime writer best known for the
Inspector Rebus
series, set in Edinburgh), Alexander McCall Smith (
The No. 1 Lady Detective's Agency
and several novels set in the Scottish capital) and J.K. Rowling of
Harry Potter
fame.
Climate
Edinburgh's climate is most comfortable for the traveller from May to September. That said, the weather in Edinburgh is always changeable and visitors should expect both sunshine and rain, whatever the season. Edinburgh tends to get windy while it rains as well, so be sure to pack either a raincoat or a sturdy umbrella! Many a tourist has abandoned an inverted umbrella due to the persistent, whipping winds. Summer, the main festival season, combines long daylight hours with lengthy evenings (being so far north, it rarely gets dark before 10 or 11 at night!). Winter can feel bitterly cold, with short daylight hours, however snow is rare and of a short duration, and most of Edinburgh's winter precipitation comes in the form of a chilly rain and sleet. Edinburgh has an abundance of indoor attractions and activities that make the cold winter days fly by. In other words, bring a coat big lad, will ya?
Do not worry about being cold in winter, because like many modern countries all buildings including the old ones are warm, dry and insulated.
When to go
Edinburgh becomes overwhelmingly crowded (accommodation-wise) during the main festival periods of high summer (August to early September) and Hogmanay (around New Year's Day/1 January). Visitors at these times should plan well ahead for booking central accommodation and event tickets at these times.
Get in
By plane
Edinburgh International AirportEdinburgh airport has extensive European and domestic connections. European links include Amsterdam, Athens, Barcelona, Brussels, Budapest, Copenhagen, Dublin, Frankfurt, Geneva, Helsinki, Istanbul, Madrid, Milan, Munich, Oslo, Paris, Prague, Rome, Stockholm and Zürich. Domestic links include London Heathrow, London City, Luton, Stansted, Manchester, Birmingham, Cardiff, Belfast, Wick, Stornoway, Orkney, Shetland, and Jersey. There are no flights to Glasgow, Aberdeen, Inverness or Newcastle as the train journeys are relatively short. There are several non-stop connections from North America; Chicago O'Hare, New York JFK, Newark Liberty, Providence, Toronto Pearson, and Washington Dulles. There are also flights from Abu Dhabi and Doha. For better intercontinental links, travel via Manchester or London. See this link for a full list of destinations with flights to and from Edinburgh Airport.
While taxiing, if you have a view north, spare a glance for the Cat Stane midway along the runway. It's a Bronze Age standing stone that nowadays is within the airport perimeter fence, so this is the only way the public can admire it.
Edinburgh Airport is medium-sized and modern, with the full range of passenger facilities both land- and airside. You can use their Wi-Fi free for up to 2 hours. There is a small Marks & Spencer supermarket landside. The only drinking water fountains are airside immediately to the left when you exit the duty free shop. Currency exchange land- and airside is operated by ICE, with rates for major currencies about 20% off the official rate: poor, but average for an airport. So if you changed 100 USD to £ then changed those £ back, you'd get 60 USD.
Onward transport:
buses to the city, and to Glasgow, Fife and West Lothian, leave from stops just outside Arrivals. The tram station and shuttles to off-site car parks are at the east end of the Terminal, beyond the multi-storey car park. There's no mainline railway station, the nearest (Haymarket and Waverley) are in the city centre.
The direct bus to city centre is
Airlink (Service 100)
. This runs from airport
stop D
via Haymarket and Princes Street to Waverley Bridge, just outside the main railway station and close to the bus station. It's a distinctive bright blue double-decker bus, which runs daily 24 hours every 10-15 min, and takes 20-30 min. Adult fares are £4.50 single, £7.50 open return (children £2/£3 respectively). Pay the driver in cash (change given within reason, the only city bus route that does so) or by contactless debit or credit card. The buses have free Wi-Fi, sockets for charging electrical equipment, CCTV allowing top-deck passengers to monitor their luggage, and "next-stop" info screens.
For north side of the city and Leith take
Skylink 200
. This runs from airport
stop B
via Corstorphine down to Newhaven sea front and Leith Ocean Terminal - it doesn't pass anywhere near city centre. It runs daily every 30 min, 05:00-24:00 towards Leith and 04:00-23:00 out to the airport, taking an hour. Same fares as Airlink 100, but exact fare is needed.
For south side of the city take
Skylink 300
. This runs from airport
stop F
via Sighthill and Slateford to Tollcross (prime territory for small hotels and B&Bs), Edinburgh University main campus near Old Town, Newington (more B&Bs), then south to Prestonfield / Cameron Toll. It runs daily every 20 min, 06:00-23:00 towards the city and 05:00-22:00 out to the airport. The journey to the University and Old Town takes an hour. Same fares as Airlink 100, but exact fare is needed. It replaces Bus 35, axed in 2017. It used to turn north to Leith but this duplicated Bus 200 and was curtailed in summer 2018.
For the southern fringes of the city take
Skylink 400
. This runs from airport
stop B
via Gogarburn, South Gyle, Wester Hailes, Oxgangs, Kaimes, Royal Infirmary and Niddrie to Fort Kinnaird / Newcraighall near Musselburgh - it doesn't pass anywhere near city centre. It runs daily every 30 mins from 05:30 to 21:30. It replaces Bus 18, axed in July 2018.
At night
Airlink 100 still runs to city centre. For south side and Leith take
night bus N22
from
stop D
. This comes into town along Dundee St and Lothian Road, then runs along Princes St and down to Leith Ocean Terminal. It runs every 30 min 00:00-04:00. From airport to Princes St takes 30 min, to Leith 50 min. Fare is £3 (no concessions, exact change needed) for a
NIGHTticket
, valid until 04:30 on all the city's night buses. Airlink tickets are also valid on this service as far as Waverley Bridge.
The
Tram
runs from the airport to city centre, taking 40 min via Edinburgh Park, Murrayfield, Haymarket and along Princes St to Waverley railway station and York Place. Adult fares are £6 single, £8.50 open return, child £3/£4.50. If you're making other city journeys same day, consider buying a day ticket for £9 (child £4.50) valid for all tram & daytime bus services. (Single tram plus single bus fare is cheaper, but exact change becomes a problem.) Buy tickets from machines at any tram stop within 30 min of travel (cards accepted, no change given) and validate your ticket before boarding. Trams run daily every 8-15 min, to the city centre 06:20-22:45 and out to the airport 05:30-23:30.
Or walk!
If you only have light baggage, it's a fine day and you want to save money, you can walk the 2 km footpath between the airport and Ingliston Park & Ride. This brings you within the City Zone tariff, so the single tram fare to city centre drops to £1.70 adult, 80p child, and a day ticket for all trams and buses is £4/£2. Coming out from the city, do not be tempted just to buy a City Zone ticket and stay aboard to the airport, since ticket inspectors always patrol this section.
Out of town:
Buses run from airport
stop C
to
Glasgow
Buchanan Bus Station. This is the
Citylink Air
which takes 1 hour and costs £12 single and £20 return. It runs daily from 06:00 to 23:30, usually every 30 mins; overnight the hourly N900 bus covers the same route.
Buses run from airport
stop G
across the old Forth Road Bridge to Inverkeithing and Halbeath in
Fife
. This is the
Stagecoach Jet 747 bus
which takes 45 min to Halbeath and costs £7.50 single and £14 for a return within 28 days. It runs daily 24 hours, every 20 mins daytime. Change at Inverkeithing for trains to
Perth
,
Dundee
,
Aberdeen
and
Inverness
.
First Bus 600 runs from airport
stop E
every 30 mins into
West Lothian
, via Ratho, Newbridge, Kirkliston, Winchburgh, Broxburn, Uphall, Livingston and Whitburn.
Local buses pass by on the A8, 1 km south of the airport. These run from Edinburgh out to Ratho, Kirkliston,
South Queensferry
,
Linlithgow
and
Falkirk
.
By train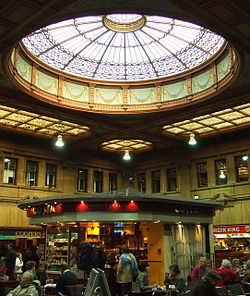 The
main railway station
is
Edinburgh Waverley (EDB)
. It's always called "Waverley" locally but
National Rail's website
doesn't recognise that name, and simply calls it "Edinburgh". Opened in 1846 and rebuilt 1892-1902, Waverley is a sight in itself, with wreathed cherubs cavorting across its elaborate domed ceiling and thicket of scrolled ironwork. It lies at the east end of Princes Street between the Old and New Towns, with the crags of Calton Hill and the castle looming above as your train pulls in, and serves over 14 million people per annum. Lots of facilities at the station including car rental, but left luggage is much more expensive (£7 per item per 24 hours) than the lockers at the main bus station nearby on St Andrew Square.
Waverley Station is a major hub for the Scottish rail network, with trains operated by
ScotRail
.
From Glasgow
there are no less than five routes:
- best is from Glasgow Queen Street via Falkirk High, 50 mins, every 15-30 mins;
- trains from Queen Street via Cumbernauld and Falkirk Grahamstoun, 70 mins, every 30 mins;
- slow trains from Helensburgh or Milngavie via Queen Street (low level), Airdrie and Livingston North, 75 mins, every 30 mins;
- long-distance trains from Glasgow Central taking an hour via Motherwell to Edinburgh and continuing down into England, plus slow trains from Ayr making more stops;
- slow trains from Glasgow Central via Livingston South, 80 mins, hourly.
From the north:
trains run hourly from
Aberdeen
and
Dundee
, every two hours from
Inverness
via Aviemore and Perth, and every 30 mins from
Stirling
.
From London:
LNER
daytime trains from London Kings Cross run hourly up the east coast, the fastest taking 4 hr 20 min, variously stopping at Peterborough, Grantham, Newark, Doncaster, York, Darlington, Durham and Newcastle-upon-Tyne. Many of them continue north from Edinburgh to Glasgow Central, Dundee, Aberdeen or Inverness. There's a daytime Virgin train every couple of hours from London Euston via the Midlands and Preston, a slower route which you'd only use if starting from say Milton Keynes. There's also an overnight train from Euston to Edinburgh, described below.
From the Midlands
, fastest is to take the hourly
Virgin Train
from
Birmingham
New Street towards Glasgow and change at Preston, journey time just over four hours. A little slower but avoiding a change is the
Arriva Crosscountry
train, which trundles all the way up from Penzance via Plymouth, Exeter St David's, Bristol Temple Meads, Birmingham New Street, Derby, Sheffield, Wakefield Westgate, Leeds, York, Darlington, Durham, Newcastle upon Tyne and Berwick-upon-Tweed, and continuing from Edinburgh to Glasgow Central.
From Manchester:
Transpennine Express
runs every couple of hours from Manchester Airport via Piccadilly and Carlisle, taking four hours, with many other connections by changing at Piccadilly, Preston or Lancaster.
From the Borders
trains run every 30 mins from Tweedbank via Galashiels. There's no through-line, but Galashiels has connecting buses from Jedburgh, Melrose, Carlisle, Hawick and Selkirk.
Overnight:
The
Caledonian Lowland Sleeper
runs Su-F from London Euston, departing around 23:30 to arrive by 07:30 and you can stay aboard to 08:00. (Another portion runs to Glasgow; they divide / join at Carstairs.) The southbound train leaves around 23:30 to reach Euston at 07:00, again you can stay aboard until 08:00. No trains on Saturday night, and you can't travel on the Highland Sleeper, which only makes a service stop in Edinburgh for its three portions to be split or re-combined. New rolling stock was introduced on all the sleeper routes in 2019. Compartments have two berths and are sold like hotel rooms: you pay extra for single occupancy, and you won't be sharing with a stranger. Tickets can be booked at any UK mainline railway station or online: a single sleeper fare is around £140 for one or £170 for two people. You can also just use the sitting saloon, single £45. If you have an existing ticket for a daytime train you need to buy a sleeper supplement. Pricing is dynamic - weekends and the Festival will cost more, if indeed there are berths available. Booking is nominally open 12 months ahead, but (as of Oct 2019) the website hasn't grasped this. If you buy online, you need to print out your e-ticket to present on boarding.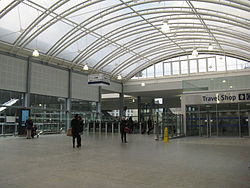 The city's
second mainline railway station
is , a mile west of Waverley. If you are arriving from the north, west or southwest, Haymarket is the better station to use if you are heading for the airport, zoo, or modern art gallery or if your accommodation is on the west side of town. It's on the major westbound bus routes and the tram line, with indicator boards for the next buses and trams. The station was rebuilt in 2013 and now has a large, clean concourse. Street-side (before the ticket barriers) are some half-a-dozen ticket machines, a staffed ticket office, an ATM, two coffee kiosks, an M&S newsagent and convenience store and a "Bike & Go" bike-docking area. Train-side of the barriers is a staffed desk, eg for excess fares. There are lifts as well as stairs to the platforms, which include the mysterious "Platform 0". Lots of pubs and eating places cluster around the station.
Both Waverley and Haymarket stations have ticket barriers so you will need to purchase a ticket in order to enter or leave the platform area. If you get on a train at an unmanned station, you can purchase a ticket from the conductor on the train or a ticket inspector near the barrier gates: there is usually a long queue during the peak rush hour period. The barrier gates will retain single journey tickets at the end of your journey so be sure to get a receipt if you need one. If you have the larger kind of ticket that does not fit in the barrier, you will need to go to the gate manned by a member of staff who will check your ticket and let you through. If you do not have a ticket, you will need to go to the ticket office behind the barrier (platform 14 at Waverley) to buy one.
There are a few
small unstaffed suburban stations
within the city - this is aside from the new tram network. As of Sept 2017, these are:
Going west from Waverley and Haymarket towards Linlithgow, Falkirk & Glasgow Queens Street: Edinburgh Park (EDP) where you can get a tram at the station door.
Going NW from Waverley and Haymarket towards the Forth Bridge, Fife & Highlands: South Gyle (SGL) and Edinburgh Gateway (EGY), which has a tram interchange (outside, Gateway is signed as "Park" which is confusing and wrong).
Going SW from Waverley and Haymarket to Shotts and Glasgow Central: Slateford (SLA), Kingsknowe (KGE) and Wester Hailes (WTA).
Going east from Waverley towards Newcastle and to the Borders: Brunstane (BSU) and Newcraighall (NEW), the latter with park and ride.
You'd only use them if your accommodation happened to be nearby, or as park and ride, as they're not close to the tourist sights.
By car
By road, Edinburgh can be reached most immediately by the M8 motorway (from Glasgow and the west), M9 (from
Stirling
and the north-west), A90/M90 (from
Perth
,
Dundee
and northern Scotland), the A1 (from
Newcastle upon Tyne
and north-east England) and A702/M74 (from
Carlisle
and north-western England).
From
London
the fastest route to Edinburgh is the M1 motorway, which flows into the A1(M) and the A1 - a journey of 640 km (398 mi) and approximately 8-9 hrs driving time. More scenic routes, which are shorter mileage and only a little slower time-wise, include:
From A1(M) north of Scotch Corner, follow A68 through West Auckland, Corrbridge and Jedburgh
From A1(M) north of Newcastle, follow A696 past the airport to join A68 near Otterburn
From A1(M) at Morpeth, follow A697 through Wooler and Coldstream
Edinburgh is not a car-friendly city, with many central streets closed-off or dead-ended to private vehicles, including Princes Street. This can only get worse, as sensitive areas (eg Festival venues) are being hardened against vehicle-based terrorism. And if you think the driving's a hassle, just wait till you try parking. There's little of it, it's pricey and time-limited, and the parking wardens are zealous. Monday to Saturday, you'd need to be 3-4 miles out to find free street parking. There are several
multi-storey car parks
in the city centre: particularly central are Castle Terrace for the West End, and Greenside at the East End. St James Centre has closed and is being demolished. If visiting for the day, it's cheaper and quicker to use the new
park and ride facilities
, leaving your car on the city's edge. There are seven of these: working clockwise (east > south > west) these are Wallyford and Newcraighall serving the A1, Sheriffhall and Straiton for the SE approaches, Hermiston and Ingliston for the west, and Ferrytoll just north of the new Forth Road Bridge for Fife and the North.
By bus
Long-distance buses link Edinburgh to England, Belfast and the rest of Scotland. Buses to major cities and towns in Scotland are mainly run by
Citylink
, while buses to England are mainly run by
National Express
with others including
Megabus
. is on the corner of St Andrew Square, very central. The main (west) entrance is on North St Andrew Street (next to Louis Vuitton; trams stop here) and the back (east) entrance is on Elder Street. Left luggage lockers here are much cheaper than the "charged by the piece" left luggage service at Waverley, the main railway station (about 400 m south, 5-10 min walk). The bus station is open Su-Th and F Sa .
Edinburgh Airport
, described earlier, in late 2018 is morphing into a secondary bus station. That's because the buses linking airport and city are much improved, so from the outer parts of Edinburgh it may be easier to ride to the airport and change to the bus for Glasgow or wherever, than to take the traditional route via St Andrew Square. However fares are higher by this route.
By boat
The North Sea ferries from Rosyth to Europe have been axed, so sailing to the Continent from Edinburgh will nowadays mean travelling to Newcastle, Hull, Harwich or the Channel ports. Big passenger liners commonly call at Leith Docks, or sit out in the Firth of Forth with passengers brought in by tender. These liners are on cruises and don't offer point-to-point travel.
Ferries to Northern Ireland sail from Cairnryan, near Stranraer. You can buy a through ticket between
Belfast
and Edinburgh (and other destinations in Scotland and Ireland) either by bus (
Citylink
), or by train (
ScotRail
). Either way it's a 7- to 9-hour journey costing around £30.
A very slow but scenic boat ride to Edinburgh is now possible along the Union Canal, which has been fully re-opened, with its city terminus at Lochrin Basin. At its western end, the Falkirk Wheel connects the Union Canal with the Forth-Clyde Canal, going all the way to Glasgow.
Get around
On foot
Walking should always be your first choice within central Edinburgh. The centre is compact - most of the sights and major tourist attractions are within the
Old Town
(mainly around the Castle and Royal Mile) and
New Town
, and are at most 15 min walk apart. Walking along elegant or atmospheric streets is one of the pleasures of the city. There are however, a number of hills to be navigated; for example from Princes Street, up
The Mound
towards
Edinburgh Castle
requires some significant legwork, but it's worth it for the views en route.
Edinburgh walking directions can be planned online with the
walkit.com walking route planner
.
By bus
The centre is compact but the burbs stretch out for several miles; major attractions that are too far to walk (especially with children) include the Zoo, the Botanic Gardens, Leith and the Britannia, and the Pentland Hills. For these, first choice is usually the bus.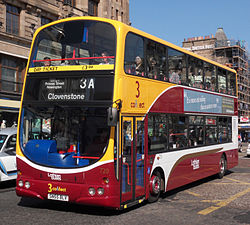 Edinburgh has two main bus companies,
Lothian Buses
, which is majority-owned by Edinburgh City Council, and
First
, a private operator. These two companies share the same bus stops, but the route numbers and tickets are not interchangeable and they operate different fare structures.
Lothian Buses
is the largest operator in the city and its distinctive burgundy and cream coloured buses have become as much a symbol of Edinburgh as its buildings. Many routes have different coloured buses, which can help to identify at a glance which bus is approaching.
Network Map
City Centre Map
Night Bus Map
Tickets for travel can be purchased on the bus and the exact fare (coins only) is required as no change can be given. A
wide range of tickets
can also be purchased at Lothian Buses
travel shops
(Waverley Bridge, Hanover Street or Dalkeith town centre) and
online
including, booklets of 20 ticket and scratch card day tickets.
Single tickets
for Lothian Buses are £1.70 (80p for under 16s) and are valid for one journey only, irrespective of distance. If you have to change bus, you must buy another ticket.
More conveniently, Lothian Buses offer an all-day ticket (
DAYticket
) for £4 (children £2) that covers all transport (except sightseeing, airport express and night services). Families with 2 adults and up to 3 children can purchase the
Family DAYticket
for £7.50. The all-day tickets are a great way to see the city without the expense of the tour buses, as you can get on all Lothian buses and Trams (except the airport stop) for the whole day. You can buy these from any bus driver, ticket machines at any Tram stop, from Lothian Buses offices or from Lothian Buses online store.
Buses run all night along the major routes, though Day tickets aren't valid after midnight. If you start travelling after 18:00 you can consider the
DAY&NIGHTticket
for £3.50 (no concessions) which allows you to travel on any day service and the night service until 04:30 the next day. From midnight till 04:30 you can buy a
NIGHTticket
which costs £3 (no concessions) and is valid on any night bus for the entire period even if you have to change bus.
Lothian Buses's
BusTracker
service provides "real time" bus service information. Electronic signs along major route showing the wait time for the next bus on each service at that stop. Online, it's possible to view the information for every bus stop in the city, not just those stops with electronic signs. Every stop has a unique eight-figure code, which are listed on the website and also displayed at the stop. You can access Bus Tracker via a mobile phone at mobile.mybustracker.co.uk. A free apps named "Edinbus" for iPhone and "My Bus Edinburgh" for Android provide similar information with route maps and a stop locator.
The information at bus stops and during the journey is scarce and can be confusing. So be well prepared and look up in advance where you want to go. At bus stops there are only general indications where the bus is going but no detailed lists of all stops. Also the naming of bus stops can be confusing, a stop in one direction can have different name to the opposite stop in the other direction. On most buses there are no announcements for bus stops which makes it hard to know when to get off.
First
buses mostly serve farther-flung areas to the east and west of the city.
Route Maps
Edinburgh Coach Lines
operate
service 13
, a bus of use to many visitors as it is the only route serving the National Gallery of Modern Art and the Dean Gallery. Single tickets cost £1.50 for adults and 70p for children (under 16). Lothian Buses season tickets and day tickets are not valid on service 13.
Lothian buses that operate
sightseeing buses
in several different brandings. All have a policy that a sightseeing ticket is valid for 24 hours, so you can get around central Edinburgh quite handily using the sightseeing buses. Each sightseeing bus follows a different route around the city, but they all start and finish at Waverley Bridge, adjacent to Waverley Station on Princes Street. Tickets valid on one of the offered city routes cost £14 for adults, £13 for students/seniors, £6 for children (5-15) and £33 for families (2 adults + 3 children). The
Grand24
ticket gives you access to all city tours for £20, £18, £7 and £46.
By tram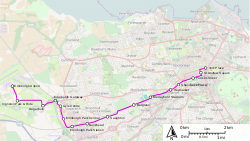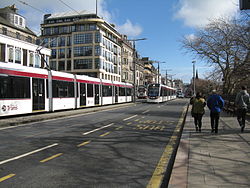 A
tram line
links St Andrew Square in city centre to Edinburgh Airport on the west. It passes through the New Town along Princes Street & Shandwick Place to Haymarket, then takes an off-road track through the western 'burbs. Thus it links the airport, rugby stadium, both main train stations, the bus station and Princes Street. It doesn't extend south (e.g. to Old Town) or north, where buses are the mainstay of public transport.
A single journey (excluding the airport) costs £1.60. Day tickets cost £4.00 and can also be used (or purchased) on Lothian Buses. A single to or from the airport costs £5.50. You need to buy a ticket before boarding the tram. The ticket machines at tram stops accept credit cards (minimum spend £3) and coins (5p to £2 coins, no change is given). Holders of the Scottish National Entitlement Card (free travel for locals over 60) can only travel free on the tram if their card was issued by Edinburgh Council. The
PLUSBUS
rail ticket add-on allows you to travel on the tram, however the airport stop is excluded.
When the tram line finally opened in 2014, it was to widespread local scorn, as it was massively over-budget and long-delayed, with protracted disruption of city streets. Gradually it has won people over, but it's limited to the single east-west route. It had always been intended to run further, to Leith and Newhaven, but this was cut when the budget ballooned. In Sept 2017 the city council agreed to build this further section (subject to a final decision in January 2019), with work being carried from 2019 to 2022. Cue for much pursing of lips and "lessons have been learned" and later disruption along Leith Walk.
By train
You're most unlikely to use the train to get around within the city. It's more relevant for "Getting in" - see that section above - or for trips out to the likes of North Berwick, Dunbar, and Tweedbank - see "Go Next".
By car
Central Edinburgh is a nightmare to drive in, particularly the Old Town with its tangle of medieval streets with their associated one way systems. The New Town fares slightly better, but the scourge "Blue Meanies" who mercilessly swoop on vehicles which may have only been illegally parked for a matter of minutes. It is best to take a bus and/or walk.
park and ride facilities
provide access to the city centre.
As many other cities in the UK, Edinburgh has a 20 mph (32 km/h) speed limit on many of the roads in the city centre.
Edinburgh operates a
Controlled Parking Zone
in the city centre. On-street parking is mostly for residents with a parking permit. However, some
Pay and Display
on-street parking bays are available for anyone. To find these bays, the Edinburgh Council provides an interactive and detailed
map for on-street parking bays
. It lists charges for different parking areas as well as days and times when the charges are required. Typically parking tickets are free of charge after 18:30 and before 08:30, and for the entire day on Sundays.
Parking fines are £40 and vehicles parked in an obstructive manner are liable to be towed away with a £150 release fee to be paid for its retrieval. Even the suburbs (especially Morningside, The Grange, The Meadows) have little parking available. Leith seems to fare a bit better for parking, but there's no guarantee.
Drivers should beware of trams and cyclists.
By taxi
Like most major British cities, Edinburgh offers a choice between
Black Cabs
, carrying up to 5 passengers, which can be hailed on the street, and
minicabs
, which must be pre-booked. Black cabs display an orange light above the windscreen to indicate that they are available to hire. It's usually quite easy to find a cab in and around the city centre, and on the main radial routes running out of the centre. There are also taxi ranks dotted around the city, where black cabs will line up to be hired. Taxi rank locations include:
Outside the main entrances of Haymarket and Waverley train stations.
Opposite the Caledonian Hotel and Sheraton Hotel (both near the West End), The George Hotel (east end of George Street) and the Crowne Plaza Hotel (High Street, Royal Mile).
St Patrick's Square, off South Bridge
Leith Bridge, close to The Shore and Commercial Quay, in Leith
The main taxi firms operating within the city are:
Central Radio Taxis

phone: +44 131 229-2468

Black Cabs.

City Cabs

phone: +44 131 228-1211

Black Cabs.

Edinburgh Taxi

phone: +44 131 610-1234

Minicabs, saloon cars, MPVs with 8 seats and chauffeur driven vehicles.

Festival Cars

phone: +44 131 552-1777

Minicabs - mostly saloon cars but also have people carriers with up to 8 seats. Let them know the number in your party when you book.
By bicycle
The
Edinburgh Innertube map
gives a good overview of off-street cycle paths in and around the city centre. Many paths are along canals or rivers, through parks and on former railway lines.
Edinburgh is well connected to the
National Cycle Network (NCN)
and there are many routes around Edinburgh (see also
OpenCycleMap
) with a variety of places accessible within a days cycling -
Glasgow
,
Stirling
,
Falkirk
,
Musselburgh
, and
Dunbar
- all of which have train stations for the return journey. The number 1 route which goes south from Edinburgh to
Melrose
in the borders and then east to
Berwick-upon-Tweed
(and then back on the train) can be done in one weekend with a variety of accommodation available for an overnight stay in the historic border town of Melrose.
Cycle hire
Edinburgh's official bicycle hire scheme is called
Just Eat Cycles
(named after its sponsor, a food ordering company; you're not supposed to eat the bicycles!) which started in September 2018. The number of bicycles and stations is limited for now and they're mostly in the city centre but more should be available by the end of 2018. Bicycles can be rented out from physical docking stations that lock the bikes to racks but also from so-called virtual docking stations which are designated areas without physical racks, where bikes can be secured by an internal lock. They can be returned to the same or a different docking station (physical or virtual).
You need an
Android
or
iPhone
app on a smartphone and a credit card to pay for a subscription. Three subscription durations are available:
£1.50 single trip for up to 1 hour
£3 daily subscription for unlimited trips for up to 1 hour within a 24 hour period
£90 yearly subscription for unlimited trips for up to 1 hour within 1 year
If your trip lasts more than 1 hour, you can extend your trip for £1 per 30 mins. Of course if you're still in the area and you've got a daily or yearly subscription, it's cheaper to return your bike after an hour and rent a new one for free.
Note that the single and daily subscriptions are cheaper than single trip bus tickets and daily bus tickets respectively.
To start, download the app, buy a subscription with a credit card, verify your phone number and look at the map in the app to see bicycles available nearby (the map is also available on their website). When you reach the bicycle, hire it in the app, it will tell you which bicycle to use, then press the button on the handle bars to unlock it (and unlock the internal lock in a virtual docking station).
Apart from the cycle hire scheme, you can rent bikes from the following places:
See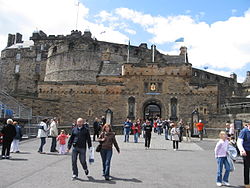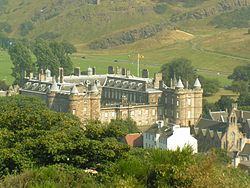 The major tourist sites in
Old Town
include
Edinburgh Castle
at the West end of
Royal Mile
, a long straight street with lots of (tourist) shops, and the
Scottish Parliament
and the
Palace of Holyroodhouse
at the East end close to
Arthur's Seat
. While walking along the Royal Mile, you can wander off into one of the many
closes
, which are narrow passages between houses that connect the higher and lower levels of Edinburgh Old Town.
From
Calton Hill
in
New Town
you have a great view over the city. You can spend some time walking along
Princes Street
, the major shopping street, stopping by the
Scott Monument
or at the free
National Gallery of Scotland
in the Princes Street Gardens.
If you want to spend some time indoors, there are many museums and galleries which are generally free, except for special exhibitions. Most museums are in the
Old Town
including the large
National Museum of Scotland
, the
Museum of Childhood
and the
People's Story Museum
.
The national art galleries are the
National Gallery of Scotland
and
The Scottish National Portrait Gallery
in the
New Town
, and
Scottish National Gallery of Modern Art
in
West Edinburgh
. Also of note are the
City Art Centre
, the
Fruitmarket Gallery
and
Stills
in the
Old Town
.
Furthermore, there are a number of independent galleries in the
St Stephen Street
Stockbridge
and
Dundas Street
area of
New Town
.
If you are staying in Scotland a little while, it might be worth getting a
Historic Scotland Membership
. Passes last for a year, and cost £49.50 for adults and £39.50 for concessions (including full-time students). They provide unlimited access to about 70 paying sites in Scotland, including Edinburgh's Castle and Craigmillar Castle. You also get a lot of discounts for their shops, a quarterly magazine, and 50% off all English, Welsh and Manx historical sites.
Edinburgh Doors Open Day
is an annual event, co-ordinated by the Cockburn Association, where many important and/or historic buildings across the city open up their doors to the public at no charge. Many of the buildings are not normally accessible so this can present a unique opportunity to see some of the city's lesser-known architectural marvels. It usually takes place on the
last weekend in September
. Brochures with details of the participating sites, opening times, access details etc., can be picked up from city libraries in the run up to the day, or downloaded from the website.
Do
Performing arts
Edinburgh has an excellent
concert
and
theatre
life. The
Usher Hall
(Lothian Road,
Old Town
) has weekly orchestral concerts all year round with the
Royal Scottish National Orchestra
. The
Queen's Hall
(South Clerk Street,
South
) is home to the
Scottish Chamber Orchestra
.
The Lyceum
(Lothian Road,
Old Town
) offers theatre performances. The
Festival Theatre
(Nicolson Street,
Old Town
) frequently hosts
opera
and
ballet
. Europe's largest theatre, the 3000-seat
Edinburgh Playhouse
(top of Leith Walk,
New Town
) hosts major West End shows. For a cheaper option, the excellent
Bedlam Theatre
(
Old Town
) regularly puts on good student theatre and is the home to Scotland's oldest improvised comedy troupe, The Improverts.
Experience traditional
Folk Music
at one of the pubs in the
Old Town
or
Leith
which host regular sessions.
Outdoor activities
Walk along the Water of Leith, a small river that meanders through Edinburgh, providing a peaceful haven from the busy city. Check out the Leith or Stockbridge and Canonmills sections of the route.
Climbing Arthur's Seat, the extinct volcano, is a popular activity as well and rewards you with great views over the city (Old Town).
If you have more time, then you should go hiking in the Pentland Hills for a (half) day trip (South).
Festival season
Edinburgh in the summer becomes "festival city" when a huge number of major national and international arts festivals are hosted by the city. Most of these occur virtually simultaneously in August (or end of July). These cater for a wide variety of interests and include:
One important thing to decide when planning a trip to Edinburgh is whether you wish to go at festival time, which runs from early August through to mid-September. Hotel rooms in and around the city are noticeably much more expensive then, and you will need to book well (
at least
six months!) in advance.
Christmas and Hogmanay
Edinburgh in the winter festive season is also huge with various concerts and other activities taking place starting a couple of weeks before Christmas and running up to a week into January. Princes Street Gardens play host to a
Big Wheel
,
outdoor ice rink
and various
festive markets
. As in most of the rest of Scotland,
Hogmanay
, the New Year celebrations, are the main focus of the festive season rather than Christmas. One night before on December 30, a
torchlight procession
takes place with Calton Hill as final destination where fireworks will be on display. On the night itself whole sections of central Edinburgh are roped off and accessible only by ticket for the
Hogmanay street party
, which takes place across several stages and is easily the largest in Scotland. Hogmany and Edinburgh fit together like hand and glove. On day one of the new year, you can watch or if you are brave enough take part in the
Loony Dook
in
South Queensferry
(people taking a dip in the ice-cold River Forth).
Other annual events
Edinburgh International Science FestivalTakes place annually in March or April. Emphasis on "hands-on" science.

Fire Festival marking the beginning of summer (evening of April 30). The festival has its origins in the pre-Christian Celtic festival of the same name, which was held to herald the coming of spring and to celebrate the fertility of the countryside. Drums, dancing, semi-nudity, pagan ritual, home-brew and lots of fire and fireworks. Crowds of around 12,000 enjoy the ceremony and spectacle every year. For the full traditional experience stay awake until dawn and head across to Arthurs Seat to wash your face in the dew.

Hidden DoorAnnual non-profit art, music, theatre, etc. event taking place in unused spaces in the city that change from year to year. End of May/beginning of June.

address: Edinburgh College of Art,

Old Town

Around the end of May the Edinburgh College of Art opens its doors and exhibits the works on art, design and architecture of their students. A similar event, the Masters Degree Show, takes place in August as part of the Edinburgh Art Festival. See the ECA event calendar for details.

Imaginate FestivalEvery May/June, an international festival of children's theatre.

Meadows FestivalA free festival in the Meadows (South) on a weekend in early June with lots of food stalls, second-hand merchandise and live music.

The Royal Highland Show is a Highland Games & Gathering, Agricultural Show and much else, held at Ingliston (west, towards the airport) over a weekend in mid-June. The next event is Sat 22 - Sun 23 June 2019.

Edinburgh International Film FestivalNow moved to June from its former slot in August, so that it no longer clashes with all the others! Centred around the Filmhouse Cinema on Lothian Road, though other cinemas take part too.

Fire Festival marking the beginning of winter (evening of October 31). Procession and enacted fight between the King of Summer and Prince of Winter with great accompanying percussion.

Guy Fawkes NightEvening of November 5. With ticketed fireworks (£6.50) in the Meadowbank Sports Centre (East). Can be seen (for free) from several locations in the city.

St Andrew's DayCelebrate St Andrew's Day, Scotland's national day on November 30. There are many free events on the nearest weekend in Edinburgh. Historic Scotland opens many of its sites for free (free tickets are required and can be booked online).
Cinema
Go to the cinema. Edinburgh has a number of cinemas covering mainstream, foreign language and arthouse films. Most interesting are the
Filmhouse
and
Cameo
(
Old Town
) and the
Dominion
(
South
).
Sport
Watch Rugby Union. The top matches are the internationals, played at Murrayfield Stadium west of the centre. Highlight of these are the 6 Nations games played Jan-March each year between Scotland, Wales, Ireland, France, Italy and England. They only play each other once each year, so in even-numbered years England and France visit Murrayfield, while in odd-numbered years Wales, Ireland and Italy are the visitors. City and stadium are packed when these games are in town, so be sure to book accommodation and / or match tickets well in advance.
Week in week out during winter there are club rugby matches, where you'll often see the international famous names in action. The city's professional club
Edinburgh Rugby
play in the Pro-14, the Celtic super-league of mostly Irish and Welsh clubs; their home ground is Murrayfield. Top tier of Scottish competition is the Premiership, and Edinburgh teams in this are Boroughmuir (Meggetland, Colinton), Currie (Malleny Park, Balerno), Heriot's (Goldenacre), Watsonians (Myreside Road, Merchiston) and (hanging on by their fingertips) Edinburgh Accies (Raeburn Place). Tickets will be no problem, just rock up at the stadium.
Watch football ie soccer. Edinburgh has three teams. Two play in the Scottish Premiership, the top tier of Scottish football, so they play each other at least twice a year in a local "derby". These are Heart of Midlothian ("Hearts"), who play at Tynecastle Park near Murrayfield west of the centre, and Hibernian ("Hibs") who play at Easter Road Stadium in Leith. The third team, Edinburgh City, play in Scottish League Two, the fourth tier. They play at Ainslie Park in Pilton, 3 miles north of city centre.
Catch an American Football match at the Edinburgh Wolves's home venue of Meadowbank Stadium (East).
Swim in the Royal Commonwealth Pool, used for the Commonwealth Games in 1970, 1986 and for the diving in the 2014 Glasgow games.
Horse racing: this is held at Musselburgh five miles east of the city. There's flat-racing in summer & jumps in winter.
Learn
Edinburgh is host to a number of higher and further education organisations including 4 Universities. Some offer summer schools of a week or more on topics such as creative writing or printmaking.
Universities
Colleges
Edinburgh College of ArtECA is part of the University of Edinburgh and offers education in the areas of art, design, (landscape) architecture and history of art and music.

Edinburgh CollegeOffers courses for UK and international students throughout the year and also runs an English Language summer school accredited by the British Council.
Private language schools
Edinburgh is a popular destination for language students, looking to learn English, or build on their existing English language skills. Most schools offer a "homestay" option where accommodation is with a local family, which can be a great introduction to Scottish life. Language schools in the city include:
Other resources
phone: +44 131 535-1334

address: 2 Princes St

Find your Scottish ancestors in the archives. Also worth visiting for the architecture.
Buy
Princes Street (New Town), north of the castle, is the main shopping street in Edinburgh. It runs through the middle of the city from the train station to Lothian Road. It contains large chain stores such as HMV for music, Topshop and H&M for clothes, tourist oriented shops, and department stores.
There are many more upmarket shops, restaurants and bars on George Street (New Town), which runs parallel to Princes Street.
Cockburn Street (pronounced "co-burn") in the (Old Town) has many small alternative shops selling music, novelty toys, underground clothing, body piercings and spiritual items.
The Royal Mile (Old Town), especially the higher end near the castle, has many tourist-oriented shops selling Scottish souvenirs from postcards to whisky and kilts.
Victoria Street (Old Town) is a nice street which is well worth a visit. You can find colourful buildings and interesting boutiques which are worth having a look at.
Victoria Street also leads onto the Grassmarket (Old Town), a street which gives stunning views of the castle, which dominates right over it, and is also full of interesting and nice shops, as well as several pubs and restaurants. The Grassmarket is definitely well worth visiting.
Multrees Walk (also known as The Walk), for high-end labels such as Vidal Sasoon, Armani, Vuitton, Harvey Nichols or Calvin Klein (New Town).
Other malls include Princes Mall or St James Mall which are both just off Princes Street, and Ocean Terminal in Leith.
Take home a bottle of Scotland's finest export, a single malt whisky.
There are many charity shops that sell second-hand products. On Nicolson Street (Old Town) you can find quite a few.
Eat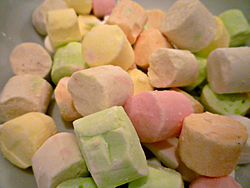 Edinburgh is a great city for the food lover. There is a
vast selection
of eateries scattered throughout every part of the city, catering for all tastes, prices and styles - from fast-food to Michelin-starred grandeur. Just be careful around the castle and in the Grassmarket area, where many restaurants are tourist traps.
Rose St
, running parallel to Princes St is a pedestrian precinct that has a huge number of pubs offering a variety of pub fare food. As well as the centre of Edinburgh, it is also worth checking out
Leith
and the
West End
when looking for a place to eat.
There are quite a few restaurants that have a
BYOB
policy which means you can bring your own wine or beer for consumption during your meal. Some charge a corkage fee per bottle. Be sure to check and ask before you start drinking.
The Scots are well known for having a penchant for
fried food
which has resulted in such gastronomic delights as deep fried pizza, deep fried hamburgers, deep fried Black Pudding (a type of blood sausage), deep fried haggis and deep fried Mars bars, which are not just a myth. If you're up to it, be sure to drop by a
chippy
(fish and chip shop) and experience these Scottish delights. Edinburgh chippys are unique in the UK for offering
salt'n'sauce
as standard in place of the
salt'n'vinegar
usually provided elsewhere in the country. The sauce is a kind of runny, vinegary version of
HP
or
Daddys
style brown sauce. Most chippys will provide vinegar on request if you prefer, but you really should try salt'n'sauce at least once!
Edinburgh Rock
is a soft confectionery, made from sugar and cream of tartar with various flavourings and colours, including peppermint and ginger. It can often be seen in tourist shops in tartan boxes.
Drink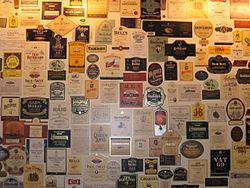 For a non-alcoholic beverage give Scotland's second national drink a try
Irn-Bru
. It's a great cure for hangover.
As for Scotland's first drink, you will find
The Scotch Whisky Experience
at the top of the Royal Mile, which offers an interactive "tour" of the history and practice of whisky distilling. For a less touristic experience simply enjoy your
whisky
in one of the many pubs. The closest single malt whisky distillery to Edinburgh is the Glenkinchie Distillery out in the country towards
Haddington
. The North British Distillery in Edinburgh (near Murrayfield) produces grain whisky which is all used in blending and the distillery is not open for visits.
There are a few
gin
distilleries opened in and around Edinburgh producing
Pickering's Gin
,
Edinburgh Gin
or
NB Gin
(from
North Berwick
).
The two major local
beer breweries
are the
Caledonian Brewery
and
Stewart Brewing
. Smaller local breweries are the
Eden.Mill
in
St Andrews
and
Barney's Beer
.
There are lots of (traditional)
pubs
all around the city and many of them offer - next to all the standard choices - a changing selection of guest ales. The bartenders can usually give you detailed taste information about each
guest ale
and are often willing to let you try a small sample. Most pubs also have a great selection of
whiskies
. Try to avoid obvious tourist trap pubs around the
Grassmarket
,
Old Town
and the
Royal Mile
. Some of them tend to be very popular with visiting stag and hen parties.
Lots of
modern clubs
are around
Cowgate
and
Lothian Road
including
Base
,
Gig
and
Diva
.
George Street
in the
New Town
hosts many of Edinburgh's trendier bars.
George IV Bridge
in the
Old Town
is another trendy style bar area. Other night clubs around the city include
Espionage
,
Opal Lounge
,
Shanghai
,
Bacaro
,
The Hive
, and
Why Not
.
There are establishments to suit all tastes scattered throughout every pocket of the city. Be careful, some of the more
local
pubs can be a little rough around the edges, especially in Leith.
Sleep
Edinburgh has been established as a tourist destination for centuries, and so there is a huge choice of accommodation available for travellers. If you're planning a visit during festival time (Aug), around Christmas and New Year, or on the weekend of a Scotland home game in the
6-nations Rugby
(Mar/Apr, 2 or 3 matches per year), then you will find that all types of accommodation get booked up well in advance, and a premium may be applied to the room-rate. It's not impossible to get somewhere to stay at short notice at these times, but you won't be able to be fussy and it will probably be expensive. The average cost of hotel accommodation in Edinburgh is higher than anywhere else in Scotland.
For those on a budget, there are cheap youth hostels available with prices from £10 and above. The private/independent hostels centre around the Cowgate area, the lower Royal Mile and its side streets. The hostels of the HI affiliated
Scottish Youth Hostel Association
can be booked on-line and are an especially good deal during summer, when the SYHA rents student accommodation as summer hostels: Single rooms in the city centre for a very modest price.
There are guest houses and small hotels dotted around almost every part of the city, however there are high concentrations in 2 areas, namely around Newington Road and Minto Street on the
South
side, and on Pilrig Street and Newhaven Road in
Leith
. Both areas are within a brisk 15-20 minute walk of the city centre and both have excellent round-the-clock bus services. If arriving in town without having booked accommodation, it may be worth heading for one or other of these areas and looking out for the "Vacancies" signs, though probably not during the festival or around Hogmanay.
Some of the guest houses and even hotels can be booked for as little as the hostels at certain times of year, while more upmarket accommodation ranges from boutique B&Bs, with just a few rooms, lovingly run by a family, to world-renowned large 5-star hotels.
Another good alternative for accommodation is self-catering holiday apartments. Edinburgh has a wide offer of short term holiday apartments steps away from its main tourist attractions. It is a great opportunity to experience the city as a local. Apartments can be booked on-line. For summer months, especially August, it is highly recommended to book well in advance as most tourists tend to make their bookings in February for this period.
Due to the excellent and frequent rail links between the two cities, savvy travellers can cut the costs by basing themselves in
Glasgow
, where deals in mainstream chain hotels are easier to come by - and you get the advantage of being able to "do" both cities - bear in mind of course when your last train leaves!
Connect
Internet
Multiple internet cafés and hotspot venues exist throughout Edinburgh (see
district
articles for details).
Free Wi-Fi is available in many places across the city such as coffee shops, department stores, larger high street shops and supermarkets.
Many of the municipal libraries throughout the city have PCs with free internet access and free Wi-Fi.
ScotRail offers free Wi-Fi on some trains and train stations including Edinburgh Park, Haymarket, and Waverley Station.
There is also free Wi-Fi on all Edinburgh trams and some Lothian Buses.
The Airlink bus between the airport and the city centre provides free Wi-Fi as well.
On some of the Stagecoach express buses, there is free Wi-Fi, too.
Area code
The dialling code for the whole of the Edinburgh area is 0131. To call from overseas, dial +44 131 XXX XXXX.
Mobile networks
The main mobile networks are EE, Vodafone, Three and O2. However there are a host of MVNOs that use the infrastructure of these networks, these often offer plans tailored towards expat communities and tourists who wish to call abroad, the main players are LycaMobile, Lebara and Giffgaff. Most of these SIM cards can be picked up in local shops and supermarkets.
Stay safe
In general Edinburgh can be considered a
safe
destination for visitors, but like all other major cities, it pays to remain attentive and use some common sense.
Try not to get too drunk: if you have had too much, it might be wise to get a taxi home. There are taxi ranks all around the City Centre.
Night buses (which depart from Waverley Bridge next to the train station) are affordable and safe alternatives to taxis, but stay on the lower deck. Night buses cost £3.50 for unlimited travel on a single night, so for groups of three or more travelling moderate distances, taxis can be more cost effective for single journeys.
Like most other cities, there are some rundown areas. For its size, Edinburgh does not have many, but there are still some suburbs that are better avoided by anyone who is unfamiliar with the area such as the following: Niddrie and Craigmillar in the southeast of the city, Sighthill and Wester Hailes in the west, and Muirhouse and Pilton in the north.
Police Scotland
In an
emergency
call 999.
For a list of police stations check the
official webpage
. In order to contact a local police station call 101.
address: 14 St Leonards Street
Stay healthy
In
emergency
, dial 999 (preferably from a landline, a free call from any phone including payphones), 112 also works.
For advice on
non-emergency
medical problems, you can ring the free 24-hour
NHS 24
service on 111 or for textphone users 18001 111 (the old number 0845 424 2424 is being phased out).
Hospitals and clinics
phone: +44 131 536-1000

address: 51 Little France Crescent, Old Dalkeith Road

The R.I.E. hosts the main Accident and Emergency (A&E) facility for the city.

phone: +44 131 537-1330

address: Crewe Road South

No appointment is necessary. Last patient admission 30 min before closing time.
Pharmacy
During normal shopping hours (M-F 09:00-17:30, Sa 09:00-12:30), you won't have any problem locating a pharmacy as they are dotted all around the city. Any row of local shops will usually include one. Common brands include
Boots
(city centre branches in the
New Town
at 11 Princes St, 101-103 Princes St and 48 Shandwick Pl; in the
Old Town
at 40-44 North Bridge),
Alliance
and
Numark
.
Outside of these hours you will face more of a challenge. There are no 24 h pharmacies in the city. In the city centre the best option is probably the Boots branch at 48 Shandwick Pl (western extension of Princes Street), M-F 07:30-20:00, Sa 08:00-18:00, Su 10:30–16:30.
Some of the major supermarkets include a pharmacy counter, but the pharmacy does not necessarily follow the same opening hours as the supermarket. The pharmacy counter within the
Tesco
supermarket at 7 Broughton Road in
Canonmills
is quite close to the city centre and opens M-Sa 08:00-20:00 and Su 10:00-17:00.
To find a pharmacy that is open on a Sunday or has late opening times call
NHS inform
on 0800 22 44 88 (between 08:00-22:00 daily) or check
online with NHS24
.
Cope
Babysitting
phone: +44 131 225-1744 or +44 7748 964144

address: 6 Glencairn Crescent, EH12 5BS

Round-the-clock baby-sitting is available short- or long-term at an hourly rate (3 hour minimum) and travel expenses home. Multilingual sitters are also available.
Consulates and Deputy High Commissions
Many countries run
consulates in Edinburgh
(Commonwealth countries call these Deputy High Commissions). Some of them cluster between Haymarket and the West End of Princes Street (e.g. Melville St/Cres, Rutland Sq and Lothian Rd). The services offered in Edinburgh vary greatly and it would be best to phone the consulate (or embassy in London) before visiting. There are also a few consulates in
Glasgow
.
Australia

address: 93 George St

Austria

phone: +44 131 558-1955

address: 9 Howard Place

Bangladesh

phone: +44 789 491-0099

address: 312 Lanark Road

Belgium

phone: +44 196 867-9969

address: 2 West St., Penicuik

Canada

address: Brunsfield

China

address: 55 Corstorphine Rd

Czech Republic

phone: +44 131 447-9509

address: 12A Rislaw Cres

Denmark

address: 48 Melville St

Finland

phone: +44 131 245-6811

address: 5 Royal Terrace

France

address: West Parliament Square EDINBURGH EH1 1RF

phone: +44 131 337-2323

address: 16 Eglinton Cres

Greece

address: 12 Queens Cres

Hungary

phone: +44 131 202-5110

address: 48 Melville St

Iceland

phone: +44 131 220-5775

address: 2 Douglas Gardens

phone: +44 131 229-2144

address: 17 Rutland Sq

Ireland

address: 16 Randolph Cres

Italy

phone: +44 131 226-3631

address: 32 Melville St

Japan

phone: +44 131 225-4777

address: 2 Melville Cres

Jordan

phone: +44 131 466-9338

address: 11A Windsor St

Luxembourg

phone: +44 131 270-3004

address: Edinburgh Quay, 133 Fountainbridge

Malta

phone: +44 131 443-2533

address: 1 Craiglockhart Cres

Monaco

address: 3 Glenfinlas St

Netherlands

phone: +44 131 510-0323

address: 38 Melville Street

New Zealand

address: 5 Rutland Sq

Norway

phone: +44 131 228-2444

address: 12 Rutland Square

Philippines

phone: +44 131 453-3222

address: 1 Bankhead Medway

Poland

address: 2 Kinnear Rd

Russia

phone: +44 131 225-7098

address: 58 Melville St

Rwanda

phone: +44 131 554-4919

address: 11 Rosslyn Cres

Slovenia

phone: +44 131 337-5167

address: 3 Coltbridge Terrace

phone: +44 131 220-1843

address: 63 N Castle St

Sweden

address: 22 Hanover St

Switzerland

phone: +44 131 225-9313

address: 58/2 Manor Place

phone: +44 131 220-6886

address: Taipei Representative Office in the UK, Edinburgh Office, 1 Melville St

Turkey

phone: +44 131 240-1267

address: Forsyth House, 93 George St

Ukraine

address: 8 Windsor St

phone: +44 131 556-8315

address: 3 Regent Terrace
Laundry
Bendix Self-Service Launderette

address: 342-346 Leith Wk

City Laundry & Ironing Service

address: 32 Dalry Rd

address: 59 Raeburn Pl, Stockbridge
Clothing repairs
Oscars

address: 371 Leith Walk

Repairs, Zip replacements, hems shortened etc.

Huttons Shoe Repairs

address: 11 Elgin Ter

Traditional cobblers established since 1923. The present proprietor is the 3rd generation of his family to run the business.
Cash machines
Almost all cash machines in Edinburgh will dispense Scottish bank notes (for more info see
Currency (Scotland)
), but there are a few listed here that usually have Bank of England notes, which may be convenient if you are leaving Scotland:
HSBC

address: 118 Princes St

address: 8 George St

Barclays

address: 10-15 Princes Street

(this one has been known to stock Scottish notes on occasion)
Go next
Edinburgh is so well-connected that just about anywhere in Scotland (and beyond) is a reasonable go-next.
Within an easy day-trip find:
South Queensferry — just beyond the north-western fringe of the city, site of the contrasting engineering marvels that are the Forth Bridges (two road and one rail). Quite a few hotels here and with good transport links to the city centre it can be a good base for visitors.
East Lothian — immediately to the east of the city, offers rolling green countryside, golden sandy beaches, dozens of golf courses, and more annual sunshine hours than any other part of the UK. The area has a number of picturesque villages and small towns.
North Berwick — Seafood, thousands of birds on the Bass Rock and the 14th century Tantallon Castle.
Gullane — Excellent beach, backed by sand-hills, and a great golf course
Musselburgh — For ice cream and horse racing
Dunbar — Pleasant harbour town famous as the birthplace of conservationist John Muir

phone: +44 300 123 6789

address: East Fortune Airfield, East Lothian

It is home to a number of historic aircraft from across the history of flight, including British Airways Concorde G-BOAA. Remember to book in advance to see inside Concorde as these tickets are generally sold out on the day. Another rather good attraction (and well worth the look) is the De-Havilland Comet 4C, a modified version of the Worlds first jetliner.

phone: +44 1875 342012

address: Pencaitland, Tranent, East Lothian, EH34 5ET

The Glenkinchie whisky is a Lowland whisky and is promoted as one of the six Classic Malts. About 80% of the produced whisky is used for blending. The distillery is the closest Single Malt distillery to Edinburgh, about 25km southeast.
Linlithgow — A great little town for a day trip from Edinburgh with its Palace, and links to Mary, Queen of Scots. It is a short drive by car on the M9. There is also a frequent service by train from Waverley station (also stopping at Haymarket).
Livingston — One of Scotland's New Towns, it is one of Scotland's most popular shopping spots, only a short drive from Edinburgh on the M8 or A70. Plus there are also bus and rail services to the new town.
Still within a day-trip, but worth a longer stay, are:
Glasgow — Scotland's largest city is 46 miles west of Edinburgh and is easily reached via train (see above), bus (running from the main bus terminal) or via the M8 motorway. Great for shopping and has some excellent museums and galleries.
Fife — A predominantly rural county, with some lovely old towns and villages dotted throughout. This is the coast which can be seen across the Firth of Forth from any high point in the city. It's easy to get to via the twin road and rail bridges across the Forth. The A90 road bridge opened in Sept 2017, and road approaches were altered, which may not show on older maps.
Further afield
(but a madman could day-trip):