Edmonton
Edmonton
is the capital city of
Alberta
, a province of
Canada
. Its
metro area
is home to 1.1 million people and is the northernmost city of at least one million people in North America, the fifth-largest city in Canada and the largest Canadian city farther than 200 km (125 miles) from the US border. Edmonton is famous for its beautiful river valley park system, the North Saskatchewan River Valley, which offers over 100 km of recreational trails, wildlife viewing, and city views. The river valley also contains many parks, including Fort Edmonton Park, Canada's largest historical park. If the great outdoors is not what you seek, the city also offers West Edmonton Mall, the largest shopping mall in North America. On top of that, Edmonton has a vibrant theater community, a busy cycle of annual festivals, national sports teams active year-round, and wonderful winter recreational opportunities.
Districts
In addition, Greater Edmonton also features several large communities outside Edmonton's city limits:
St. Albert on the northwest, a community with deep French-Canadian roots and a popular city farmers market.
Sherwood Park on the southeast is a suburban area that despite having a population approaching 90,000 still retains its status as a hamlet, making it the largest such community in Canada.
Fort Saskatchewan on the northeast.
Leduc and Beaumont are bedroom communities a few kilometers south of Edmonton. Leduc, a city in its own right, is located next to the Edmonton International Airport.
Spruce Grove and Stony Plain are bedroom communities just west of Edmonton, accessible via the Yellowhead Highway.
CFB Edmonton. Also known as the "Superbase", this is one of Canada's largest military reservations; it is located immediately north of Edmonton off Highway 28 (97 Street).
Understand
History
The area around Edmonton, which sits in the geographic centre of the province, was home to native populations for thousands of years before the arrival of European settlers. In 1795, Edmonton House was constructed and work on Fort Edmonton began. The original site was near Fort Saskatchewan, but was relocated near the present day Legislature in 1830.
The town developed around the fur trade, and in the early days there was little to distinguish it from other such settlements in the area. The first hotel and hospital were built in the 1870s. The latter part of the century saw an influx of wealthy families, and in 1892 the Town of Edmonton was officially founded.
Early developments were centered around the Quarters area. In 1905, Edmonton was declared the capital of the province of
Alberta
, and a year later was designated a city. The 1907-1914 period saw the city experience an unprecedented boom, with the population rising from around 6,000 to 78,000. During this period, the University of Alberta was founded
In 1947 oil was discovered just outside of Edmonton in Leduc county, which spurred a second period of growth, leading to urban sprawl and the development of US-style malls. The Royal Alberta Museum opened in 1967.
The utilitarian office buildings and condos that dominate the downtown landscape today were mostly constructed in the 1970s.
Today, Edmonton is the hub for energy development & petrochemicals for Alberta. As well, it has become a centre of excellence in research through the University of Alberta and the high technology industries located in the region like the National Institute for Nanotechnology.
Climate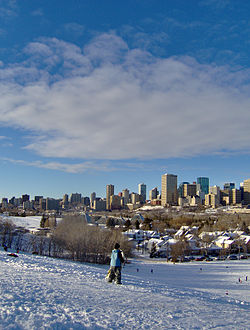 If you want to spend time outdoors, the summer months offer the most opportunities for recreation and entertainment. In the summer, Edmonton offers great outdoor festivals, street entertainment, open-air concerts, and many other world-class entertainment opportunities. Winter is equally exciting, with snow sports for the outdoorsy, extensive indoors shopping in the many malls, and live sports, theater, and music throughout the city.
Edmonton's climate is "northern continental", with a wide range of weather over all four distinct seasons. Edmonton receives 2,300 hours of sunshine per year, making it one of Canada's sunniest cities. Rainfall is low to moderate, and entire weeks can pass without clouds or precipitation through the late spring and summer.
Bright green foliage appears in May, signaling spring. Even as the city shakes off its winter chill, cold snaps and the occasional snowfall can still occur. The region's golf courses are generally open by this time.
Summer days generally bring temperatures up to 21-25°C (70-77°F) in June, July, and August, though temperatures will often rise over 30°C (85°F) for a few days. Thunderstorms sweep in from time to time during the summer months, usually in the evening. Humidity is relatively low, so warm days are more comfortable than they are in humid climates. At the height of summer, Edmonton enjoys more than 17 hours of daylight, with twilight extending past 11PM in June and July.
Fall starts in mid September, bringing bright yellow and orange foliage to Edmonton's treed neighborhoods and river valley parks. This season ushers in cooler temperatures ranging between 10-20°C during the day.
Winters are long, but not as harsh as those further east on the Canadian Prairies. Periods of mild temperatures with daytime highs over 10°C (50°F) can occur. Such mild weather makes outdoor winter sports extremely popular with the locals. Stop by a local outdoor ice rink to catch the fever of children and adults alike taking part in community hockey. Colder days in Edmonton are kept reasonably comfortable by the low humidity index, but it's wise to have some lip balm and hand cream with you, as the skin and lips can get cracked and chapped quickly in this dry environment.
Winter walking and driving are not often affected. Cold snaps with temperatures down to and beyond -30°C (-22F) can occur during the winter, although it's unusual for these frigid spells to last more than 1 or 2 days. Extremely cold temperatures are usually accompanied by the crisp blue skies and bright sunshine of a prairie high-pressure zone. Even regular winter temperatures can feel very cold if there is a noticeable wind: if you are visiting between December and March, be prepared.
Tourist centres
Downtown Business Association of Edmonton

address: 10121 Jasper Avenue

Every year, the Downtown Business Association publishes Guide to Downtown - a free, pocket-sized resource for everything happening downtown all year round. Download it online, email for a copy, or pick it up in person at the DBA office or either of Edmonton Tourism's two visitor information centres.

Edmonton Tourism - Downtown Visitor Information Centre

address: World Trade Centre, 9990 Jasper Ave

Located on the main floor of the historic World Trade Centre building.

Edmonton Tourism - Gateway Park Visitor Information Centre

address: 2404 Gateway Blvd

Excellent for recreational vehicle (RV) owners and visitors coming in to Edmonton from the south. Not convenient for unless driving.
Get in
By plane
Most major Canadian airlines service Edmonton. General travel times to Edmonton are 45 minutes from
Calgary
, 1 1/2 hours from
Vancouver
, 4 hours from
Toronto
, and 4 1/2 hours from
Montreal
. Edmonton's main airport is western Canada's hub to the Northwest Territories.
Edmonton international AirportEdmonton International Airport is the fastest growing large airport in Canada-with new parkades, services, terminals, planes, hotels, and shops popping up. It has two terminals, with a central hall that is the security point for all domestic and international traffic (excluding travel to the US, which uses the South Terminal). Edmonton Transit System's Route 747 connects the airport to Century Park LRT and bus station, every hour during the day (first bus at 4:10AM, last bus at midnight) with half-hour service at peak times. Fares are $5 one-way, no change is given on the bus and tickets are not sold. Transfer to the rest of the Edmonton Transit System (see below) requires further payment. Skyshuttle travels between the airport and downtown at an affordable cost ($18 one way; $30 return (April, 2016) ). Taxi service is also available, but can be costly (around $55 to downtown or $48 from downtown as of 2017). Uber can take you to the airport but cannot pick up at the airport. The drive between Edmonton International airport and downtown takes about half an hour. Allow extra time during the morning and afternoon rush hours. Car rental companies are located in the parkade directly across for the terminal for easy pick-up and returns.
WestJet. Canada's main discount airline services most western cities out of Edmonton, as well as most major Canadian centers.
Air Canada. the national carrier uses Edmonton International as a gateway to the Canadian North.
Flair Airlines. A new Low-Cost Carrier with flights to Kelowna, Abbotsford, Vancouver, Winnipeg, Hamilton, and Toronto.
To Europe, Edmonton has bi-weekly service to
London
-Gatwick on WestJet and seasonal service to Iceland on Icelandair. To the United States, Edmonton has scheduled departures to
Chicago
,
Denver
,
Houston
,
Las Vegas
,
Los Angeles
,
Maui
,
Minneapolis
,
Orlando
,
Palm Springs
,
Phoenix
,
Seattle
, and
San Francisco
. To
Mexico
and the
Caribbean
, seasonal charter flights serve
Acapulco
,
Cancún
,
Cozumel
,
Holguin
,
Huatulco
,
La Romana
,
Liberia
,
Manzanillo
,
Mazatlan
,
Montego Bay
,
Puerto Plata
,
Puerto Vallarta
,
Punta Cana
,
Santa Barbara de Samana
,
San Jose del Cabo
, and
Varadero
.
There are also flights to more American cities via
Calgary
.
By car
Edmonton is the largest city on the Yellowhead branch (Highway 16) of the Trans-Canada Highway system. Edmonton is 3 hours north of
Calgary
on the divided Queen Elizabeth II Highway (Highway 2) and 3.5 hours east of
Jasper
on Highway 16.
Travelers unfamiliar with Canadian winter driving should be aware that winter storms can arise suddenly, slowing traffic or closing even major roads for (usually) a few hours. Road conditions are regularly announced on radio if poor weather threatens travel, so check before you leave and every couple of hours on any long drive near Edmonton.
The two words to watch out for in a winter weather report are "fair" and "poor". Fair winter driving conditions suggest snow tires, lots of windshield washer fluid, full winter outdoor clothes in case you have to leave the car, and preferably winter driving experience. Poor conditions are the code for "stay home". Fortunately, poor conditions rarely last more than one day on major highways, where road clearing takes place continuously. Travelers familiar with winter driving will find the major highways connected to Edmonton generally safe, but should stick to the biggest highway possible as the smaller ones are not as frequently traveled nor as quickly cleared.
From Vancouver, Edmonton is best accessed using Highway 1 (the Trans-Canada) east to Hope, then Highway 5 (the Coquihalla) from Hope to the Highway 16 eastbound junction. The average travel time in reasonable weather is 12 to 14 hours, but can be significantly longer if poor winter weather strikes. This is particularly likely on the major inclines between Hope and Kamloops in British Columbia, where poor road conditions can add a few hours to the total trip. Further along the Yellowhead Highway toward Edmonton, communities near the highway are sparse, so judge the driving conditions (and your fuel status) carefully as you proceed.
The QE II highway from Calgary northward to Edmonton is a very busy thoroughfare in all seasons, and a generally reliable road in winter. It's occasionally closed if winter storms create dangerous road conditions. Fortunately there are many communities near or on the highway where one can shelter if necessary.
Travelers from
Saskatoon
will find Edmonton about 5 hours away using the Yellowhead Highway, which is divided for the entire route between the two cities. Winter driving awareness is important here, as communities are spaced further apart than on the QE II and you have fewer opportunities to pull over for shelter if road conditions deteriorate.
By bus
Red Arrow Motorcoach runs a premium service between Edmonton and Calgary, Red Deer, and Fort McMurray, featuring spacious seating (only three seats to a row) and workstation seats with electrical connections for business travelers and their computers. Sister brand serves these destinations in standard motorcoaches for a lower fare.
Northern Express runs scheduled service from Edmonton to Cold Lake, High Prairie, Grande Prairie, Peace River and High Level.

Rider ExpressBus service from Regina and Saskatoon (Saskatchewan).
By train
Via Rail
provides
passenger train services to Edmonton
, and is linked to several major cities along the Canadian National Railway: west to
Vancouver
and east to
Saskatoon
,
Winnipeg
,
Toronto
, Montréal, and onwards. The Via train station is located at 12360 121 Street, a short distance from downtown near the northwest corner of City Centre Airport. The station has free wifi - ask a staff member for the passkey. Taxis are available and meet most trains on arrival; fare downtown should be about $15. Public transit does not serve the Via station, although local bus service connecting to downtown is available for determined public transit users by walking south to the end of 121 Street.
Via Rail prices are higher than train prices generally in Europe (or even short distances by Amtrak in the States). Their passenger trains travel east and west through Edmonton three times each way each week. Passengers experience leisurely travel through some of the most amazing scenery in the world. Though somewhat more expensive than bus travel, service on a VIA Rail train even in the lowest class is superior to any bus. You can get up and walk around the carriages, dine conveniently, and you will find plenty of legroom in the comfortable seats. However, long delays are common, with no guarantee of on-time arrival. One train in 2018 was 45 hours behind schedule.
Get around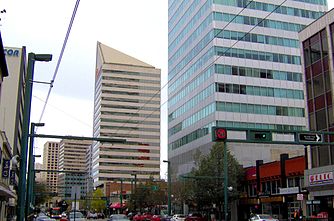 A large part of the city, built before and during the Second World War, is laid out in a grid pattern of straight streets, which makes for easy navigation by car or foot. There are a number of bridges, including the Walterdale Bridge and High Level Bridge, going in and out of the downtown core.
Edmonton's downtown is fairly eclectic, home to many Government of Alberta buildings and modern office towers, including the CN Tower near City Hall and the impressive, white marble-clad Bank of Montreal on 101 Street. Edmonton had some of the most architecturally significant buildings in the province, including the crimson-coloured Citadel Theatre and the church-like spires of Grant MacEwan University.
Edmonton streets are mostly numbered, although there are some named streets: usually major roadways and roads in the newer residential areas. Streets in Edmonton run north-south, while avenues run east-west. The downtown core of the city is centered near 101 St and Jasper Ave (which corresponds to 101 Ave), with streets increasing in number as you go west, and avenues increasing as you go north.
Addresses follow a regular system throughout Edmonton, with even-numbered address numbers are on the north side of avenues and west side of streets. The first two or three digits of a building or house number identify the street it lies just west of, or the avenue it lies north of. For example, 10219-101 Street would be located on the east side of 101 Street, just north of 102 Avenue.
Some addresses end in "NE" or "SW", indicating a different quadrant. If there is none, it is safe to assume it is "NW"almost all of the city's addresses are here. The NE quadrant of the city is mostly farmland, the SW is rapidly booming suburb and big-box stores, and there are no addresses in the SE quadrant. The grid starts are at Meridian Street (0 Street) on the east edge of the city and Quadrant Avenue (0 Avenue) near the south edge, but neither are major streets.
Some older neighbourhoods like Boyle Street have a diagonal grid pattern, with streets NW/SE and avenues SW/NE. During the 1950s and 1960s, roads became less grid-like, but they are still easily navigable (although less easy to follow than the earlier counterparts). Almost all new neighborhood developments such as Windermere in the southside and the Village at Greisbach in the northwest are designed with more curves, cul-de-sacs and named streets.
By car
Highways
Edmonton's main east-west highway south of the North Saskatchewan River is Whitemud Drive. It goes through the West and South areas of the city.
Anthony Henday Drive is a ring road in Metro Edmonton. Its final section was finished in 2016.
Edmonton's main highway north of the river is known as Yellowhead Trail (Alberta Highway 16). Travellers wishing to explore downtown Edmonton (and avoid the trendy, but tourist-clogged Old Strathcona on the southside) are strongly encouraged to take this route. Some of the city's most important sites, including Rexall Place (home of the Oilers) and Commonwealth Stadium, are quickly accessible from the Yellowhead.
Other major roads include Groat Road, Mark Messier/St. Albert Trail, the Sherwood Park Freeway, Stony Plain Road and Wayne Gretzky Drive.
By taxi
The most prominent cab companies are:
All Edmonton taxi companies offer 24/7 service. From the last weekend in November to New Year's Eve on weekends, Operation Red Nose offers cab rides for drivers who have been partying and prefer not to drive themselves (+1 780-421-4444).
By public transit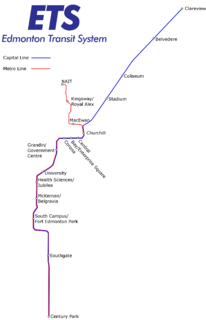 Edmonton has a safe, efficient and inexpensive public transportation system: the
Edmonton Transit System
. Hundreds of different bus routes cover the city, travelling nearly anywhere you need to go.
Service starts at 5AM, with Late Night Owl service on five major routes (including an LRT replacement bus) until 3AM. During peak hours, buses run as frequently as every 15 minutes. Outside of peak, the frequency drops to every 30 minutes and on some routes to industrial areas or far-flung suburbs as infrequent as one service per hour. There are a number of routes which stop running at 8PM-9PM or which only run only during peak hours (6AM-9AM and 3PM-6PM). Some bus routes do not run on Sundays. For more information or to plan your bus trip, you can call Transit Information at +1 780-442-5311 or check out the
Trip Planner
or
Google Maps
.
Edmonton's transit system is not unified with those of the nearby communities, so if you wish to visit the suburbs be prepared for more transfers and increased fares.
Edmonton was the first North American city with a population of under 1 million to have developed a
light rail system
. (Metro Edmonton population is now over 1 million.) It is a part of the Edmonton Transit System (ETS), which also manages the buses. The light rail system has two lines: the Capital Line and the Metro Line. The Capital Line runs from Century Park Station (formerly known as Heritage) via Health Sciences/Jubilee and Churchill Stations to Clareview Station in the northeast section of the city. The Metro Line shares the tracks of the Capital Line from Century Park Station to Churchill Station where it branches off to terminate at NAIT Station (Northern Alberta Institute of Technology. Nights and Sundays, the Metro Line's southern terminal becomes Health Sciences/Jubilee Station instead of Century Park Station. Both lines go past the University of Alberta main and South campuses.
The LRT operates between 5AM and 1AM daily. Trains run on a 5-minute frequency during rush hour, ten-minute frequency midday and Saturdays, and on a 15-minute frequency in the evening and on Sundays. When the Metro Line is running at full capacity, train frequency will double between Health Sciences/Jubilee station and Churchill station.
Fares are $3.50 with children under 6 riding free. Day passes can be bought for $9.75 regardless of age group. A pack of 10 tickets can be purchased for $26.25/adult or $23/concession and may be better than day passes if you plan only a few trips per day over multiple days. Single trip tickets are valid for 90 minutes and allow return and stopovers within that time limit. Day passes (also called family passes) allow one adult to accompany up to 4 children aged 12 or under at no charge for the children. Tickets can be purchased at the ETS online store, automated fare vending machines located at all LRT stations, or at the ETS Customer Information Centre located on the pedway level of Churchill Station.
By vintage streetcar
The
High Level Bridge Streetcar
is a seasonal tram service running from Victoria Day (second last Monday of May) through to Canadian Thanksgiving Day (second Monday of October) on a limited but regular schedule. From Victoria Day to Labour Day, the service runs daily. After Labour Day to Thanksgiving Day, the service runs only Saturdays, Sundays and Thanksgiving Day. Operated by the
Edmonton Radial Radial Society
, a railfan group, the vintage streetcar service has 5 stops between Jasper Plaza (
Edmonton/Central
) and Old Strathcona (
Edmonton/South Central
). It crosses the North Saskatchewan River via the High Level bridge offering magnificent views of the river valley and downtown. The line is a convenient way to travel between the area of the Alberta Legislative Building and Old Strathcona. Despite the absence of "rush-hour" service, non-tourists occasionally use the line because of its direct route. Warning: Tourist pamphlets for this service may contain an obsolete schedule; get the current schedule from the website. ETS tickets are not valid for this service. The round-trip fare is $6 (as of 2016) with stopovers permitted. The five stops are:
Jasper Plaza

address: 109 Street & 100 Ave

Northern terminal.

Grandin-LegislatureNear the Alberta Legislature grounds.

Garneau-90th Avenue

address: 109 St NW

First stop south side of the High Level Bridge.

107th Street & 87 Avenue Crossing

address: 107th St NW

Strathcona Terminal

address: Gateway Blvd NW

Southern terminal with Strathcona Streetcar Barn & Museum.
By bicycle
Edmonton has excellent cycling routes which allow for all-year cycling, though winter cycling can be challenging for those unaccustomed to Edmonton weather. These marked routes, combined with a lack of freeways to traverse and relatively low traffic compared to other major cities, low snow or rainfall, and a fairly flat terrain, make Edmonton an easy city to travel by bicycle. The City of Edmonton provides free
maps
of the bike routes.
See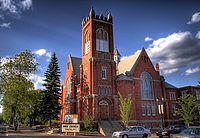 A young city, Edmonton's historic structures are still relatively new. The City of Edmonton's
Municipal Historic Resources
are buildings or structures that have been designated by bylaw as buildings or structures legally protected from demolition and from inappropriate changes and alterations. For further reading about Edmonton's architecture from 1940-1969,
Capital Modern
is a book available from the Art Gallery of Alberta.
Here are some of the most popular attractions:
Alberta Legislature Building - This beautiful example of Beaux-Arts architecture dates back to 1911, built following Edmonton's selection as the provincial capital. Free tours are available. There are wading pools to cool off in during the summer and skating rinks beside walkways light up with tons of Christmas lights during the Christmas season. See Central. Its grounds are a beautiful area to relax in any time of the year, and are patrolled at night for visitor security.
Art Gallery of Alberta (formerly the Edmonton Art Gallery) - This modern facility explores all forms of art. The gallery has a unique selection of Canadian and international pieces and regularly brings in traveling exhibitions. See Central.
Muttart Conservatory - These four glass pyramids rising out of the river valley are a unique Edmonton landmark. Inside, they house three distinct climate zones and a fourth seasonal display, packed with several hundred plant varieties. See South Central.
TELUS World of Science - Edmonton's largest science museum has a unique architectural design and houses many science exhibits, a planetarium, and an IMAX theatre. See West End.
Royal Alberta Museum presents Alberta's history through paintings, statues, and more. Exhibits include the Syncrude Gallery of Aboriginal Culture, Wild Alberta, and the Natural History Gallery. See Central.
West Edmonton Mall is the largest shopping and entertainment complex in North America, with copious opportunities for shopping, a built-in hotel, restaurants and food courts, an amusement park, an artificial beach and indoor wave pool, casino, movie theatres, indoor lake and Santa Maria ship replica, and lots of visitors to share it with. See West End.
Fort Edmonton Park is living history at its best! Join the costumed historical interpreters at Fort Edmonton Park - Canada's largest living history museum - and try your hand at living life as an early pioneer. You'll experience life as it was at the 1846 fort and on the streets of 1885, 1905 and 1920. See South
Aurora Borealis. The northern lights are harder to see in Edmonton than in Northern Canada and eastern cities of Canada. However if you travel outside the downtown area the lights can slightly be seen from December to late February.
North Saskatchewan River Valley
One of Edmonton's greatest attractions, the North Saskatchewan River Valley park system provides a natural corridor for all-season recreation and relaxation. The river valley is the longest expanse of urban parkland in North America at 7,400 hectares – 22 times the size of New York's Central Park – with golf courses, 22 major parks and over 160 kilometres of maintained multi-use trails for walking, cross-country skiing, cycling, and more. Several attractions are located along the river valley including Fort Edmonton Park, the Valley Zoo, and the Muttart Conservatory.
One of the most popular river valley parks is Hawrelak Park, located just west of Groat Road near the University of Alberta. It encircles a large pond, summer home to a variety of ducks and geese. It's the site of several Edmonton festivals, including Shakespeare in the Park and Symphony Under the Sky. In winter it is a popular venue for outdoor ice skating and cross-country skiing.
Do
Edmonton's summer brings many festivals, and with Canada's most impressive mountain parks 3.5-hr drive away, Edmonton is fun year-round. You can expect to find some kind of festival any weekend during the summer months and they are usually located in the central region either around Whyte Ave or downtown at the Legislature grounds or in front of City Hall.
Theatre and music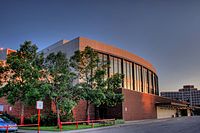 Edmonton has a vibrant performing arts community with notable accomplishments in live theatre and live music. The
central area
contains the
Winspear
or Francis Winspear Centre for Music, a new concert hall with stellar acoustics, and the
Citadel Theatre
, which has hosted major live theatre performances for over forty years.
South Central area
is home to the
theatre district
with a number of venues, and the
Jubilee Auditorium
, a large concert hall. The west end has two dinner theatres,
Jubilation's
and
Mayfield
.
Recreation
Edmonton's river valley and Mill Creek area have an extensive network of trails, good for
walking
,
biking
, and
cross-country skiing
. At many points in the extensive ravines and forested areas in the river valley, you can't even tell you're in a city. Maps of
walking
and
cross-country skiing
trails are available at City Hall, Edmonton Tourism's Visitor Information Centres, and many bicycle and ski shops.
The
Edmonton Bicycle Commuters' Society
(EBC), a non-profit bicycle co-op, operates a staffed drop-in DIY workshop where rental bicycles are available. During the summer months,
River Valley Adventure
rents bicycles and operates Segway tours. Fun group rides occur during the summer, mostly organized by the
Edmonton Bicycle and Touring Club
(EBTC) and EBC. Most commercial bike shops organize training rides for those road cyclists who are interested in higher intensity workouts. Larger commercial bike shops include United Cycle, Western Cycle, and Revolution Cycle. Smaller ones include Velocity Cycle, Redbike, Hardcore Mountain Bikes, PedalHead Bikes, and Transition BMX.
Edmonton has small downhill ski hills in or near the city, including Edmonton Ski, Sunridge Ski Area, and Snow Valley. Natural and artificial snow cover their slopes from early winter to early spring, offering city skiers an easy way to learn, amuse families, and tone up for the big Rocky Mountain ski opportunities in Jasper and Banff.
Golf
There are over 70 golf courses located in the Edmonton region. Albertans are keen golfers, based on the province's sunny summers, large number of developed courses, and relatively low prices. Within city limits, the City of Edmonton operates three public courses, including Canada's oldest municipal golf course: Victoria (
central
), Riverside (
South
) both of which are located close to downtown, and the par-three Rundle Park on the east end of the city (
Edmonton/North
).
Spectator sports
Edmonton is home to a number of professional and amateur sport teams. The
Edmonton Oilers
of the National Hockey League are the most recognized team and have won five Stanley Cups. Since 2016, they have played at the 18,641-seat Rogers Place, located at the north edge of downtown. This arena replaced the Northlands Coliseum (known most recently as Rexall Place), which had been home to the team since 1974. Tickets are available, but games are routinely sold out, and tickets must usually be bought from a broker at higher prices. Minor league hockey is also part of the Edmonton sports scene: the major junior Edmonton Oil Kings of the Western Hockey League also moved to Rogers Place from Northlands Coliseum, while several junior 'A' and senior 'AAA' teams play in metro Edmonton. Tickets to these games are available at the door.
Edmonton is also home to the
Edmonton Eskimos
of the Canadian Football League. The Eskimos have won 13 Grey Cups and play at the 60,000 seat Commonwealth Stadium. Good seats can be bought in advance, but few games are sold out and tickets can be purchased at the door. There is no professional soccer in Edmonton at present, but
FC Edmonton
, which most recently played in the North American Soccer League, will resume play in 2019 as a founding member of the Canadian Premier League, returning to their previous home of Clarke Park. There is no professional baseball in Edmonton at this time, but the collegiate
Edmonton Prospects
play at RE/MAX Field in the summer.
The
University of Alberta
Golden Bears (men's teams) and Pandas (women's teams) participate in a number of sports including hockey, basketball, volleyball, soccer, football (men only), rugby, and track and field at venues on both the main and south campuses. Smaller universities and colleges in Edmonton also have teams and athletes that compete in a variety of sports.
Major events and festivals
Edmonton, hailed as
"Canada's Festival City"
, is home to over 30 annual festivals and special events throughout the year.
Attracting over 500,000 visitors each year, the
Edmonton International Fringe Theatre Festival
is the largest in North America, second largest in the world, offering some 1,000 performances, primarily in venues in Old Strathcona. The
Works Art & Design Festival
features new works of painting, drawing, sculpture and other arts. The
Whyte Ave Artwalk
lets viewers stroll the avenue looking at local art. There is also the
Canoe Fest
which tells stories about morals and history. For music,
Symphony Under the Sky
is a nice way to listen to some fine music in the great outdoors. One of the world's leading Folk festivals, the
Edmonton Folk Music Festival
is a four-day outdoor music extravaganza that attracts more than 80,000 music lovers. Situated in Gallagher Park in Edmonton's scenic river valley, the festival offers an eclectic mix of music for all tastes. The more popular festivals often sell out, particularly the Folk Festival and many Fringe performances, sometimes well in advance, so visitors should make arrangements for tickets as early as possible to avoid disappointment.
For culture, Edmonton rolls out the red carpet.
Edmonton Pride Festival
(on hiatus in 2019) is a large LGBTQ festival celebrating LGBTQ culture; although it is centred in Old Strathcona and Whyte Ave, festivities take place throughout the city.
Ethnic festivals
are numerous here, due to Canada's policy of supporting multiculturalism, notably the
Ufest: Edmonton Ukrainian Festival
(Borden Park, May),
Deep Freeze Byzantine Winter Festival
(Ukrainian, French, Indigenous, African; Alberta Avenue, January),
Flying Canoë Volant
(French and Indigenous, Mill Creek Ravine, February)
; Edmonton Cariwest
(Caribbean, Churchill Square, June). To see all the cultures in one place, the biggest cultural festival of all is
Heritage Festival
(popularly called "Heritage Days") where each of more than 60 countries and cultures hosts it's own pavilion filled with food, dance, and local goods.
In food, Edmonton has some festivals to keep you salivating. One of the most popular is
A Taste of Edmonton
. Purchase tickets and sample culinary delights from 40 of Edmonton's leading restaurants at Sir Winston Churchill Square.
Casinos
The Edmonton area has seven large casinos: Casino Yellowhead, Casino Edmonton, Grand Villa Casino, Starlight Casino, Century Casino, Century Casino St. Albert, and River Cree Resort & Casino. Century Mile, a casino and horse racing track, is scheduled to open in 2019.
Buy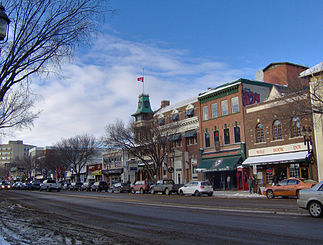 Some of the best shopping opportunities are...
Eat
See the district articles for specific listings of different restaurants and fast food joints.
There are three major dining centres:
Downtown and Oliver - many restaurants both chains and independents, with a side range in pricing. 103 St., 102nd Avenue, 100 St. and Jasper Avenue have the highest concentration. Some of the most popular include: Lux Steakhouse, Hundred, Sorrentino's, Famoso Neapolitan, Matahari, Japanese Village, Blue Plate Diner, La Ronde, Sabor Divino, Niche, Corso 32, Moriartys and La Tapa.
Whyte Ave. - a trendy area that has some good restaurants and many that are average, and the greatest concentration of bars and pubs in the city.
West Edmonton - whether in West Edmonton Mall or nearby, there are many restaurants, but few that will provide an above-average meal.
Edmonton is the birthplace of two major Canadian restaurant chains:
Boston Pizza
(Italian), and
Earl's
(
Canadiana
). These two have major locations across Canada. The city is also home to a lot of good quality fast food chains like
Burger Baron
and
Fatburger
.
Italian food is very high quality in Edmonton.
Chianti's
,
Sicilian Kitchen
,
Sorrentino's
,
Fiore Cantina
, and
Tony's Pizza
offer hearty and filling pasta. The best are Whyte Ave, Downtown, or in Little Italy.
Edmonton has some excellent ethnic restaurants. "Langano Skies" is a fabulous Ethiopian restaurant on Whyte Ave, "Syphay" offers spicy Thai cuisine on Calgary Trail and 62 Ave and "Padmanadi's" is a delicious Indonesian vegan restaurant in downtown.
Edmonton has its fair share of cheap Chinese food, most of which is concentrated in
Chinatown
.
WokBox
is another Edmonton-based chain, offering fair priced Chinese food in a fast food environment.
For a healthy alternative, check out
HealthFare
, which got its start in Edmonton in 2008. A new location opened downtown on Jasper Avenue in 2009. They display the calorie count of their items, and the restaurants employ green initiatives including: chairs are made of recycled plastic and aluminum; tables are made of reclaimed wood from local sources; eco-friendly take-out materials are made from renewable resources; and more.
Try locally grown and produced food:
EatLocalFirst.com
includes a list of all members with information on what they sell and produce and where to find them.
Drink
Alcohol
The three local microbreweries are Alley Kat, Ambers's Brewing, and Yellowhead Brewery.
There are many pubs, clubs, lounges, and bars clustered on Jasper Avenue (downtown) and Whyte Avenue (Old Strathcona). Some of the most popular in Old Strathcona include Hudson's', Lucky 13, Filthy McNasty's, The Rack, Funky Buddha, and O'Byrne's.
For those looking for a more indie experience should journey to Black Dog Pub and Empress Ale House who provide visitors with a less mainstream outing.
Downtown you will find a range of places to serve your drinking desires. Contemporary resto-lounges, such as Suede, The Hat, Sherlock Holmes, Red Star Pub, and The Pint.
A variety of dance clubs can be located in the downtown area and these include: Vinyl Retro Dance Lounge (Retro Classics/Top 40), Oil City Roadhouse (Country), Treasury Vodka Bar (Top 40/Electronic), and Warehouse (Top 40)
Edmonton also has a prominent LGBT community and offers several establishments that cater to this particular group; Buddy's Nightclub, Flash, and Junction. In addition, on the last thursday of every month Empress Ale House hosts a special 'Beers for Queers' night.
Further afield Edmonton also offers nighttime spots in less centralized locations. The Ranch Roadhouse is a country music nightclub located in South Edmonton at 6107 104 Street and has long been a favorite of country music enthusiasts.
West Edmonton Mall located in West Edmonton provides visitors with a number of bars including Empire Ballroom a large vegas-style club, Whisky Jack's Urban Saloon yet another country music club, and Hudsons the west end location of the Edmonton pub chain.

Coffee
Downtown

Jasper Ave and 104th Street offers two quality offerings for cafes, Transcend Coffee and Credo Cafe. Transcend Coffee is a local coffee roaster and offers quality espresso and brewed Clover coffee options made to order. Transcend Jasper also has a live music venue and some beer and wine offerings. Credo carries Intelligentsia coffee from L.A. and Chicago and prepares it well. With either cafe you cannot go wrong.
Three Bananas Cafe is another perfect stop; it's on the way to the Churchill LRT station at Churchill Square (102 Avenue between 99 and 100 Street) they also carry Intelligentsia.
Elm Cafe just outside of the downtown core at 117th ST just North of Jasper Ave is worth the distance. Delicious unique breakfast/lunch sandwiches rotated daily and other offerings. Not to mention excellent espresso and brewed coffee. Elm cafe carries 49th Parallel Coffee from Vancouver.
Many Starbucks, Second Cups and other coffee chains are spread across the downtown core.

University Area

Java Jive is a local institution, having been around for more than thirty years and locally owned. There are three shops on the University of Alberta campus, and a warehouse on 77th Ave and 99th St.
Transcend Coffee Garneau is located in the Garneau Theater building on 109th St and 87th Ave. Trendy decor, excellent coffee, close to the beautiful river-valley, University and Whyte Ave. This cafe is open seven days a week. Espresso, brewed Clover coffee and pastries are offered.
Leva Cafe is a cafe that serves a more traditional Italian espresso and is located by the University. This cafe also has great pizza and gelato. If you have an home espresso machine that needs repair, Cafe Tech in the back will be able to help you.

South Side

Transcend in Argyll is a very classy coffee shop that not only makes coffee, will sell you the beans (if you want to take home).

North Side
Mandolin Books and Coffee Company on 112 Avenue is another fantastic find.

Sherwood Park

Cafe Haven in Sherwood Park offers Stumptown Coffee from Portland. They also do a near famous brunch.

Sleep
Budget
Most of the budget hotels in the city are concentrated in and around the
south
(e.g. Derrick Hotel) end of the city or in the deep
east central
area. There is also a lot in the nearby suburbs, see
Edmonton's area
.
There are also hostels located downtown, by Jekyll & Hyde's Pub, and just off of Whyte Avenue.
Mid-range
Closer to the
core
,
Holiday Inn Express Downtown
and the
Comfort Inn & Suites
are good options. These two offer great views along with easy access to the benefits of downtown. In
the north end
,
the Prospector's Gaming Room
and
North Inn and Suites
are some great examples of some modern and simple good priced hotels at that part of the city. In the
West End
, with the closeness of West Edmonton Mall, there are a ton of hotels to choose from, most of which are on
100 Ave.
South of the river, in
Old Strathcona-University
the
Campus Suites
is a great option for nice service and its proximity to the University.
Days Inn Edmonton South
is a recent addition to Old Strathcona, just a few blocks off Whyte Avenue. Also on
Gateway Boulevard
there is a lot of hotels like
Greenwood Inn & Suites
,
Ramada South, Ramada Edmonton, Mayfield Inn, Travelodge South, Econo Lodge, Sawridge Inn Edmonton South and Cedar Park Inn
are the highest quality. In the east, there is a lovely
Four Points
hotel with easy access to the city.
Splurge
Edmonton has a good variety of high end hotels in different locations in the city. Some of the most popular locations are:
Downtown Edmontonhas the highest number of high end hotels in the city. One can choose from hotels with river valley views including Chateau Lacombe and the Courtyard Marriott and ones that have good views of the city such as the Sutton Place Hotel and the Westin Edmonton. There are also beautiful boutique hotels like Matrix Hotel and the Union Bank Inn. Either way, all of these posh empires have good access to downtown, friendly service, nice architecture, and luxury suites. For the extravagant traveller, the Fairmont Hotel Macdonald is a classic, chateau-like building built in 1912 and is the most expensive in the city, overlooking the river valley in elegant style.

West EdmontonThe area is full of higher-class hotels due to the proximity of West Edmonton Mall. One can choose from Fantasyland Hotel that's right in the mall or further out ones like Hampton Inn & Suites and the Hilton Garden Inn.
Connect
Area codes for phones in Edmonton are 780, 587 and 825.
Most hotels offer wireless connection. For outdoor use, check out City Hall/Churchill Square or most parts of downtown, as they have good internet connection. There are a small number of internet cafés, most being downtown or in Old Strathcona-University.
Stay safe
Visiting Edmonton is no more risky than visiting any other large city. There are some areas where increased caution is advised, particularly after dark:
The "inner city" area to the east of downtown (these neighbourhoods include: Boyle, Central McDougall, Chinatown, Little Italy, and Alberta Avenue) – a square bounded by Jasper Avenue (corresponds to 101 Avenue) on the south, 118 Avenue on the north, 97 Street on the west, and around 85th Street on the east – has parts that are best avoided. 118 Avenue and 107 Avenue feature numerous signs asking visitors to report prostitution by calling a 1-800 number. There is a large homeless and transient population in this area which has been followed with a serious drug and alcohol issue and gang violence. As well as the inner city, Stony Plain Road on the west side, 107 Avenue north of downtown, and a few areas in the city's northeast, particularly around 66th Street and Fort Road, and Abbotsfield (around 118 Ave and 34 Street) have higher crime rates and gang problems.
There has been an increase in alcohol-fuelled disturbances on weekends near 82nd (Whyte) Avenue between 103 Street and 109 Street (the city's most concentrated party zone). Use caution and common sense here, be somewhat wary of the closing-time outflow after midnight on Friday and Saturday nights. Try to be out of the bar and on your way home by 1AM, or, at the very least, don't linger on the street after closing time, also travel in groups if possible.
Panhandling has increased, particularly downtown and in the Old Strathcona area. Just decline politely and it shouldn't be an issue. Try to avoid parking lots that aren't gated shut, as there is a clear entrance for panhandlers to get in and be more aggressive.
Emergency
- If you have an emergency, call
911
.
Northern driving
Navigation in Edmonton is made easier by city's street grid and relative lack of traffic compared to most other major North American cities. Additional hazards are presented by winter driving in the city, especially during and after the first few snowfalls of the winter. Ice can be a problem, especially on bridges. Ice on roadways can be almost invisible, which is where the commonly used – and dreaded – term "black ice" comes from. Stay tuned to local radio stations, several of which have regular road reports, and be prepared to find alternate routes should weather conditions or accidents shut down some routes.
Cope
Newspapers
Hospitals and major health centres
Dial
911
for a life-threatening emergency. Call Health Link Alberta at
811
for immediate advice if you are unsure whether or not to go to Emergency. If you are certain you have a non-emergency situation but would still like to go to Emergency, consider the wait times at the
Alberta Health Services website
which may be upwards of four hours for the least urgent. Parking at hospitals in Alberta is always for a fee.
University of Alberta Hospital

address: 8440 112 Street NW

Major trauma centre for half the province and most comprehensive, with the flipside being longest wait times for non-emergencies.

Royal Alexandra Hospital

address: 10240 Kingsway NW

Misericordia Community Hospital

address: 16940 87 Avenue NW

Grey Nuns Community Hospital

phone: +1 780-735-7000

address: 2927 66 Street NW

Built in 1988, the newest of Edmonton's hospitals.

phone: +1 780-407-8822

address: 8440 112 Street NW

Emergency room for those 17 and under. Attached to University Hospital.

Northeast Community Health Centre

phone: +1 780-342-4000

address: 14007 50 Street NW

Though not a hospital, this complex has a fully functional emergency department.

East Edmonton Health Centre

phone: +1 780-342-4740

address: 7910 112 Avenue NW

Open only during evenings, this Urgent Care Centre is a good choice for problems that need same-day attention but aren't life threatening.
Police stations
Edmonton is patrolled by the
Edmonton Police Service
. In addition to the Police Headquarters/Downtown Division located east of City Hall, the EPS is separated into five operational Divisions (the name in brackets denotes the neighbourhood in which the Division station is located):
Downtown Division (Boyle Street)
North Division (Miller)
West Division (Glenwood)
Southwest (Papachase Industrial)
Southeast (Tawa)
Go next