El Paso
El Paso
is the sixth largest city in
Texas
, on the
United States
-
Mexico
border. The city on the other side of the border is Ciudad
Juarez
,
Chihuahua
. El Paso is often called the Sun City. Collectively, the city of El Paso and other nearby cities, such as Juarez and
Las Cruces
,
New Mexico
are referred to as
The Borderland
.
Understand
El Paso
is geographically divided into several parts with the Franklin Mountains and Fort Bliss cutting the city into distinct sections. Each area has its own style and culture.
West Side is between the Franklin mountains and Mexico and New Mexico includes El Paso's most affluent neighborhoods along the side of the mountain. Providence Memorial Hospital, Sierra Medical Center, Las Palmas Medical Center, El Paso Country Club, and the University of Texas at El Paso (UTEP) are located here. The UTEP area ("Kern Place") is emerging as an entertainment district with restaurants and nightclubs also known as the "Cincinnati Entertainment District". The Sun Bowl, Don Haskins center, and Centennial Gardens are all located on the UTEP campus.
Downtown is in the southern part of El Paso, just below the tip of the Franklin Mountains. The streets of Downtown are often difficult to navigate for first time visitors, especially with the current construction. Parking (there are many cheap areas to park your car for the day) is probably the best bet. Walking through Downtown, there are many little shops reminiscent of Mexico and many small cafes. Many of the buildings are historic and very beautiful. The Downtown area boasts a beautiful plaza in the center of the city. The El Paso Museum of Art, the Plaza Theater, El Paso Civic Center and a children's science museum, Insights, are all located here. Extensive renovations are taking place in the Downtown area. Nearby on Paisano Street is the El Paso Zoo.
North East El Paso is home to Fort Bliss Military Base. Fort Bliss is one of the largest U.S. Military bases in the world and Northeast El Paso is home to many active and retired servicemen and women. Fort Bliss located near the airport with adjacent Biggs Army Airfield has a great influence on Northeast El Paso culture. Tours of Fort Bliss can be arranged, or if you know a service member, have them give you a tour. Outside of base are many military surplus stores.
East Side of El Paso is the fastest growing area mostly home to middle class working families. The Socorro Student Activities Complex (SAC), Del Sol Medical Center, Las Palmas Marketplace, Cielo Vista Mall and Bassett Center are all located in East El Paso. It is close to the Mission Trails area and Hueco Tanks State Historic Site.
History
The El Paso/Ciudad Juarez area was named as "El Paso del Norte" (The Pass of the North) by Spanish travelers in 1581, as it connected New Mexico in the north to the rest of New Spain (now called Mexico). The area wasn't colonized by Europeans until 1598 when Don Juan de Oñate led an expedition into the territory. In 1848, after the Mexican-American War, the north side of the Rio Grande became part of the United States and a military post was erected there which eventually became Fort Bliss. The city of El Paso was incorporated in 1873. (Across the river, Ciudad Juarez was still called "Paso del Norte" until 1888, which caused no end of confusion between the two, especially because "Pass of the North" was on the
south
side of the river!)
El Paso Public Library
was the first public library in Texas.
Talk

El Paso is a diverse community featuring many different kinds of people. The largest language spoken at home is Spanish, followed by English. Many older El Pasoans speak Spanish regularly in public and it is helpful, although usually not necessary, to understand the language.

Climate

El Paso is part of the Chihuahuan Desert. It receives on average about 8.5 inches of rainfall a year. The sky is usually clear and cloud-free. Summer temperatures can reach 100°F (37.7°C) or more. Winter rarely sees snow and temperatures drop to around 40 or 50°F. During periods of rain, flash flooding can occur.

Get in
By plane
address: 7601 Convair Rd

Served by the following:
The available commercial flights to El Paso are only from within the U.S. Connections to Mexico can be made through the (
CJS
) located 32 km from downtown Cd Juarez/El Paso and 26 km from El Paso Airport via I-110/US Hwy 54 which becomes MX Hwy 45. Connections to additional U.S., Mexican and other international destinations are through other major (hub) cities such as Atlanta (Delta, Southwest); Chicago (Frontier, Southwest, United Express and American Eagle); Dallas(American, Southwest); Denver (Frontier, Southwest, United Express); Houston (Southwest, United Express); San Antonio (Southwest); and Los Angeles (Southwest, American Eagle).
The airport is on northeast of the city center via I-10 (Airway Blvd at Exit #25) and surrounded by the huge Ft Bliss military base. A taxi to downtown will run about $25-30 and take 15-20 minutes. Sun Metro bus services (Rt #33 and 50) to and from the airport is significantly cheaper but will take at least 48-50 minutes to/from downtown El Paso. Transborde Binacional provides regular bus service to Ciudad Juarez and to Abraham González International Airport. There are other shuttle companies providing ground transportation to Cd Juarez, Abraham González International Airport, Las Cruces and other surrounding cities/towns in Texas and New Mexico.

By car
From Mexico, take one of the International bridges. Expect long traffic jams during rush hour.
From the Guadalupe Mountains National Park, take 62/180 West towards El Paso.
I-10 is the largest Interstate going through El Paso. Coming from East Texas, I-10 will take travelers through El Paso all the way to the Downtown area. It can also be used to reach El Paso from Las Cruces, New Mexico.
By bus
Buses come in from Las Cruces, Los Angeles, Denver, Dallas, San Antonio and points in between in the U.S. and from multiple places in Mexico through Ciudad Juarez. Most of the bus companies have their own bus stations in close proximity to each other, in the western edge of downtown or in other parts of town (such as Flixbus):
El Paso Los Angeles Limousine Express

phone: +1-915-532-4061

address: depot at 720 S Oregon St

Comes in from Los Angeles and Denver through Las Cruces and other points in between on two separate routes. They also connect El Paso to Chihuahua City through Cd Juarez, Delicias, Cuauhtémoc and Torreon as Los Limousines.

phone: +1 855 626-8585

address: (bus stop) 1400 W Yandell Dr

Service to El Paso from Los Angeles, Phoenix, Tucson, San Antonio and Dallas/Ft Worth.

Greyhound & Autobuses Americanos

phone: +1-915-532-5095

address: depot at 200 W San Antonio

Service from Los Angeles, Dallas, San Antonio, Denver and points in between. Autobus Americanos is co-brand between Greyhound and Grupo Estrella Blanca for cross-border travel from Mexico with an additional stop in 1007 S Santa Fe.

phone: +1-915-532-1161

address: depot at 201 Montestruc Ct

Comes in from Boise through Salt Lake City, Denver and Roswell NM on one route and from Dallas on another. They also offer service to/from Mexico.

phone: +1-915-577-9139

address: depot at 212 W Paisano Dr

Connects Los Angeles to El Paso

phone: +1-915-351-9002

address: depot at 400 W Paisano Dr

Connects El Paso to Dallas and to San Antonio. They also have another ticket office at 161 E 6th Ave

phone: +52 656-170-84-93 (MX), +1 915 235-8268 (US)

address: depot at 410 S Santa Fe St

Shuttle bus to downtown Ciudad Juarez, the Juarez Bus Station, Juarez Airport and the US Consulate south of Ciudad Juarez. They also connect the same stops in Ciudad Juarez to the El Paso Airport and El Cielo Vista Mall in El Paso.
By train

Amtrak serves El Paso with the tri-weekly Sunset Limited, running between Los Angeles (16 h) and New Orleans (29 h), and the Texas Eagle from Chicago (48 h). Trains arrive at the historic , which is located at 700 W San Francisco Ave in downtown.

Get around
By car
This may be the easiest way to see what El Paso has to offer. Since many sites of interest are quite far apart from one another, renting a car may afford visitors the most flexibility. Cars can be easily rented at the Airport or on Fort Bliss.
By taxi
Must be called for pickup in most areas.
Yellow Cab Company

phone: +1 915 533-3433

Checker Cab Company

phone: +1 915 532-2626

Sun City Cab Company

phone: +1 915 544-2211

Border Cab Company

phone: +1 915 533-4282

United IND. Cab Company

phone: +1 915 590-8294
By bus
Public transport is provided by
Sunmetro
which offers an extensive bus network. Most major routes offers departures every 30 minutes or less. Standard fare is $1.50 with daily and weekly passes available at attractive prices. The two downtown circulator buses are free. Many routes convey at the is located at 601 S Santa Fe St.
A project to bring back the city's historic streetcar system is underway and the first stretch is expected to open in 2019.
By foot
Much of what can be seen in the Downtown and UTEP area is easily accessed by pedestrians, for example.
Because of the high temperatures it is not recommended to walk during summer.
See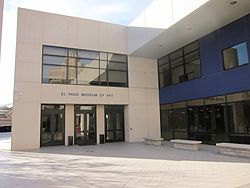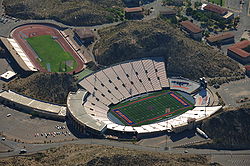 Licon Dairy

address: 1951 Glorietta Rd, San Elizario

A working dairy famous for its Asadero cheese. It has a very unusual petting zoo including camels, goats, zebras and parrots. Visitors can fish for catfish at the small pond inside the petting zoo, which is filled up about weekly.
The University of Texas at El Paso

phone: +1 915 747-5890

address: (Admissions & Recruitment Office) 102 Academic Services Bldg, 500 W University, El Paso 79968

The University of Texas at El Paso was founded in 1914. It's easily accessible from I-10. UTEP, pronounced you-tep, has a beautiful campus nestled into rocky hills with amazing xeriscaped gardens.
Museums and art galleries
Theatre
Do
Sports
phone: +1 915-533-2273

address: 1 Ballpark Plaza

A minor league baseball team, the Triple-A level affiliate of the San Diego Padres, plays at .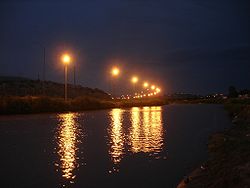 MinersMiners football is coached by Dana Dimel. UTEP has a beautiful stadium, the Sun Bowl, that looks as though it was cut right out of the mountain. Every late December the Sun Bowl is played, where two 3rd, 4th, or 5th place teams from either the Pac-10, Big Ten, or Big 12 meet. This is the longest running televised bowl game in the country.

RodeosRodeo events can be seen in El Paso around the months of January and February. Rodeo is a unique cowboy 'sport' where individuals compete in a number of events the most famous of which is bull riding.

UTEP-BasketballDon Haskins changed the way college basketball was played forever in 1966. He led his all-black lineup against the all-white Kentucky team featuring Pat Riley and won the National Championship. Prior to Don Haskins, black players were marginalized in college basketball. Don Haskins has the basketball arena named after him, the Don Haskins Center, that hosts Miner Basketball and concerts.
phone: +1 915-747-7450

address: (Ticket Office) Brumbelow Buildig, 201 Gloria Rd

Home of the UTEP Miners Football team. At other times, the stadium is used as a concert venue. The URL link also includes tickets for other UTEP athletic events.
phone: +1 915 532-7273

address: 800 S. San Marcial St

Large park in the Southern part of El Paso, near the US/Mexico border, established to commemorate the peaceful resolution of a US/Mexico border dispute at this spot. It hosts many events throughout the season, including concerts and dance performances. Information and event schedules can be found at the Chamizal National Memorial website.
Sunland Park Racetrack and Casino

phone: +1 505 874-5200

address: 1200 Futurity Dr. Sunland Park, NM

The casino is open every day, including holidays and has over 700 slot machines. It is easy to reach by taking I-10 West, away from Downtown. The Casino also hosts live shows and music. Most visitors report good experiences at the casino, with the exception of a few very competitive individuals.
Scenic routes and treks
The valley of the Rio Grande

El Paso Mission TrailA collection of the historic Spanish missions in the area, dating from the early 17th century. There are also a number of shops on the trail with artwork, crafts, and historic pieces.

Franklin MountainsThere are many ways to enjoy the Franklin Mountains. Ranger guided tours are available by reservation.

phone: +1 915 566-6441

address: 1331 McKelligon Canyon Road

The road is small. This road eventually leads visitors on a winding tour of the canyon. It is truly beautiful, with many plants and colorful hills. There are picnic facilities, a park store and steep trails into the wilderness. It is very quiet and peaceful, a desert oasis in the middle of the city. Many runners and bikers enjoy the challenge of the winding, rolling roads in the canyon. Pets are allowed on leash and there are also mountain biking trails. Map of the trails are available on the website.

Transmountain RoadTaking 375 the through the Franklin Mountains at night is a wonderful experience. The entire city of El Paso and the city of Juarez are both lit up like a galaxy of stars. There are many places to pull off and watch the artificial stars. During the day, take Transmountain Road and stop at any of the hiking areas. These places have donation boxes for hikers who are supposed to provide $3 for the use of the trails. These trails are very steep and surrounded by native cacti, yucca and agave. Travelers may also see hummingbirds, large spiders and lizards. If the trails seem too chancy for you, pull over at the small picnic and viewing areas located throughout the Eastern half of the road. The view is amazing and you can see far off into Mexico and New Mexico. Be aware that Transmountain road can be closed due to inclement weather.
Walking tours
A number of walking tours of various parts of El Paso are available.
Buy
Have a look over the military surplus stores near Fort Bliss.
address: 6926 Gateway East

Fine Southwest rugs, furniture, jewelry and folk art.

phone: +1 915 779-7070

address: 8401 Gateway Blvd W
Eat
The following foods are popular in El Paso:
Menudo Travelers will see signs referring to Menudo everywhere. It is a type of soup made with hominy, chile and tripe. It is a Mexican specialty.
Burritos A border favorite. Burritos are a humble but delicious food and should not be expensive. Do not try them in an upscale restaurant. True burritos are done with home made flour tortilla and your choice of filling. Try "chile con queso", chile relleno, barbacoa (meat) or "deshebrada con chile colorado" (shredded meat with red chile) for the local traditional El Paso/Juarez flavor. Green chile fillings are great too. All other flavors are more likely not from the region.
Gut Trucks These are large white vans that sometimes sell ice cream, but usually always sell burritos and gorditas. They are often best described as restaurants on wheels. They can be found parked anywhere there is construction work, or in parking lots of large Do-It-Yourself stores. Do not pass them by. The food is very inexpensive and is absolutely terrific. They are usually only seen around lunch time. You'll know the food is good if you see a line or group of people waiting for food.

Papas Burgers

address: 4569 Pedras St

A delicious place to shop

Smokey's Pit Stop and SaloonThere are 3 locations of these barbecue joints slash bars on the East and Northeast part of El Paso. The inside of the Pit Stops aren't much to look at, but the food is great. Again, vegetarians forget about it. All of the food is starch and meat, with the exception of cole slaw.
phone: +1 915 593-6332

address: 1346 Lee Trevino

phone: +1 915 592-3141

address: 9100 Viscount

address: Zaragosa Rd
The Tap

phone: +1 915 532-1848

address: 408 East San Antonio Ave

An old downtown El Paso bar that serves unpretentious Mexican food. The nachos are especially good, and the crowd is a mixture of blue-collar workers and college students.
Chico's TacosIs an El Paso Tradition. There are 5 different stores in El Paso serving these unique rolled tacos. These tacos are unlike either the "Taco Bell" tacos many Americans are familiar with, or those served in an authentic Mexican taquería. Resembling flautas more than tacos, a single order of tacos will not cost you more than $2 and provide you with three tacos. A "double" or "triple" order will fill up those who are more hungry. The tacos are served with a red sauce and piled high with cheese. They don't look appetizing, but the consensus is you either love them or hate them. Chico's Tacos also serves delicious hamburgers, El Paso-style hot dogs (sliced franks served on a hamburger bun with chili), grilled cheese sandwiches, and burritos. Chico's is a treasured El Paso tradition. Open late, cheap and always quick service.
phone: +1 915 592-8484

address: 1235 McRae Blvd

phone: +1 915 565-5555

address: 3401 Dyer St.

phone: +1 915 849-8777

address: 11381 Montwood Dr.
Avila's Mexican Food

phone: +1 915 584-362

A historic family owned restaurant, often wins citywide food and service awards. Owned and operated by four generations of the Avila family, often occupied with fiercely loyal patrons. The enchiladas and tacos are highly recommended, but the Chile con Queso is the signature dish of the restaurant. The average total meal costs about $10, with lunch specials for $5.25. 6232 N. Mesa Dr.1
Cattleman's SteakhouseA steakhouse in the middle of the desert in the city of Fabens, East of El Paso. Go for dinner to enjoy a fine steak with a gorgeous sunset view. An outdoor balcony is available to bring your cocktail while your food is being prepared. They do not serve food or drinks in the balcony area. "The Cowboy" is their 2-pound T-bone steaka must for the first time.
phone: +1 915-545-2233

address: 109 N Oregon St

Cafe Central is the perfect place to go to enjoy fine dining with a Southwestern flair. Originally opened in Juarez in 1918, Cafe Central moved to El Paso after Prohibition ended. This fancy restaurant is led by Chef Armando Pomales and his team. Service here is nearly perfect, but it is the food that will have you seeing stars. A true "fancy restaurant" for those looking for a place to take a date, celebrate an anniversary, eat an amazing lunch, or hold a business lunch/dinner.
Forti's Mexican Elder Restaurant

phone: +1 915 772-0066

address: 321 Chelsea

A mid-price restaurant and piano bar located just barely above the border. The price is comparable to that of a lot of mediocre Mexican restaurants elsewhere, but this food blows theirs out of the water. The fajitas are perfectly seasoned, the carnitas are amazing, and the margaritas are not to be missed. Fresh homemade tortillas complete the meal. Be sure not to binge on the chips and salsa as the meals are large.
Drink
The legal drinking age in Texas, like all of the United States, is
21
. However across the border in Mexico, the drinking age is set at
18
.
The original Margarita recipe was invented in Ciudad Juarez-El Paso region (where Dos Lunas is headquartered) on July 4, 1942 by Francisco "Pancho" Morales. Morales was a bartender at a bar named Tommy's Place, according to the Old Mr. Boston Official Bartender's Guide (a book that professional and home bartenders alike call the "Bible of Booze"). Morales improvised the drink after a customer ordered a Magnolia, a drink recipe that he did not know, other than the fact that it contained Cointreau. The drink's popularity immediately grew after Morales, who was an instructor at the local bartender's school, began teaching the Margarita recipe to his students. The name Margarita is Spanish for "daisy."
El Paso has a very active nightlife that has something for everyone.
Union Depot area at 115 Durango street, which includes several bars and clubs that cater to college students and young professionals.
Cincinnati street area near the University of Texas El Paso, includes a variety of bars, ranging from upscale lounges to dives, as well as a variety of restaurants.
The 500 block of North Stanton Street features a row of gay and lesbian friendly clubs.
Dyer Street near Fort Bliss includes a few bars and clubs that cater to African-Americans.
El Paso's Lower Valley and Central neighbourhoods have many small bars and clubs that feature primarily Mexican music, often with dancing or live music on weekends.
Sleep
Budget
Mid-range
Splurge
phone: +1 915-534-3000

address: 101 S El Paso St

Reopening in april of 2019 after an extensive refurbishment, this hotel promises to bring back the original luxury from when it first opened in 1912.

phone: +1 915-772-4088

address: 6351 Gateway Blvd W

phone: +1 915 771-0022

address: 6030 Gateway Blvd East
Stay safe
El Paso is rated the second
Most Safe City
in the United States for its size. San Diego took the first spot. All records are based on latest FBI reports.
Most of El Paso is safe from violent crime, and El Paso has a very low murder rate for a large American city. El Paso is generally very quiet and peaceful during the daytime, take normal precautions at night. Areas to avoid at night may include near the international bridges, but curfews on both sides of the border have cut down on the number of aggressive, intoxicated juveniles at night.
El Paso is also has a
good neighbor
atmosphere, and is a military friendly city.
Environmental dangers
Heat in the summer. During the summer months when temperatures nearly always stay around 90°-100° Fahrenheit, the biggest dangers facing visitors are dehydration and heat stroke. El Paso is in a desert and it is important for all visitors to remember to drink enough water at all times. Too many people fail to take the heat seriously. The dry heat can actually feel less 'hot' than it really is to many people. Learn to recognize the signs of danger for dehydration and heat stroke. Heat stroke is very serious. Take care of yourself in the heat. And remember a cowboy word of wisdom: If you're thirsty, you're already dehydrated. For more information, consult the article for this region.
Sun. Not just for the heat, but the sun can be dangerous because of UV rays which are much stronger at El Paso's altitude than at sea level. Wear a hat, sunglasses and sunscreen. It is not uncommon to see pedestrians in El Paso walking with an umbrella to shield them from the sun.
Rain. During the rainy season (usually late June to early October) be aware that flash flooding can occur during and after rainfall. Areas closer to the Rio Grande are much more susceptible to flooding and standing water. Poor drainage and the dry desert soil ensure that even moderate rainfall can result in street flooding, especially in underpasses. Visitors who are in El Paso during the rare times of rain should remember to never drive into a flooded street. In addition, since El Pasoans are not used to driving in the rain, accidents are more likely to occur.
Snow and ice. While El Paso winters are generally mild, cold weather can occur. In general, winter is a dry season in El Paso; however, when snow and icy conditions exist, take extreme caution, as El Pasoans are not used to driving in these conditions.
Wind and dust. El Paso's windy season is generally from January through April. During this time, high winds and blowing dust can make breathing difficult, especially for asthma sufferers. Blowing dust and sand can also reduce visibility on roads, especially in rural areas surrounding El Paso. Area highways may close during high winds.
Mosquitoes. Along with rain comes mosquitoes. Yes, El Paso is a desert, but many residents own pools and water gardens. These can be a breeding ground for mosquitoes. The Rio Grande area also has mosquito problems. The West Nile Virus has been recorded in El Paso. The best advice is to remember to wear a good insect repellent if you will be outdoors in the evening. The area around Hueco Tanks can be very bad, mosquito-wise. Some local weather websites will tell visitors the projected mosquito danger.
Emergencies
911
will connect travelers with assistance.
Hospitals with 24 hr Emergency Rooms
In the United States health care is private and going to an emergency room can be very expensive if the traveler does not have health insurance.
Providence Memorial Hospital

phone: +1 915 577-6551

address: 2001 N Oregon St
Veterinary hospitals that run 24 hr emergency rooms are also extremely expensive. This is the sort of place you might take your sick or injured pet if they are seriously injured and cannot wait for medical care.
Animal Emergency Center

phone: +1 915 545-1148

address: 1220 Airway Blvd
Cope
Consulates
phone: +1 915 533-8555

address: 910 E San Antonio Ave
Go next
Don't think that just because El Paso is in Texas, the rest of the state is close at hand. El Paso is actually closer to the beaches of Southern California, than it is to Eastern Texas. Be sure to check driving times and distances before exploring other places in the state. For example,
Houston
is 745 miles or 1,200 km via I-10.
If you must be somewhere at a certain time, don't forget the rest of Texas (except adjacent Hudspeth County and the Guadalupe Mountains) is one hour ahead (Central Time Zone). With the long driving distances and losing an hour, it can be a challenge to stay on schedule.
Guadalupe Mountains National Park is about 100 miles to the east, with Carlsbad Caverns National Park another 30 miles beyond.
Hueco Tanks State Historic Site, just east of town. Tall granite outcrops which created natural cisterns used by native tribes for drinking water. Take a tour to see rock art by Native American peoples (both before and after European contact) and non-native American travelers, which immerses you in the centuries-long history of this region.
Ciudad Juarez, the fifth largest city in Mexico, is just south across the river, although due to violence from drug cartels travel warnings have been issued advising against travel to this area.

Presidio Chapel of San Elizario

phone: +1 915-851-1682

Built in 1877 to replace the original constructed in the 1770s.

Socorro Mission

phone: +1 915 859-7718

address: 328 S. Nevarez Rd

Constructed in 1682 and later destroyed by fire. The present structure was built in 1840, incorporating decorative beams salvaged from the original structure.

Ysleta Mission

phone: +1 915 859-9848

address: 131 S. Zaragosa Rd

Constructed in 1744.

San Elizario Historic Art District

phone: +1 915 851-0093

address: 1501 Main St

Featuring 2 museums, 6 art galleries and over 21 artist studios. Also visit the Old El Paso County Jail of Billy the Kid fame, the El Bandido Restaurant and Cantina and 18 historical sites from the Old Presidio Fort era. Tours and shuttle available.