Emerson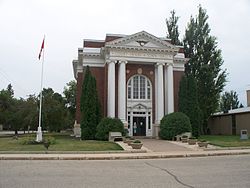 The rural municipality
Emerson-Franklin
is the main crossing into
eastern Manitoba
for
Winnipeg
-bound traffic from the United States. A sparsely-populated expanse of prairie at the eastern edge of the
Pembina Valley
, it includes the communities of Emerson, West Lynne, Roseau River, Franklin, Arnaud, Tolstoi and Dominion City.
Understand
Emerson is a tiny frontier town on the Canada-US border. In the years before uninterrupted travel
across Canada by rail
, voyagers heading westward would cross through the
United States of America
by necessity and re-enter Canada by crossing into Manitoba from
Minnesota
.
A Hudson's Bay Company post that began at
Pembina
moved north to West Lynne in 1871, serving traders on the Red River. Fort Dufferin, a Canadian government post (1872-1879), served as a base for the North American Boundary Commission, then as a launching point for the 1874 March West of the North West Mounted Police and finally as an immigration station for steamboats on the Red River. It closed once the railways had supplanted the river boats.
Emerson became a short-lived boom town when cross-border rail lines opened in 1879, only to go bust once the Canadian Pacific mainline redirected east-west domestic traffic via
Winnipeg
in 1884. While many of the abandoned buildings in Emerson were eventually destroyed by Red River floods or were simply demolished, a rural village of about 700 people remains. A few original historic buildings are still standing; the historic court house remains in use.
In 2017, Emerson received wide international news media coverage as a crossing point for third-country refugees escaping from the United States into Canada. Under Canadian law, international refugees arriving at official crossing points risk being turned back under a 2004 "safe third country" agreement (destroying any chance of their applying for Canadian refuge in the future), while those entering irregularly by crossing into snow-covered farmers' fields at night may obtain due process of law to make their case for asylum in Canada.
Get in
Emerson is 110 km south of
Winnipeg
on Manitoba Highway 75. There is no public transport to Emerson.
From the United States, take I-29 through
Pembina
,
North Dakota
, which is 8 km (5 mi) south of Emerson. This crossing is the main overland port of entry into Manitoba from abroad.
The nearest
Via Rail
train station and major airport are in Winnipeg.
Get around
There is no taxi in Emerson. The nearest scheduled bus service may well be in
Fargo
or
Winnipeg
. A car is likely the only viable option.
See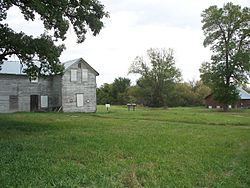 address: Highway 75

Remains of former North-West Mounted Police outpost from which Canada's iconic federal police force (now the Royal Canadian Mounted Police) began their historic expansion westward. An interpretive centre operates seasonally (from early June), there's also a signed interpretive boundary trail (seasonal, 6AM-10PM).

address: 48 Centennial Drive, Dominion City

Former 1879 Episcopal Methodist Church, relocated 1908 as All Saints' Anglican Church and closed in the mid-1960s, became a community museum in 1992.

Wounded Warrior Site

address: Franklin

Site of the encounters between Ojibwa and Sioux in the late 1700s and early 1800s.
Do
address: near Tolstoi

The largest remaining tracts of tall-grass prairie in Manitoba, with a wide variety of animals (including moose) and over 150 plant species (many considered endangered).
The community of Arnaud features Canada Day celebrations on July 1.
Dominion hosts an annual Summerfest and the Dominion City Carnival in March.

Roseau River Pow Wow

address: Franklin

Experience the wealth and beauty of Roseau River's Aboriginal community. Late August.
Eat
Chester Fried Chicken

phone: +1 204-373-6411

address: 234 Cardinal Cres, Emerson

phone: +1 204-373-2626

address: 365 Dallas Ave, Emerson

Chinese.

phone: +1 204-807-1765

address: 133 Taylor Street, Emerson

Beside Emerson Hotel, open for breakfast.

Pho Gia Thanh

phone: +1 204-373-2499

address: 102 Church St, Emerson

Vietnamese.
Drink
The minimum drinking age in Manitoba is 18. The Emerson Hotel operates a
Liquor Mart
agency (+1 204-712-6194) to sell beer.
Sleep
phone: +1 204-373-2050

address: 133 Taylor St, Emerson

Small hotel with sports bar (Emerson Bar and Grill). Open year-round, food service at limited hours.

Maple Leaf Motel

phone: +1 204-373-2594

address: 115 Taylor St, Emerson

Ten rooms, Wi-Fi, fridge, microwave and TV.
Stay safe
This is a remote area; Manitoba winters can be bitterly cold. Temperatures as low as -20°C are very common; extended exposure may cause rapid frostbite. Refugees have lost fingers and toes after arriving unprepared for local conditions or losing their way in winter blizzards.
In spring, the Red River is prone to flooding.

Go next
Winnipeg, Manitoba's capital and principal city, is 110 km (70 miles) north on Route 75.