Enez
Enez
(pronounced
ay-nayz
) is a small town in southwestern corner of
Eastern Thrace
, European part of
Turkey
. It is located on the northern shores of the Aegean Sea, near where the river Maritsa (
Meriç
in Turkish,
Evros
in Greek) empties into the sea. Its ancient name was
Ainos
.
Understand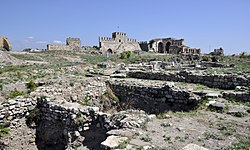 One of the last places in Eastern Thrace that the Ottoman Turks had taken control of, Enez, or Ainos as it was called then, was captured by Ottomans a full three years after the fall of
Constantinople
, in 1456, from the
Genoese
who ruled the town since 1355 as one of their trading posts along the Aegean and Black Sea coasts.
Enez today is a sleepy provincial town which sees some sort of liveliness only June through August, when people from surrounding towns and cities—especially from nearby inland city of
Edirne
—move in for the summer to their holiday homes in the conglomeration of two-storey buildings on the plains behind the beach, 5 km south of Enez, and actually several times larger and more populous than the town proper itself (which has a constant/winter population of around 4,000). During this time, Enez can be reasonably dubbed as "Edirne-all-packed-and-moved-to-the-beach". During the rest of the year, though, the beach neighbourhood turns into a total ghost town.
Enez sees almost no international travellers, and the fact that the town was a military zone until early 2000s with very limited access for non-Turks as it lies just on the
Greek
border plays no small part in this, although it's now open to all.
Sights in the town can be done as in little time as half a day, even if you pay a
very
detailed attention. The main draw is actually the long, sandy beach and the crystal clear sea, spared from all kinds of pollution.
Get in
By bus
There are one or two direct bus connections daily with
Istanbul
in summer. The seats are sold out in a very short time, so buy your ticket in advance. If you don't have a ticket bought beforehand and simply can't just secure a seat on your departure day, you can buy a ticket for
Keşan
instead, which has a lot more connections with Istanbul which don't generally need to be booked. In Keşan's
otogar
(bus station), take a public minibus or courtesy minibuses which your bus company provides, and ask to be dropped at
eski garaj
(pronounced
ays-kee ga-rrazh
,
zh
like
j
in French), which is the former and much smaller bus station of the town. At
eski garaj
, you will be able to find a (likely non-air conditioned) minibus heading for Enez, departing within half an hour at most. Keşan-Enez ride takes about an hour while Istanbul-Keşan takes about three and a half hour.
There are also direct buses from
Edirne
.
By car
Go to Keşan first, which can be reached by taking D110/E90 from
Greco
-Turkish border/
Ipsala
(west), D110/E84 from
Istanbul
/
Tekirdağ
(east), D550/E87 from
Edirne
(north), D550/E87/E90 from
Gelibolu
/
Çanakkale
(south). In Keşan crossroad, take the southerly road (D550/E87/E90, follow 'Çanakkale' signs) if arriving from west/east/north and after you left the crossroad with traffic lights about 2 km behind, take the road to west (follow 'Enez' signs, for which you should watch out as those signs are not very big). From Keşan, Enez is a 60 km drive away and the road is somewhat narrow in some parts.
By train
The nearest station is in
Uzunköprü
, about 80 km away and which has two daily connections with
Istanbul
. Once in Uzunköprü, you can either take direct buses or take a minibus to
Keşan
and transfer there to another one bound for Enez.
Get around
The town centre is 4-5 km away from the beach, where there are accommodation facilities and lots of 'summer houses'. There is a minibus connection once every two hours between the town centre and the beach. You can also
hitchhike
on that road very easily. Check out the narrow and curvy bridge which has no barriers on the road to beach.
See
Castle, which has a Byzantine chapel on its grounds, is situated right next to the banks of Maritsa river at the town centre. The opposite bank of the river is actually another country: Greece.
Do
Take a stroll on the beach or in the pine woods near the beach.
Swim in the crystal blue sea. However, be careful as it gets deep very quickly as you move away from the coastline.
Go birdwatching in Maritsa delta and nearby lakes (for example Lake Gala).
Watch the sun setting behind the Greek island of Samothrace, that huge black mountain rising suddenly out of the sea.
Eat
Because of the town's location on both seashore and the banks of a major river, it is possible year-round to buy and eat both saltwater and freshwater fish cheaply.

Drink
You can have a cup of tea or coffee in the garden of ruins of an inn, known as İngiliz Kışlası, which is serving as an outdoor café now (near the beach). The name of the inn ("barracks of the Englishmen" in Turkish) comes from the fact that the building was once used by the British traders who were buying oak trunks to produce charcoal in Britain. Infrequently located oak trees you may see near the beach are the remnants of a lush oak forest which covered the whole area before the trade.

Sleep
There is only one hotel in the town centre. There are more guesthouses (
pansiyon
) in the beach neighbourhood.
Ege Otel

phone: +90 284 811 60 86
Stay safe
Keep in mind that it's not 'cool' to swim in Maritsa River. As the riverbed is exactly where Greco-Turkish border is, this area is passageway of illegal immigrant smugglers, so anyone swimming in the river may be detained or fined by either Greek or Turkish authorities for 'illegally entering the country'. Go to the sea instead.

Stay healthy
The
mosquito
population of Enez is exceptionally large, largely due to its location near the swamps created by Maritsa delta. Their bites are also exceptionally painful, so don't forget to pack a repellent, screen, and anything else that will keep mosquitoes away from you. No need to worry about
malaria
though, the worst mosquito bites can cause is (heavy) itching, as malaria is totally eradicated (or already unknown since time immemorial) in this part of the world.
Also beware of
sea urchins
, which are relatively common in the area, when swimming.
Connect
Enez's telephone code is 284 (+90 284 when calling from out of Turkey).

Go next