Enontekiö
Enontekiö
(North Sami:
Eanodat
, Inari Sami:
Iänudâh
, Swedish:
Enontekis
) is a large, sparsely populated municipality in the north-western arm of
Finnish Lapland
. The municipality is a relatively popular destination as it contains part of
Pallas-Yllästunturi National Park
, a number of designated wilderness areas as well as all peaks of more than 1000 meters in Finland, among them the highest peak Halti at 1,324 m (4,344 ft) above sea level. Enontekiö has the second lowest population density in Finland, with less than 2,000 people on more than 8,000 km² Wide areas lie above the tree line.
The municipality is bilingual with Finnish and Northern Sami both having official status.
Enontekiö Tourist Information

phone: +358 400-556-215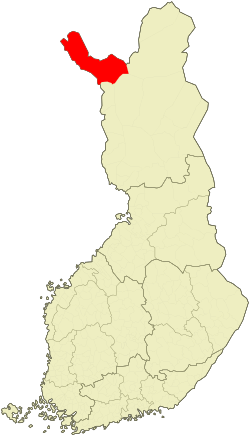 Villages
(Sami: Heahttá) – Hetta is the main village and administrative centre of the municipality. The names Hetta and Enontekiö are often used interchangeably.
(Sami: Gilbbesjávri) – The northernmost village of Enontekiö is the location of Saana fell and a great starting point for a trip to Halti. Tripoint with Sweden and Norway in the Malla Strict Nature Reserve.
(Sami: Gárasavvon, Swedish: Karesuando) – A twin village laying both in Finland and Sweden. The main border crossing between Sweden and Finland in Enontekiö.
Other destinations
Get in
By plane
Enontekiö Airport
6 km west of the main village,
Hetta
, is the highest altitude airport in Finland. It is only served by
Flybe airlines
during spring, but numerous charter flights land throughout the winter. There are no air services during the summer months due to poor demand. The airport has no public transportation but taxi.
Kittilä Airport
between
Kittilä
and
Levi
, 150 km south by road, is probably the next nearest airport within easy reach of Hetta. A bus service connects Kittilä to Hetta (see below).
Alta Airport
in the northern Norwegian town of
Alta
is 200 km north by road. Bus connections between
Alta
and Hetta are possible but more complicated.
By car
Usually people arrive to Enontekiö by car, either from the south or from the neighbouring countries,
Norway
and
Sweden
. From Norway most people enter through the by European route E8. Further east at
Kivilompolo border crossing
is along the road 93 from
Kautokeino
to Hetta. From Sweden the northernmost is , while there are several crossings south of Enontekiö.
Cars are available for rent, if booked in advance, at most major airports, including
Alta
and
Kittilä
. There are limited rental car services in
Hetta
, mainly run by local entrepreneurs – if you want to rent a car in Hetta it is best to ask for details at your hotel. Demand is low, so there is no need to pre-book; journeys must conclude in Hetta. Cars can also be taken on the trains from southern Finland.
It is possible to get someone to drive your car to where you need it. Ask at your hotel.
By train
The Finnish rail network terminates over 300 km to the south in
Rovaniemi
(year round) and
Kolari
(winter). Some of these trains have direct coach connection all the way to Kilpisjärvi. Swedish trains from the south go to
Luleå
and
Boden
, and along Malmbanan from there via
Kiruna
to
Narvik
in Norway.
An overnight train allows you to have a good rest before continuing by bus or car.
By bus
Up here in the north, the bus network is the next best way to get around. There are a number of routes north from Rovaniemi, the most import of which is Rovaniemi–Hetta service, which operates twice daily. This service connects Rovaniemi via Kittilä Airport, the ski resorts of Levi and Olos, Muonio and finally Hetta, with various stops in-between.
Matkahuolto
releases bus schedules for September–May and May–August. The journey from Rovaniemi to Hetta takes around 4hr 50min, and the journey from Kittilä to Hetta takes around 2hr 30min.
From northernmost Sweden, take the bus to
Karesuando
and walk across the border.
In winter connections from Norway are cumbersome, via Sweden or via
Inari
.
The Swedish bus service
Lanstrafiken Norrbotten Busses
provides a service from
Alta
to
Kautokeino
. From Kautokeino you can take a bus across the border to Finland with
Eskelisen Lapin Linjat
to Hetta, but only during the summer months, June–August.
In summer there is also a service by Eskelisen Lapin Linjat between
Tromsø
in Norway and Rovaniemi, via
Kilpisjärvi
, which can be used also to reach Hetta (with quite a long wait at
Palojoensuu
).
By bike
The
Eurovelo
cycling route nr 7 from
Nordkapp
to Malta ("Sun Route", 7,409 km) comes down trough
Finnmarksvidda
, passes Hetta and continues down through Sweden. There are no biking lanes or other special arrangements for bikers up here, so there is no big advantage of the Eurovelo route, but there may be more information and tips on it than on the other options – and usually there is just one road to choose from.
Distances are huge but the hills are not very steep, the roads are mostly well maintained and traffic is light. Mind your clothing – even in July average temperatures are around 10°C (50°F) in some parts of the municipality.
The coaches take bikes if there is room, so you can choose what legs to go on your own.
Get around
Practically there are three forms of transport in these parts of Finland: your own car, taxi and coach.
Coaches
run one or two times every day from
Rovaniemi
. Bikes are useful in the summer and can be taken on the bus. In the winter there is a network of snowmobile routes and snowmobile tracks.
The road E8 (national road 21) inside Enontekiö is in satisfying condition. This shouldn't affect private cars too much but large goods vehicles do have incidents almost daily at the winter.
There is a system with
shared taxis
by bus fare along certain routes around the municipality ("
kutsutaksi
"). These are primary meant for elderly inhabitants of small villages needing to visit Hetta once in a while, but are open to anyone. They mostly drive weekly and must be requested before 18:00 the preceding evening. Check these if ordinary buses do not seem to fit and you do not want to use normal taxis. With some luck they may allow a chat giving insight in local life in quite an other way than using tourist facilities.
There is also
transport from the airports
(still valid?).
Then of course,
trekking
is one of the reasons to come here. There is lot of nature to be explored by foot, ski, bike, canoe or similar means.
Snowmobiles
can also be rented but using a snowmobile is restricted to
waterways
and marked routes, some of which require paying a fee. Riding a snowmobile the locals have more rights to access than visitors do.
See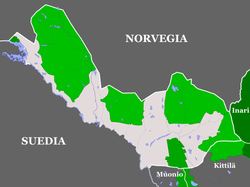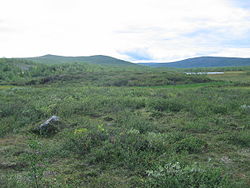 Views and nature. The
midnight sun
is shining from mid-May to mid-July. Between late November and mid-January the sun does not rise at all. In winter
northern lights
can be seen in three nights out of four. The
Kilpisjärvi
village and its surroundings are a must see destination for nature admirers.
phone: +358 206 39 7950

address: Peuratie 15

Nature information centre with Sami people related museum. Souvenirs and local handicrafts. Café.

phone: +358 20-639-7990

address: Käsivarrentie 14145

Nature information. Maps, souvenirs and local handicrafts.

Enontekiö churchThe current church was opened in 1952 and is already the 6th one in Enontekiö. The previous one was destroyed by German soldiers in 1944. The church has one of three copies of the death mask of Martin Luther ever brought to Finland. The church itself and its surroundings are included to the list of nationally significant built cultural environments.

Järämä WWII Fortification Camp

phone: +358 400 556 215

address: Käsivarrentie 5465, 99470 Karesuvanto

Järämä renovated fortification camp, known as Sturmbock-Stellung to the Germans, is located in Enontekiö municipality, in the north-west of Lapland. Originally it was built by Germans and is just one part of a larger network of fortification camps, built during the Lapland War, to protect the harbours of the Arctic Ocean. The camp is dug partly into the bedrock. No real battles were ever fought in this fortification camp.

Markkina church siteMarkkina village was the hub of the local trade and religion for at least 200 years. Even the Sami name of the village, Boaresmárkan, means 'old marketplace'. The church was located on the hill from the 1600's until was dismantled in 1826. The logs were rafted to Palojoensuu where a new church was built. (Now there is just a grave yard left in Palojoensuu.) The old church site in Markkina is included to the list of nationally significant built cultural environments.

Iitto palsa-type bogPerhaps the world's easiest palsa bog to visit. Right next to the main road and with equipped with an easy-to-access nature trail. Palsa bogs contain permanently frozen ice lenses under the soil.
Events
Do
Malla Strict Nature Reserve is not a hiking ground but there is a trail from the road to the trilateral border point with Norway and Sweden (11 km one way, 7 km sidetrip possible to the Pikku-Malla fell, a wilderness hut near the tripoint, boat transport most way in season). Leaving the marked trail inside the reserve is not allowed.
Skiing
Maintained slopes in Hetta
Maintained cross-country tracks in Hetta, the national park and Kilpisjärvi.
For ski touring off tracks the national park and any of the wilderness areas provide ample terrain. Most mountains are in Käsivarsi Wilderness Area. Make sure you know what you are doing.
Snowmobile and husky safaris, fishing and polar light watching trips and other programme services at most tourist businesses.
Käsivarren Luontopalvelut

phone: +358 40 589 1940

address: Saharannantie 66

Program services
Buy
Shops in Hetta, Kilpisjärvi and at some other locations. Alko stores are in Hetta and Kilpisjärvi. For souvenirs, check in advance. The park visitor centres have some, but most shops have mostly kitsch, if even that. There are artists, but many work from home and sell mostly from there, on the net and in design shops elsewhere. If you are willing to buy some Sami related stuff, always check there is a
Sámi Duodji
patch indicating an original handicraft.
phone: +358 16 530 1100

address: Kustaavantie 1

Grocery store and Alko.

phone: +358 16 521 052

address: Ounastie 60

Souvenirs

phone: +358 40 762 2063

address: Ruijantie 15

Souvenirs, local handicrafts

Kilpishalli

phone: +358 16 537 748

address: Käsivarrentie 14205

Supermarket with Alko store. Gasoline.

phone: +358 16 522 181

address: Käsivarrentie 3767

Gas station with a grocery store, a restaurant and lodging.
Eat
Reindeer and fish usually feature on most menus. Food is expensive in this part of Finland, so expect to see this reflected in menu prices. Quite limited options.

Sleep
Go next
See the neighbouring countries Sweden and Norway. Especially road to
Skibotn
in Norway has incredible canyon sights.