Erie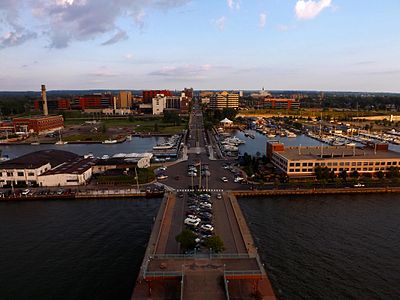 Erie
is a city of about 100,000 in Northwestern
Pennsylvania
. It is Pennsylvania's only lake port on the
Great Lakes
(Lake Erie).
Understand
Erie is the fourth largest metropolitan area in the state of Pennsylvania. However, in terms of size and stature, there is a clear gulf between the first and second cities (
Philadelphia
and
Pittsburgh
) and the second-tier cities, like Erie, Allentown, Scranton/
Wilkes-Barre
, and
Harrisburg
. Erie is roughly in the center of Pennsylvania's only coastline, bordering Lake Erie. The city itself sits on Presque Isle Bay, which is formed by a long, narrow peninsula known as Presque Isle that reaches from the west around the north of the city.
Erie was founded in 1795 after the purchase of the surrounding territory from
New York
. It made its mark on history during the early 19th century, when Commodore Oliver Hazard Perry's small fleet of warships used the bay (then known as Misery Bay) to regroup and repair between skirmishes with the British fleet on Lake Erie. (A reconstruction of the Brig "Niagara" can be found at the Erie Maritime Museum.)
The late nineteenth century brought industrial development, primarily heavy equipment and the locomotive industry. Like many other cities in the so-called rust belt, this development has slowly withered away to outside competition, with the notable exception being General Electric, which maintains a large and active presence in the rail industry (GE Rail).
Erie's climate is similar to most of the Northern United States, but with a big winter twist known as lake effect snow. Snowfall amounts vary wildly within a 40 mile zone south of the lake. Most of the time the immediate vicinity of the lake receives light snowfall, and the range from three to fifteen miles receives a whollop. Snowfalls are also generally heavier as you go east. The NY/PA border region typically receives the most snow until you move far enough away from the lake for the effects to diminish. The roads are well maintained, but some snow squalls come on so suddenly, it is impossible to keep up. If you are driving in the winter, be prepared with emergency gear. The good news is that by January, it is often cold enough for Lake Erie to freeze over, greatly diminishing the lake effect.
Get in
By plane
Erie is within a two hour drive of Buffalo-Niagara, Cleveland-Hopkins and Pittsburgh International Airports. A medium-sized airport worth considering is
Erie International AirportThe airport is served by three major airlines: United (via Chicago), Delta (via Detroit and Atlanta), and American (via Philadelphia). Bargains can be had and the airport itself is a breeze to navigate, get in and out of, and also has a full complement of car rental agencies on-site. Parking is easy, but it is also fairly pricey. (Erie's airport is not large enough to justify a competitive parking market like most larger airports have. Park on-site, get a friend to drive, or take a cab/bus.)
By bus
Erie has a newly built
Greyhound Bus Station
located right across from the Library and Maritime Museum. Buses come and go frequently from
Buffalo
and
Cleveland
. Erie can even be accessed from
New York City
,
Chicago
, and
Toronto
typically with only one transfer. City buses stop at the station, so you can visit parts of the city without a taxi or car, although you will have less freedom.
By train
Amtrak serves the downtown Union Station with the daily
Lake Shore Limited
between
Chicago
and
New York City
, although this is not a common method of transportation. Eastbound trains call at Erie in the middle of the night while westbound trains have a more reasonable departure time around 7 AM. is at 125 W 14th St.
By car
Erie is easily accessible via Interstate 90 and 79. The recently completed Bayfront Connector Highway links the northern terminus of I-79 through the city along the bayfront and then through the industrial East side and newer housing and office developments around Knowledge Park and Penn State University (Behrend College). The new highway (completed Summer 2005) is 3-4 lanes, but has few buildings or side streets that connect directly with the road, making traffic relatively smooth and making it much easier to get in and out of the downtown. The completed highway is a scenic detour away from the traffic and strip malls of I-90 south of Erie.
Get around
By car
Erie is laid out in an easy to understand grid pattern paralleling the Lake Erie coastline. Numbered streets starting with the northern most 2nd Street run roughly east-west. (The bayfront highway loops around this grid, taking the place of what would be a "1st Street". Major E/W thoroughfares are 6th, 12th, 26th and 38th Street. The center of town is split north-south by State Street. N/S streets on the west side of town are typically named after trees (Peach, Poplar, Chestnut) and on the east side after countries (French, German, Holland). The two major north-south routes through the center of town are State and Peach (Peach diverges to the southwest after 26th street.) Major N/S streets listed from west to east are Pittsburgh, Greengarden, Liberty, Chestnut, Peach, State, French, Parade, East. As you can see, this naming convention is not hard and fast, and breaks down in all directions the further you get from the city center. The suburbs of Fairview, Millcreek, Harborcreek, Lawrence Park and Wesleyville also stick to this rough grid pattern to some degree as you move away from the city.
By bus
Bus (
EMTA
) service primarily stretches from Fairview in the west to Harborcreek in the east, and south to the I-90/Peach Street shopping district. Regional shuttles connect the outlying communities of Edinboro, Waterford, Corry, Union City, Girard and Albion. EMTA is available by phone at (814) 452-3515.
By taxi
Taxis are rare in Erie - apart from the airport and perhaps the very center of town, calling ahead is a must.
See
Do
Presque Isle State ParkSituated on a peninsula starting from about four miles west of downtown and then going north and east approximately ten miles. Most of the lake side of the peninsula is made up of sandy beaches. The bay side provides launching docks for boats and spots to fish. A fourteen mile paved exercise and bike trail runs the entire length of the peninsula offering views of the lake beaches and wildlife refuges. Bicycles and boats are available for rental in and around the park. There is also a nature cruise starting near the Perry monument, on the southeastern side of the park. With free entry, copious parking, and miles of beaches, it's not hard to see why this park is the most visited state park in Pennsylvania, averaging over a million guests a year.

address: 2080 Interchange Road

Millcreek Mall Pavilion. Open Year Round. A unique shopping experience with a variety of specialty shoppes, open Thursday and Sunday from 10AM to 6PM and Friday and Saturday from 10AM to 8PM Food Fun and Shopping. This place is constantly changing and growing!

Waldameer Park and Water World

phone: +1 814-835-7435, +1 814-838-3591

address: 220 Peninsula Drive, Erie, PA

Family oriented amusement and water slide park, in the summer is a popular place to beat the summer heat.

address: 8091 Peach Street

Another great place to take the kids. Located immediately off of I-90 on Peach Street, this indoor waterpark operates year round.

Erie Wine CountryThere are a number of wineries north and east of the city, including Mazza, Penn Shore, and Presque Isle Vineyards.

address: 10 W 10th St

Erie's oldest theater group, producing around 12 shows per year. Musicals, comedies, dramas, concerts, and youth theater are common events. Shows run Thursdays through Sundays as a general rule

phone: +1 814-455-1375

address: 811 State Street

The Erie Philharmonic is an orchestra that plays a variety of concerts at the Warner Theatre on State Street, which is on the National Register of Historical Places for its Art Deco style. Tickets can be ordered online, and they go well in advance.

address: 8199 Perry Highway
Sports Team
Erie is a city of minor league athletics with two minor league professional teams and a major junior hockey team.
phone: +1 814-456-1800

Home of the Erie SeaWolves, Erie's minor league baseball team.

address: 809 French St

The arena is home to Erie's other two minor league teams, the Otters (hockey) and the Bayhawks (basketball).
Buy
The main shopping area in Erie is centered around
Peach Street
, south of the city to its junction with I-90. Many of the typical national chains can be found, many of which are contained in Millcreek Mall, a sprawling single-story mall/strip complex.
Smaller niche shopping is available on the west side of the city in plazas on West 8th, 12th, and 26th Streets. The downtown also has a few stores, but has not been a large retail draw since the late 1970s.
Erie is a popular shopping destination because of Pennsylvania's waiver of sales tax on clothing. Many people from the surrounding states and Ontario make special trips to Erie for this reason.
phone: +1 814-868-9000

address: 5800 Peach St
Eat
Erie has a few local foods unique to the area that you might want to try:
Greek Sauce
- It's kind of like hot dog chili, but with different spices, and usually put on hot dogs and hamburgers, as well as other things. The local chain
New York Lunch
claims to have the 'original' Greek Sauce, and many would agree that theirs is the best.
Ox Roast
- Thin sliced beef cooked in a beef broth, usually eaten as an Ox Roast Sandwich.
Pepperoni Balls and Pepperoni Bread
- Italian Bread with pepperoni baked inside.
Smith's Hot Dogs
- A hot dog brand local to the area that is very tasty. They are so well liked that there are stories of people from Erie who moved to other parts of the country having Smith's Hot Dogs overnighted to their new home. Good for camping and grilling out.
There are plenty of chain restaurants in Erie as well as ethnic and local places to eat. Peach Street has a large concentration of restaurants as does downtown Erie.
All Aboard Diner

phone: +1 814-774-9303

Aoyama Japanese Steak House & Lounge

phone: +1 814-868-7999

Arnone's Italian Restaurant

phone: +1 814-459-9333

Barbato's Italian Restaurant & Pizzeria

Benjamin's

phone: +1 814-459-2220

Bertrand's French Bistro

phone: +1 814-871-6477

Calamari's Squid Row

phone: +1 814-459-4276

China Garden Restaurant

phone: +1 814-868-2695

Crowley's Restaurant Lounge

phone: +1 814-774-8450

Dutch Treat Restaurant

phone: +1 814-654-7228

Gino's Bistro & Jazz

phone: +1 814-454-4466

Hibachi Japanese Steak House

phone: +1 814-838-2495

Khao Thai

address: 36 North Park Row

One of Erie's hidden gems. Located across the street from Perry Square, Khao Thai offers a taste of Thailand that is almost identical to that you would see in Bangkok.

Latino's Restaurant Bar

phone: +1 814-452-1966

Lucchetti's Pizza
*
Max & Erma's Restaurant

phone: +1 814-860-3332

Mi Scuzi Restaurante Italiano

phone: +1 814-454-4533

New China Restaurant

phone: +1 814-838-2388

Nunzi's Place

address: 2330 E 38th St, Erie, PA 16510

Family owned Italian restaurant with a huge menu filled with pizza, pasta, salads and sandwiches at very reasonable prices.

Plymouth Tavern

phone: +1 814-453-6454

Raj Mahal

address: 2740 West 12th Street

Lunch Buffet and Dinner. The only Indian Restaurant in Erie. Extremely great North Indian cuisine and a good change.

Safari Grille

phone: +1 814-868-9200

Sara's

phone: +1 814-833-1957

Valerio's Italian Restaurant

phone: +1 814-833-2959

Wild Card's Sports Grill & Bar

phone: +1 814-866-1234
Drink
There are plenty of places to go for the night scene. Numerous bars and dance clubs are located throughout the metropolitan Erie area. Some night clubs are:
The Boardwalk Complex DowntownContaining a sports bar and dance club daily, as well as a quieter upscale bar located upstairs in the Dream Ultra Lounge open on Friday and Saturday nights with bottle service available

The PlymouthOne of the mainstays in downtown Erie, the Plymouth is great for all ages, with drink specials daily from 9PM-11PM

Nicky's Pub

Gino's Bistro & Jazz

The Cell Block

The King's Rook

The Metro

The Trance

On the Rocks

Sloppy Duck saloon
Sleep
Hotels are concentrated along the heavily travelled Interstate 90 corridor, primarily at the Peach and State St. exits. There are also a number of chain and locally based hotels and motels along Interstate 79 north of I-90 and to the west on 12th and 26th streets towards Presque Isle. Finally, the downtown offers a third option, offering anything from barebones motel to full-service hotel to bed and breakfast.
Microtel Inn & Suites El Paso Erie

address: 8100 Peach Street

address: 50 Peninsula Dr

Great campsite located on the water and adjacent to Presque Isle State Park. Pitch your tent right on the beach or in a designated site in the woods. There's also RV parking.

address: 2087 Interchange Road

Accommodations include complimentary Internet, flat screen TV, and pantry area. Guests will also have access to complimentary hot breakfast, complimentary parking, indoor pool and fitness center.
Stay safe

As in the rest of North America, the emergency number for fire, police, and ambulatory services is 911. The city of Erie is served by the Erie City Police Department, while Millcreek is served by the Millcreek Township Police Department. All ambulatory services are served by EmergyCare.
Erie, for the most part, is safe, and an average tourist will have no problems with violent crime, especially in Millcreek, where the mall and other shopping areas are. The East Side, especially near lower Parade Street, can be more urban and rough, but the people are mainly working class immigrants for the most part, and will not cause a problem. Near the General Electric plant near Harborcreek, however, the depressed, formerly industrial neighbourhoods can breed much in the way of criminal activity; it's recommended that a tourist avoid these areas, although these areas do not offer much in the way of what a visitor would wish to see to begin with.
Perry Square in Erie's urban core has multiple bars that are frequented on weekends by both rowdy college kids from Gannon and middle-aged professionals; one must be extremely careful when driving downtown overnight, especially after final call at 1:30AM.
Other than these notes, one should just use common sense; avoid flashing expensive articles while in thickly populated areas such as downtown Erie.

Go next
Buffalo is an hour and a half east on I-90.
Cleveland is an hour and a half west on I-90.
Holiday Valley