Española (New Mexico)
Española
is a small, predominately Hispanic city at the heart of
North Central New Mexico
. Situated in a wide valley between the
Sangre de Cristo Mountains
on the east and the
Jemez
on the west, Española has few tourist attractions of its own and isn't much to look at from the main roads — passing through, what you'll see is mostly strip malls and gas stations — but its location midway between
Santa Fe
and
Taos
, combined with its proximity to a number of
Pueblo
Indian communities, makes the town a useful staging point for trips around the region.
Get in
Española is about 20 miles (30 km) north of
Santa Fe
on US Highway 84/285. US 84/285 are co-routed on the same road through town, and split apart at a junction about 10 miles northwest of Española. Other roads out of Española are NM 68, which heads northeast to Taos; NM 76, the "High Road to Taos" which heads east through some mountain villages; and NM 30, which heads southwest towards
Los Alamos
. Though there is a small airport north of town, there is no commercial air service.
New Mexico Park and Ride
offers regular weekday bus service to Santa Fe and Los Alamos. Additionally, Española also serves as a hub for
NCRTD
bus service to many of the communities of North Central New Mexico; service is limited and restricted to the weekdays, with the exception of the
Taos Express
weekend service to Taos and Santa Fe.
Get around
Española is not particularly pedestrian friendly. Nearly everything in town requires a car to be reached.

See
Most of the most interesting things to see are not on the main drag. You'll need to venture onto the side roads. Ansel Adams' famous "Moonrise, Hernandez, New Mexico, 1941," considered by some the finest photographic black-and-white print ever made, was taken just north of Española. Bring your camera and see what you see.
Española has a quirky sort of fame as the self-proclaimed "Lowrider Capital of the World," allegedly with more lowriders per capita than any other place on Earth. While no one has exactly proved that, no one has disproved it either; indeed, you're likely to see a lowrider or two cruising the main drag if you keep your eyes peeled.

phone: +1 505 747-8535

address: 706 Bond Street

A small arts and culture complex centered by the Convento, a replica church based on a historic mission built in the area. Attached to the Convento is a gallery and gift shop, the Northern New Mexico Regional Art Center, that displays and sells work created by local artists. Behind the Convento is the Bond House Museum, a historic turn-of-the-century home with historical artifacts and photographs relating to the history of the town.

Santa Cruz de la Cañada

address: 100 Church St, Santa Cruz

Right on the Santa Cruz plaza, Santa Cruz de la Cañada is one of the oldest Catholic parishes in New Mexico. The village surrounding it (now surrounded by Española) predates the larger town by more than 200 years.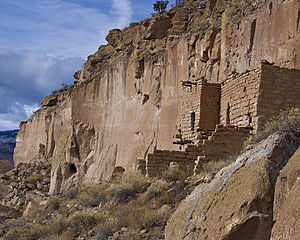 Two Native American pueblos border the town: Santa Clara Pueblo on the south off NM 30 and Ohkay Owingeh (formerly San Juan Pueblo, and still so listed on many maps) on the north off NM 68. Both are good sources of American Indian arts and crafts; Santa Clara is noted for fine black and red pottery, while Ohkay Owingeh operates an arts and crafts cooperative in the village, where you can see artists at work and purchase wares.
address: 300 Hwy 30

On the Santa Clara Pueblo reservation is this interesting archaeological site, consisting of the ruins of an ancient village atop a mesa and a set of cave dwellings cut into the cliff face overlooking the valley. Access is by guided tour only. Note that the cliff dwelling tour does involve climbing some ladders and somewhat strenuous walking. Check the website ahead of time as the site is sometimes closed.
Do
The two pueblos bordering Española operate casinos. Santa Clara operates the Santa Claran Casino at 460 N Riverside Dr, right in the middle of town, while Ohkay Owingeh operates the on NM 68 on the northern edge of town.
Buy
Pueblo art (pottery and jewelry) is available in a few places in town, but better at the pueblos themselves. Several significant potters at Santa Clara Pueblo have galleries easily reached from New Mexico route 30, south of town on the way to Los Alamos. Ohkay Owingeh Pueblo, on the north side of Española, also produces pottery that can be bought at a small shop there.

Española Valley Fiber Arts Center

phone: +1 505 747-3577

address: 325 Paseo de Oñate

A local nonprofit that offers classes, workshops, and supplies and materials for weaving, spinning, dyeing, knitting, felting, quilting, etc. For those just passing through town, the center has a gift shop selling quilts and weavings created by local artists and is a good resource for those interested in the local fiber arts culture.
Eat
phone: +1 505 753-8543

address: 1226 N. Railroad Ave

A long-time local favorite that recently moved to a new location. New Mexican and American; service can be spotty, but nobody complains about the green chile. Good for breakfast.

phone: +1 505-753-3211

address: 603 Santa Cruz Rd

The best place in town for New Mexican cuisine (stuffed sopaipillas with red or green chile, etc.). The discerning visitor can discover several drawings by cartoonist Bill Mauldin on the walls inside. Near one of several starting points for the "High Road to Taos". Lunch and dinner.

La Cocina

phone: +1 505 753-3016

address: 415 S Santa Clara Rd

New Mexican & American

Dandy Burger

phone: +1 505-753-4234

address: 424 South Riverside Dr

Great burgers, fries, and other fast food. Cheap and quick service.
Drink
Saints and Sinners

phone: +1 505 753-2757

address: 503 South Riverside Dr

A good local liquor store with a great neon sign.
Sleep
Go next
Several Native American Pueblos are located nearby: in addition to Santa Clara and Ohkay Owingeh bordering the town, San Ildefonso, Nambe, Pojoaque (at the town of the same name), and Tesuque are a short drive south. All are good sources of American Indian arts and crafts; Santa Clara and San Ildefonso are particularly noted for fine black and red pottery. Several of the pueblos host casinos.
North of town on US 285, about a half-hour drive, is the tiny town of Ojo Caliente, which has a popular hot springs resort with several mineral spring pools, spas, bath houses, and scenic hiking trails leading into the hills behind town.
Taos, Santa Fe and Los Alamos with Bandelier National Monument nearby are all short drives from Española and worthy destinations to visit. In the case of Taos, the trip there is worthy in and of itself:
NM 68, the primary route to Taos, follows the Rio Grande up the valley and through a section of the Rio Grande Gorge, passing a number of picturesque little villages, many with seasonal fruit stands. (Don't bother with the peaches at these; in the main, they're not local products but are trucked in. Much of the other produce, however, is of local origin, including apples and chile.) The stretch of the river through the Rio Grande Gorge is excellent white water, but there are more outfitters/tour operators in Taos and Santa Fe than in Española.
Alternatively, you can take a longer, though even more scenic drive to Taos via NM 76, the "High Road to Taos," east from Española into the Sangre de Cristo Mountains. This route passes through several picturesque villages, including Chimayó, home to the Santuario de Chimayo, a church reputed for miracles that is the focus of a major pilgrimage every Easter.
Española is the gateway to much of the red-rock country of north central New Mexico made famous by artist Georgia O'Keeffe. The small town of Abiquiu is northwest on US Highway 84, with a pleasant motel and attached restaurant (Abiquiu Inn, Cafe Abiquiu) and Abiquiu Lake, a man-made lake on the Rio Chama that can offer some boating and fishing, depending on the level of the lake (it's often drawn down in fall and winter to prepare for spring runoff). Ghost Ranch, a conference and retreat center owned by the Presbyterian Church, is just north of the lake and has a lot of gorgeous red rock scenery as well as some hiking and photography opportunities.