Evanston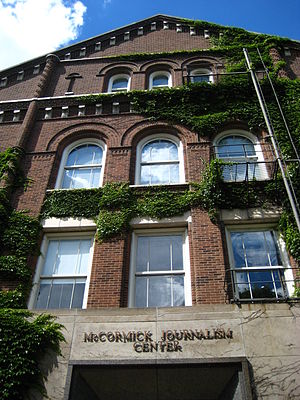 Evanston
is a city in the
North Shore
region of
Illinois
along the shores of
Lake Michigan
. Evanston has many identities: college town, dining destination, cultural center and gateway to the wealthy North Shore, although the city itself is anything but homogeneous in regards to economic status, culture and race.
Evanston is named after John Evans, one of the founders of Northwestern University, which ranks among the most prestigious universities in the United States.
Get in
By plane
The nearest airport is
Chicago O'Hare International Airport
, though Chicago's Midway Airport is sometimes a more affordable option.
Public transportation is also available between O'Hare and Evanston. You can take the CTA Blue Line to the Clark/Lake station, then transfer to the Purple Line express (during rush hour) or transfer to the Red Line at Jackson and then go north to Howard station where you can take the Purple Line the rest of the way to Evanston. Alternatively, a cheap way of going to Evanston is by Pace bus 250, which runs directly from O'Hare Kiss-and-Fly to Evanston Davis Street.
Airport shuttles and taxis are also options. American Taxi offers reasonable flat rates between O'Hare and Evanston (and many other North Shore towns), but a pick-up must be arranged by phone.
By car
Interstate I-90/94, known locally as the Edens Expressway, runs about 5 miles to the west of Evanston. Once in Evanston, you can park on the street (meters with a 2-hour limit) or in one of three city-operated parking garages. (The City of Evanston
offers more information
.)
By train
The Metra Union Pacific North Line runs from downtown Chicago, with stops in Evanston at Main and Davis (Both right next to the Purple Line) and Central (a few blocks further west).
The Chicago Transit Authority (CTA) runs the Purple Line from Chicago. It can be accessed during morning and evening rush hours from most elevated train stops in the Loop. It runs express from Belmont on Chicago's North Side to the Howard station in Rogers Park, at the northern border of Chicago. Then, it becomes an all-stops train for Evanston. When the Purple Line Express is not running (mid-day and late evening), take the Red Line north to Howard and then transfer to the Purple Line. The Davis station is in the midst of the downtown business and shopping area and is accessible.
By bus
Pace & CTA runs buses from neighboring suburbs such as Wilmette and Skokie. Many routes connect at the Davis CTA station.
Get around
The CTA Purple Line makes stops at South Blvd., Main, Dempster, Davis, Foster, Noyes, and Central: after Central, the CTA Purple Line continues one more stop to Wilmette. Pace & CTA buses connect at many of these stations, especially Davis. Evanston is also a very
bike-friendly city
.
In the springtime, local birds, especially pigeons, are so used to the CTA line (which has been in operation for more than 50 years), that the birds will often walk on to the train at Davis Street, ride the train south to South Boulevard, and walk off the train! Apparently, these birds have learned that the train is an efficient way to get from the center of town to feeding areas in the cemetery next to South Boulevard.
CTA bus routes
93 California/Dodge runs between Davis station in central Evanston and the Kimball Brown Line station in Albany Park. Service is every 25-30 minutes weekdays and Saturdays from the morning to early evening hours. No late evening or Sunday service.
Pace bus routes
See
Do
address: 2611 Sheridan Rd

This is a kid-friendly, safe beach, like all of Evanston's beaches. Can be fairly crowded, but it is a very nice way to spend a summer's day. There is a relatively new playground about 20 yards from the shore, which is also enjoyable.
Buy
The central shopping district is off Davis Street, in downtown Evanston, but Dempster Street, just a few blocks south, is also a great place to shop. It has several small, fashionable yet unpretentious boutiques. The Central Street shopping area in northern Evanston, which runs 2 blocks from Green Bay Road to Hartrey Avenue, has a number of high-end boutiques, cafes, and bakeries, including the Spice House, Table Manners, Ritzlin Antique Maps, Urban Totem (chandeliers and furniture) and Tag's Bakery. Main Street in southern Evanston is gentrifying, and is worth a visit for Ten Thousand Villages, Dave's Down to Earth Rock Shop, and Vogue Fabrics. Several upscale restaurants have opened in this area as well.
Evanston has an improbably large number of
Oriental rug
stores.
phone: +1 224 999-7722

address: 1712 Sherman Ave

An independent bookstore, formerly known as Bookman's Alley (which was a landmark book store in Evanston for almost 30 years).
Eat
Budget
phone: +1-847-328-5525

address: 812 Clark St

Buffalo Joe's offers their wings at three heat levels: mild, hot, and "suicide" (topped with jalapeño peppers). Some people swear that this place has the best wings and burgers in the city.

phone: +1-847-328-0990

address: 1001 Davis St

An Evanston favorite for many years, Gigio's offers up thin-crust pizza by the (huge) slice, as well as other fare, at reasonable prices.

phone: +1-847-475-9400

address: 914 Noyes St

This tiny, French-inspired cafe near the Noyes Arts Center is a favorite of locals. Bob Pottinger and his brother, aided by a succession of Northwestern students, serve homemade soups (one per day) and hand-crafted sandwiches, along with cookies voted Chicago's best. The baguettes are provided by a local bakery, made with a recipe developed by Mr. Pottinger based on his travels in France. The soup/sandwich combo is almost enough food for two, but save room for the luscious, vanilla-rich buttercream cookies or the new and delicious Belgian chocolate cookies.
Mid-range
Splurge
phone: +1-847-864-3435

address: 505 Main St

Great restaurant for high-end cuisine, especially seafood, with an amazing tasting menu and incredible wine pairings. Outdoor seating is available during the summer.
Drink
Thanks to the hordes of Northwestern students, downtown Evanston has plenty of good, non-chain coffee shops. You'll have little luck finding a bar, however - for many years, Evanston was a center of the teetotalling Temperance Movement, and although it's much more permissive nowadays, ordinances still hinder drinking establishments.
phone: +1-847-328-7940

address: 500 Main St

A small, independent coffee shop. Has especially delicious cookies.

Unicorn Cafe

phone: +1-847-332-2312

address: 1723 Sherman Ave

The Unicorn has a nice ambiance, and in the summer it is pleasant to sit outside. The cafe feels conducive to leisure as well as work. A nice place to pop in for a coffee and read the paper.
Sleep
Budget
phone: +1-847-491-6400

address: 1501 Sherman Ave

Wireless internet, fitness room.
Mid-range
phone: +1-847-475-6400

address: 1818 Maple Ave

Opened in the late 1990s, otherwise just like any other Hilton Garden Inn outlet.
Splurge
phone: +1-847-866-8700

address: 1710 Orrington Ave

The fanciest hotel in Evanston, it underwent a major remodel in 2004, and a couple years later joined the Hilton chain.
Go next
Rogers Park and the other Far North Side neighborhoods of Chicago are right next door to Evanston.
Oak Park is Chicago's other urban-like suburb, with plenty of Frank Lloyd Wright architecture to boot.
The CTA Purple Line ends in the affluent suburb of Wilmette, walking distance from the Baha'i Temple, a cultural and architectural sight to see.