Exeter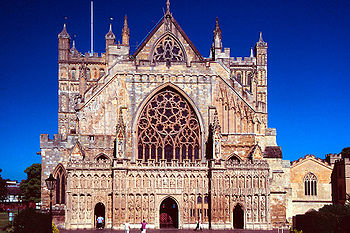 Exeter
is the county town of
Devon
and historically the administrative capital of the south-west peninsula. A historic mid-sized cathedral city with a good blend of arts, education, retail and history.
Understand
In AD 50 a
Roman
military base was built at a strategic crossing point on the banks of the river Exe, seven years after the Roman invasion of Britain. The settlement quickly gained in importance as the administrative centre for the Dunmommi tribe once the legionnaires left. Indeed, its Roman name, Isca Dumnomiorum, means "town of the Dumnonii (Devonian) tribe". Parts of the original Roman walls can still be seen today. The city continued to hold regional significance through the turbulent Dark Ages, being twice captured by the invading Vikings. Following the Norman Conquest, the inhabitants rebelled against William the Conqueror, who laid siege and subsequently built Rougemount Castle to ensure future compliance. During the renaissance period it developed into an economically powerful city through the wool industry, and a period of rapid growth commenced. Later, at the beginning of the Industrial Revolution, industry was driven by water power from the River Exe. It remained a significant seaport (courtesy of its Ship Canal) until the age of steam, but there was no major industrialisation in the later 19th century. The city was badly damaged in an incendiary bombing raid on the High Street and surrounding areas in 1942, and although post-war reconstruction has been limited, a number of interesting buildings remain.
Now Exeter is the commercial and service centre for a largely agricultural hinterland, with a population of around 110,000. Good facilities for tourists exist, but tourism does not dominate; regularly voted among the top 3 cities in the UK for quality of life.
Get in
By plane
phone: +44 1392 367 433

address: Clyst Honiton EX5 2BD
UK domestic flights operated by
Flybe
fly to Aberdeen (
ABZ
); Belfast City (BHD); Edinburgh (EDI); Glasgow (GLA); Guernsey (GCI); Jersey (JER); Leeds Bradford (LBA); Manchester Airport (MAN); Newcastle (NCL) and Norwich (NWI).
Skybus flies to St Mary's on the Isles of Scilly (ISC) March-October, Monday to Saturday.
International flights to Exeter operated by Flybe are available from the following destinations, with services from France under a codeshare agreement with Air France: Alicante (ALC); Amsterdam (AMS); Avignon (AVN); Bergerac (EGC); Chambéry (CMF); Dublin (DUB); Dubrovnik (DBV); Düsseldorf (DUS); Geneva (GVA); Hanover (HAJ); Helsinki (HEL); Málaga (AGP); Palma (PMI); Paris (CDG); Rennes (RNS); Salzburg (SZG). Most of these flights run year-round, but less often in winter.
The bus to the airport is Stagecoach Bus 56 between Exeter St David's railway station and Exmouth. Buses run hourly till about 10PM and take 20 min, single fare £3. A taxi costs £10-20.

By train
Exeter is on the London Paddington to Penzance line, with a train roughly every hour from Paddington to Exeter through most of the day. Alternatively all Exeter stations (except St James's Park) are on the Riviera Line serving Exeter, Starcross, Dawlish, Teignmouth, Newton Abbot, Torre, Torquay and Paignton.
Exeter St. Davids is the main train station, a 15-minute walk or bus journey to the city centre. Several smaller stations for local and regional trains exist, including , St Thomas and . Central station is a 5-minute walk into the city centre along Queen Street. The journey time from London Paddington to Exeter St. Davids is 2-3 hours, with the average being around 2 hours 30 minutes. There is also a slower service from London Waterloo via Salisbury, about every 2 hours, which can take up to 4 hours. This service calls at Central station and at St David's. National services are run to Bristol, South Wales, Birmingham, the north of England and Scotland; service to Bristol is approximately hourly. Local trains run to Barnstaple, Exmouth, and along the main lines.

By bus
National Express operates a number of bus services from points around the United Kingdom that arrive at the city's bus and coach station, in Paris Street, a few minutes walk to the main shopping area in High Street and the cathedral green.
Two companies run coaches between Exeter coach station and London's Victoria Coach Station. National Express offers a nine times a day service (service numbers 501, 404 & 406) with some advance fares as low as £2 return, and Megabus runs once a day starting at £1.50.
South West Falcon operates a service connecting Bristol, Taunton, Exeter, and Plymouth. A single fare from Plymouth to Bristol is £28. Tickets can be booked online in advance, but reservations are not strictly required.

Get around

The central area of the city is fairly small, so it is easy to get around on foot.
Buses within the city are operated by Stagecoach Devon, who also operate buses to most regional destinations. A day pass within the city costs £4, with a regional pass valid on Stagecoach and Western Greyhound costing £6.50, 1-week passes are £12. Some regional routes are operated by FirstBus, and by small independent operators.
Cycle paths of varying quality run through the city. The most scenic route runs along the canal towpath.

See
City walls - some date to Roman times and there are easily-accessible remnants next to Rougemont Gardens.

phone: +44 1392 255573

address: Exeter, EX1 1HS

And the Cathedral Green; Exeter's top attraction and a very beautiful gothic building. The cathedral lays claim to having the longest unbroken stone roof beam of any building in the world. The Cathedral Green opposite can be a good place to chill out on in the summer, ideal for an inexpensive picnic.

address: High St, Exeter, EX4 3EB

Claimed to be the oldest municipal building in England still serving its original purpose.
Historic quayside including the 17th-century Custom House, which has been renovated as a headquarters for the city's archaeological service.
Medieval churches in the city centre:
St Martin's

St Mary Arches

St Olave's

St Petrock's

St Stephen's
Parliament StreetThe world's second most narrow street at 1.22 metres (4 ft) wide.
phone: +44 1392 420703

address: Castle St, EX4 3PU

The grounds and the remaining Norman structures are open to the public, but the central part of the castle has been retired from service as an Assize Court. It is now a wedding and events venue with holiday lets.
phone: +44 1392 265858

address: Queen St EX4 3RX

A museum and art gallery.
address: Mint Lane EX4 3BL

The 900-year-old guest wing of a former Benedictine Priory, furnished as the 1602 home of a prosperous family.
phone: +44 1392 665887

address: 2 Paris St, EX1 1GA

One-hour tours are easily arranged of the city's unique medieval (and now out of use) water system. Not for the claustrophobic! The entrance can be found next to the Princesshay shopping development.
University of ExeterParkland campuses and sculpture walk.
phone: +44 1392 881345
address: Broadclyst, EX5 3LE

Do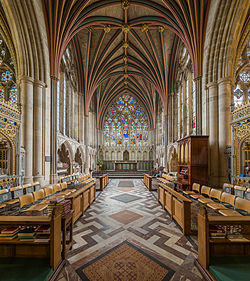 Take a free guided tour with the City's volunteer Redcoat guides - tours leave the Cathedral Green or the Quay and last 1–2 hours

phone: +44 1395 233200

address: Sidmouth Rd, EX5 1DR

Adventure park mainly aimed at younger children, with indoor and outdoor slides and rides. Accommodation includes cabin lodges, glamping and camping.
The canal and river offers opportunities for watersports and cycling. Bikes and canoes can be hired from Saddles and Paddles, No. 4 Kings Wharf, The Quay, EX4 2AN, who offer good advice and the local bike route maps. A series of cycle paths exist on either side of the river. Along the west river bank, the village of Starcross and the beach of Dawlish Warren are easily reached, and Dawlish, Teignmouth and the south west coastpath can also be reached via this route. On the east bank, the gastronomic town of Topsham, Lympstone village, and seaside resort town Exmouth can be reached.
Watch
Cinema
phone: +44 333 014 4501

address: Sidwell St, EX4 6PL

phone: +44 871 902 5730

address: Bartholomew St, EX4 3AJ

Has a cafe-bar and free Wi-Fi.

phone: +44 345 308 4620

address: Summerland St, EX1 2DD
Theatre
Sport
phone: +44 1392 411 243

address: St James Park EX4 6PX

City play in League Two, the fourth tier of English football. The 8830-seat St James' Park stadium is a 10-minute walk northeast from the city centre.

Exeter Chiefs Rugby Union Club

phone: +44 1392 890890

address: Sandy Park Stadium, Sandy Park Way, EX2 7NN

Exeter Chiefs play in the English Premiership, the top tier of English Rugby Union. Sandy Park, opened in 2006, has a capacity of 12,800. There are plans to enlarge this beyond 20,000 to meet the stadium requirements for later stages of European rugby tournaments.

phone: +44 1392 832599

address: EX6 7XS

This is a National Hunt ie jumps racecourse, with regular meetings during the winter season. Perched on top of the Haldon hills, it's the highest racecourse in the UK, at 260 m. There's a caravan & motor-home park within the course.
Learn
Work
The largest employers are the Devon County Council, the University of Exeter, and the Met Office.
Employment agencies cluster around the west end of the High Street.
The Job Centre is at Clarendon House, Western Way
Exeter Council for Voluntary Service (CVS) is at Wat Tyler House in King William Street
Buy
The High Street is mostly taken up by national clothing and electronics chains, and was branded a "clone town" in a 2005 poll of bland high streets. At that point Exeter High Street had only one "independent" shop (a tobacconist).
Larger concentrations of independent shops can be found in the streets just off the High Street. Fore Street has a number of good outdoor goods shops. Gandy Street and the Cathedral Green offer a similarly eclectic range of retailers. Magdalen Road, a few minutes walk from the city centre, offers award-winning butchers and fishmongers as well as handmade jewellery and gift shops.
A major redevelopment of Princesshay and surrounding streets has brought many new or redeveloped shops and restaurants including an Apple store.

address: 9 Catherine St, EX1 1QA

Mall-type shopping developments in the city include the Guildhall and Harlequins.

phone: +44 1392 201910

address: 40 High St, EX4 3HP

phone: +44 1392 219 366

address: Paul St, EX4 3TT
Eat
As well as the selection listed here, there are the national chains eg ASK and Pizza Express on Cathedral Green, and Zizzi's in Gandy Street. The suburb of
Topsham
, 5 km south on the river estuary, also has a good range of restaurants.
Budget
The Plant

phone: +44 1392 428144

address: 1 Cathedral Yard EX1 1HJ

Café with a good choice of vegetarian and other snacks and light meals.

Dinosaur Café

phone: +44 1392 490951

address: 5 New North Rd EX4 4HH

Small family-owned Turkish and English cafe. All sorts of meze dishes, which are truly delicious. Large portions and inexpensive compared to similar restaurants. Also a bookshop, and something of a legend for University folk.

phone: +44 1392 272119

address: 7/8 New North Road EX4 4HH

Traditional Brit Indian, inexpensive.
Mid-range
Splurge
phone: +44 1392 272709

address: in Queen's Court Hotel, Bystock Terr EX4 4HY

Modern British cuisine.

St Olave's Court

phone: +44 1392 217736,

address: in St Olave's Hotel, Mary Arches Street EX4 3AZ

Tapas restaurant.

phone: +44 1392 499038

address: 38 New Bridge Street EX4 3AH

Modern British & French cuisine, locally sourced.

phone: +44 1392 273858

address: 18 North Street EX4 3QS

Good food, the light lunch and early bird dinner are recommended.
Drink
phone: +44 1392 256947

address: Canal Banks, EX2 6LT

The Double Locks pub sits in an idyllic location on the edge of Exeter Canal, 20 minutes walk from the quayside. Occasional live music, child-friendly, a solid selection of real ales and a reasonable menu. On sunny weekends the pub attracts many punters, and the May Day bank-holiday beer festival can get very busy, with long queues.

phone: +44 1392 434050

address: New North Rd, EX4 4AH

A decently priced J D Wetherspoons pub.

phone: +44 1392 432611

address: 32 Queen St, EX4 3SR

The Angel is a warm hearted bar in the centre of Exeter. It is independent and promotes great quality in everything: staff, drinks and music. With a relaxed atmosphere during the day, it then turns into a pumping party bar at night.

phone: +44 1392 493096

address: Little Castle St, EX4 3PX

A bar with a nightclub above.

The Well House Tavern

address: 16-17 Cathedral Yard, EX1 1HB

Attached to Michael Caine's restaurant on Cathedral Green. Good selection of Real Ales, and a skeleton in the basement!

phone: +44 1392 277279

address: 50 New North Rd, EX4 4EP

Open until 2-3AM most nights, the Firehouse is a pub serving local ales, ciders and food until the wee hours. The 14-inch pizzas, served from 9PM (after the normal menu ends) are highly recommended, at £7 each. Live folk/surf-rock on Fridays, jazz/world on Saturdays, flamenco guitar on Thursdays. Occasionally there is an entry charge on weekend nights.

phone: +44 1392 495370

address: 83-84 Queen St, EX4 3RP

Live music venue with bands most evenings. Be warned that the toilets are not for the faint-hearted. However, it is a nursery for new talent with bands like Muse, Coldplay and Radiohead playing early in their careers.
Sleep
Budget
phone: +44 1392 215521

address: 71 Holloway St, EX2 4JD

Central hostel with rooms and dorm. Cleanliness of facilities & clientele variable.

Premier Inn Exeter Central St Davids

phone: +44 871 527 9278

address: Bonhay Road, EX4 4BG

3-star chain close to main railway station. Premier Inn has one other hotel in city ("Exeter Centre"), and two edge-of-town ("Exeter M5" & "Exeter Countess Wear").
Mid-range
Splurge
address: Southernhay East, EX1 1QF

Great breakfast, decent rooms, friendly staff. Parking £12 per day.

phone: +44 1392 217736

address: 16 Mary Arches St, EX4 3AZ

3-star in Georgian house with restaurant & tapas bar.
Stay safe

Exeter is very safe compared to other cities in the UK. There is a slight likelihood that you will be asked for money by homeless people at some point, but most of them are not aggressive and will simply move to the next person if you tell them, 'No, sorry.'

Cope

The local newspaper is the Express and Echo, published weekly. It is a good source for local events listings. The Exeter Flying Post offers alternative editorial views.

Go next
One of the main pulling points for the city is the ease in which one can get out of the urban environment and into the countryside. Exeter is a convenient gateway to Dartmoor, Plymouth and the rest of Devon and Cornwall.
Beaches: the nearest are at Exmouth and Dawlish Warren, but the whole of the south-west peninsula is within reach.
Scenic towns: Lyme Regis to the east, Totnes and Dartmouth to the south
Countryside: The Devon countryside offers rolling hills, fast-flowing rivers, and countless picturesque villages and small towns