Extremadura
Extremadura
(Extremaduran:
Estremaúra
,
Portuguese
:
Estremadura
) is a region of
Spain
.
Cities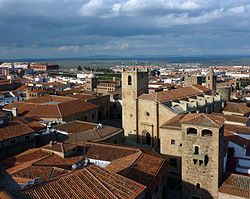 — medieval town and museums
— featuring a Roman theater and Museum of Roman Art.
— medieval town and home of Francisco Pizarro, the conquistador of the Inca empire.
Other destinations
Guadalupe — home to a huge hill-top monastery/cathedral and great parador
See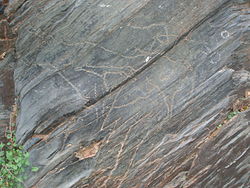 Prehistoric Rock-Art Sites in the Côa Valley and Siega Verde — a UNESCO World Heritage Site near Ciudad Rodrigo and shared with Portugal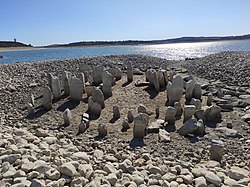 Dolmen de GuadalperalArchaeological rock formation similar to Stonehenge but on a smaller scale. It's almost permanently submerged in a reservoir, with the tips peaking out. In periods of drought, the water reclines and the domen can be observed in its full glory.
Do
La Ruta de Isabel La Católica
If you plan on visiting the town of Guadalupe, in the Sierra de Guadalupe, you might consider hiking La Ruta de Isabel La Católica. This 17km trail starts in the nearby village of Cañamero, which can be reached by bus. The well marked trail winds it's way past beautiful lakes and stunning hills before descending into Guadalupe. The hike takes about half a day.

Go next