Finnish Lapland
Finnish Lapland
(Finnish and Sámi:
Lappi
, Swedish:
Lappland
) is the
Arctic
far north in
Finland
, strictly defined as the province of the same name, but in practice starting near the Arctic Circle. Most Finnish ski resorts are here, as well as the biggest national parks. Lots of wilderness, much of it quite accessible also for those who are not seasoned hikers.
Temperatures can plunge as low as -50°C (-60°F) in midwinter and the sun is not seen for days on end during the polar night (
kaamos
). By contrast, summer brings out the
Midnight Sun
and temperatures can occasionally rise to 30°C. Popular seasons include the time around Easter, when the freezing nights keep skiing conditions good despite strong sunshine in the day, and early autumn, when leaves turn red and yellow and the mosquitos are gone.
Regions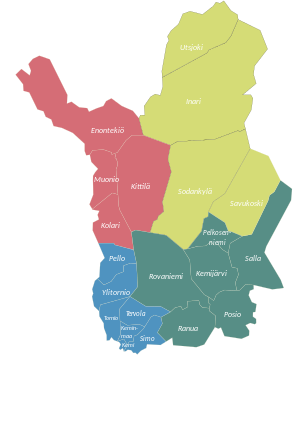 Comprising almost a third of Finland, different parts of Lapland have a somewhat different character. This orientation is also used in the Destinations section below.
Southeast Lapland — including Rovaniemi at the Arctic circle, the main transport hub and where many go to meet Santa Claus. With forests and lakes, the region is landscape-wise a kind of border region between Lapland and inland Finland further south, though the landscape does feature some mountains, hills and ski resorts.
Sea Lapland and Torne River Valley — Mostly south of the Arctic Circle, much of it not part of the reindeer husbandry area, this is a rather flat part of Lapland with water (the Bothnian Bay and Torne River) and Sweden to the west.
Northeast Lapland — The northernmost part of Finland, and indeed of the European Union, features Sámi culture and landscapes typical to many people's perception of Lapland. Much of the region is covered by national parks and wilderness areas, and here you can find Lake Inari with holy sites of the traditional Sámi religion and a shoreline of over 3000 km.
Northwest Lapland — As the alternative name Fell Lapland reveals, much of the landscape is dominated by fells, in particular in the "arm" where the highest mountains in Finland are. Like the northeast, much of it belongs to the Sámi native region and there are many protected areas. You can experience barren landscapes above the treeline that are unlike anywhere further south in the country. Although much of the region is off the beaten path, in season you will have company on some of the wilderness trails, and two of the most popular ski resort in the country are here.
Cities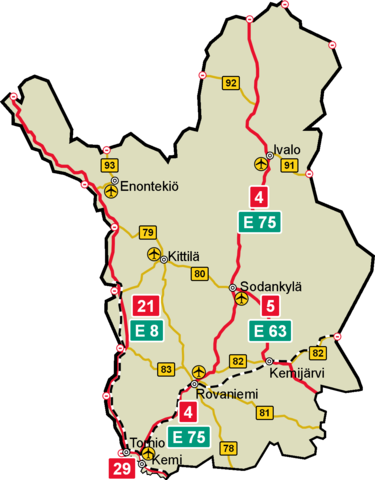 Lapland is divided into twenty municipalities, four of which are called "kaupunki" (town). Some of the other "cities" only have a few hundred inhabitants, but here we go.
Southeast
Sea Lapland and Torne River Valley
Northeast
Inari – largest municipality, with three Sámi languages
Inari - village with the Sámi parliament and the Sámi museum Siida, by Lake Inari with its labyrinthine archipelagos
Ivalo - the biggest population centre in Inari
Saariselkä — famous holiday resort in southern Inari
Utsjoki – the northernmost municipality, with large wilderness areas
Utsjoki - the only municipality in Finland with Sámi majority, the salmon river Teno, border crossing to Norway
Karigasniemi – border village in south-western Utsjoki, border crossing to Norway
Nuorgam – northernmost village of the EU, by Teno, Europe's richest salmon river, border crossing to Norway
Savukoski – most sparsely populated municipality of Finland, with Korvatunturi fell, the real home of Father Christmas; far from everything
Sodankylä – Midnight Sun Film Festival
Northwest Lapland
Enontekiö – the "arm" of Finland (fi: Käsivarsi), with all Finnish fells over 1000 metres high
Hetta — gateway to some northern national parks and wilderness areas
Karesuvanto — northernmost border crossing to Sweden
Kilpisjärvi — alpine village at the border of Finland, Sweden and Norway, near the tallest fells of Finland
Kittilä – airport and the Levi resort
Kolari – the northernmost railway station
Muonio – fishing, the Olos ski resort, the Pallas fells and wilderness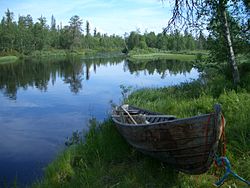 Other destinations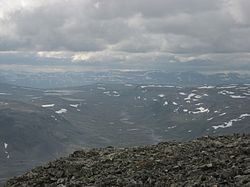 Southeast
Sea Lapland and Torne River Valley
Northeast
Northwest
Understand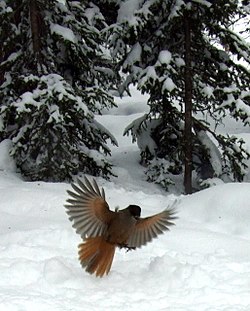 Lapland is the Wild North of Finland. Outside cities wilderness – with half-wild reindeer – is everywhere. Even by the roads the distances between villages are long and villages on the map may be home only to a few families, some even uninhabited part of the year.
The northernmost municipalities are home of Finland's
Sámi
people, who for centuries have got their living from this barren region, mainly from fishing, hunting and reindeer husbandry. Here they are a sizeable minority, even majority. Most tourist enterprises – especially those not Sámi – from Rovaniemi onward draw on Sámi culture, offering you invented "genuine" rituals etc. Take it for what it is and just enjoy – or avoid such programmes. Genuine Sámi culture is better experienced in community centres, at cultural events and using services of Sámi tourist businesses (which often do not make any notion about their ethnicity). In southern Lapland the original Sámi population has been integrated with the Finnish and disappeared, but many from the north study or work in Rovaniemi (and also in southern cities).
There is not too much history to see, because at the end of the Second World War, retreating German troops implemented a scorched earth policy to punish their Finnish allies for agreeing to peace with the Soviet Union, razing everything in their path. By the time they were done, 100,000 people had fled, 675 bridges were blown up, all major roads were mined and the capital Rovaniemi had only 13 houses left standing.
But then, people don't come to Lapland for the architecture, they come here for the nature. While there are no craggy mountains or fjords here, the endless pine forests and the treeless rounded fells (
tunturi
) poking out between them can also be breathtakingly beautiful. Finns talk about the "Lapland fever" because of the many who have lost their heart to this land.
When to go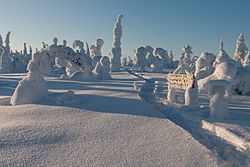 Christmas in Lapland sounds appealing, but this is the time of the Arctic Night; it is dark and it can be very cold (-30°C/-25°F is common). There are businesses happy to arrange meetings with Joulupukki (Santa Claus) in Rovaniemi, or snowmobile or husky safaris, with some luck in the light of
aurora borealis
, most anywhere. Such organised trips are safe, but independent backcountry adventures require adequate skill and experience.
By the end of February both the weather and the light improve, with temperatures on the better side of -10°C (-15°F) and nearly 12 hours of light a day, although the sun is low and it still feels like perpetual dusk. Most Finns only start to pack in at Easter, when it often is possible to ski in bright sunshine wearing only a T-shirt. It takes quite some time for the accumulated snow (often more than a metre) to melt off, and skiing may be possible as late as May.
In late spring and early summer, the landscape turns muddy as the snow melts, bringing on the curse of the Lappish
mosquito
and its friends (collectively known as
räkkä
), and if you think this sounds like a trivial nuisance you have never had to face up to the hordes that inhabit Lapland – do not venture out without industrial-strength insect repellent. Mosquitoes are far less present in the centres of the cities (and above the tree line) but it is virtually impossible to avoid the bite. The mosquitoes' bites are itchy and their noise is irritating, but they spread no diseases.
Summer temperatures are usually in the 10–20°C (50–70°F) range, but freezing nights or +30°C days are possible. July is the warmest month
On the upside, the famous
midnight sun
is visible almost everywhere in Lapland. Special events are held to celebrate the equinox and the midnight sun. At Rovaniemi the sun doesn't set at all at Midsummer, with this period growing longer as one travels farther north (beginning of June to late July in Utsjoki). Some foreigners have difficulty sleeping during these nightless periods, though a simple sleep mask should go a long way.
By late July the mosquitoes start to die out and they're usually gone by late August. Hiking in the middle of
ruska
, the colourful time of autumn, is a worthwhile experience.
Talk
The local language is mostly Finnish. Sámi languages are spoken sparsely to commonly in the northernmost areas (
Sodankylä
,
Inari
,
Utsjoki
and
Enontekiö
). but as everywhere in Finland, you will survive very well with English. Swedish, though official, is rarely spoken in this area, but the closely related
Norwegian
may be spoken by the border. English is the main option for those who don't speak Finnish. German and other languages might be known at hotels and tourist attractions.
Get in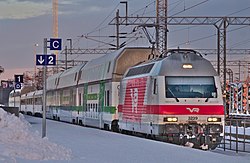 By plane
Flying is the most practical and fastest means of reaching much of Lapland, but for most destinations services are sparse and prices often steep. There are commercial airports in
Hetta
(
Enontekiö
),
Ivalo
,
Kemi
/
Tornio
,
Kittilä
and
Rovaniemi
. Best options for airlines are Finnair and Norwegian. Air Baltic flies to Rovaniemi and Kittilä from
Riga
. The buses mostly drive via the airports. In addition to the regular flights, mostly from Helsinki, there are seasonal flights and charter flights from abroad in season.
By train
Most of Lapland is reachable only by bus or car, but even when there is no train service to your destination, using the train for the first leg often makes sense.
Trains will get you to the towns, most notably to the provincial capital
Rovaniemi
at the Arctic Circle, or to the northernmost railway station in
Kolari
. The overnight trains from the south have sleepers and some also take cars. There are two kinds of sleeper trains (with bunk beds): the old "blue" trains, mostly used as a complement in peak season, and the modern two-storey ones. The old ones have 3-person cabins (for 1–3 passengers) and no showers, the new ones 2-person cabins, some of which can be combined for a family, and shared or en-suite showers. There is a cabin for wheelchair users in the modern trains.
Cars can be loaded in Turku, Helsinki/Pasila and Tampere and unloaded in Oulu, Rovaniemi, Kemijärvi and Kolari – but not all combinations of departure and arrival station are possible, and not all the trains take cars. There are also restrictions on car size.
If entering from
Sweden
, there is a gap in the passenger train network before the border at
Haparanda
/
Tornio
, but the connecting bus from
Luleå
is free with
Inter Rail
and
Scanrail
. From
Russia
you can get to
Murmansk
and continue by bus to
Ivalo
or get off at
Kandalaksha
and continue by bus to Rovaniemi.
By bus
There are bus connections from
Helsinki
to Rovaniemi (15 hours), which is the hub of most connections. Northern
Norway
(
Troms
and
Finnmark
) has daily connections at least in summer. From Sweden, you will probably come via
Haparanda
/
Tornio
. From
Russia
, there are bus connections from
Murmansk
to Ivalo thrice and from
Kandalaksha
to Rovaniemi twice a week (check!).
By car
There are good roads to Lapland, but instead of using a day on driving, you might want to get your car on an overnight train and wake up fresh in the morning to enjoy the landscape while driving only the remaining distance – which may certainly be long enough.
If you drive from southern Finland, these routes can be recommended:
To/from Kemi, Rovaniemi, Kemijärvi, Sodankylä, Ivalo, Inari, Utjoki: E75
To/from Kolari: E75, E8 through Tornio
To/from Kittilä, Levi: E75, 79 through Rovaniemi
If you drive through Sweden, these routes can be recommended:
To/from Tornio, Kemi: E4
To/from Rovaniemi, Kemijärvi, Sodankylä, Ivalo: E4 and E75
To/from Kolari, Kittilä, Levi: E10, 392, 403 etc through Pajala
To/from Inari, Utjoki or Kirkenes (Norway): E75 through Ivalo
Alternatively through Kolari and route 955, which is 70 km shorter and slightly faster, but the road is of less good quality, more adventurous.
Get around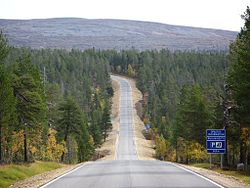 Distances in Finnish Lapland are great and train service extends only to Kemijärvi (a little north-east of
Rovaniemi
) and Kolari, so the independent traveller will thus have to rely on slightly cheaper but infrequent buses to get around.
Hitchhiking
is also possible, but can only be recommended during the brief summer season; traffic is sparse even on the main roads. On the other hand the likeliness of getting a lift is quite high once a car passes.
By bus
Long distance coaches cover most of even the smallest places, often with sparse schedules. They are the cheapest and slowest means of transportation. Although there are bus stops of course, they can also be stopped by hand sign when you happen to meet one as a hiker on a lonely countryside road. Express buses usually turn into normal ones north of Rovaniemi. For some destinations you should look for school buses, postal carriers or shuttle taxis.
By train
Train services are limited in Lapland. Travelling by train is possible from Kemi to Rovaniemi, Kemijärvi and Kolari.
By car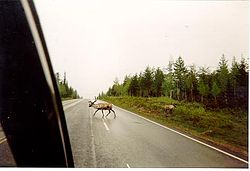 You can reach most places in Lapland by car (yes, there are still villages without road connection!), but traffic even on main roads is sparse and distances are great. Minor roads are sometimes truly minor. Driving in Arctic conditions can be
hazardous in winter
. Winter tyres (M+S; the formal requirement is enough tread depth) are mandatory from 1 December through the end of February and studded tires allowed to a week after Easter – or longer if needed, err on the side of keeping them on. Use Nordic winter tyres, which are soft enough also at low temperatures. The most dangerous weather is when the temperature is around freezing, when slippery but near-invisible
black ice
forms on the roads or the icy surface is wet. Do not venture out before you understand the issues, and make sure the windows are clear from snow and moisture.
Stay very alert, particularly at dawn and dusk, for wild animals.
Reindeer
are a common cause of accidents, while collisions with much larger
moose
are rarer but very often lethal. If you hit a reindeer, you must always inform the locals (or 112), even if the animal seems to be unharmed, as they will in turn inform the owner of the deer (you won't be charged with anything unless you were drunk or speeding). Bring emergency supplies in case of a collision or breakdown, especially in winter. Locals will help if they can, but you may be in for a long, very cold wait.
Unlike moose, which usually runs to the road suddenly and alone, the reindeer hang around peacefully in groups and collisions are usually easy to avoid if slowing down at once when the first reindeer appear in sight (drive carefully, as they may suddenly regroup in front of the car).
Liikenneturva, the Finnish road safety agency, maintains a
Tips for winter driving
page in English.
If you are going to rent your car, check availability and prices beforehand. In Rovaniemi and Kittilä there are probably enough businesses, but in the far north you may have to take what is offered.
By snowmobile
In winter there are some 20,000 km of snowmobile routes and tracks in Finland maintained by municipalities or the forestry administration (Metsähallitus), mostly in Lapland but stretching down to Central Finland and Northern Karelia. The routes often pass by campfire sites, day huts, reservation huts and other infrastructure in the wilderness (but using open wilderness huts for overnight stay is allowed only for those coming by own muscle, you have to pay for beds in reservation huts or other lodgings unless sleeping in tents).
You need the vehicle, suitable gear, helmets, a driving licence (one for cars or motorbikes is enough) for the "routes" or a permit for most "tracks"; "routes" are counted as public roads, the permits count as landowner permission for the specific tracks. The Metsähallitus permit costs €9/3h, €15/day, €30/week, €50/year, the last covering all family (not independent children). In many areas tourist businesses maintain their own track network. Snowmobiling along roads or off the specific routes and tracks is not permitted (exceptions for reindeer husbandry etc., which may apply to your tour guide); on frozen water driving is free where not specifically restricted, but mind
ice safety
! Check route maps and driving rules. Drive gently and follow advice, as it is easy for the less seasoned to make fatal mistakes.
There is an OSM based colour coded
route and track map
in Finnish; click the leg you are interested in:
Moottorikelkkareitti
(blue) means snowmobile route,
Maksuton moottorikelkkaura
(purple) free track,
Maksullinen moottorikelkkaura
(red) permit-for-pay,
Vesistön ylitys
(grey) by water,
Tuntematon
(black) unknown type. Add layers for cafés, wilderness huts etc. depending on needs. Metsähallitus has an own
map
emphasizing their own tracks (in black, routes and tracks maintained by others in green; many local tracks probably missing).
Snowmobile "safaris" (i.e. tours) are a common programme at tourist businesses. The locals, especially those in reindeer husbandry or fishing, use snowmobiles extensively. They were the main invention that allowed people to live in a fixed home while living from reindeer husbandry.
See and do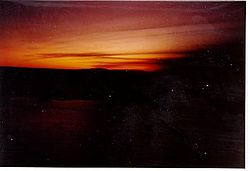 Bitterly cold in winter, usually not very warm in summer, and sparsely populated, the main draws for visitors are the desolate yet majestic
nature
and the unparalleled opportunities for
trekking
and
winter sports
. Many businesses know how to help inexperienced foreigners enjoy their stay, e.g. arranging husky or snowmobile safaris, fishing trips, canoeing and northern light watching expeditions.
Several
national parks
can be found in Lapland with marked hiking trails and log cabins open to the public for free. But in contrast to Norway, they are only equipped with a stove and wood for heating, no food is provided. For the hardcore trekker there are
wilderness areas
, with even fewer people and services. To go on your own, basic hiking skills suffice in summer (be sure to know how to use a map and compass). During the spring floods and in winter you should have a guide on any longer trek unless you really know what you are doing.
Lapland is locally known for its fells (
tunturi
), but these are not any soaring mountains of the alpine kind, but gentle, rounded ones high enough to reach above the treeline (which is much below 1000 m at these latitudes). There are also vast forests and mires in hilly or flat terrain. In the northernmost regions (
Utsjoki
and
Enontekiö
) you will find also treeless areas, but real tundra is absent in Finland. The highest mountains are located in the "arm of Finland" in
Enontekiö
, but because of the location of the road right next to the fells, best views are actually towards Sweden. Still there are magnificent environments available for hikers!
Finland's highest mountain,
Halti
(1328m) in the farthest north west end of Lapland is not much more than a higher hill of loose rocks, the lower summit of a mountain with its top on the Norwegian side of the border.
The surroundings
are still very special and a popular, demanding destination. You are nowadays free to cross the border to Norway or Sweden and back where you want (customs formalities, if needed, can probably be taken care of beforehand). An itinerary that takes full advantage of this is the
Nordkalottleden
hiking trail trough the Arctic of the three countries.
For hikers, fishermen and hunters, there is a nice online
map
of Finland with most trails and huts marked, and a website about most important
hiking terrains
. Both are maintained by Metsähallitus, an agency that also administers the national parks.
There are of course also cultural events. You might want to attend the international
Midnight Sun film festival of Sodankylä
or Sámi events such as the
St Mary's Day Celebrations
.
Northern lights
Spotting the eerie northern lights (
aurora borealis
, Finnish:
revontulet
) glowing in the winter sky is on the agenda of many visitors. Northern Lapland is one of the best places to observe aurorae, as it has good accessibility, high-quality accommodation and a nearly continental climate with relatively clear skies. The probability of some northern lights is 50–70 % (most often between 10PM and midnight) any night with clear skies, and light pollution is quite easy to avoid here – but there are cloudy periods, so do not count on seeing them.
Also in southern Lapland, where probability is about 20 %, you might want to take a walk somewhere out of the light pollution any night with clear skies. If you do not spot northern lights, you will at least get a tremendous view of stars, compared to what you see in most cities.
To have a good chance to see northern lights you should stay at least a few days, preferably a week or more, in the far north in the right season. Probability for aurorae and clear skies varies somewhat from place to place, but all of northern Lapland, about from Sodankylä onwards, should be quite good. More importantly, as you need some luck and persistence, you want to go somewhere where you can enjoy yourself regardless. The ski resort of
Saariselkä
, easily accessible by plane and with plenty of facilities, is particularly popular among aurora hunters. If you enjoy wilderness and solitude, e.g. areas around
Kilpisjärvi
and
Karigasniemi
might be good choices. The village of Nellim is even more remote, being situated on the almost uninhabited eastern side of Lake Inari, where light pollution is at a minimum.
Cloudiness can be quite accurately estimated some hours, chance for major aurorae a few days in advance, so you can know when to go for a tour and when to spend the night in other ways – but as also minor aurorae are well visible in Lapland, you might want to be out any night with clear skies. Intense aurorae occur for 5–15 minutes at a time, so taking a look at the northern sky every now and then over a longer period will increase your chances.
Many businesses arrange northern light watching tours. Usually the tours also have some other theme, such that not seeing the aurorae will not spoil it, but taking care of being in the right place would the aurorae be visible. A week of backcountry skiing will offer even better opportunities unless you spend the best hours in your tent or a hut. A hotel in Kakslauttanen has glass-domed igloo rooms where you can watch northern lights indoors the whole night.
Reindeer and snowmobiles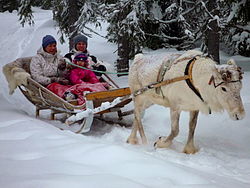 Most of Lapland belongs to the reindeer husbandry area, and nearly all wilderness is in use as reindeer pasture (mostly forested areas in winter and treeless areas in summer). On a week-long hike you are nearly guaranteed to see them in the wild, but at most locations there will also be at least some tourist business having a few tame ones to show, or even to offer rides with (usually by sled). If you make friends with locals you might have a chance to see the round-ups.
Other standard tourist programmes include snowmobile "safaris", i.e. tours, where you usually are allowed to drive your own vehicle (children are probably put in a sled behind your guide), and husky safaris, where you get to try being pulled by dogs. Snowmobiles are probably available for hire if you want to make longer tours on your own.
The tours with dogs, reindeer and snowmobiles can be combined with fishing (ice-fishing in the winter), admiring northern lights or the midnight sun, story-telling and roasting salmon by a campfire, sauna, overnight stay in a goahti and the like. What is available depends on who happens to have a business in the neighbourhood, check what is offered at the business where you intend to be lodging, at least if you do not stay at the bigger resorts. You might want to stay with a family business with the right spirit, especially if you have come to enjoy silence.
Skiing and snowshoeing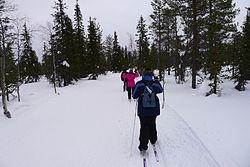 The ski resorts do not have the greatest
pists
, if you compare to the Alps or Norway, but they are good enough for most. On the balance they have lots of accessible wilderness close by, to be experienced by snowmobile or by ski. There are great networks of
cross-country skiing
tracks around any ski resort, often even a large national park. And tourist businesses eager to offer you other programmes.
For shorter excursions, as along signposted nature trails, you can often use snowshoes. For longer hikes, of more than one or a few kilometres, skis are much better, easily giving you a jogging speed on any level track. Around the resorts and town centres there are illuminated tracks with space also for "freestyle" skiing". Many businesses offer ten-minutes courses combined with tours in the forest, showing signs of the local wildlife and letting you enjoy the peace and possibly a marvellous view of stars.
For overnight (or multiple-day) hikes on ski you usually want skis that don't let you down even if you leave the tracks. There are ready made tracks for "classic" skiing extending far into the wilderness, but they are not necessarily maintained very soon after snowfall – and you might want to choose routes where no tracks have been made. There are "lean-to shelters" and "wilderness huts", so overnighting in a tent is seldom necessary, but sleeping bags and other adequate equipment may be needed.
Most tourists want a lot of action in a tight package, so that is what most businesses offer (even if peace and silence, in a suitable packing, often is included). If you really want peace and silence, as on a multi-day skiing tour through the wilderness, you should search for such offers in time – there are guides specializing in that, but they may not be available on short notice.
Father Christmas
Activities related to Santa Claus, or
Joulupukki
as the Finns call him, are arranged at least in Rovaniemi and Luosto, probably in most resorts. His main reception and workshop is in Rovaniemi, for tourists' convenience, but most Finns grew up knowing his home is at the fell Korvatunturi. Usually he arrives by foot, having left his sled somewhere farther away, but he can also turn up by a sled pulled by a horse, and possibly reindeer (the flying ones are disappointingly on vacation by themselves when not doing their yearly main job).
Korvatunturi is secluded, in
Urho Kekkonen National Park
at the Russian border and thus in the border zone, so visiting the fell requires effort and paperwork. Even if you get the permit, it is rare that Joulupukki lets strangers see him there, and his home is not easy to find. There is a hiking trail to
Korvatunturinmurusta
(2·20 km, after a
long
journey along small and even smaller roads), from where you can get a glimpse of the fell, and who knows, he might reward you for the effort by really showing up! At least he will answer mail addressed to Korvatunturi.
Fishing
Fishing is an important reasons for Finns to come to Lapland, and traditionally it was an essential food source up north. Many villages have formed at good fishing sites. There are some great salmon rivers, Teno being the most productive salmon river in all of Europe. Also e.g. trout, greyling and Arctic char are common catches. Catch-and-release fishing is generally not practised.
Angling
without reel and without artificial lure, or with a special ice angling rod, is generally included to the
right to access
– but in any river with salmonoids and in many lakes, there are restrictions in place. According to Finnish law it is always the fisherman's own responsibility to find out whether there are restrictions on the area.
If you choose a fishing destination, you probably want to have a reel and/or use one of the restricted locations. You then need a
national fishing permit
and a
day card for the specific area
. Most tourist businesses will gladly fix those for you, explain the regulations, and rent you equipment you need. Notice that in Northern Lapland the locals enjoy privileges that visitors will not have.
For rivers flowing to the Atlantic (the Barents and White Sea, including those flowing into Lake Inari), all your
equipment must be disinfected
(e.g. by thorough drying) in advance. This is to prevent the
Gyrodactylus salaris
parasite from spreading, as it would be catastrophic in these rivers. This applies also to canoe and boots, and don't let birds carry it over with your gutting waste. Easiest way is to let your host to do the disinfection as disinfection services are available somewhat everywhere at the areas where such procedure is mandatory. If you cross the border to Norway the law is tighter; you need to possess a written certificate on disinfection even if you wouldn't go ashore.
Hunting
Hunting is popular sports in Lapland but is usually off-limits for an ordinary visitor. If you have qualifications in your home country you may apply corresponding licence from Finnish authorities. Prepare for bureaucracy. Some tourist businesses take you on tours where you hunt "under the close supervision" of your guide, which means you do not need own licences.
Work
The ski resorts and many other tourist businesses depend on seasonal workers. As a significant part of the clients are from abroad, being a foreigner is not necessarily a drawback in getting jobs, especially if you know the right languages or cultures – as long as you have or can get a work permit, possibly with help from your to be employer. Skiing teachers, restaurant and bar personnel, entertainment, child care, what have you. Some jobs require formal qualifications or advanced skills and experience, while for some the right attitude will get you a long way, much more so than for most jobs in Finland.
Common languages to use with clients include English, Russian, German and French, but also some languages from the Far East, where competition from Finns is very limited. Different resorts to some extent concentrate on different groups; try to find an employer who needs your specialities.

Eat
Lapland is the place to sample
reindeer
(
poro
) dishes, which are not too common elsewhere in Finland. The traditional way to eat this is as
reindeer hash
(
poronkäristys
), usually eaten with mashed potatoes and lingonberry jam. Also smoked cold cuts and
dried reindeer meat
are definitely worth trying. In very rare occasions you could face some really interesting reindeer dishes like
kampsut
made of blood and flours, or
koparakeitto
, a traditional hoof soup.
Other Lappish specialities worth looking for are
willow grouse
(
riekko
) and fish such as
arctic char
(
rautu
) or
lavaret
(
siika
). The delectable
cloudberry
(
lakka
or
hilla
) is the most expensive berry in the world. It grows in swamps, unripe it is red, ripe it is light orange, containing a lot of vitamin C. In shops you find it most likely as jam (
lakkahillo
) or syrup.
Crowberry
(
kaarnikka
) is also a delicious speciality that is rarely encountered any place elsewhere and usually sold as juice (you will found it abundantly in the fells, but it is small with big seeds, so not as tempting to eat directly).
Rieska
is a barley flatbread traditional to the area. The
puikula
potatoes are also a local speciality, although sold around the country.
Drink
Most nightlife is concentrated to
Kemi
and
Rovaniemi
, and especially at wintertime: to the skiing resorts!
When hiking in wilderness it is quite safe to drink water from rivers even without boiling. Most hikers use water also from small clear streams and lakes untreated, but you might want to boil that for a few minutes.
Sleep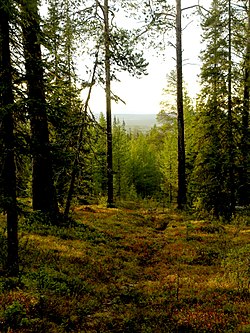 According to the
Everyman's Right
(
jokamiehenoikeus
) one can set up a "temporary" camp (at least a night or two) nearly anywhere in the forest or on the fell, no matter who owns the land. However, making a fire is allowed only in extreme occasions or by permission of landowner. For the campfire sites in national parks, and some wilderness and backcountry areas, there is a general permit. If wildfire warnings are in effect making a fire is forbidden, no matter whether or not you have a permission. In protected areas, such as national parks, there are restrictions also on camping.
At many hiking destinations there are Spartan
open wilderness huts
available for free, or
reservation huts
with some equipment for a very moderate price (€11–12/person/night, check where to get the key). These have firewood and some sort of water resource nearby but hardly anything else. In the open wilderness huts you may stay a night or two, but if the place gets crowded the ones who have had their rest should leave – the ones who come last have indisputable right to the facilities. Always leave the hut in better condition than it was when you arrived. In addition to these there are lean-to shelter and "lapp pole tents", which give adequate protection in the night under some circumstances, and "day huts", meant for breaks but usable in emergencies.
There are lots of good quality
hotels and hostels
around Lapland. The scale goes from luxury suites to real snow igloos and pole tents where you can sleep next to an open fire. At least for a longer stay or away from towns you might want to rent a
cottage
instead. Check the specific location; a search often suggests cottages that actually are a hundred kilometers from the intended destination. During the 2010's glass roofed aurora igloos have become popular but fairly expensive form of accommodation.
Most accommodations also have programme services (and may market other available programmes as their own).
Stay safe
Know your limits. The winter environment is perfectly capable of killing the unwary tourist who gets lost in the fells. The rescue service works well – each year several tourists are rescued and only rarely any serious injury is sustained – but taking your chances is not recommended.
Avalanches
are possible in winter. Check with the national parks or ski resorts and make sure you know what you are doing or how to avoid affected areas, if venturing out in wilderness or on non-maintained slopes.
If you plan to travel alone or, for example in your own car, remember that distances are great and getting help for any unexpected situation may take time. Plan accordingly; take extra warm clothes in your car and tell the hotel staff where you are heading and when you expect to come back.
Also mind the hunting season: Natives are usually very keen of hunting, and the start of the season draws most hunters into the wilderness. Potential dangers can be countered by wearing a red cap or some other easily identified garment, and staying away from areas where hunting is allowed during the season.
When stopping on the road to enjoy the landscape, don't forget the traffic. Park at a safe spot and keep to the roadside.
Otherwise, there are few serious dangers to your well-being. Tap water and even water of most lakes and creeks is potable (in most places, bottled water contains more harmful compounds than tap water) and foods are almost without exception safe to eat. Crime rates are low and people are helpful and nice in general but
noisy
foreigners on Friday night in a local pub/discothèque might be sitting ducks for harassment (in extreme cases; violent attacks) by drunken male villagers. This is mostly problem of skiing centres. Probability to get robbed or getting any other harm is still extremely low.
Go next
Finnmark – the Norwegian equivalent, still more to the north, bordering the Arctic Ocean.
Murmansk Oblast — though voyagers of most nationalities need a visa to visit Russia.
Upper Norrland – the Swedish equivalent, with higher mountains.