Fitzroy Island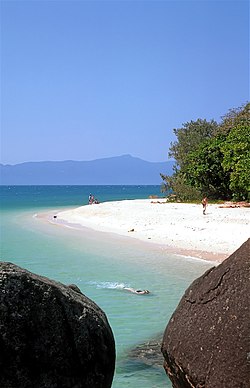 Fitzroy Island
is an island in the
Great Barrier Reef
, close to the
Australia
city of
Cairns
.
Understand
The island is 339 hectares in size, 324 of which is protected as Fitzroy Island National Park. The island is within sight of the mainland; in fact, it's a peak in a mountain chain which lies south of Cairns.

Get in
Fitzroy Island is only accessible by ferry from Cairns. Ferries depart at 8:00AM, 11:00AM and 1:30PM. The trip takes 45 minutes. A day return trip costs $82. Contact Fitzroy Island Resort. Ph. 07 4044 6700. Fax 07 4044 6790. email stay@fitzroyisland.com. You can buy tickets that include some combination of snorkeling equipment hire, a barbecue lunch and a glass bottom boat tour.

Get around

The island's roads are for walking only; they're just dirt tracks of varying quality. Reception, the eateries and the accommodation are all very close to the ferry wharf, so you won't have to walk far with bags in tow. You can travel around the island by water in a sea kayak, or hire one of several kinds of boat.

See
Take a glass bottom boat tour of the island's fringing reef.
Do
Swim at any of the islands calm beaches. Nudey beach is about ten minutes walk through the rainforest from the ferry wharf, but contrary to the name, is not a nude beach - clothes/swimsuits are required. The island isn't a particularly good place to sunbathe though: the beaches are made of large smooth pieces of coral skeletons, rather than sand.
While the fish life is not as spectacular as on the outer reef snorkeling on Fitzroy Island will let you see many kinds of coral and a lot of fish life, including large parrot fish, no more than a two minute swim off the beach. One good spot is the rocks seen to the right of the ferry wharf as you arrive. Swim out around them rather than trying to climb over them into the water.
Scuba dive. The islands diving is run by Fitzroy Island Dive & Adventure Centre, tel +61 7 4044 6727. (a subsidiary of Cairns Dive Centre.)
Eat
The resort has several small eating establishments:
Zephyr Restaurant for breakfast between 7:00AM and 10:30AM. Buffet or continental breakfasts are available. Dinner is available between 6:00PM and 8:30PM
Foxy's is available for lunch - 12:00PM to 3:00PM and dinner between 6:00PM and 9:00PM
Drink
Foxy's is licenced from 10:00AM to midnight.
Sleep
phone: +61 7 4044 6700

address: 2/1 Spence Street Cairns

Accommodation can be book on the Fitzroy Island website with prices starting from $130.00 in the quieter months - February & March - to $200.00 in the busier months - August - October.
Go next
Ferries to Cairns leave at 8:00AM, 11:00AM and 1:30PM