Foggia
Foggia
is a city in
Apulia
(Puglia) in
Italy
.
Understand
Foggia is the capital of the
province of Foggia
in the Puglia region. The area is known for agriculture: olives, grains, grapes, and Buffalo Mozzerella. The population is about 150,000.
Get in
By plane
You can fly into
Rome
,
Naples
or
Bari
. Bari is the closest.
Foggia is served by a flight from
Milan
Malpensa with Itali Airlines.
By train
There are good connections from Rome in 3½ hours or a high-speed train from Milan will get you there in just under 7 hours.
By car
The train station is a block away from a National rental car office.
By bus
By boat
Do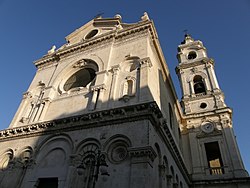 Visit the farmer's market east of Centro. Also, Foggia is close to
Lucera
, an old walled city, and adjacent to the Gargano peninsula.
Eat
There are an abundance of restaurants in Foggia.
Budget
Mid-range
Da Nino al Grottino, Teatro 13 on the edge of "Old Town", around the corner from the Teatro. This is a fun pizza place with a nice antipasta spread. It is often packed after 20:30. Wood fired pizza oven and good service.
Giordano Da Pompeo, On the opposite side of the Teatro is a nice restaurant with white linen table cloths. Vico al Piano 14
Del Cacciatore Di Gaetana, v. Mascagni 12. A family-style restaurant that has great food. Just a block from Grottino.
There are several nice restaurants in this area of the Old Town.
Splurge
zia Marinella, Via Saverio Altamura, 23: great food! +39 330654510 Just a block from the Teatro adjacent to Old Town.
Sleep
Budget
Mid-range
Hotel Mercure CicolellaThis hotel is next to the train station, rental car agency and downtown businesses. The hotel has high speed internet for an extra fee and breakfast is included. The rooms facing inside are quieter.
Splurge
Go next
Naples
, the ancient Kingdom's capital, and
Campania
region are not far from Foggia.
Ariano Irpino
(named as
Ariano in Apulia
until 1930) is a characteristic town located astride Apennines along the statal road SS90 (formerly
the national Apulia's road
) connecting Foggia to Naples. Ariano Irpino (60 km from Foggia) was a relevant city in the Middle Age within the
Duchy of Apulia
: there King Roger II convened the Assizes of Ariano in 1140 and minted ducats. Today Ariano Irpino preserves the Norman Castle where King Roger II lived in; the castle, sorrounded by a wide public park, still overlooks the mountain pass between Apulia and Campania with very panoramic views. Within the castle is housed a Norman Museum with other museums and churches (particularly the Romanic Cathedral) being scattered in the town, where both local art and cuisine mingle Apulian and Campanian elements.