Fort Chipewyan
Fort Chipewyan
is a hamlet on the western shores of Lake Athabasca 250 km north of
Fort McMurray
,
Alberta
. It had a population of 852 in 2016.
Understand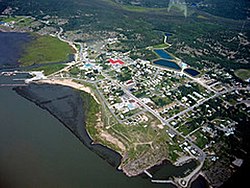 Fort Chipewyan
is one of the oldest European settlements in
Alberta
. It was established in 1788 as a Northwest Company trading post. Most locals are native Cree or Chipewyan.
Get in
By plane
phone: +1 780-791-2182

address: Fort McMurray

Four flights daily from Fort McMurray.

phone: +1 867 872-2216

address: Fort Smith

Three flights weekly from Fort Smith (NWT), three flights weekly from Edmonton via Fort McMurray.
By car
Travel overland to Fort Chipewyan is only possibly via seasonal ice roads which cross a pair of frozen rivers in winter. A
Fort Chipewyan Winter Road
hotline at +1-866-743-6111 provides road information.
There is one fuel station between Fort McMurray and Fort Chipewyan (a Petro-Canada in
Fort McKay
's industrial park) and virtually no services.
When crossing ice bridges (river crossings),
go the speed limit!
If you go too fast, you may create an underwater wave which can travel ahead of you and break the ice once it reaches the other shore.
By boat
It is possible to reach Fort Chipewyan from Fort McKay in summer by
boating
the Athabasca River; the Slave River leads from Fort Chipewyan to
Wood Buffalo National Park
and Fort Smith, NWT.
Get around
Fox Taxi

phone: +1 780-697-2352

address: 105 Lepine Av

Sun Taxi

phone: +1 587-601-0496

address: 140 MacKenzie King Rd

Tuccaros Taxi Service

phone: +1 780-697-3400

address: 112 Adam St
See
Fort Chipewyan Bicentennial Museum

phone: +1 780-697-3844

address: 109 Mackenzie Ave

A replica of the Hudson's Bay Store created by the Fort Chipewyan Historical Society to commemorate the post's 1988 bicentennial.

phone: +1 780-743-7437

Small ecological reserve established on Lake Athabasca to protect a major breeding colony of Caspian terns, a "vulnerable species".

Old Fort PointThe site of the first Fort Chipewyan established in 1788 by Roderick Mackenzie, southeast of Fort Chipewyan. It is designated a National Historic Site of Canada. Historic places in the community include the site of the third Fort Chipewyan established in 1803, the Anglican Church built in 1880 and Day School built in 1874, and the Roman Catholic Mission Church built in 1909.
Do
Visit Wood Buffalo National Park, the largest national park of Canada, which is about the size of Denmark. It is home to the world's largest herd of free roaming wood bison, estimated at more than 5,000. It is one of two known nesting sites of whooping cranes. Access to the park from fort Chp is via the winter road, or by motorboat or canoe in summer.
Events
Buy
phone: +1 780-697-3687

Come and marvel at the prices in this grocery store $10 for four tomatoes, seedless grapes for $13 -- and see why high food prices are an issue in northern communities.
Eat
phone: +1 780-697-0233

address: 108 Flett St

Miss Mah's

address: 164-188 MacKenzie Ave
Drink
Athabasca Cafe & Dining LoungePub & bar.
Sleep
phone: +1 780-697-3010

address: 116 Wylie Ave

Johnny Michaels B & B

phone: +1 780-697-3947

address: 210 Evans Cres

Wah Pun Bed & Breakfast

phone: +1 780-697-3030

Willie's B&B

phone: +1 780-215-4369

address: 118 McDonald St

Dene/Cree Hotel

phone: +1 780-697-6000
Go next