Fort Smith (Northwest Territories)
Fort Smith
is a town of 2,500 people (2016) on the Slave River in the
Northwest Territories
near the Alberta border.
Understand
Fort Smith provides various services to
Wood Buffalo National Park
visitors.
History
Fort Smith was founded around the Slave River. It served a vital link for water transportation between southern Canada and the western Arctic. Early fur traders found an established portage route from what is now Fort Fitzgerald on the western bank of the Slave River to Fort Smith. This route allowed its users to navigate the four sets of impassable rapids (Cassette Rapids, Pelican Rapids, Mountain Rapids, and Rapids of the Drowned). The portage trail had been traditionally used by local Indigenous people for centuries.
The Indigenous population of the region shifted as the fortunes of the tribes changed. By 1870, Cree had occupied the Slave River Valley. The Slavey had moved north by this time and the Chipewyan had also begun moving into the area.
Peter Pond of the North West Company was the first white trader to travel on the Slave River and make contact with Indigenous people in this region. He established a post on Lake Athabasca called Fort Chipewyan in the 1780s, at the head of the Slave River.
The fur trade, dominated by the activities of the Hudson's Bay Company, penetrated deeper into the Mackenzie River district in the 19th century. York boats were used to run the Slave River rapids and where needed small portages were established to bypass the most dangerous areas. In 1872, the Hudson's Bay Company built an outpost called Smith's Landing (Fort Fitzgerald) at the most southern set of the Slave River rapids. In 1874, another outpost was constructed at the most northern set of rapids. It was called Fort Smith. Both posts were named in honour of Donald Alexander Smith.
In 1898, the Yukon Gold Rush brought many gold seekers over the portages and through Fort Smith. By the 1930s, a significant part of the Fort Smith economy was centred around ship and barge building with the HBC and Northern Transportation Company Limited (NTCL) establishing shipyards below Fort Smith.
Wood Buffalo National Park was established in 1922 with its operations and administration headquarters in Fort Smith. The discovery of gold in Yellowknife in 1938 also represented an economic boost to Fort Smith as many prospectors came passing through.
In 1942–1943, Fort Smith played its own small part in the war effort when huge armies raged across the globe in the Second World War. With a population of 250, Fort Smith hosted 2,000 US Army soldiers who were en route to the Canol Oil Pipeline Project at Norman Wells and the Canol Road. They brought hundreds of barge loads of supplies; and in order to move these, they built a tractor road from Fort Smith to Hay River and even farther north.
The continued gold fever that fuelled Yellowknife's growth also allowed Fort Smith's population to grow five-fold in the decade following 1945. This was reflected in the increase in government administrative facilities and the growth of its role as a transportation hub for the Mackenzie District.
The completion of a southern rail link to Hay River in 1964 meant that Fort Smith's role as the transportation hub was largely negated; and, subsequently, shipping operations on the Slave River ceased in 1968.
Today, Fort Smith's economy is based on the federal, territorial, and aboriginal governments along with education and tourism. In 2008, there was some interest in re-establishing a portage route to supply the Fort McMurray oilsands operations.
Visitor information
Get in
By plane
By car
Fort Smith is accessible all year long via the Fort Smith Highway, a fully paved road that connects the town to
Hay River
.
During winter, there is a winter road which connects to
Fort Chipewyan
and from there to
Fort McMurray
.
By boat
It is possible by boat along Slave River to
Fort Chipewyan
and then along the Athabasca River to
Fort McKay
in summer.
See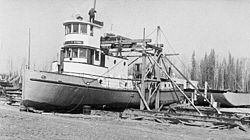 phone: +1 867 872-2859

address: 110 King Street

Collection of over over 17,000 artifacts including traditional work of the Inuit, Inuvialuit, Dene and Metis, as well as mission, trade, pioneer and portage items. It hosts displays of an authentic northern trading post, a typical northern kitchen from the 1940s, 2 mounted adult bison, a traditional trapper's cabin, a 1965 Polaris Sno-Traveler, and a river bank scene featuring a birch bark canoe. The museum also hosts an outdoor Aboriginal cultural centre that showcases Canada's First Peoples' ways of traditional living before European contact occurred in the early 1800s. It host as functional cold cache, smokehouse and tipi for public use.
Radium KingA museum ship that is part of the Northern Life Museum. The Radium King was built in 1937 to haul ore on the Mackenzie River, and her tributaries. This included uranium used in the US atom bombs of World War II. Later in her active career she hauled barges on Great Slave Lake.
Fort Smith Mission Territorial ParkSee remains of the Oblate Catholic Mission, the center of the Church's operations in the western Arctic from 1876 until the early 1980s. The Cathedral, 1911 Bishop's house, and several other buildings such as machine and carpentry shops, can be seen on self-guided tours.
The South Slave Friendship FestivalA music and arts festival, usually in August. Musicians and artists from across the Northwest Territories and many other faraway places.
Fort Smith Mission ParkThe park provides an extensive self-guided tour of the historic Oblate Catholic Mission sites, with sign boards describing various aspects of the history and activities of the mission. You can still see the Bishop's residenc (built in 1911), the Cathedral, the fields that were cultivated (some of which have been restored), the storage shed, the carpentry shop, vehicle repair shop, machine shop, the hospital building, the Grotto.
In the summer months, pelicans can be seen nesting on the various rapids near Fort Smith. Whooping cranes, an endangered species, also nest in the area during the summer and can be viewed via air charters as ground access is prohibited.
Do
phone: +1 867 872-8096

Outfitter licensed by Parks Canada.
Kayak the Slave River and its rapids.

Pelican Rapids Golf & Country Club

phone: +1 867 872-4653

A challenging par 36 course with beautiful and forgiving grass fairways. Artificial greens, water hazards on three holes. Club and cart rentals are available. There are no tee times to book; there is a friendly 'walk-on' policy.
Buy
Kaeser's Stores

address: 76-80 Breynat St,

Grocery.

Northern Store

address: 41 Breynat St

General store.

The Rusty Raven Gallery & Gift

address: 66 Portage Ave

Giftshop & gallery with full coffee bar with fresh baked goods.
Eat
phone: +1 867 872-3332

address: 195 McDougal Rd

Pizzas, burgers, donairs, wings, salads, sandwiches.

phone: +1 867-872-2582

address: 338 Calder Ave

Bakery goods, pies, pies, soups, gluten-free and vegetarian choices.

Pelican Restaurant

phone: +1 867 872-2729

address: 152 McDougal Rd

Chinese and Canadian food.

Pelican Rapids Golf & Country Club

address: Highway 5

Restaurant.
Drink
phone: +1 867 872-5392

address: 152 McDougal
Sleep
phone: +1 867 872-2789

address: 152 McDougal Rd

Hotel with wi-fi and 80-person event space, souvenir shop carries work of local artists. Pelican Restaurant and Dirty O'Fergies Pub.

phone: +1 867 872-3222

address: 123 Simpson Street

Fully equipped suites with a kitchenette, dining area, living room with satellite television, a separate bedroom and bath. Rooms include air conditioning, and wireless internet.

phone: +1 867 872-3426

address: 13 Cassette Crescent

Rooms that offer a kitchenette and a refrigerator, free Wi-Fi, and a lounge.
Go next