French Guiana
French Guiana
(
French
:
Guyane
or
Guyane française
) is an overseas French department and region in the
Amazonia
region of
South America
, bordering the North Atlantic Ocean, between
Brazil
and
Suriname
. It is governed as an overseas department of France with the same rights and privileges granted to all other French departments and benefits financially from the arrangement.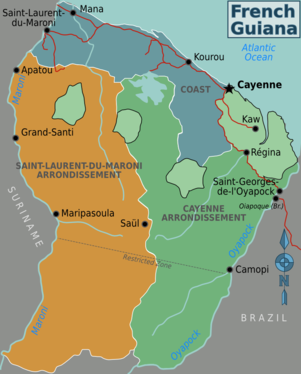 Cities
, the administrative capital of French Guiana
, the city which hosts the space center and Arianespace
, located on the Maroni river, which forms the natural border between Suriname and French Guyana.
, on the Oyapock river, which is the natural border between Brazil and French Guyana.
Other destinations
— the ruins of the infamous offshore penal colony
Understand
First settled by the French in 1604, French Guiana was the site of notorious penal settlements (collectively known as Devil's Island) until 1951. The European Space Agency launches its communication satellites from
Kourou
. It is the only portion of mainland South America still governed by an overseas nation.
Climate
Tropical; hot, humid; little seasonal temperature variation.
Landscape
Low-lying coastal plains rising to hills and small mountains, mostly an unsettled wilderness. It also consists of hill plateaus and the Tumuc-humac mountains.
Get in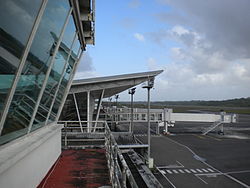 Concerning immigration, French Guiana has different laws.
French Guiana is not part of the Schengen Area
and your passport or ID-card is checked upon arrival even if you're arriving from mainland or Caribbean France. The department is however covered by the directive for Freedom of Movement so EU-citizens have the right to stay indefinitely. For some neighboring countries (e.g. Brazil, Suriname) it is easier to go to
Paris
than it is to reach Cayenne.
In addition, holding a
yellow fever
vaccination certificate is
mandatory
regardless of citizenship or where you've recently been. Be prepared to show this certificate before boarding a plane to French Guiana or at the border if you are arriving overland.
By plane
Félix Eboué Airport
(
CAY
) just outside Cayenne is the only international airport and the main point of entry to the territory. Air France and Air Caraibes each have a daily flight from Paris Orly Airport, so it's relatively easy to get in from Europe. Air France and Air Guyane Express also has flight to two major French outposts in the Caribbean, namely Martinique and Guadeloupe and this is probably the best way to get in from North America and the Caribbean. Suriname Airways connects to Paramaribo and Belém (in Brazil) with connections to other parts of South America. In addition there are a couple of seasonal charter flights from Miami Airport and various Brazilian cities. From other parts of the world, expect a complicated journey with three or four transfers.

By boat

From Brazil and Suriname, getting into French Guiana overland includes a 15 minute crossing by boat across Oyapoque (from Brazil) or Le Maroni (from Suriname). It's not very expensive, unless you want to take a car across, but you have to haggle.
French Guiana's main seaport is the port of Dégrad des Cannes, located on the estuary of the Mahury River, in the commune of Remire-Montjoly, a south-eastern suburb of Cayenne. However these days, freighter travel is the only possibility to get into French Guyana from further away by boat.

By car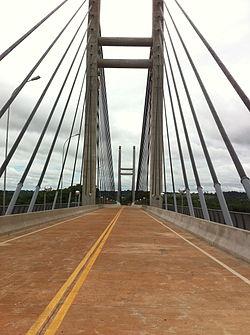 From Brazil you can take a private barge across the Oiapoque River. Its owner can be contacted in St Georges or in Oiapoque. From Suriname, there is a ferry to cross the Maroni River.

Oyapock River Bridge
The Oyapock River Bridge is a cable-stayed bridge. It spans the Oyapock River to link the cities of Oiapoque in Brazil and Saint-Georges de l'Oyapock in French Guiana. The two towers rise to a height of 83 meters, it's 378 meters long and it has two lanes of 3.50 m wide. The vertical clearance under the bridge is 15 meters. Construction was completed in August 2011, it didn't open to traffic until March 2017. The bridge is scheduled to be fully operational in September 2017, when the Brazilian customs checkpoints are expected to be finished.
On the French side, access is through a border checkpoint (FCP) which will present three government control: the Border Police, the Customs and the Directorate for Food, Agriculture and Forestry.
The bridge over the Oyapock is planned to be a toll-free bridge (the booths are control booths, not toll booths), and it's accessible to both vehicles and pedestrians.

By bus

From Macapá (Brazil) and Paramaribo (Suriname) you can get to the border by minibus, but in both cases you need to cross the river by boat and take another bus after the crossing.

Get around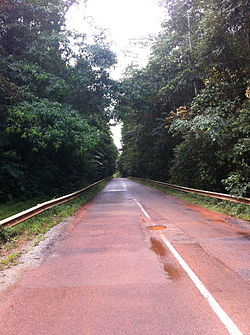 Population and therefore transportation is mostly concentrated along a rather narrow sliver of land along the coast. Heading inland from there can be complicated. There are no passenger railways nor have there ever been serious plans for any.
By boat
3,400 km of French Guiana's waterways are navigable by native craft; 460 km navigable by small oceangoing vessels and coastal and river steamers.
By bus
There is limited public transportation throughout the territory.
Transport Interurbain de la Guyane
operates bus routes between major towns.
Minibuses go between major towns but there may only be a few per day. They leave when they are full. Fares are fixed per route; if only going partial distance to Cayenne you may have to pay the full fare. E.g. St. Laurent du Maroni to Kourou you may have to pay the full fare to Cayenne. Fare for St. Laurent to Cayenne is €25.
By taxi
It's quite easy to find a taxi, but this is a very expensive way of getting around. The 15 minutes ride from the airport to central Cayenne will cost €35, and to travel one way from Cayenne to Kourou you'll have to fork out €85.
By car
As the public transportation is limited, renting a car is also an option for getting around. Hitchhiking is a good and free alternative. A lot of locals do it as well.
An asphalted road from Régina to Saint-Georges de l'Oyapock (a town by the Brazilian border) was opened in 2004, completing the road from Cayenne to the Brazilian border. It is now possible to drive on a fully paved road from Saint-Laurent-du-Maroni on the Surinamese border to Saint-Georges de l'Oyapock on the Brazilian border.
By plane
There aren't really any roads in the inner parts of the country. If you don't want to travel by boat,
Air Guyane Express
has flights from Cayenne to major inland settlements.
Talk
French
is the official language of France, although Creole is widely spoken. The majority of the population speaks French while few understand English. However, some officials, police, and gendarmes may speak English. Because of the presence of many Brazilians and Dominicans, lots of people understand basic Portuguese and basic Spanish. On the Maroni river, Sranan Tong (Taki-taki) is often used.
See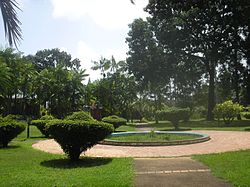 Guiana Space centre close to Kourou. There is a free tour twice a day. And for a few euros you can visit a museum. Check the rocket launch schedule for a special experience.
The capital of Cayenne has some museums and colonial architecture.
The Îles du salut and Kourou used to form a penal colony, colloquially known as the Devil's Island (although in reality that's the name of just one of the islands). From Kourou you can visit the islands by boat, however the Devil's Island proper isn't open for visitors.
Do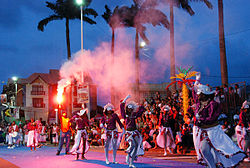 Take a guided tour to the inland rainforest.
Like in many other Catholic countries, the carnival is celebrated early in the year. In French Guiana the festivities take place between the first Sunday in January and Ash Wednesday. During the carnival people put on masks and traditional dresses and go out dancing along the streets every Sunday in Cayenne, Kourou and St.Laurent. Visitors are also welcome to dress up and participate in the parades. During the carnival the festivities continue through the night in bars and nightclubs.
Buy

The official currency is the euro just like in mainland France. Most purchases will be more expensive than you expect, as a lot of stuff has to be imported - even milk is flown in from metropolitan France. Things like electronics are really expensive. However the local rum and objects carved out of wood are great souvenirs and relatively affordable.
For daily purchases, there is a shopping mall outside Cayenne similar to the "hypermarkets" of metropolitan France. Smaller grocery and convenience stores are in the city selling not just food but other small things you might need like insect repellent, toothpaste and other hygiene articles.
GDP per capita is around half that of mainland France and unemployment hovers around 20% which makes the economic situation pretty bad. The local economy largely depends on tourism and the spaceport but gold mining is another important factor. Sadly gold mining is often done illegally and in ways harmful to the environment.

Eat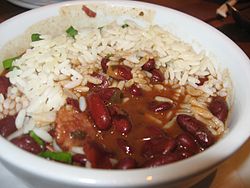 A typical local dish includes fish and other seafood or game meat served with rice, red beans or couac (flour made out of dried cassava) and can be rather fierce, as they often use liberal amounts of spices. What else would you expect from a region whose capital has given name to the cayenne pepper? You can of course always ask the chef to make your dish less spicy. Guyanese specialties include:
Bouillon d'Awara - broth of awara fruit (Astrocaryum vulgare)
Colombo - a Creole dish with pork or chicken
Red beans - served with game or fish
Lentils - served with game or fish
Kalou/Kalalou - a fish dish with spinach and okra
Pimentade - peppered and lemon seasoned fish in tomato sauce
Blaf de poisson - fish prepared with court-bouillon
Roti couniad - fish barbecued with its scale
In some restaurants you may find meat of threatened species (such as cayman and certain turtles) on the menu. Think twice before ordering any of those exotic dishes.
Drink
Tafia is a local hard liquor that is widely drunk and used for medical purposes. One can drink it with lime juice or with salt and it's used in a drink called Planter, excellent. Rum and ti-punch are also common.

Sleep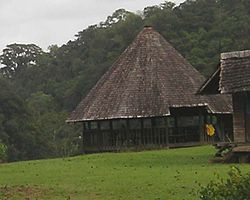 Hotels are rather expensive in French Guiana, at many hotels you'll need to spend well over €100 for a night. For cheaper accommodation there are also a couple of hostels that however don't have web pages.
The cheapest accommodation is also the most adventurous one. For a few euros you can sleep in a hammock in a traditional
carbet
, a shelter without walls. This is the only type of accommodation available in the rainforest.
Learn
Work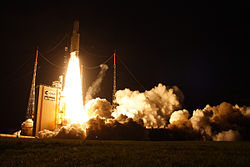 For European people coming from an EU country, working in French Guiana is allowed without problem. If you're from outside the EU, you will probably need a work permit - check with the French Embassy in your country. Do not forget though that the unemployment rate is high. But if you work in the health sector (doctor, nurse), it will be much easier. French proficiency is essential.
Voluntary service:
Volontariat Civil à l'Aide Technique (VCAT)
. Conditions: you must be French or from another EU-member state or a country belonging to the European Economic Area. You must be over 18 and under 28 years old (inclusive). You must not have had your civic rights revoked by a court or have been convicted of certain offences.
Stay safe
It is advisable to pay extreme attention not to lose your passport: there are very few consulates in French Guiana as such services are provided by consulates in
Paris
, so you will be required to go to Paris in case you need your passport to be reissued if you are not an EU citizen.
Some parts of the department are patrolled by the French Foreign Legion, including the Kourou space centre and areas where illegal gold mining have occurred.
Stay healthy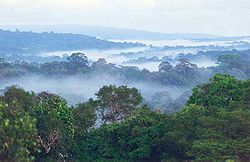 Vaccination against
yellow fever
is necessary; without a yellow fever vaccination certificate you are not allowed into French Guiana. Also two other tropical mosquito-borne diseases, namely
malaria
and
dengue fever
are endemic to the region. In other words, do protect yourself from mosquitoes and ticks - long sleeved clothing and insect repellent are recommended. The risk is smaller in the cities and towns. Swimming in still-standing water is not a good idea as it often contains parasites. This is less of a problem in rivers. However water in nature is not safe for drinking.
Poisonous snakes and spiders also pose a risk, and you should definitely wear boots in the rainforest and not "explore" hollow trees where these creatures often lurk. Remember that it can take very long to get to a hospital if you get bitten.
Other health risks include cholera, typhoid fever and rabies.
Healthcare is almost up to the same standards as in mainland France, although slightly more expensive. There are hospitals in Cayenne and Kourou. Concerning tropical diseases they are better equipped and more experienced than mainland hospitals.
Respect
The Creole culture is deeply rooted in French Guyana, but the population is still proud of being French. Hence insinuating they aren't really French is likely to cause offense. For example mainland France should be referred to as metropolitan/mainland France ("métropole"), not "France". The locals are happy to answer any questions about their culture, history and religion. However slavery is a sensitive subject that should be avoided.

Connect
For cheaper local calls and calls to mainland France it's advisable to buy a local prepaid SIM card. The Alizé cards by France Telecom offer 13 hours of communication for €15.
There are three GSM operators: Orange Caraïbe, Digicel and Only.